Galveston Island Texas is a 27-mile-long barrier island that lies about 50 miles southeast of Houston Texas. A hugely popular vacation destination being so close to one of the targets Metro areas in the country. It's not without good reason. There are so many attractions and activities available, literally something for everyone. Plenty of Hotels, beach house and condo rentals, restaurants, night clubs, art galleries, museums, water parks and yes great fishing including surf fishing. This makes for a great family vacation destination.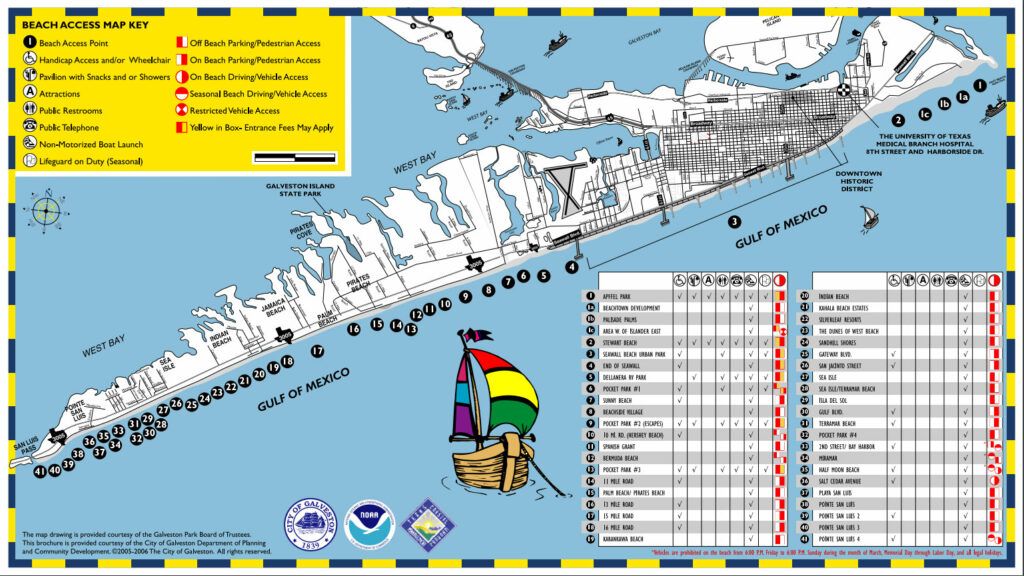 Fishing Galveston Island, Beach Access
---
Galveston Island, because of its popularity and proximity to Houston, is a highly developed beach. There are motels and resorts all along the sea wall and city of Galveston proper. To the west of town, their are beach houses and small developments along nearly the entire beach front. This makes beach access more "complicated".
These beach developments have, for the most part, closed the beach to motorized vehicles. There are parking areas where you can access the beach via foot, and carry your gear to the beach. Some will allow golf cart access with the proper registration (contact Galveston Police Department for information on golf carts and beach access).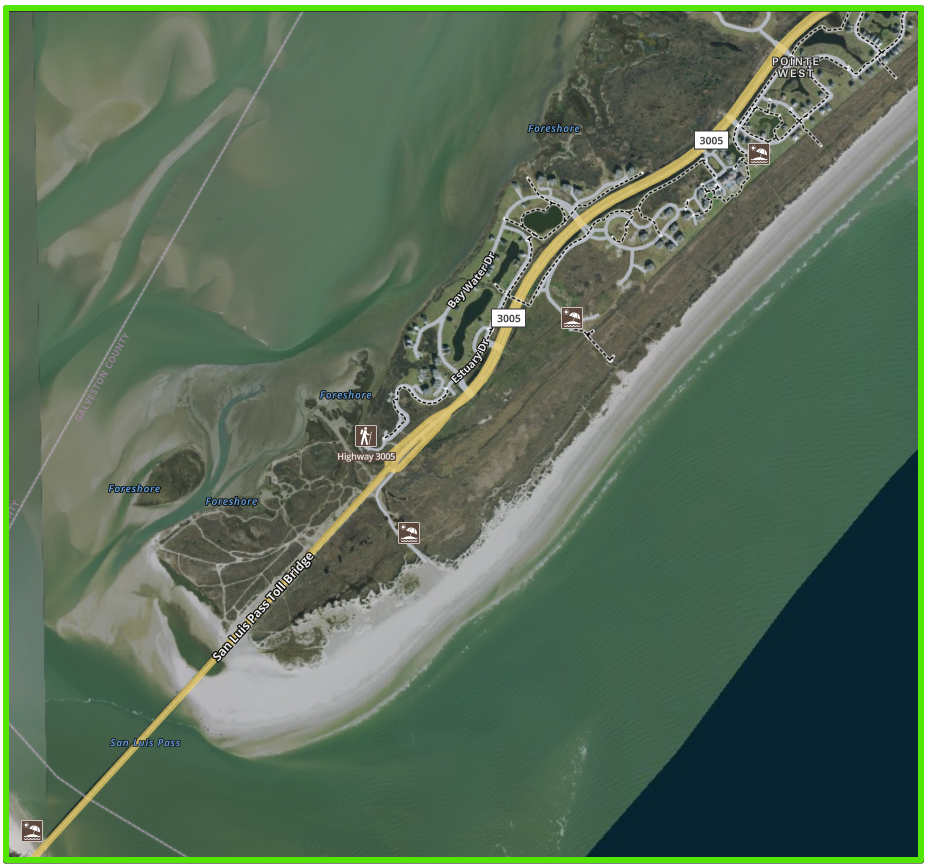 The San Luis Pass area, on the far west end of the island, has about a mile of beach with vehicular access.
I would highly recommend 4×4 vehicles only, and be very careful fishing in the pass itself.
San Luis Pass has taken many lives over the years.
The pass connects West Galveston Bay with the Gulf of Mexico and the currents can really rip through the area. Just across the bridge over San Luis Pass, is Follet's Island and then Surfside beach, both great fishing destinations as well.
Always, always, always wear a Personal Flotation Device ( old school: Life Jacket) if you are going to be wading in and around the pass. I've had my own close call with San Luis pass, and lived to tell about it. Many others have not been so lucky 🙁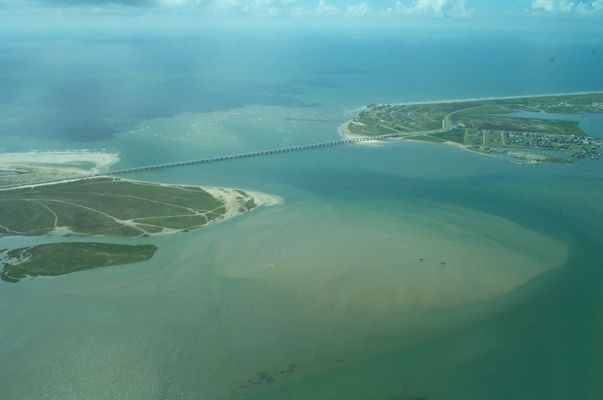 When's a good time to Fish Galveston?
---
That's always a loaded question for a guy like me that loves to fish. My standard answer is: whenever you can, there are better times than others of course. During the dead of winter (January/February in Texas) fishing along the Galveston beachfront can be slow. There are still fish around, just not as many or as much variety.
When is the best surf fishing at Galveston?
Spring thru summer are prime time, but keep in mind the beaches will get crowded this time of year. A quick tip: hit the beach early, daylight until around 10:30 am. The average beach goer, families, kids, teenagers etc sleep in and will start to filter out to the beach around 10 am. Then the jet skis and surf boards etc hit the surf and pretty much shut down the fishing.
There can be some great fishing before the crowds show up however. If the surf is calm to moderate with clear water to the beach, the speckled trout action can be as good as anywhere on the coast.
There will be sharks present this time of year, so just be aware and if you plan on wade fishing the surf, use a long stringer in case a shark wants to make a quick snack of your catch.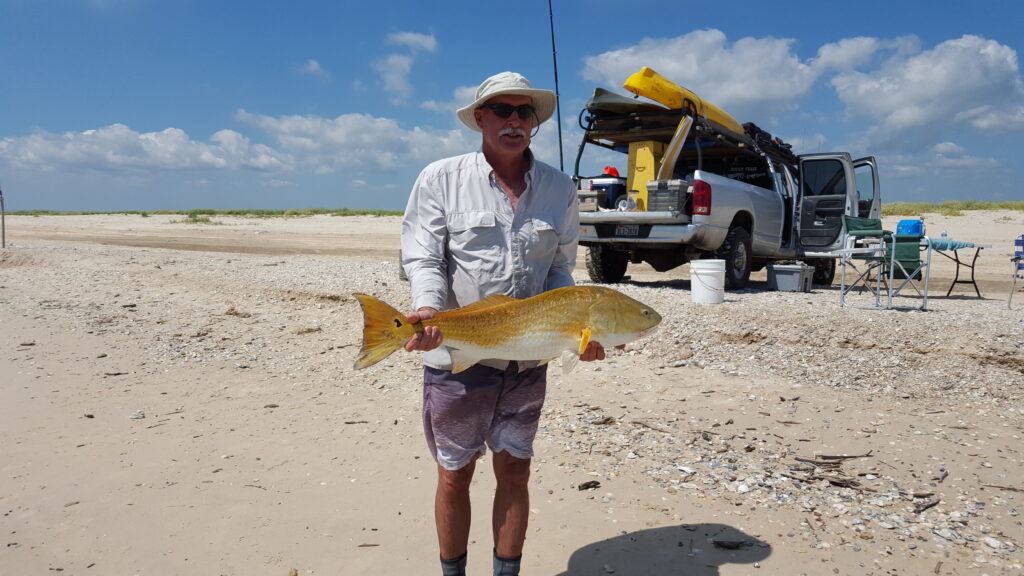 In the fall, the Bull Reds make their presence known in the Galveston surf. Mostly oversize, these bull reds are not great table fare, but are great sport to catch.
What about accommodations?
---
I love to camp on the beach when I fish, but Galveston Island has very few places for that. The area around San Luis Pass you can drive on the beach and camp. Galveston Island state park also offers camping, however, no beach driving access.
That being said, their is no shortage of accommodations on Galveston Island. Plenty of Hotels in town, beach house and condo rentals the length of the island. You can even rent a house right on the beach and fish out the front door 😉 Galveston.com will have plenty of suggestions for rentals.
What can you catch?
---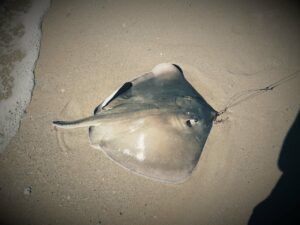 With the Gulf of Mexico on its doorstep, fishing Galveston Island offers surf fishing for a variety of species. Of course, speckled trout and redfish are the primary target species, but the surf zone offers a wide variety of species.
The spring and summer offer everything from whiting, reds, speckled trout, sand trout, black drum, Spanish mackerel and sharks. When the clear water moves in and stays for a few days, even king mackerel can be caught surf fishing Galveston.
Surf fishing for bull reds in Texas hits its peak in the fall and the Galveston surf is great place to get in on some of the action. When its on, they will give you and your gear a real work out. The winter months are the slowest fishing months, but their will still be a few bull reds cruising the surf along with whiting and sheepshead. Whiting and sheepshead both make great table fare, and are fairly easy to catch.
Essential Surf Fishing Gear: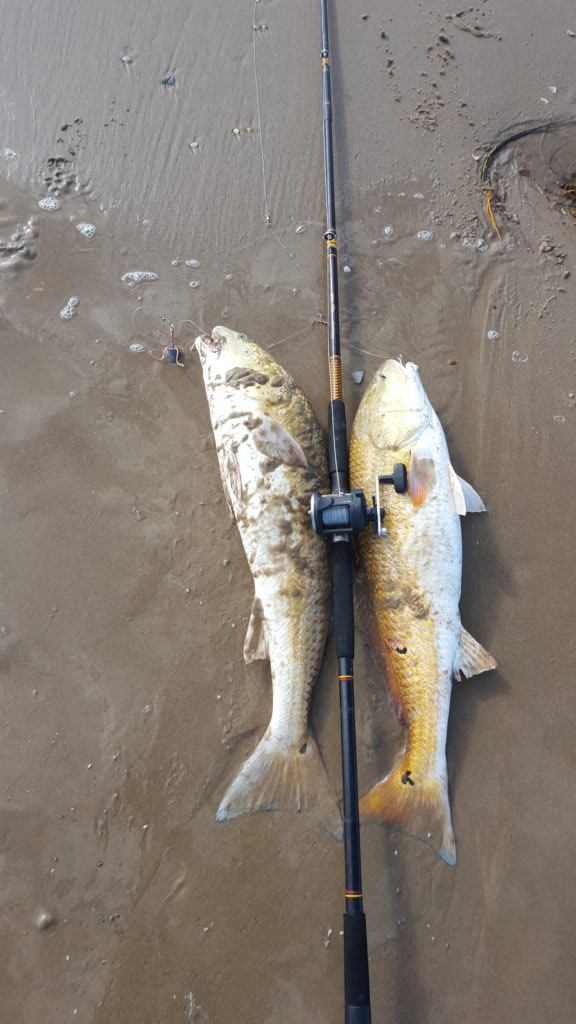 What are you waiting on?
---
If you're looking for a fun, family friendly destination with easy access and plentiful accommodations and attractions, Galveston Island would be a great choice. There is no shortage of things to do or see. Plenty to keep those not interested in fishing occupied and happy. Plenty of pedestrian only beaches so you won't need to worry about kids getting run over.
You have Moody Gardens, Pleasure Pier and Schlitterbahn water park to keep the kids occupied. Art galleries, museums, and shopping along the strand to keep the wife happy. Movie theaters, and if all else fails, Houston is only an hour drive away. Take in a baseball or football game 🙂
Surf fishing Galveston Island will generally be more crowded but you can still have a great time and catch lots of fish. You'll need to start early and finish early. Then you can spend the rest of the day with the family checking out all the other attractions Galveston Island has to offer.
As always, safe travels, good fishing, have fun, enjoy the journey and leave it cleaner than you found it. If you have any comments, questions, ideas or suggestions, please leave them in the comment section below and I will get back to you. Follow us on Facebook: Rex The Beach Angler, Instagram: thebeachangler7, Twitter: @AnglerBeach and YouTube: Man Art Creations.