If you are looking to give surf fishing a try, or maybe considering adding another rod/reel to your gear, there are some good rod and reel combos matched just for surf fishing. If you're on a budget, or new to the sport\, this can be a great way to get your feet wet, so to speak. 😉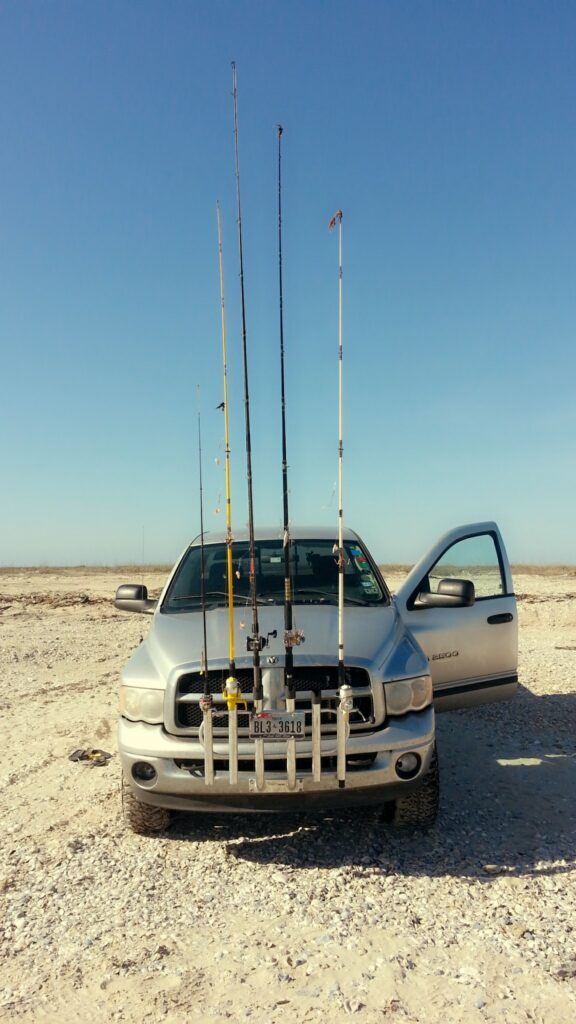 ---
Spinning or Casting Combo?
---
Surf fishing rod and reel combos come in either Spinning, or bait casting versions. Bait Casting combos are not as numerous or as popular. There are many more surf spinning rod and reel combos available. The popularity of the surf spinning combo is likely related to its ease of use. Beginners will find spinning gear much more user-friendly. They cast long distances with relative ease, and don't have the backlash issues of a bait casting set up.
Bait casting combos for surf fishing are available and are a great choice. They are not as beginner friendly, on average will be more expensive, and there are not as many to choose from generally. We will focus therefore on the saltwater spin cast surf fishing rod and reel combo.
---
What makes a good Surf Fishing Rod and Reel Combo?
---
We've covered what makes a good surf rod previously. You can check out the article "Surf Fishing Rods". We also reviewed some very good surf fishing reels recently " Surf Fishing Reels". Now we will look at some surf fishing rod and reel combinations that are offered.
These combinations are selected by the manufactures to match the rod size and length with an appropriately sized spinning reel. They are set up for saltwater surf fishing and will be made of corrosion resistant materials, with large line capacities and strong drag systems. They need to have rods in the 10 – 12 ft range, both for casting distance and to help keep the line up out of the wave action when in the rod holder.
---


A good combo will have a spinning reel with a large spool capacity. When you tangle with a big fish from the beach, you need that extra line backing to handle those long runs without getting spooled. It will vary by line type of course. Braided line is thinner so the reel will hold more. Monofilament is larger diameter so the capacity will be less. A good rule of thumb is at least 200 yards of 20 lb monofilament. Your target species will help determine line capacity requirements as well.
---
Some Good Surf Fishing Combos.
---
There are many good surf spinning combos available. They come in a wide variety of manufactures and price ranges. For the beginner, we will cover some budget friendly options here as well. The higher priced models will have the latest high tech materials and drag components with more ball bearings for smoother operation. Brand name will affect price as well, but in this day and age, even the "Cheap" surf fishing Combos will do a good job.
---

 

1BB ball bearing drive for smoothness

Corrosion resistant graphite spool

Multi-disc oiled-felt drag System

Multi-disc oiled felt drag system

Durable glass fiber rod blank construction

Ceramic guide inserts

Comfortable EVA foam fore and rear grips

Rod is 10 foot and 80 size spinning reel holds 260 yards 25 lb test
---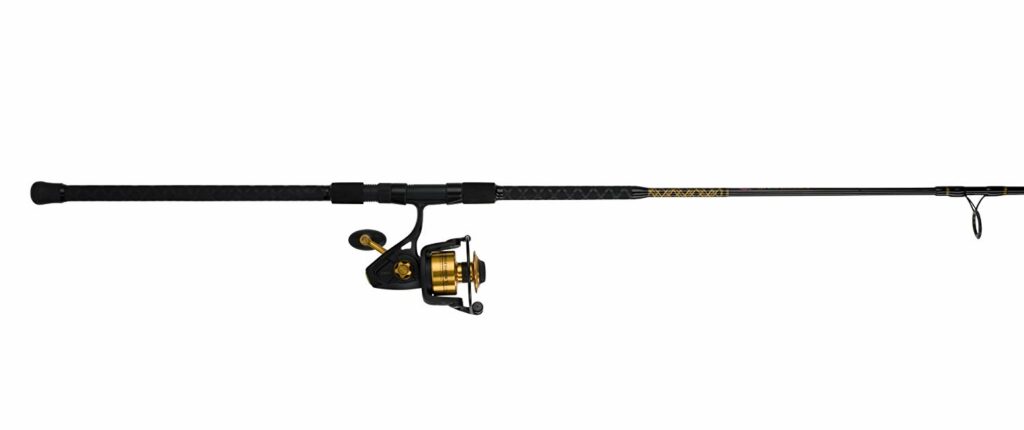 Line, 5BB + 1RB, 6.2: 1, alum spool, 390/4, 250/6, 210/8, 7′

Watertight spinning reel performs reliably in saltwater and sand environments

Durable construction with full metal body, sideplate, and rotor and heavy-duty aluminum bail wire

Sealed HT-100 Slammer drag system provides robust, silky-smooth drag, while friction trip ramp prevents premature bail trip when casting

Fluid cranking with 5 shielded stainless steel ball bearings and instant anti-reverse bearing

Durable, ultra sensitive rod with tubular glass blank construction and stainless steel guides with aluminum oxide inserts

EVA grips (split EVA grips on surf models)
---

 

Gyro spin balanced rotor

Smooth ball bearing drive

Aluminum oxide guides
---

HT-100 carbon fiber drag washers

Lightweight and corrosion-resistant graphite body

4+1 stainless steel bearing system
---
---

2 Piece Glass Blank

Aluminum Oxide Guides

5 guides plus tip

Medium Heavy Action

Size 50 reel prespooled with line
---
Ugly Stik Big Water Spinning Combo
---
Ugly Stik Clear Tip design for extra strength

Ugly Tech construction with a combination of Graphite and fiberglass to create a strong, yet sensitive rod

Ugly Tuff one piece double-footed stainless steel guides provide maximum durability and eliminate insert pop-outs

Durable EVA grips

Graphite spinning reel with oversized handle knob
---

ABS Aluminum Spool

Twist Buster II

Aluminum Body

6 + 1 Bearing, Spinning, 10′, 2 Piece, Medium Heavy
---
---

Fiberglass rod blank; Ceramic guides

Graphite reel seat; EVA handle

Bearing drive; Graphite spool

Pre-spooled 20 lb. mono; T-grip handle

Rod size: 12′; Pieces: 2; Action: Medium/Heavy; Line weight: 20-40 lb.; Lure weight: 1.5 – 4 oz.; Reel size: 70; Line capacity: 15/304, 20/195, 30/135
---
How to Choose?
---
What you choose will depend on what fish you're targeting, what are the surf conditions you'll be facing and of course what will your budget allow:).
If you're fortunate enough to live close to the coast, you should visit some local tackle shops. You can actually get your hands on the rods and reels and try them out for yourself. See how they feel, how smooth are the reels, how heavy, what quality etc. Plus, at a local tackle shop you can get some good advice and experience from local people that use the rods and reels themselves int the local conditions.
You may pay a few dollars more than you would online, but you won't know what you've bought until the delivery comes. There are some very good online tackle suppliers, if your local tackle shop doesn't carry saltwater surf fishing gear.
Offshoreangler.com, is the saltwater division of bass pro shops, they have a good selection of Surf Fishing Gear. Tackle Direct (tackledirect.com) is a very good tackle suppler for everything from Perch to Marlin.
Breakaway USA (breakawaytackleusa.com) is a great option that is dedicated to surf fishing and casting. Mr. Nick Meyer of Breakaway USA, has decades of experience fishing the beach front and is a long distance casting instructor ans well. His website has a ton of free videos on surf fishing gear, techniques and casting .
---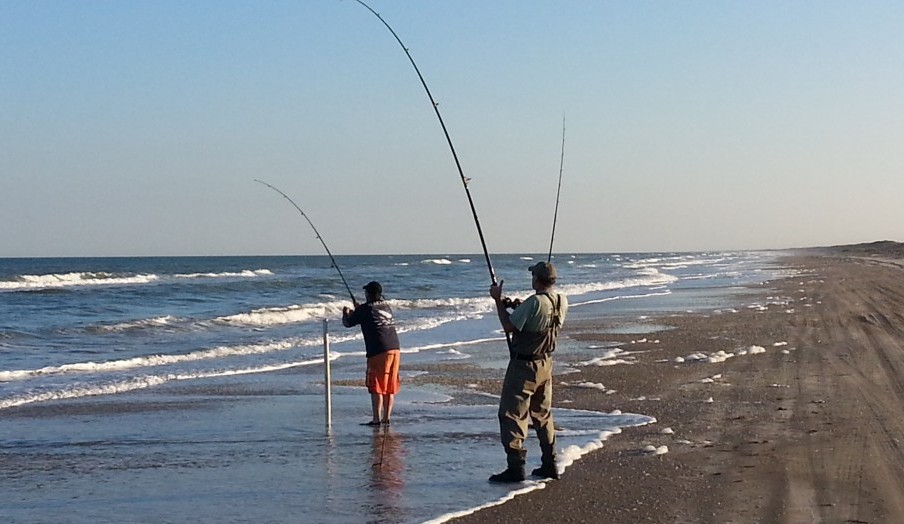 ---
Pick One and Go Fishing!
---
There is no wrong choice. It's an individual decision and tackle manufactures have produced some really good equipment at reasonable prices. Surf Fishing doesn't have to break the bank. There are higher priced options however. They will have all the latest bells and whistles, technologies, high tech materials, well know brand name and lots of advertising dollars behind them. If that's what you like, by all means buy it. You'll get some great equipment.
As always, be safe, enjoy the journey, please leave the beach cleaner than you found it. Till next time, good luck and good fishing.