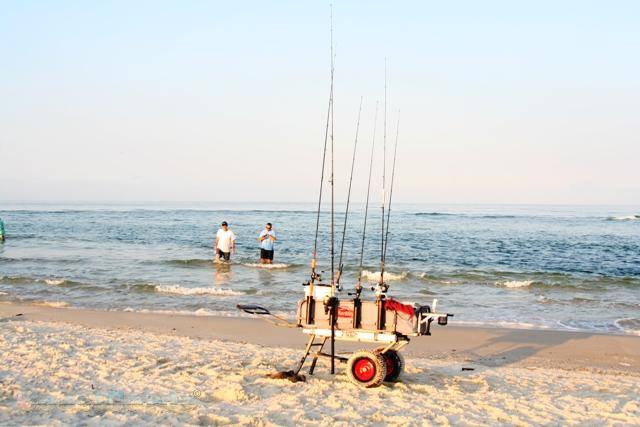 We have looked at beach and fishing carts in previous articles. As you may have noticed, some "top-of-the-line" fishing carts can get rather pricey to say the least. There are some good quality alternatives available and we will take a look at what I think are some best beach and fishing carts that won't break your budget.
In general, these will be made of a lighter weight material and have less carrying capacity than those we reviewed previously. However, for most of us, they will serve the purpose just fine and give you many years of service. And, for fishing carts, they are much easier on your wallet.
Beach and Surf Fishing Equipment
---
Fishing the beach not only takes some specialized equipment, but often, a lot of it. If you are fortunate enough to fish beaches that allow vehicle access, then this is not a problem. If, however, you fish beaches that are closed to vehicular traffic, it can be a real problem and a daunting task to get all of your gear from your vehicle to your fishing spot on the beach.
Things like rods, bait, tackle boxes and ice chests just to mention a few, are not much fun to carry over dunes and through soft sand. The beach cart was developed for just such occasions and has become standard equipment for many fishermen that not only fish the surf but also piers and jetties. Some piers can get fairly long and the beach cart makes getting all of your gear down the pier a breeze.
Let's take a look at some best beach and fishing carts for your money. These will serve you well on the beach when fishing the surf and also be great for fishing piers or jetties. And, if your just enjoying the beach with the family, they can carry all your supplies for a day of fun in the sun.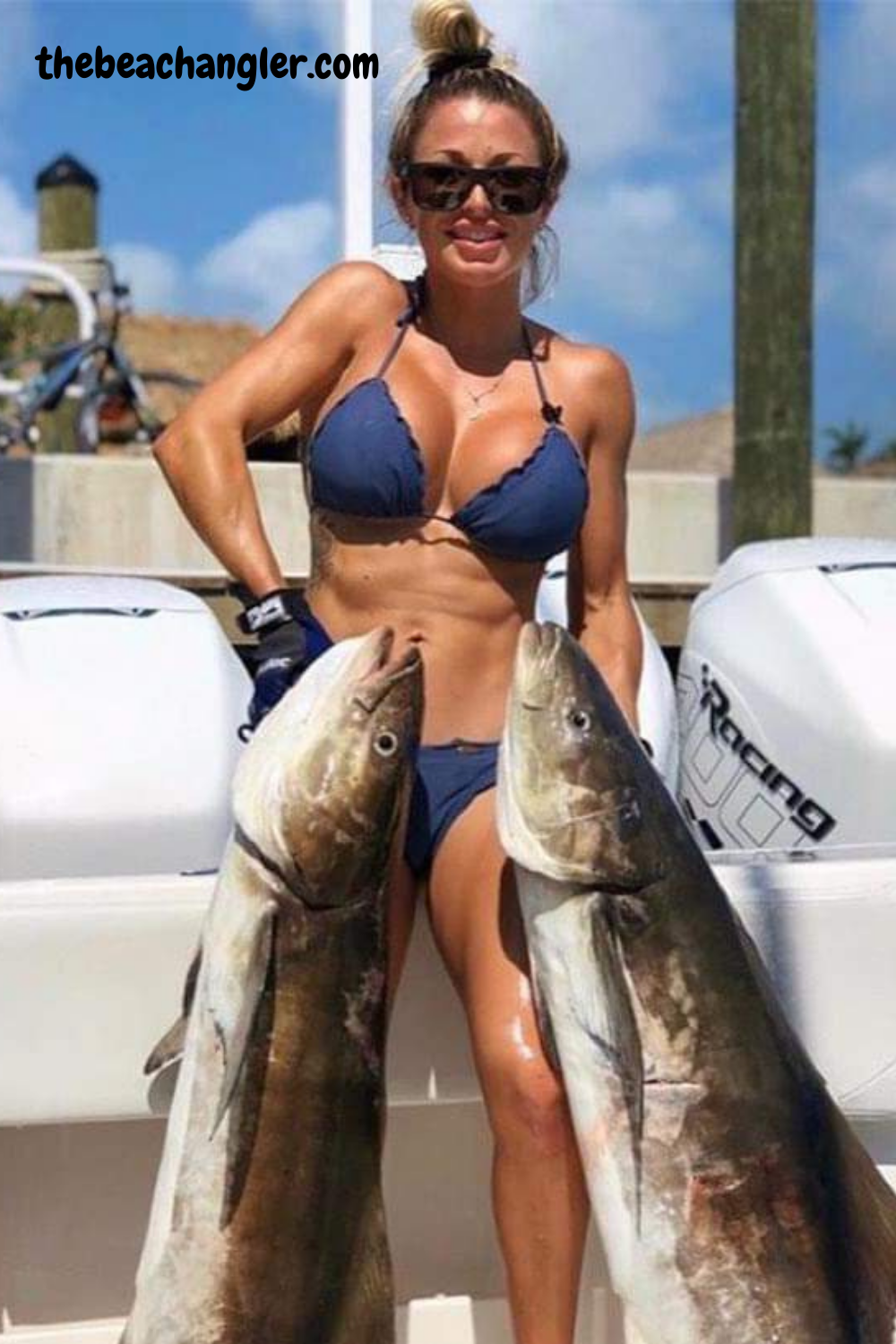 Juggernaut Carts Blue Fish and Marine Cart
---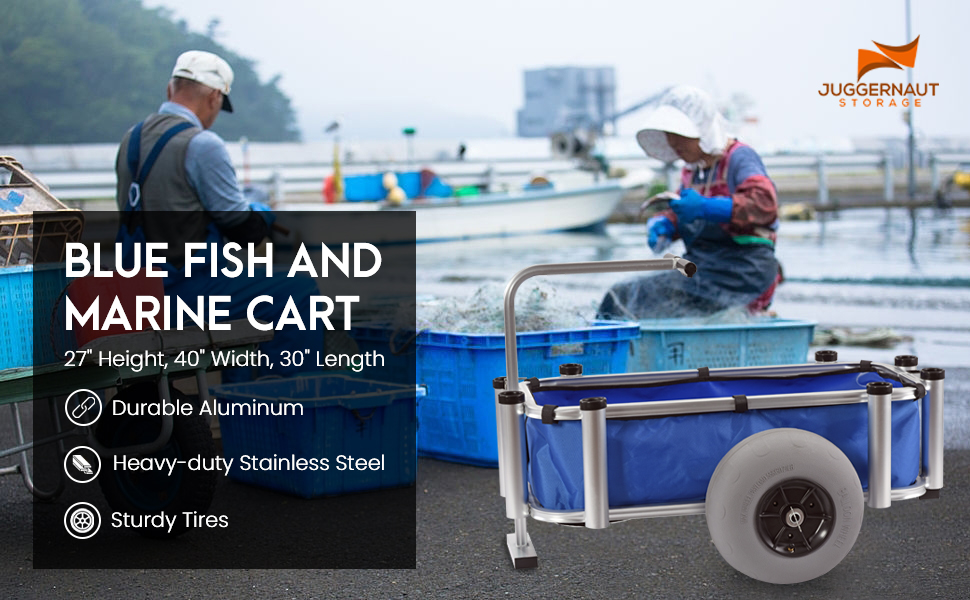 This handy marine and fishing cart allow you to transport all your gear in 1 trip. Perfect for use as a surf cart, pier cart, or beach cart.
This fish and marine cart goes where ever you need it. Tires have a low-pressure design (2 psi – 4 psi) and are made of heavy-duty polyurethane making them perfect for soft sand. You can transport all of your gear in a single trip. Keeps your gear organized, and when not in use, all components fit into the tub for compact storage.
You will never have to search for a piece of equipment again as accessories can be re-positioned to meet your needs. This marine and fishing cart is built with tough aluminum and stainless steel that keeps off rust and corrosion, and just wash it with a hose for easy clean-up once your work is done.
• Cart is perfect for holding rods, buckets, chairs, etc.
• Mobile cart made of aluminum and heavy-duty stainless steel
• Durable tires make it easy to maneuver over any surface
• Large low pressure balloon tires built for the outdoors and sand
• Great for any fishermen who need help lugging his gear down to fish
• Heavy, awkward loads up to 220 lbs. are easily pushed or pulled over most terrains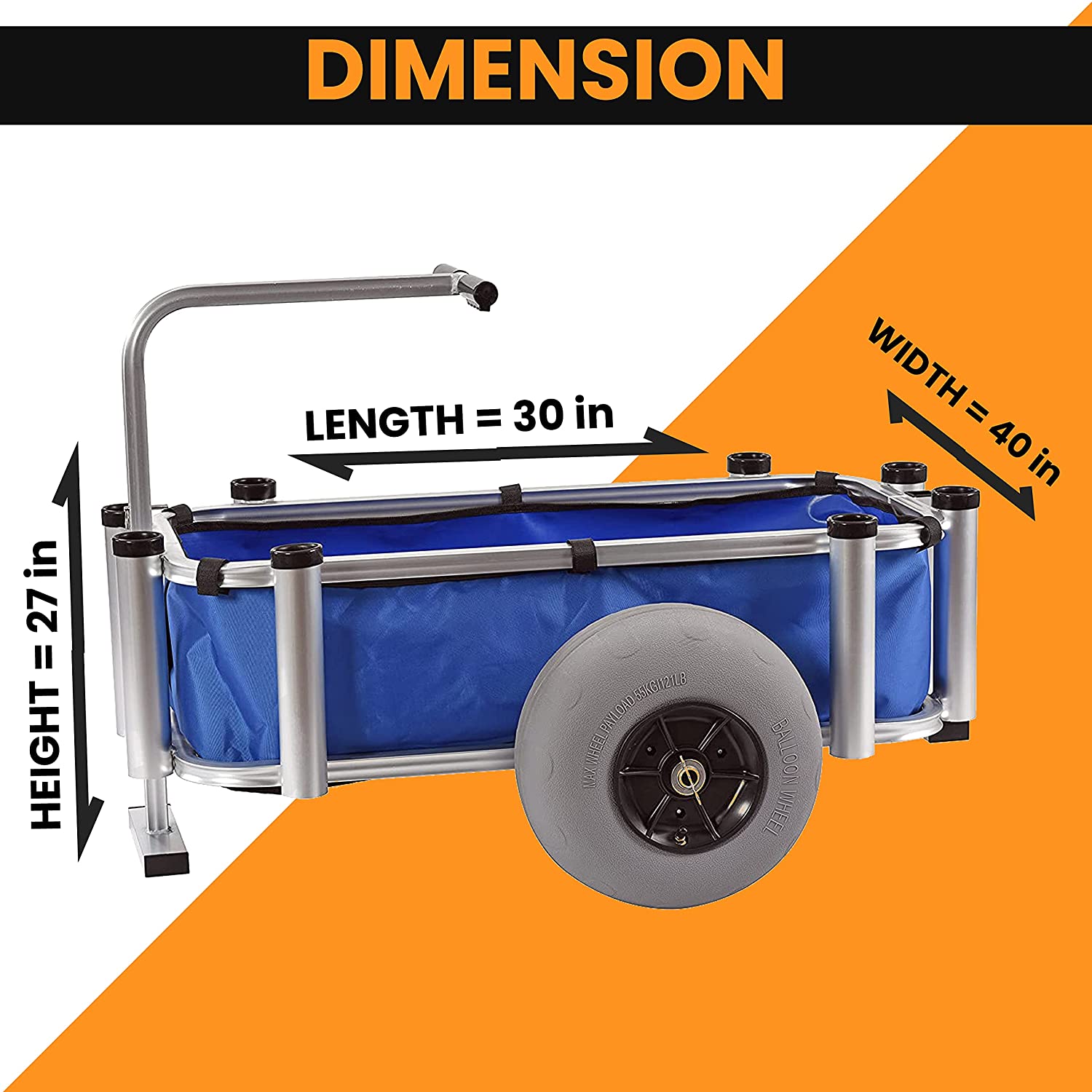 Sea Striker Balloon Tire Surf and Beach Cart
---
The Sea Striker balloon tire fishing cart is a practical mix of features, performance and value. With the NEW Sea Striker Balloon tire cart, the soft sand is no challenge. Move your beach items and your surf fishing gear to any beach including soft and loose sand beach locations. The Sea Striker Balloon cart features include the capacity to carry 125 lbs. of gear. The cart is constructed of strong galvanized steel tube that has a durable, corrosion resistant powder coat finish, 7 glass filled nylon injection molded rod holders, and thick and durable 13-inch polyethylene balloon tires.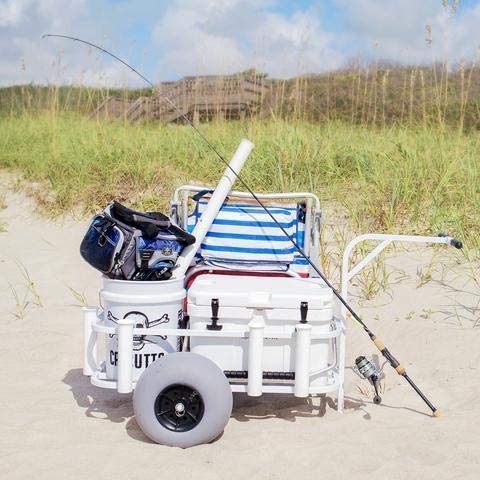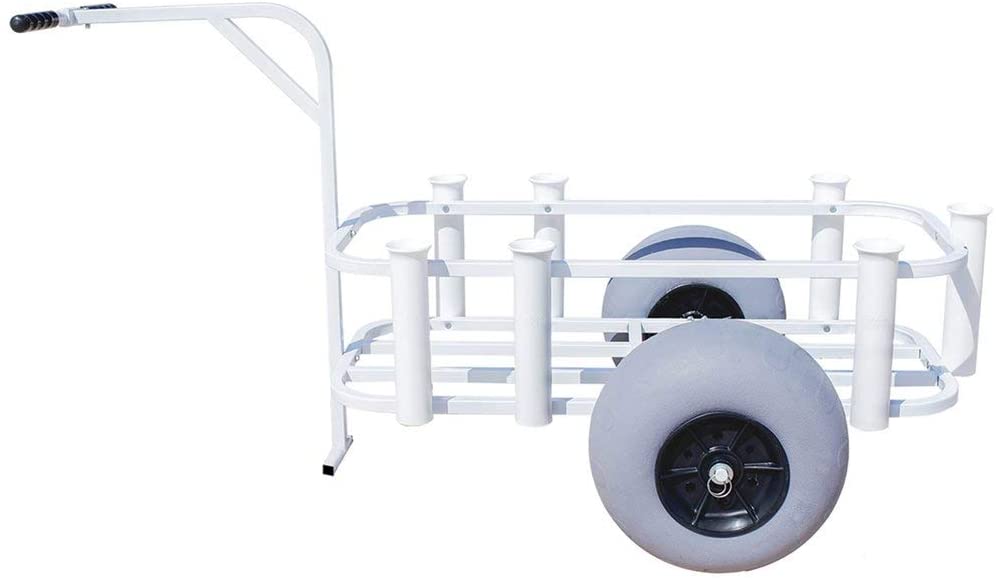 The Sea Striker Balloon tire cart is everything you need for to make your day more enjoyable. Whether relaxing on the beach with family and friends or surf fishing the Sea Striker cart makes getting to your favorite spot a breeze. The capability to hold up to a 55 qt. cooler. 13-inch balloon beach tires – Our balloon tires have a wide profile and low-pressure design (2-4 PSI), perfect for travel through soft sand.
These tires are made to be versatile enough to take your cart anywhere while making them perfect for all types of sand, including soft or loose sand. The tires are made of durable polyurethane for long-lasting performance. Easy assembly with included tools. Cart: 34″ x 14.5″ x 7″
Surf Cart: This all-around, versatile cart has a heavy-duty frame and comes with the capability to hold up to a 55-quart cooler. Carry up to 125 lbs. of beach items and surf fishing equipment to make getting to your favorite spot a breeze.
Durable: This cart is made with strong galvanized steel tube that has a corrosion resistant powder coat finish to protect the cart from the elements. The outdoors has no match for this tough cart that can hold chairs, buckets, coolers, fishing poles
Portable: Get the ideal transportation for all your gear with the balloon wheels on the bottom of your wagon. The rolling beach tires are made of Durable polyurethane, perfect for travel through soft or loose sand and long-lasting performance.
Dimensions: The carts Dimensions are 34 inches x 14.5 inches x 7 inches while the wheel size is 13 inches. It has easy assembly with the included tools to be ready for your next fishing trip with seven Durable molded rod/accessory holders.
Sea Striker: Founded nearly 50 years ago, Sea Striker brings serious anglers' fish-catching products they can count on. We have you covered from high-quality lures, rigs, terminal tackle, swivels, line, rod and reel combos and fishing accessories.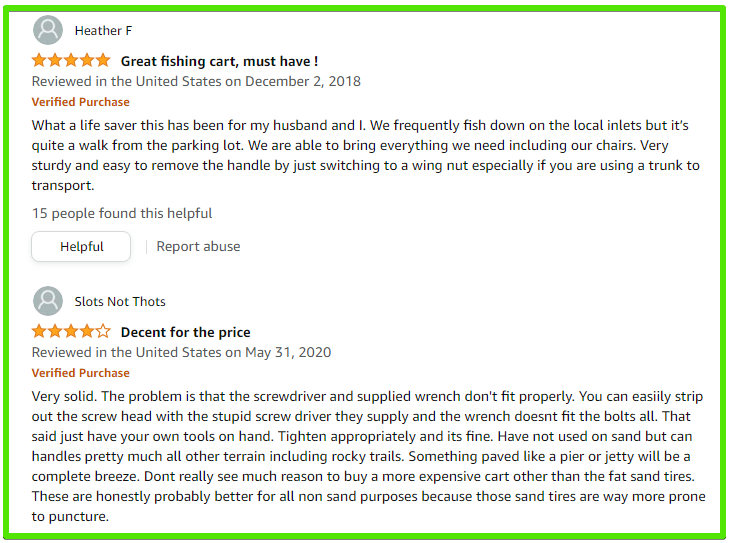 Harbor Mate Fishing and Beach Cart
---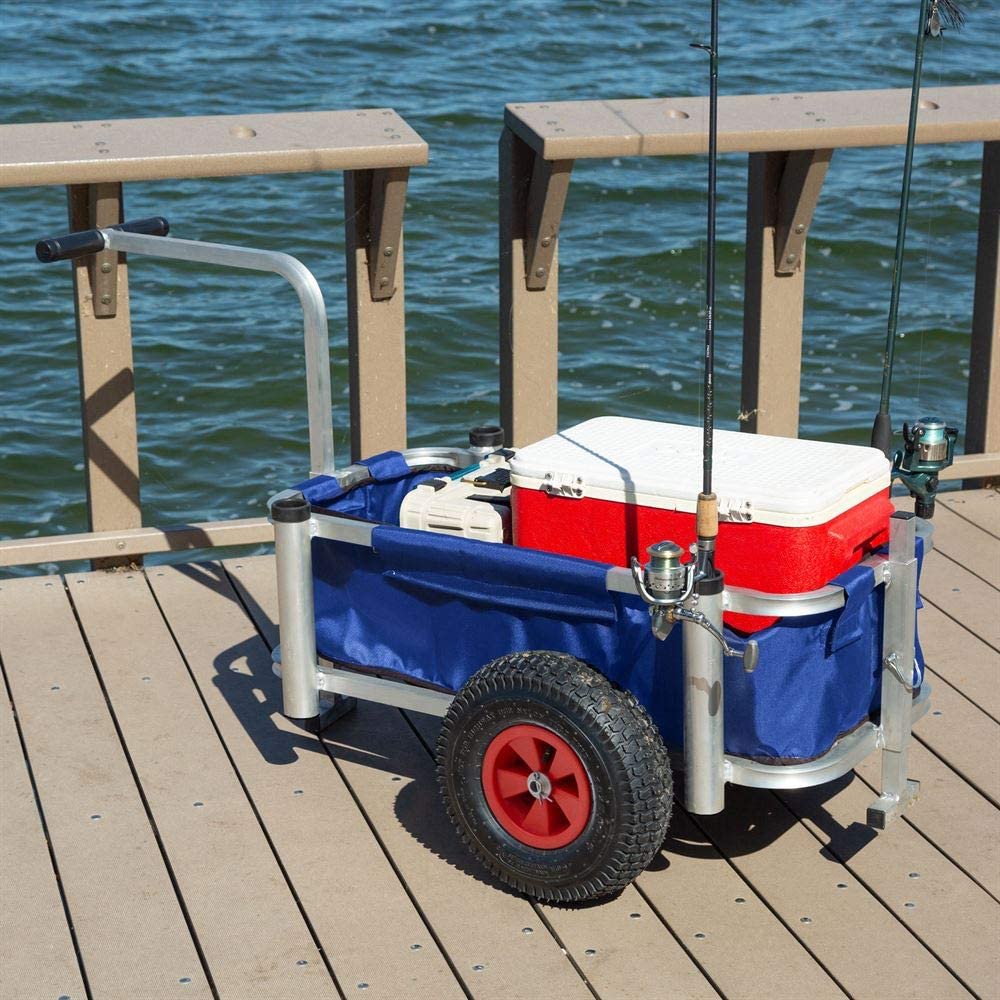 Designed to enhance any lakeside or beachside trip, the Harbor Mate Fishing and Beach Cart holds towels, tackle, rods and more. This lightweight aluminum cart has a detachable fabric liner, and comes with four corner holders that keep fishing rods upright and organized. Rubber-coated handles add grip and comfort while you're pulling the cart, and the large balloon wheels roll easily over sandy beaches or dunes. The front foot can be lowered for stabilization, and raised up when it's time to move.
Manufactured with a detachable fabric liner over an aluminum frame
Balloon wheels roll easily over sand and similar terrain
Includes 4 fishing rod holders, space for tackle, coolers, beach gear
Adjustable front foot drops down for stabilization at your destination
Rubber-coated handles provide grip and easy steering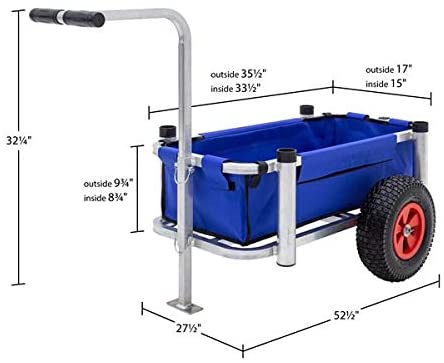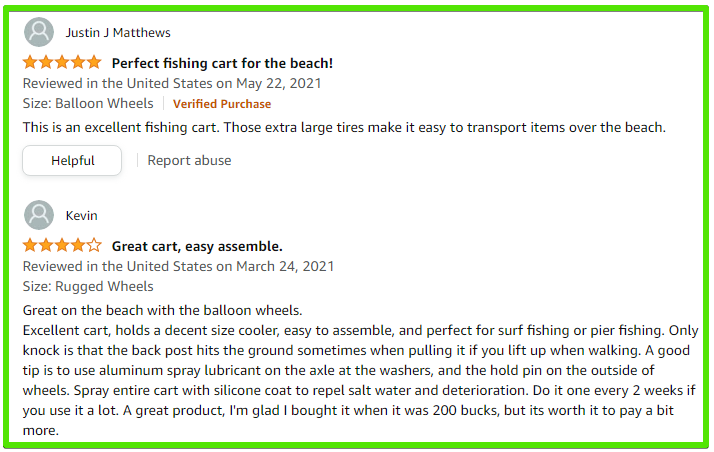 Berkley Jumbo Fishing Cart
---
The Berkley Jumbo Fishing Cart will efficiently manage and transport all your fishing gear. This innovative design folds in to a small compact size for easy storage and transport to your favorite fishing spot. Similar to the Seamule Beach Fishing Cart, this makes it ideal for fishing on the beach, off a pier, around a lake, pond or river.
Innovative collapsible design for easy transport and storage
Efficiently transport up to 200 lbs of your favorite fishing gear
8 removable rod holders
Durable fabric liner secures all your fishing gear
Compact cutting board with bait bucket and knife storage
Adjustable handle
Corrosion resistant aluminum frame with electrostatic finish
Heavy duty pneumatic wheels
Durable hook & loop straps secure chairs or surf spike during transport
Storage for a tackle bag, 72 quart cooler, bait bucket, chairs, surf spikes, and more
Dimensions: Fully collapsed with tires still attached: 54" x 25.5" x 13"
Dimensions: Inside Frame: 44.5" x 17.75" x 9.5"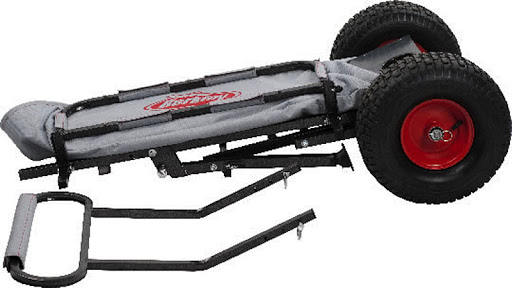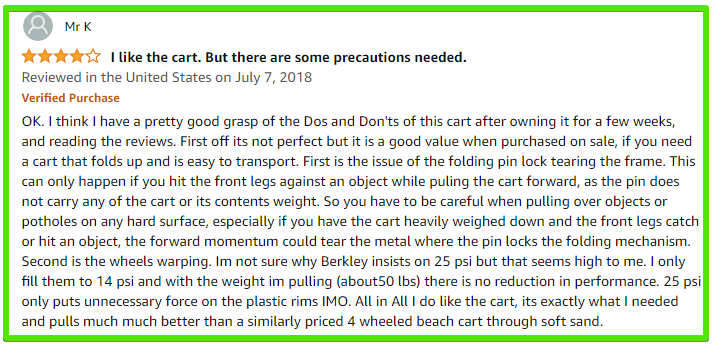 Fish N Mate (No Front Wheels) Sr Cart
---
I did a complete review of the Fish N Mate Sr Cart. Fish N Mate set the standard by being one of the first commercially made beach and fishing carts. They are still among the leaders in quality, durability and innovations. Always a good choice, they will give you many years of service both on the beach and down the pier.
The Fish-N-Mate 143 Sr Cart weighs only 24.7-pounds including all components. It has corrosion resistant aluminum tubing construction, designed for strength capable of carrying up to 200-pounds. The lightweight aluminum construction and design allows for easy storage, shipping and transportation. The cart will carry large loads of equipment to fishing piers, bridges or surf. Fish-N-Mate provides parts and attachments for outdoor living and other recreation.
Weighs only 24.7-pounds
Corrosion resistant aluminum tubing construction
Providing parts and attachments for outdoor recreation
Quality craftsmanship and materials make this product a must have for any fisherman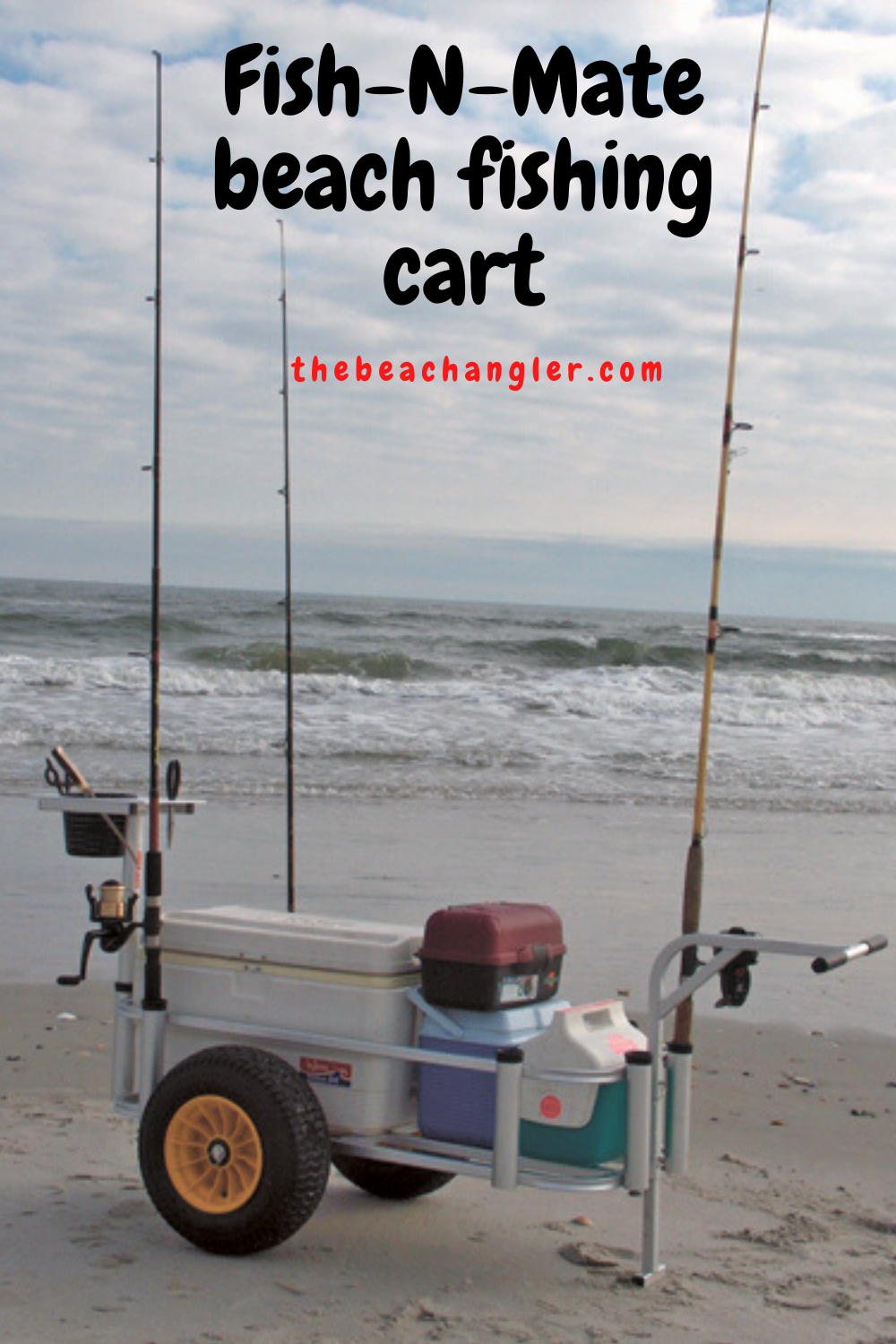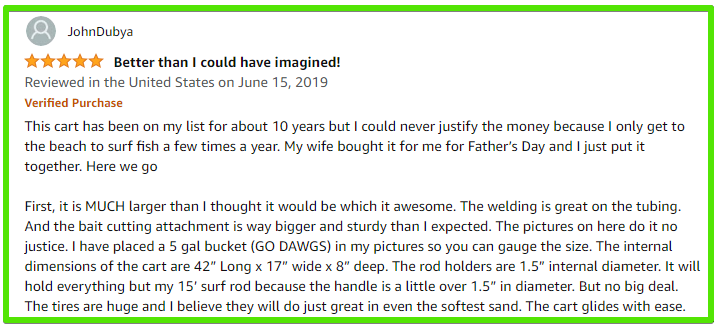 Surf and Beach Cart Comparison
---
The Chart below is a side by side comparison of some of the important features of these beach and fishing carts. If you are looking to add a beach cart to your fishing gear, I encourage you to check them out for your self. After all, only you know what will work best for you and the type of fishing you plan on doing.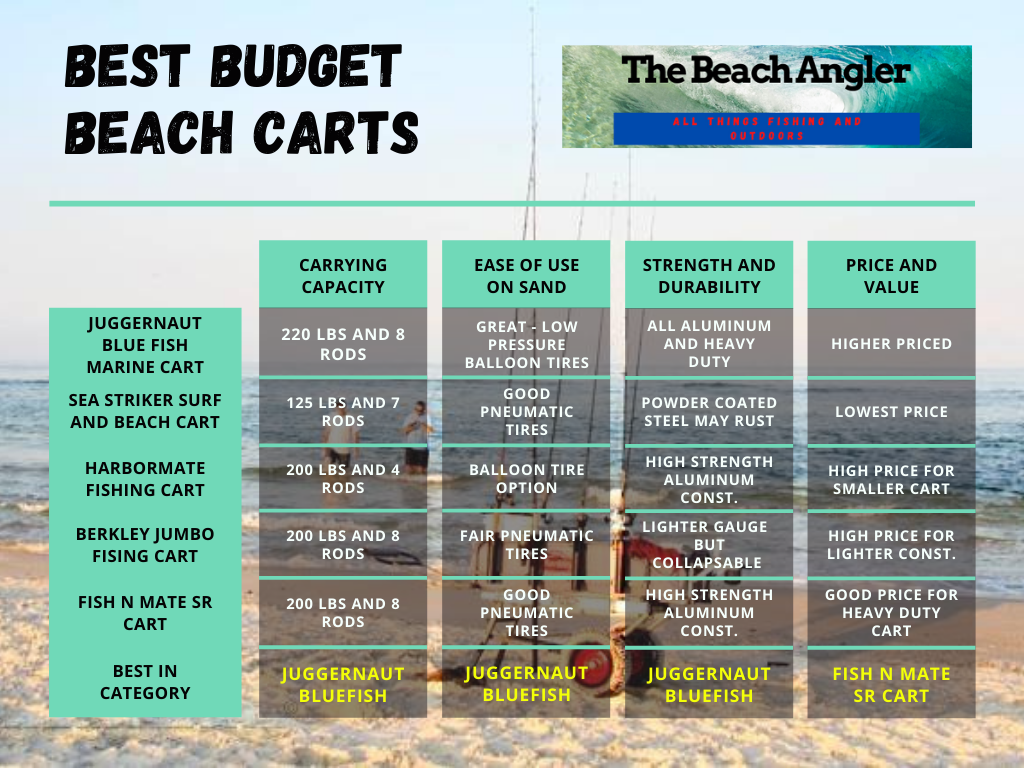 Grab Your Gear and Go Fishing
---
Whatever beach or fishing cart you choose, you will be glad you have it the next time you try lugging all of your rods, tackle and gear down the beach, pier or jetties. You can concentrate on fishing and enjoying your trip rather than sweating and cussing as you stumble over the dunes making several trips just to get everything where you need it. It will be one of you most important pieces of gear, I know, I wouldn't part with mine.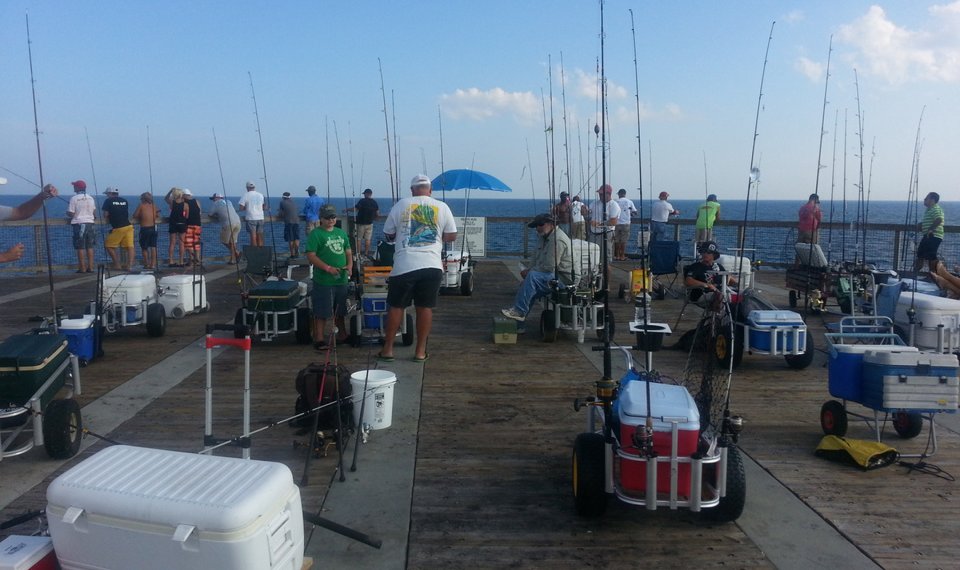 As always, be safe, enjoy the journey and please try to leave it cleaner than you found it. If you have any comments, questions, ideas or suggestions please leave them in the comment section below and I will get back with you asap. You can follow us on Facebook: Rex The Beach Angler, Instagram: thebeachangler7, Twitter: @AnglerBeach, YouTube: Man Art Creations, and Pinterest: @rtmc1982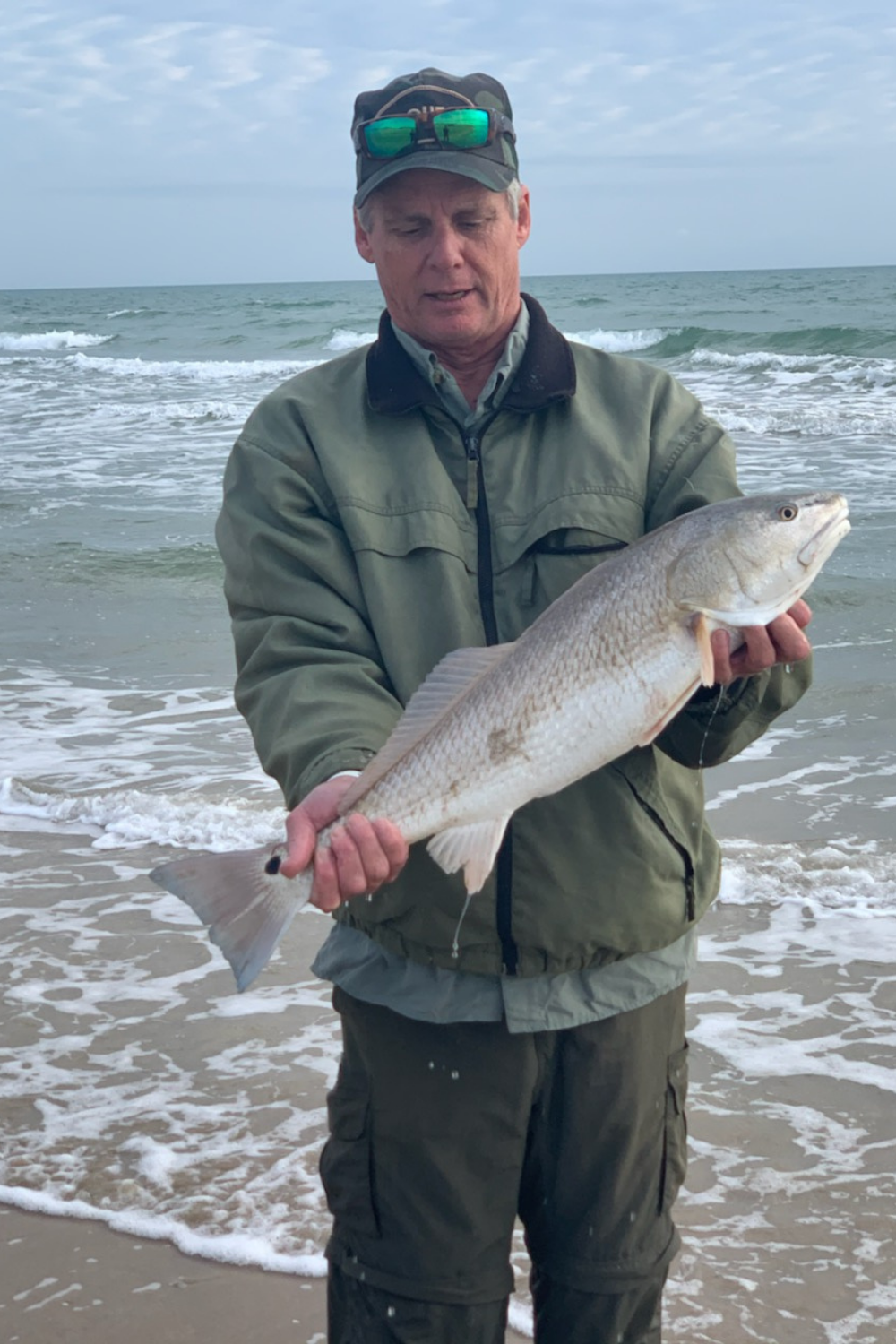 A life long surf fisherman with 50+ years of experience, I am also an avid hunter and outdoorsman. I will be sharing my passion for the outdoors with you so be prepared for hunting, fishing, camping, hiking and more. Along with gear reviews and the latest trends and innovations in the outdoor industry.