Essential Surf Fishing Gear: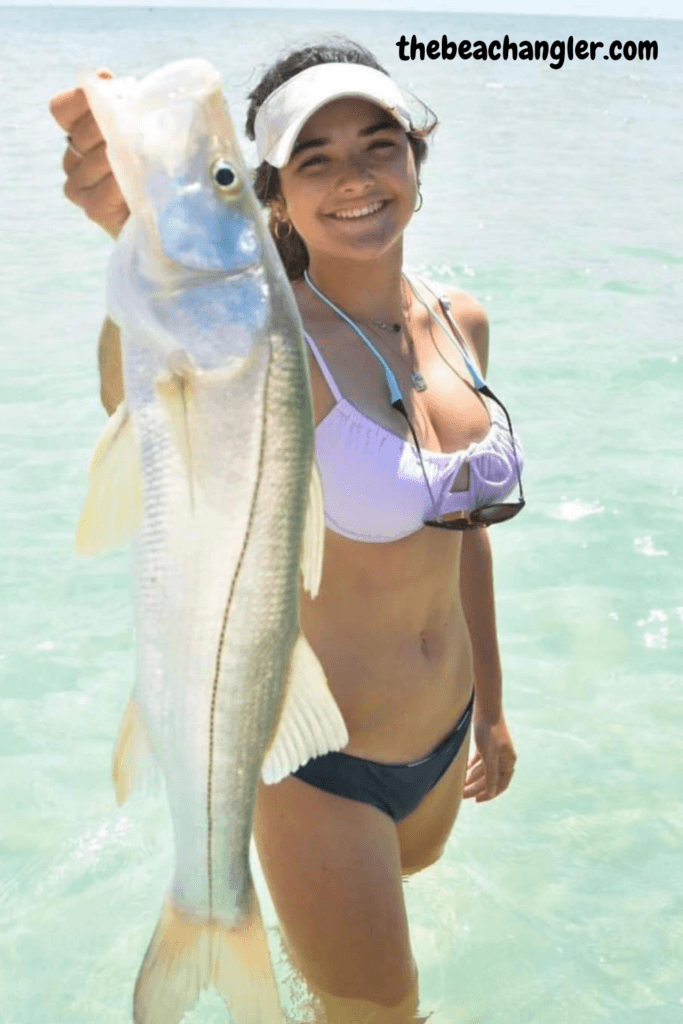 My Recommeded Sand Spikes
| Surf Sand Spikes | Fish-N-Mate 266 Sand Spike | Sand Spike Surf Spike | Sand Flea Surf Fishing Rod Holder |
| --- | --- | --- | --- |
| Key Features: | | | |
| Corrosion Resistance | very good – All Aluminum | Very good – all aluminum | Great – PVC construction |
| Strength and Durability | Strong built to last | High Strength Aluminum | Good but plastic |
| Price | Good Value | Best Value for the Money | Lowest Priced |
---
What is a Sand Spike?
---
Sand Spike can mean a couple of different things. One is a spike driven in the ground and used as an anchor to tie up boats along the shoreline. The other and the one we'll be discussing, is a rod holder driven into the sand along the beachfront to hold your fishing rods while you wait on a fish to strike, the Surf Fishing Sand Spike Rod Holder.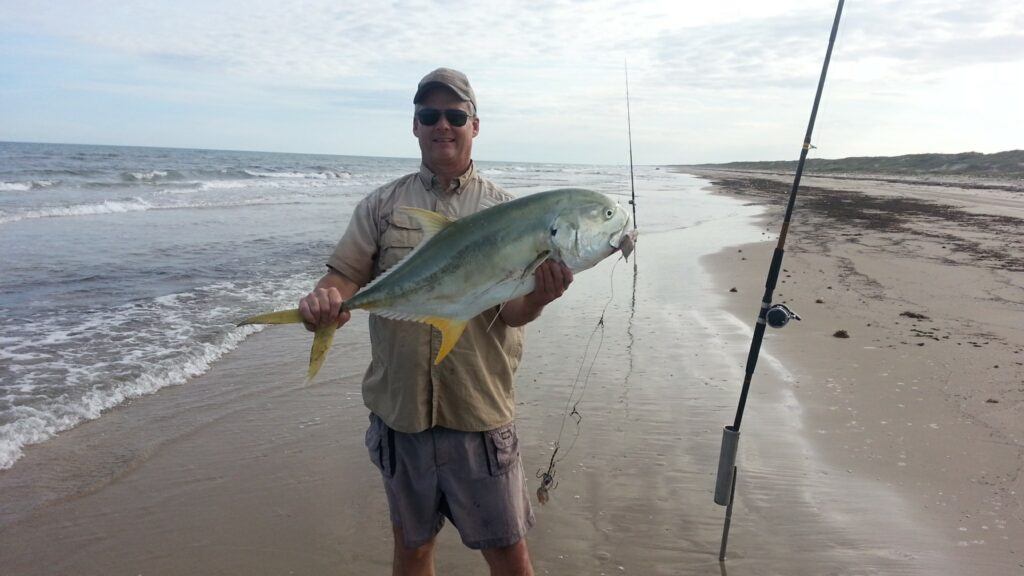 Surf Fishing Sand Spikes are made of various materials keeping in mind the corrosive environment, most are plastic, aluminum, or stainless steel. They will have a sharpened end for driving into the sand and an open tube end for holding the rod. Sand Spike rod holders vary in length with most in the 2 ft to 4 ft range.
They need to be long enough, and strong enough to hold in the sand against wind, wave action and currents, as well as that big strike and run when a fish picks up your bait. If not, you could lose both rod and rod holder. I've been there and done that, not fun, trust me.
Where to Find Sand Spikes?
---
Sand Spike Rod Holders can be found at several online retailers. Tackle Direct (tackledirect.com), Bass Pro Shops (basspro.com), and of course Amazon (amazon.com).  You will find them at local bait shops near the beach as well, and you will have the added benefit of getting to see the actual product up close and personal.
You can make your own if you're handy with a few basic tools. Of course, if you are a welder and can weld aluminum and or stainless steel, you can go that route as well. A section of 2 inch PVC pipe can be used to make Surf Rod Holders, simply cut one end on a diagonal for driving into the sand. They will be more difficult to drive into the sand, but are cheap and certainly corrosion resistant.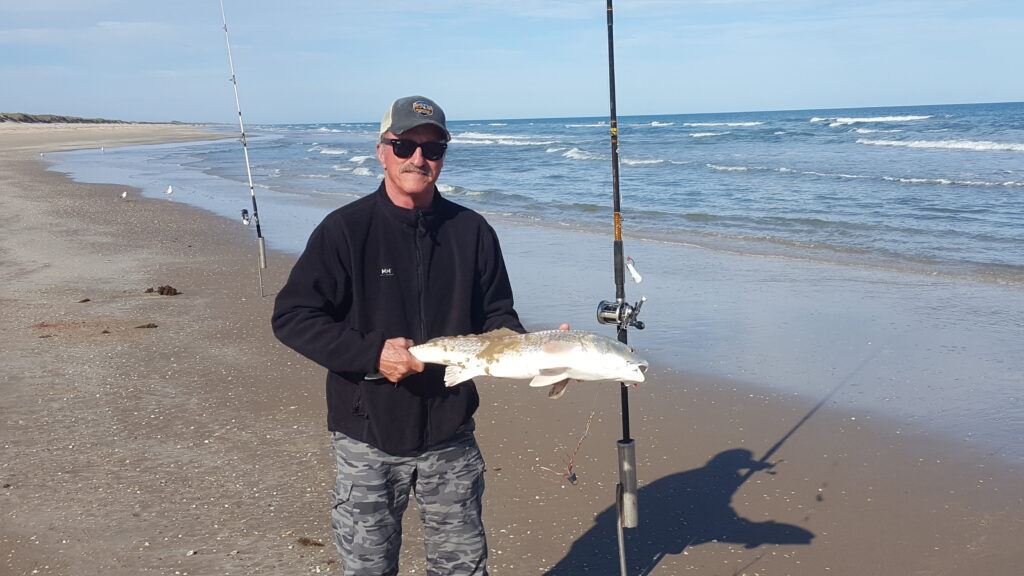 Best Sand Spike Rod Holders.
---
Fish-N-Mate 266 Sand Spike with Bait

Box
Made of sturdy heavy gauge anodized aluminum with a measuring tape on the side and foot pegs to help with setting into the sand. The Fish-N-Mate Sand Spike is a great choice and will last a lifetime.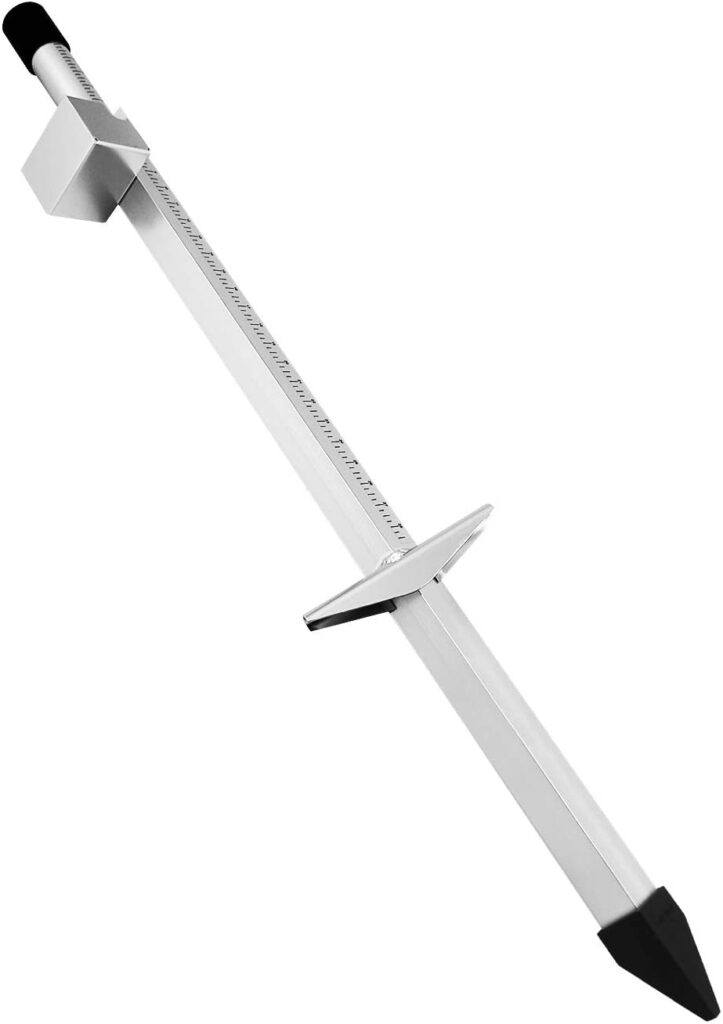 High impact plastic rod holder

High impact plastic rod holder

High impact plastic rod holder

Glow in the dark" rod rest assemblies

Adjustable rod holder
100% Aluminum, Stainless Steel Hardware Sand Spike, 46 inches Long
1-Year Warranty – 100% Aluminum sand wedge and rod holder. Rod holder is not PVC.
Inserts up to 24" into sand
2" angle, 1/8 " thick, 1.66 inside diameter

 Impact + UV Resistant PVC With High Gloss Finish. NOT your home improvement store PVC. PVC manufactured in USA and made by Tides Fishing Company.

 Large Microfiber Bait Towel Keeps Your Hands Clean in The Surf. Easy Connect to Your Surf Rod Holder or Keep in Your Fishing Cart.

Large Wire Lock Pin With 5 Length Choices Keeps Your Surf Rod Tip Up Above the Breakers.

 Rubber Coated Flared Top Keeps Your Fishing Pole in Great Shape. Reel Cutout Gives your Fishing Rod and Reel Combo Great security Inside the pole holder.

 With 2 Colors and 3 Heights Available. You Are Sure to Get the Perfect Fishing Rod Holder For Your Area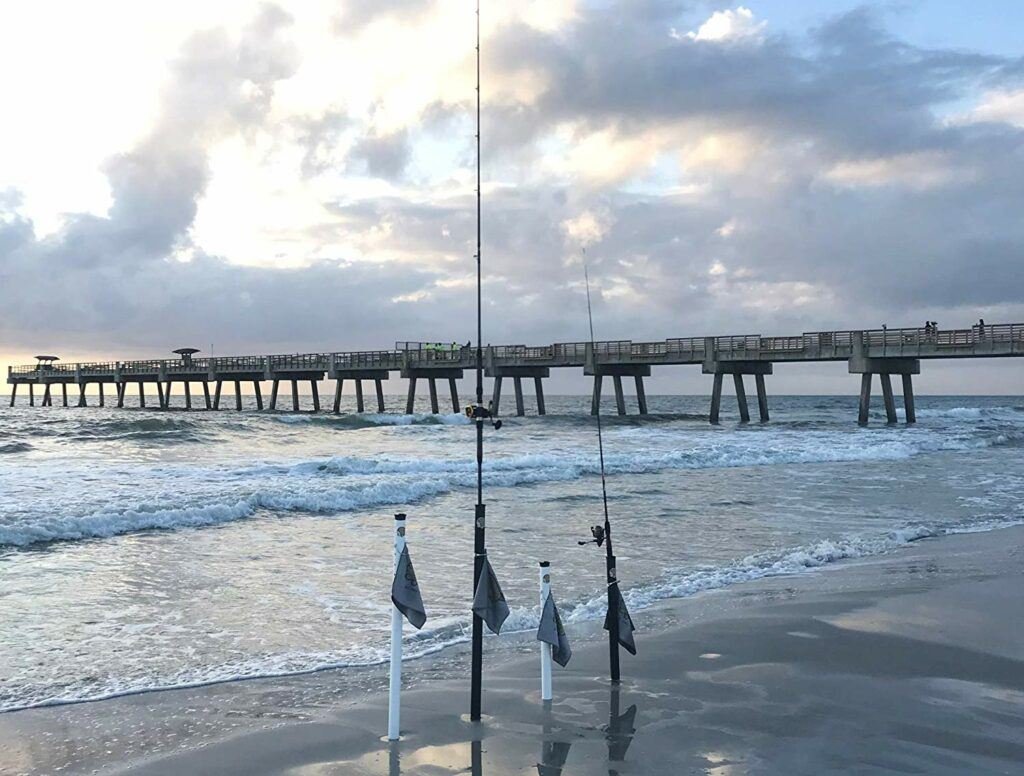 Unexcelled Fishing 48″ Ground Spike Rod Holder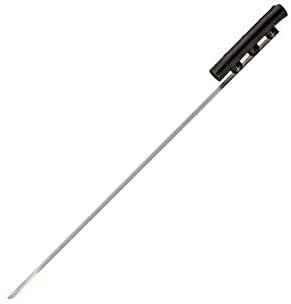 UV-Resistant Rod Tube made out of HDPE material
Absolute necessity for Beach and Surf Fishing
Tube is Deeply notched on the water facing side to ensure spinning reel remains stationary
Durable tube-style rod holder with aluminum sand spike
Quality craftsmanship, Made in USA

Welded Foot Push for Easy Implantation

All aluminum construction in Mill Finish

Overall Length: 46 inches

Rod Tube ID: 1 5/8″
Making Your Own Sand Spikes
---
As I mentioned before, you can certainly make your own Sand Spike Rod holders if you have the time and talent. In any good hardware store you will find 2 inch diameter PVC pipe and it comes in 10 foot sections. That would be enough for two or three rod holders. They are more difficult to drive into the sand far enough to hold against bigger fish. You can buy aluminum angle and use automotive hose clamps to attache two foot sections of PVC pipe to 3-4ft of angle to make good rod holders as well.
---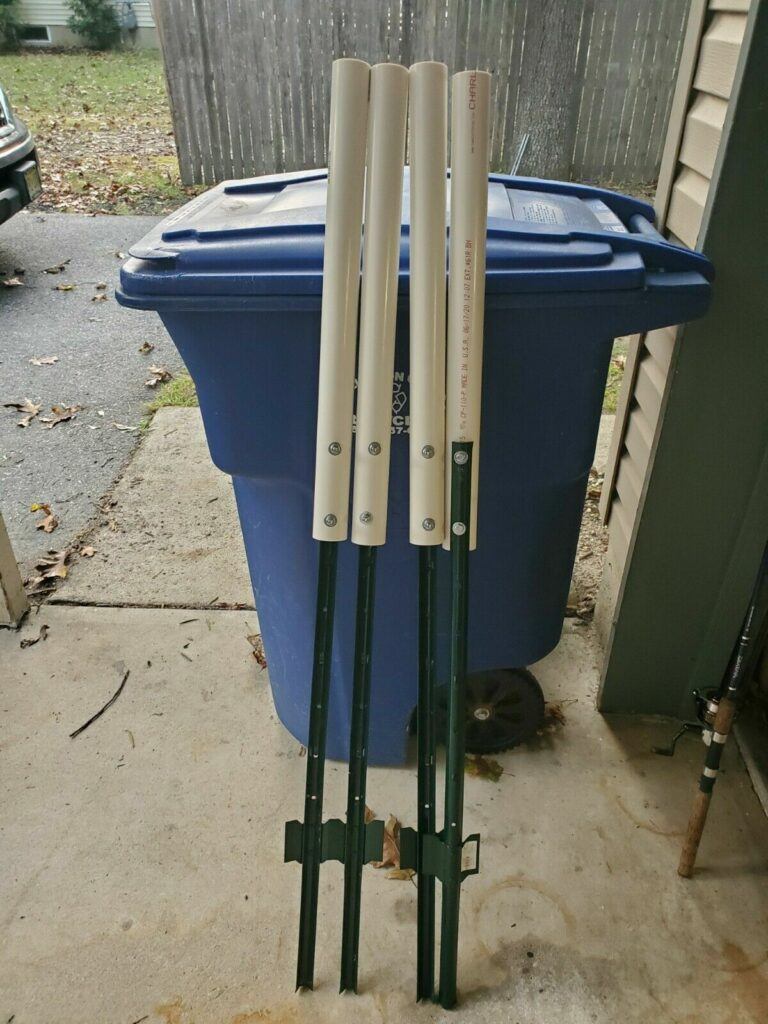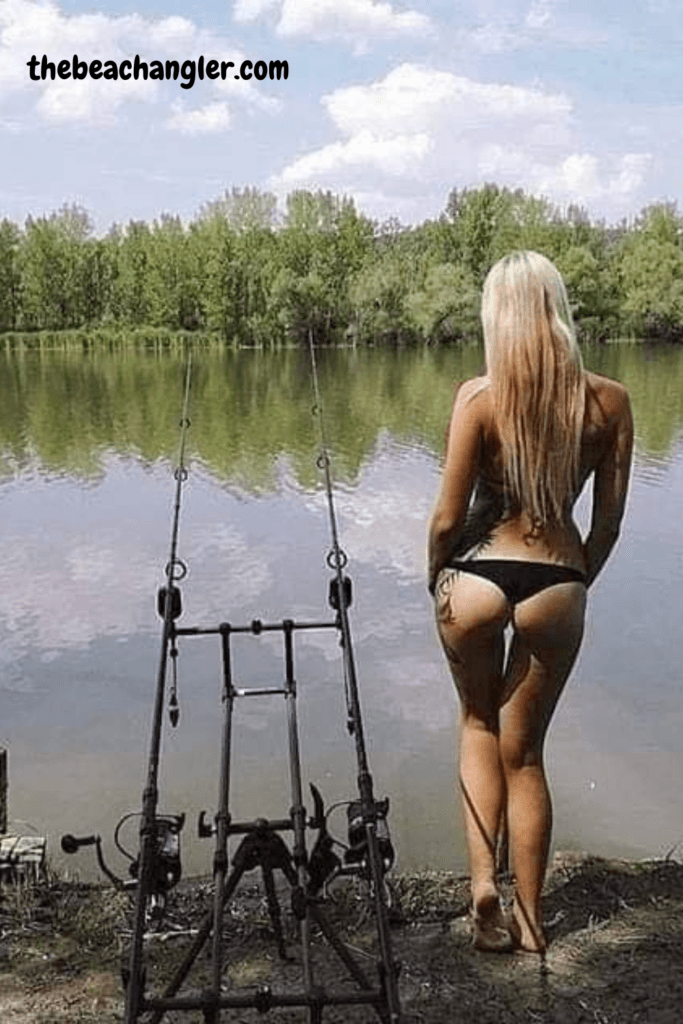 Some sand spikes are made out of rebar with metal rings welded on to hold the rods. Rebar will rust however, so they will take more maintenance. The important thing is that whatever you use is long enough to drive into the sand and still keep your rod up out of the sand and waves. A quick tip, when you cast your bait out and put the rod in the sand spike, loosen the drag on your reel so that when a big fish hits and makes a run for the open ocean, your drag will slip instead of possibly your rod launching into the surf. Trust me, been there, done that and it's not much fun.
Gear Up and Go Fishing
---
Check out the Surf Sand Spikes either online or at your local tackle shop. Choose those best for you, your equipment, fishing conditions, and of course, budget. Then load up and head to the beach. Try em out, have fun, go fishing. You'll be able to put out several rods which will increase your odds at getting bit.
---
---
When you're at the beach, or wherever you go in the great outdoors, please do me a favor and leave it cleaner than you found it. Take an extra trash bag with you and donate 15 minutes to fill it with what those less courteous folks leave behind. If you have any comments, questions, ideas or suggestions, please leave them in the comment section below and I will get back to you asap. You can follow us on Facebook: Rex The Beach Angler, Instagram: thebeachangler7, Twitter: @AnglerBeach, and YouTube: Man Art Creations.
Be safe, enjoy the journey, good luck and good fishin.