You're thinking of taking the family down to the beach for a little vacation and want to try a some surf fishing while you're there. Beach fishing can be a lot of fun, exciting and productive. You never know what might grab your line. We've covered the basics of Surf fishing in earlier posts, in this article we will focus on the best baits for beach fishing or surf fishing.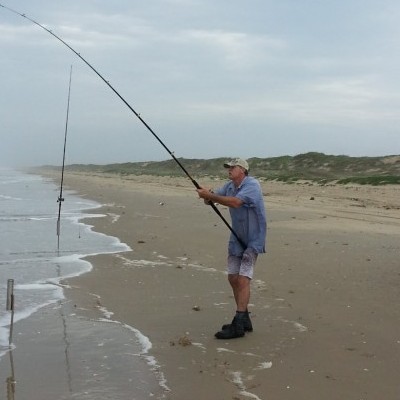 .
Baits for Beach Fishing
---
The best baits for beach fishing, of course, will depend on several factors. The target species, time of year, availability and region. The short answer is whatever the fish like to eat the most. Internet forums, message boards and the local bait shops are great sources for current information as to the hot bait, if you will. The old fishing adage of "matching the hatch" is always a good starting point. What are the fish feeding on and what baits best resemble that? Then you have the question of artificial baits verses natural baits.
Natural or Artificials
---
What are the best baits for Beach Fishing?
If you've spent any time around a bait shop or on a fishing forum/message board, you know that there are two camps when it comes to bait, Natural baits or Artificial baits. Both bait types work, so its largely a matter of personal preference. In general, natural baits will out produce artificials, particularly for those new to beach fishing. The artificial bait crowd enjoys the sport of tricking the fish into eating an artificial. Natural bait fishermen primarily are looking to put fish in the box.
Then there are some, like me, that just like to catch fish and don't care if its on natural or artificial bait. Tailored Tackle has a good starter tackle assortment for fishing with both natural and artificial baits. Their  Saltwater surf fishing kit will give you the essentials to get started fishing the beach.
Natural Baits
---
Natural baits for beach fishing include a variety of small fish and crustaceans that find their way into the diet of larger species that prowl the beach front. Of course, when we cover shark fishing from the beach, small fish will become a relative term 😉 as some shark baits can weigh several pounds themselves.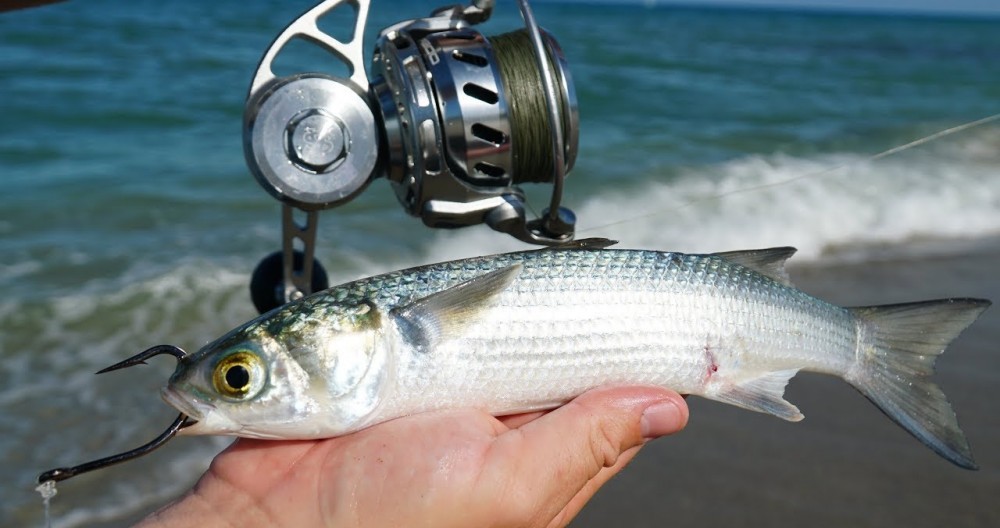 Natural baits can be live, dead, frozen, fished whole or as cut bait. All have their place and are effective. Live is always hard to beat. When you can match the hatch and offer it live, it's hard to go wrong. For this discussion we will cover some of the more popular baits along Gulf Coast Texas and Louisiana.
This will by no means be a complete list and as always check with the locals at your destination beach for current information on baits, tips and tricks.
Probably the most popular and effective natural bait along the Gulf Coast is shrimp. Everything from crabs and pin perch to tarpon eat shrimp. It seems to be on everything is dinner list. Shrimp is a great bait for beginners because you will catch something. Live shrimp is a standard when you can get it. Dead shrimp works great too, but you might catch more "trash" fish when fishing dead shrimp. Remember, when surf fishing, there's always a bigger fish in the ocean and they eat other "smaller" fish.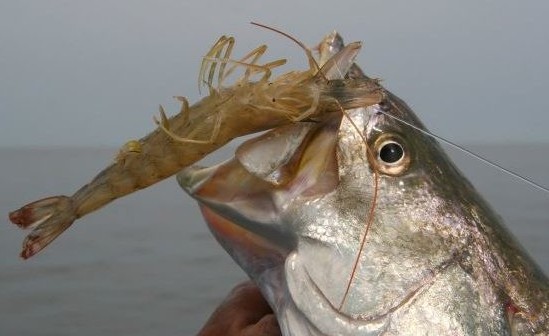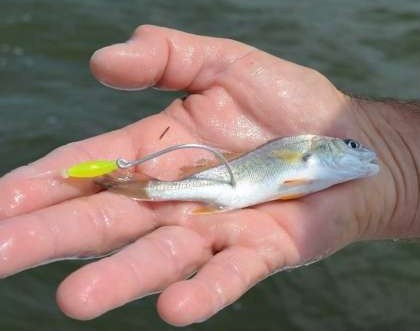 You should always check with the local bait shops when it comes to bait fish. Not all fish can be used as bait "legally". Some of the most common for fishing the beach are mullet, menhaden, pin fish, and croaker.
Mullet frequent the surf zone from spring through fall and when they group up for their annual mass migrations, the feeding frenzy along the beach front can get pretty dramatic. Everything from trout, redfish, sharks and tarpon crashing the schools with flocks of pelicans diving in from above.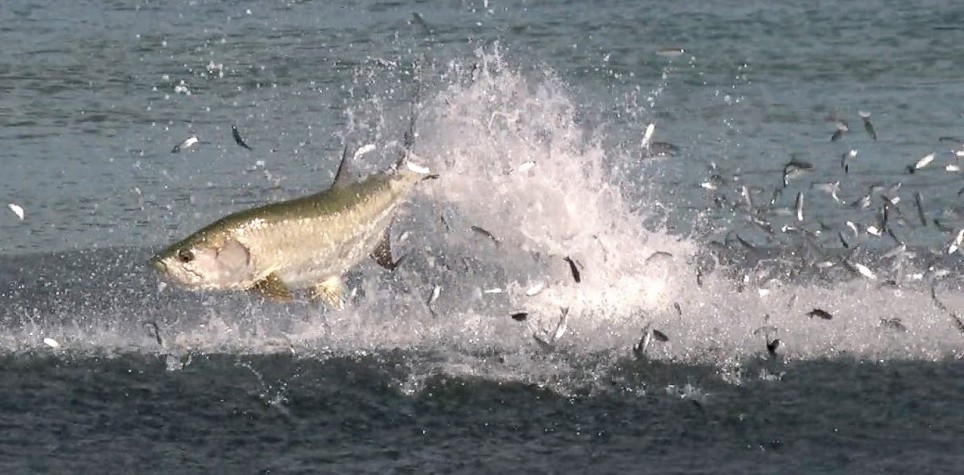 Live mullet fished in the surf is a great bait for a variety of species, but cut mullet works very well when live is unavailable. They are an oily fish and when cut, that oil travels down current attracting predators. Gulf Menhaden similarly are a very oily fish that draw fish in from long distances.
Pin fish and Croaker are most commonly fished live. Croaker when allowed to reach full size is actually a tasty fish for the table, but in recent years, they have been found to be a great live bait. Particularly for speckled trout. Some speculate that croaker eat trout eggs and so they are a natural enemy. Like their name, they make a croaking noise when agitated, which draws predators to them as well.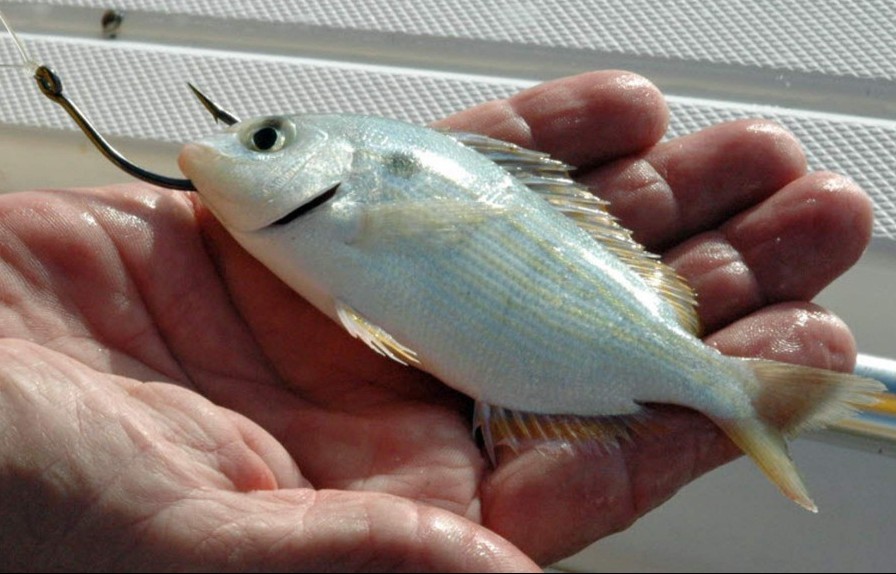 All of these natural baits for beach fishing will work, check with the locals for availability and for what's working 🙂 Of course, you can also try your hand at artificial baits.
Artificial Baits
---
If natural bait is not available or hard to come by, you can always switch over to artificials. Like natural baits, there is a wide variety of artificial baits that will work for surf fishing. Everything from spinner baits and top waters designed for bass fishing to spoons and soft plastics will catch fish on the beach when conditions are right.
Keep in mind, it's called surf fishing for a reason. That reason is waves. Sometimes big waves. When the surf is moderate to calm, you can wade out and fish with only a minor pounding from the surf. When it gets rough however, it can get near impossible and sometimes dangerous. Remember, always, safety first.
There are some artificial baits for beach fishing that have stood the test of time and should be in every surf fisherman's tackle box. Spoons, and soft plastic baits of various shapes and sizes will catch most anything in the surf. There are many other good baits, but spoons and soft plastic shad or shrimp imitations are hard to beat if you're just getting started surf fishing.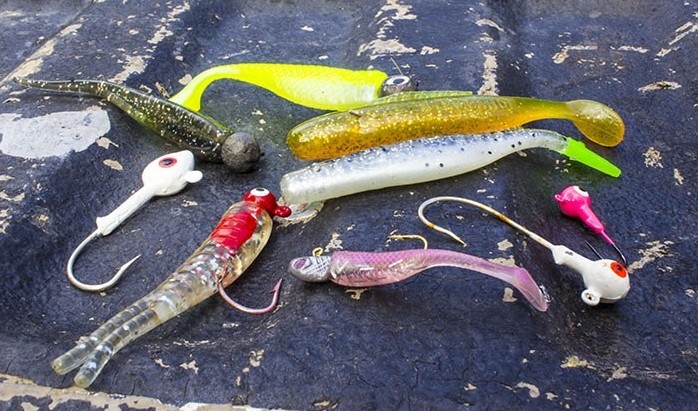 What to Choose?
---
So, what do you want to try? What do you want to catch? What's available? Once you've picked a beach, check the local blogs and bait shops. See what's working and where. The best baits for beach fishing will vary depending on what beach, what time of year and what species your after. So, just go fishing. It's a learning process and what a great classroom!
Randy Meyers has a great introductory course on Surf Fishing that will cover baits and many other tips and techniques. Randy has been fishing the surf zone for over 40 years and knows how to catch em.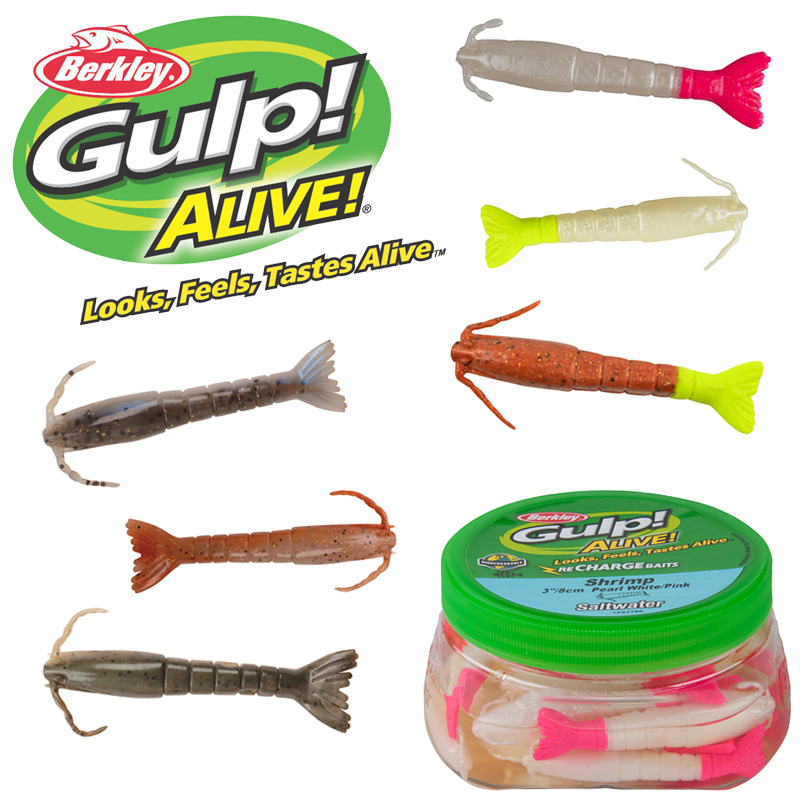 Essential Surf Fishing Gear: