Matagorda Beach Texas is a 22-mile stretch of sand and shell located approximately 100 miles south of Houston where the Colorado River meets the Gulf of Mexico. Less popular, and much less developed than Galveston and Padre islands, Matagorda Beach offers some great surf fishing opportunities. If you're new to surf fishing, or not sure what it is, read our article on "what is Surf Fishing?", it will give you the nuts and bolts.
Quick Look:
Surf fishing Matagorda Beach Texas offers an unparalleled fishing experience amidst the natural beauty of the Texas coastline. Armed with the right gear, knowledge of the best techniques, and an understanding of the local ecosystem, you're ready to cast your line and reel in some impressive catches. Remember to prioritize safety, respect the environment, and enjoy the journey as much as the destination. So pack your gear, embrace the thrill of the surf, and embark on a fishing adventure like no other at Matagorda Beach, Texas!
Destination Matagorda Beach Texas
---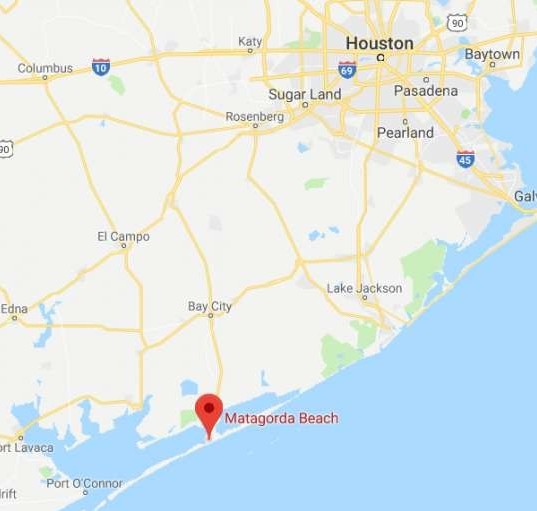 Drive south on Texas Highway 60 and eventually you will find yourself at the end of the road at a 4 way stop in Matagorda Texas.
A small coastal community at the intersection of the Colorado River and the Intracostal Waterway, Matagorda is very much a fishing community. You have to be going there to get there. Not an accidental destination. Only one way in and one way out.
A small but well stocked grocery store, a couple of bars and restaurants, plenty of bait shops and yes even a liquor store. There are a couple of small motels and some cabin rentals but in peak season they fill up well in advance, so you will need to plan ahead.
Fifteen miles back up Highway 60 is the town of Bay City with plenty of motels and even a WalMart SuperCenter.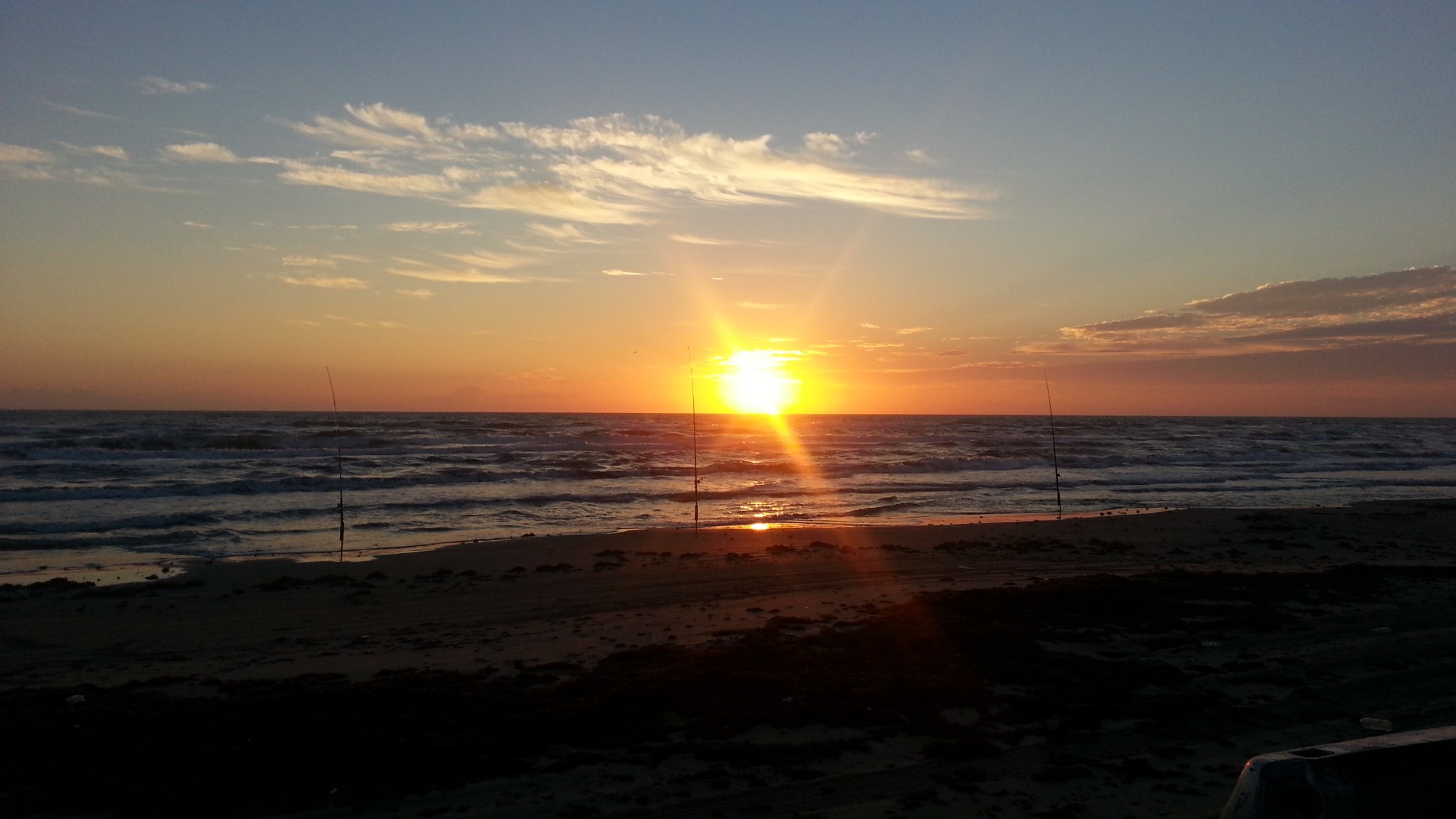 Where's Matagorda Beach Texas?
---
You've found the 4 way stop, now what? Take a left onto FM 2031 (beach road) and continue about 5 miles along the Colorado River to Dunes Drive. Left turn will take you to the sand, and from there, you're on you're own. There are no amenities or services on the beach. There is an RV park and fishing pier at the jetties where the river empties into the gulf, otherwise you will have to return to Matagorda if you forgot something 😉
The first 4-5 miles of the beach can get crowded on weekends and holidays, but passed that, the beach becomes less crowded and more secluded. Don't try this beach without a 4×4 vehicle. On low tide you're can go quite a ways in a two wheel drive vehicle, but when the tide comes in, you'll be stuck and it's not fun. Trust me on that.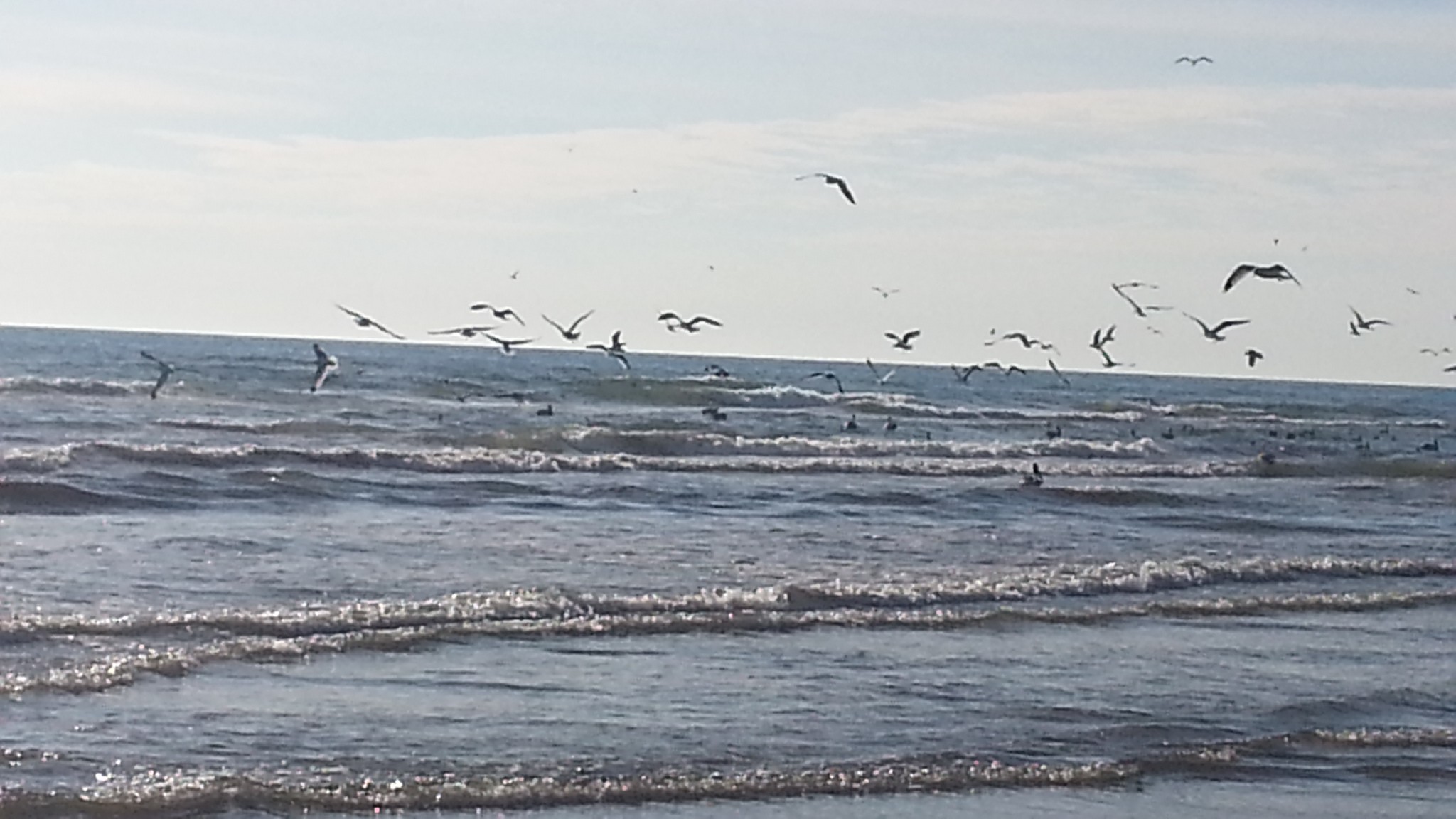 What Can You Catch Surf Fishing Matagorda Beach?
---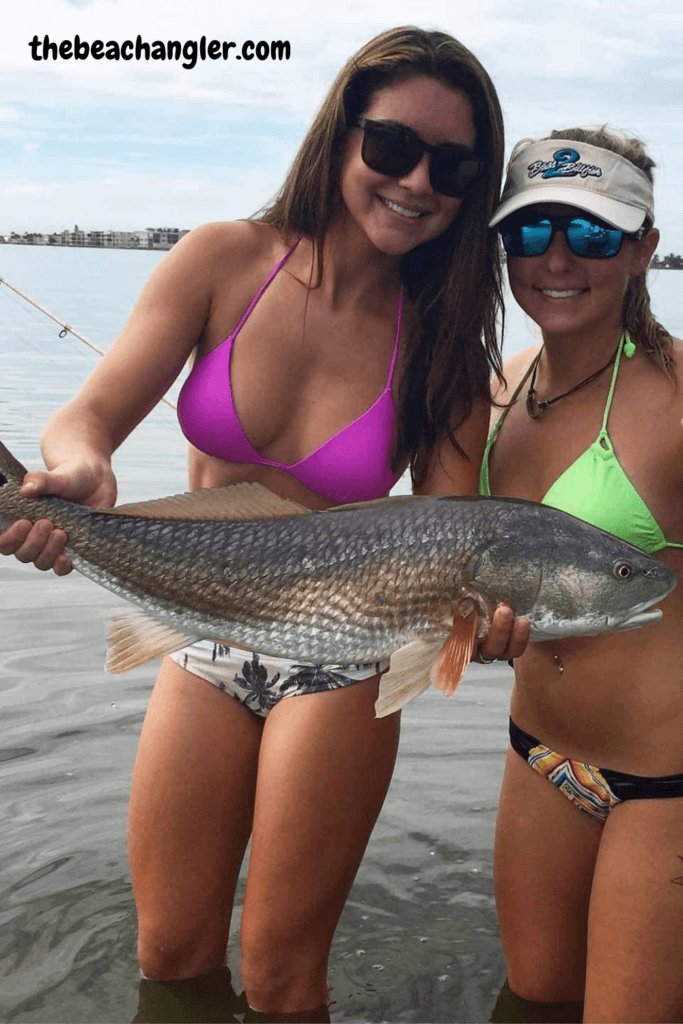 Matagorda Beach surf fishing can be tremendous. Everything from speckled trout, redfish, black drum, sheepshead and even sharks prowl the beachfront. The water is deeper closer here than say Galveston or Padre Island beaches. Larger predators seem to hang closer to the beach with the comfort of deeper water nearby.
In the summer, the Gulf Shrimping season opens and the shrimp boats can be working just off the beach front. This means that shrimp, and the fish that feed on shrimp, are also close to the beach. Keep in mind that this will mean sharks will be abundant as well.
They follow the shrimp boats for an easy meal as the boats cull their catch.Great sport, and not a real threat, they can be a blast to catch. It's not advisable to wade the surf with fish on a stringer as it will draw sharks. Having a shark grab the fish on you're stringer and head for the open Gulf of Mexico is, lets just say, exciting in an unpleasant way.
If you are going to wade fish the surf, always, always, always wear a life jacket (PFD). I don't care if you're an Olympic champion swimmer, good swimmers drown in the surf every year. They all have one thing in common. They weren't wearing a life jacket. A fun time at the beach can become a nightmare in an instant, remember always safety first.
When the clear green water pushes to the beach and the surf is calm to moderate, the Matagorda surf can be awesome for speckled trout.
Fishermen line the first sand bar and load up on both artificials and live baits. It's a tremendous trout fishery, even guides in bay fishing boats, when the surf is calm, run out with their clients to get in on the action.
Oversized (over 28″) redfish prowl the surf year round, however they are more abundant in fall. Large black drum migrate out of the bays into the gulf in spring.
Whiting and sharks are always on the prowl with sheepshead gathering in winter months. Summer months are more crowded, but still not like Galveston or Padre.
Winter you may have most of the beach to yourself, and the bull reds will usually keep you entertained and you're tackle strained.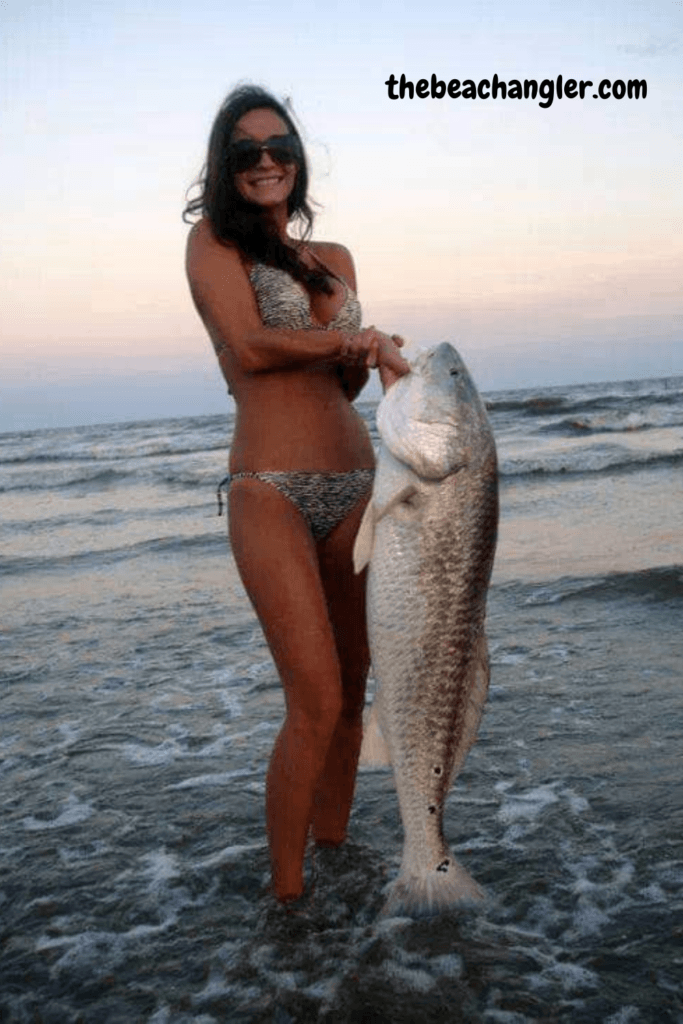 Surf Fishing Matagorda Beach Texas: Tips and Techniques
---
1. Timing Is Everything – To maximize your chances of catching fish, timing is crucial. The best time for surf fishing at Matagorda Beach, Texas, is typically during the early morning and late afternoon hours. During these times, fish are more active and actively feeding, increasing your chances of a successful catch.
2. Scout the Beach – Before you cast your line, take some time to scout the beach for the best fishing spots. Look for areas where sandbars, troughs, or jetties are present. These features create natural structures that attract fish, making them ideal spots to set up your fishing gear.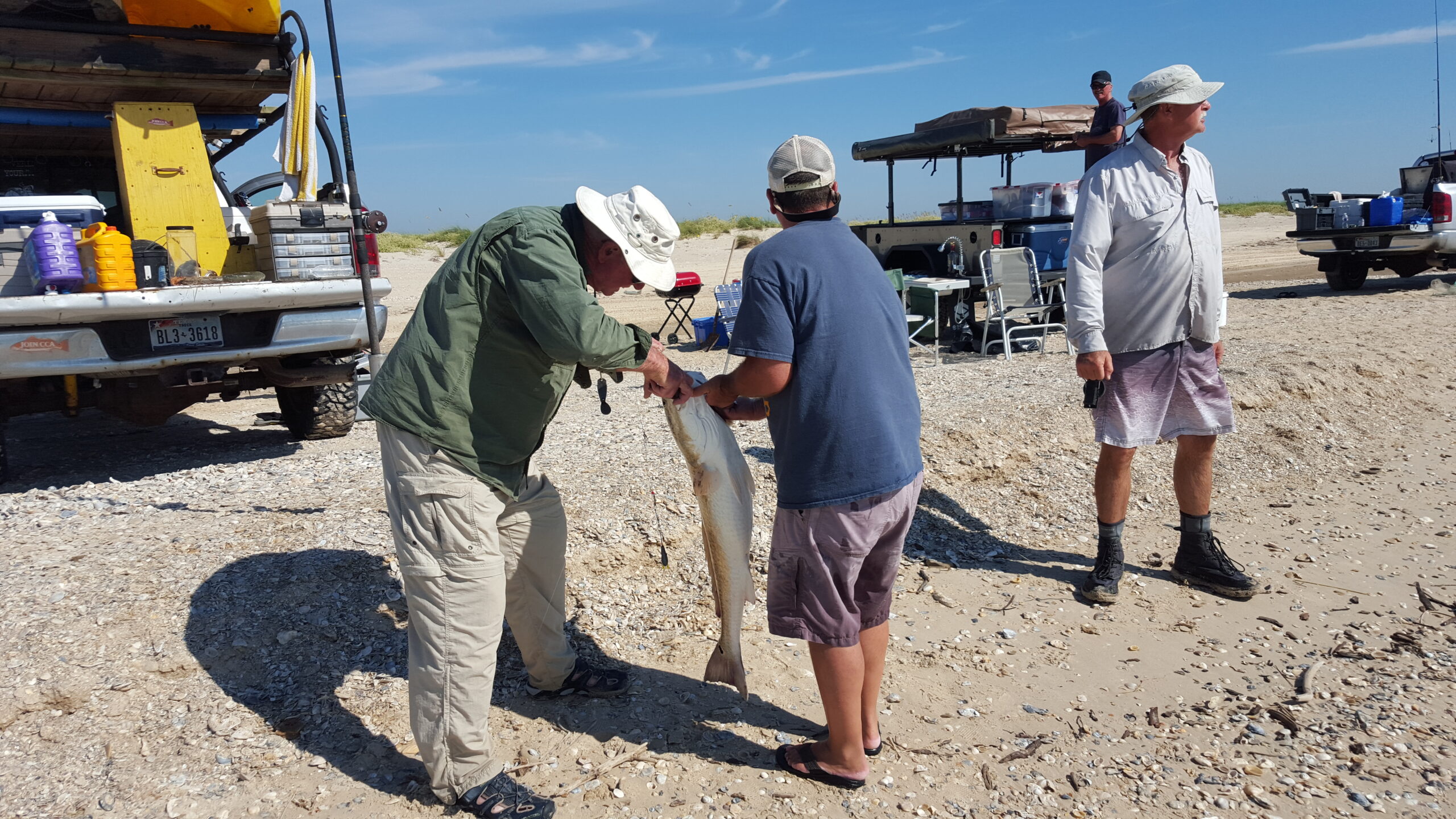 3. Understand the Tides – Tides play a significant role in surf fishing success. Pay attention to the tide charts and plan your fishing trips around the incoming and outgoing tides.
Many fish species, such as redfish and speckled trout, tend to feed more actively during tidal changes.
4. Use the Right Casting Technique – Mastering the art of casting is essential for surf fishing success. When casting from the beach, use an overhead cast or a sidearm cast to achieve maximum distance. Aim to cast beyond the breaking waves, where the fish are more likely to be lurking.
5. Vary Your Bait and Lure Selection – Fish can be picky eaters, so it's important to offer them a variety of bait and lures. Experiment with different options such as live bait, artificial lures, or cut bait to see what entices the fish at Matagorda Beach, Texas. Keep in mind that certain species may be more attracted to specific types of bait, so it's always a good idea to do some research beforehand.
6. Stay Safe and Respect the Environment – While the thrill of surf fishing can be exciting, it's essential to prioritize safety and respect for the environment. Here are a few guidelines to follow:
Be mindful of the weather conditions, tides and rip currents before heading out. Avoid fishing during thunderstorms or when strong currents are present.
Wear appropriate sun protection, including sunscreen, a hat, and sunglasses.
Respect catch limits and fishing regulations to preserve the ecosystem and ensure the sustainability of fish populations.
If you're going to be wade fishing the surf, a personal flotation device is recommended.
Now that you're armed with these valuable tips and techniques, you're well on your way to a successful surf fishing experience at Matagorda Beach, Texas.
But before we wrap up, let's address some frequently asked questions to provide you with even more insights.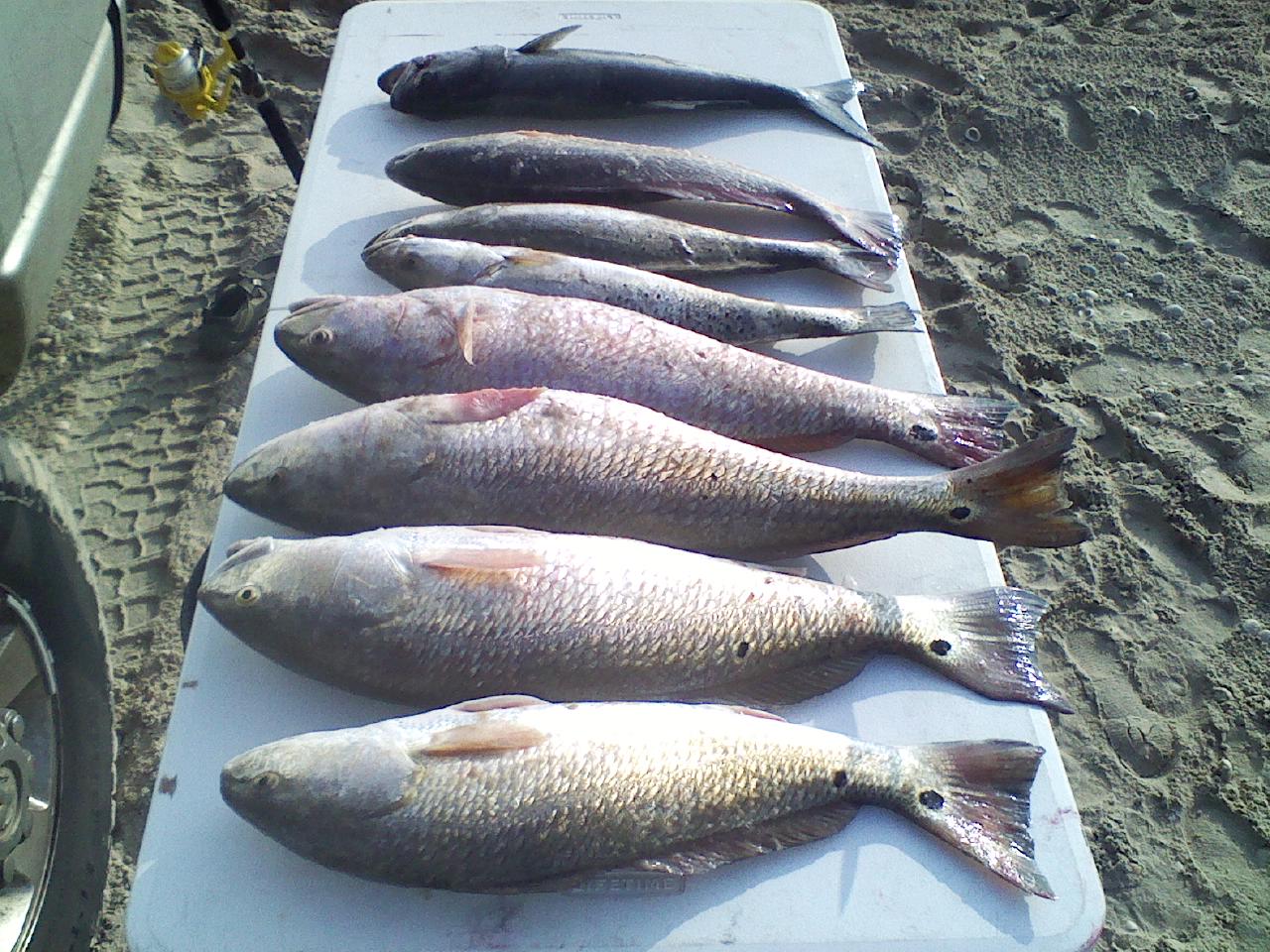 Want to Plan a Surf Fishing Trip to Matagorda Beach?
---
Think you want to try a trip to Matagorda Beach? You'll need a beach driving pass. The grocery store in Matagorda (Stanley's) has them. They're $10 for an annual permit. Primitive camping is available on the beach. There is a nice RV park at the jetties. If fills up fast in the summer and holidays so you will need to plan and call ahead. Otherwise, there are a few motel rooms and cabin rentals in Matagorda, or 15 miles north in Bay City there are plenty of motels
A good local source of information are the websites : matagordabeach.org and matagordabaytexas.com, 2coolfishing.com, you will find everything from accommodations, bait shops, fishing guides and tourist attractions. If you plan on camping on the beach, remember, it's on you're own, no amenities. Bring everything you need. Food, water, fuel, tents, ice chest and plenty of ice. Of course, you can always drive back to town, but that will take away from you're fishing time.
Bring some medium rods and tackle for wade fishing for speckled trout. Pack some heavy gear for chunking bait into the surf for redfish, black drum and sharks. You can find some good forums and discussions on fishing at Matagorda at: 2coolfishing.com.
If you want to learn surf fishing and fishing Matagorda Beach before you try a trip on your own, give Stony Seyferth a call at High Reel'n. Stony will work his tail off to make your trip a success and leave you with memories to last a lifetime.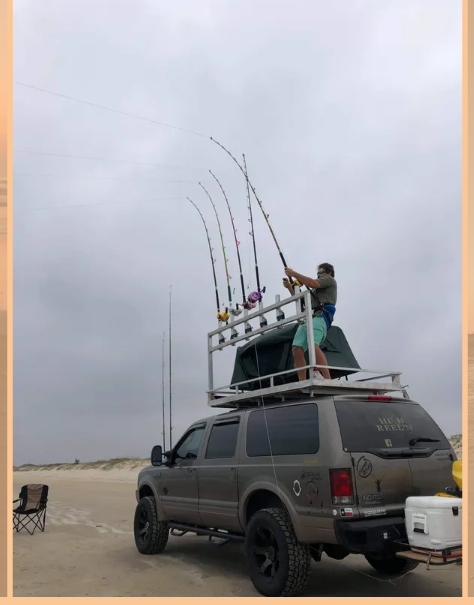 Essential Surf Fishing Gear:
FAQs About Surf Fishing Matagorda Beach Texas
---
What types of fish can I catch while surf fishing at Matagorda Beach, Texas?
Matagorda Beach is home to a diverse range of fish species. Some frequent catches include redfish, speckled trout, black drum, flounder, sharks, spanish mackerel, whiting, gafftop catfish, hardhead catfish, and sheepshead.
Is a fishing license required for surf fishing at Matagorda Beach, Texas?
Yes, a fishing license is required for anyone aged 17 and older to fish in Texas waters. Make sure to obtain the appropriate fishing license before you embark on your surf fishing adventure.
Are there any nearby amenities at Matagorda Beach, Texas?
While Matagorda Beach offers a pristine and natural setting, there are nearby amenities such as public restrooms, picnic areas, and convenience stores for your convenience. As well as a public fishing pier and jetties.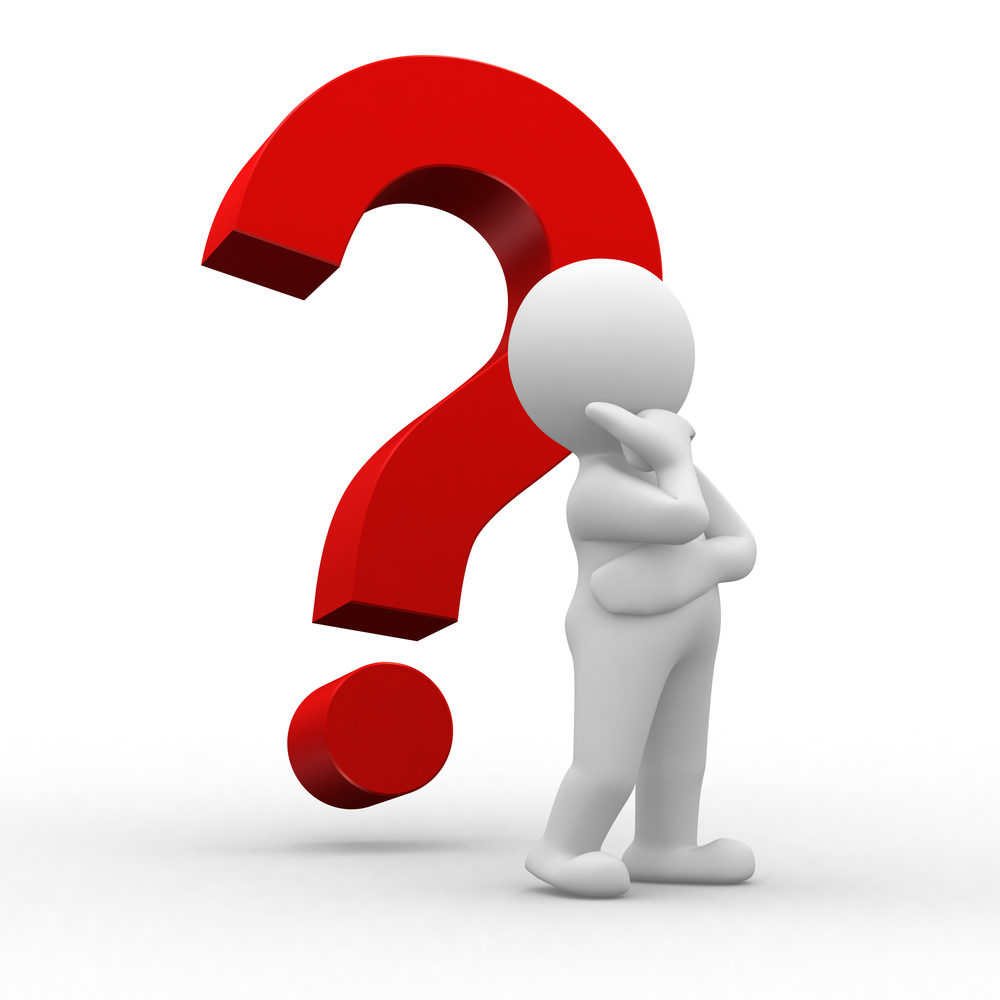 Can I fish at Matagorda Beach during the winter months?
Yes, you can fish at Matagorda Beach throughout the year. While fishing patterns may vary during different seasons, you can still enjoy a rewarding fishing experience even during the winter months.
Are there any local fishing charters or guides available at Matagorda Beach?
Yes, if you're new to surf fishing or simply prefer the guidance of an experienced angler, there are several local fishing charters and guides available at Matagorda Beach. They can provide valuable insights, equipment, and expertise to enhance your fishing adventure.
Load up and go Surf Fishing Matagorda Beach Texas!
---
Enough talking about it. Get you're tackle together, make some plans, check some websites and bait shops then mark you calender, load up and hit the beach. Nothing like trying it for yourself.
You may be a little apprehensive at first. That's normal when trying a new place for the first time. Particularly when it means some 4 wheeling to get there.
Once you get there, unpack and get some lines in the water, all the apprehension and troubles of the world will just seem to melt away. If you're new to Beach/Surf Fishing, Randy Meyers has a great introduction to Surf Fishing. Randy's been fishing the surf for over 40 years and he covers everything from tackle, tactics, and tips to bait and fish to catch.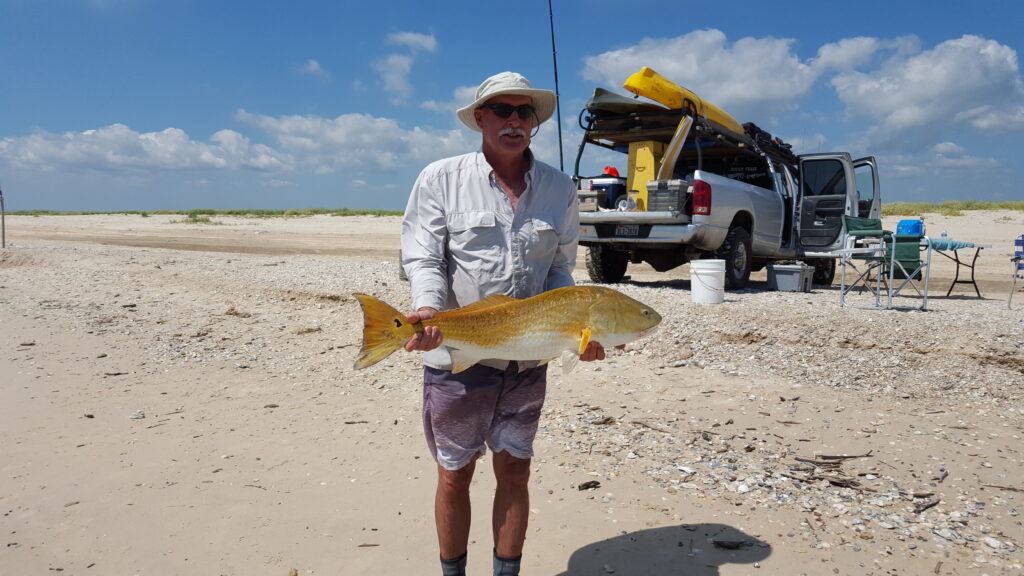 Enjoy the trip, share the experience with friends and family, be safe and courteous, and please always haul you're trash out with you. You'd be my hero if you would pick up another garbage bag or two off the beach while you're there that those less courteous left behind. Try to leave the beach cleaner than you found it.
Till next time, good luck, safe travels and enjoy the journey! If you have any comments, questions, ideas or suggestions please leave them in the comment section below and I will get right back to you. You can Follow us on Facebook: Rex The Beach Angler, Instagram: thebeachangler7, Twitter: @AnglerBeach, and YouTube: Man Art Creations.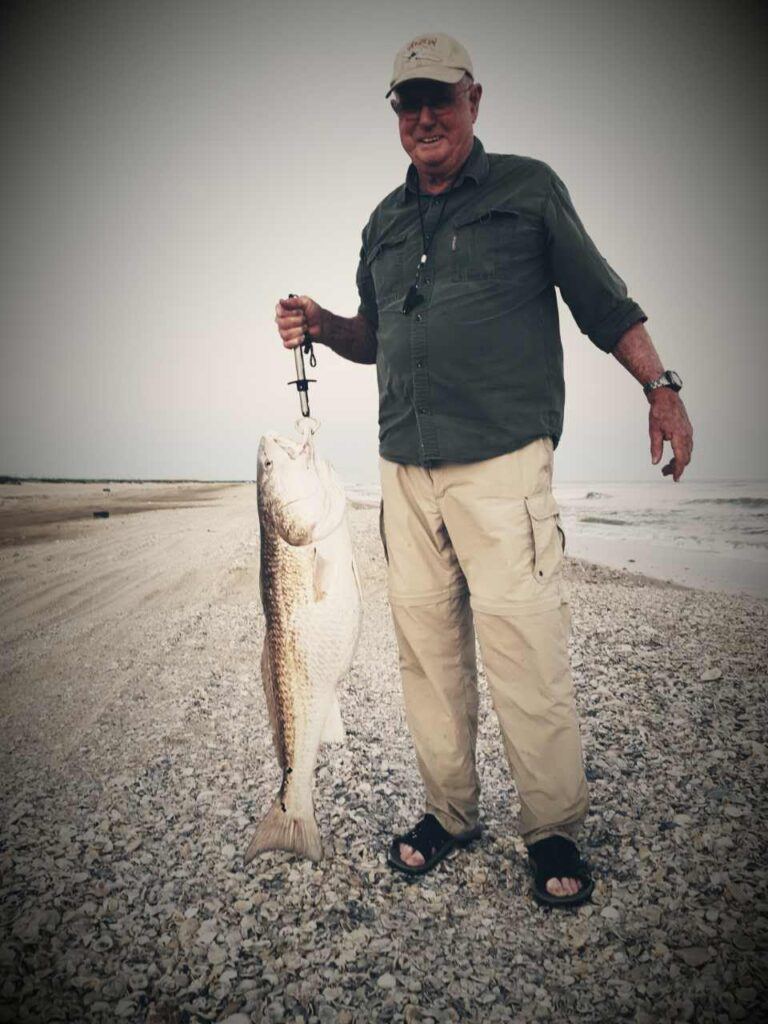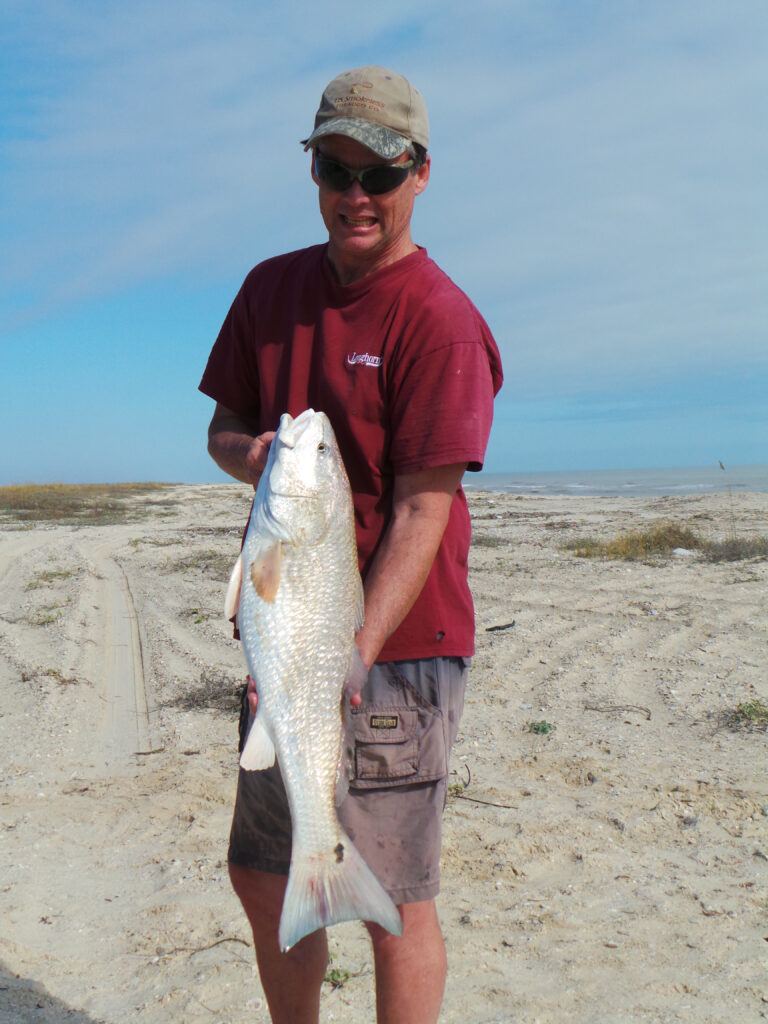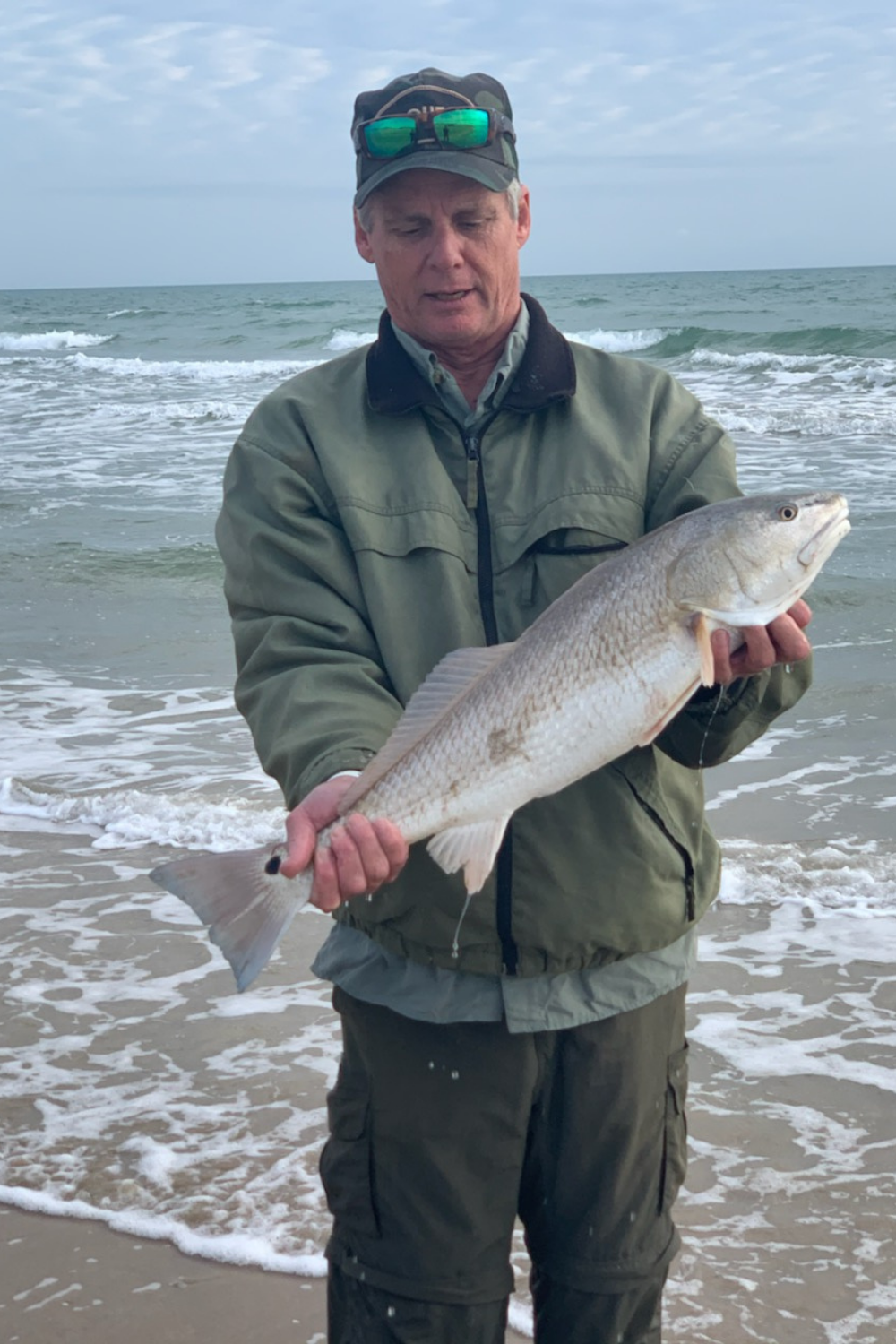 A life long surf fisherman with 50+ years of experience, I am also an avid hunter and outdoorsman. I will be sharing my passion for the outdoors with you so be prepared for hunting, fishing, camping, hiking and more. Along with gear reviews and the latest trends and innovations in the outdoor industry.