Matagorda Beach Texas is a 22-mile stretch of sand and shell located approximately 100 miles south of Houston where the Colorado River meets the Gulf of Mexico. Less popular, and much less developed than Galveston and Padre islands, Matagorda Beach offers some great surf fishing opportunities. If you're new to surf fishing, or not sure what it is, read our article on "what is Surf Fishing?", it will give you the nuts and bolts.
Destination Matagorda Beach Texas
---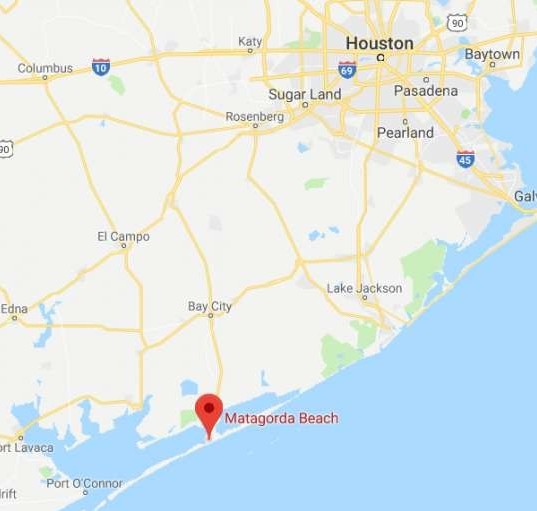 Drive south on Texas Highway 60 and eventually you will find yourself at the end of the road at a 4 way stop in Matagorda Texas.
A small coastal community at the intersection of the Colorado River and the Intracostal Waterway, Matagorda is very much a fishing community. You have to be going there to get there. Not an accidental destination. Only one way in and one way out.
A small but well stocked grocery store, a couple of bars and restaurants, plenty of bait shops and yes even a liquor store. There are a couple of small motels and some cabin rentals but in peak season they fill up well in advance, so you will need to plan ahead.
Fifteen miles back up Highway 60 is the town of Bay City with plenty of motels and even a WalMart SuperCenter.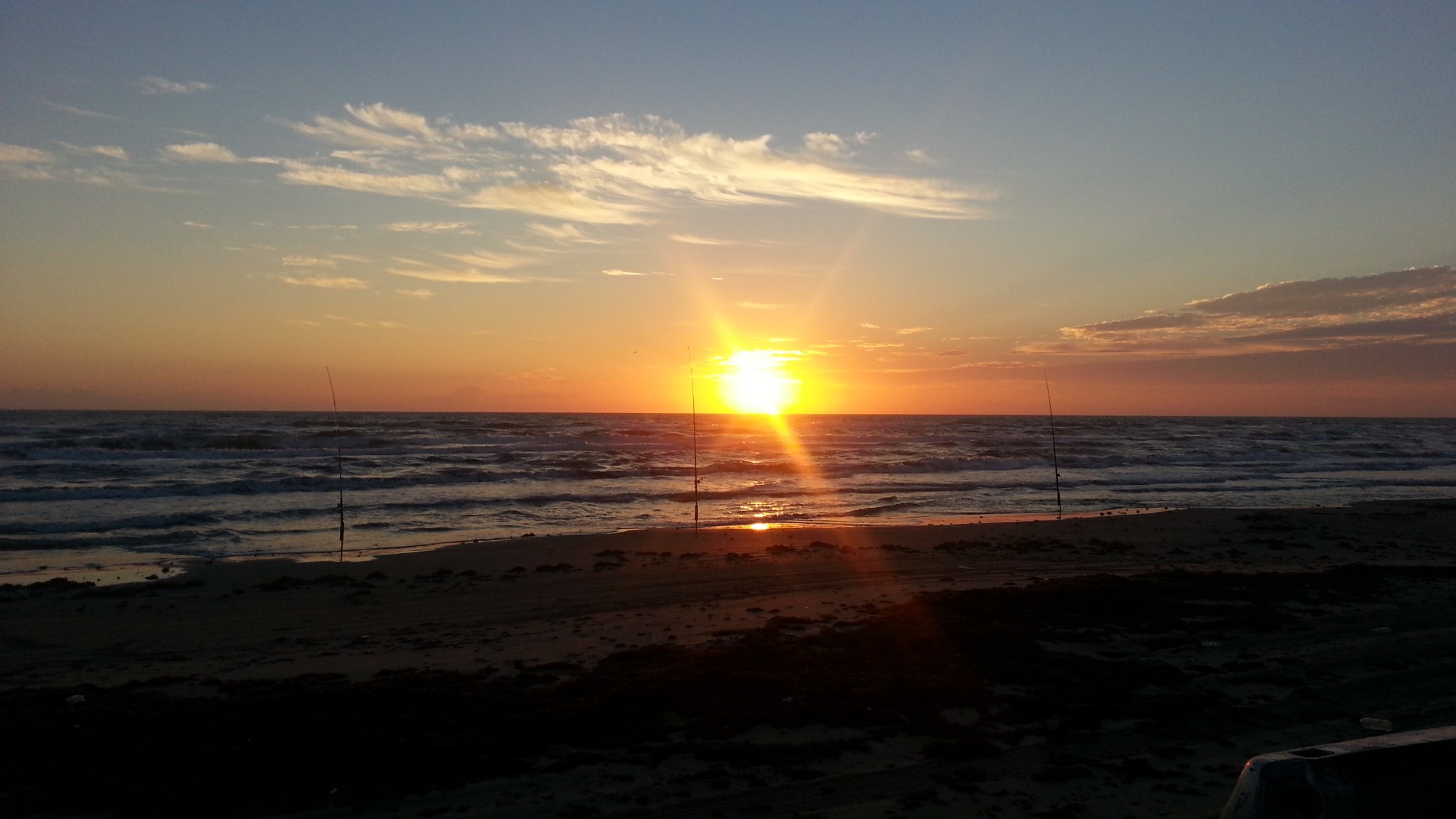 Where's the Beach?
---
You've found the 4 way stop, now what? Take a left onto FM 2031 (beach road) and continue about 5 miles along the Colorado River to Dunes Drive. Left turn will take you to the sand, and from there, you're on you're own. There are no amenities or services on the beach. There is an RV park and fishing pier at the jetties where the river empties into the gulf, otherwise you will have to return to Matagorda if you forgot something 😉
The first 4-5 miles of the beach can get crowded on weekends and holidays, but passed that, the beach becomes less crowded and more secluded. Don't try this beach without a 4×4 vehicle. On low tide you're can go quite a ways in a two wheel drive vehicle, but when the tide comes in, you'll be stuck and it's not fun. Trust me on that.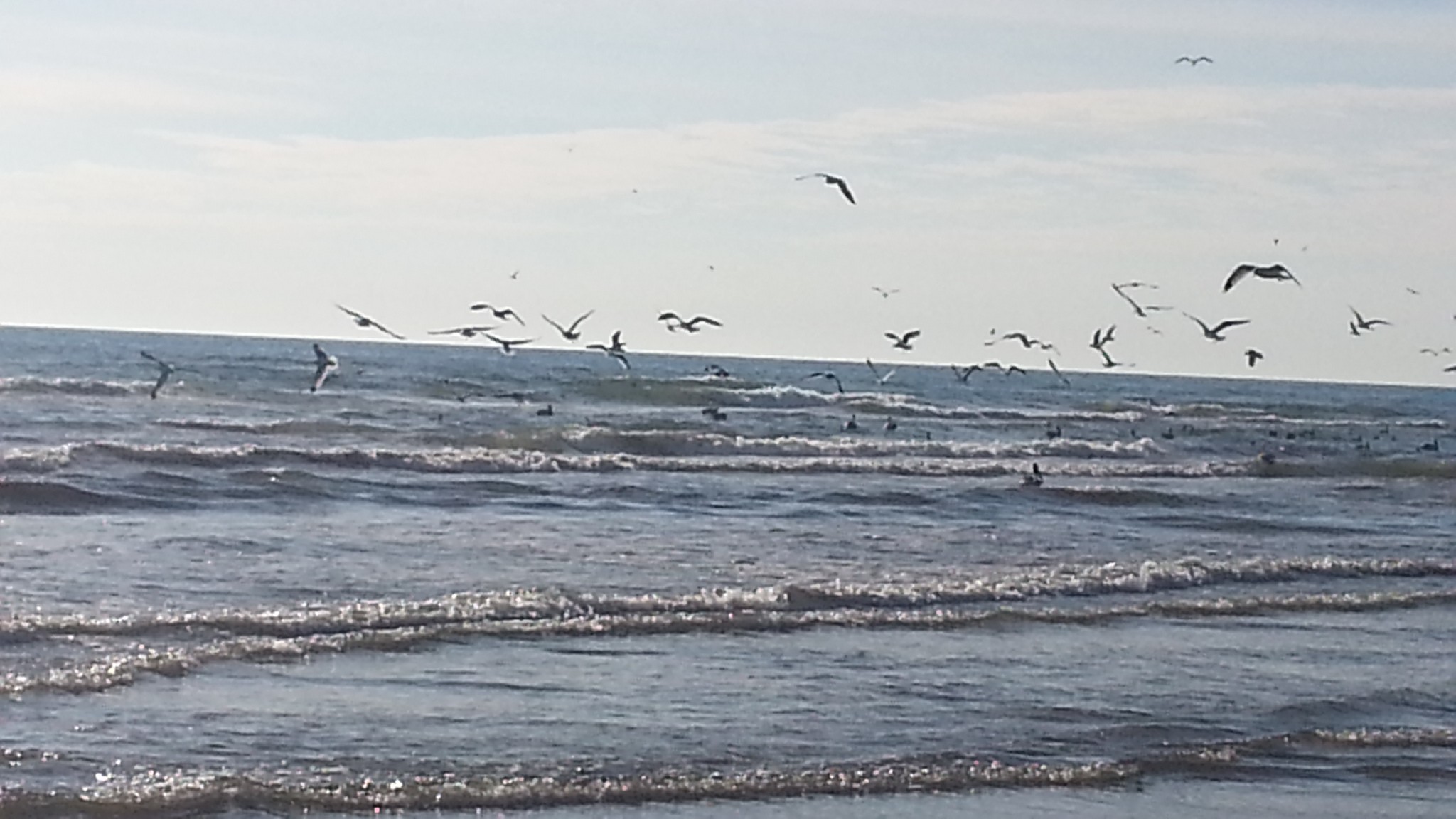 How's the Surf Fishing?
---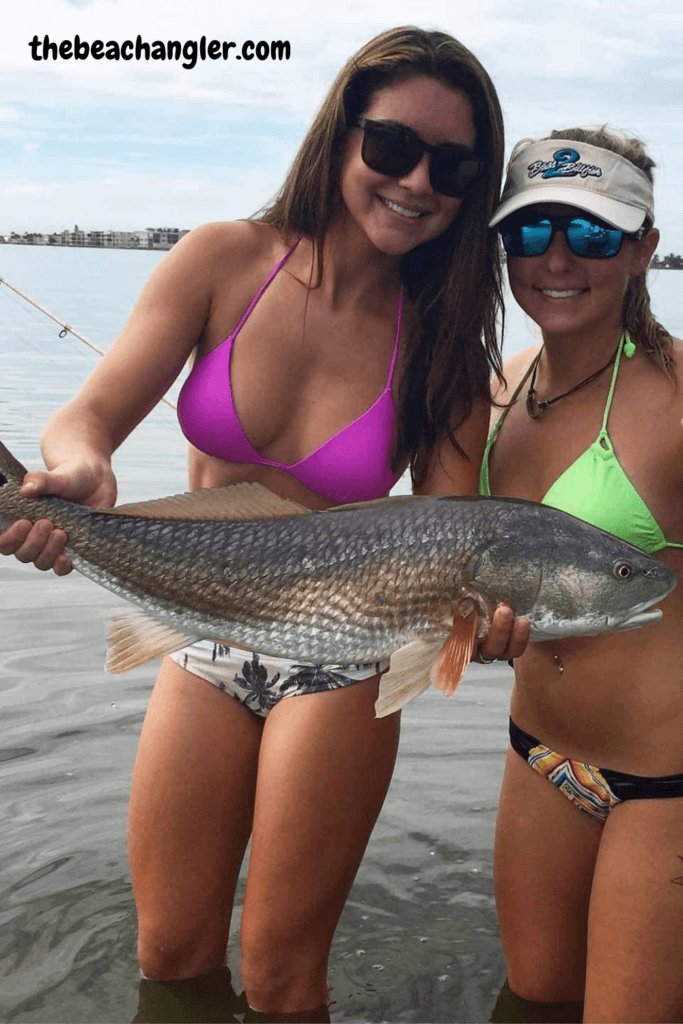 Matagorda Beach surf fishing can be tremendous. Everything from speckled trout, redfish, black drum, sheepshead and even sharks prowl the beachfront. The water is deeper closer here than say Galveston or Padre Island beaches. Larger predators seem to hang closer to the beach with the comfort of deeper water nearby.
In the summer, the Gulf Shrimping season opens and the shrimp boats can be working just off the beach front. This means that shrimp, and the fish that feed on shrimp, are also close to the beach. Keep in mind that this will mean sharks will be abundant as well.
They follow the shrimp boats for an easy meal as the boats cull their catch.Great sport, and not a real threat, they can be a blast to catch. It's not advisable to wade the surf with fish on a stringer as it will draw sharks. Having a shark grab the fish on you're stringer and head for the open Gulf of Mexico is, lets just say, exciting in an unpleasant way.
If you are going to wade fish the surf, always, always, always wear a life jacket (PFD). I don't care if you're an Olympic champion swimmer, good swimmers drown in the surf every year. They all have one thing in common. They weren't wearing a life jacket. A fun time at the beach can become a nightmare in an instant, remember always safety first.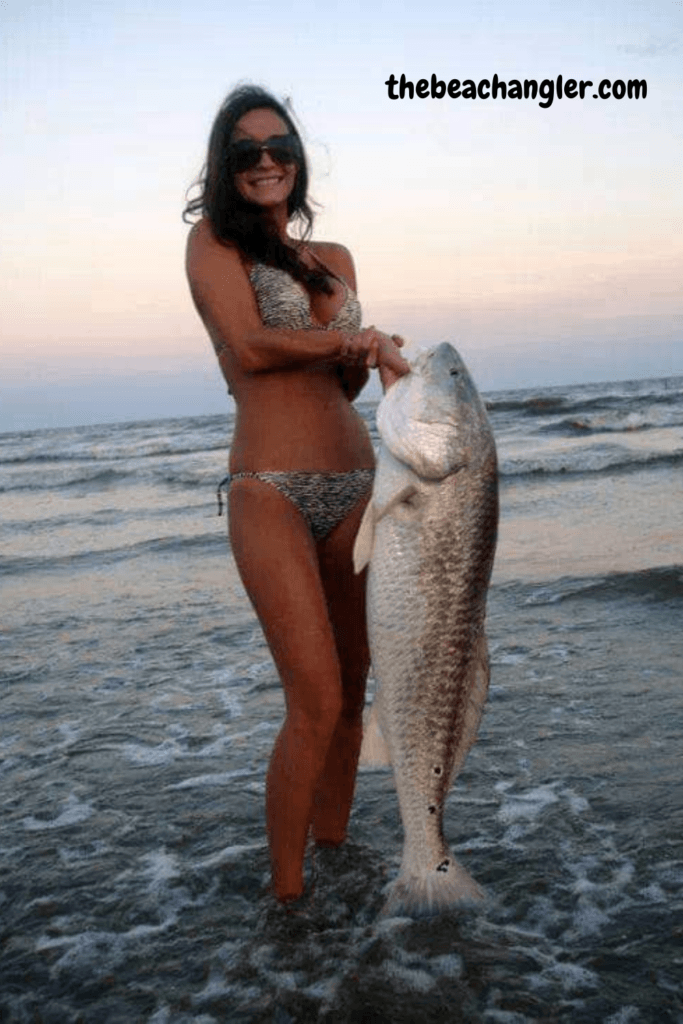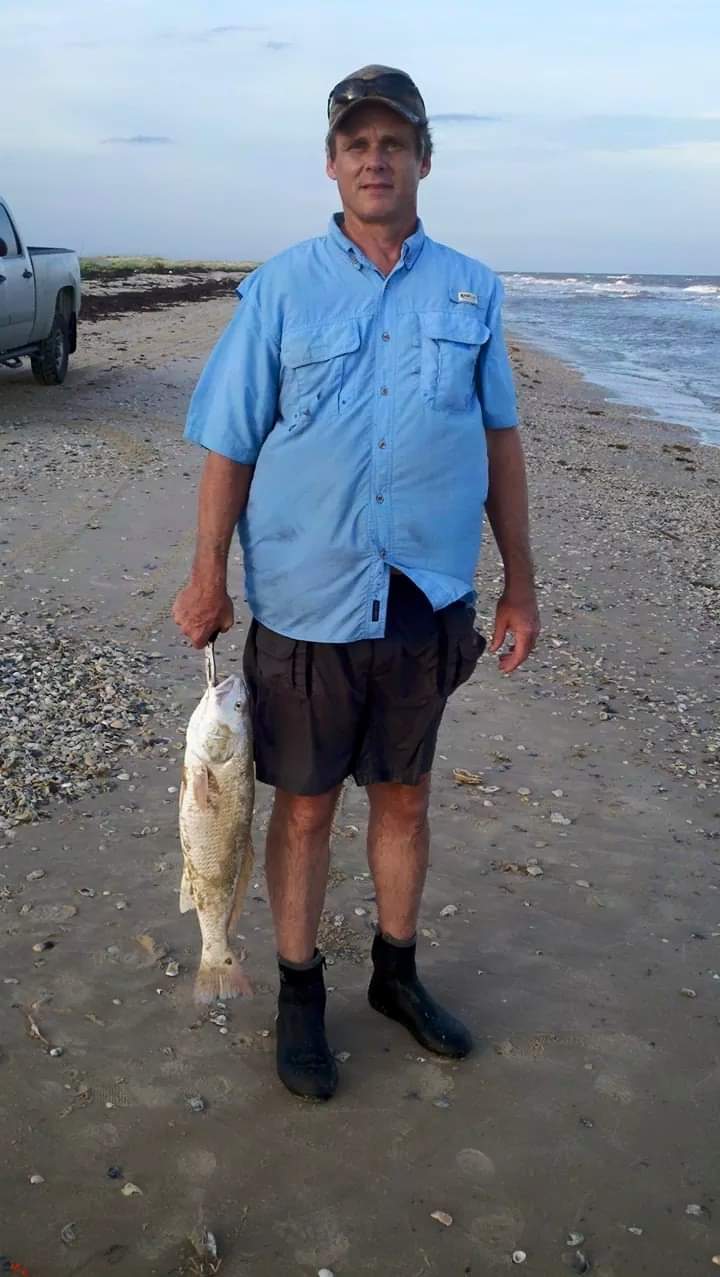 When the clear green water pushes to the beach and the surf is calm to moderate, the Matagorda surf can be awesome for speckled trout. Fishermen line the first sand bar and load up on both artificials and live baits. It's a tremendous trout fishery, even guides in bay fishing boats, when the surf is calm, run out with their clients to get in on the action.
Oversized (over 28″) redfish prowl the surf year round, however they are more abundant in fall. Large black drum migrate out of the bays into the gulf in spring. Whiting and sharks are always on the prowl with sheepshead gathering in winter months. Summer months are more crowded, but still not like Galveston or Padre. Winter you may have most of the beach to yourself, and the bull reds will usually keep you entertained and you're tackle strained.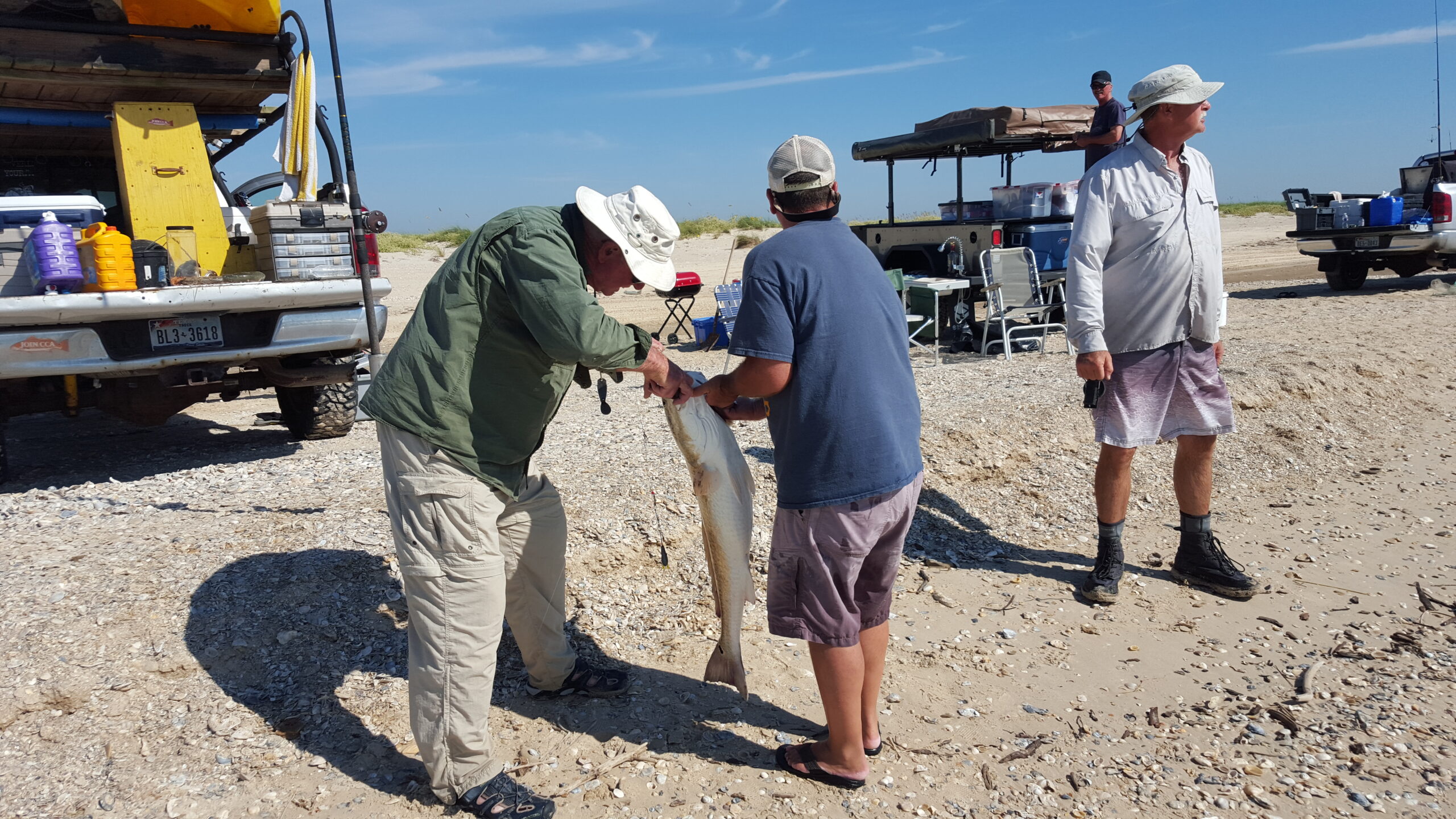 Want to plan a trip?
---
Think you want to try a trip to Matagorda Beach? You'll need a beach driving pass. The grocery store in Matagorda (Stanley's) has them. They're $10 for an annual permit. Primitive camping is available on the beach. There is a nice RV park at the jetties. If fills up fast in the summer and holidays so you will need to plan and call ahead. Otherwise, there are a few motel rooms and cabin rentals in Matagorda, or 15 miles north in Bay City there are plenty of motels
A good local source of information are the websites : matagordabeach.org and matagordabaytexas.com, you will find everything from accommodations, bait shops, fishing guides and tourist attractions. If you plan on camping on the beach, remember, it's on you're own, no amenities. Bring everything you need. Food, water, fuel, tents, ice chest and plenty of ice. Of course, you can always drive back to town, but that will take away from you're fishing time.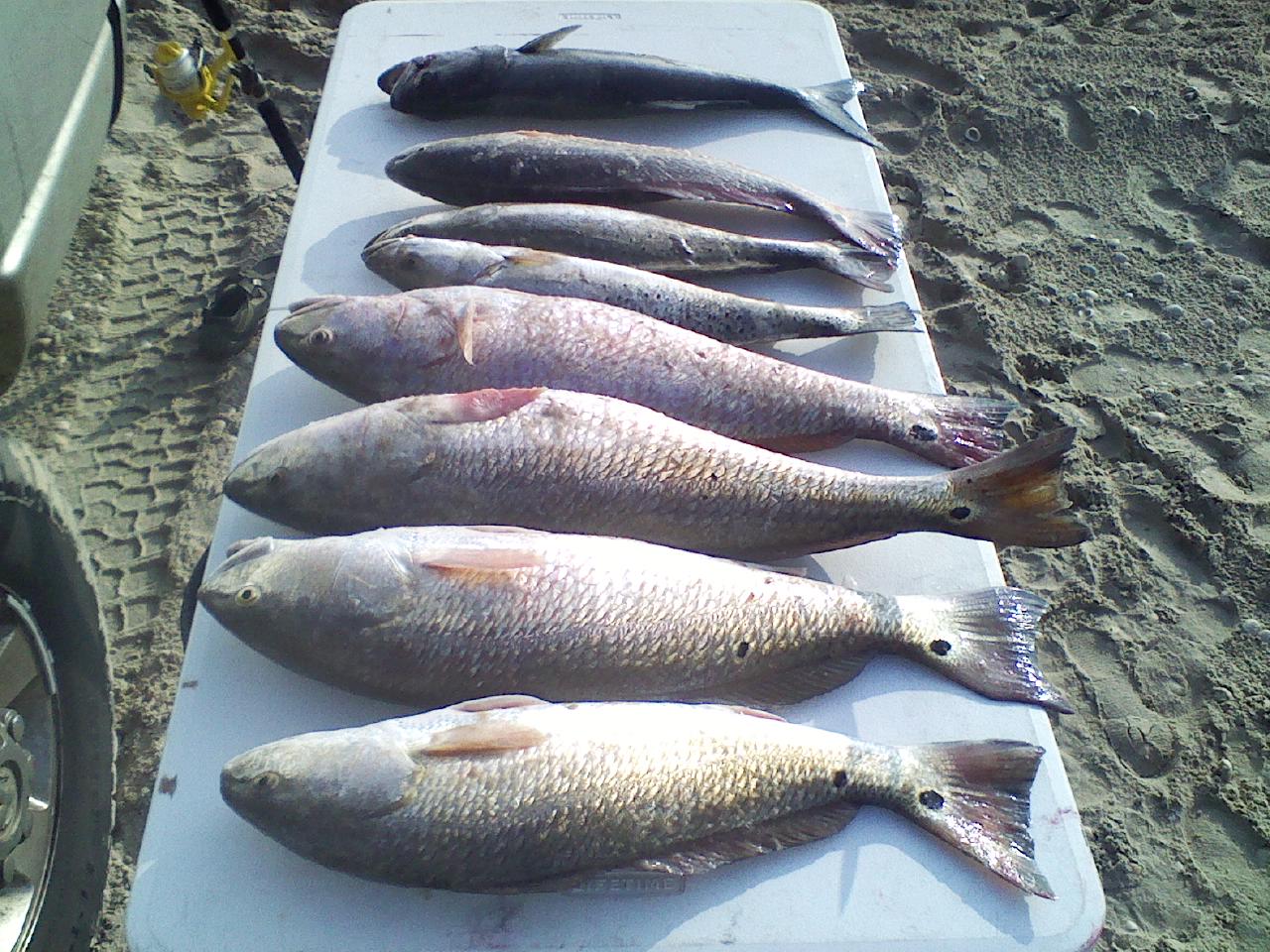 Bring some medium rods and tackle for wade fishing for speckled trout. Pack some heavy gear for chunking bait into the surf for redfish, black drum and sharks. You can find some good forums and discussions on fishing at Matagorda at: 2coolfishing.com.
If you want to learn surf fishing and fishing Matagorda Beach before you try a trip on your own, give Stony Seyferth a call at High Reel'n. Stony will work his tail off to make your trip a success and leave you with memories to last a lifetime.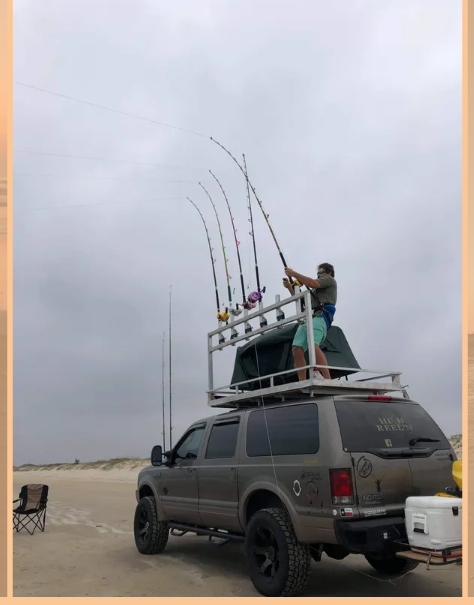 Essential Surf Fishing Gear:
Load up and go!
---
Enough talking about it. Get you're tackle together, make some plans, check some websites and bait shops then mark you calender, load up and hit the beach. Nothing like trying it for yourself.
You may be a little apprehensive at first. That's normal when trying a new place for the first time. Particularly when it means some 4 wheeling to get there.
Once you get there, unpack and get some lines in the water, all the apprehension and troubles of the world will just seem to melt away. If you're new to Beach/Surf Fishing, Randy Meyers has a great introduction to Surf Fishing. Randy's been fishing the surf for over 40 years and he covers everything from tackle, tactics, and tips to bait and fish to catch.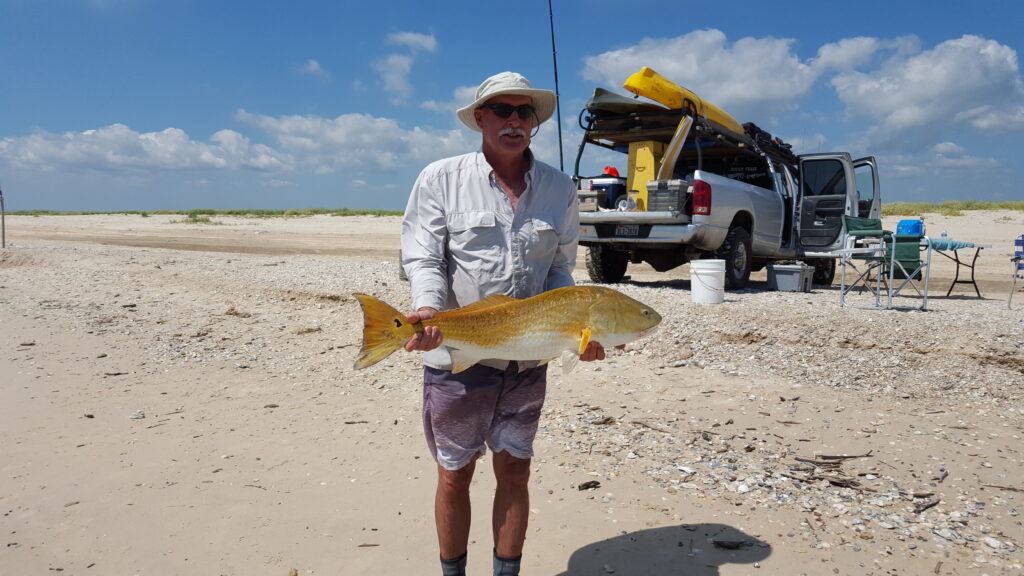 Enjoy the trip, share the experience with friends and family, be safe and courteous, and please always haul you're trash out with you. You'd be my hero if you would pick up another garbage bag or two off the beach while you're there that those less courteous left behind. Try to leave the beach cleaner than you found it.
Till next time, good luck, safe travels and enjoy the journey! If you have any comments, questions, ideas or suggestions please leave them in the comment section below and I will get right back to you. You can Follow us on Facebook: Rex The Beach Angler, Instagram: thebeachangler7, Twitter: @AnglerBeach, and YouTube: Man Art Creations.