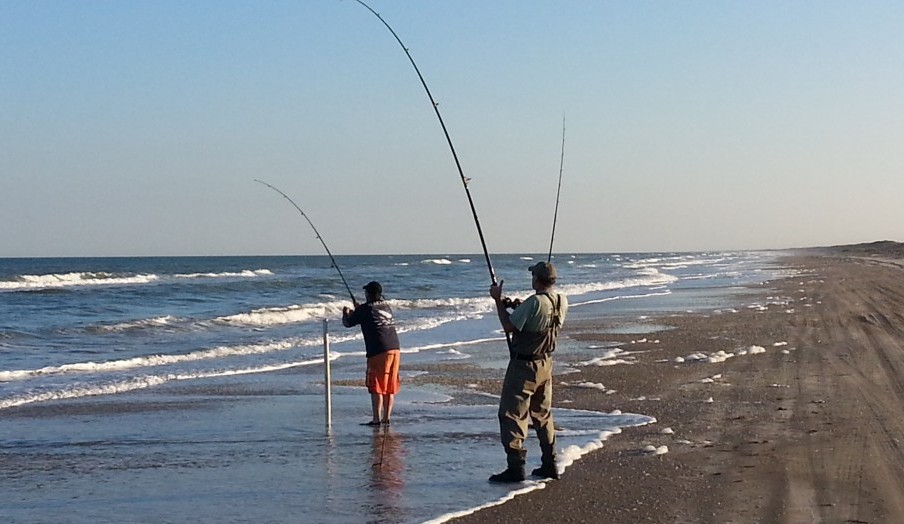 The weather was great with green water to the beach. Time for another Padre Island National Seashore adventure of fishing padre island!
Destination, Fishing Padre Island
---
In Texas we are blessed to have 367 miles of coast line along the Gulf of Mexico. Including several beautiful stretches of beach with public access. All of which have good fishing opportunities for those willing to brave the sand and waves. I have the good fortune of living within an hours drive of Padre Island National Seashore and have spent many days fishing padre island.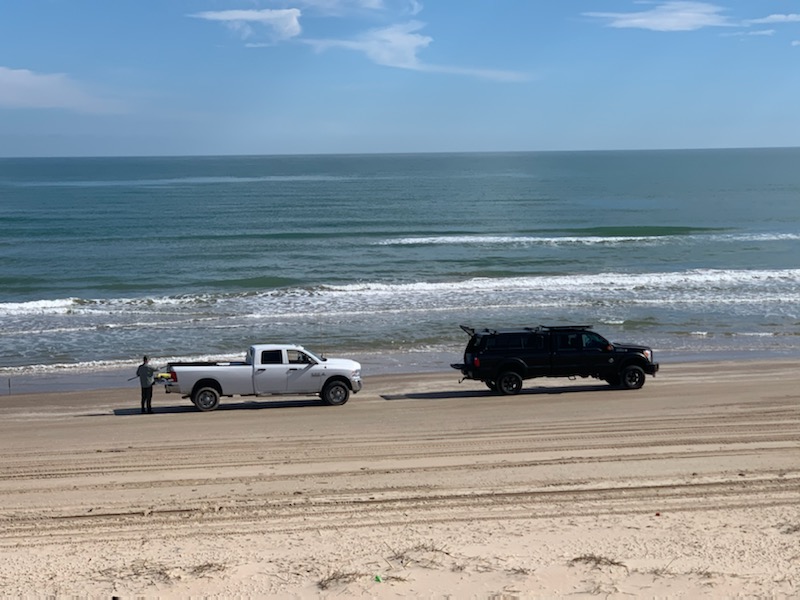 I've been fishing padre island since before it was a national seashore. Makes me pretty old :). I guess you could call this my home waters if you will. That being said, when the weather is right and the surf zone gets clear and green to the beach, it's time to load the 4×4 and head for the beach. This past weekend was one of those times, so I called a fishing buddy and Saturday 8/2/2019, we hit the sand. Surf Fishing the Texas Coast, one of my favorite pastimes and fishing padre island is, by far, my favorite surf fishing destination in Texas.
---
Padre Island National Seashore, referred to locally as PINS for short, is the worlds longest stretch of undeveloped barrier island. This Park features 60 miles of public beach open to "street Legal" vehicular traffic. This is a primitive beach, you must bring everything you think you might need for your trip. There are no 7-elevens, no resorts, no hotels, you're on your own. The Malaquite visitors center has an information center and showers/restrooms, but once you drive off the pavement, if you didn't pack it, you are going to have to do without it.
The first 5 miles of beach are accessible by two wheel drive vehicles. Beyond that, 4×4 is highly recommended as there are miles of soft sand and you really don't want to spend your trip digging out a vehicle. There is no cell service down the beach either, so calling for help is not an option. If you can, it's a good idea to take two vehicles just to be safe. On a busy summer weekend there are plenty of folks coming and going all day. They're mostly friendly folks too. This is Texas remember. You shouldn't have any problem flagging someone down for help if you get in a bind, but always better to avoid problems if possible.
That's part of what makes the place special. In the early days, you could go days without seeing another vehicle. Today, with the wide spread availability of 4×4 vehicles, it's like visiting most national parks. On summer weekends, you better look both ways before you cross the beach. Still, plenty of room for everybody, just not as remote a destination as it used to be. I miss that, but that's progress I guess.
Weekend Fishing Trip
---
This past weekend 8/2/2019, we met up at the Malaquite Visitors Center on PINS and headed south for an overnight trip. The fishing reports, from those fortunate enough to be able to fish during the week, were good. The weather was great. The surf was close to perfect. Near calm seas with clear green water to the beach.
We noticed, by the number of people on the beach, that we weren't the only ones who had seen the fishing reports. There were camps up and down the beach as far as the eye could see. Still, plenty of room to fish, but made it more difficult to change locations as many of the likely looking spots were already taken. Surf fishing PINS can get crowded on summer weekends. Kids are out for the summer and folks are taking their vacations.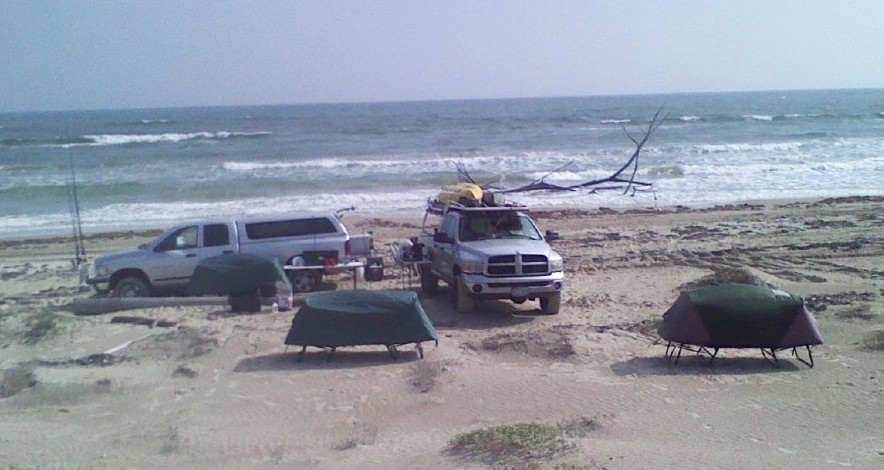 Surf Fishing Padre Island and Catching
---
The fishing was slow Saturday. One of those, "you should have been here yesterday", situations. Beautiful conditions but just not much biting. We tried artificials, then caught fresh mullet and tried cut bait. Launched kayaks and tried moving offshore into the deeper guts. Still not much happening. Moved locations several times and still no luck
A few small whiting, couple of Hardhead Catfish and one Gafftop Catfish was all we could manage for the day. Oh well, we fired up the grill and built a campfire. Hanging out around a campfire on the beach with a full belly, cold adult beverage and a million stars overhead. There are a a lot of worse places one could be. With a nice cool breeze and the sound of the waves it was a good and restful night sleeping under the stars on the Texas Riviera.
Sunday morning, new day and better luck. Still great conditions, a little more wave action, but still very light surf. Early morning the surf zone was full of 6-8 inch mullet and the Bluefish were hot after em. Managed to land several small to medium (2-4 lb) Bluefish. Then one of the long rods doubled over and stayed that way. Good sign of a better fish 😉 After a good run and fight, was able to land what turned out to be a nice upper slot Redfish. It also turned out to be our only Redfish of the weekend. He was pictured and released unharmed to fight another day.
Shortly thereafter, the bite stopped and we decided to pack it up and head home. This is always the least favorite part of the trip. That and the clean up of course. Saltwater is rough on vehicles and equipment so the cleanup is one of the most important parts of the trip. That is, if you plan on using your equipment for a long time.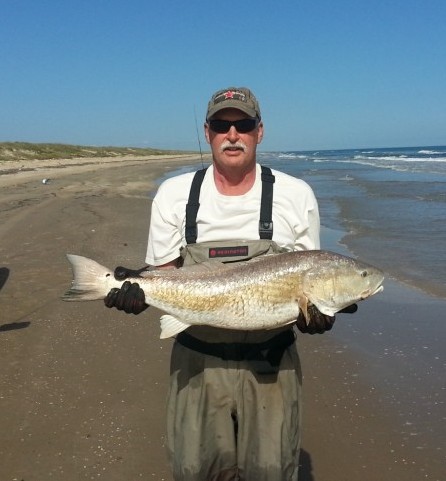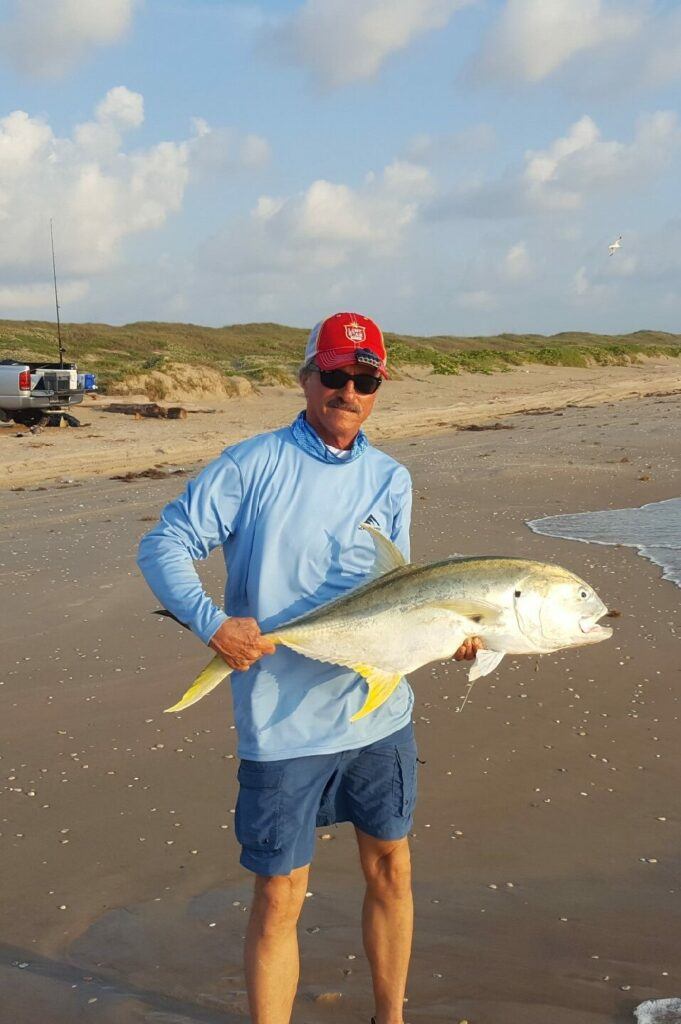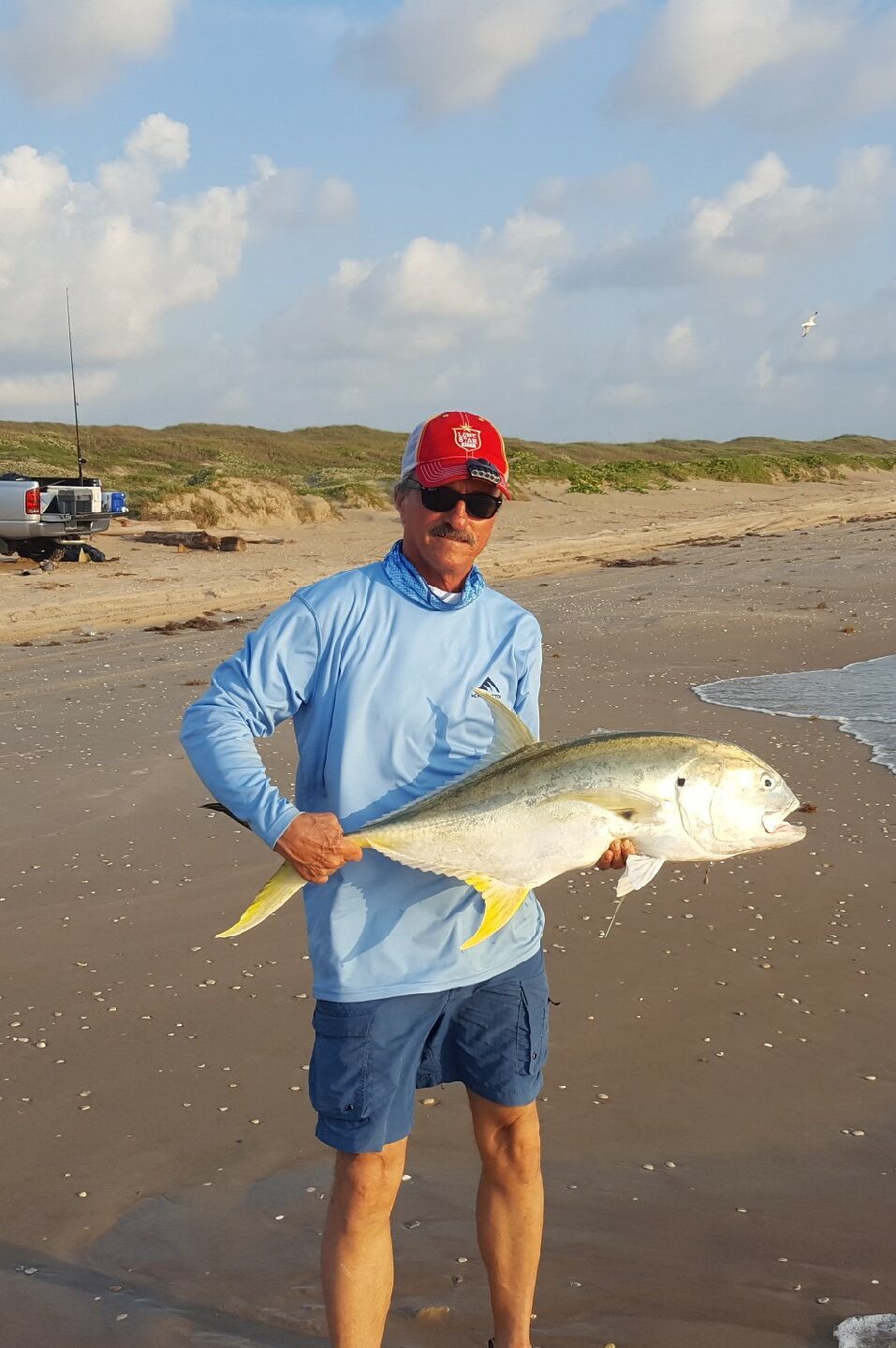 .
Until Next time
---
It was a great time as always. The trip is about the adventure. The good times with good friends on a unique and beautiful beach on the Texas Coast. Padre Island National seashore is worth the trip weather your fishing, camping, hiking, birding, beach combing, or just enjoying the drive and beautiful scenery.
As soon as you get home, you can't wait to go back again. We didn't catch a lot of fish, but surf fishing is always good. Sometimes the catching is not so good, but the fishing always is 😉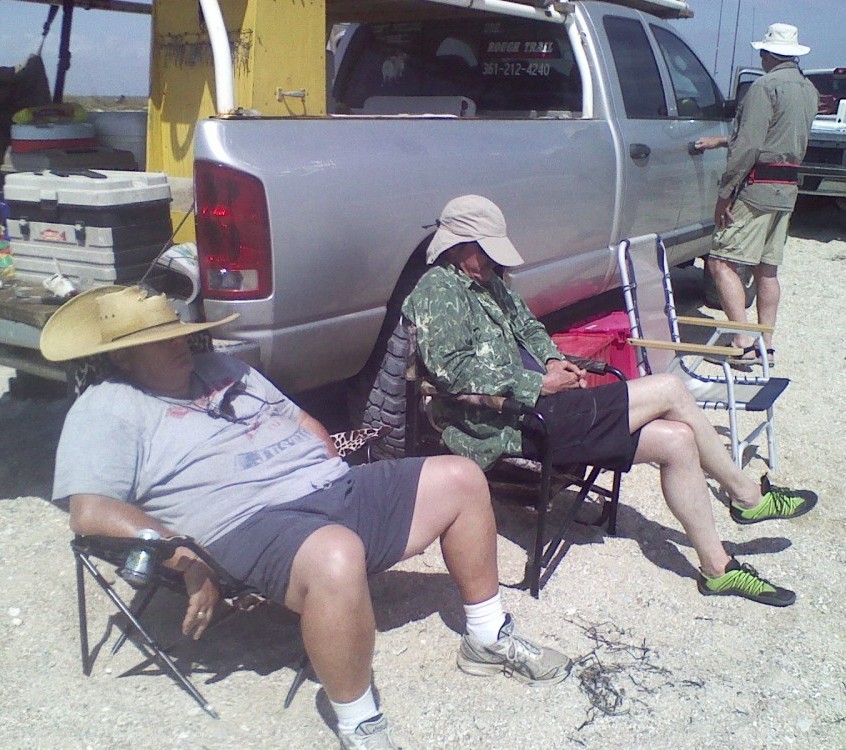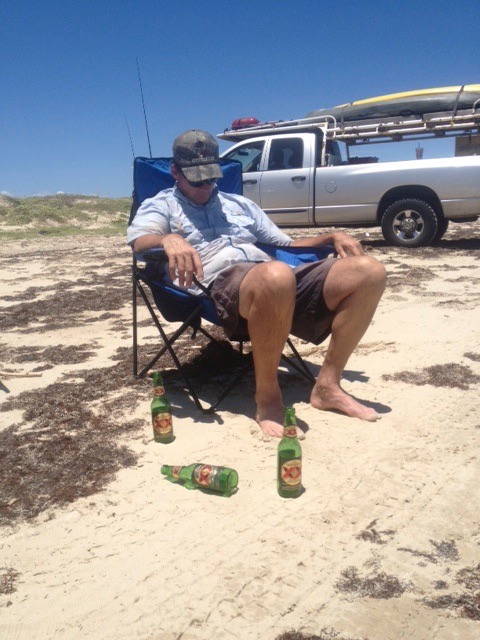 Everytime you fish the beach, you gather a little more experience to file away and use next time. Its contagious, once in your blood, you'll be hooked. Surf Fishing Padre Island is hard work :)Until next time. Good luck, Safe travels and tight lines. If you have any comments, questions, ideas or suggestions please leave them in the comment section below and I will get back to you asap. You can follow us on Facebook: Rex The Beach Angler, Instagram: thebeachangler7, Twitter: @AnglerBeach, and YouTube: Man Art Creations.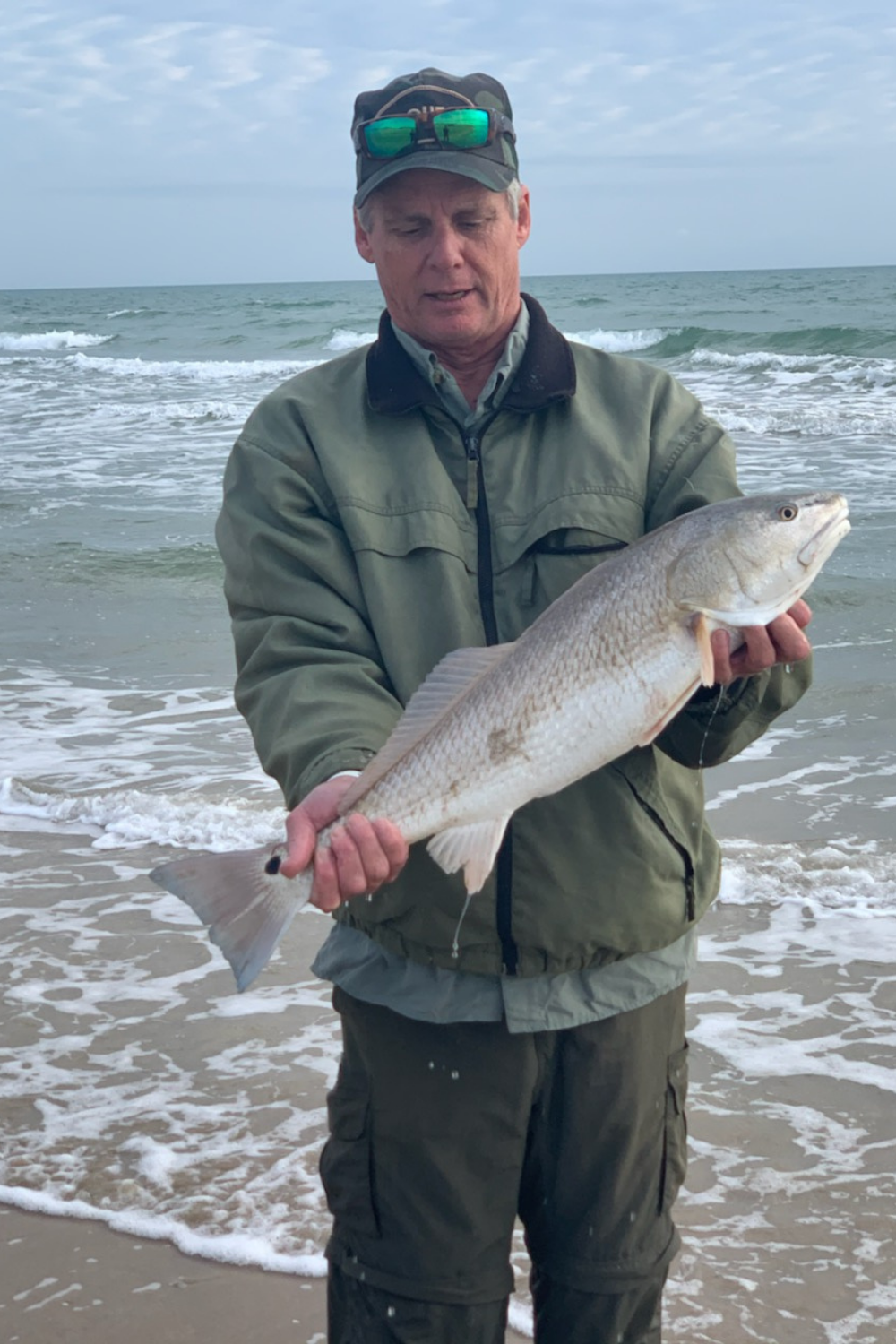 A life long surf fisherman with 50+ years of experience, I am also an avid hunter and outdoorsman. I will be sharing my passion for the outdoors with you so be prepared for hunting, fishing, camping, hiking and more. Along with gear reviews and the latest trends and innovations in the outdoor industry.