INTRODUCTION TO FISHING FROM THE BEACH
What is it about the beach? Maybe it's the sound of the waves, the cool sea breeze, the warm sun, the sand between your toes. Their seems to be something primal about the beach, something ingrained in our DNA that draws us back to mother ocean. Oh yeah, and there is some great fishing to be had as well. Beach fishing can be fun, exciting and productive as well.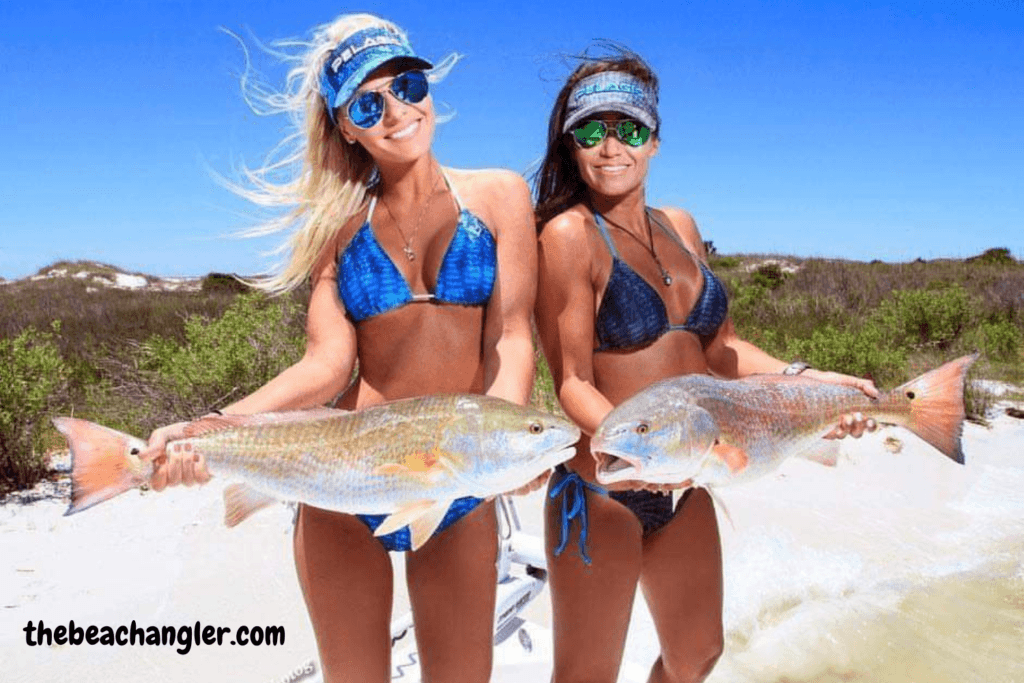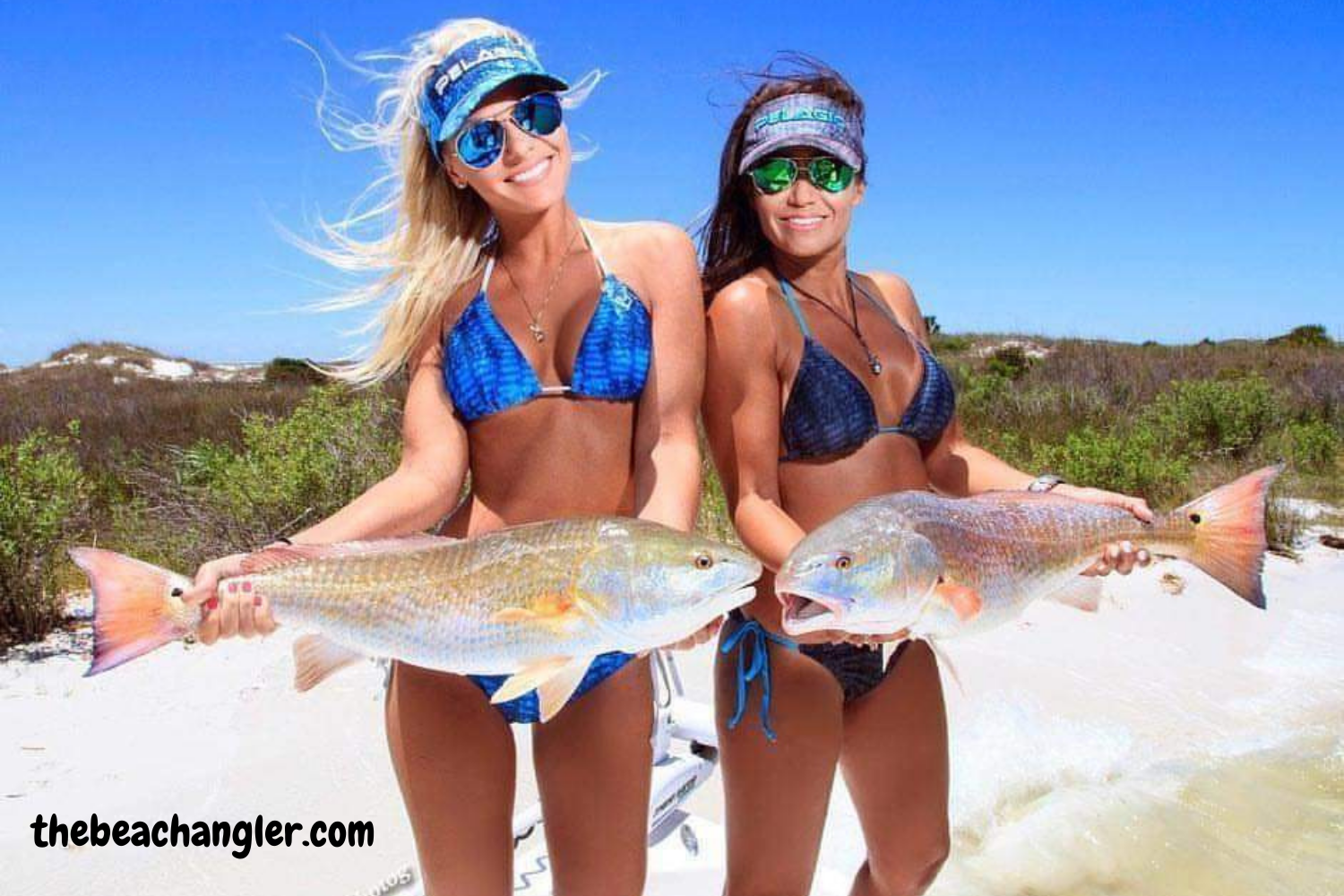 Where do I find a beach to fish?
---
So you think you might want to try beach fishing, or surf fishing. Where do you go? How do you find an accessible beach?If you are fortunate enough to live on the coast, you may already know of beaches that are open for fishing. If not, you can search the web and find beaches with public access.
Some beaches may be walk in access only, while others will have vehicular access. Maps are available online, and the chambers of commerce in beach communities are a great source of general information. Fishing and tourism is a big part of their economy. Once you have an area in mind, search out and contact the local bait/tackle shops in the area. They're always a good source of local relevant information.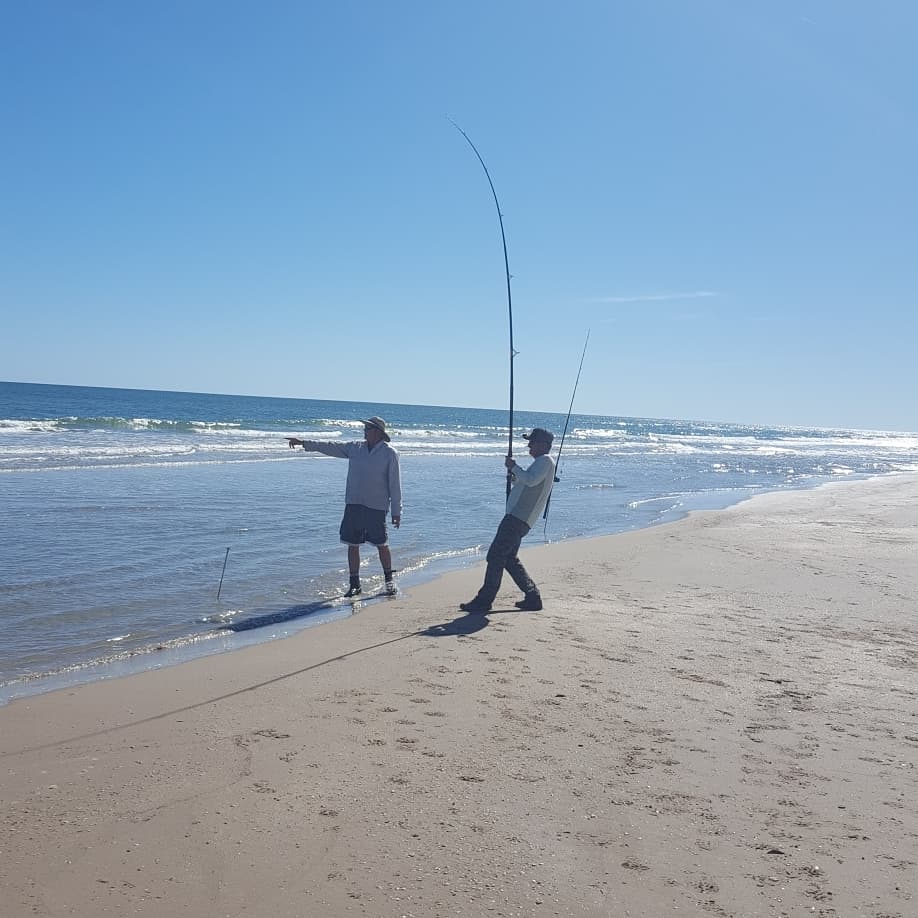 Google Earth, is a great source for access points, and will give you a general lay of the land before you get there. It never hurts to call the state Game and Fish Commission for rules, regs, and general info as well. Always helps to get as much information as possible before you set foot on the beach. Now, before you go 😉 We'll cover how to pick the best spots for beach fishing in another article. For now, we will concentrate on Beach Fishing Basics.
When is prime time for Beach Fishing?
---
If you love to fish like I do, the best time to fish the beach is: whenever you can! Typically, summer is the peak as far as numbers of fishermen on the beach. Kids are out of school and lots of families vacationing at the beach, so naturally lots of fishermen. Their are better times than others to fish the beach, but there is always something to be caught in the surf zone regardless of the season. In future articles we will be focusing more on tips, tactics, and target species for beach fishing the various seasons of the year.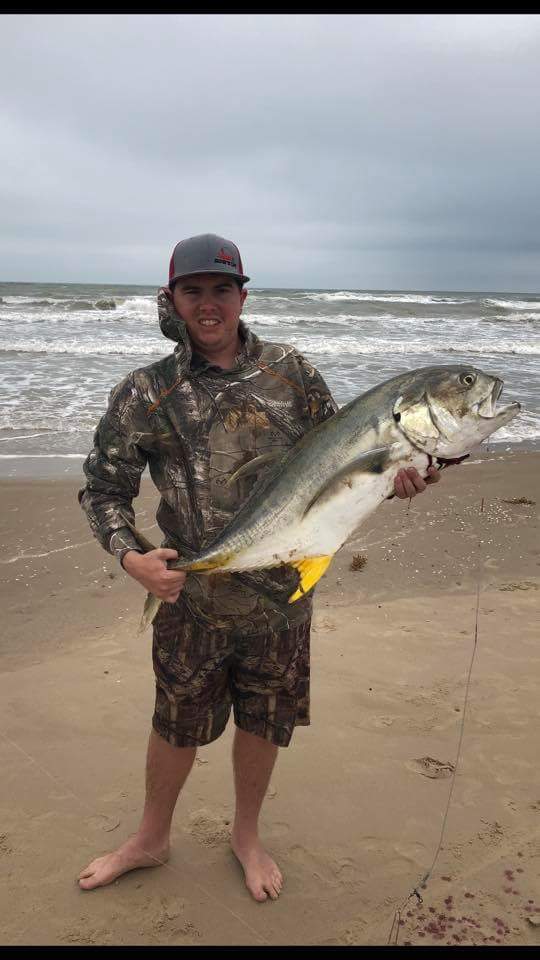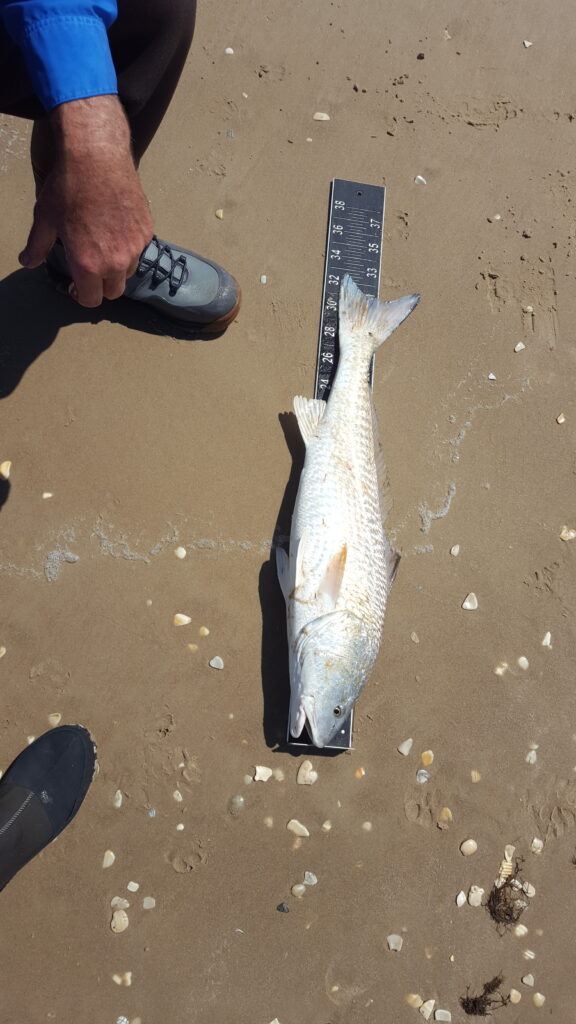 If it is your first adventure however, summer just makes more sense. Their water is warmer, there is more bait in the surf, and the predators are following the bait so there is a wide variety of species to pull on your line. Again, local bait/tackle shops will be a good source of information about the best time of year to schedule a trip to their local beach. There is a good introductory surf fishing guide by Randy Meyers. Randy has been fishing the beaches all over the US for more than 40 years and he goes into great detail on all aspects of surf fishing. You can check out his site here:
What can you expect to Catch?
---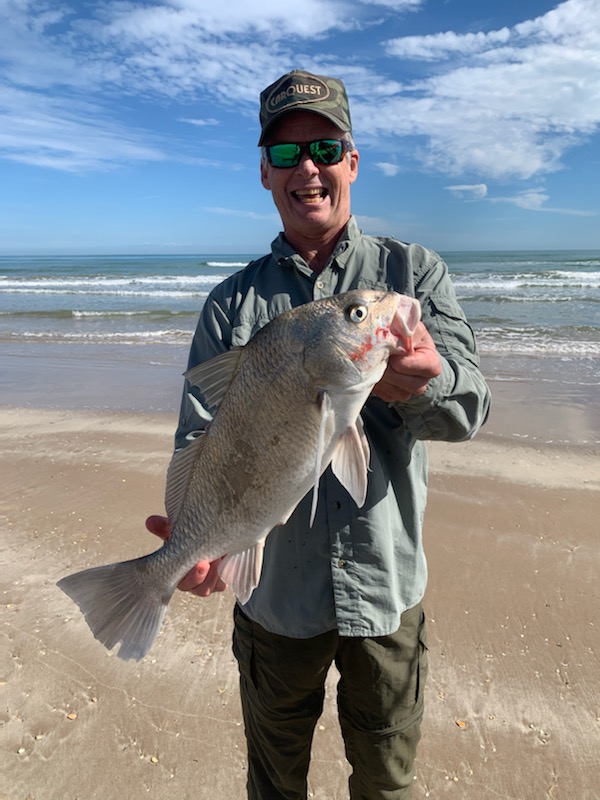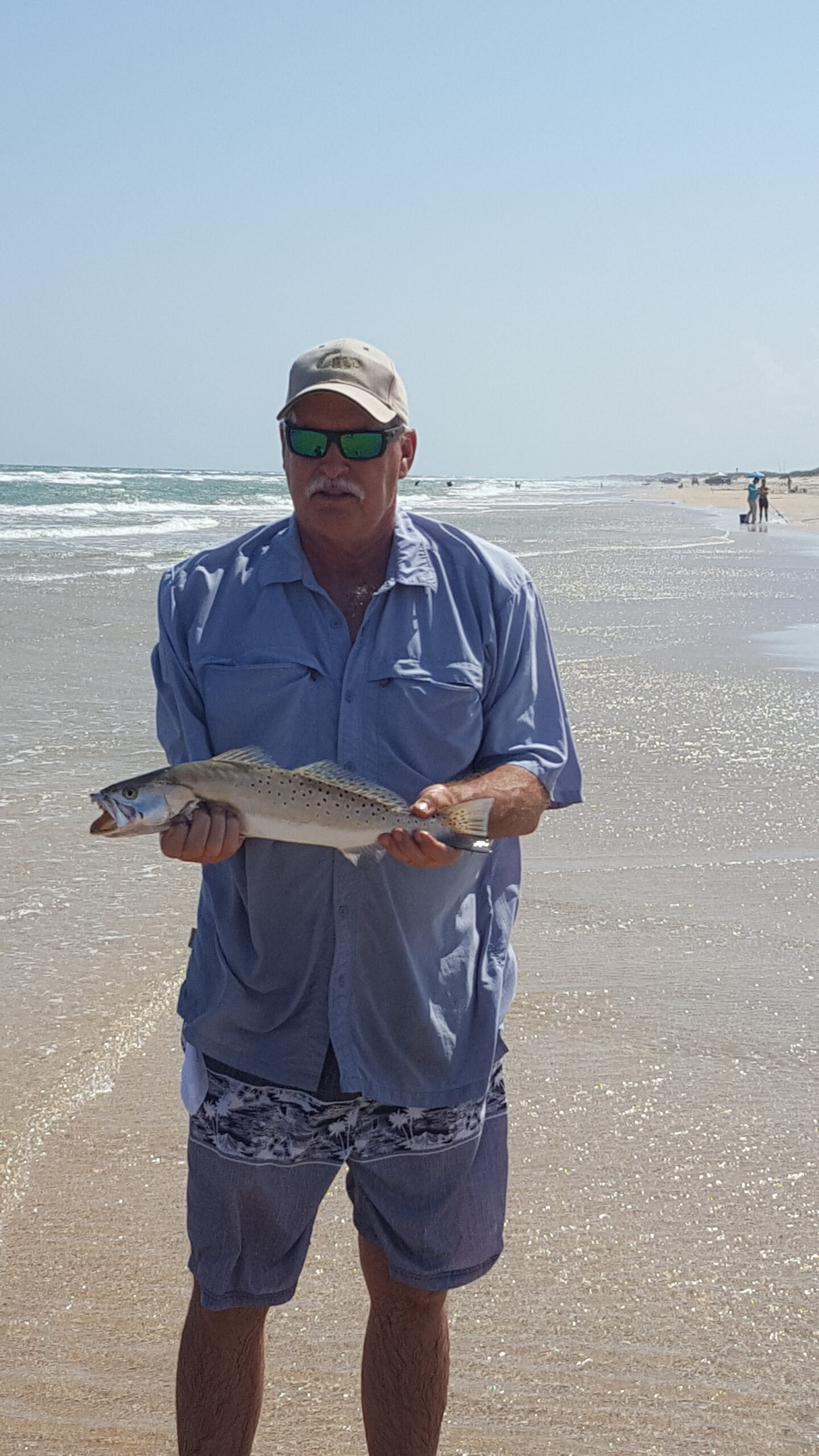 Their fish species available will of course vary by region and time of year. We will examine tips and tactics for specific species and regions in future posts. One of the many attractions to surf fishing (beach fishing) is the wide variety of species that cruise the beach front looking for a meal. Their picture above is of an upper slot Redfish (Red Drum) caught from Matagorda Beach in Texas In January. Gotta love the South. January and fishing in shorts and a T-shirt 🙂
Along the East coast and Gulf Coast of the US, you can find anything from Whiting, Pompano, Redfish, Speckled Trout, Black Drum, Stripers, Blue fish, to Jacks, Tarpon, Mackerel, and of course, Sharks. Their West coast of the US has some great beach fishing options as well for Surf Perch, Croaker, Corvina, and more. Remember the earth is mostly water. Their are beaches the world over, and they all present unique surf fishing opportunities. You never know what might take your bait and make a run for the open ocean. Just hang on and enjoy the ride!!
How do you fish from the beach?
---
Fishing the beach generally takes some specialized gear. Keep this page in your favorites as we will be exploring tips, tactics and gear in other articles more in depth. Whatever gear you have will do for now, it just might not be optimal. If you don't have any gear, the locals tackle shops can help you get rigged up. You don't have to go expensive, like everything else, there are Cadillacs and Chevy's. My experience is the Chevy's catch just as many fish 😉
Fish can be caught in the surf on a variety of natural and artificial baits. Again, local bait shops can help you get rigged up. Freshwater bass tackle will work for throwing artificials. Natural baits, both live and dead, will usually generate the most action. You can check out my post on Best Baits for Beach Fishing.
You'll notice in the picture above, the rods and reels used tend to be longer and larger. Their fisherman pictured is casting large live mullet out into the surf. Their longer rod allows for casting a heavier bait and sinker farther. Their longer rod also keeps the line up out of some of the wave action. Their are specialized weights (surf weights/spider weights) used to anchor the bait in place against the waves and current.We will cover all the various tackle options in future articles. For now, take what you've got, find a beach, check with the locals and go fishing!!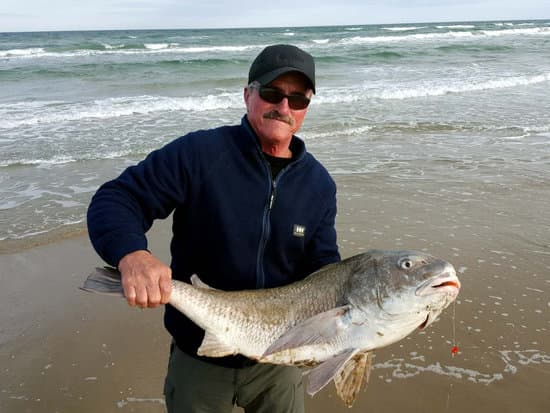 When you hit the beach, look for birds diving and or bait jumping and start there. Find bait, find fish.
Beach Fishing Basics
---
We've covered a lot of ground very quickly. Their of course, is more to learn and much more to cover. We'll get to that as we go. Always remember, it's about having fun and enjoying the beach and the surf and time with friends and family. Catching fish is always good, but don't let it overshadow the total experience.
Essential Beach Fishing Gear: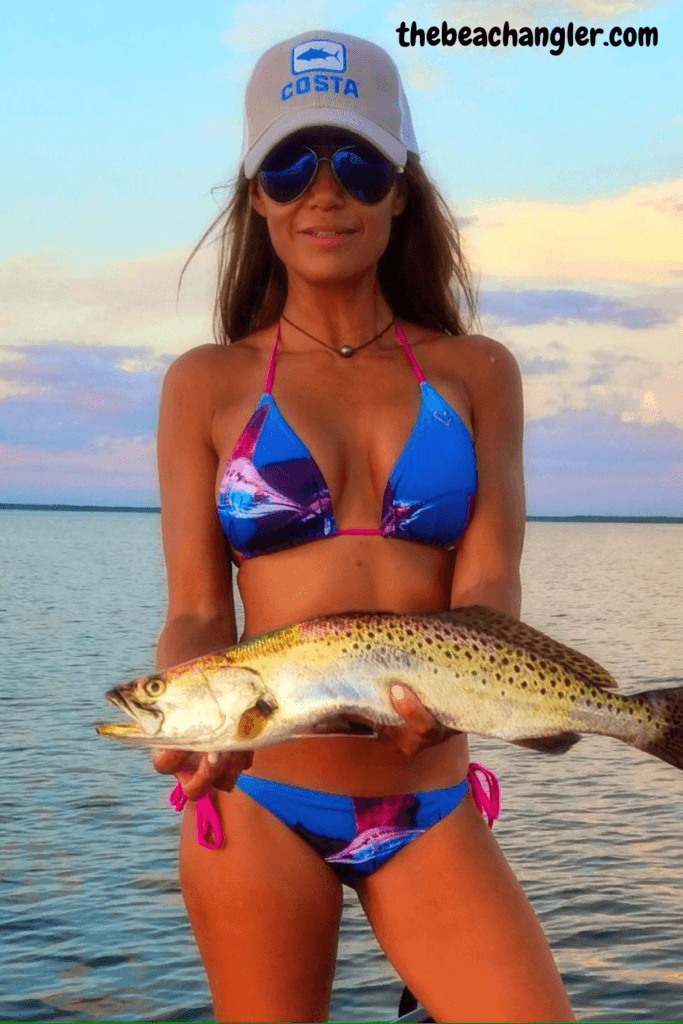 Grab your gear, or pick some basic stuff up at a local tackle shop. Find a beach with public access take a couple of friends or the family and enjoy a day of fun and adventure. If you want to learn from a certified "old salt", check out Randy Meyer's – Surf Fishing Quick Start Guide. Don't be afraid to stop and talk to other fisherman. They're usually happy to share tips and experience. Just don't move in on their spot. That is not courteous and can lead to some hard feelings.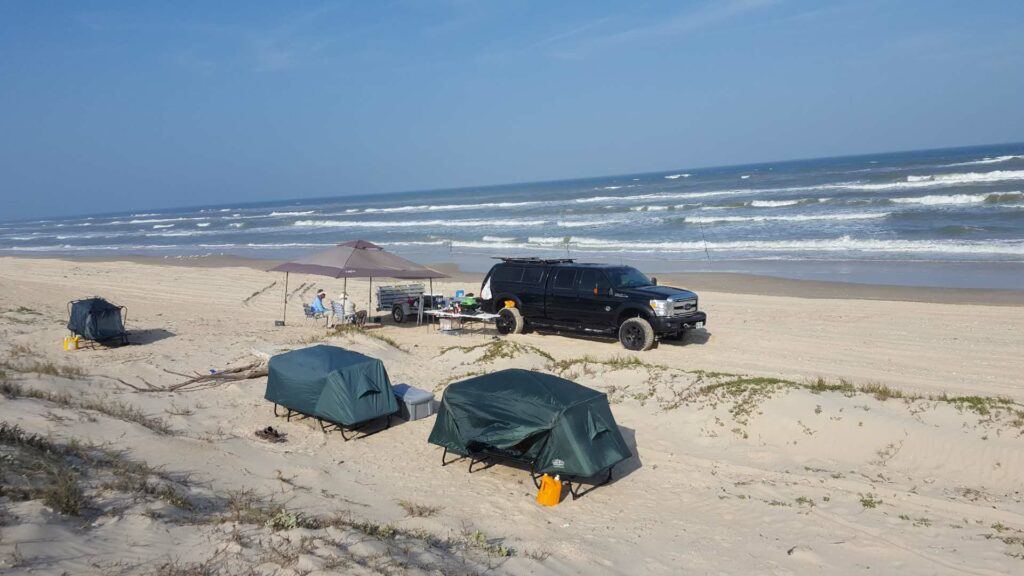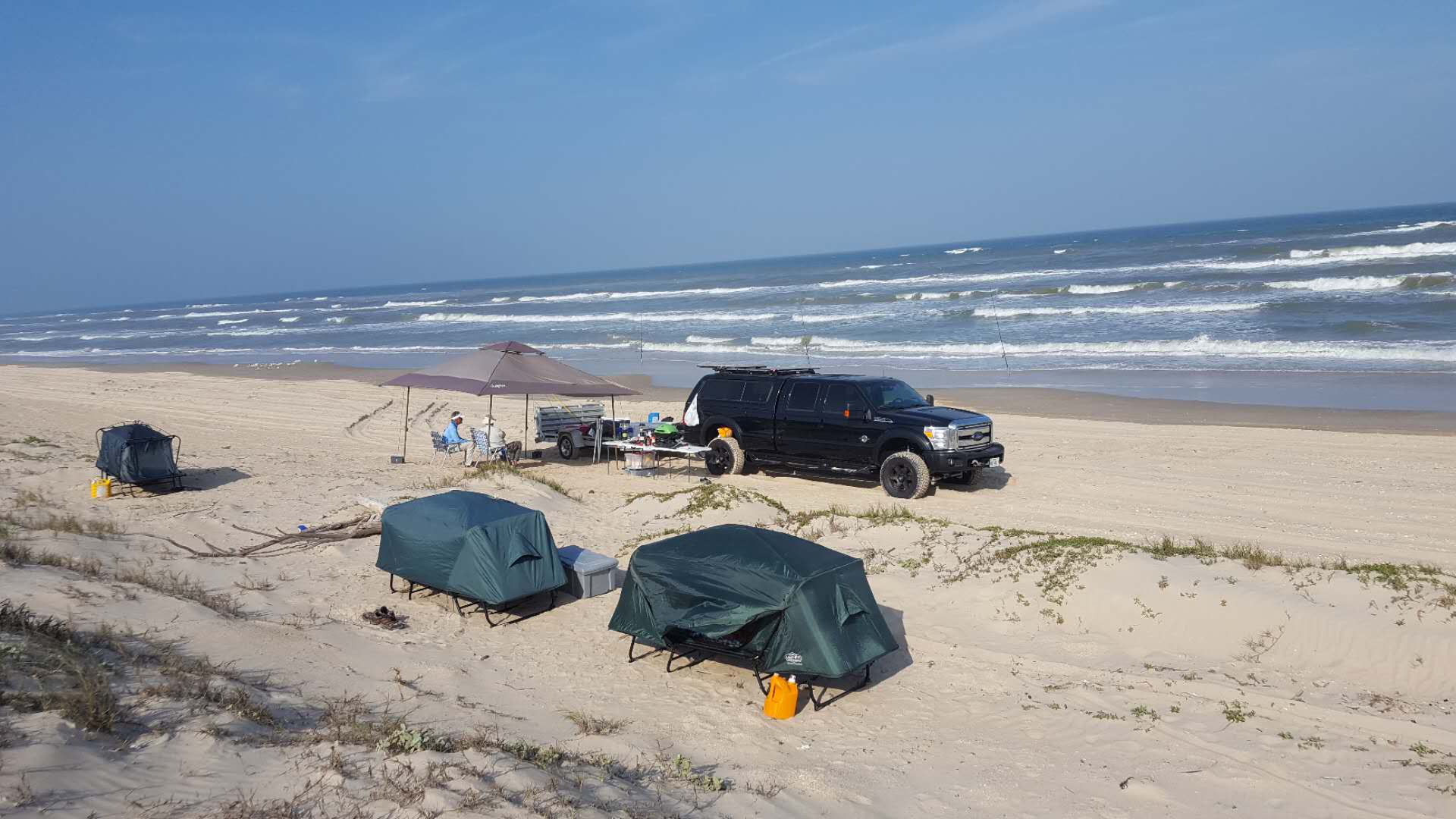 If you would, as a favor to me, please carry all of your trash out. Leave it cleaner than you found it. I've been fishing the beachfront for over 50 years now and it's heart breaking the amount of trash ends up on the beach. Take a large trash bag with you and spend 20 -30 minutes picking up trash around your fishing area. It won't take long to fill a garbage bag, and you'll be my hero. Send me your trash collection pictures and maybe I'll post them in a beach clean up article.
Please,always be courteous, be kind, treat others as you would want to be treated (even if they don't reciprocate) and HAVE FUN!!