Beach fishing vs Pier fishing, two great options to consider if you are planning a trip to the beach for some fishing? Each has its pluses and minuses and which is best will depend on you and what type of fishing you are most comfortable with. Let's take a look at some of the differences, and similarities, to help you make the best choice for you.
You are already ahead of the game. You're going to the beach and you're going fishing. Catching some fish will be a nice bonus. Of course, for there to be a choice, the beach you will be fishing needs to have a fishing pier. Not all do, but there are many beaches with piers extending far out into the surf that can at times be very productive. Others may have jetties that can also be great places to fish.
Now, when choosing between beach fishing vs pier fishing, keep in mind there will be some differences in tackle, techniques and options. We"ll break it down for you here so you'll have a good grasp or what you need to fish each. And, hopefully catch some fish. First up though we need to take a look at: what is beach fishing?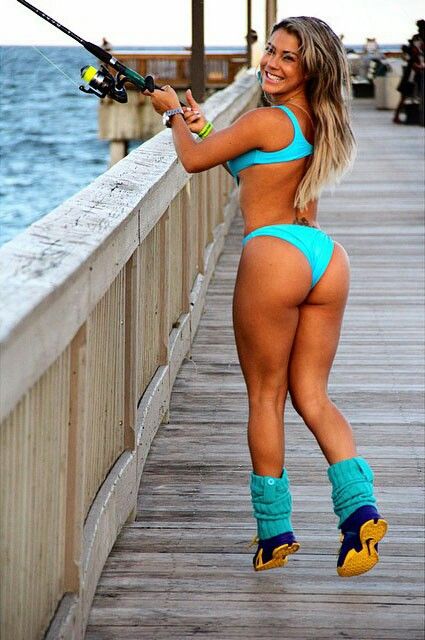 Quick Glance:
Beach fishing vs pier fishing, and which is best, will depend to a great deal on you and your fishing style and skills. Beach fishing will generally offer more options for fishing spots and to avoid the crowds. Pier fishing will keep you high and dry when the surf is cold, rough and the currents are running strong. Target fish species will be very similar, but there will be some different gear and equipment between the two. Do some research before you go, and it available, why not try both while your there?
What is Beach Fishing
---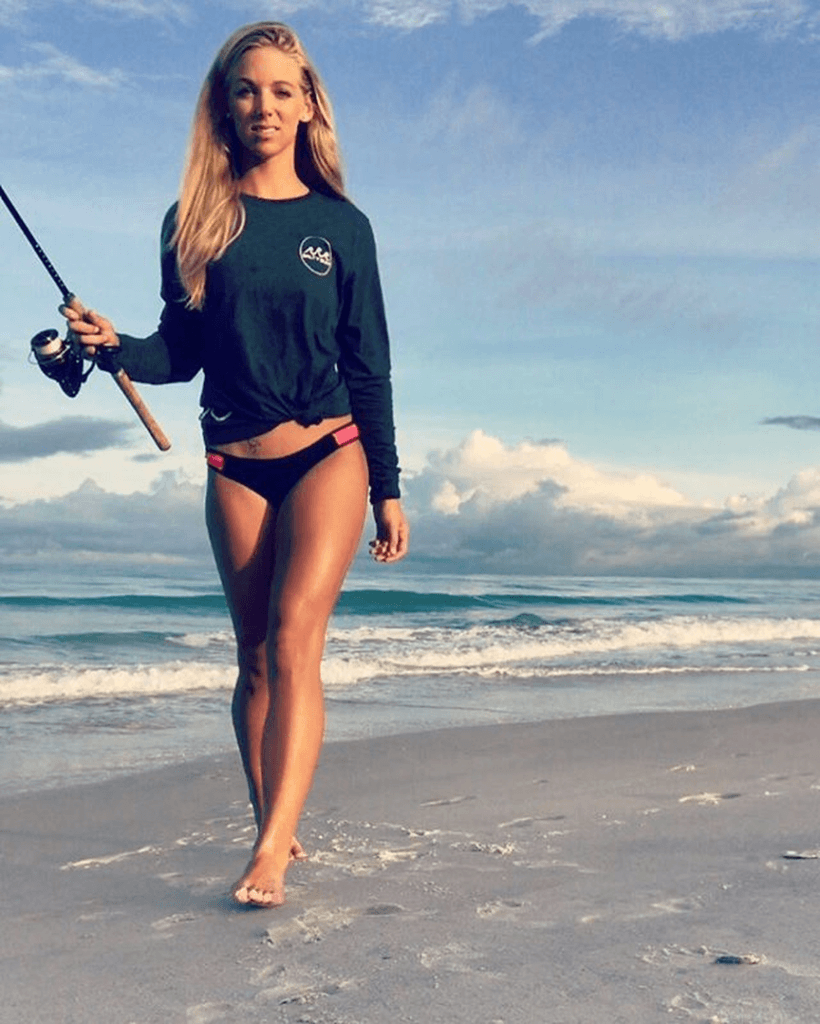 First of all: What is a beach? A beach is a narrow strip of land separating a body of water from inland areas. Beaches are usually made of sand, tiny grains of rocks and minerals that have been worn down by constant pounding by wind and waves. There are freshwater beaches around lakes, but mostly when we think of beaches, we think of those at the ocean.
Freshwater vs Saltwater beaches is for another discussion, but the comparisons with pier fishing will be very similar. In this article we will be primarily focused on saltwater beach fishing commonly referred to as surf fishing.
And, when fishing a saltwater beach you will be dealing with wind, waves, currents and tides. In order to do that effectively, you will need some way of picking a fishing spot among the miles of beach available.
Where to Fish When Beach Fishing?
So, what should you be looking for in a fishing spot when fishing at the beach? This can be challenging because, if you don't know what your looking at or for, so much of the water along the beach can look pretty much the same. The easiest features to locate as a new beach fisherman, are the bars and the guts or troughs. Where you see waves breaking, is the shallow water associated with the sand bars
The waves you see breaking off shore are breaking on the sandbars. In between the sandbars you will notice the water is darker and the waves stop breaking.
This is the deeper troughs or guts that, like the sandbars, run parallel to the shore. Fish use these deeper guts as highways as they travel the beach looking for a meal.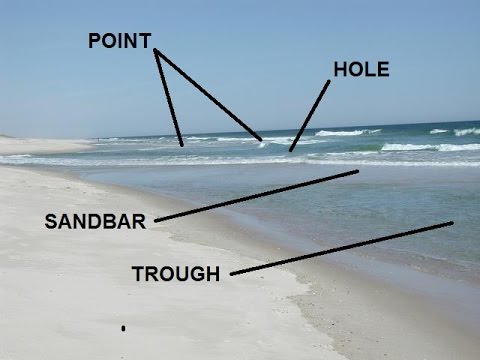 A deep gut in close to shore is a good place to start when looking for a good beach fishing spot. You can check out my recent article on what to look for when surf fishing for more information on finding good beach fishing spots. The water depth can change drastically on some beaches with the tide changes and you can often find the guts, bars and other beach structure much easier at low tide.
How do Tides Affect Beach Fishing?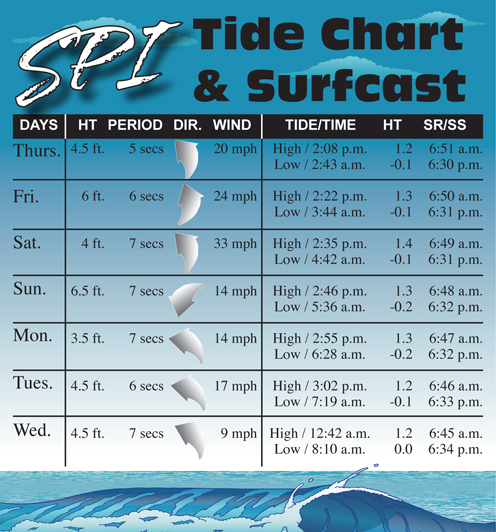 Which leads to the next question: Is it better to fish the incoming tide or outgoing, high tide or low tide? This depends a lot on which beach and what species are available, but generally beach fishing is best when there is some tidal movement. Either in or out.
And, high tide often brings fish in closer as the water is deeper and they can more easily get over the sand bars as they feed. High tide also allows you to fish deeper water without having to wade or cast as far. Try to time your fishing to be at your spot an hour before peak high tide and fish the incoming tide as well as the outgoing tide after the peak.
When is the Best Time for Beach Fishing?
Typically, beach fishing is best around dawn or dusk, but the tides and tidal movement will be a much bigger factor. If you can find a day with a high tide that peaks at or near either dusk or dawn, they you potentially have a winner. Combine that with a deep gut close to shore and you have the ingredients for a great trip.
All that being said, surf or beach fishing can be sometimes be very good at night. Again, the tides and tidal movement will play a large factor. But, after dark, many species of fish will venture closer to shore than during the day light hours.
Not only to ambush prey, but because they feel safer from large fish that might consider them prey. That's one thing about the ocean, unless you're a blue whale, there is always a bigger fish looking for a meal.
As for what fish can you catch from the beach, that will depend on the beach, time of year and where in the world the beach is. What is available on the gulf coast of the US will be entirely different from what is lurking along the coast of California. No matter where you are in the world, if there is a beach, there is fish to be caught.
You will need to check with the local bait and tackle shops as to what species are available, where to find them, when to look and what baits to use. Local fishing forums will be a great source of this information as well. Again, do a little pre trip research so you'll know before you go.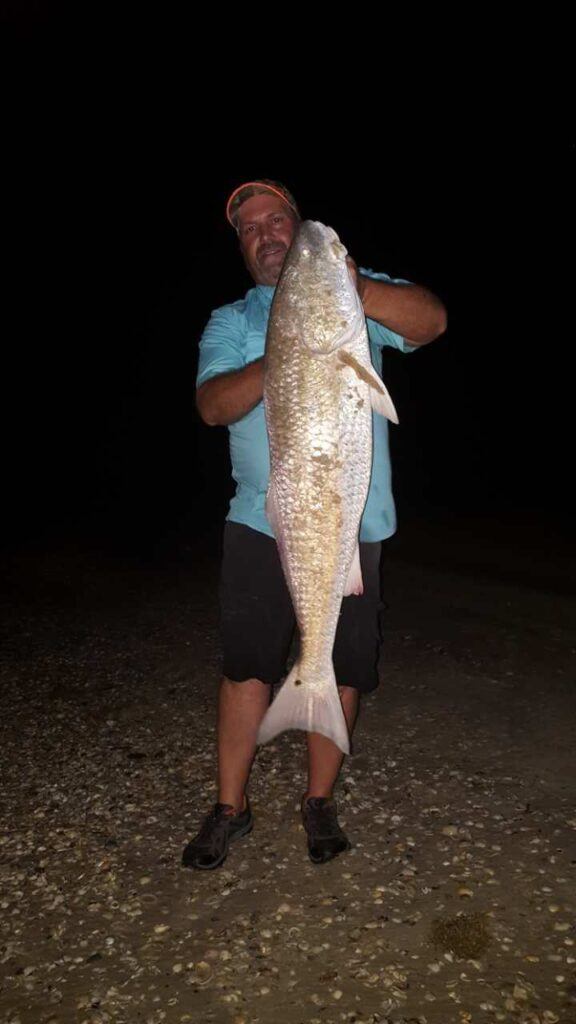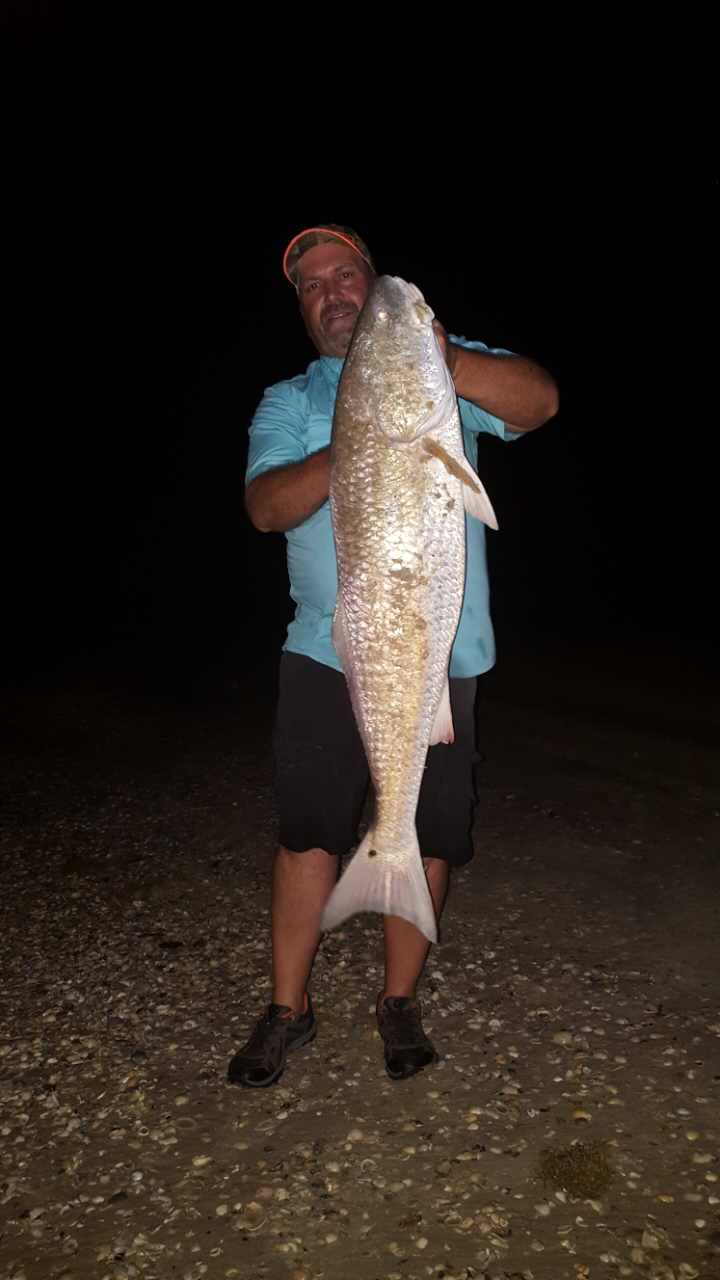 Beach Fishing Gear Basics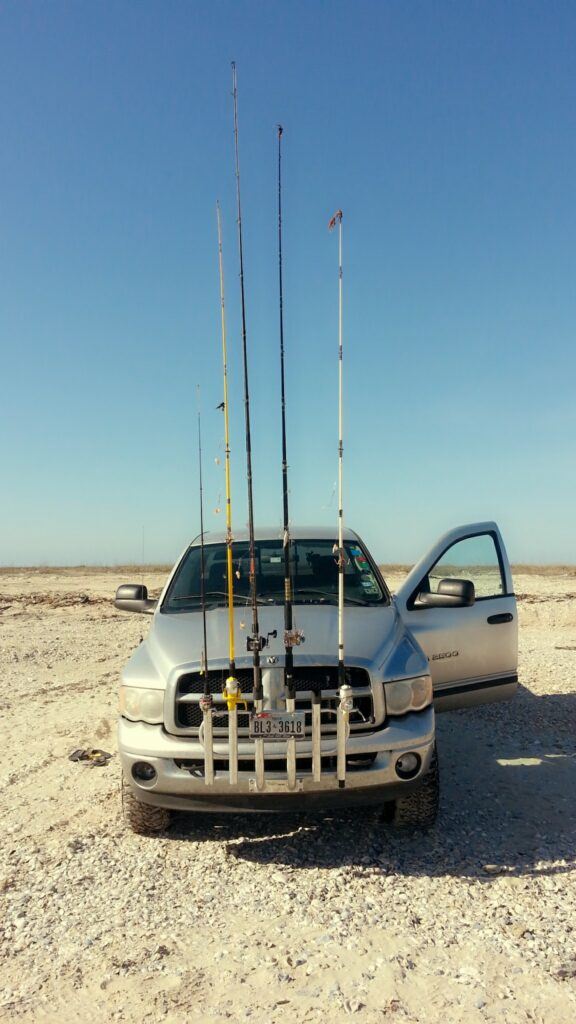 Beach fishing does take some specialized tackle and gear. Generally speaking you will be using longer heavier rods, bigger reels with heavier line and bigger hooks with special surf weights to hold against the currents and wave action. I have an article on surf fishing gear for beginners that you can check out if you like.
For a beginner, I recommend a surf spinning rod and reel combo with a rod of 10 – 12 ft in length and a 600 – 8000 series reel spooled with 20 – 30 lb test monofiliament or braided line.
Again, this will depend on where you are fishing and what species you are fishing for. But, a good selection of circle hooks so you can target different species and several fish finder rigs or double drop leader rigs are a good choice for starters.
If there are strong currents at the beach you will be fishing, you will need some good spider or Sputnik type surf weights to hold your rig in position in an assortment of sizes. Otherwise, In calmer conditions, you can get by with lighter conventional weights.
Baits and Lures for Beach Fishing
Beach fishing with lures can often be very productive. A medium to medium heavy 7ft spinning rod with a 4000 series spinning reel makes for a good beach lure fishing combination. Lure selection will vary again by where you are and what you are fishing for, but various spoons, plastic shrimp and bait fish imitations along with top water plugs will cover most of the bases.
As for natural baits, shrimp ( live or dead), bait fish ( live or cut) and synthetic strip baits ( like fishbites) are all good choices.
Your local tackle shop will be you source for what is best on your beach. Or, if you know how to use a cast net, you can try your hand at catching your own bait.
In the table below, you will see what are, in my opinion, some of the pros and cons of beach fishing based on my experiences.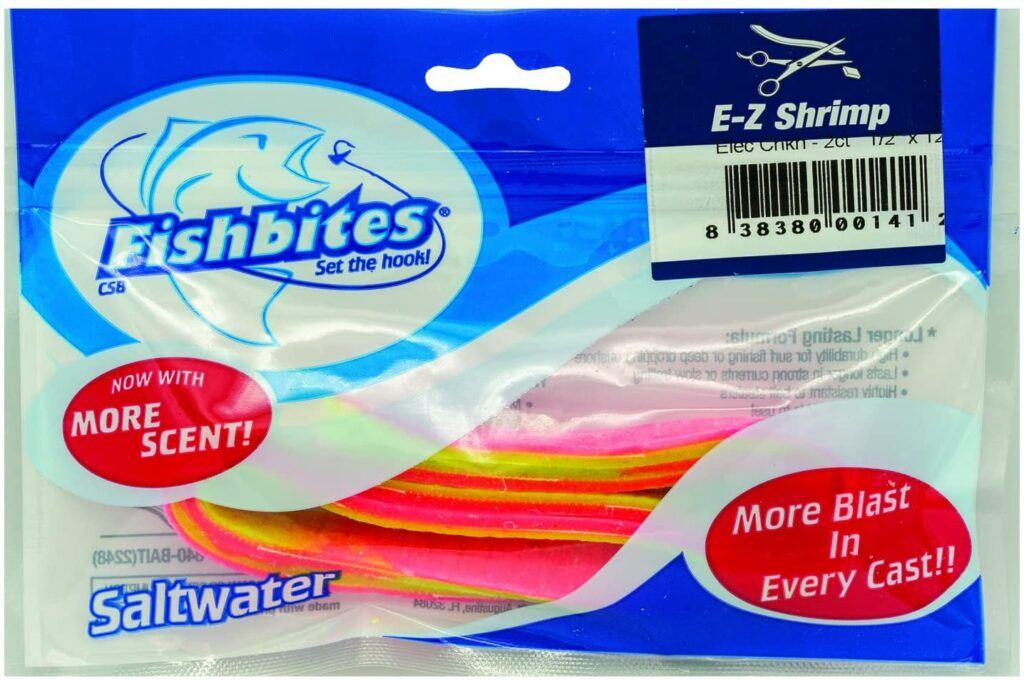 Pros and Cons of Beach Fishing
Beach Fishing Pros
Easier to escape the crowds
More mobility to find fishing spots
Can enjoy other beach activities
Fun the whole family can enjoy
Beach Fishing Cons
You will most likely get wet and sandy
Takes more planning and preparation
Spend alot of time cleaning up gear afterward
Now that we have a basic grasp of beach fishing, let's take a look at pier fishing and what it has to offer as an alternative to beach fishing.
What is Pier Fishing?
---
Pier fishing, for our discussion here, is fishing from a beach fishing pier. These piers extend for sometimes hundreds of yards off shore and keep you high and dry above the waves and currents. Many will be equipped with lights to facilitate night fishing. You can fish anywhere along the length of the pier, but that is the extent of your fishing spot options when pier fishing.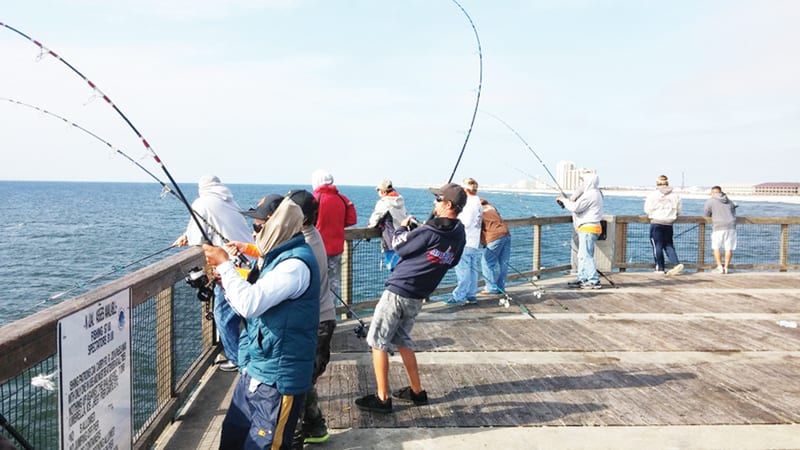 Be aware that pier fishing can get crowded. There is only so much space on the pier. You need to remember your manners and be prepared for crossed lines, tangles and sometimes even some short tempers.
Just part of the experience, most of the time veteran pier fisherman have seen it all before and are used to it. They are usually good about helping out the newcomers as well so don't be afraid to ask questions.
What is the Best Time for Pier Fishing?
Like beach fishing, pier fishing is generally better early in the morning of late evening as the sun is going down. And, the fishing is better when there is some tidal movement. High or low tides are not as big an issue with pier fishing as you can go further out on the pier as the tide recedes to follow the fish.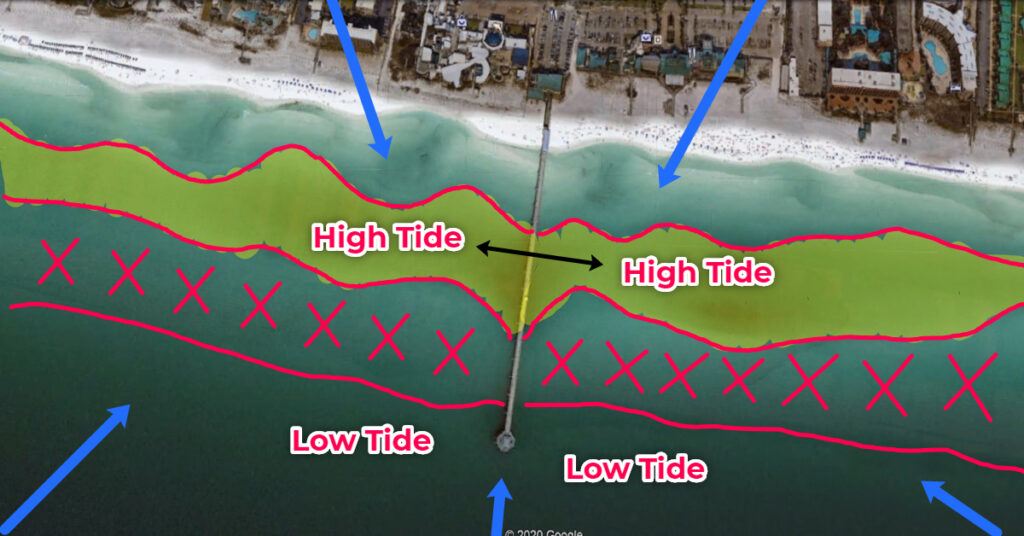 At low tide you will need to move closer to the end of the pier where the water is deeper. At high tide you can move in closer to the beach as the fish will be moving towards the beach looking for food. The time of year and available food sources will affect where the fish are most likely to be found.
Pier fishing can sometimes be great at night. Most fishing piers along the beach will have powerful lights that illuminate not only the pier itself, but the water below. These lights attract bait fish, shrimp, squid and other forage species which then attract predator species. Often times, night pier fishing is better than the fishing during daylight.
Pier Fishing Tackle Basics
You can use much of the same equipment for pier fishing as for beach fishing with a few additional necessities. Your beach fishing gear will catch most anything you might run across while pier fishing. You will find some serious shark fisherman at the end of most surf fishing piers and they have some heavy-duty gear for some heavy-duty fish. But, unless that's what your after, it will be over kill for most pier fishing.
A good spinning rod in 7 – 9 ft with a 6000 series spinning reel is a good choice for pier fishing. You can hook up with some big fish so you will need plenty of 20 – 30 lb monofilament or braided line. An assortment of circle hooks, weights of various sizes and your fish finder rigs and or double drop leader rigs.
There is a very important additional gear item you will need for pier fishing, the bridge or pier fishing net. It can be 15ft or more from the water to the pier deck and that is a long way to try to haul a fish up out of the water. A good pier net will save you lots of frustration and lost fish.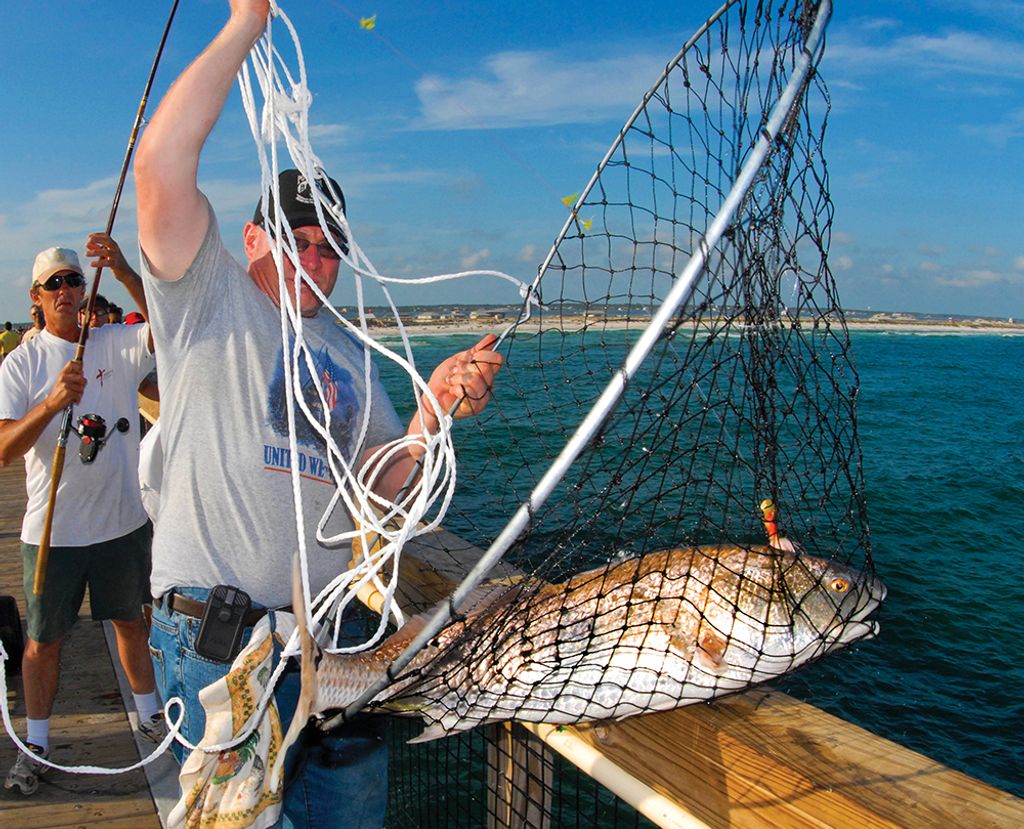 Baits and Lures for Pier Fishing
Baits for pier fishing will be the same as for beach fishing and depend on your location in the world, time of year and target species. Check with the local bait shop and they will get you squared away. Often there will be small bait fish hanging around the pilings of the pier. Carry a sabiki rig in your tackle just in case, so you can catch your own supply of live bait if they are present.
Artificial lures work well for pier fishing, and can be very good at night under the lights. A good selection of spoons, plastic shad or shrimp imitations, buck tails and top waters can all work well at times. Now, to get all this gear down the pier, you might want to consider some type of beach of fishing cart. These piers can be very long and getting all that gear up and down the pier can be a chore.
Essential Pier fishing Gear List
Fishing Cart – to haul all of your gear down the pier
Rod and Reel Combo – preferably two, one larger for bigger fish, smaller for casting artificials
Use a battery powered bait bucket – if you will be using live bait.
Fishing Hooks – assorted sizes for different species
Assortment of artificial lures
Pier or Bridge Net for hauling your catch up onto the pier
Sinkers in assorted sizes depending on currents and conditions
Pliers with Line Cutters – for hook removal if needed
Filet knife – to clean your catch and for cutting bait
ice chest or cooler – for snacks, drinks, bait and to bring your catch home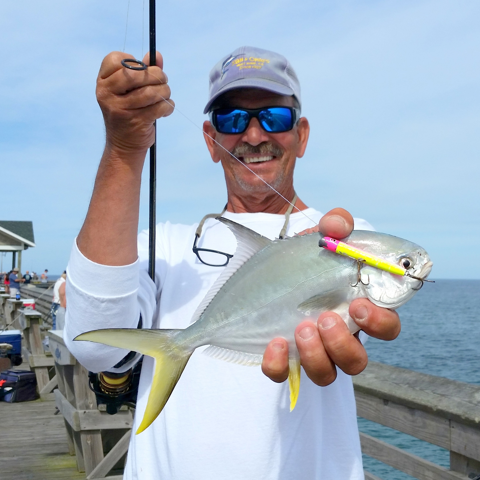 In the table below, I have listed some of the pros and cons of pier fishing. I'm sure there are more, if you think of any, drop me a note in the comment section below and I'll be sure to add them in.
Pros and Cons of Pier Fishing
Pier Fishing Pros
You stay high and dry
Usually lighted for night fishing
Great for taking kids fishing
Inexpensive way to try saltwater fishing
Pier Fishing Cons
Can get very crowded
Fishing spots limited to length of pier
Beach vs Pier Fishing – What are Your Options?
---
When trying to decide between beach fishing vs pier fishing, you need to know what options are available at your chosen beach destination. Does the beach have a fishing pier and if so when is it open and what are the rules regarding equipment and what is the cost?
Get online, call the local chamber of commerce, and get information on any beach fishing piers in the area. And, then call the piers and ask them what the rules are and hours of operation and what's biting etc. You can also check local fishing forums to read the latest from local fisherman and what kind of success they are having. Both at the piers and on the beach.

If you want to fish the beach, you need to know if you can drive on the beach or if it's pedestrian only. Much easier to carry all of your gear to the fishing spot if you can drive to it. How big is the beach and how much of it is accessible for fishing? How crowded is the beach? If it's loaded with swimmers, surfers, jet skis and sunbathes, maybe the pier is a better option.
In other words, do a little pre trip research. Always better to know before you go. You don't want to plan on fishing the pier only to find out when you get there that it's closed. Or, plan on driving down the beach to fish and find out that it's a pedestrian only beach. Even worse, find out its packed wall-to-wall with people with no room left for you to fish.
Beach Fishing vs Pier Fishing Which is Better?
---
So, is it better to fish from pier or beach? I think you know the answer right? "It depends." Beach fishing is usually less crowded than pier fishing. Fishing from a pier you have to deal with crossed lines and tangles with other fisherman. But if the beach is crowded with sunbathers and swimmers, it may actually be less crowed on the pier.
If you can drive on the beach, and there are miles of beach to fish, then beach fishing at least for me is the better option.
However, if the water is cold and or rough, staying dry high above the waves and fishing from the pier can become an attractive alternative.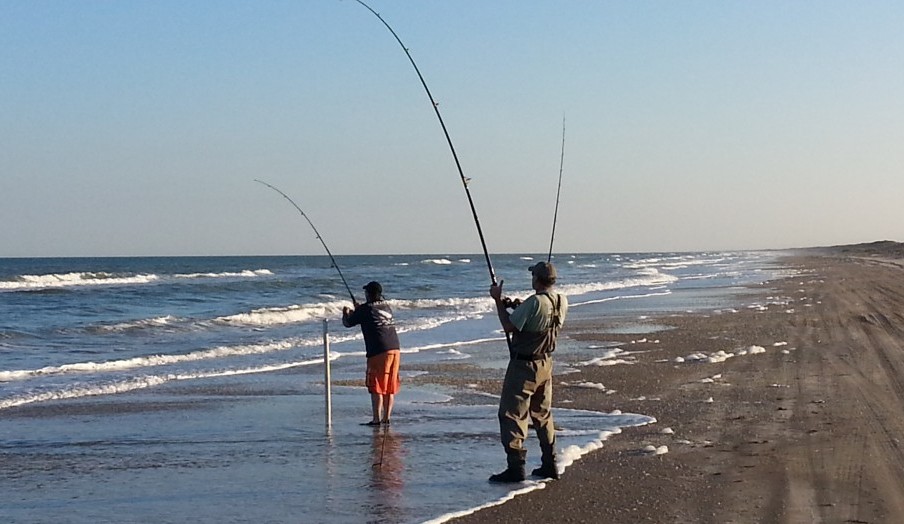 Saltwater pier and beach fishing can both be very productive and you can catch basically the same species from either one.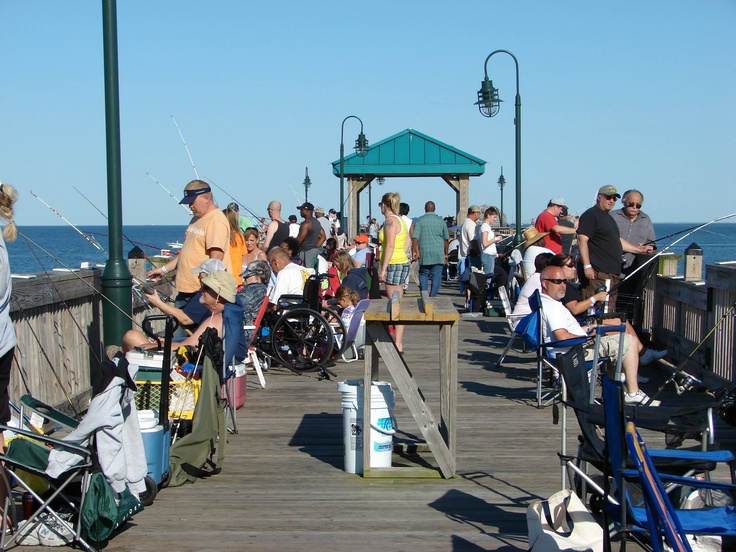 The pier will allow you to get much further out than you can cast from the beach which can offer some advantages when fish move offshore into deeper water.
In the end, when it comes to beach fishing vs pier fishing, it will be entirely up to you and which works best for you and the beach you will be fishing.
Of course, if you're a die hard fisherman like me, you might just try both if they're available. No rule that says you can only choose one.
Why Not Try Both? – Then Decide for Yourself 😉
---
Beach fishing vs Pier fishing, if both are available where you will be fishing, why not try both. That's the best way to decide which you like better and which might be the best choice for you and you're fishing style and abilities. There is nothing that says you have to choose just one.
I've tried both over the years, and enjoy fishing both the beach and from piers. The beach generally allows you more room to fish and more options for areas to fish. Fishing from a Pier you will be limited to the area the pier covers. And, piers can get fairly crowded during peak fishing times. Of course, fishing from the pier you will stay dry where fishing from the beach you may not. 😉
As always, stay safe, enjoy the journey and please try to leave it cleaner than you found it. If you have any comments, questions, ideas or suggestions please leave them in the comment section below and I'll get back to you asap. You can follow us on Facebook: Rex The Beach Angler, Instagram: thebeachangler7, Twitter: @AnglerBeach, and YouTube: Man Art Creations.
Essential Surf Fishing Gear: