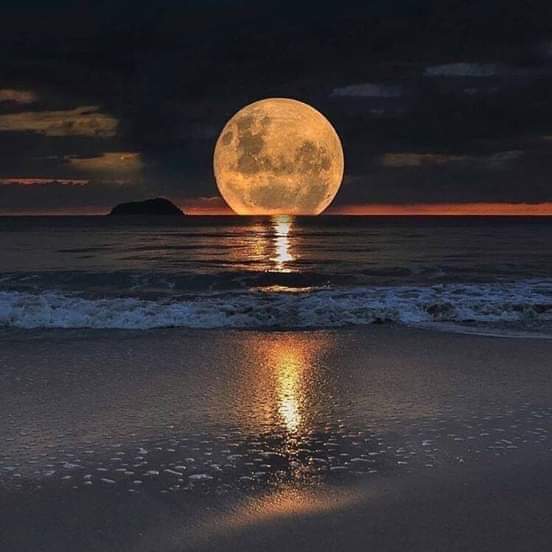 Fishing from the Beach is great sport and most of us who fish from the beach, do our fishing mainly in the daylight hours. But, you don't have to put your rods away just because the sun goes down. Fishing from the beach at night can be as productive, if not more, than beach fishing during the day. Beach fishing at night however, will take some extra planing and preparations to ensure both your safety and your success.
As you probably know the beach is a great place to spend some quality time with family and friends, or even alone. There is so much to do, surfing, swimming, beach combing, building sand castles, camping and yes even fishing; especially fishing. 😉 No matter where you are in the world, there are fish to catch from the surf zone along the beach, a.k.a. surf fishing.
Here are some tips and suggestions to consider if you're planning on fishing from the beach at night. Things look different after dark, but the fish are there and if you follow these tips, you can catch'em.
QUICK SHOT:
Fishing from the beach at night presents some unique opportunities and challenges and, if you properly prepare beforehand, can be an awesome experience. Follow these 11 Tips for surf fishing at night and you should be well on your way to catching more and bigger fish all while making memories to last a lifetime. 1. Always practice SAFETY FIRST. 2. Get the proper gear. 3. Find you fishing hole during the daylight. 4. Get Info from the locals. 5. Know the tide and solunar charts. 6. Check the weather forecast. 7. Rig up your gear ahead of time. 8. Use several rod and reel setups. 9. Bring food, snacks and drinks. 10. Get the proper bait before you go. 11. NEVER FISH AT NIGHT ALONE.
Fishing From the Beach – Daytime vs Nighttime
---
The first questions that come up, when you talk about fishing from the beach at night, are: Can really fish from the beach at night? and: Is beach fishing at night good? The short answer to both questions is "YES". However, you will need to check with the local laws for the beach you are planning to fish. Some may not allow you on the beach after dark, so be sure to check first. But, assuming you can fish from the beach at night, the fishing can be outstanding given the right conditions and proper planning.
Is Surf Fishing Good at Night?
It can actually be easier to catch fish from the beach at night. There won't be near as many people in the water swimming or riding their jet skis spooking the bait and fish. So, more and bigger fish are more likely to move in closer to the beach to feed.
Fish are more likely to move in closer to the beach to feed
The larger predators feed at night so your chances of catch bigger fish are better.
Much less conflict with other fishermen, surfers, boaters, swimmers and jet skiers.
The Beach is less crowded so you can have your pick of the best spots
Most people do their fishing from the beach during daylight hours, early morning and late afternoon have always been the prime fishing times for most surf fisherman.
Which often means that the most popular and best fishing spots can be crowded and taken by other people. This can make it difficult to find a good fishing spot and catch fish
. But, at night, the crowds clear out and you won't have nearly as much competition for fishing locations as during the day.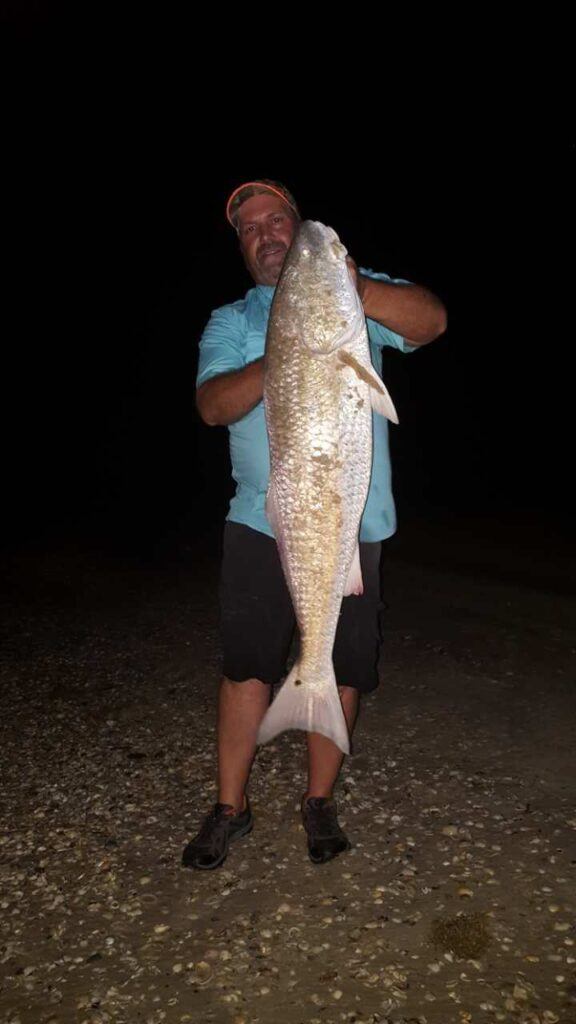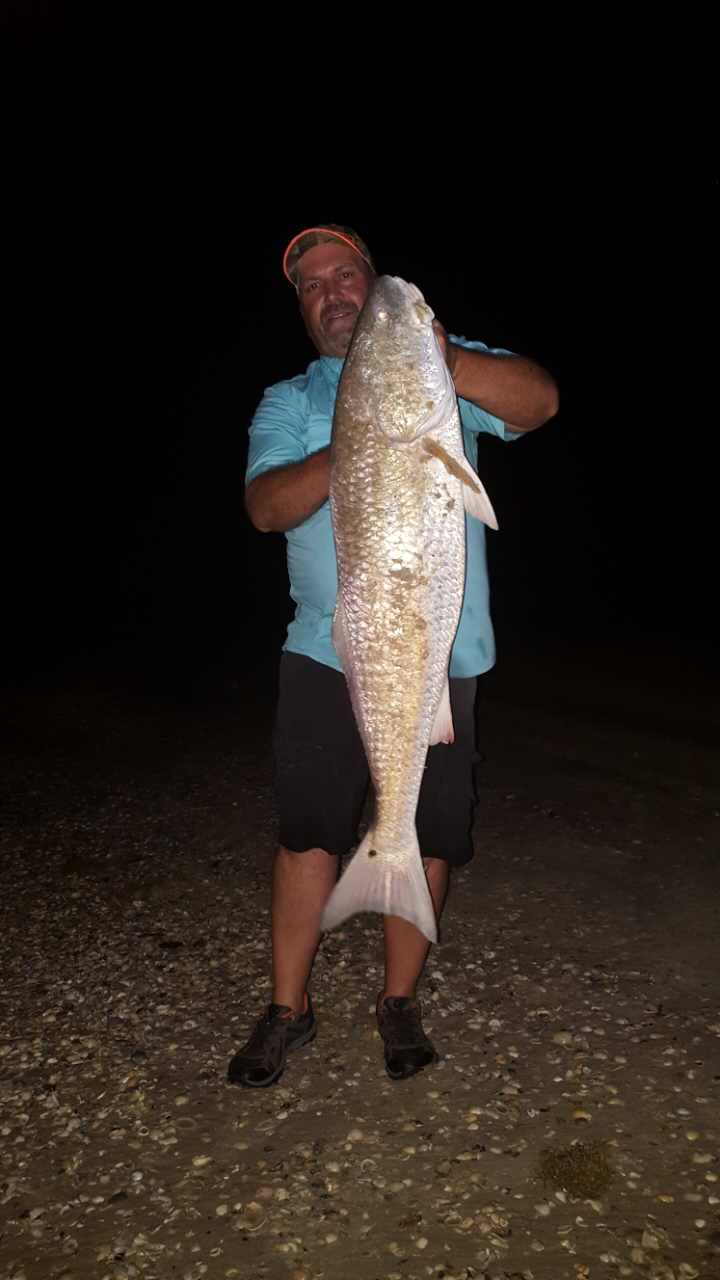 There will be fewer people in general on the beach at night. During the day, you will have to contend with people swimming, beach combing, sunning, surfing and playing in the surf.
This can make fishing difficult and less productive. At night, you won't find many people swimming or surfing so you can cast your lines out without worrying about snagging a surfer. The fish will be more comfortable and less skittish with less activity in the surf as well.
Another bonus for fishing from the beach at night, at least in the summer months, is it will be much cooler at night and you won't have to worry about getting sunburned. During the day at the beach you need to use sunscreen and drink plenty of fluids to avoid sunburn and to stay hydrated.
There are times when you can actually catch more and bigger fish Surf fishing at night as many of the larger predator species feed at night and will come much closer to shore. Your success will, of course, also be dependent on other factors such as wind direction, tidal movement, waves, moon cycle, currents, and bait presence. Fishing from the beach at night will take some getting used to. Rigging up and fishing in the dark can present some challenges to say the least.
How to Surf Fish at Night
---
If you want to try your luck at fishing from the beach at night, you will need to do some planning and preparation to be safe and successful surf fishing at night. If nighttime surf fishing sounds like something for you, then check out the following tips for gearing up to fish the beach at night.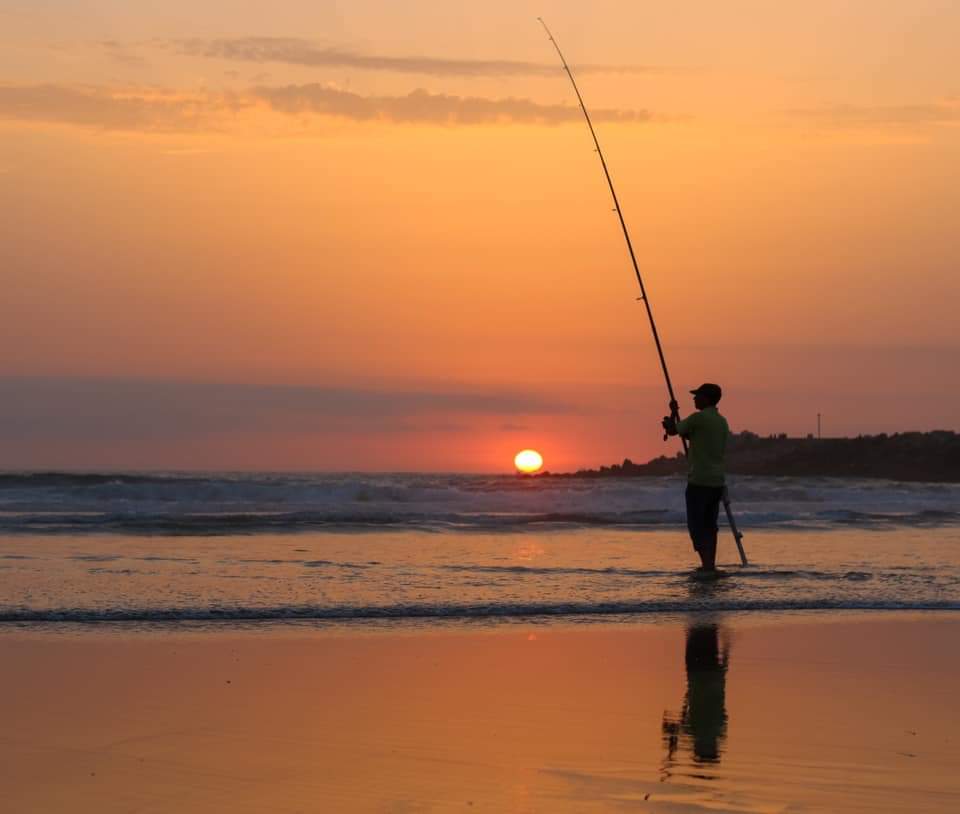 So, how do you fish from the beach at night, and what gear and equipment will you need to have a safe and successful nighttime surf fishing trip? Keep in mind that, in the dark, many of your normal fishing tasks will be much more difficult. Sometimes just by feel and your best estimate. The waves will be coming at you and could knock you down for an unexpected swim if you're not paying attention.
Catching and landing a fish in the surf at night can be a challenge as well. You won't be able to see what it is, or how big, until you get it up on the beach. At night, you won't be able to see where your bait or lure lands when you cast either. Much of nighttime surf fishing is done by feel. And, some beaches you can drive your vehicle to your fishing spot, others are pedestrians only so you will need to carry all of your gear. That's when a good beach cart comes in handy.
How To Prepare For Nighttime Surf Fishing
1. Always, always, always practice safety first! Waves, rip currents and undertows can knock you down, sweep you off your feet and out to sea when surf fishing. At night, it is even more dangerous as you can be drowning and no one would know it until too late. If you will be using waders, while fishing from the beach at night, you should always wear a wader belt to prevent water from filling your waders if you do happen to get knocked off you feet and go for an unintended swim.
2. Get the proper gear for night fishing- fishing from the beach at night requires some extra equipment, mainly because it's dark. The following is a good starting gear list to have you ready for a night of surf fishing.
Lights: You will need some kind of artificial light source for night fishing. Flashlights, Lanterns, Headlamps etc.
Surf rod and reel set-ups- Heavy duty is best in case you hook into a big one.
Safety gear – If you are surf fishing at night please wear a life jacket (PFD)
Bait – live or fresh dead natural baits, or dark colored lures that generate a lot of sound and or vibrations in the water make it easier for the fish to find them in the dark.
Comfortable chairs for while your waiting on the next bite.
Coat or jacket depending on time of year, the temperature drops after the sun goes down
Insect repellent – The bugs and mosquitoes come out at night and are attracted to your lights.
Surf fishing tackle and rigs, fish finder or double drops for bait fishing, spider weights and circle hooks.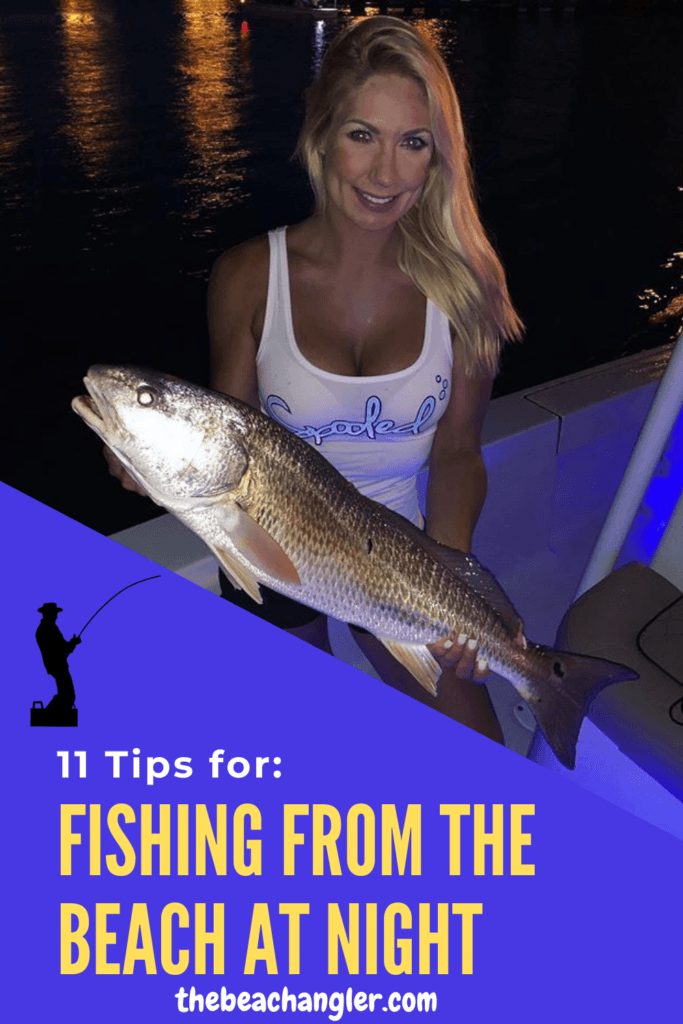 3. Find Your Fishing Hole – Finding a good fishing location in the dark will be extremely difficult. Your best bet is to spend some time on the beach during the daytime and pick your spot, then you can come back to it at night to fish. The best time to scout for fishing spots is during low tide. The structure along the beach, like guts, sandbars, suck outs or rips, and deeper holes will be much easier to see at low tide. Then you can have a good idea of where fish are likely to hang out and feed.
4. Gather Information from the Locals – Check with the local bait and tackle shops. They hear from other fisherman where and what fish are biting. And, in this internet age, check out the local fishing message boards and Facebook groups. You can check out what the other local fishing enthusiasts are catching and where.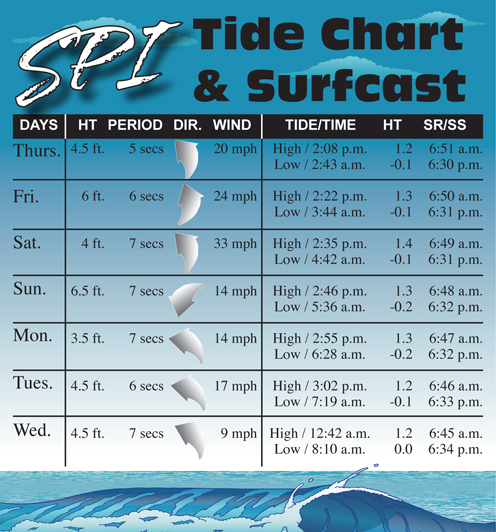 5. Know the Tides and Solunar Charts – When fishing from the beach, day or night, you need to be aware of the tides and solunar tables. Abnormally high tides can trap you on the beach and you could find yourself and your gear surrounded by water.
Also, fishing is generally better when the tide is moving so avoid the slack tide periods. The solunar tables will give you a good idea of the peak fishing times when the fish are more likely to be feeding and thus, easier to catch. Online sites like surf-forecast.com will give you a heads up on wind, wave and surf conditions.
6. Check the Weather Forecast – Watch the weather. High winds or approaching storms can build large waves and very rough surf conditions. Rough conditions, particularly at night, can make for dangerous surf fishing conditions. Know before you go – is the best policy when planning a nighttime surf fishing trip. Online resources like weather.com, and fishbrain.com are a great tool for weather information.
7. Set up Your Gear Ahead of Time- Looking for hooks and weights, or tying knots, after dark can get frustrating. Get all your gear organized and set up ahead of your trip in the day light. It will save you a lot of frustration later and you'll have a more enjoyable night fishing experience.
8. Bring Several Rod and Reel Setups – Having more rod and reel setups will allow you to put more hooks in the water and increase your chances of catching fish. You can fish multiple types of bait and at different distances from the beach to cover more water as well. You can locate where the fish are and what they are feeding on quicker when you have several rods spread out along the beachfront. Once you figure out the pattern then you can zero in will all your rigs and maximize your opportunities for catching. Also, if one of your rigs breaks or fails, you have back-ups to save your night.
9. Don't Forget Food and Drinks – You will most likely get hungry or thirsty during the night, so make sure to plan accordingly and bring some food or snacks. A grill or camp stove for cooking, firewood for a campfire, plenty of ice and ice chests for keeping the food and drinks cold and for icing down your night's catch.
10. Get Your Bait – Match the hatch. Again, by checking with the local bait shops and internet message boards, you can find out what the fish are biting. Then you can get the bait that will give you the best chance of success. Live bait, cut bait, or artificials, like your gear, it's best to get it before you head to the beach.
11. Never fish at Night ALONE! – I spend a lot of time preaching SAFETY FIRST. No fish, is worth your life. Nighttime surf fishing presents some extra risks. You can't see as well, or at all. The waves can knock you down and rip currents pull you out to sea before you know what's happened. Always fish with a buddy or buddies. It's more fun to share the experience with others and if something goes wrong and you need some help, there will be someone there to bail you out.
Best Rigs for Fishing From the Beach at Night?
---

The best rigs for surf fishing are the ones you are the most comfortable using. As you probably know, surf fishing equipment is somewhat specialized in that it tends to be larger and heavier duty than your typical inshore, or freshwater, gear. Fishing from the beach at night will require some additional considerations.
Now, I know there are some bait caster purists out there, but for surf fishing at night, the large surf spinning rod and reel combination is your best option. You can cast farther easier and without the backlash worries of your typical bait casting reel. Trust me, trying to remove a backlash, in the dark with the waves slapping you, is a whole other level of frustration. Just avoid it and use spinning gear at night.
When it comes to terminal tackle for fishing from the beach with bait, the best surf fishing rigs are the "fish finder rig" and the "double drop rig". You will need an assortment of circle hooks for various sizes and types of baits, and surf anchor / spider weights to hold your bait in place against the waves and current. Get you some good sand spike rod holders to hold your rods once you have then set, and you should be good to go.
Essential Surf Fishing Gear:
If you are going to try surf fishing at night with artificials, you will need dark colored lures that create a lot of noise and or vibration. This will make it much easier for the fish to locate your lure in the dark. You might want to consider synthetic baits as well. Berkley Gulp rigged on a jig head can be a good option when fishing from the beach at night as it gives off a scent trail that attracts fish to your bait. Fishbites is another option, either for bait on your fish finder rigs, or to add to your artificials to again add some scent attractant.
More recently, Drones, Bait Cannons and RC Bait Boats have become popular for beach and surf fishing. Some of the more advanced models have GPS and navigation lights for nighttime operations. They can get you bait much further than you could ever cast, and keep you safe and dry at the same time. That's another option you might want to check out.
What Can You Catch Surf Fishing at Night?
---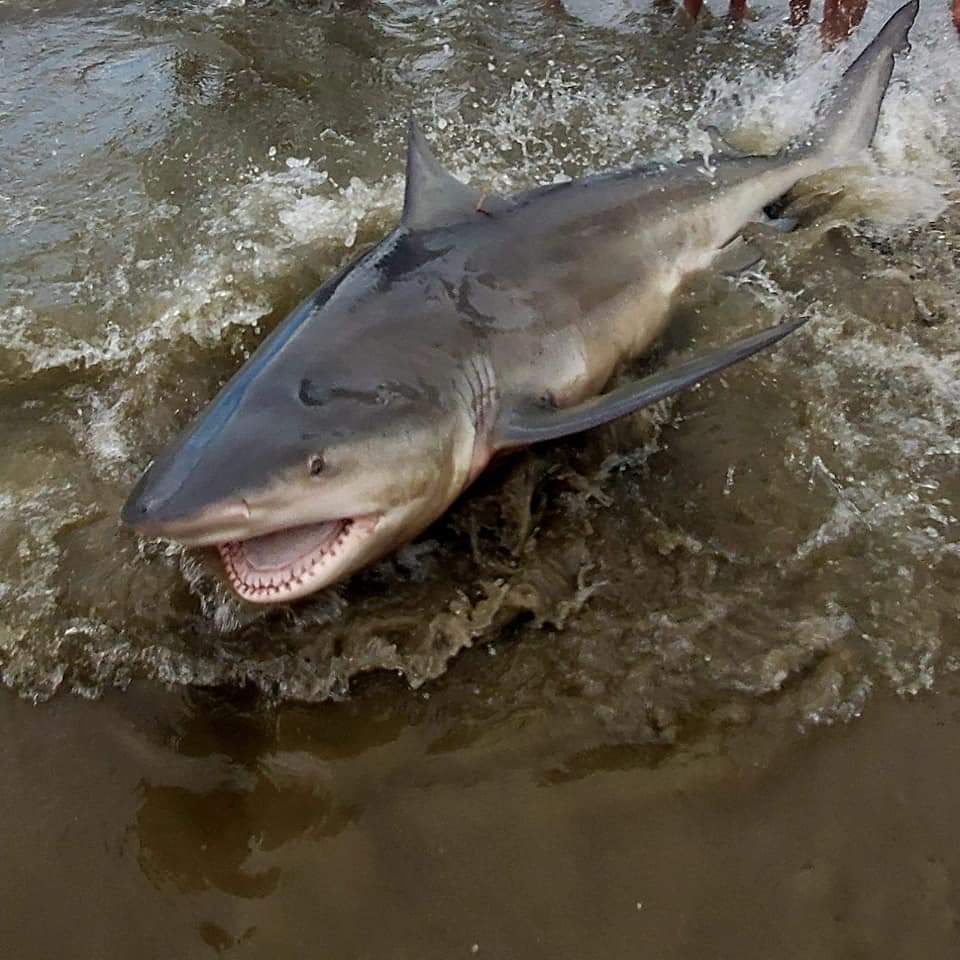 Now the next logical question is: What can you catch on the beach at night? And, that will vary depending on where you are in the world, the time of year, and the species available. But, where ever you are in the world, and no matter what beach you fish from, there are fish to be caught and fishing from the beach at night could be a great option to try your hand at surf fishing.
More and bigger fish will be closer to shore, and easier to reach, during the night. And, some very large predators feed close to the beach at night. Including some very large sharks.
You might just catch the fish of a lifetime surf fishing at night. Again, check you local bait and tackle shops as well as local online fishing message boards and groups. They are a great source of information on what you can catch and how to catch them.
Along the Texas Gulf Coast, where I fish, Black drum, Red Drum, Speckled Trout, Whiting, and a variety of shark species are all active and can be caught from the beach at night. That's one of the cool things about nighttime surf fishing, you never know what you've got until you get it to the beach and put your light on it.
Night Time Surf Fishing – Final Thoughts
---
Surf fishing is a great sport, and surf fishing from the beach at night will give you the chance to catch more and bigger fish without all the crowds and competition from other anglers that you have during the daylight hours.
If you make careful plans and preparations before you head to the beach, and practice safety first, you can have a great time and make some awesome memories. Always think safety first. There is no fish in the ocean worth risking serious injury, or worse, losing your life over.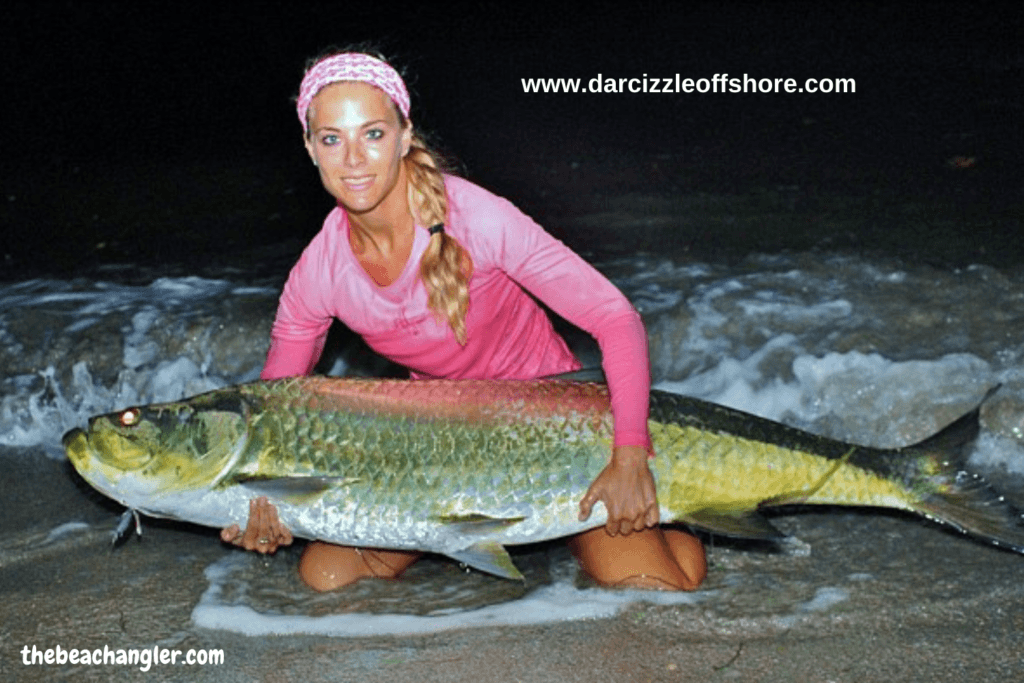 Fishing From the Beach at Night Safety Tips
Never fish at night alone. Always have someone with you just in case something unexpected happens. Practice the buddy system. Besides, it's more fun when you share the experience.
Scout your fishing location during the day so you will know where the holes, cuts, currents and any obstructions are before your trip.
Bring plenty of lights, flashlight, headlamps, lanterns. Never land a fish without first getting it in the light so you can safely identify it and unhook it. Many nighttime predators have sharp teeth.
Keep your space on the shore neat and tidy. You do not want to find lures, hooks, and bait underfoot suddenly.
Bring, AND WEAR, a life jacket or PFD when surf fishing at night. Things happen quick and, in the dark, your room for error is very small.
Slow down and take your time. Don't take any unnecessary risks. It's dark, you can't see well, so use extra caution in everything you do while fishing from the beach at night.
As always, stay safe, enjoy the journey and please try to leave it cleaner than you found it. If you have any comments, questions, ideas or suggestions please leave them in the comment section below and I'll get back to you asap. You can follow us on Facebook: Rex The Beach Angler, Instagram: thebeachangler7, Twitter: @AnglerBeach, and YouTube: Man Art Creations.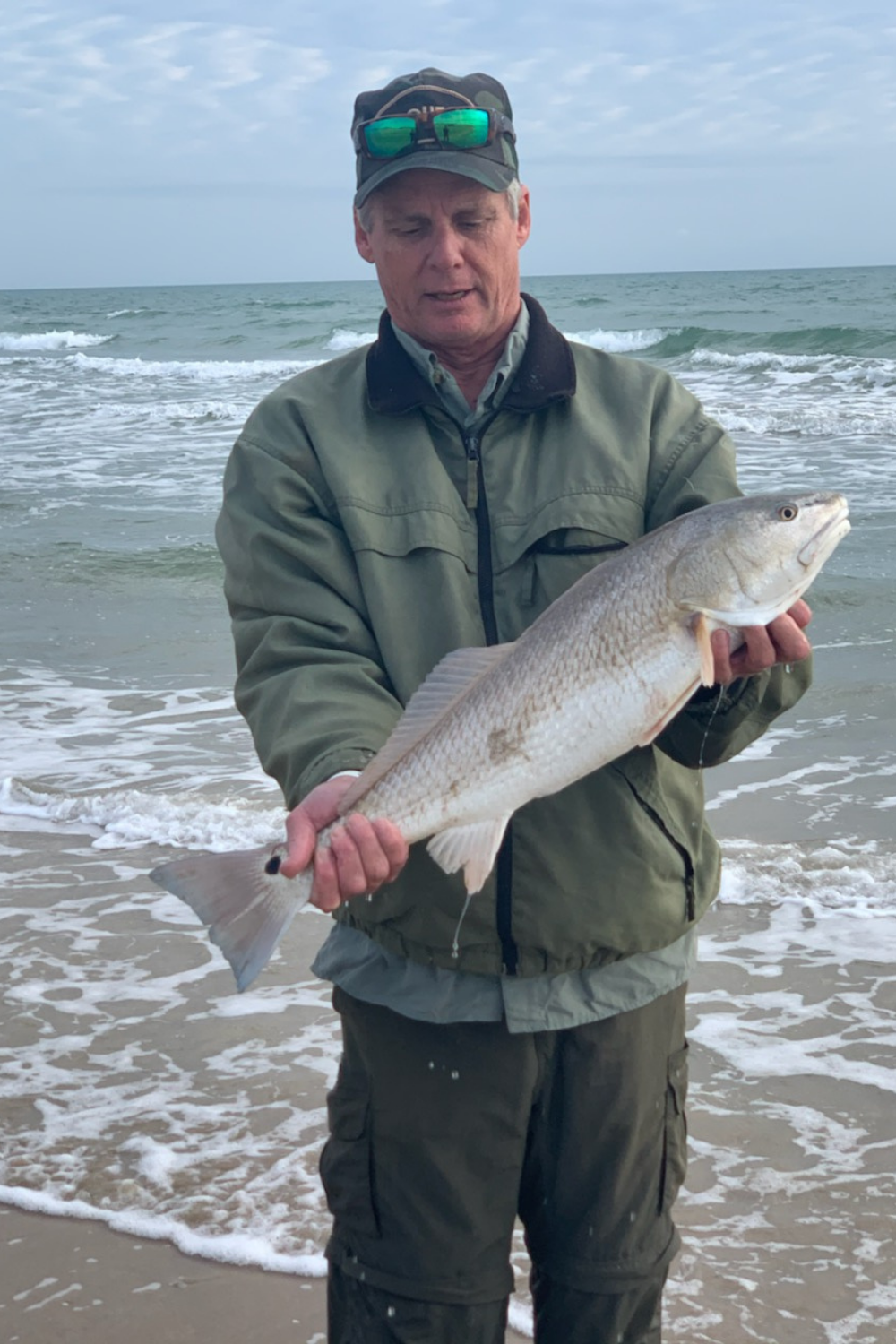 A life long surf fisherman with 50+ years of experience, I am also an avid hunter and outdoorsman. I will be sharing my passion for the outdoors with you so be prepared for hunting, fishing, camping, hiking and more. Along with gear reviews and the latest trends and innovations in the outdoor industry.