Have you seen the videos of people using radio-controlled boats for surf fishing? Fisherman and our toys. 😉 Except these saltwater bait boats are far from the toys you may see at the local park or swimming pool. These are serious craft, built specifically for hauling baits offshore in saltwater.
The radio-controlled hobbyists have come up with some amazing vehicles of all kinds. Everything from Boeing 737s to fighter jets, cars, boats and battleships. It is really quite impressive what the RC industry has come up with and developed. Along the way, someone figured out how to attach some fishing line and a baited hook to a radio-controlled watercraft, and the industry took notice.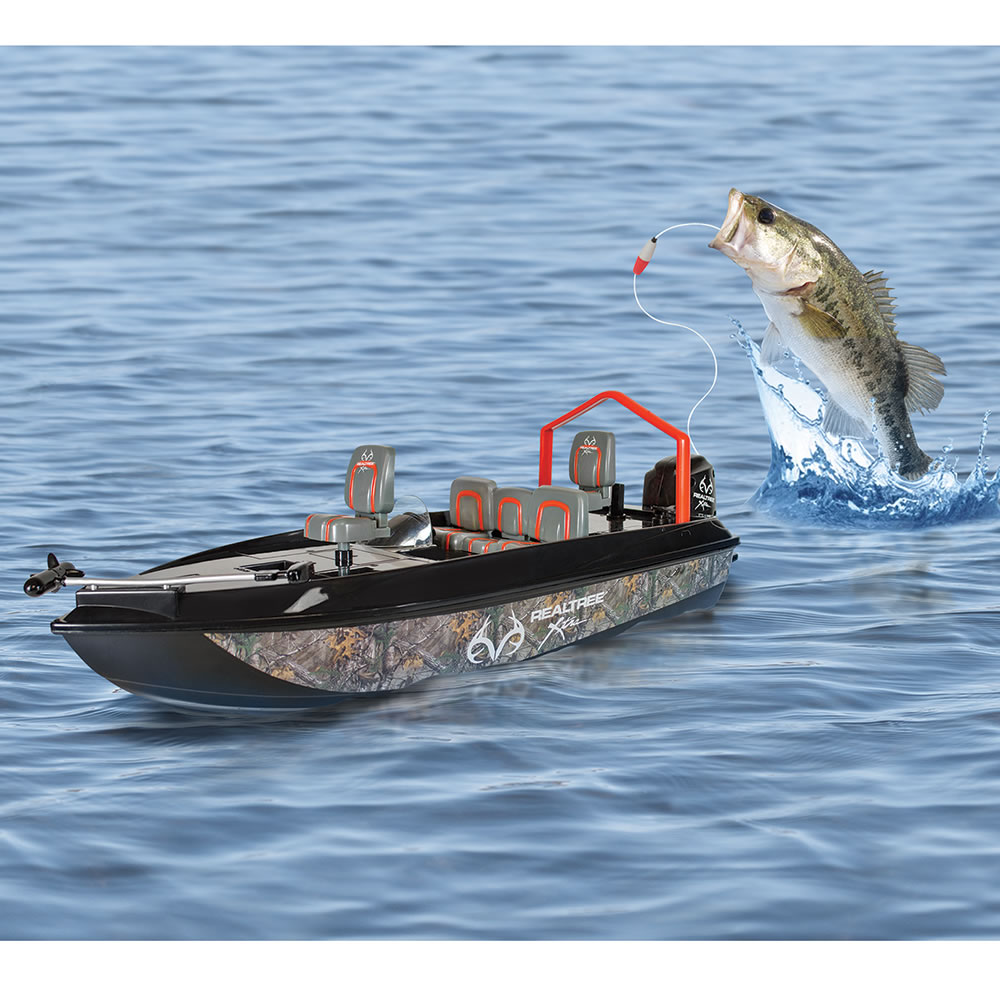 The radio-controlled bait boat was born. These boats were bigger, more powerful and more stable than the hobby versions that were available at the time. And, eventually, the manufacturers began to make boats designed to handle saltwater and surf as well. Built to be "self righting" and corrosion resistant, these boats are being used to haul baits out past the breakers where the big ones are.
Like the SandBlaster Bait Caster and the SwellPro Splash Drone 3 we've looked at previously, the RC Saltwater Bait Boat extends your fishing range much further than you could ever hope to cast, and you stay relatively dry. In addition, the bait boats for surf fishing can haul much bigger baits than most readily available drones making them a great tool for shark fishing from the beach.
Radio Controlled Bait Boats
---
Developed as an alternative to kayaks and drones, the RC bait boats have become more popular in recent years. For those who are tired of those harrowing kayak trips in rough surf conditions, or are not satisfied with the weight limitations of most of the drones on the market, RC bait boats could be just what you need.
Just imagine, you're all set to go fishing for the weekend. Filled with anticipation, you can almost taste the salty sea air. You imagine yourself reeling in the catch of a lifetime. But then, the weatherman rudely bursts your bubble with his ominous forecast of heavy rain and howling wind. So, now what?!
Kayaking will be hard work at best, and possibly dangerous. Flying a drone will be extremely challenging as it struggles to stay on course in the swirling wind. Your line will be blowing and swinging in the wind dragging the drone along with it. Your expensive drone could very easily get tangled in the line and end up going for a swim. Not a good thing. That's where an RC bait boat can save your trip.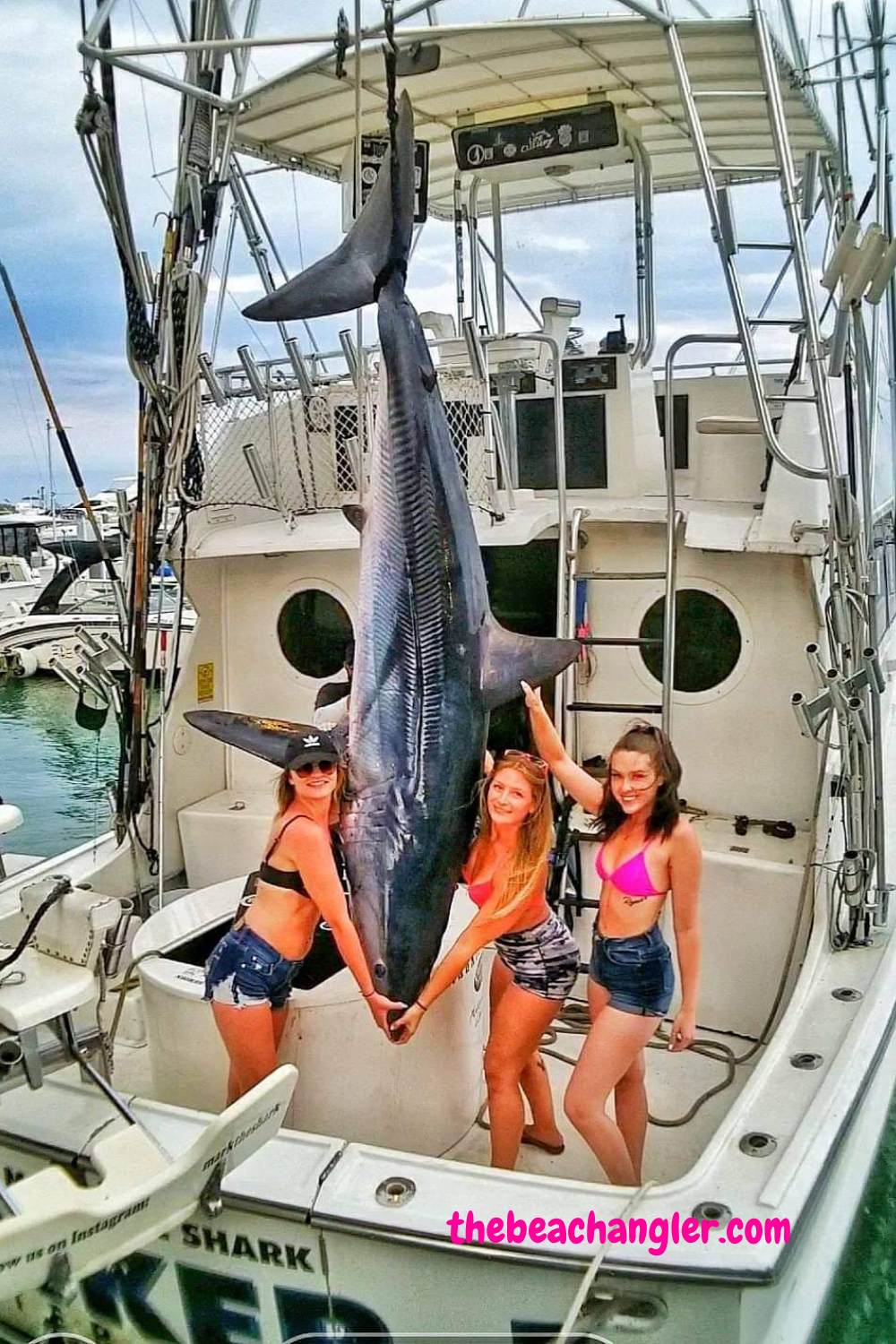 The RC fishing boat, a kind of small speedboat equipped with a fishing line and hook, was the first fishing application developed by RC manufactures. It can replace the fishing rod by remote control in lakes or rivers. Used for trolling lures or bait for a variety of fish species. But then, the idea came up to combine the RC boat with a fishing rod and reel to carry your line to your desired location and then drop it off. Thus, the RC Bait Boat emerged on the scene.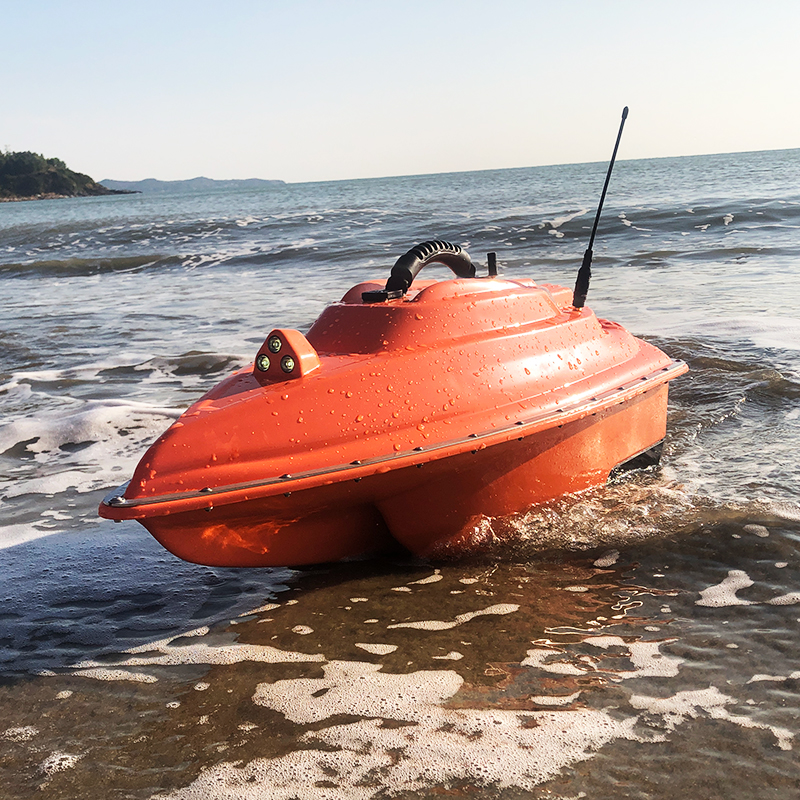 Now, operating in the surf and open ocean, a remote controlled saltwater fishing boat needs to be able to travel in rough seas for long distances and back again. And, in case of loss of radio connection, the ability to find its way home on its own, much like a drone. These saltwater bait boats are now equipped with GPS so they always know where they are and where they dropped your bait, which can come in handy when you find that hot spot.
Let's take a look at the two most popular RC bait boats for saltwater fishing available in the US market, the Fishing Surfer RC Bait Boat and the Aqua Cat RC Bait Boat. I've watched both in action personally, and they will both do you a great job. There are some differences in capabilities, and of course, price.
Fishing Surfer RC Bait Boats
---
First up, and probably the most popular in the US currently is the Fishing Surfer RC Bait Boats. Developed by Joysway, one of the leading manufactures in the Radio Controlled vehicle industry, the Fishing Surfer is designed specifically for the saltwater environment. Borrowing from their experience with RC boats, and RC fishing boats, Joysway has put together a self righting, twin engine, completely waterproof saltwater bait boat.
With control range of 500 meters and equipped with a GPS Autopilot function, the Fishing Surfer makes for a good solid bait delivery platform for most of your saltwater fishing needs. The addition of the optional fish finder means you can zero in on offshore structure that you may have never known about before and put your bait where the fish are.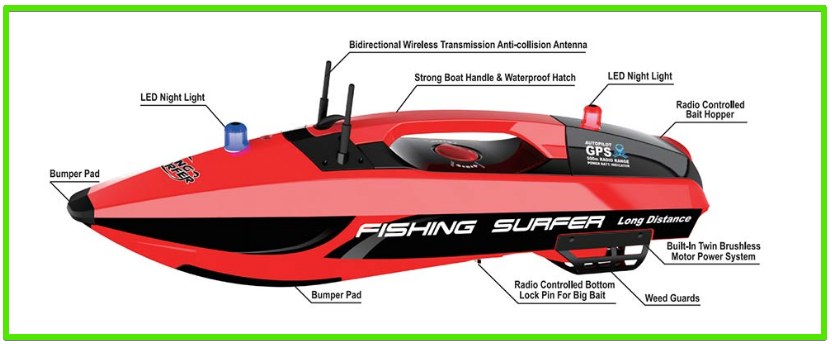 The Fishing Surfer Bait Boat is a plastic boat completely sealed and waterproof. According to their specifications, it is rated for surf/waves up to 1 meter ( little over 3 feet). It has a bait hopper to enclose your bait within the boat, or a radio-controlled bait hook for towing larger baits and rigs.
It comes with a rechargeable 6.4 volt battery pack which can be recharged from your vehicles electrical system when at your fishing destination. The GPS Autopilot function allows the Fishing Surfer to store up to 4 bait drop locations for precision bait placement and return home functions.
Fishing Surfer RC Bait Boats Specifications:
Material: Plastic
Radio Range: 500m
Power System: twin brush less motor
Boat Speed: 3 m/s
Battery: LiFe
Size: 850 x 205 x 230 mm
Net Weight: 3.6kg
Hook System: 2
1x Surf fishing boat
1x Boat Bag
1x High Current Fast AC Charger
1x 6.4V 15.6Ah LiFePo Battery Pack
1x 2.4GHz 500m Range Radio System Integrated with GPS Function
1x EVA Boat Stand
(Required 4 pieces AA Alkaline Batteries)
Features and Function of the Fishing Surfer RC Bait Boats
A). Long Distance Bait Release / Powerful Surfing Ability (Twin Brushless Motor Power System). We can deliver the bait to 500 meters range from the shore, The boat has powerful brush less motor system.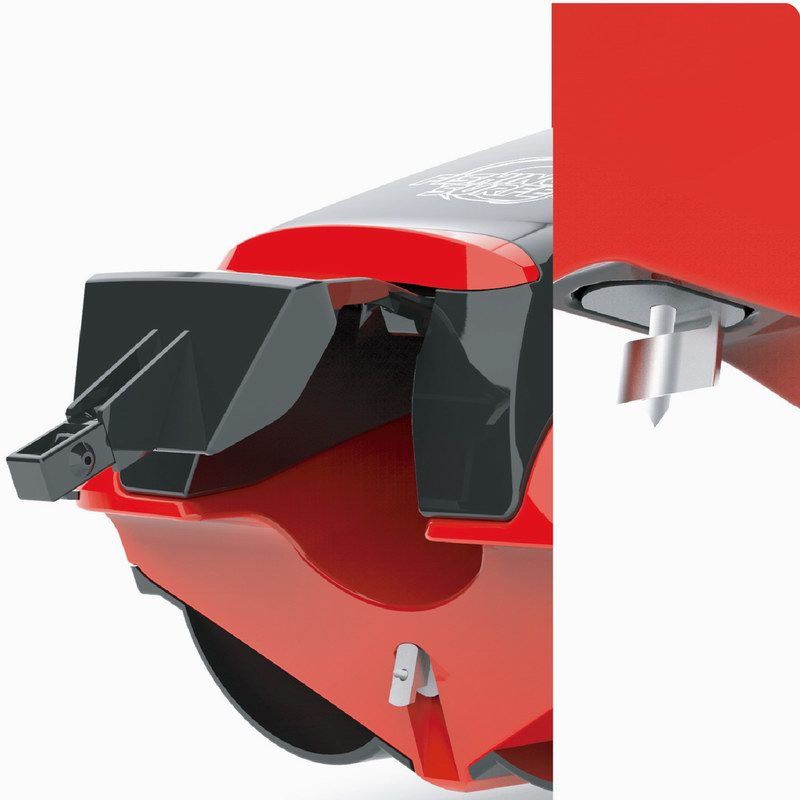 B). Self-righting, Waterproof design: The boat is durable in the sea with 1-meter wave thanks to self-righting function, the boat will turn over automatically again after blow over. The hatch is designed to prevent water to get inside.
C). 3 meters per second boat speed: the speed can reach 3 meters per second because of the powerful brush less motor system.
D). Radio Control Bait and Hook Release: We use the radio to control the boat to the spot to release bait and hook.
E). Reserved Mounting & Power Port for Fish Finder: This item includes Toslon TF300 Fish Finder.
F). 2.4 GHz Radio with Power Batt. Indicator: The radio can control the boat without disturbance, the battery indicator on the transmitter will show the power of the battery for the boat.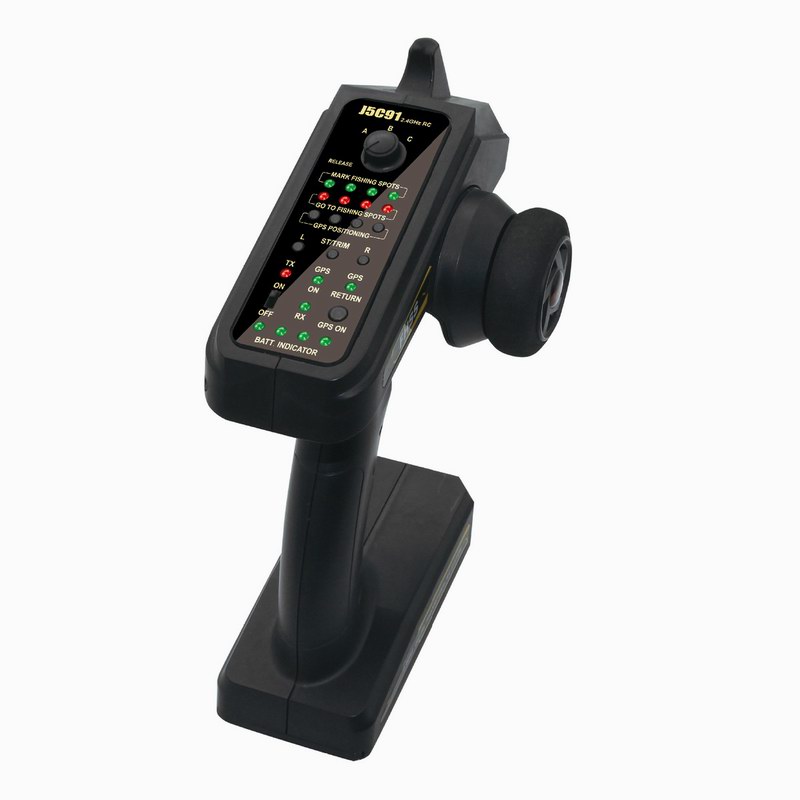 G). Front & Rear LED Navigation Lights with Low-Voltage Warning: The LED light can help us to identify the location and direction of the boat, the low-voltage warning system can remind us to control the boat back in time.
H). GPS Function: One Button Return & 4 Fishing Spots Marking. Press the button " One Button Return", the boat will return back to the original spot. 4 fishing spots marking can help us to remember where we have released the bait and hook, then we can deliver the hook and bait to the same location.
Fishing Surfer Pricing: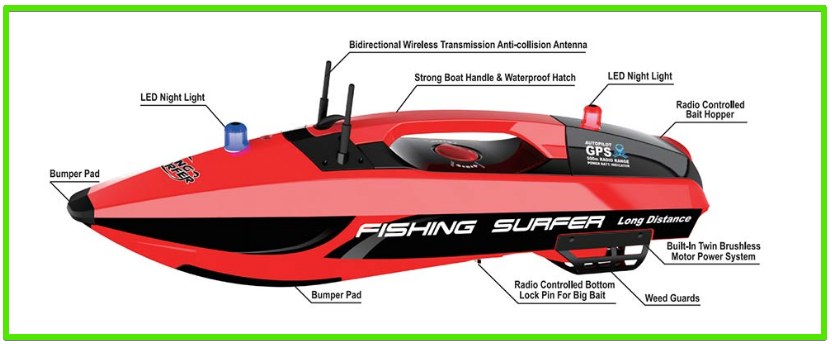 RC Fishing Surfer RTR w/ 2.4GHz built in GPS
$599.95 USD
RC Fishing Surfer RTR w/ 2.4GHz includes Fish Finder & built in GPS
$899.95 USD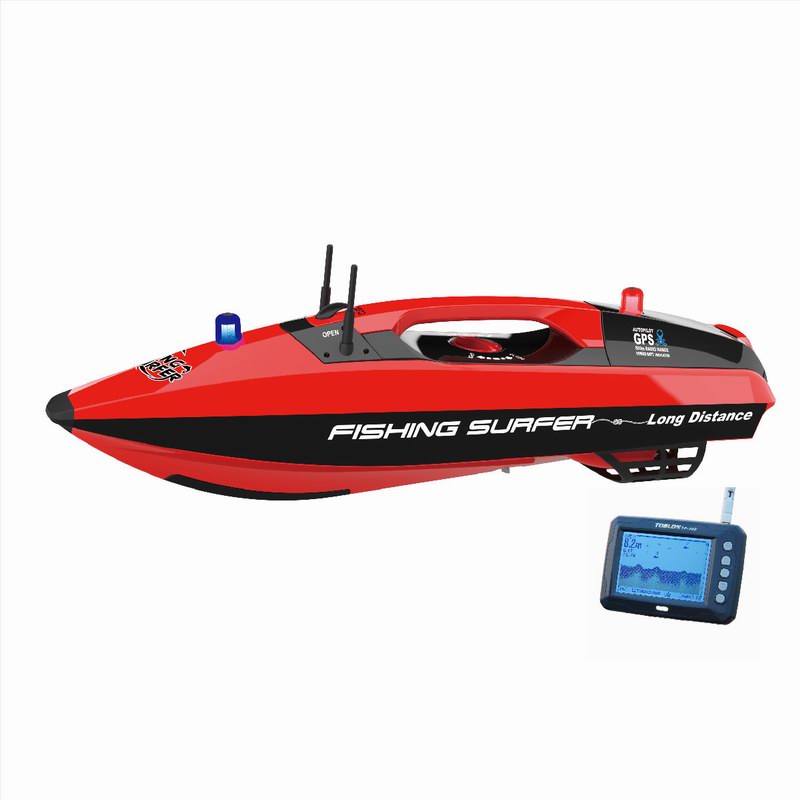 A nice bait delivery platform, built off of their hobby boat platforms, I've watched it handle normal to rough surf conditions here on the Texas Coast to deliver fairly large baits. In rough conditions it does get tossed about though, and takes some practice to navigate the breakers. Now, lets take a look at the Aqua Cat RC Bait Boats.
Aqua Cat Turbo X RC Bait Boats
---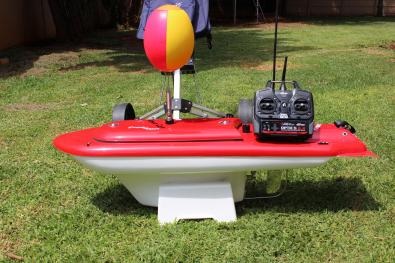 Aqua Cat RC Bait Boats were designed and built from the ground up to be a saltwater fishing bait boat. Where the RC Fishing Surfer used a modified hobby boat for a platform, the Aqua Cat is built with a specific purpose right from the drawing board. Handcrafted and engineered for endurance, the Aqua Cat was developed to handle 10ft swells and 40 mph winds.
Constructed of reinforced fiberglass and stainless steel and powered by a 24V electric motor, The Aqua Cat Turbo X is a tough and powerful bait delivery platform. Able to tow up to 20 lbs of bait and gear, it has a decided advantage for Shark fisherman. Made by the Aqua Cat company of New Zealand. Fishing Boats is all they do, no toys here.

From the Aqua Cat Website, Meet the Aquacat Turbo X.
The third and current generation Aquacat – the Aquacat Turbo X – was launched in 2015. Sporting a redefined, lighter body shell, higher rated brush less motor designed to work with higher performance lipo and li-on batteries as well as seamless GPS autopilot and fish finder integration, the Aquacat Turbo X is lighter, faster, more powerful, more intelligent than ever before.
This amazing 8,5kg, 1m long craft is ready to go fishing whenever you are. Tow much bigger baits than you could with a drone in conditions that wouldn't be safe if you were on kayak, jet ski or ski boat. Designed to be in the ocean, when this phenomenal little bait boat hits the water, she's exactly where she wants to be. Fully submersible and totally self righting, the Aquacat Turbo X is the most effective, robust, reliable bait hauler on the market today.
The bait compartment is standard on all boats and live or dead baits up to 10″ long x 5″ wide x 2″ high (25cm x 12cm x 6cm) can be transported in the tray. TheTurbo X can operate using a pair of 12 V 9Ah Lead acid batteries or a single S6 Li-on (22.2 Volt) Lipo or Li-on battery pack and generates and impressive 33lbs of thrust for towing baits up to 20lbs. Available in 3 models ranging from the basic package of boat, controller and stand, to the fully loaded package with Autopilot and electronic fish finder, there is an Aqua Cat to fit your fishing needs.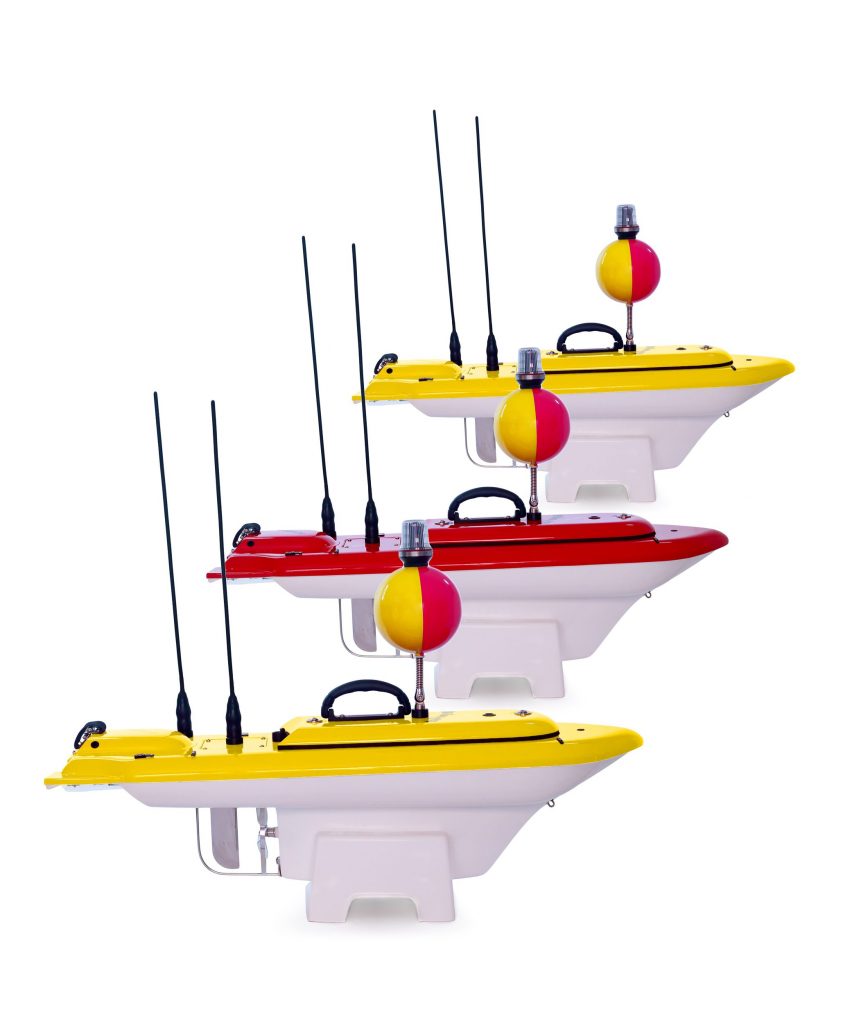 Finish UV resistant gel coated reinforced fiberglass with stainless steel trim. Available in tropical Cherry Red and Canary Yellow.
Dimensions
Length: 1 m (39,37")
Width: 30 cm (11,81")
Height: 33cm (12,99") excl buoy
Weight: 8,5kg (18,74 lb) excl batteries
Performance
100% Waterproof up to 20 m (65 ft)
Max speed: 240 m (263 yd) p/min
Thrust: 15 kg (33 lb)
Operating voltage: 20 – 26 volts
Motor High torque 1.2 kw (24v) brush less motor. Driving a three-bladed, rough pitch propeller through a reduction gearbox.
Construction CAD with CNC machined hydrodynamic hull and superstructure. Reinforced fiberglass construction with stainless steel trim.


The operating range of the standard radio equipment included with every Aquacat Turbo X is up to a maximum of 1000 yards (915m) depending on how high above sea level you are standing. TIP: Position yourself higher up the beach if possible and hold the remote controller at chin level with the remote aerial orientated vertically to optimize range.
The Aqua Cat Turbo X can be supplied with an optional GPS Auto Pilot which offers both Return to Launch (RTL) and Saved Waypoint Sailing features (SWS). This system does not require Bluetooth or telemetry link to function. It is linked directly to your remote controller and offers simple, affordable, entry level access to Auto Pilot technology. The RTL function can be activated manually and will kick in automatically if radio signal is lost for more than 20 seconds.
Our new Bluetooth Integration and Bluetooth to Telemetry link add-ons will allow you to set up and store Autopilot missions on your Android device. (IOS not supported at this stage). Provided that the route is within radio range you will be able to interrupt the mission with the remote controller if you have opted for standard Bluetooth Integration or using your smart phone if you have selected the Bluetooth to Telemetry Link Kit.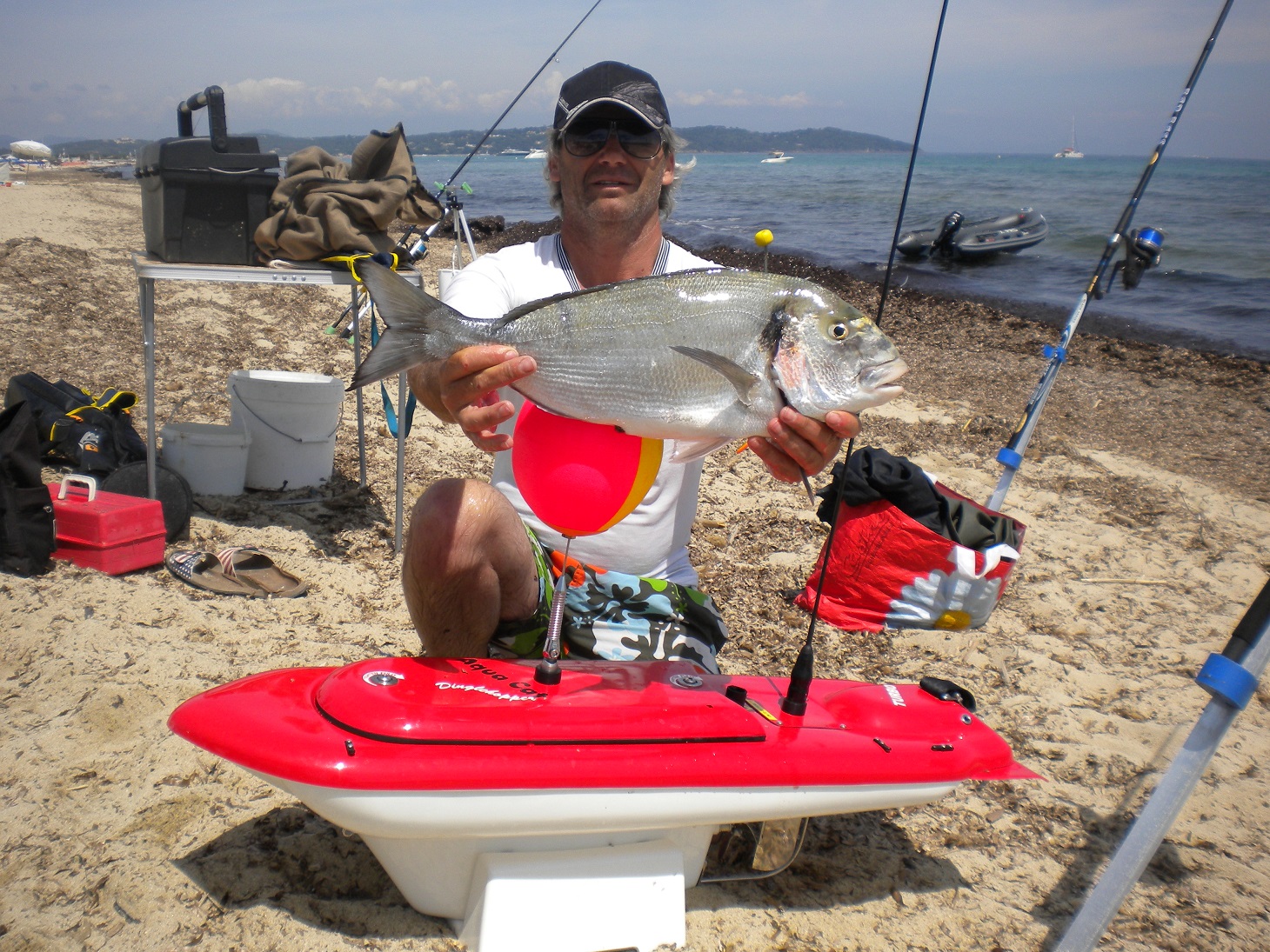 There is also an optional long range Fish Finder accessory that provides precision detection of reefs, underwater obstacles, the presence, depth and relative size of fish. Here are a few helpful specs:
Depth capability: 130ft
Range: 700 yards (640m)
Display: 4.3″ TFT color LCD;
Sunlight Viewable
Sonar Alarms: Fish / Shallow / Low Battery
Sonar unit size: 153 x110 x 44m
Lead Acid Batteries
Unless otherwise specified, the seating in the boat is arranged for the boat to operate on two 12 Volt 9Amp/hour Lead Acids batteries connected in series to provide the 24 Volts needed to run the motor. These are not high performance cells so you will likely need to carry a couple of spare sets. They are relatively inexpensive and should be available from any reputable battery dealer. Besides price, another advantage of using these cells is that virtually any 4 to 6 Amp automotive charger can be used to charge them.
Lipo Battery Packs
The alternative is a high performance metal type battery such as a 16000mAh S6 Lipo pack will provide the same run distance as 3 sets of Lead Acid cells i.e 6 x 12 Volt batteries in total. A dedicated Lipo charger will also be required to charge and maintain the pack. If you can't park your vehicles close to where you fish, a Lipo pack is ideal.
The following are approximate run times for the various battery configurations.
2 X 12 Volt Lead Acid batteries – run time 22 minutes / 2500 yards staggered use i.e min 5min recovery time between trips.
S6 16Ah Lipo or Li-on pack – run time 55 minutes / 6000 yards run distance.
S6 30Ah Lipo or Li-on pack – run time 115 minutes / 12000 yards with no recovery time required between trips.
It is recommended that the drive shaft seal be changed every 100 – 150 running hours. They recommend including a Driveshaft seal replacement kit when placing your order. Changing the seal is quick and easy. They'll also be happy to walk you through it when the time comes.
Aqua Cat Pricing:
The Aqua Cat Turbo X is available in 3 options with the features of each listed below.
AQUACAT turbo X Starter Kit
$1159.00** (excl shipping)
INCLUDES:
Fully submersible, totally self-righting Aqua Cat Turbo X fitted with:Stainless steel propeller guard for protection and minimized line pick-up
Fold down, durable plastic carry handle for easy launch and retrieval
Easy to read, deck-mounted waterproof digital volt meter accurately shows battery level pre-launch
Reliable 2.4ghz remote controller
Bright bi-colored navigational buoy (no lamp – daytime use only)
Long range boat antenna
Durable lightweight boat stand
Allen key
Shipping not included in price stated
Batteries are not included with international shipments due to IATA restrictions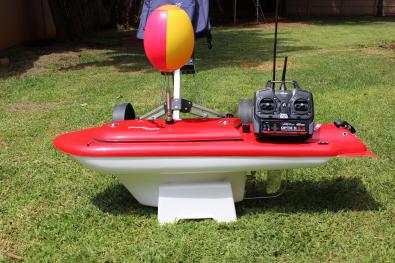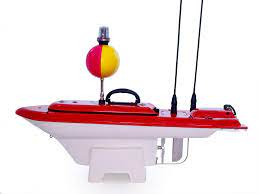 AQUACAT Fish More Kit
$1599.00 (Save $133.00) (excl shipping)
INCLUDES:
Everything from the Basic Aqua Cat Turbo X plus:
Super bright bi-colored waterproof LED navigational buoy for day and night fishing (lamp included)
Easy to use autopilot with Return to Launch & Saved Waypoint Sailing
Driveshaft seal replacement kit with tools
Allen key
Shipping not included in price stated
Batteries are not included with international shipments due to IATA restrictions
AQUACAT Fully Loaded Kit
$2499.00 (Save $201.00)
INCLUDES:
Everything in the Aqua Cat Fish More Kit plus:
Padded Aqua Cat carry bag for convenient transportation and storage
State-of-the-art TF 500 wireless Fishfinder with colored display
Easy to read, deck-mounted waterproof digital volt meter accurately shows battery level pre-launch
Shipping not included in price stated
Batteries are not included with international shipments due to IATA restrictions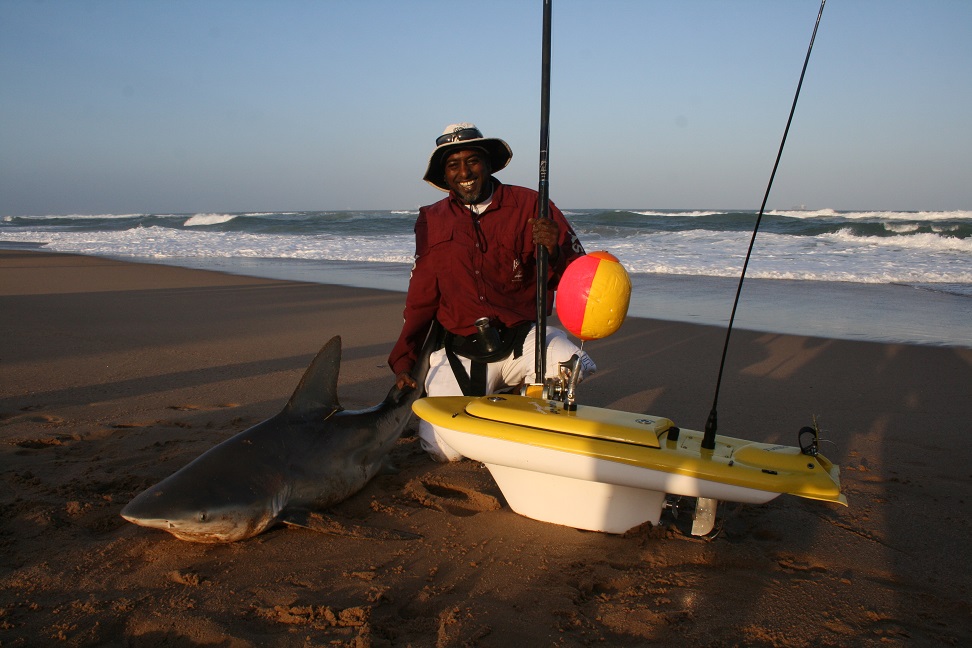 Fishing Surfer RC Bait Boats Pros and Cons
---
The table below lists some of the pros and cons of the Fishing Surfer RC Bait boats. This is my opinion and I recommend that you check them out for yourself if it looks like something you would be interested in.
| Fishing Surfer Pros | Fishing Surfer Cons |
| --- | --- |
| Good Boat for the Price | Limited to 1 meter waves |
| Parts readily available at RC Hobby shops and online | 500 meter maximum range |
| Comes with GPS Autopilot as standard equipment | 6 volt motors limit payload towing capacity |
| | |
Aqua Cat Turbo X RC Bait Boats Pros and Cons
---
Again, in my opinion, these are the pros and cons of the Aqua Cat Turbo X. A more expensive boat and it is always best if you check them out for yourself if you think you have an interest in the Aqua Cat.
| Aqua Cat Turbo X Pros | Aqua Cat Turbo X Cons |
| --- | --- |
| Designed from the ground up as a fishing boat | Very expensive piece of equipment |
| Reinforced fiberglass and stainless construction | No source for parts and service in US |
| Navigational bouy with beacon for night fishing | |
| Can use readily available 12 volt batteries | |
| 24 volt motor with 33 lbs of thrust | |
| Rated for up to 20 lbs of payload | |
| 1000 meter maximum range | |
RC Bait Boats Comparison
---
It really comes down to what you want an RC Bait Boat for? If you are fishing for Redfish, Stripers and small sharks and just want to get out to those feeding fish you can't reach by casting, then the Fishing Surfer RC Bait Boats may be your best bet. Much cheaper, with parts available at most RC shops, It can be a great option.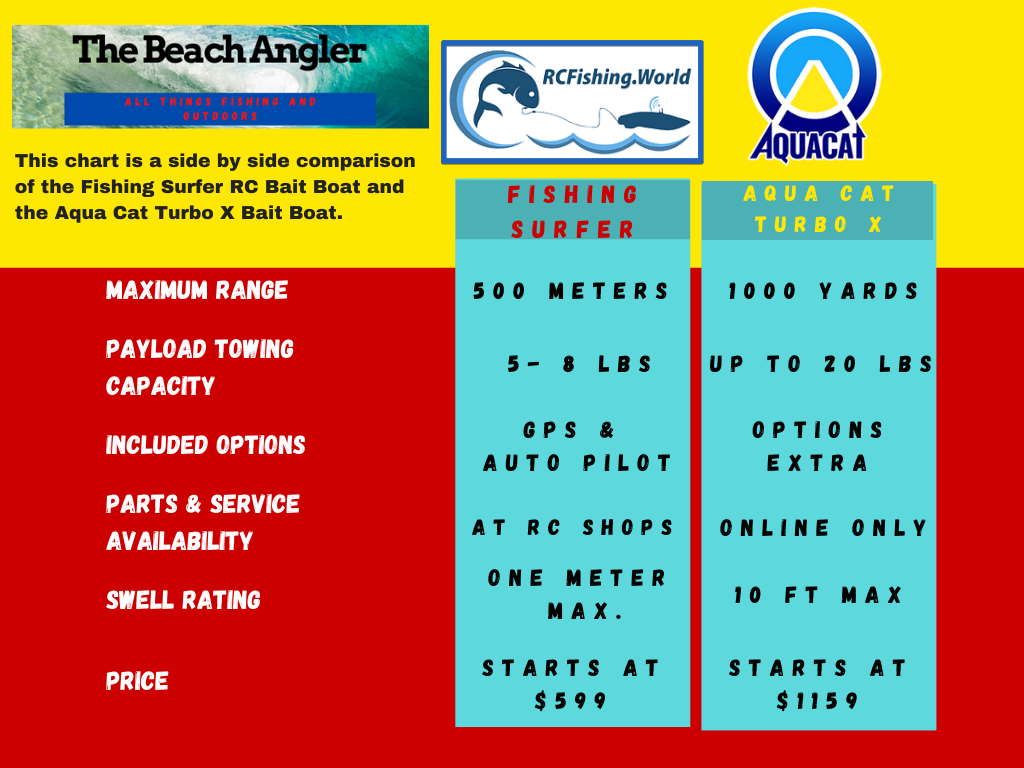 If you are a serious shark fisherman or need to run you bait over 500 meters, or in rough seas, then the Aqua Cat Turbo X is you best option. You can haul whole baits like stingrays, Bonita, and jacks out to fish for the largest of sharks prowling the beach front. A more powerful and sturdier platform than the Fishing Surfer, but much more expensive. It can handle everything the Fishing Surfer can plus up to 10 foot seas. But it comes with a hefty price tag almost three times the price for the fully loaded model.
Launch Your RC Bait Boats and Go Fishing
---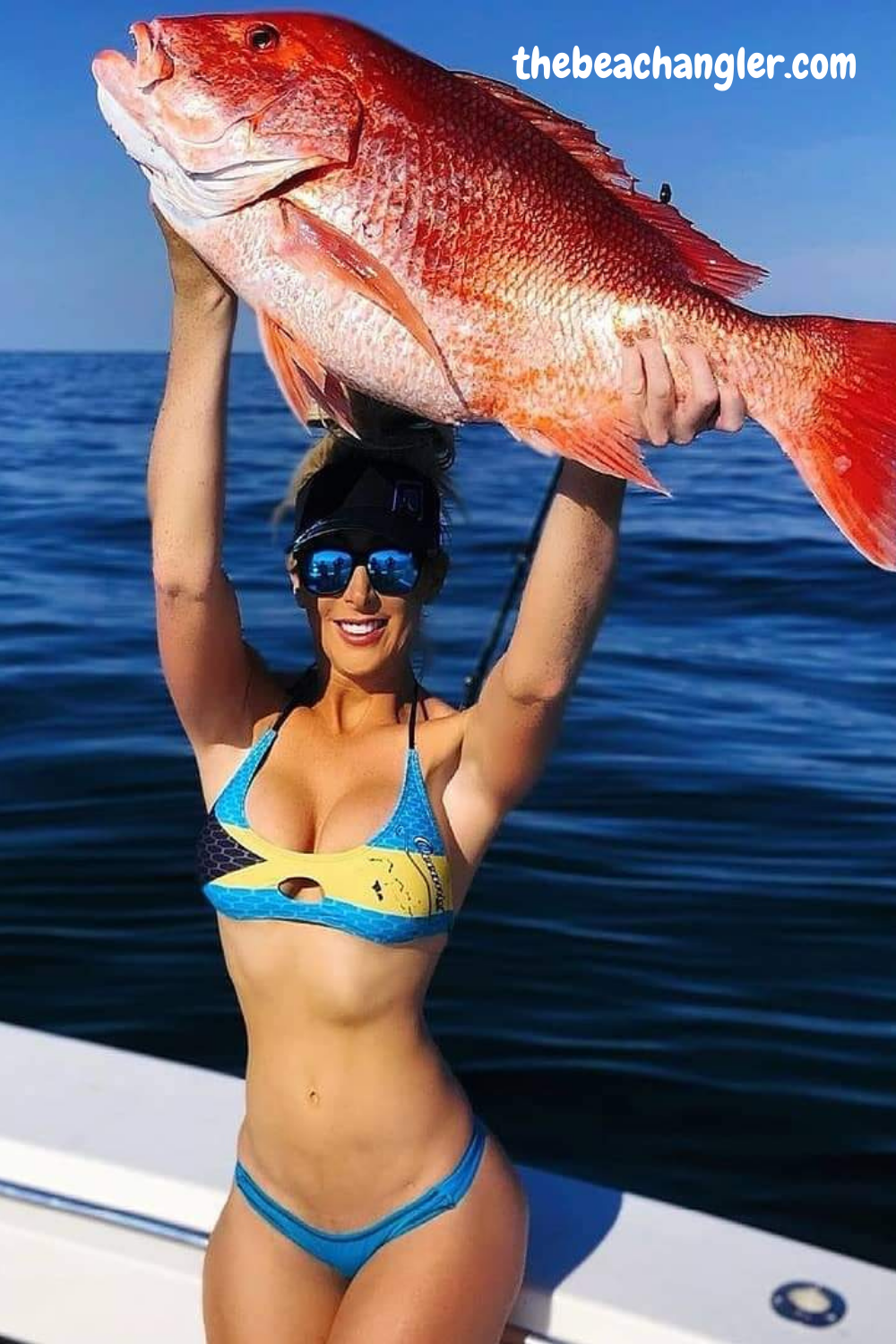 If you are needing to get your baits off shore past your casting distance, we've previously looked at the SandBlaster Bait Caster with its 300 yard range. But you are limited to the Bait Popsicle. If it won't fit in the mold, you're out of luck.
We also checked out the SwellPro Spash Drone 3. Much greater range and option for baits, but still not able to handle the really big baits for sharks, and it's not a cheap piece of equipment. The Gannet Pro Plus Drone we reviewed can carry the big baits however.
Now, we've taken a close look at the Surf Fishing RC Bait Boats. You can get the distance you need and carry much larger baits than most currently available drones, but these boats are also an expensive piece of hardware. Of course, there is always Kayaks from the beach but you will get wet and sometimes its just too rough to be safe. 😉
As always, stay safe, enjoy the journey and please try to leave it cleaner than you found it. If you have any comments, questions, ideas or suggestions please leave them in the comment section below and I'll get back to you asap. You can follow us on Facebook: Rex The Beach Angler, Instagram: thebeachangler7, Twitter: @AnglerBeach, and YouTube: Man Art Creations.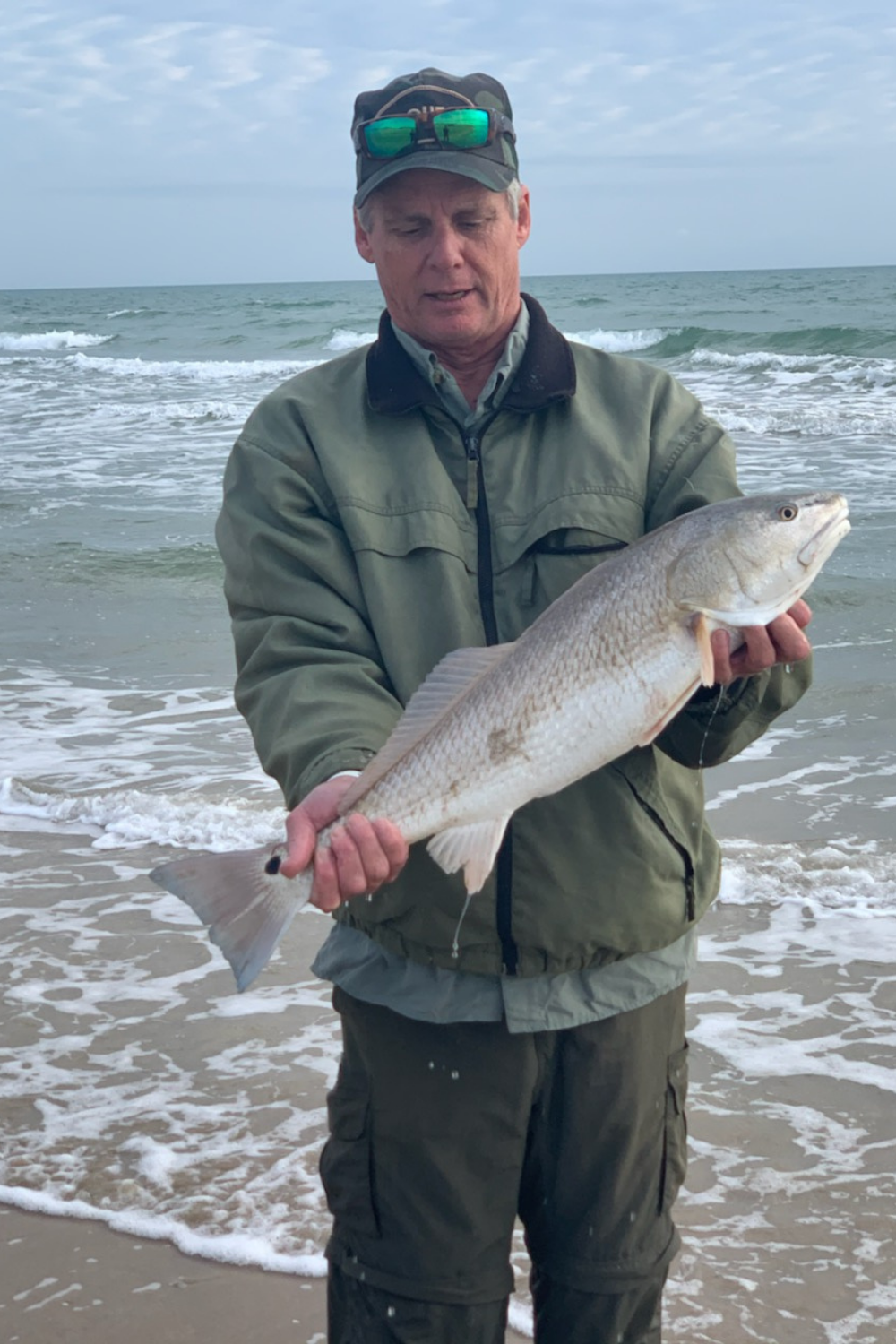 A life long surf fisherman with 50+ years of experience, I am also an avid hunter and outdoorsman. I will be sharing my passion for the outdoors with you so be prepared for hunting, fishing, camping, hiking and more. Along with gear reviews and the latest trends and innovations in the outdoor industry.