In case you haven't noticed, drones have become ever more popular for both the hobbyist and commercial applications. The SwellPro Splash Drone is a drone designed from the ground up as a fishing drone.
From Amazon using drones to deliver packages to Realtors using drones to take aerial photos of properties for listing on the various real estate listing services.
But, did you know, drones can and are being used for fishing? Yes, people have actually caught fish using a drone. Welcome to the 20th-century folks, where drones can be used to capture 4K video, deliver goods and catch fish.
Drones are being used to fly baits out to areas previously beyond the reach of shore bound anglers. They are also being used to drop chum in the water to draw fish to an area, as well as scout for game fish from the air.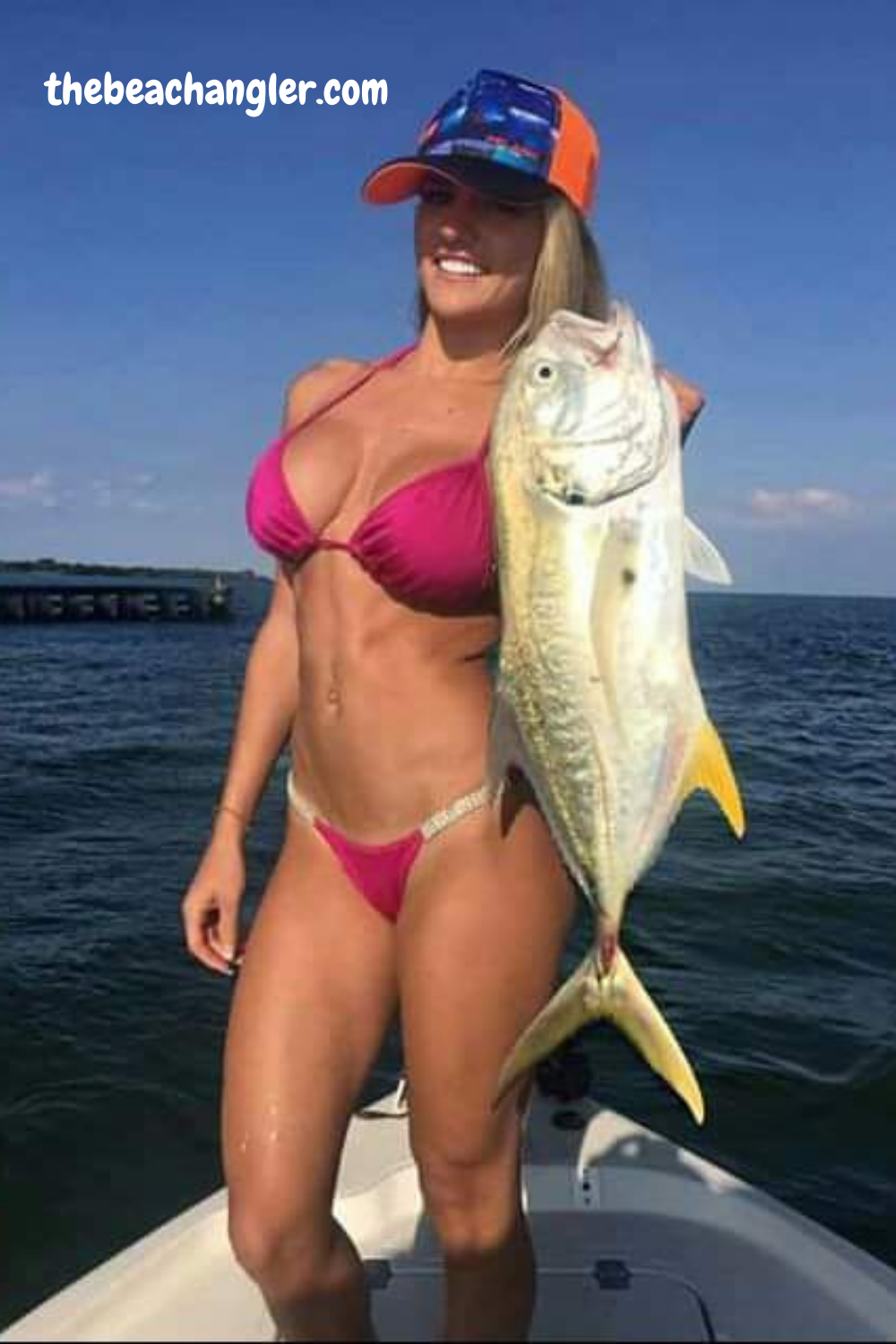 For surf fishing, drones have proven to be a great tool for deploying baits off the beach front at distances much farther than you could ever dream of casting, like the Sandblaster Bait Caster we reviewed previously or the radio controlled saltwater bait boats, drones can extend your fishing range.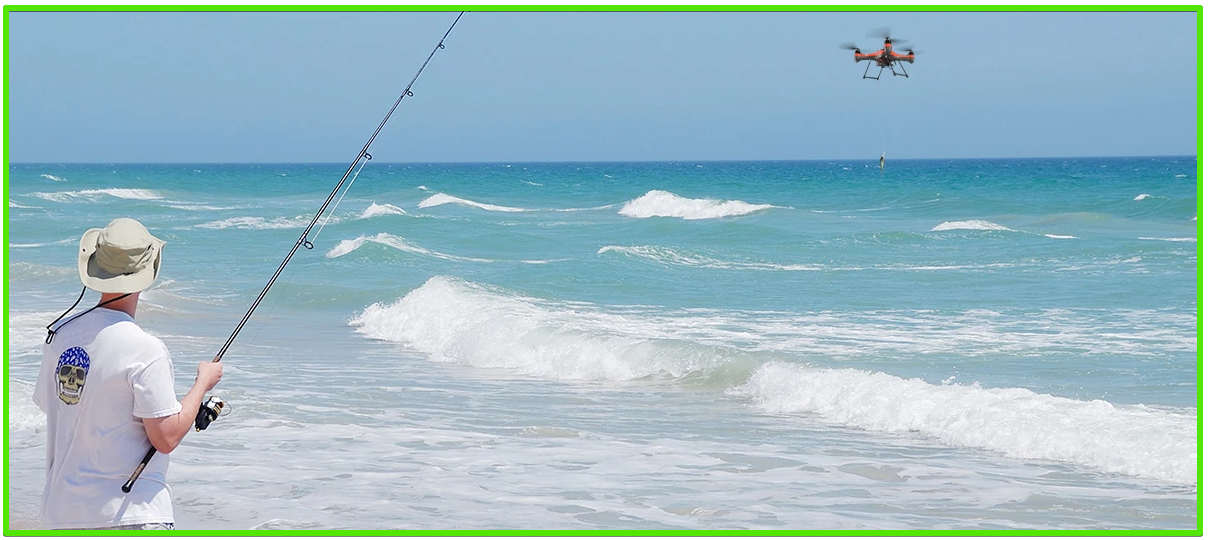 Fishing with a drone has one particular hazard however. The high tech electronics of a drone don't do well when they get wet, and fishing involves water and the potential for getting your drone wet. Recently manufacturers have developed waterproof drones designed specifically for fishing. For example the SharkX fishing drone and, the Gannet Pro Plus Drone, I review in other articles. The SwellPro Splash Drone is one of those new designs so let's take a look at what it has to offer.
Surf Fishing with Drones
---
Surf fishing with a drone has numerous advantages, and a few unique hazards as well. The biggest advantage is the ability to get your bait out to extreme distances where you could not reach before. For shark fishermen, it has begun to replace the kayak for deploying their shark baits from the beach. The saltwater environment does have a very corrosive effect on equipment in addition to the normal hazard of getting you drone wet.
Drone fishing has become a popular sport, especially for those who want to mix technology with their favorite pastime, fishing. Fishing drones can carry fishing line, bait, nets, you name it. Keep in mind, however, that the payload you attach to your drone will drain the battery quicker and will affect how the drone flies, so be careful with the load you use and how much weight you're putting on, there are limits to what each drone can realistically lift and fly with.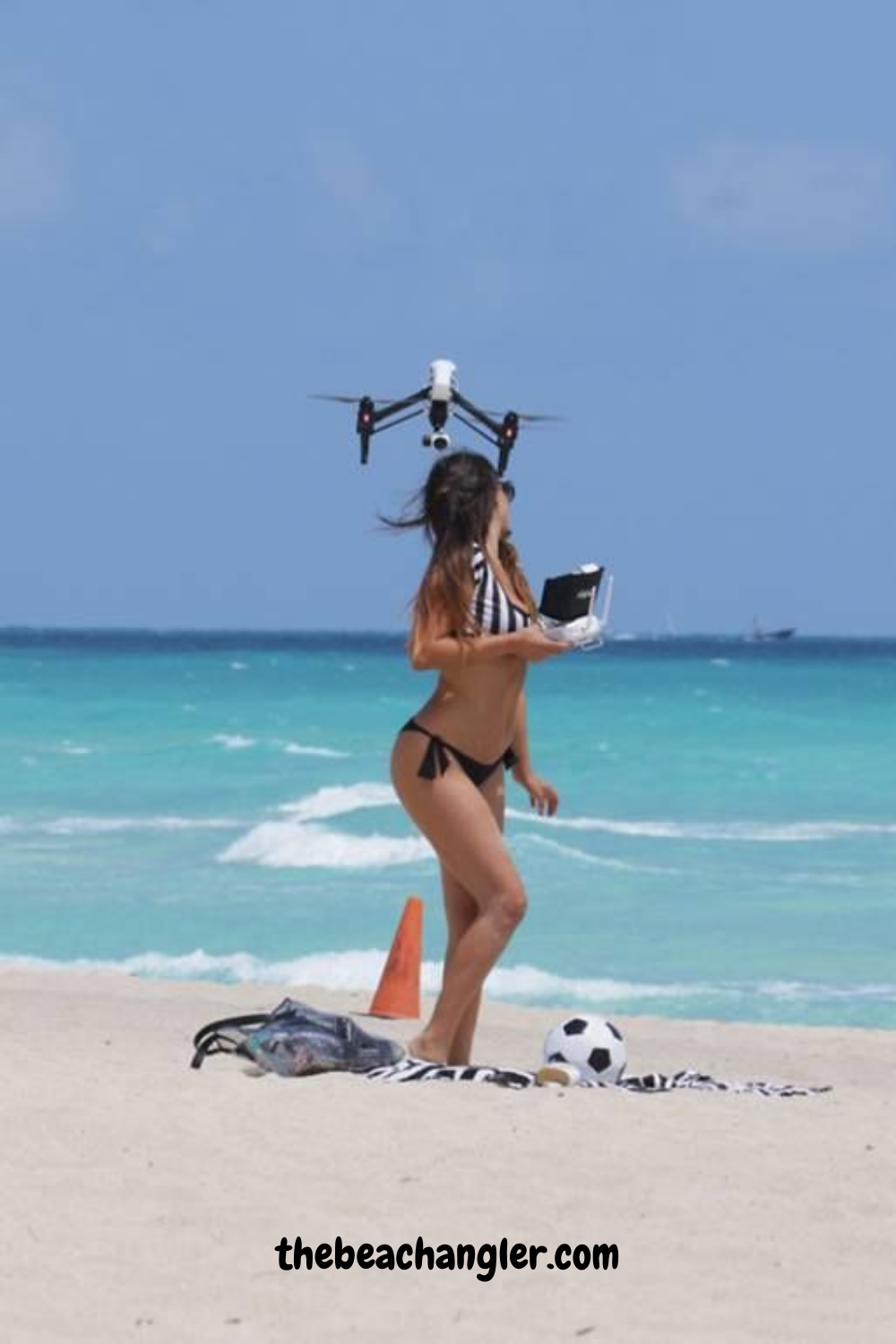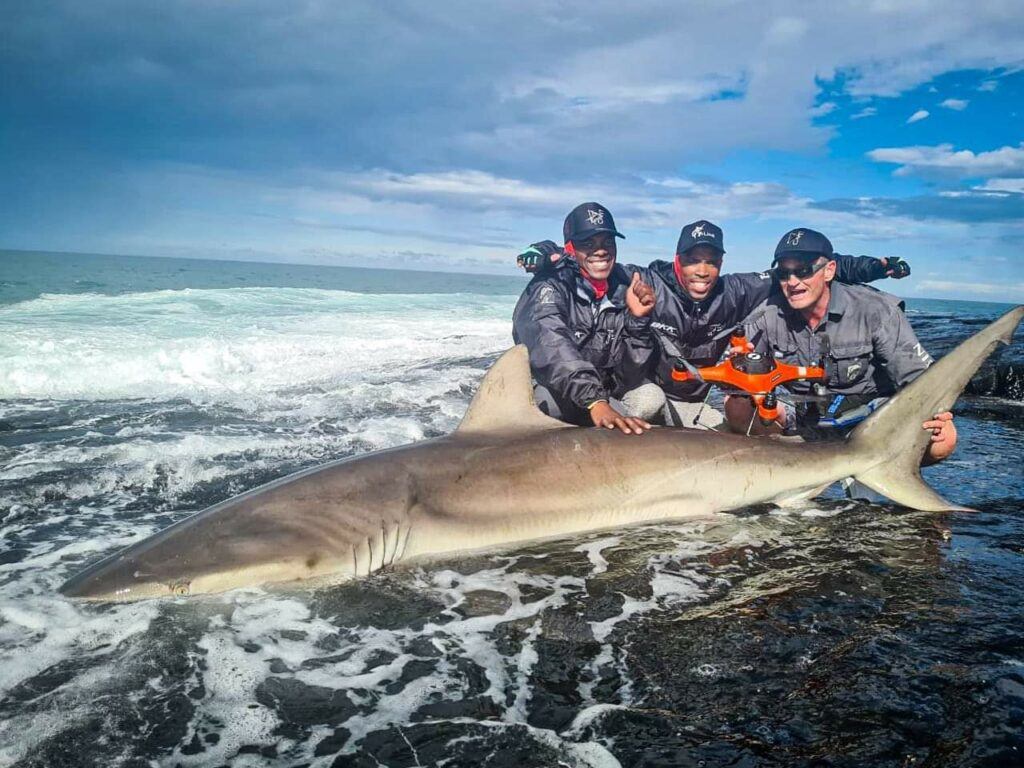 The SwellPro Splash Drone that we are looking at here, is designed specifically for fishing and to be 100% waterproof and corrosion resistant for the marine environment. With optional attachments like the payload release, it becomes an awesome tool for surf fishing beyond the breakers. Add the bait cache, and you can drop chum over your favorite fishing hole to attract fish as well.
Is drone fishing legal?
The legality of drone fishing in your state and local area all depends on the state and local laws where you live. This includes fishing licenses, as well. Make sure that you are always within the law, whether you're using a fishing drone or a regular drone in general, check with your local fish and game department before you take off. The use of drones in National Parks is prohibited, as well as some State Parks, so check before you fly. But, when you do, just look what you can catch in the video below.


SwellPRO Splash Drone 3 Waterproof Drone
---

---
Website: swellpro.com
Founder CEO: Eric Hu
Support: support@swellpro.com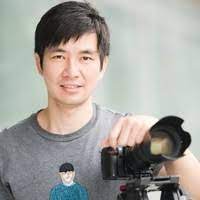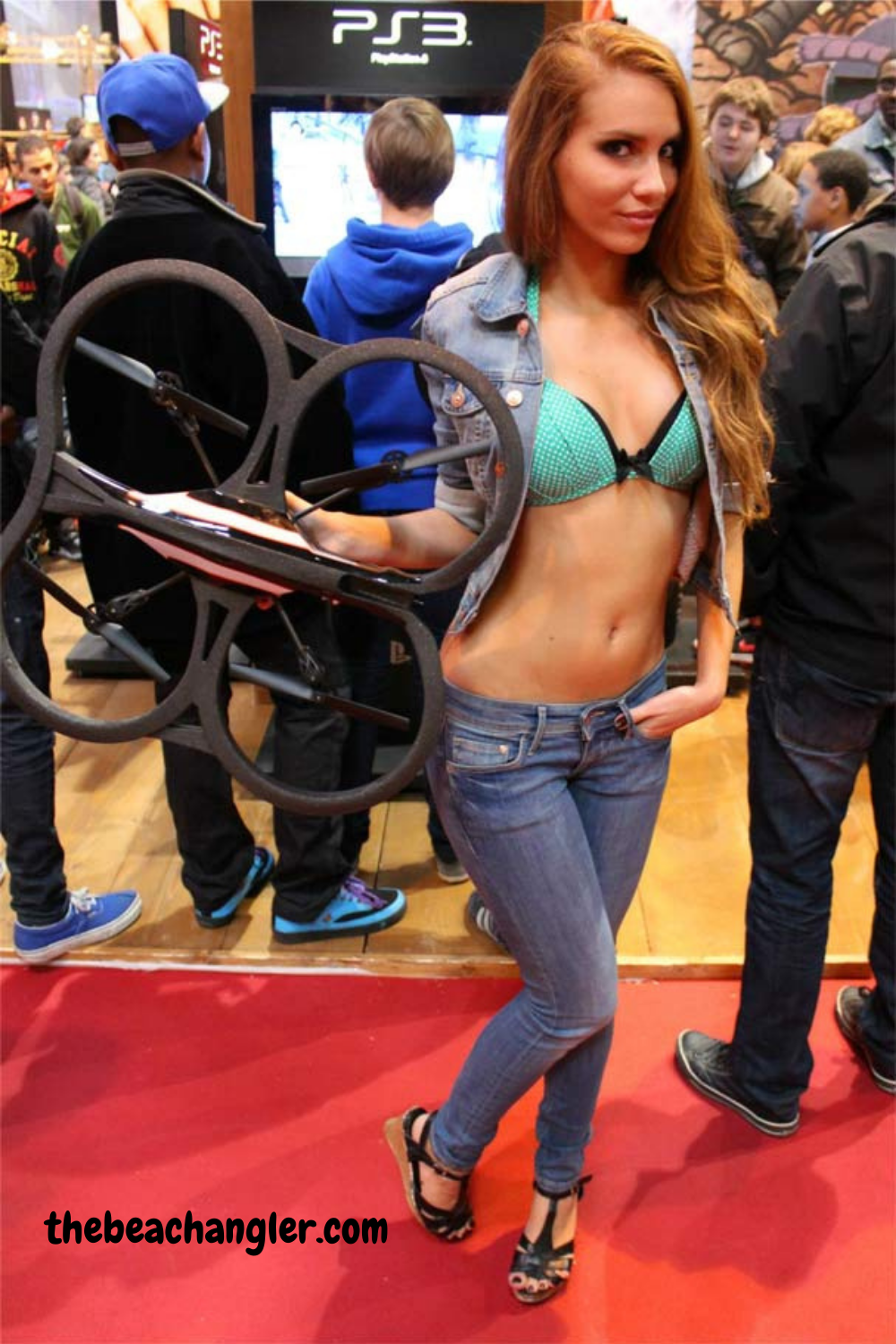 In 2013 Eric Hu, the founder of SwellPro, came up with the idea for a waterproof drone after witnessing a very expensive drone crash into the ocean while he was vacationing in the Caribbean.
With his back ground in waterproof cameras and hobby planes, he threw himself into the brand new drone industry with passion. From this unfortunate accident, SwellPro was born to make waterproof drones a reality.
There were many technical challenges in the beginning. Just making the drone fuselage waterproof was not enough, as heat build up and the requirements of flight sensors had to be resolved. But, after much hard work, Swellpro is now proud to hold numerous patents related to the waterproof drone concept.
One of the earliest breakthroughs was the waterproof gimbal to carry a gopro camera. Today Swellpro makes a series of waterproof drones and accessories in their own manufacturing facilities.
Swellpro's in house research and development team continues to develop new products and technologies to bring innovative waterproof products to the industry.
Swellpro Waterproof Splash Drone 3 is a brand new drone by Swellpro. It is waterproof as it can land and float on the water. It is weather resistant under any circumstances. And, You can choose different modules for your drone, depending on your needs.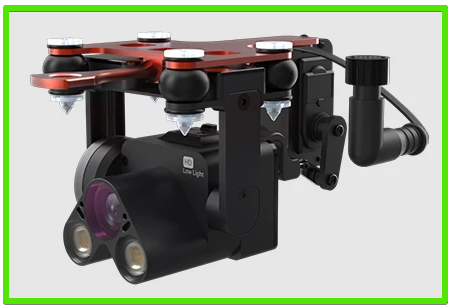 For Example: the PL4 with 4K Camera and 3-axis Gimbal: This gimbal is excellent for videos and photography. It is waterproof and can be used in water environment (while boating for instance). –
PL2: This is a payload release mechanism in order to drop fishing bait or life jacket for instance. It is equipped with HD FPV Camera which allows you to see where you will be dropping the bait. –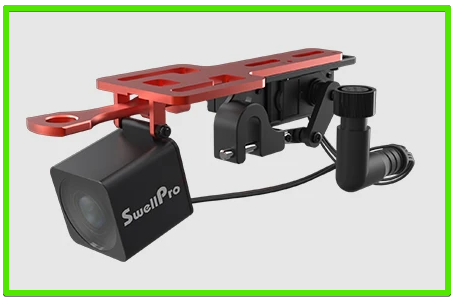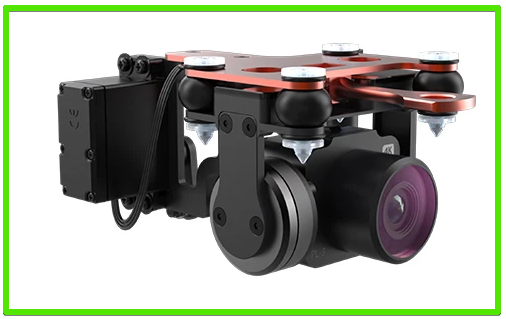 PL3: This is a payload release mechanism to in order to drop fishing bait or life jacket for instance. It is equipped with a 4K Camera 1-axis Gimbal which has a much better video quality than the PL2. It can record the whole air-drop process in stable and high quality video. –
Ground station: The autonomous ground station module is a radio link module, which integrated with FM 433mHz/915mHz radio frequency and Bluetooth technology. It is a bridge to the mobile phone and the drone. You can pilot your SplashDrone 3+ through the App.
SwellPro Splash Drone 3 Features:
Tough & Waterproof The SplashDrone 3+ fuselage is made from durable 3mm reinforced ABS to ensure a perfect waterproof seal. Each drone undergoes at least two pressure tests during production for 100% waterproofness. All parts, both inside and out, are corrosion resistant and designed for use in marine environments. New access hatch lid with air pressure equalization allows altimeter accuracy without permitting water entry.
Powerful Propulsion System The new S3 flight controller, integrated with new sensors and a powerful propulsion system, allows for greater sensitivity and more accuracy than ever. This means you can fly your Splash Drone 3+ safely and smoothly with more confidence on water, in rain and snow.
S3 Flight Controller The S3 constantly checks for errors and offers redundancy to improve flight stability. The dual-mode GPS locks onto up to 24 satellites from the GPS and GLONASS systems for improved accuracy and speed of positioning.
Quick-Fit Propellers Redesigned carbon fiber propellers are light and stiff to efficiently transform the motors' power into thrust. A new quick-fit design enables fast and secure attachment of the propellers to the motors.
The return policy on this item is 14 days.
Fishing line release mechanism and 4K HD Camera
Precise bait dropping with all in one remote control and live video monitor
16 minute flight time
Payload capacity of 2.2 pounds or 1 KG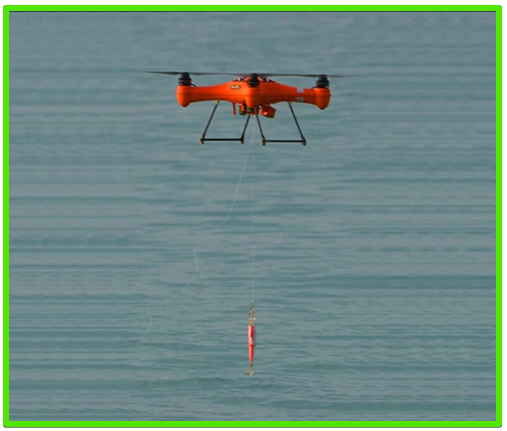 Pros and Cons of the SwellPro Splash Drone
---
Like everything, there are pros and cons to the SwellPro Splash Drone. In the table below, I have listed what are, in my opinion, some of those pros and cons. As always, I suggest you check it out for your self and decide if drone fishing with a SwellPro Splash Drone, is for you. You can get more information by clicking the button below the table.
| Pros of the SwellPro Splash Drone 3 | Cons of the SwellPro Splash Drone 3 |
| --- | --- |
| Drone specifically designed for fishing | Bait dropping module is sold seperately |
| 100% waterproof and made for the marine environment | 1 Kg payload capacity limits bait size for shark fishermen |
| accessory modules for precision bait dropping | Only a 14 day return policy |
| 1 KG (2.24 lb) payload capacity for large baits | Fairly expensive piece of equipment |
| Fish where you were never able to before | |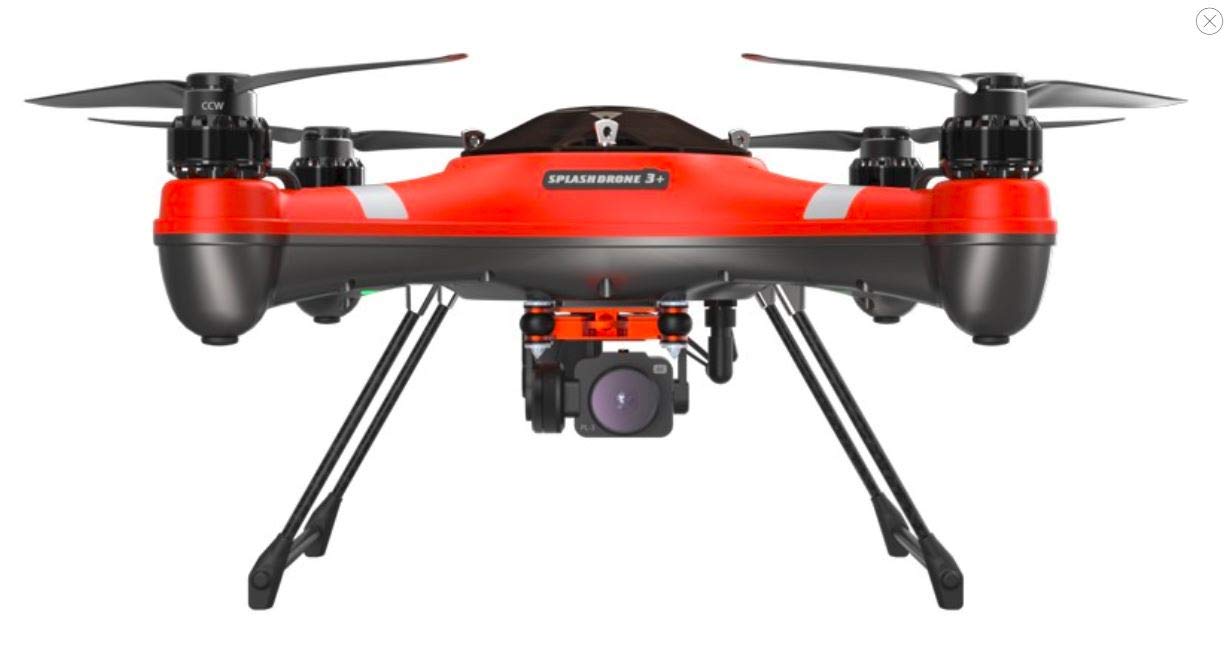 While this drone is on the expensive side, it is well worth the price because it has been specifically designed for fishing and to be resistant to the corrosion associated with operating in the marine environment. The payload capacity of 2.2 pounds will be a limiting factor for some shark fishermen out there who regularly use whole fish like Bonita and stingrays. But, for smaller baits, this can be a fun and effective way to deploy your baits.

Deploying Baits with Drones
---
The use of drones for deploying baits is becoming more popular by the day. From fishing in lakes and rivers to the beach front, drones are dropping baits of all sizes for fish of all kinds. All drones are not created equal however, and the payload capacity and battery life will need to be considered when choosing to fish with a particular drone or not.
The more expensive drones, like the SwellPro Splash Drone series, have been designed for fishing and carrying heavier payloads. They have attachments that make dropping off the baits much easier and precise, and they have been designed to be water and weather resistant.
When deploying baits with a drone, payload and battery life will be your most important considerations. Spare batteries and recharging equipment can help with the battery life, but payload capacity is a function of the particular drone. Drones are expensive pieces of equipment and you don't want to run out of battery and have to go fishing for your drone.
Check a drone's features for distance and run time so you'll know if a particular model matches your needs. If you're unsure on whether a drone's flight time, distance and payload capacity will make the cut, go with the model that has the higher limits.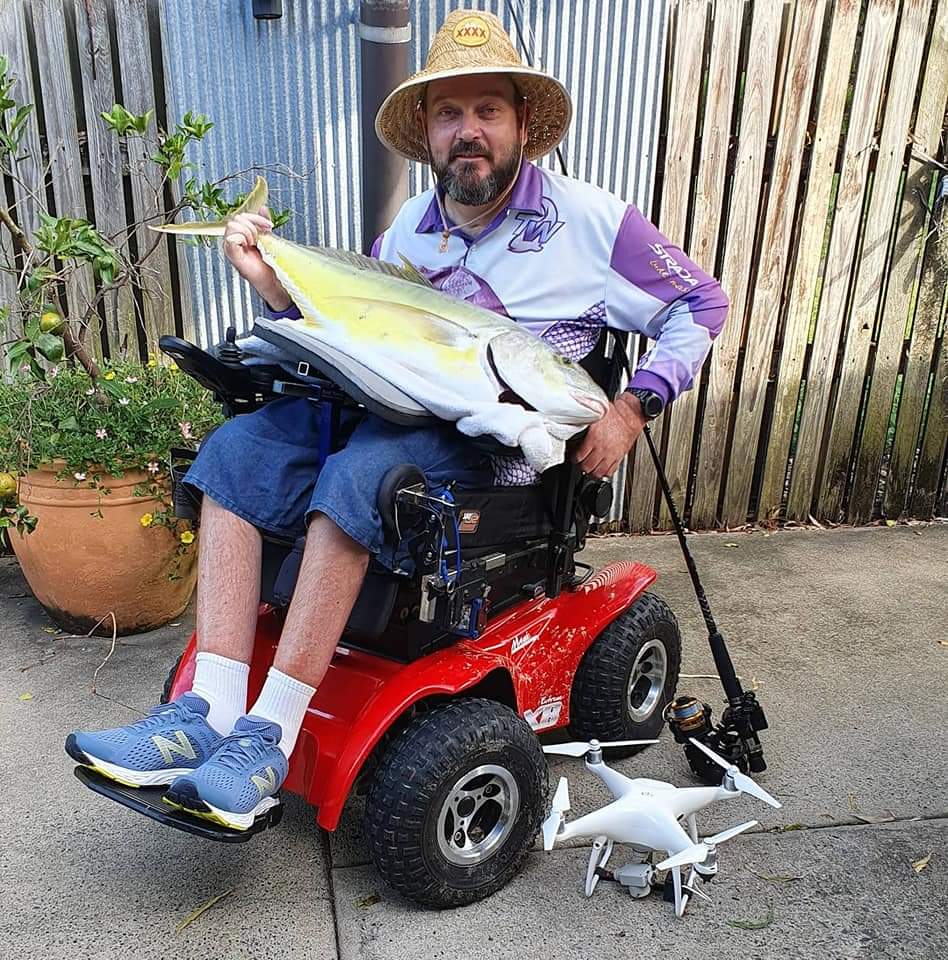 Drones vs Kayaks for Deploying Baits
---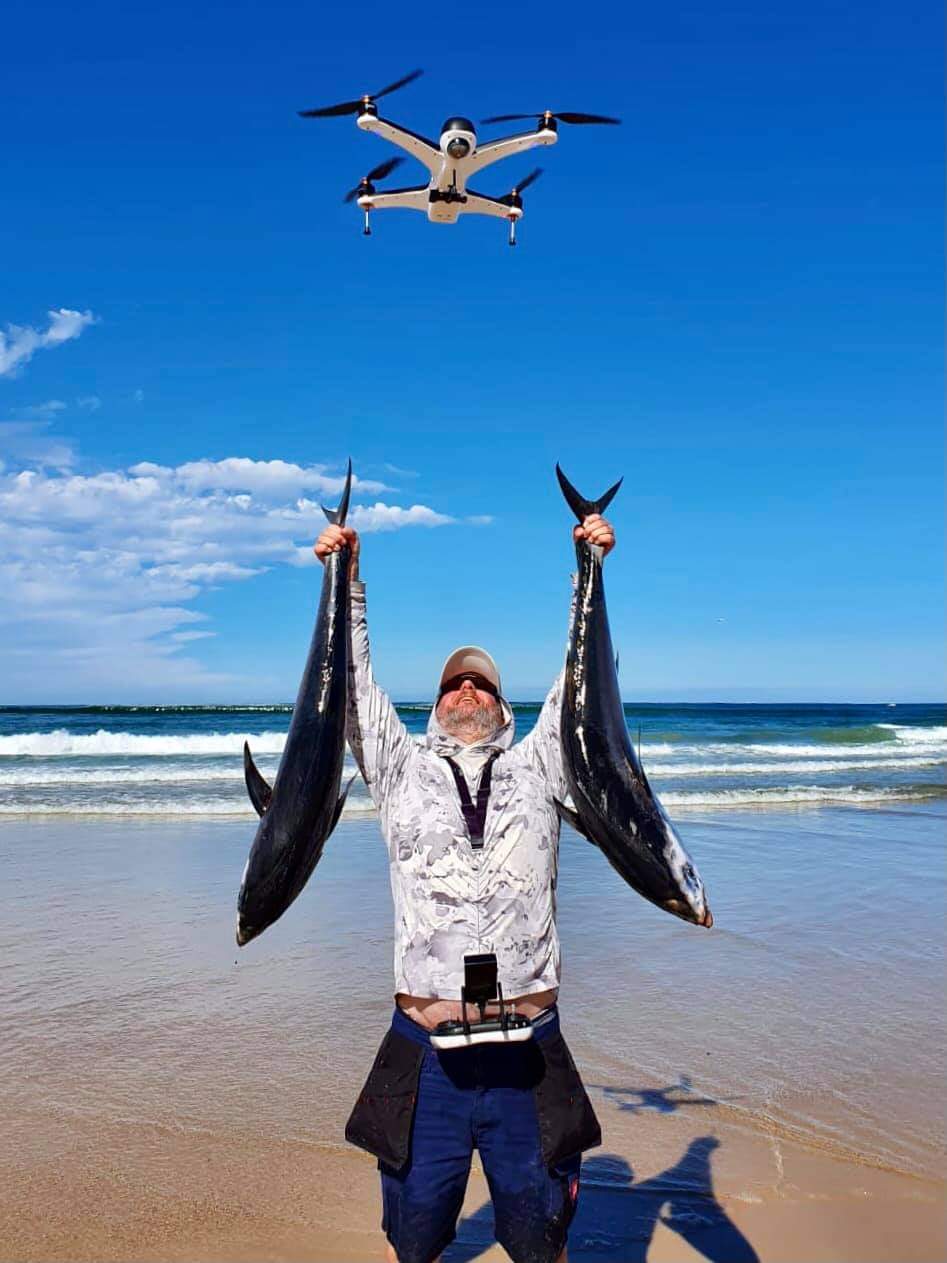 Most surf fishermen are currently using kayaks for deploying their baits from the beach. The kayak of course, can carry heavier baits and gear than even the heaviest rated fishing drones currently available. And, for those shark fishermen that need to use heavy baits such as whole Bonita, jack crevalle, or sting rays, kayaks are still going to be their best option.
If you can get by with a smaller bait, then the drone is a much better option. You stay dry, eliminating the chance of getting swamped by the waves in your kayak. You can be more accurate and precise in you bait placement not having to maneuver a kayak, and you can deploy more baits much faster than you ever could with a kayak. You'll want a drone that can carry your bait of choice and gear without a problem and also one whose flying characteristics won't be affected by the payload.
Kayaks are expensive and also take up a lot of room when hauling them to the beach. A drone takes much less space, for about the same monetary investment. There are times when the water may be colder than you want to expose yourself to in a kayak as well. A drone can deploy your bait while you stay on the beach dry and warm. ;
SwellPro Splash Drones New Tools for Fishing
---
The SwellPro Splash Drone is a great new piece of fishing technology. Like the SandBlaster Bait Caster, it's another way of extending your fishing range. Being designed specifically for fishing in the marine environment, the SwellPro Splash Drone is an ideal choice for serious fishermen of all kinds. From sharks on the beach to Salmon in Puget Sound and everything in between.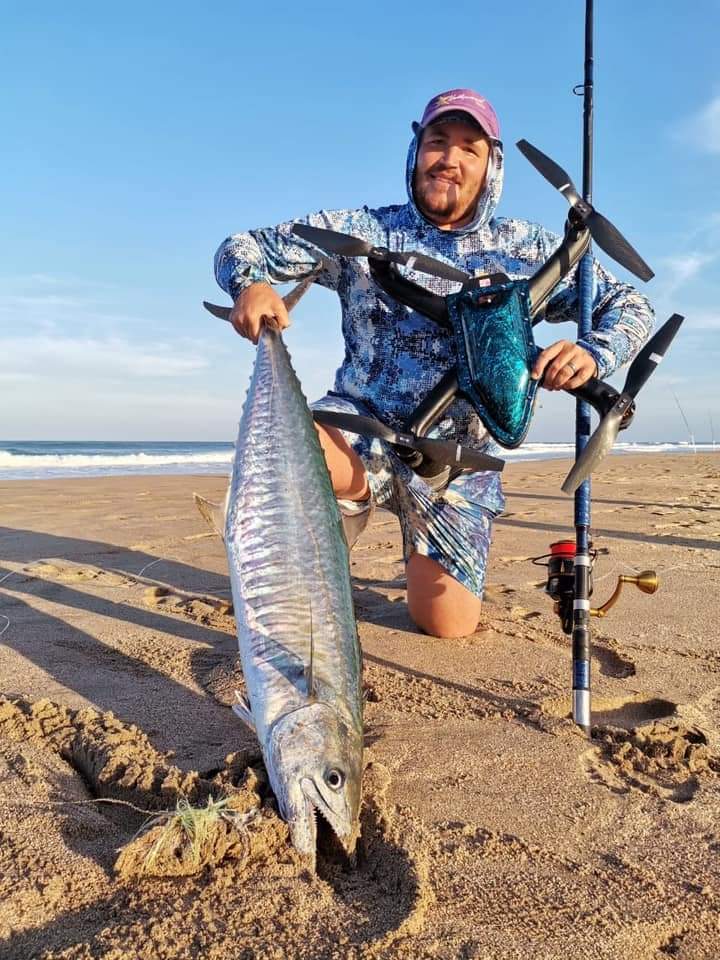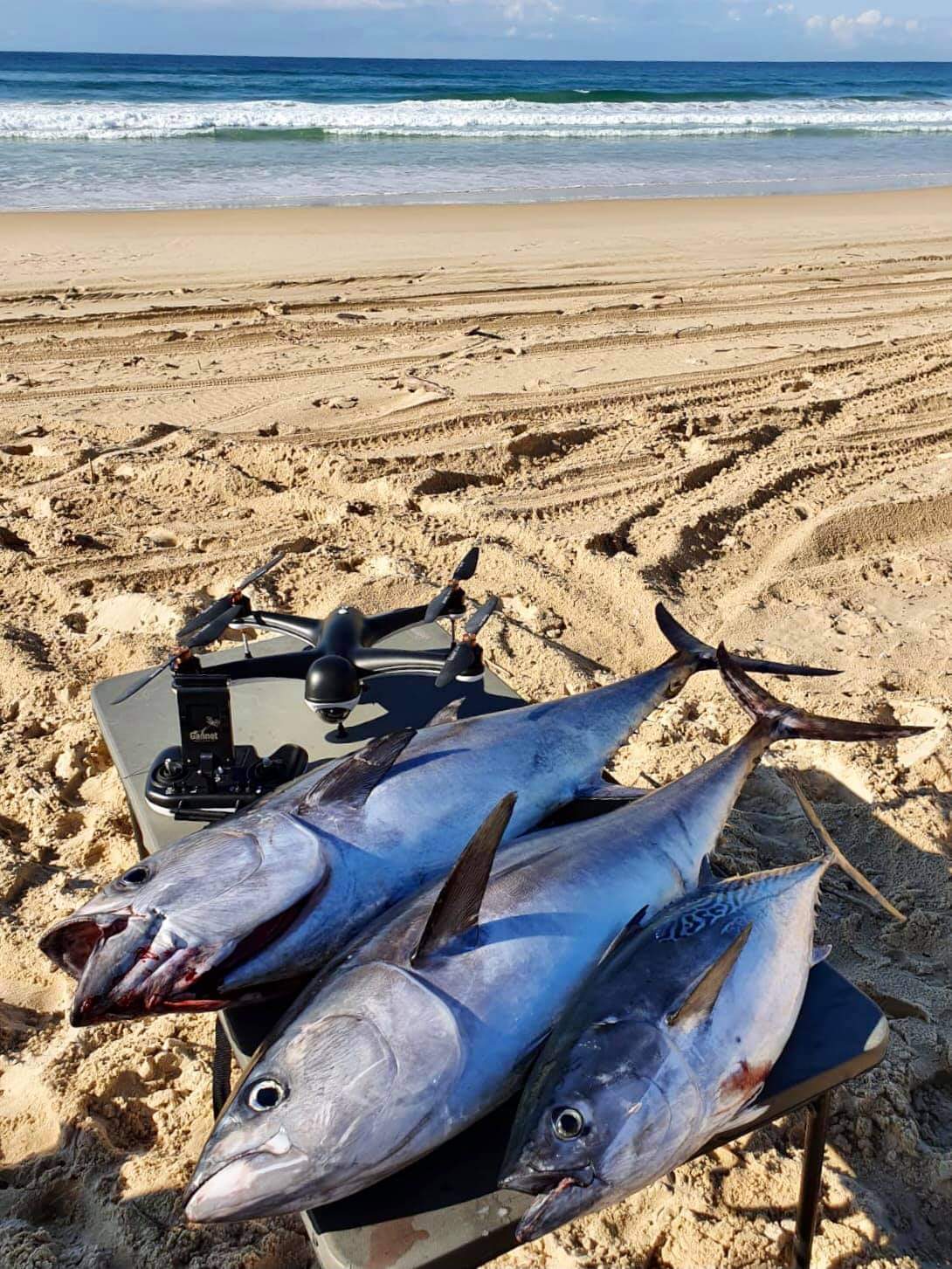 Technology is always changing, it is the same with drones. New models are being developed almost daily it seems. One thing is for sure, fishing is benefiting from technology. Get you a drone and practice with it until you're comfortable flying it in various weather and wind conditions first. Then grab your gear and some bait and get out there and go fishing.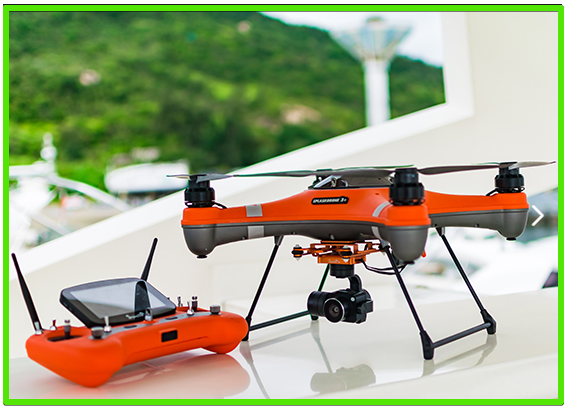 As always, stay safe, enjoy the journey and please try to leave it cleaner than you found it. If you have any comments, questions, ideas or suggestions please leave them in the comment section below and I'll get back to you asap. You can follow us on Facebook: Rex The Beach Angler, Instagram: thebeachangler7, Twitter: @AnglerBeach, and YouTube: Man Art Creations.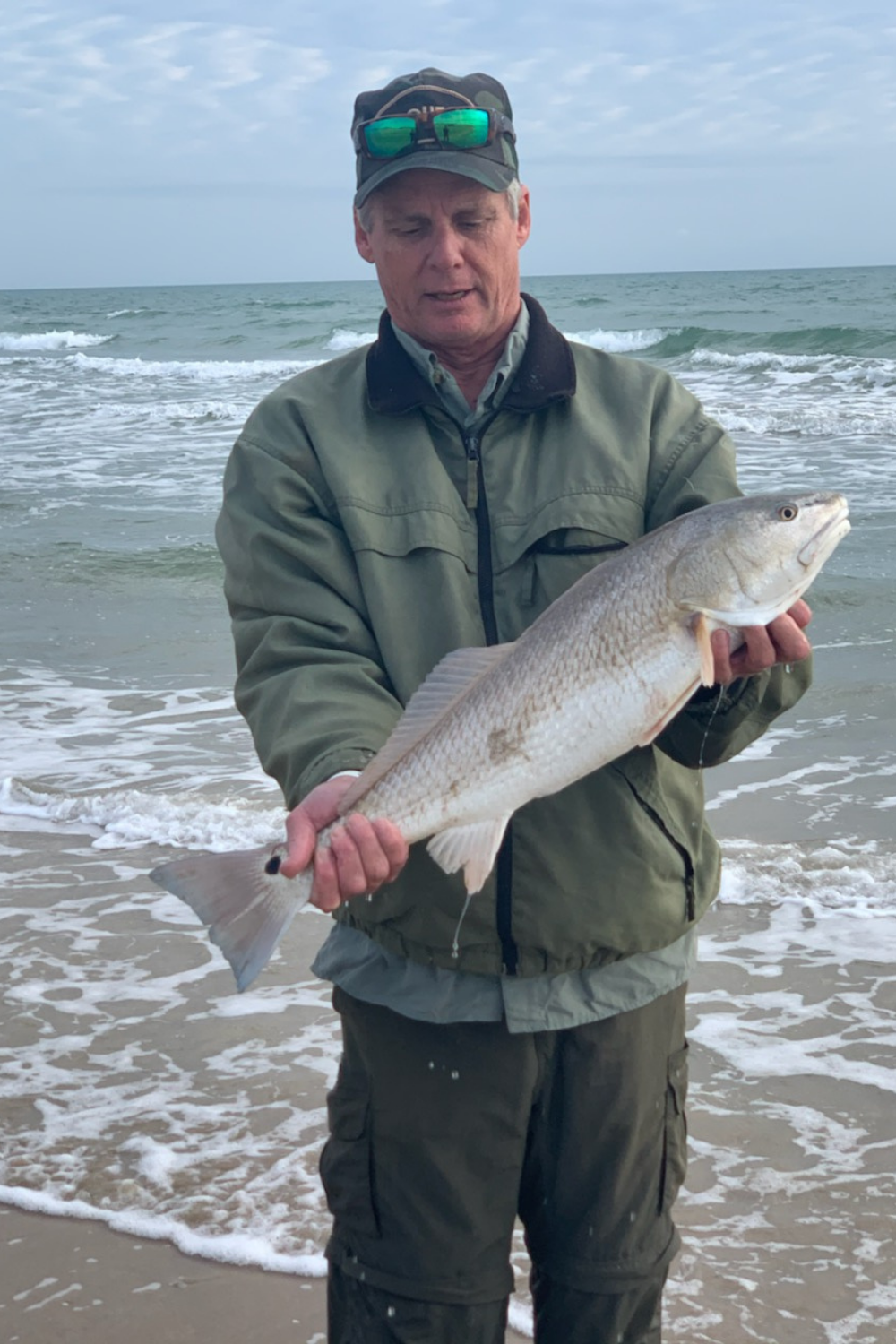 A life long surf fisherman with 50+ years of experience, I am also an avid hunter and outdoorsman. I will be sharing my passion for the outdoors with you so be prepared for hunting, fishing, camping, hiking and more. Along with gear reviews and the latest trends and innovations in the outdoor industry.