The world of technology keep changing, and seemingly, at an ever-increasing pace. Fishing has not been without its rapid advancements in innovation and technology. The Gannet Pro Plus Drone is just one example of how tech and gadgets are influencing fishing and fishermen. Whether for better or worse, one thing is for sure, things will always be changing.
One thing that has plagued shore bound anglers since the dawn of time, is how to get you bait out farther. You can buy special rods, take long-distance casting classes, but in the end, you will still be limited by how far you can physically cast your baits. In recent years, there have been a number of innovations that have been developed to remedy this situation.
We've looked at several. The SandBlaster Bait Cannon, the Radio Controlled Bait Boats, the Swellpro Splash Drone 3, and the brand new SwellPro Splash Drone 4. The Gannet Pro Plus Drone has made a name for itself in the fishing community for its payload capacity and innovations in bait drop attachments. Popular with land based shark fisherman for it's larger payload capacity the Gannet Pro Plus Drone is replacing the standard kayak for bait deployment with many shark fisherman. Let's take a close look at the Gannet Pro Plus Drone and what all the fuss is about.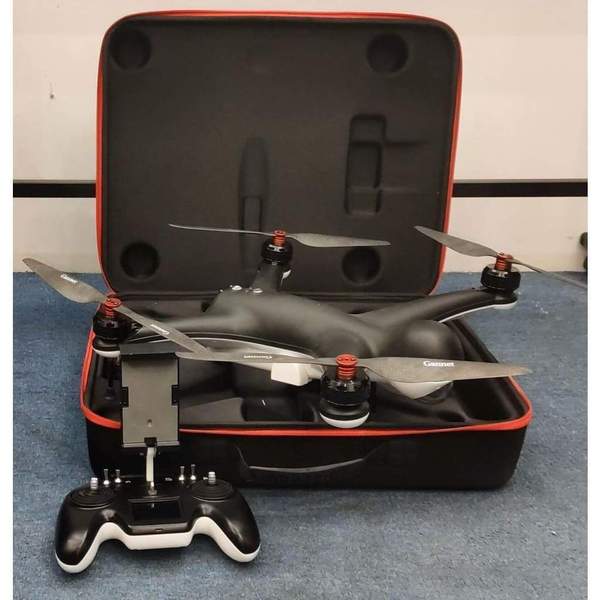 Quick Shot:
The Gannet Pro Plus Drone is the Cadillac of the drone fishing world and, it is priced accordingly. Designed from the ground up as a waterproof fishing drone. It has a payload capacity of approximately 7.5 lbs with a max payload of nearly 20 lbs. Capable of operating in the rain and still deliver your baits up to 1000 meters out. If you are fishing with large baits and are looking for a drone to deploy them, the Gannet Pro Plus is your best choice. Price starts at $2599, so it is an expensive tool. Rated at 90 out of 100 – HIGHLY RECOMMENDED
Drones for Fishing
---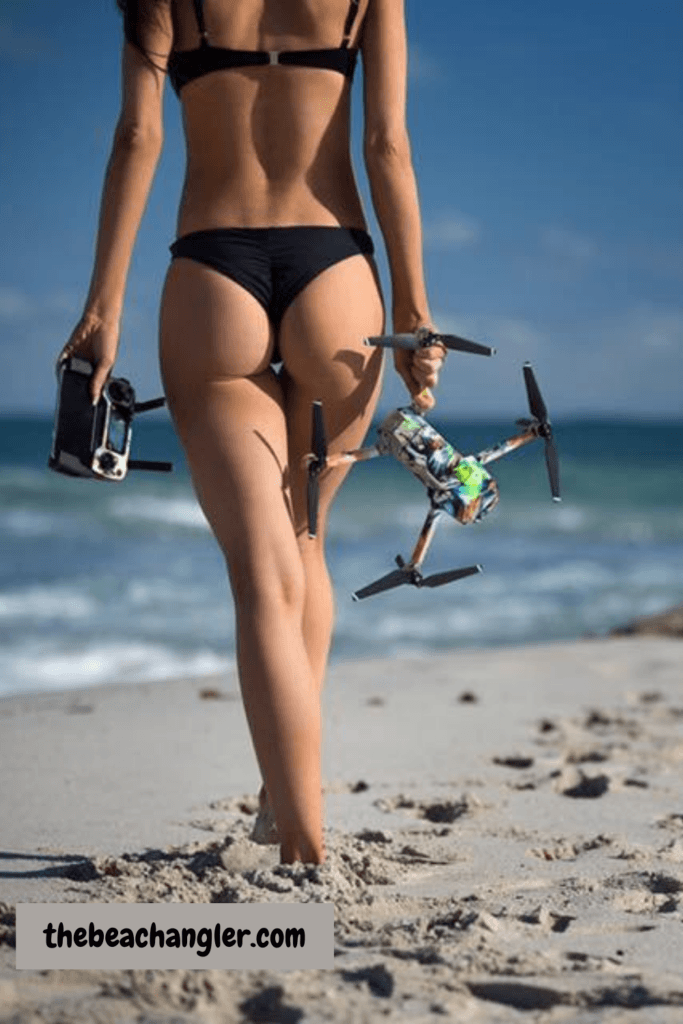 We've all been there, you're fishing from shore and just out of your casting distance there is a school of fish busting bait. The birds are going crazy, the fish are everywhere, you have waded out as far as you can and make your best cast and it's still not enough, all you can do is watch the show and wish. Now there is a solution: drone fishing – where you can drop your line with precision wherever you want, limited only by battery life and line length. Drop your baits half a mile from the boat, pier, jetties or shore with pin-point accuracy? No problem!
Now, there are a wide range of drones in a wide range of prices available to choose from. There are many considerations for getting yourself a drone. Two of the biggest, how far you need to send your bait, and how big, or heavy, of a bait will you be sending? One big advantage of drones is, you can see exactly what is going on where you are fishing.
Good drones have 1080p – 4k cameras on them and will relay high-res images to your monitor, smartphone, or tablet. This will not only tell you where the fish are but also show you obstructions, tide-rips, seaweed, or color changes. If the water is clear, you will be able to spot bait, and or fish feeding activity. And, drop your bait right in the strike zone.
Now, if you've been deploying bait with a Kayak, particularly in the surf, you've had days where it was just too rough and dangerous to be out there in a kayak.
With drones, you can still fish and stay safe and dry on the beach. It is something you should try for yourself. I think you'll be hooked. 😉
Gannet Drones
---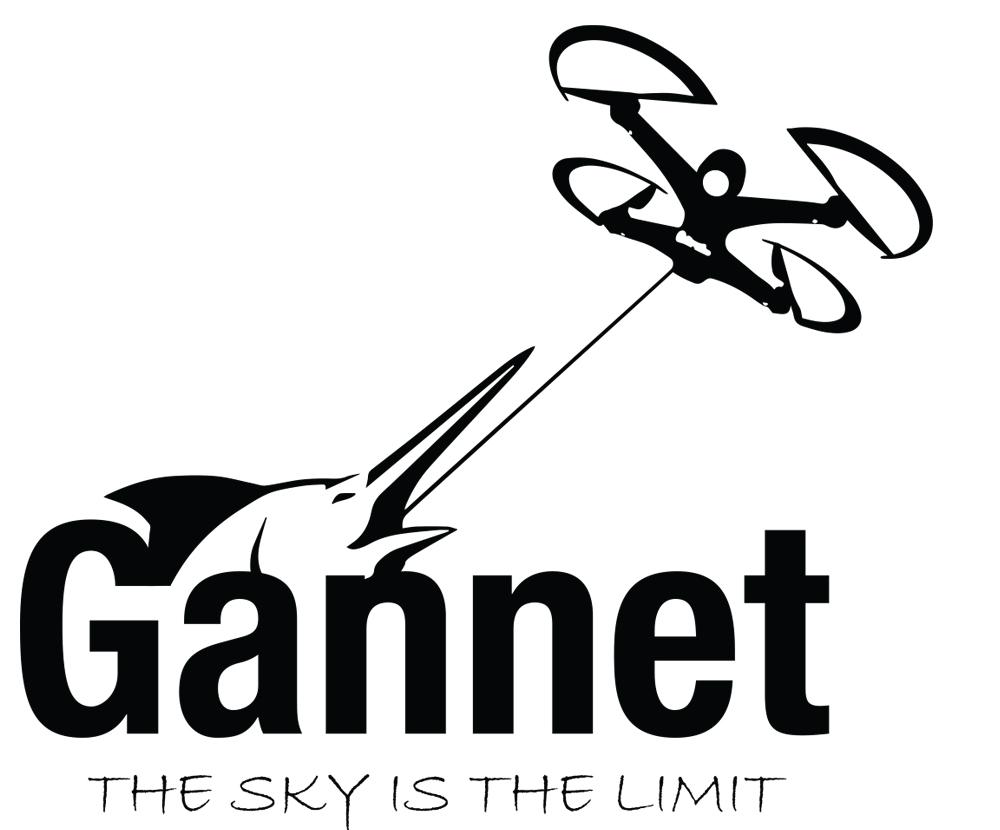 Unit 12A, Waverley, Wyecroft Rd The Waverley Business Park, Observatory, Cape Town, 7927
(+27) 21 001 8852
1549 S Commercial St. Condo #9 Aransas Pass, TX 78336
+1 830 660 0985
cris@usadronefishing.com
Gannet has been at the forefront of fishing drones and release systems since 2016. Our brand and designs are protected under several International patents, trademarks & registered designs. With more than 20,000 release systems sold to 147 different countries around the world, we are undoubtedly the leader in release systems for drones.
Gannet was founded by Jacques Venter – Inventor and Entrepreneur Life long serial inventor holding numerous successful international patents in industrial engineering and consumer goods.
Former co-founder and technology Director of Metix Pty. Ltd Founder i-Arc cc. Jacques life motto since 1999 is that there is no box.
There is no need to think outside the box if the box does not exist…. you set your own limits why not push them back and think without limits?
MEET THE PERSON BEHIND THE BRAND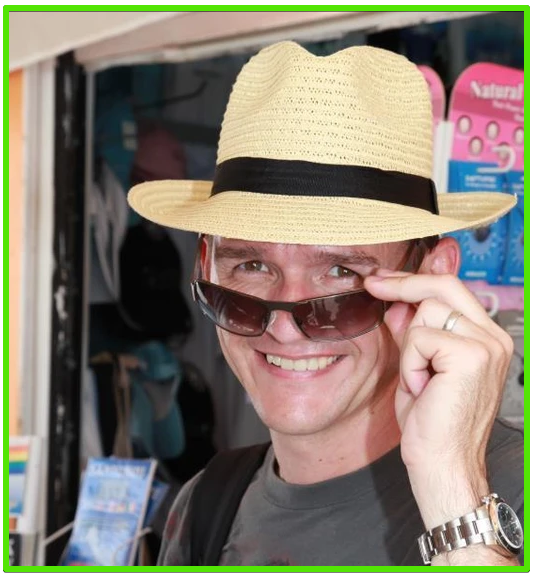 The Gannet Pro Plus Drone
---
Let's take a closer look at the Gannet Pro Plus Drone. What can it do? How far can if fly on a single battery charge? And, of course, how much does it cost? Technology doesn't come cheap, but when compared to top end kayaks or Radio Controlled bait boats, the Gannet Pro Plus is quite reasonable.
FEATURES OF THE GANNET PRO PLUS:
✅ Fully waterproof drones that can fly even in heavy rain
✅ Powerful with payloads up to 3,5kg (Max lift test (NOT recommended) 7.2kgs)
✅ High-efficiency rate with aerodynamics designed to be able to fly in high winds for longer
✅ Reliable with a trusted GPS flight controller
✅ Weather resistant and sand proof remote so that it can be used on the beach without worrying that sand will jam the remote sticks
✅ LCD display for drone telemetry, battery, and GPS status, use with or without a smartphone, Full HD (1080p) live video from the gimbaled camera so that it can be used as an effective search and rescue drone with clear live HD video
✅ Multiple auxiliary attachment points for the addition of 4k action/360 cameras and spotlights
✅ Fully sealed electronics, preventing corrosion of electronics, despite needing uninhibited barometric pressure sensing
✅ Failsafe electro-mechanical payload release that can be mechanically or electrically activated
✅ Bright on board lights for easy night navigation
Unique design features of the Gannet Pro Plus drone that set it apart:
1.) PATENT-PENDING BAROMETRIC PRESSURE CONTROL: Drones, especially waterproof flying drones have a unique challenge in the sense that they use barometric pressure to control their altitude/height. To this end, they must breathe and displace roughly as much as 20% of their internal air volume during each flight. All other existing "waterproof" drones make use of a breathable cloth/paper-like membrane through which the air is expelled.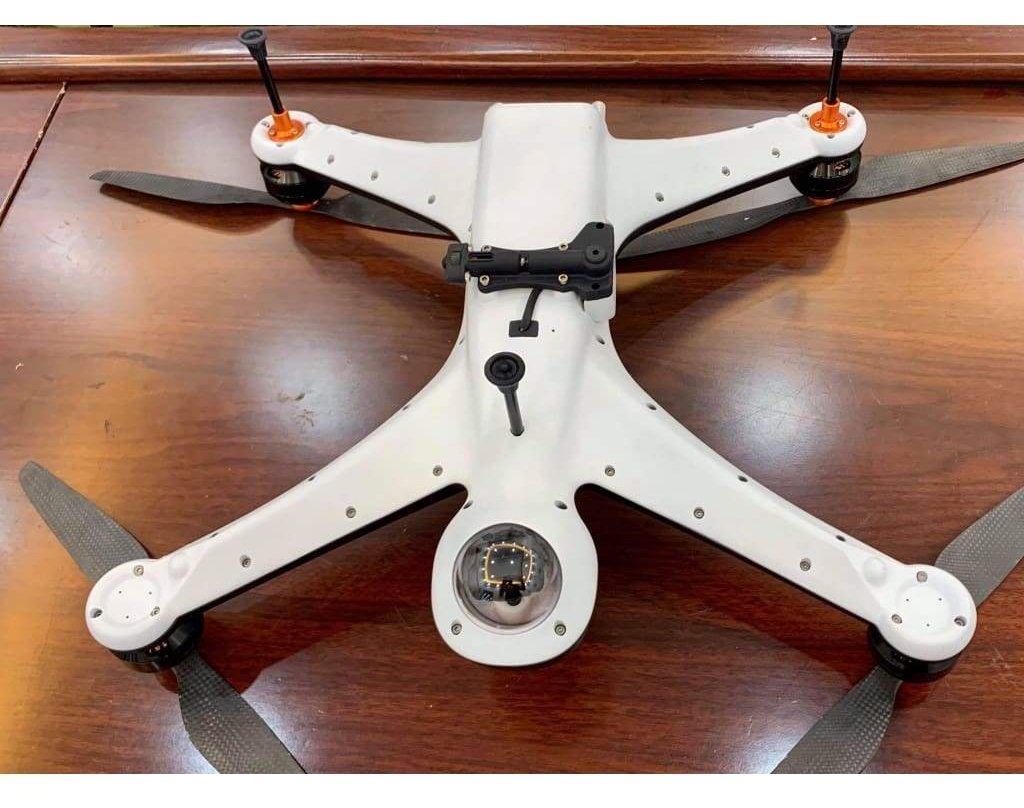 As the drone ascends and descends the change in pressure forces air either in or out through the membrane. In high humidity environments water vapor in this air can condense inside the drone as it descends. This moisture then, over time, will damage the drones electronic components.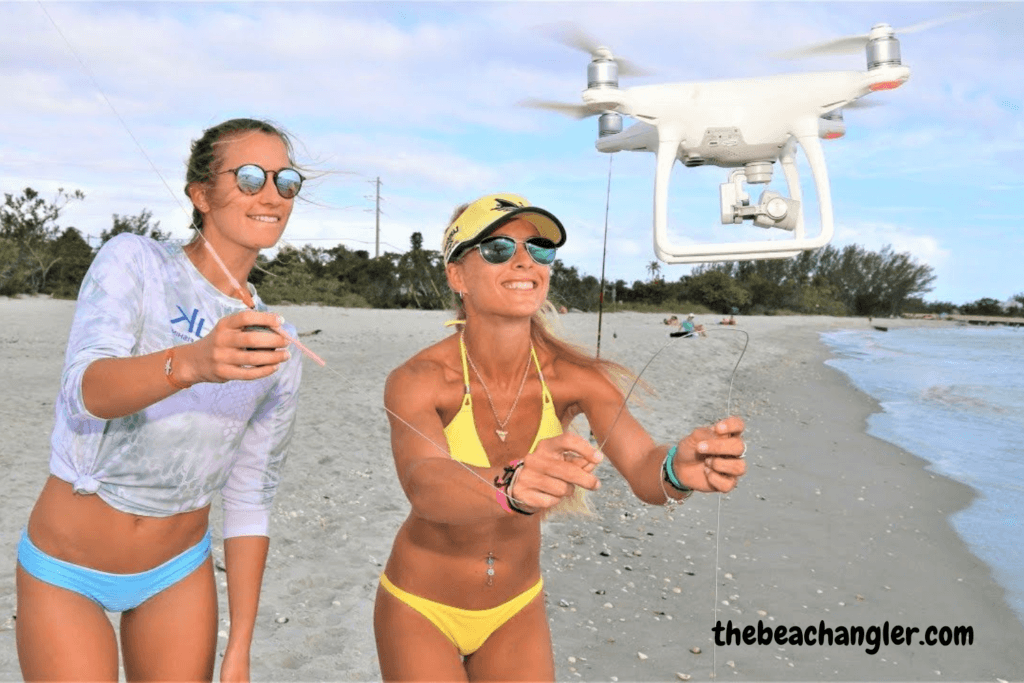 To address this unique challenge each Gannet is fitted with a flexible internal flight bladder. The concept is incredibly simple, and very similar in nature to a fishes swim bladder, a short a tube is connected to a strategically placed and shielded opening to the exterior of the drone, this tube is then connected to the flight bladder, which at rest has approximately 20% of the drones internal volume in it.
As the drone heats up the air expands, this pushes on the outside of the bladder and forces the air in the bladder out through the opening decreasing the bladder size.
Any air that is drawn back in when the drone cools down or changes altitude simply fills the bladder through the tube and can never reach the electronics. This unique and patent-pending design ensures that the electronics will never see the external environment, be it humid air, rain, snow, salt spray or ocean water. The electronics stay dry at all times and with perfectly balanced barometric pressure that ensures stable flight without the "out-of-control" altitude gains often experienced with other "waterproof" drones.
2.) PATENTED XSPORT ELECTROMECHANICAL RELEASE: Many drones are used for fishing and one of the biggest drone sinkers is when the line gets snagged or when a seagull or pelican hits the line whilst the drone is on its way out with the line. Solving this problem was easy, this was done by fitting each Gannet Done with the patented Gannet XSport dual electromechanical release. What this does is give the user the ability to set the release to auto-release on a given setting.
So if 1kg is flown the user may set the release to 1,5kg so as soon as a bird hits the line it simply unclips saving the drone, and if a precision drop is required simply press the button on the remote and the electrical side releases the load on command. The Gannet XSport has several granted and also pending multinational patents making them the worlds only fail-safe electro-mechanical release systems.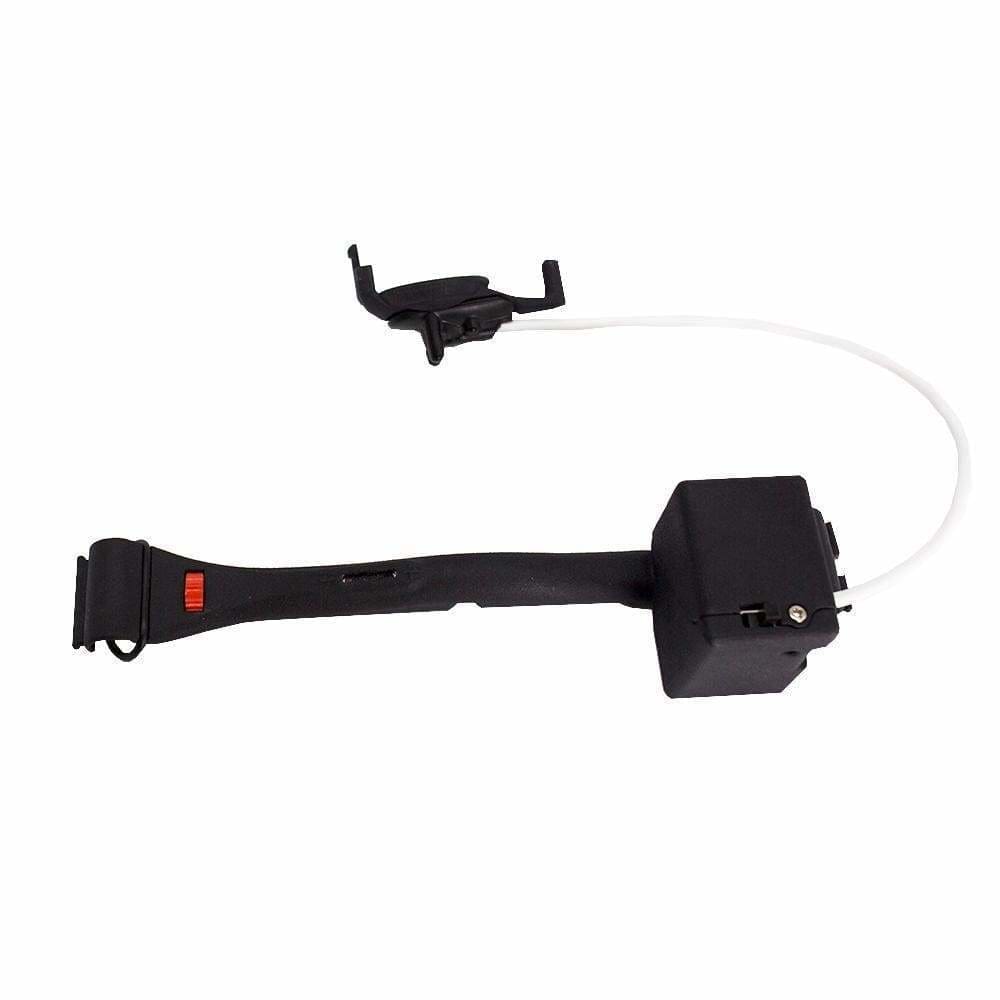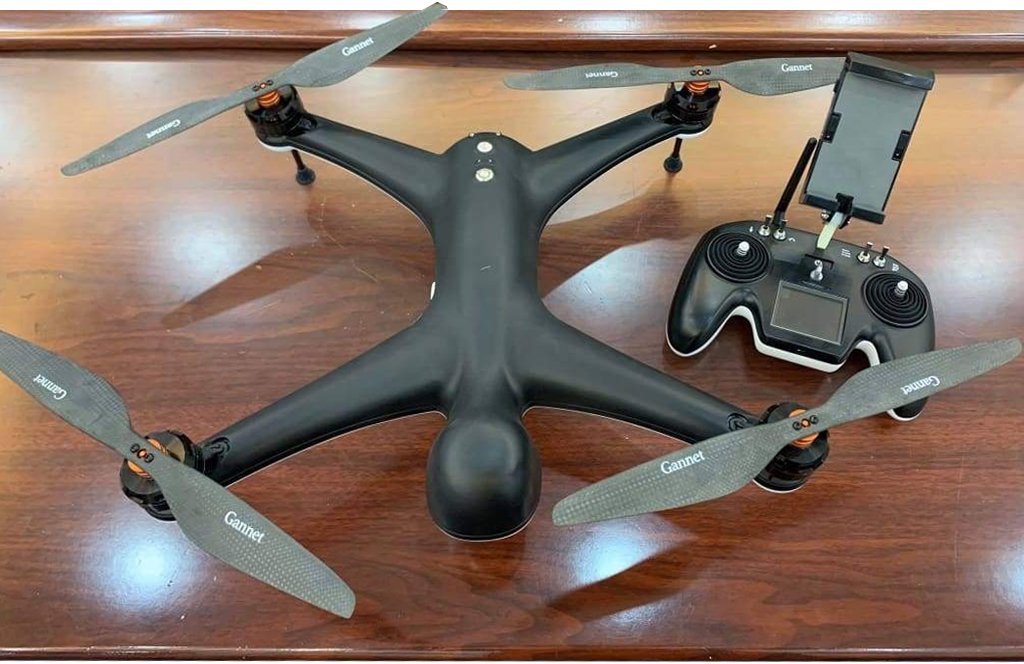 3.) DESIGN SHAPE AND APPEARANCE: The Gannet Pro + drones have been designed as short-distance delivery drones, unlike most other drones that are symmetrical camera platforms, with a camera hanging from the bottom and able to fly at near identical speeds in any direction, the Gannets are streamlined to fly forward significantly faster and with less power usage than most camera platform drones.
This results in the smallest possible frontal area cutting through the air conserving battery power as much as possible. The slanting body and curved asymmetric arms all contribute in making these some of the most power-efficient drones on the market.
4.) BATTERY COMPARTMENT: There is one thing that you will need to change or charge in the field on a regular basis, and that is the Lithium Polymer battery. The Gannet Pro Plus places the battery in its own waterproof compartment that opens from the back of the drone.
This battery compartment is sealed off from all internals. In the event that you get some sand or moisture contamination when changing the battery, only the battery is exposed and not the expensive electronic internals. This double waterproof compartment design is unique to the Gannet Drone making them the safest waterproof drones on the market.
5.) HD VIDEO: An optional internal 2 axis gimbaled camera provides live HD video to the connected Gannet App on a smartphone or tablet with both map and video display. The camera is not intended for professional videographers or photographers as it is 2k 1080p) in resolution. Its intended use is for clear live view to aid in SAR missions or for spotting fish when fishing. However, if 4K video is desired additional cameras can easily be fitted to several of the auxiliary mounting points if you want to upgrade for photo missions.

6.) REMOTE CONTROLLER: The remote control, like the drone, is focused on function. The control sticks and switches are sealed off with rubber bellows making sure that sand and dirt can't jam them up, as often happens with standard drone controllers. The Gannet Pro Plus controller comes with a built-in LCD display providing the operator with all the important flight data they need such as the drone's vital telemetry, distance, altitude, battery charge and GPS satellites.
This controller allows you to fly the Gannet Pro Plus without connecting a smartphone or tablet. However, you can connect a smart device through the Gannet app to the drone which will provide you a high definition display for video feedback and real time map location and storage of flight logs.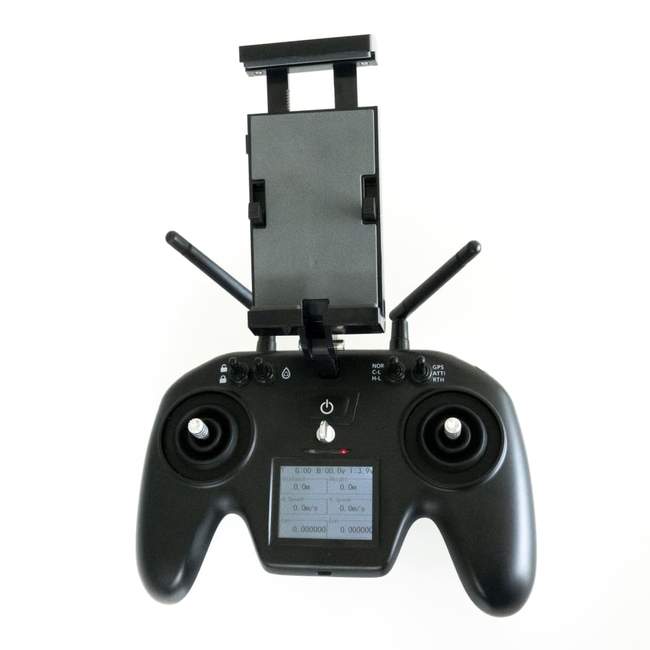 7.) BATTERY CHARGING: With the main market for Gannet drones being people that will be away from their home base, all Gannets come with a battery charger that can recharge the battery in about 1hour from a 12V DC battery or 110V-240V AC power outlet making field charging easy and convenient.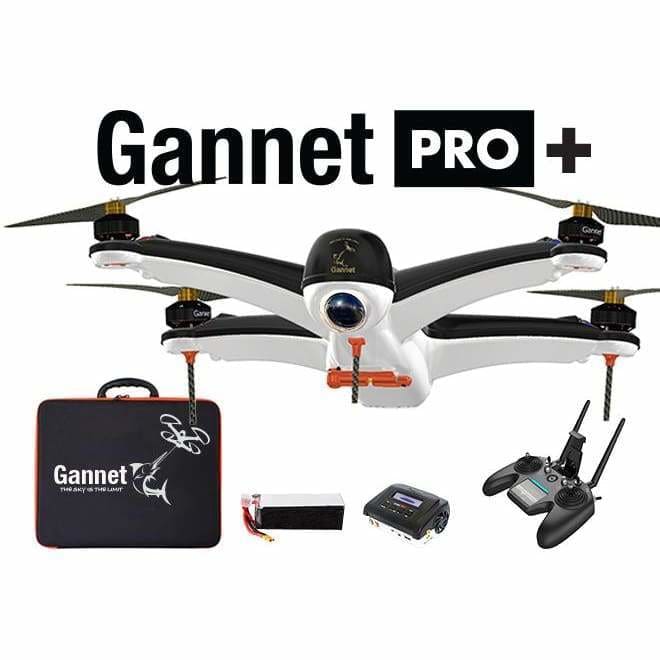 Gannet Pro Plus Drone – What's Included?
When you purchase a Gannet Pro Plus Drone, it comes with the following accessories included:
1 Gannet Pro Plus Drone
1 Custom Gannet EVA Hard Case
1 Remote Controller with Phone / Tablet Holder and Cables
1 Gannet 100W C1 – XR Balance Charger including cables and Car Battery Charger
4 15" Carbon Fibre Propellers
1 Neck Lanyard
1 CellMeter 7 Battery Voltage Capacity Checker
2 Action Camera Adapters
*Please note, no batteries are included due to the restrictions on international shipping – please contact us to find your nearest battery dealer. Gannet products are guaranteed for a period of 3 months against faulty workmanship and materials. Excluded is the battery and charger as we cannot control the use thereof. Also, excluded is any water and crash damage incurred for whatsoever reason.
Gannet Pro Drone Pros and Cons
---
In the table below, I have listed what are, in my opinion, the Pros and Cons of the Gannet Pro Plus Drone. If you are interested in the Gannet Pro, I recommend you click on the button below the table and check it out for yourself. It's your money and your decision. Nobody knows your fishing situation better than you, so head over and take a look.
| Gannet Pro Plus Drone Pros | Gannet Pro Plus Drone Cons |
| --- | --- |
| 100% Waterproof designed for fishing | Price tag is a bit much for some |
| 7.7 lb payload capacity for large baits | Only a 90 day warranty |
| 1.6 KM range | Parts are often on backorder |
| XSport Bait release | |
| Long battery life | |
Gannet Pro Plus Versus SwellPro Splash 3 Comparison
---
Previously, we reviewed the SwellPro 3 waterproof fishing drone. The following Chart is a side by side comparison of these the Swellpro Splash Drone 3 and the Gannet Pro Plus Drone. Both very capable drones, but with some distinct differences as well. The Gannet Pro Plus will carry heavier payloads, fly farther and longer than the SwellPro. The SwellPro comes with a 4K HD camera, Gannet does not, and the SwellPro comes in at about $1000 less than the Gannet Pro Plus. So, if you don't need to carry 7+ lbs of payload, you can save some money. You can read the full review of the SwellPro Splash 3 here: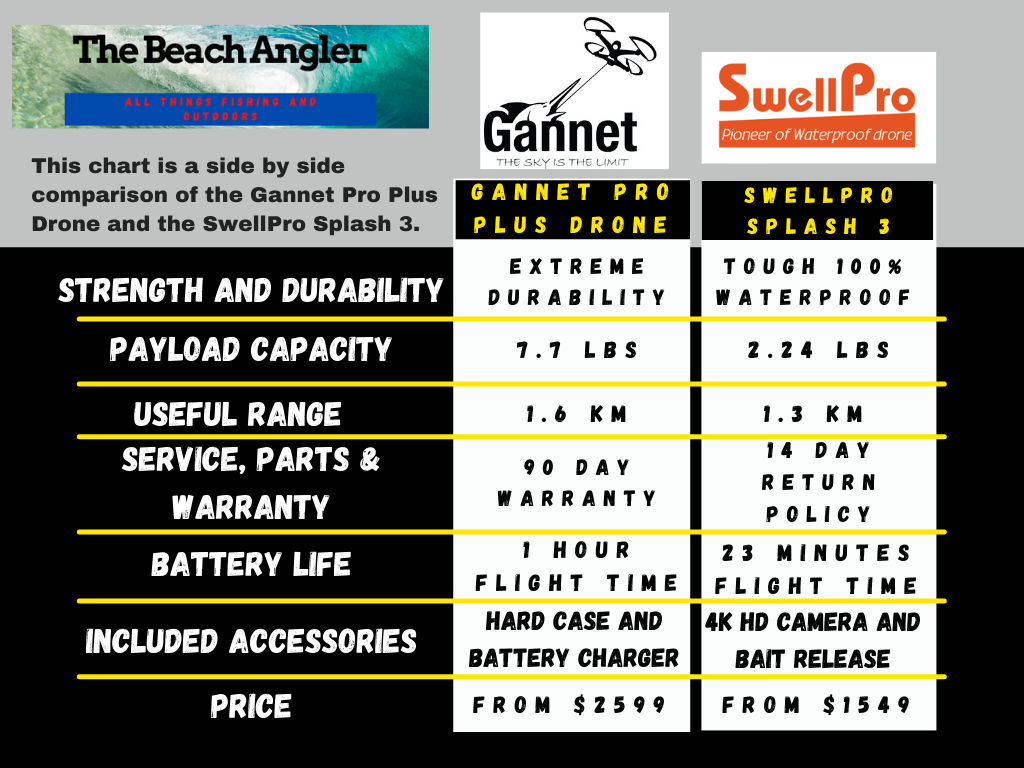 Frequently Asked Questions about the Gannet Pro Plus Drone
---
What is the Gannet Pro Drone?
The Gannet Pro Drone is a professional-grade unmanned aerial vehicle (UAV) designed for various applications, including aerial photography, videography, surveying, inspection, and fishing.
What are the key features of the Gannet Pro Drone?
The key features of the Gannet Pro Drone include a high-resolution camera, long flight time, stable flight performance, intelligent flight modes, obstacle avoidance, electromechanical bait release, and a compact foldable design for easy transportation.
What is the flight time of the Gannet Pro Drone?
The Gannet Pro Drone offers an impressive flight time of up to 30 minutes on a single battery charge, allowing for extended aerial operations.
What is the camera resolution of the Gannet Pro Drone?
The Gannet Pro Drone is equipped with a high-resolution camera capable of capturing images at a full 1080p and recording videos in 4K.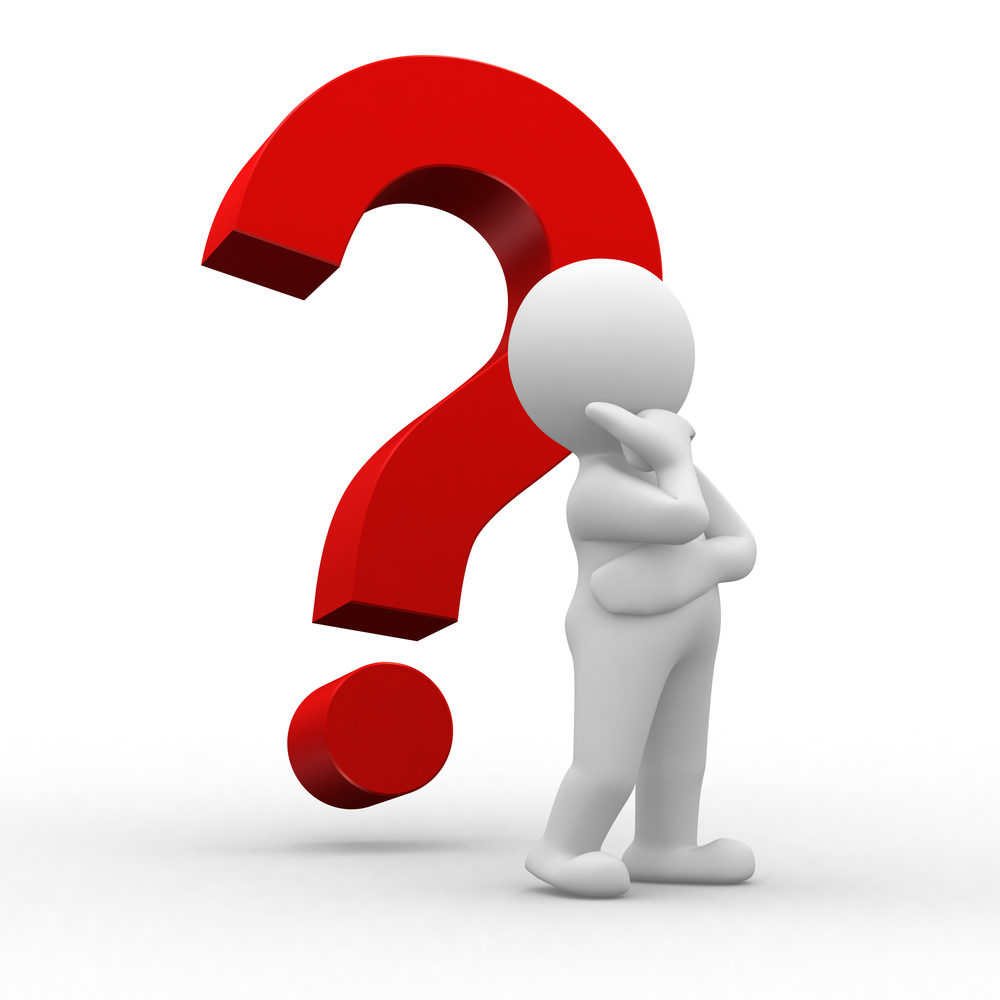 Does the Gannet Pro Drone have obstacle avoidance capabilities?
Yes, the Gannet Pro Drone is equipped with advanced obstacle avoidance sensors and intelligent flight algorithms to help detect and avoid obstacles during flight, ensuring a safe and smooth operation.
What intelligent flight modes does the Gannet Pro Drone offer?
The Gannet Pro Drone provides various intelligent flight modes, including follow me, waypoint navigation, orbit mode, and return to home, allowing for automated and precise flight paths.
Is the Gannet Pro Drone foldable for easy transportation?
Yes, the Gannet Pro Drone features a foldable design that makes it compact and easy to carry, enabling convenient transportation to different locations.
Can I control the Gannet Pro Drone using a smartphone or tablet?
Yes, the Gannet Pro Drone can be controlled using a compatible smartphone or tablet through a dedicated mobile app, providing a user-friendly interface for flight control and accessing advanced features.
What is the maximum range of the Gannet Pro Drone?
The Gannet Pro Drone has a maximum control range of 1.6 Km or 1 mile when operated under optimal conditions, ensuring a reliable connection between the drone and the remote controller.
Does the Gannet Pro Drone support live video streaming?
Yes, the Gannet Pro Drone supports live video streaming, allowing you to view real-time footage from the drone's camera on your smartphone or tablet while in flight.
Is the Gannet Pro Drone suitable for beginners?
The Gannet Pro Drone is designed for professional use and may require some experience with drones. However, it provides intuitive controls and offers beginner-friendly features to assist new users in learning and operating the drone safely.
Gannet Pro Plus Drone the Final Verdict:
---
As you can see in the rating chart below, I rate the Gannet Pro Plus Drone at 95 out of 100. It is an excellent drone with outstanding capabilities and has been proven in the toughest of environments. It is a rather pricey piece of equipment however and that makes it too much for some. Also, being from South Africa, sometimes parts and supplies can be delayed or backordered.
Gannet has other, less expensive drones, but they will have smaller payload capacity and or range compared to the Pro Plus.
Still, if you are not hauling 7+ pound baits, you may be better served with one of the more mid-range models.
You can check them all by clicking the button below the rating chart.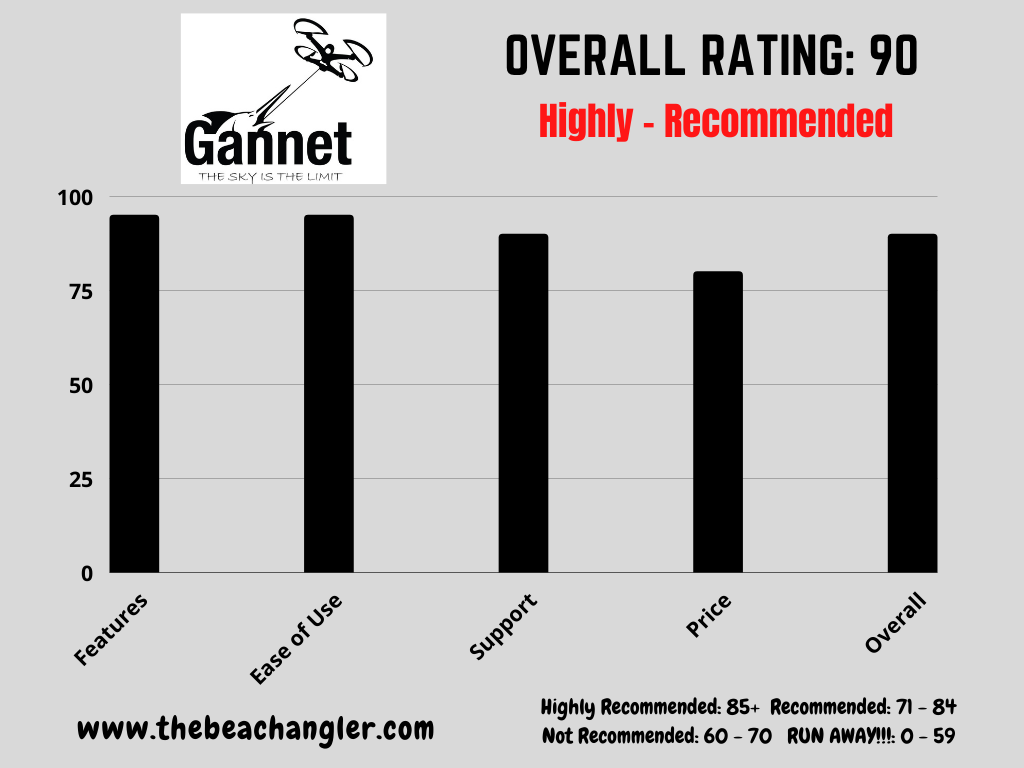 Get a Drone and Go "FLY" Fishing
---
The fishing world is changing with technology at a rapid pace. Drone fishing is just one example. If you are looking for ways to get your baits farther offshore, and want to stay dry, check out the fishing drones. They can be a great and safer alternative to the kayak on those days when there are rough seas and rip currents. And, you can use the drone for scouting and photography when you're not fishing.
As always, stay safe, enjoy the journey and please try to leave it cleaner than you found it. If you have any comments, questions, ideas or suggestions please leave them in the comment section below and I'll get back to you asap. You can follow us on Facebook: Rex The Beach Angler, Instagram: thebeachangler7, Twitter: @AnglerBeach, and YouTube: Man Art Creations.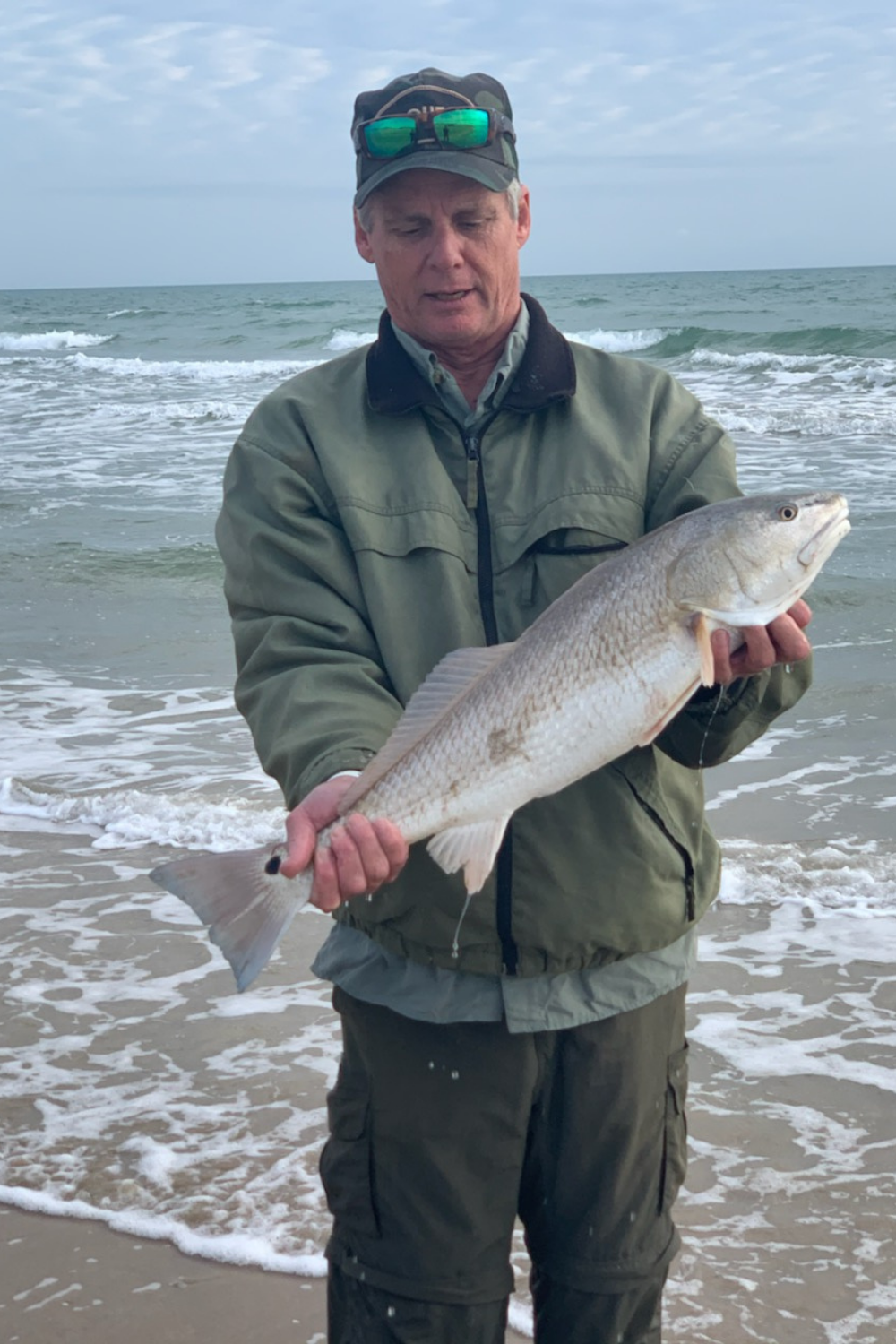 A life long surf fisherman with 50+ years of experience, I am also an avid hunter and outdoorsman. I will be sharing my passion for the outdoors with you so be prepared for hunting, fishing, camping, hiking and more. Along with gear reviews and the latest trends and innovations in the outdoor industry.