Drones are everywhere. They are being used for everything from surveillance to delivery and yes, they are even being used for fishing. The new SwellPro Splash Drone 4 is the most recent entry into the "fishing drone" market.
Designed from the ground up as a true "fishing" drone and 100% waterproof. I thought we might take a look and see what's new and how it compares to their SwellPro Splash Drone 3.
QUICK SNAP SHOT:
The new SwellPro Splash Drone 4 is a great fishing drone. Both the drone, and the controller, are 100% waterproof and saltwater/corrosion resistant. With a heavier payload capacity, multiple camera options, new SwellPro Navifly App, built in GPS, boat mode, and if it does end up in the water, self-righting feature make the SwellPro Splash Drone 4 not only a great fishing drone, but a complete multi-purpose drone. I give it an overall rating of 90 out of 100 with the only drawbacks for me being the price and the payload capacity of 2Kg could be larger for me, But, for 99% of your fishing applications, you won't find a better drone than the SwellPro SplashDrone 4.
SwellPro Splash Drone 4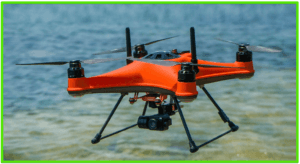 The SwellPro Splash Drone 4 is a very advanced and 100% waterproof drone with GPS capabilities. And, with the available accessories, you can use it for multi-purposes in addition to fishing.
Payload Capacity
2 kg or 4.4 lbs
Effective Range
5 km or 3.1 miles
Available Options & Accessories
Multiple camera and payload options
Price
It is not a cheap toy
Pros
Comes with built in viewer
Cons
Expensive piece of equipment
Payload may limit larger shark baits
The popularity and number of drones continues to increase, with around 7 million units expected to be sold in the US this year. From flying for recreation to aerial photography, unmanned aerial systems (UAS) are increasing due to lower prices and improving technology.
From a fishing standpoint, it's not enough that drones have great camera power or fantastic range; they need to be waterproof and have the ability to fly in any weather.
Currently the most popular and capable fishing drones are made by Gannett and SwellPro. I have reviewed the Gannett Pro Plus drone, the SwellPro Fisherman FD1, the SharkX fishing drone and the SwellPro Splash Drone 3 previously.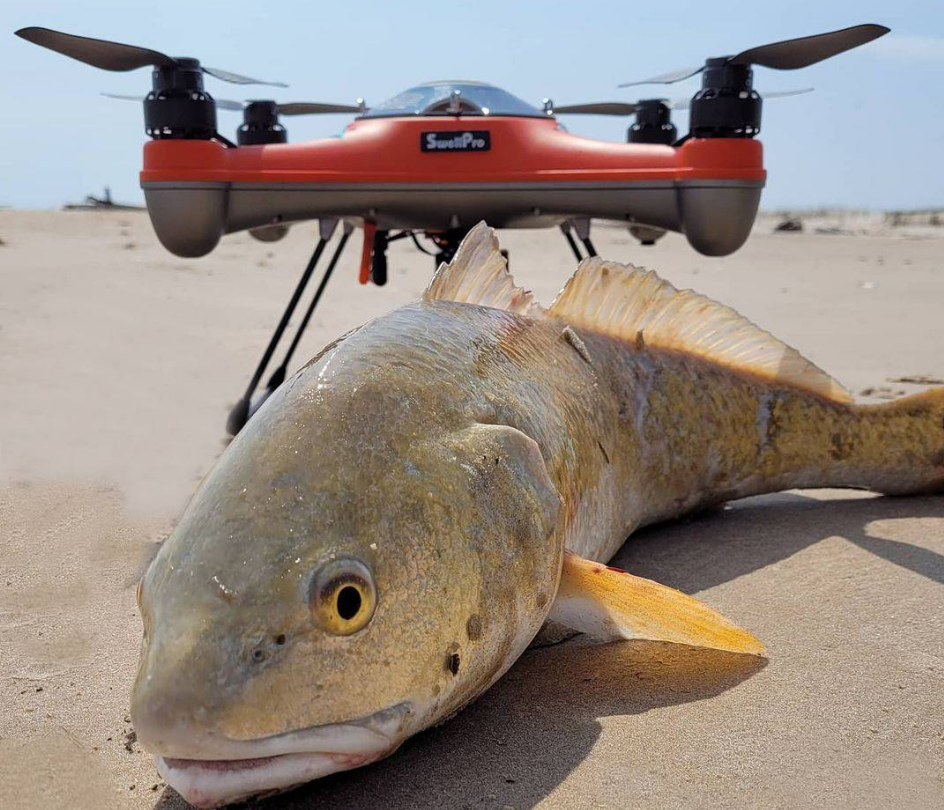 "Fly" Fishing with Drones
---
How do you fish with drones?
Fishing with drones is a specialized sport. It takes some time to learn to fly the drones and some special rigging and fishing gear to adapt to "fly" fishing with a drone. One thing is for sure, you can reach waters that you never could hope to reach simply by casting your baits.
The Land based shark fishing community is rapidly adapting to using drones for bait deployment over the more traditional kayak method. When selecting a fishing drone, there are some important features to consider.
1.) Is it really Waterproof? – Fishing involves water, and water and electronics don't like each other. There is always a chance that your drone could end up going for a swim when fishing and you need one that can survive getting wet.
2.) Payload Capacity – You will be hauling baits, weights and tackle with your drone so you need to make sure the drone can handle the weight and still deploy your bait and return safely.
3.) Battery Life – Drones use batteries. Drones under a load use batteries at a faster rate. A fishing drone needs to have the battery life to deploy multiple baits offshore sometimes several hundreds of yards offshore. At the very least, you need good rechargeable batteries that are quick and easy to switch out.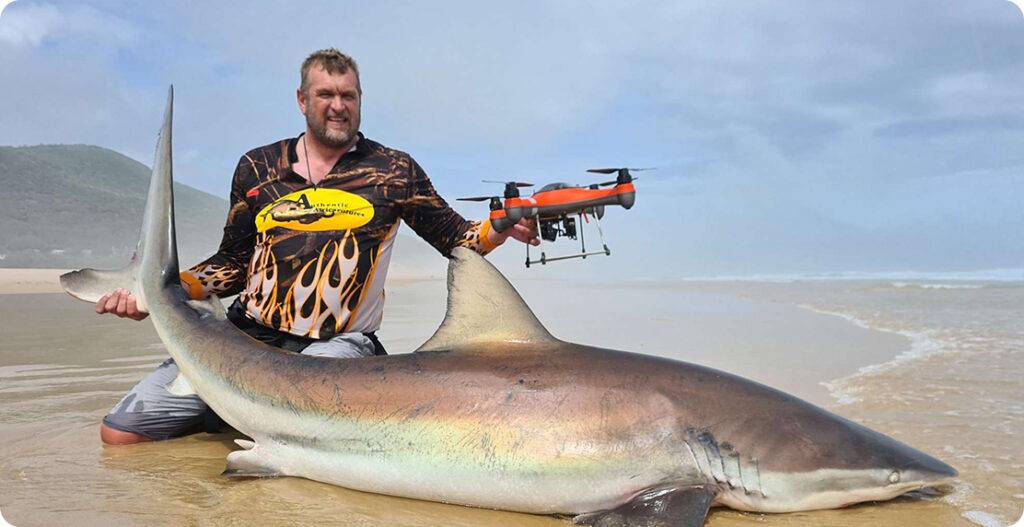 Batteries are one of the most vital parts of any drone and knowing how much power they can store and use will determine how long you can operate them and how many baits you can deploy before you need to change or recharge your batteries. You need to consider that flying your drone in wet and or windy weather uses up power.
Water can accumulate on propellers which is extra weight that uses energy and drains your battery at a faster rate. So, battery life, ease of recharging and switching are extremely important to consider when choosing a fishing drone.
Now, most fishing drones are marketed as waterproof. However, are they really waterproof, or just water-resistant drones? It makes a big difference, particularly if your drone goes for a swim. A water resistant drone may not do well and the manufacturer may not want to service it under warranty. Read the fine print and make sure you are using a 100% waterproof drone. Check the controller as well and make sure it is waterproof.
If you get caught in the rain, you don't want to short circuit your controller. Another consideration is saltwater. Some drones are waterproof, but not corrosion resistant. Saltwater is very tough on gear in general, but metallic parts in particular. So, if you will be drone fishing in saltwater, check for saltwater resistant models. The SwellPro Splash drone 4 has been designed from the ground up as fishing drone that is 100% waterproof and saltwater resistant. It's not cheap, but it is awesome, highly advanced piece of equipment.
SwellPro Drones
---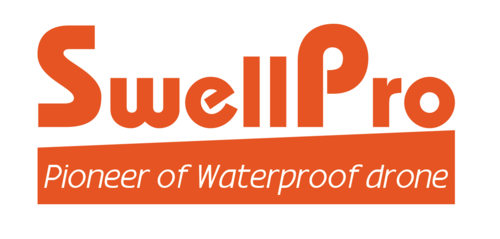 Website

: swellpro.com

Founder CEO

: Eric Hu

Support:

support@swellpro.com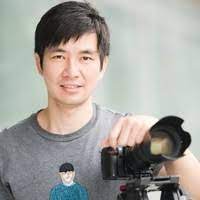 SwellPro has been making the only waterproof drones dedicated for fishing like the SplashDrone series since 2015. Integrated with an interference-free payload release mechanism, SwellPro's fishing drones can easily and safely fly the line far out, then drop baits to fish-rich areas that are out of normal casting range in just a few minutes. The end benefit is drastically increasing the success of catching more fish or bigger monster based on the shore.
In 2013 Eric Hu, the founder of SwellPro, came up with the idea for a waterproof drone after witnessing a very expensive drone crash into the ocean while he was vacationing in the Caribbean. With his back ground in waterproof cameras and hobby planes, he threw himself into the brand new drone industry with passion. From this unfortunate accident, SwellPro was born to make waterproof drones a reality.
There were many technical challenges in the beginning. Just making the drone fuselage waterproof was not enough, as heat build up and the requirements of flight sensors had to be resolved. But, after much hard work, Swellpro is now proud to hold numerous patents related to the waterproof drone concept.
One of the earliest breakthroughs was the waterproof gimbal to carry a go pro camera. Today Swellpro makes a series of waterproof drones and accessories in their own manufacturing facilities.Swellpro's in house research and development team continues to develop new products and technologies to bring innovative waterproof products to the industry. SwellPro's fishing drones have been tested and trusted by over 10,000 anglers all over the world. Now introducing the all new SwellPro Splash Drone 4.
The New SwellPro Spash Drone 4
---
The new SwellPro Splash Drone 4 is the 5th generation waterproof drone produced using SwellPro's 7 years of knowledge and understanding of drone waterproofing technology. SplashDrone 4 is the all-new waterproof flight & float platform designed for multipurpose operation in any harsh environment and includes some significant upgrades from the Splash Drone 3. The following are just some of the advanced features of the SwellPro Splash Drone 4.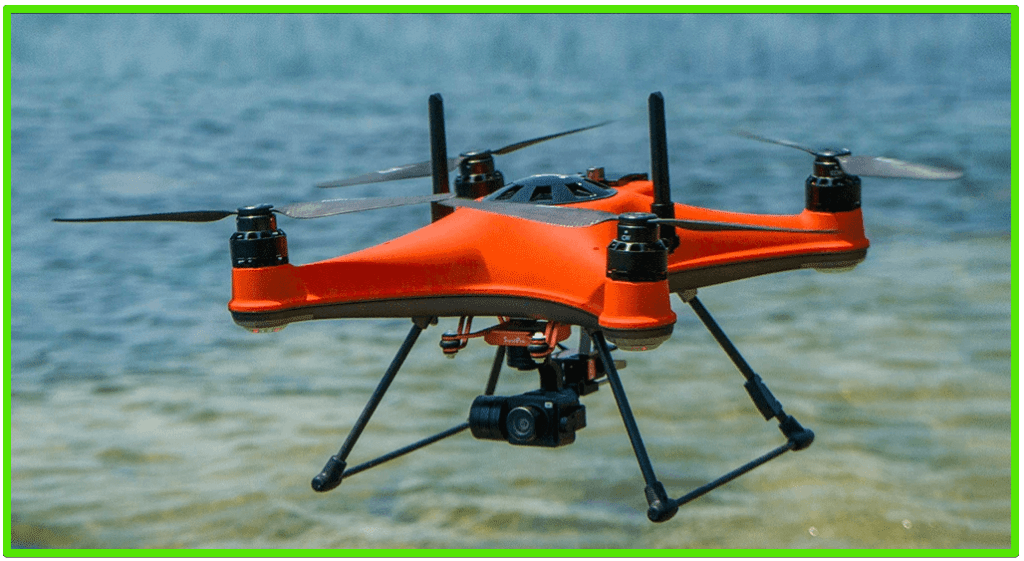 All-new IP67 seawater-proof body – the SwellPro Splash Drone 4 is designed to have the best waterproofing technology in the industry. The tough, rigid fuselage of is made out of industrial-grade ABS.
Each Splash Drone 4 is factory-sealed to the slightest details and air-pressure tested for our exclusive 100% waterproof guarantee. The waterproof motors and internal electronics are also coated with corrosion-resistant coating adding an extra layer of protection over the already total waterproof design.
Floating design – If, by chance, your SwellPro Spash Drone 4 ends up in the water, no worries as it is designed to float. It even comes with pontoon accessories if you want to operate it in "boat" mode rather than flight mode.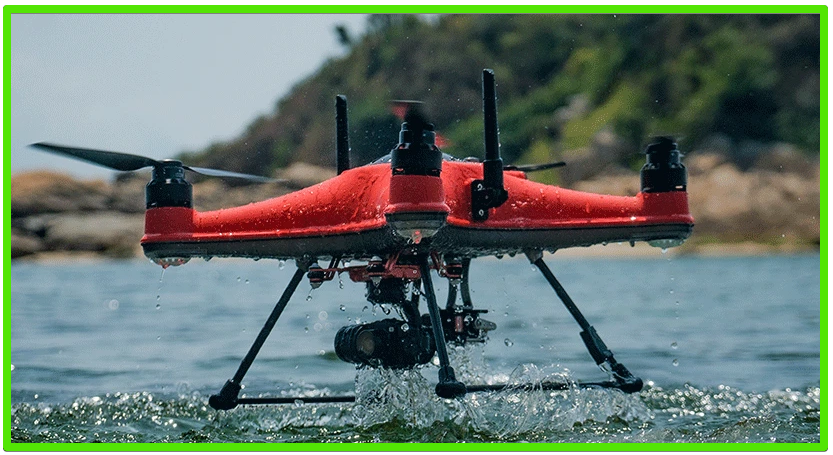 Corrosion-free – Everything about the Splash Drones is designed with the harsh saltwater environment in mind. All the hardware, connections and components are corrosion resistant for long life and reliable service.
All weather flying – being 100% waterproof, and now featuring a 100% waterproof controller, the Splash Drone 4 is designed to operate in any weather conditions. Rain, Snow or Wind the Splash Drone 4 can handle it and keep flying.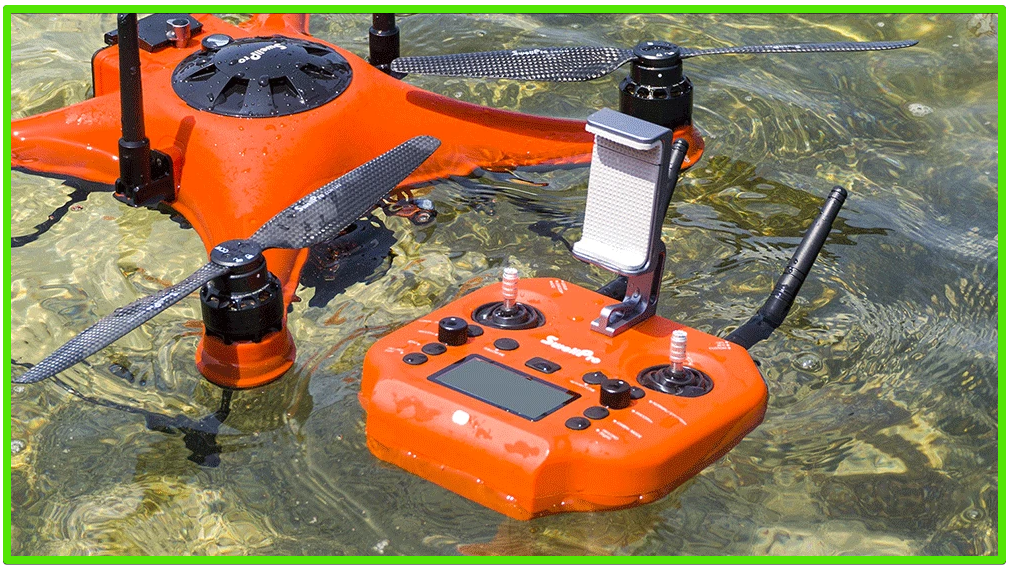 All-new IP66 Waterproof Remote Controller – The all-new SwellPro Splash Drone 4 remote controller is now waterproof for your worry-free operation. You can even toss it on the water or rinse off the collected sand. The built-in GPS offers a variety of new features, including real-time tracking and dynamic return to pilot. The remote controller is now capable of offering multiple devices' connection for a better collaborative operation.
2 inch High Brightness built-in digital telemetry display- use the built in display or use your smart device.
WiFi multi-point hotspot – connect devices and sensors to your SwellPro Splash Drone 4 via WiFi.
Built-in GPS – now you can track exactly where you have placed your baits and your drone can return to the hotspots, more importantly, it can return home if you lose sight of it.
Multi-functional Payload Options – More than just a fishing drone, with its modular multi-functional payload system and open interface design, the SplashDrone 4 can quickly adapt to different tasks in the field.
Innovative Smooth+ Flight Control – The patented "Smooth+" flight control allows the pilot to finely tune the Roll and Yaw of SplashDrone 4.Smooth+ makes professional, steady flight control as easy as turning the knobs. Want to take a steady shot? Simply switch to Smooth+ control, together with our 4K 3-axis gimbal, you can take high-quality, ultra-smooth & steady shots effortlessly.
5KM Image Transmission – The latest 5.8GHz digital image transmitter and adjustable antennas ensures a clear and reliable image and control signal range to the SplashDrone 4 of over 5km while airborne.
Dynamic Return to pilot – The Splash Drone 4 constantly records the GPS position of the remote controller, allowing the aircraft to always return to the pilot's position even if they are on a moving boat far away from the original take-off point.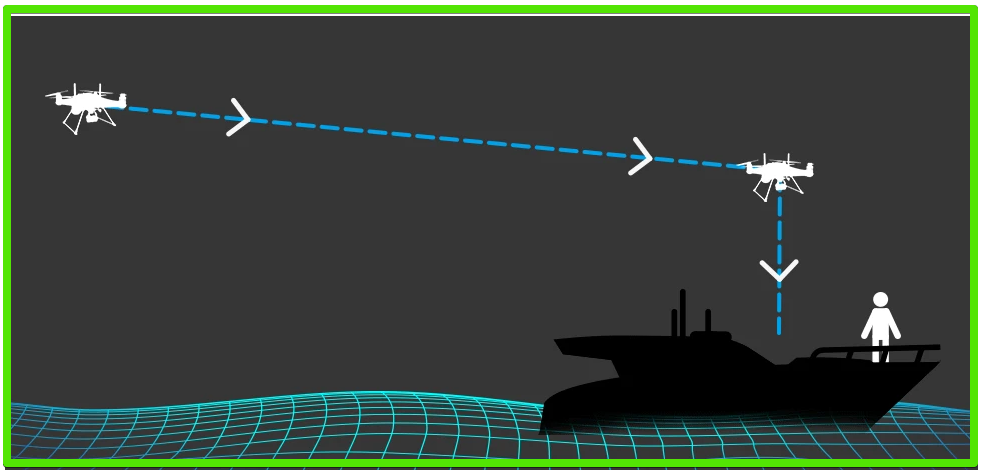 Intelligent Follow me actively track the position of the pilot at a constant angle from the front, side, and back with the camera always pointing to the subject. Orbit Follow – Automatically follow and orbit around a moving object at a chosen radius.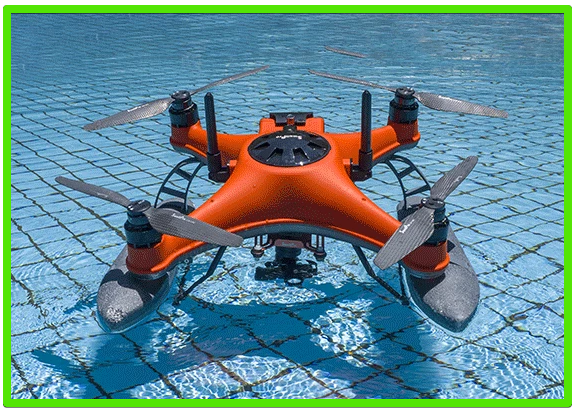 Boat Mode – Equipped with floating foams, the boat mode allows Splash Drone 4 to sail on water just like a boat, providing great underwater shots while remains the water area uninterrupted. Caves and other overhead environments can now be accessed by SplashDrone 4 for research, exploration, and underwater photography.
Unrivaled performance Propulsion System – The more powerful 740Kv Motor, 40A ESC together with optimized aerodynamic design allow for tight, responsive, and total control of Splash Drone 4 in any challenging weather conditions.
Wind resistance Beaufort force 7 – (33 knots / 31 mph / 60 km/h) Keep fishing even in windy conditions.
2kg payload capacity – Important that a fishing drone be able to carry your bait, weight, and gear.
8-hour battery life – Spend more time fishing and less time changing and recharging batteries.
Smart Battery – The new slide-in smart battery has an internal battery management system for real-time power monitoring and protection both in charging and discharging, ensuring battery health, safety and longer lifespan. The 6600mAh high-performance lithium technology cells provide up to 30 minutes of flight time.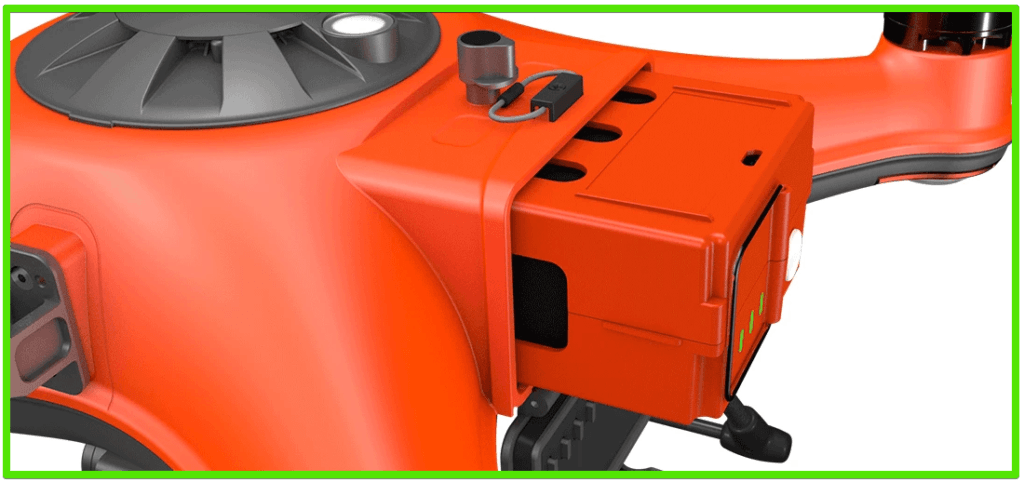 Effortless Autopilot The SwellPro Navifly APP – The newly-developed SwellPro Navifly APP enables logging, planning, recording of missions and the control and parameter setting of cameras and other modules in flight. In the companion fly APP, anglers can make Splash Drone 4 fly to their favorite fishing GPS locations you've saved on the map – fish where the fish are. Check out the features of the SwellPro Navifly App: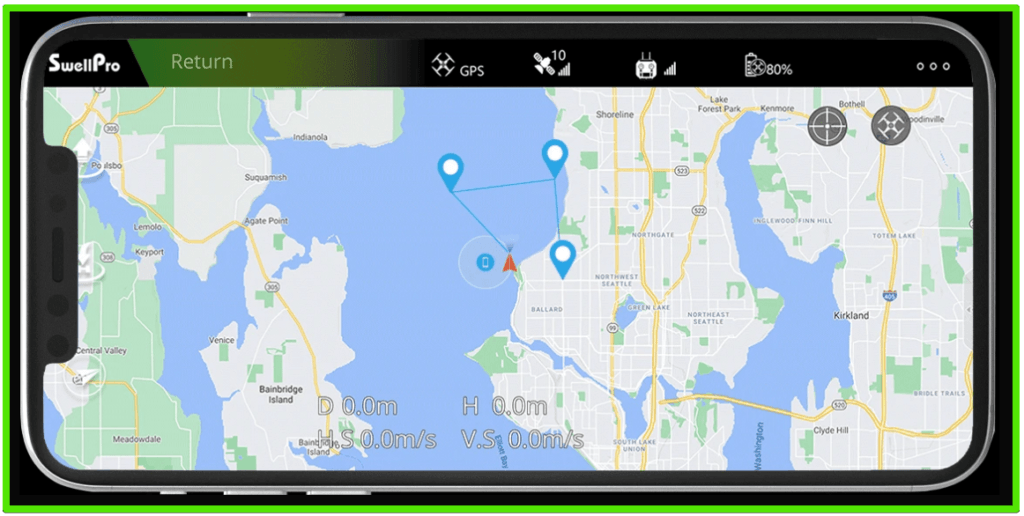 Cruise mode – Automatically fly at a designated speed and direction.
Tap to fly – Autonomously fly to a selected location on the map at a predetermined altitude and speed, and hover awaiting further commands.
Waypoint mission planning – Preplan a mission by selecting a series of waypoints on the map with adjustable speed, height, hover time and camera angle at each point
Grid mission planning – Connect up to 256 waypoints to form a mission area planning and the drone will follow a uniform grid pattern flight path at the selected speed and interval.
Splash Drone 4 offers API – for third-party software to gather data from sensors and to configure its control of aircraft, gimbal, camera, and third-party add-ons. SDK allows deep integration of third-party add-ons to Splash Drone 4. Together with API, SplashDrone 4 is truly a multi-purpose & multi-functional platform for your imagination.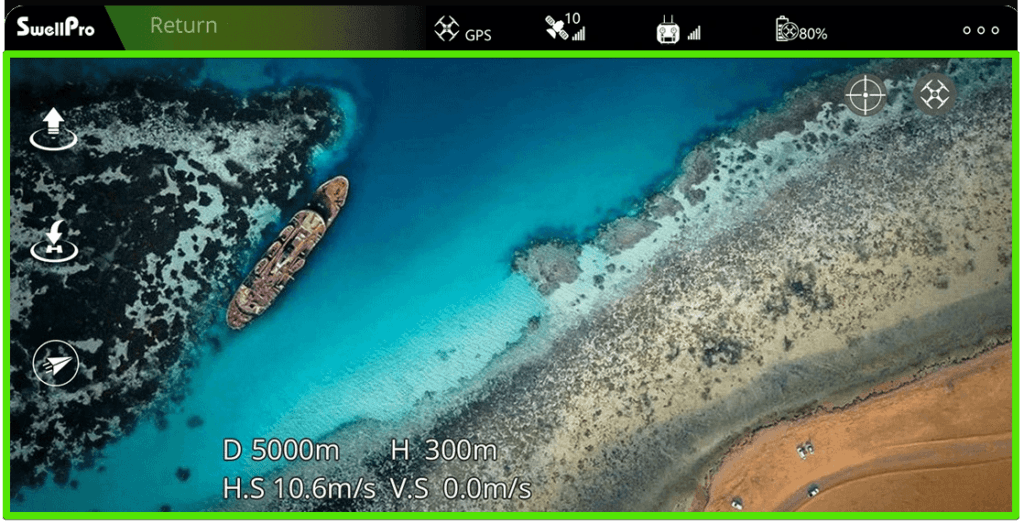 Splash Drone 4 Accessories:
For Filming – The following camera modules can be mounted on the SwellPro Splash Drone 4 alongside the payload release. Easily scout fish from the air and record high resolution footage of your bait dropping process. Always make sure the baits land on targeted spots.
Waterproof 3-axis 4K camera – Capture smooth videos and crisp photos with the new, fully waterproof 4K camera stabilized by a 3-axis gimbal.GC3-S is our flagship gimbal camera. The powerful gimbal remains stable even in water while taking underwater shot. GC3-S now has Pro mode and supports RAW photo. ND filters can also be added for greater creative freedom.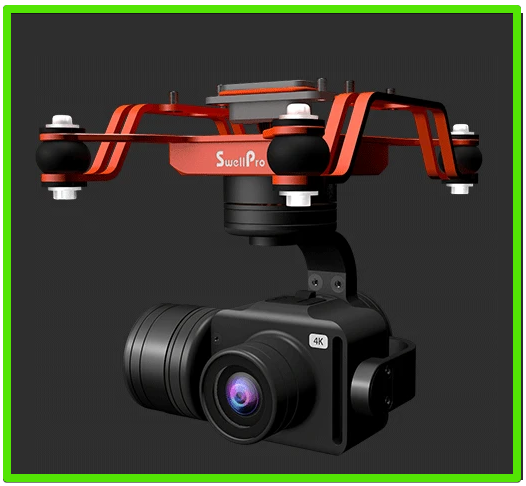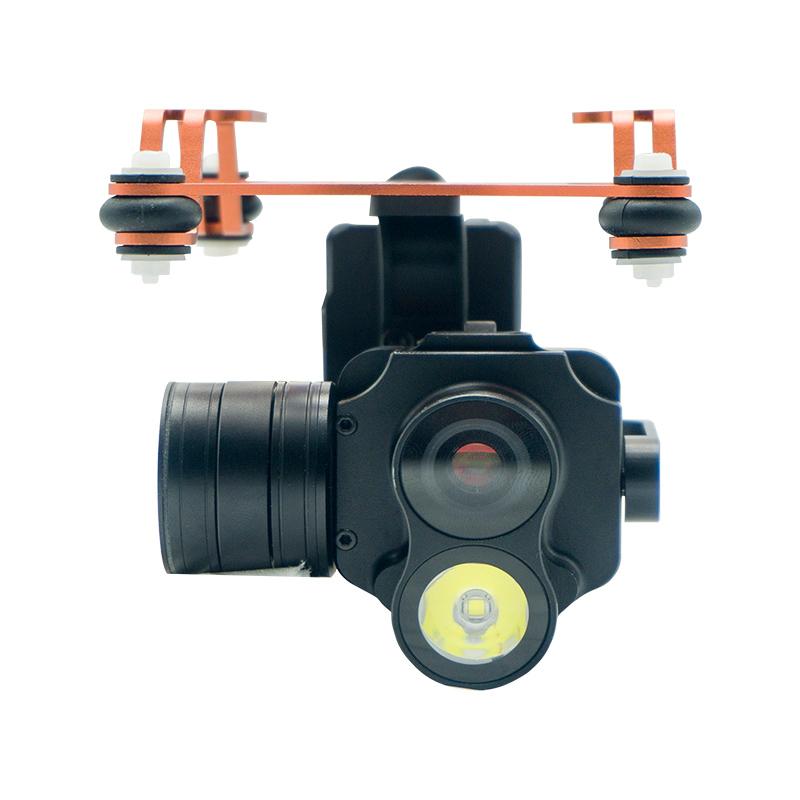 FOR NIGHT FISHING GC2-S – For low-light bait dropping, GC2-S features a high-sensitivity sensor and a LED spotlight to restore color 1080P image in pitch black. The camera is stabilized by a 2-axis gimbal.
GC1-S – is a 1-Axis gimbal 4K camera for Splash Drone 4 to take decent quality aerial footage. It is a more affordable option for users whose need is just to accurately locate their target zone before remotely dropping attached payloads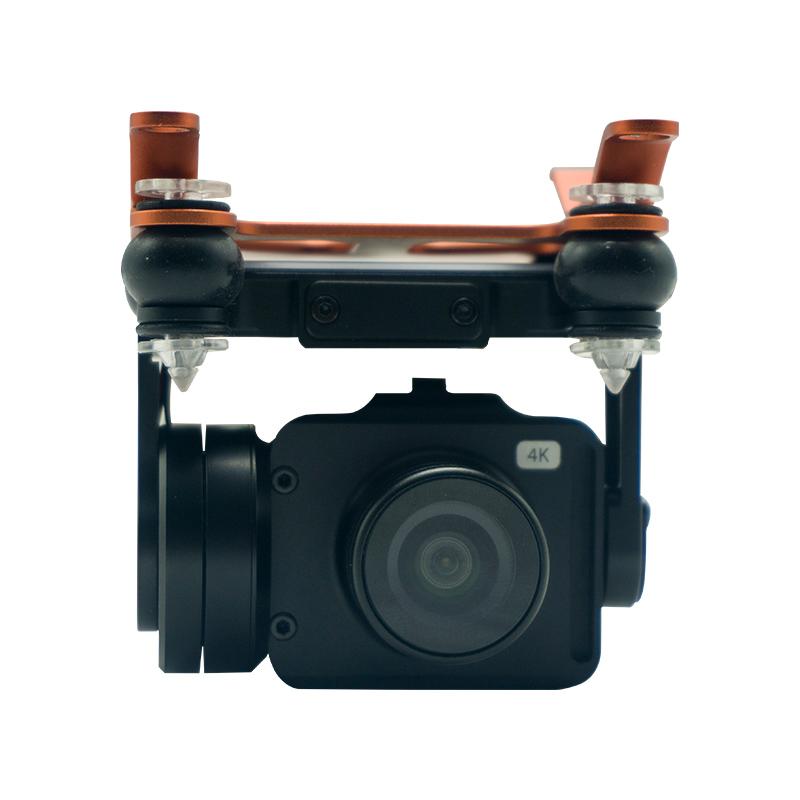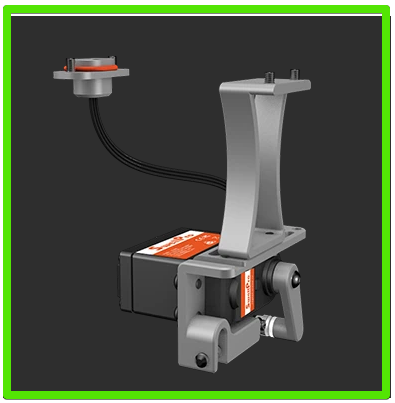 For Fishing PL1-S Waterproof Payload Release – The PL-1 payload release turns the Splash Drone 4 into an aerial bait dropping system that can deliver 2KG of bait and drop the bait at targeted locations up to 4km. The PL-1 can be mounted together with your choice of camera accessories for targeted payload release. Using the SwellPro NaviFLy app, you can program the bait drop or replay flights to successful fishing locations.
Boat Kit for SplashDrone 4 – The boat kit allows Splash Drone 4 to sail on the water just like a boat.



SwellPro Splash Drone 4 Pros and Cons
---
In the table below I have listed what are, in my opinion, the Pros and Cons of the New SwellPro Splash Drone 4. If you think you might be interested in the Splash Drone 4, I suggest you click the button below and check it out for yourself. Only you know what type of fishing you will be doing and if the Splash Drone makes sense for you.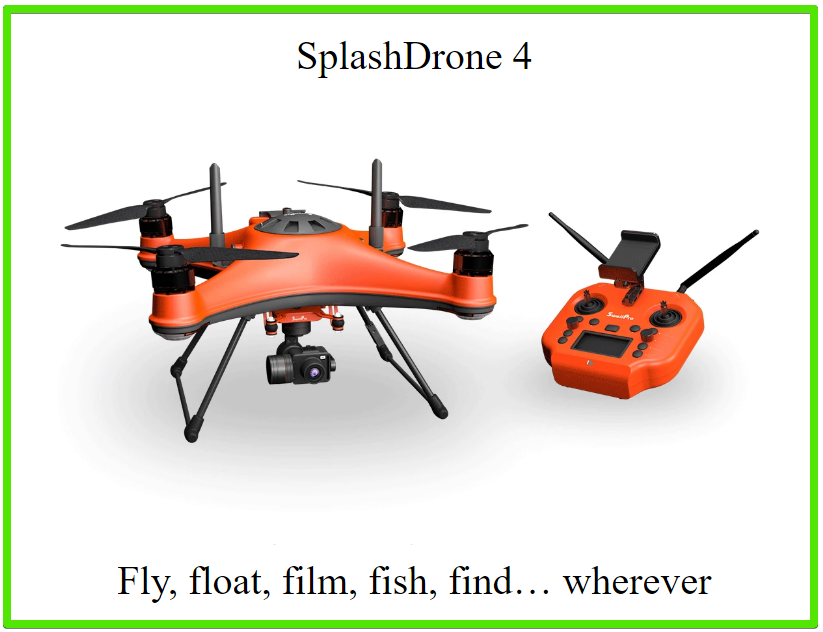 Pros of the SwellPro SplashDrone 4
100% waterproof and saltwater resistant
Multiple Camera and Accessory Options
New SwellPro NaviFly App
Built in GPS
Easy to change Smart Battery
Boat Mode for Underwater Photography
Cons of the SwellPro SplashDrone 4
Payload Capacity Limited to 2 Kg
Price is fairly expensive
Be sure to use the coupon code: thebeachanglerdiscount for an additional 3% off at check out.
SwellPro Splash Drone 3 versus 4 Comparison
---
The new SwellPro Splash Drone 4 has numerous upgrades and added features when compared to the Splash Drone 3. The Chart below will give you a side by side comparison of the features and capabilities of the two models. Both are excellent drones and will serve you well. It will depend on you and your type of fishing as to which one is best.
FEATURES COMPARISON
FEATURE
SwellPro Splash Drone 4
SwellPro Splash Drone 3
Flight Time ( no wind & no load)
30 minutes
22 minutes
Max Flight Distance
5 Km
1.6 Km
Payload Capacity
2 Kg
1.5 Kg
Max Wind Speed
39 knots
31 Knots
Power Flip
Yes
Yes
Boat Mode
Yes
No
Follow Me
Built in GPS in remote control
full direction follow
No GPS module in remote controll
Follow the Mobile Phone
Return
Dynamic Return-to-Home
One-Key Return-to-Home
Signal Lost Return-to-Home
Low Battery Auto Return-to-Home
Low Battery Auto Payload-release
One-Key Return-to-Home
Signal Lost Return-to-Home
Battery
Intelligent Battery 6600 mAh
97.68 Wh14.8V 4S LiPo (#18650 cell inside)
Durable & Easy to maintain
Slide In / Out
Standard LiHV Battery
5200mAh 79.04 Wh15.2V 4S LiHV
Install from the top cover
Digital Video Transmission
Yes
No
NaviFly APP features
Live-View
Camera Control & Setting
Tap to Flight
Route Planning
Grid Flight Planning
Intelligent Circle
Historical Route
Auto Take-off / Return

Point Flight
Route Planning
Waterproof controller
Yes
No
Real-time Video Transmission
720P@30fps
640×320
Wi-Fi Hotspot
Yes
No
Waterproof Camera
1axis 4K gimbal camera (GC1-S)
2axis low-light gimbal camera (GC2-S)
3axis 4K gimbal camera (GC3-S)
3axis gimbal thermal camera(GC3-T)
Fixed angle camera (FAC
GC3 (3axis 4K gimbal camera)
SwellPro Splash Drone 4 Final Verdict
---
The new SwellPro Splash Drone 4 is great piece of equipment. They have made numerous improvements from the Spash Drone 3. Including making the controller waterproof for true all weather operations. Increased payload capacity, and improvements in battery life and made the changing out batteries much easier.
At 2KG load capacity, it will still be limited for some of the largest shark bait applications, but for most of your fishing needs it will be more that adequate.
I give it an overall rating of 90 out of 100. The only drawbacks, for me, are the load capacity and the price makes it on the higher end for fishing drones.
It does come with a14-day money back guarantee and 1-year warranty.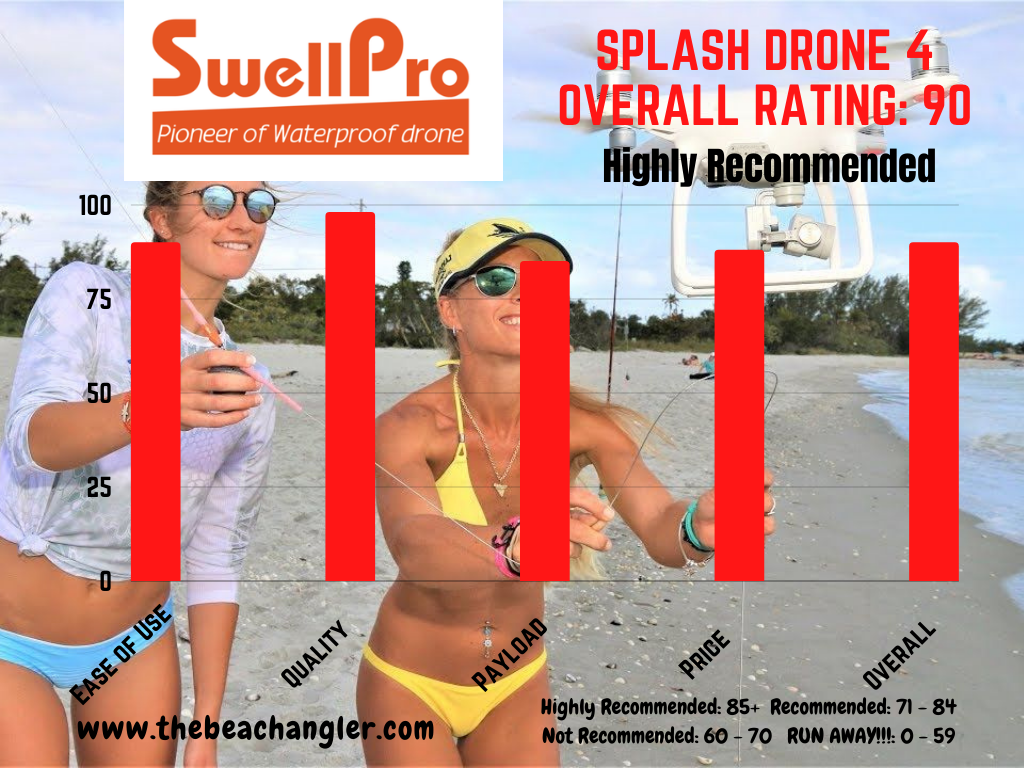 Frequently Asked Questions about the SwellPro Splash Drone 4
---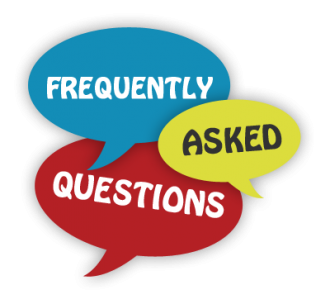 What is the maximum flight range of the SwellPro Splash Drone 4?
The maximum flight range of the SwellPro Splash Drone 4 is approximately 5 kilometers (3.1 miles).
How long does the battery of the SwellPro Splash Drone 4 last?
The battery life of the SwellPro Splash Drone 4 is around 20 to 25 minutes, depending on flying conditions and payload.
Can the SwellPro Splash Drone 4 be flown in rainy conditions?
Yes, the SwellPro Splash Drone 4 is specifically designed to be waterproof and can be flown in rainy conditions.
Does the SwellPro Splash Drone 4 come with a camera?
Yes, the SwellPro Splash Drone 4 comes with a 4K camera that can capture high-quality aerial footage and photos.
What is the maximum payload capacity of the SwellPro Splash Drone 4?
The maximum payload capacity of the SwellPro Splash Drone 4 is approximately 1 kilogram (2.2 pounds).
Does the SwellPro Splash Drone 4 have obstacle avoidance features?
Yes, the SwellPro Splash Drone 4 is equipped with front and bottom obstacle avoidance sensors to help avoid collisions.
Can the SwellPro Splash Drone 4 be operated with a remote controller?
Yes, the SwellPro Splash Drone 4 can be operated using the included waterproof remote controller.
Is the SwellPro Splash Drone 4 compatible with FPV goggles?
Yes, the SwellPro Splash Drone 4 is compatible with FPV (First Person View) goggles for an immersive flying experience.
What is the maximum wind resistance of the SwellPro Splash Drone 4?
The SwellPro Splash Drone 4 can withstand winds of up to 12 meters per second (27 miles per hour).
Does the SwellPro Splash Drone 4 have a return-to-home feature?
Yes, the SwellPro Splash Drone 4 has a return-to-home feature that allows it to automatically return to its takeoff point.
Grab a SwellPro and Go "Fly" Fishing
---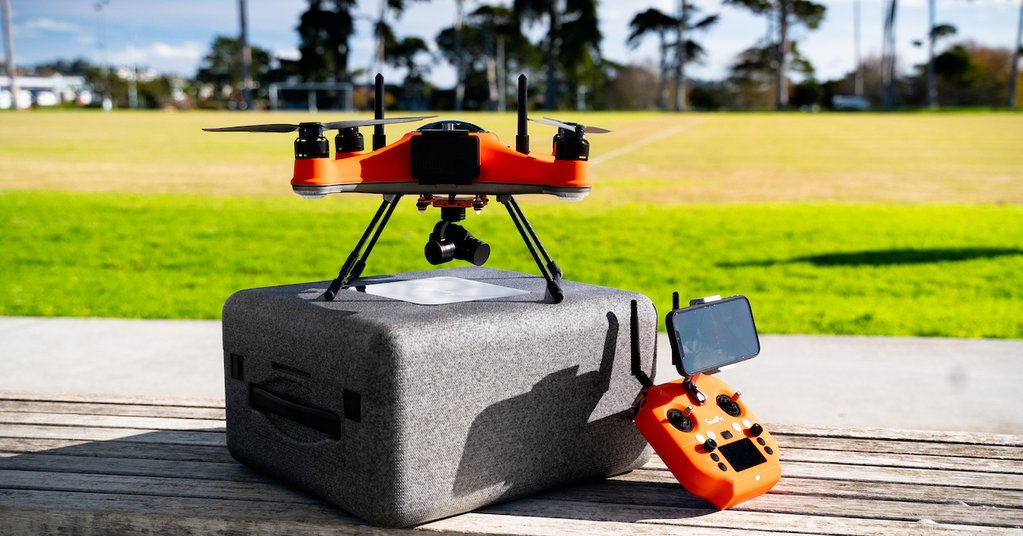 More and more drones are showing up at our beaches, lakes, jetties and piers. The technology continues to advance and SwellPro continues to be an industry leader when it comes to waterproof fishing drones. There are other drones out there but none can compare with all the features on the new SwellPro Splash Drone 4.
If you are looking at getting into drone "fly" fishing, you really need to check out the SwellPro Line of fishing drones. Then decide for yourself if the SwellPro Splash Drone 4 is right for you. Then, go have fun and take up "Fly" fishing with a drone.
As always, stay safe, enjoy the journey and please try to leave it cleaner than you found it. If you have any comments, questions, ideas or suggestions please leave them in the comment section below and I'll get back to you asap. You can follow us on Facebook: Rex The Beach Angler, Instagram: thebeachangler7, Twitter: @AnglerBeach, and YouTube: Man Art Creations.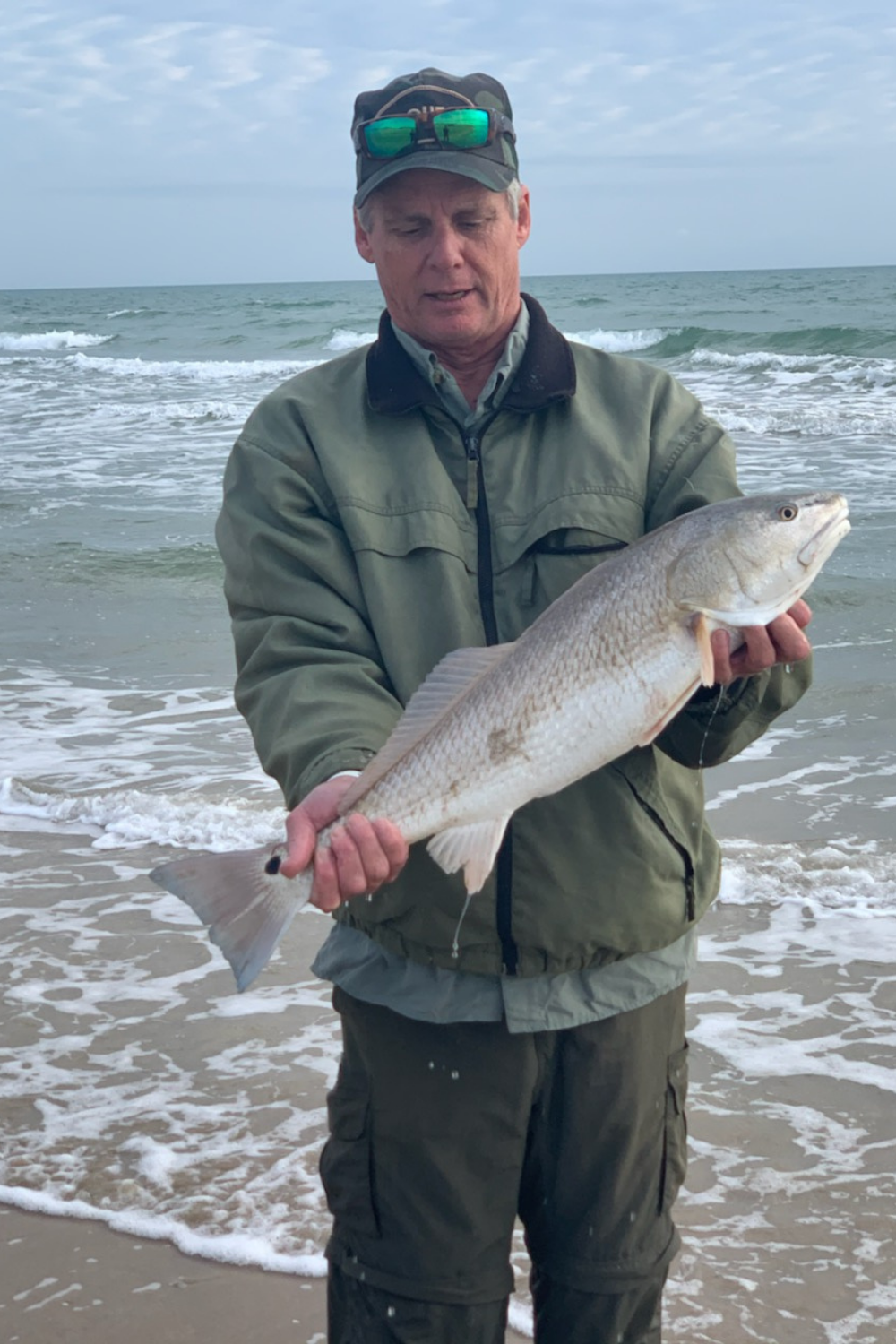 A life long surf fisherman with 50+ years of experience, I am also an avid hunter and outdoorsman. I will be sharing my passion for the outdoors with you so be prepared for hunting, fishing, camping, hiking and more. Along with gear reviews and the latest trends and innovations in the outdoor industry.