As Fishermen, we are all too familiar with the fact that fishing gear is expensive and only going to get more expensive over time. But there are some new companies that are emerging that offer direct to consumer sales of high quality less expensive fishing gear. Piscifun is one of those companies that can save you some serious money on equipment. And, Piscifun reels are built in the same factories, by the same workers, as the high priced "name" brand gear.
Now, I love my Shimano, Daiwa, Okuma and Penn rods and reels. I have some Penn reels that are over 50 years old and still fishing. But, I am also frugal and always looking for the best value for my money. I fish hard and my gear takes a lot of abuse from bouncing around in the back of my pick up while driving down the beach, to fishing in saltwater year round. In order for me to consider gear to be a good value it, not only must be a good price, but it has to stand up to hard use and the saltwater environment. The question for us here is, "does Piscifun reels fit that definition of value?" But first, "who the heck is Piscifun anyway?"

PISCIFUN REELS QUICKSHOT:
Piscifun reels are a high quality affordable alternative to some of the more popular name brand reels. Built in the same factory and by the same workers that build brands such as Daiwa, Piscifun reels are made with the same exacting standards and advanced technologies. Their direct to customer business model results in substantial savings by eliminating the markups from distributors and retailers. Piscifun reels can be a great choice if you are looking to get the most value for your fishing tackle dollar. They are made in and shipped from China. They come with a 30-day return policy and 1 year warranty. I give them an overall rating of 81 out of 100 – Recommended.
The Piscifun Story
---
Piscifun was founded in 2013 by Ben and Peter; the two close friends have always had a passion for fishing and family. This passion lead to the company slogan: "Fish with Family". As a fishing brand dedicated to offering high-quality, affordable fishing gear, Piscifun strives to cut down circulation costs. With this strategy, customers across the globe can equip themselves with high-quality fishing gear that will not break the bank.
Responding quickly to the needs of our customers is important to us. Speed and responsiveness are critical aspects of our business. Our manufacturers have always been front-runners. We take pride in being able to bring our customers the high quality they desire in a quick and efficient manner.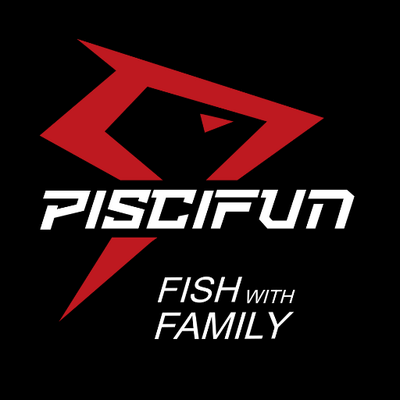 Piscifun – Beijing Paisifan Technology Co., Ltd
Business Address: Room 605, Floor 6, Inside 101, Floor 2-12, Building 1, Yard 15, Hongjunying South Road, Chaoyang District, Beijing
HAIHANG INDUSTRY(HK)CO.,LIMITED
FLAT/RM A12/F KIU FU COMMERCIAL BLDG 00 LOCKHART ROADWAN CHAI НK
Website: piscifun.com
Email: cs@piscifun.com
Piscifun (Pee-cee-fun) –"What does it mean?" Pisci means fish in Latin. Piscifun means Fishing is Fun. We want customers to know that Piscifun is here to make fishing fun and affordable again so that the average angler can afford high-quality gear.
Brand Background: Ben is an owner of a fishing product manufacturing facility. Having been dedicated to manufacturing fishing gear for over 20 years, the manufacturer not only supplies quality products to other well-known brands, but also fosters its own original design capabilities. Ben's friend Peter is an avid angler who has traveled to and fished many amazing fishing destinations, such as New Zealand, Malaysia, Florida, etc. Together, they bring you Piscifun.
Our Advantages: Our success is based on continuous devotion to our customers' needs. We are extremely focused on designing and developing what our customers want and need. We are dedicated to bringing you the best and most cost effective reels on the market today. In order to create great products, we work with Pro Fishermen all over the world to gain knowledge and insight on what anglers want. This design process ensures that you are receiving a top-notch product.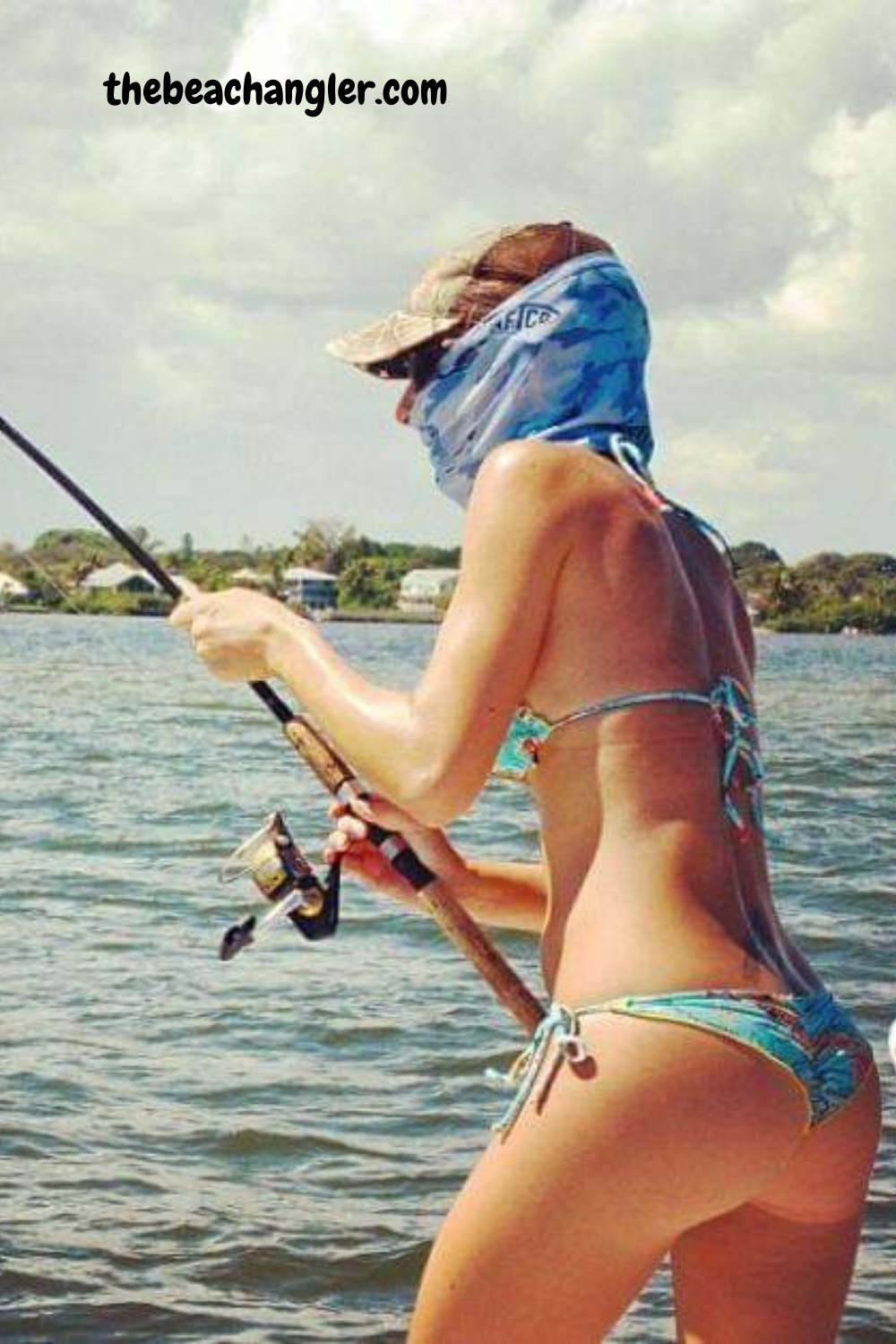 Our Mission: To provide cost-effective fishing reels, fishing rods and other accessories that help anglers save money and have fun on the water. We are dedicated to producing the highest quality products, we will not settle for poor craftsmanship, we will not settle for less.
Piscifun Fishing Reels – Quality and Price
---
Anytime you are dealing with a new tackle company or just one you are not familiar with, you will naturally have some questions. So, let's take a look at some of the most common questions. For Example:
1.) Is Piscifun a good brand? Piscifun produces high-quality fishing reels similar to popular brand reels priced much higher. They are manufactured by the same company that produces Abu Garcia and Diawa fishing equipment, Piscifun reels are built to the same precise standards and are an excellent value and great reels for experienced and beginner fishermen alike.
2.) How long does it take for Piscifun to deliver? The shipping generally takes 3 to 15 days to USA for delivery. Otherwise, shipping takes 1-2 weeks. All delivery times are quoted in business days, weekends and holidays excluded.
3.) Are Piscifun reels good quality? Piscifun produces high-quality fishing reels similar to more familiar brand reels priced much higher. Piscifun reels are built to the same precise standards and in the same factory as brands like Abu Garcia and Daiwa.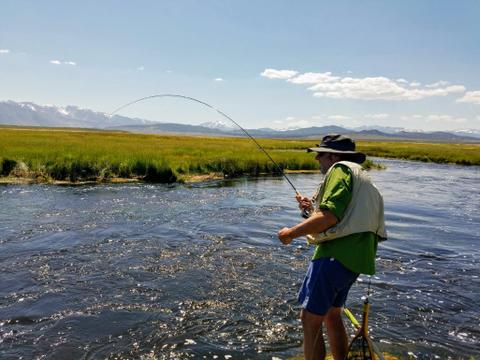 4.) Who makes Piscifun? Piscifun reels are made in China in the same factory as Diawa. The Carbon X is the same frame and bearing material as the Daiwa Tatula spinning reel. In fact, most fishing reel brands are now made in China.
5.) What about Customer support? With Piscifun you get quality reels at a great price. By selling fishing gear directly to anglers, they can offer you quality products without the up charges from the distributors and retailers. They are manufactured to the same quality standards and in the same factories as some of the most popular name brands. They are committed to customer support and stand behind their products with a 1-year warranty and 30-day return policy.
Piscifun Warranty:
Most products are supplied with a manufacturer's 1 year warranty from the date of receipt against defects in workmanship or materials (unless otherwise stated). This warranty applies only to the original purchaser. Piscifun® is not responsible for normal wear and tear, for products used commercially or for failures caused by accidents, abuse, alteration, modification, misuse or improper care.
Return Policy – Piscifun:
If you are not completely satisfied with an item you have purchased from our site, return or exchange it to us within 30 days after received, less any shipping fees incurred by the seller or purchaser. If you are returning items that were ordered as part of a promotional discount or were bundled, we will gladly accept the return; however, the value of the discount, free product, or gift card will be deducted from your reimbursement. If a product arrives damaged or your order is incorrect in any way, please contact customer service for assistance at cs@piscifun.com
Piscifun Casting Reels
---
Piscifun produces high quality Casting Reels for everything from bass fishing to saltwater inshore plugging, surf casting to offshore trolling reels. Piscifun casting reels are designed by anglers for anglers. With features like dual braking, technique-specific gear ratios and extended handles, they have exactly what you need. The following are just a few examples.
Piscifun® Alloy M Baitcasting Reel, Low Profile Saltwater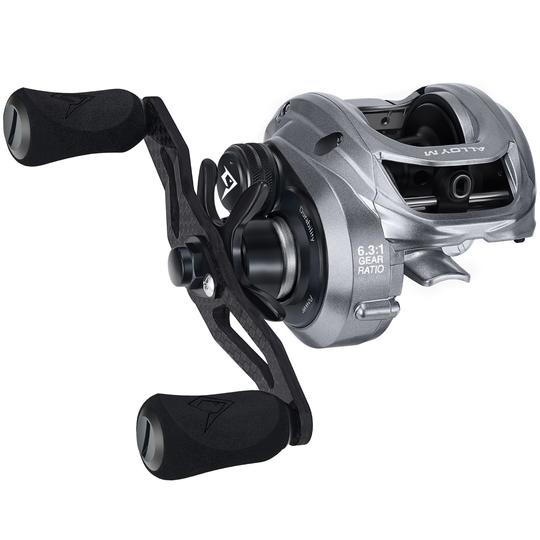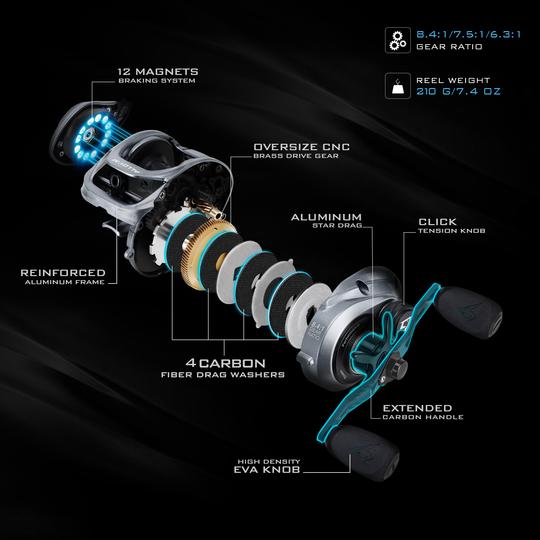 Excellent Durability – The ADC12 grade aluminum frame of the Alloy M baitcasting reel offers exceptional durability, corrosion resistance and impact resistance, which will help you battle hard fighting fish in fresh and saltwater.
Precise Magnetic Braking – Featuring a precise finely tuned magnetic braking system featuring 12 magnets, which offers quick on-the-fly adjustment to avoid backlashes no matter the conditions you face. Fewer backlashes mean more time casting and more fish in the boat.
Power House – The exquisite cooperation of four 10% larger carbon drag washers and one oversize Hamai CNC brass gear deliver 22lbs of drag and all the power you need! These features mean the Alloy M casting reel can easily handle pulling trophy fish from heavy cover. The Hamai cut technology is designed with more teeth than typical systems to increase the overall incredibly smooth performance.
Ultra Smooth Performance – Equipped with 8 double shielded high quality ball bearings and 1 roller bearing which provides an ultra smooth retrieve, even under heavy load. The high speed NMB bearings assist with maximum casting distance.
Committed to the Best Experience – The Alloy M baitcasting reel comes in 6.3:1, 7.5:1 & 8.4:1 gear ratio options making it very adaptable to multiple fishing techniques and styles. The extended carbon handle provides better leverage and the high density EVA knobs with the Piscifun logo are more durable and comfortable.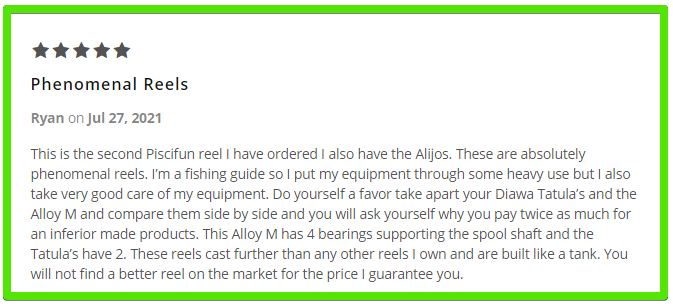 Piscifun® Chaos XS Round Baitcasting Reel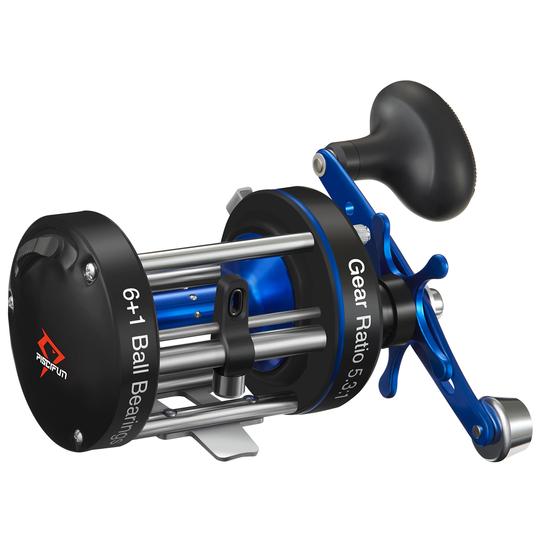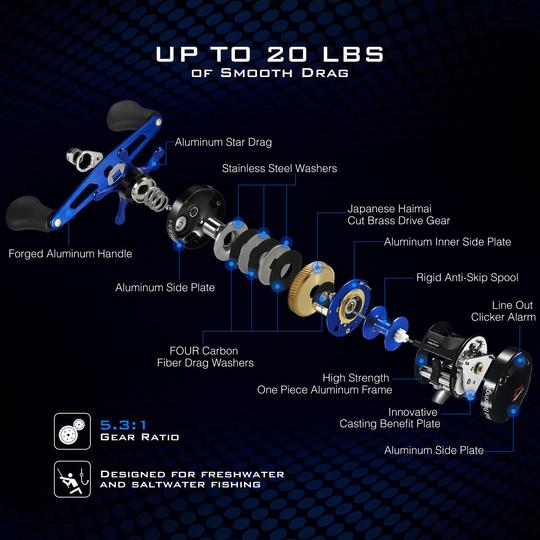 Professional Grade – The Chaos XS round baitcasting reel features a CNC caved, anti-line skip aluminum spool, this makes fishing and spooling much easier
Versatile – Engineered with 6 + 1 anti-corrosion bearings, smooth consistent drag and an extended forged handle, the Chaos XS conventional reel fits the bill for a variety of species and techniques
Innovative Cast Technology – Delivers superior casting performance and rock-solid durability. The innovative cast technology ensures a smoother & longer casting distance while reducing the chance of backlash.
Powerful – Premium Carbon Fiber Drag System paired with a Japanese Haimai-Cut brass main gear provides up to 20 pounds of stopping power to chase trophy fish
Performance – Designed to meet the demands of the most hardcore angler. The recessed reel foot helps the Chaos XS round reel keep a low profile on the rod making it easy to palm and cast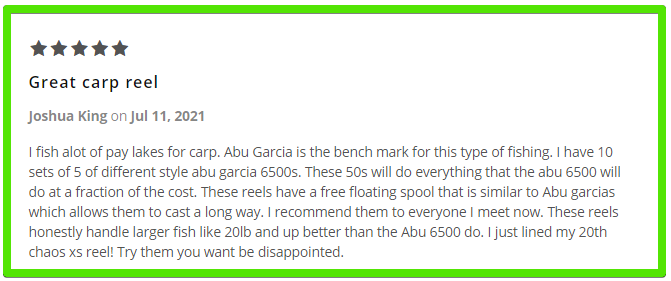 Piscifun® Salis X Trolling Reel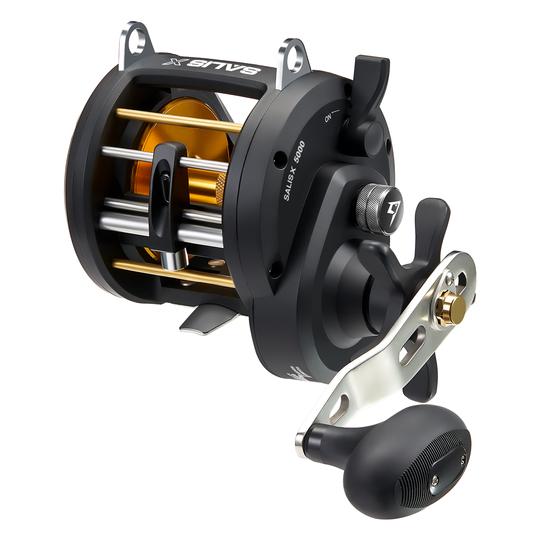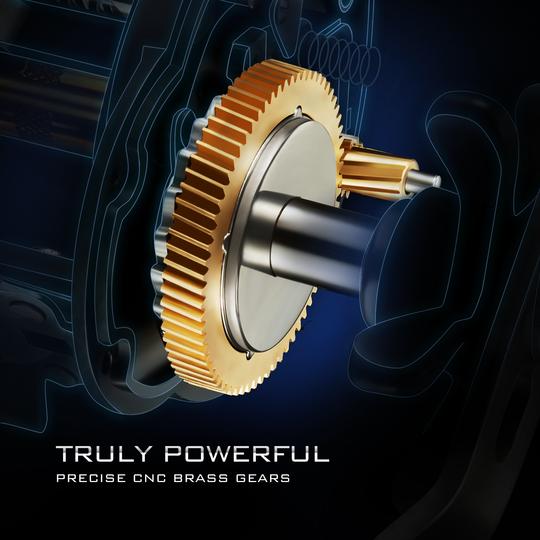 Built to Hunt Monsters – The Salis X trolling reels are constructed with extremely durable lightweight graphite frame and side plates paired with powerful stainless steel handle for big game fish in a variety of saltwater conditions.
Offer Incredible Power – Piscifun Salis X saltwater conventional reel is a real power machine! The top class carbon fiber washers deliver up to 37Lbs drag power, which helps fight against the biggest fish with ease. The precise Japanese Hamai Cut Gearing System greatly ensures the consistence to give you best in class performance.
Braid Ready Spool Design – The Salis X comes with a forged and machined aluminum spool which is braid ready to eliminate mono backing when spooling braided fishing line.
Faster Retrieve – Piscifun Salis X saltwater level wind reel features a 6.2:1 gear ratio which is faster than most trolling reels offered today. With this capability, you are able to control the battles with big fish.
More than Expected – The Salis X saltwater fishing reel is loaded with many unmatched features which cannot be found on other reels in its class which include an incredible strong stainless steel crank handle, super comfortable power knob, extremely durable and stable three bushings supported line winding, and an instant engage bait clicker.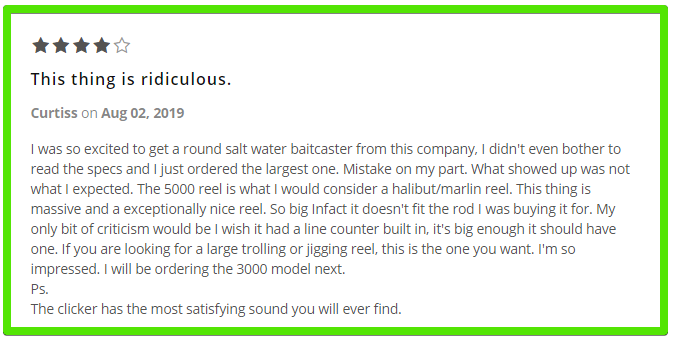 Piscifun Spinning Reels
---
Anglers want lighter, smoother, faster spinning reels. Piscifun, makes that happen for you. They design every reel with the angler in mind- from our super light Carbon X to their lightning fast Viper 2, they have got you covered. You can always find one spinning reel here for bass, crappie, trout or other species at an affordable price. Spinning reels designed for everything from ultra light to big offshore bait feeder reels. Here are just a few of the qualtiy Piscifun spinning reels available.
Piscifun® Viper X Spinning Reel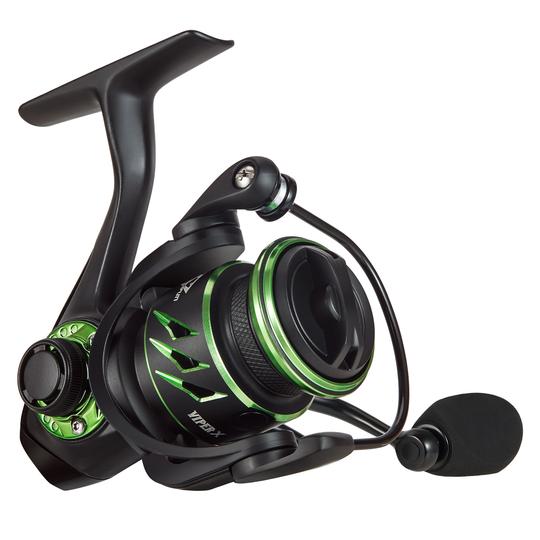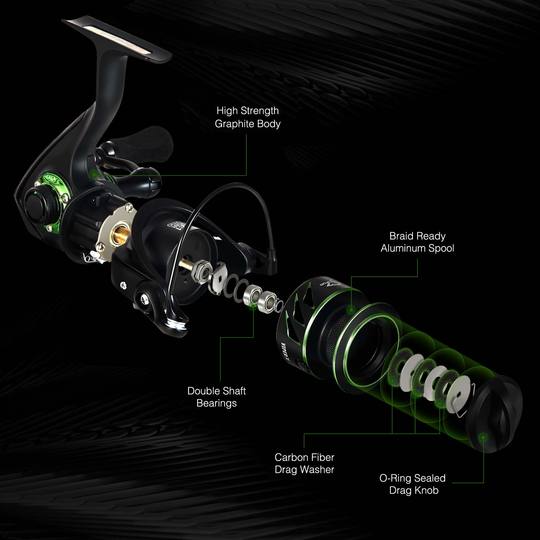 Lighter & Stronger – Based on high quality graphite material, new mold technology was applied for the Viper X fish reel on frame and rotor. This makes the Viper X spinning reels lighter and more stylish while ensuring the overall strength.
Multiple Retrieves – The Piscifun Viper X spinning reel features a lightning fast 6.2:1 gear ratio as well as a buttery smooth 5.2:1 in our 500,1000 and 5000 model. These 2 gear ratios are the perfect combination, the high speed retrieve helps every angler battle the strong, fast runs of the biggest fish and the moderate speed is perfect for finessing in your next trophy.
Smooth & Consistent – Double shielded 10+1 stainless steel bearings provide incredible smoothness for the Viper X fishing spinning reels. The reinforced stainless steel main shaft and Zinc alloy drive gear paired with carbon washers give you smoother and more consistent performance, no more stuck or line breaking.
Increased Waterproof – Innovative Waterproof Tech including the one way clutch bushing, one way clutch plate, stainless steel washer and shielded stainless steel bearing, prevents water and dirt from entering the house. Greatly helpful to keep the best performance for your Viper X spinning reel.
Unbeatable Affordable – Tiny details highlight premium quality. Such as the high density EVA knob, CNC machined braid ready spool and exquisite plating accessories etc. The best feature is the affordable price, Piscifun is dedicated to offering high quality, affordably priced fishing reels backed by outstanding Customer Service.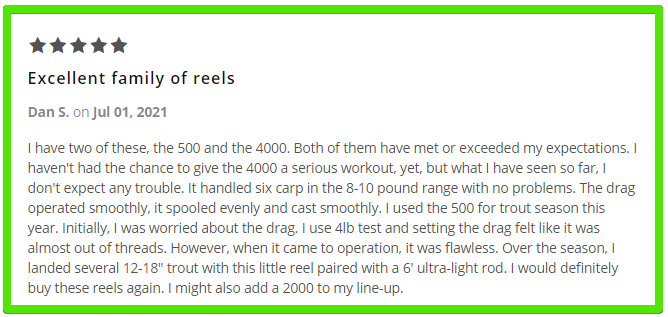 Piscifun® Alloy X Spinning Reel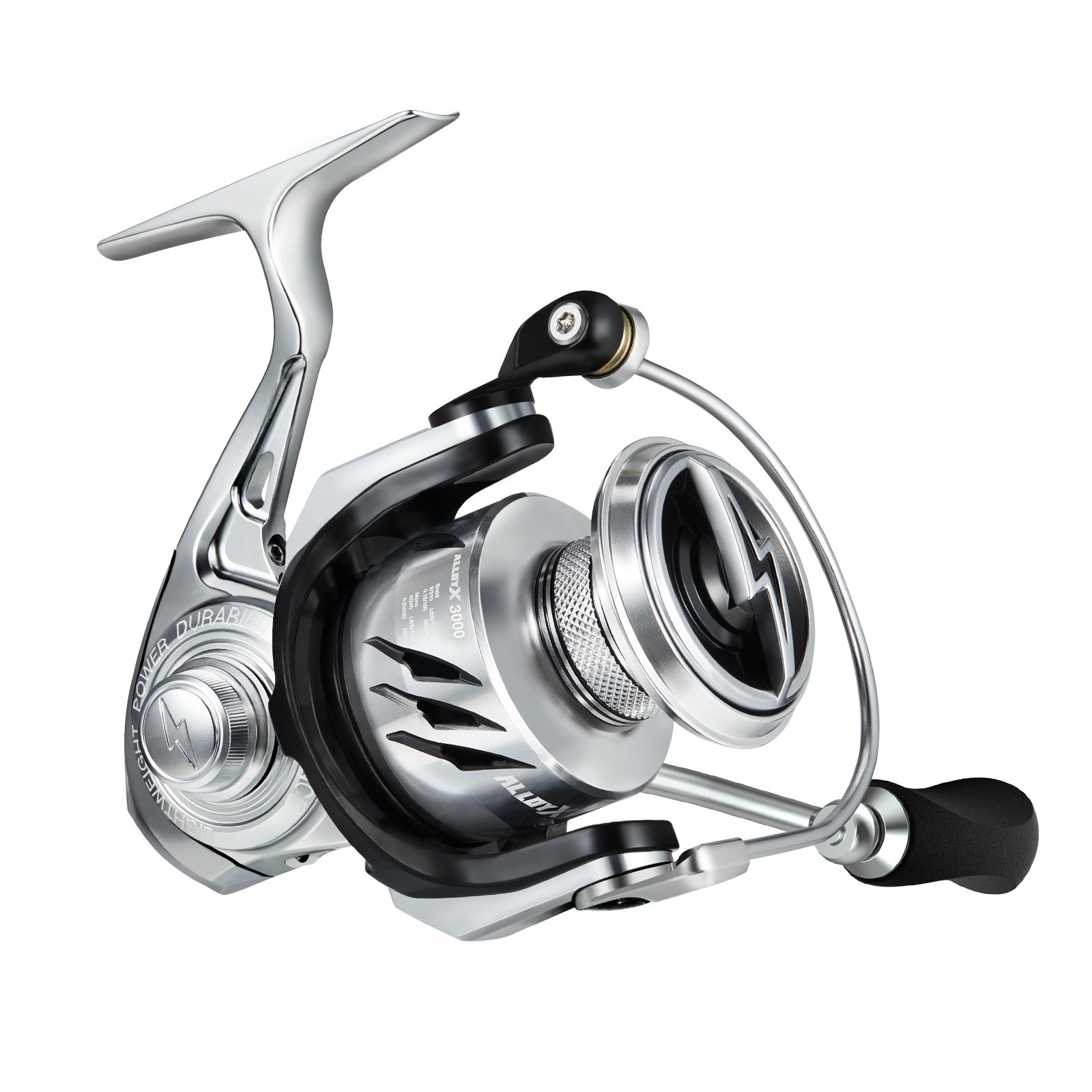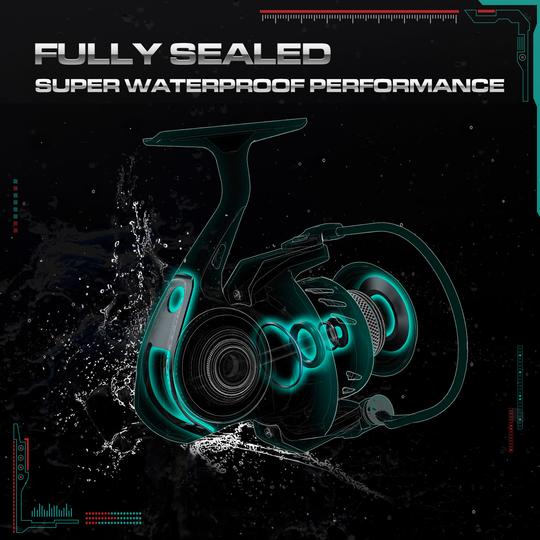 Strong & Durable – The Piscifun Alloy X spinning reel is constructed with a one piece precisely CNC machined body to hold larger internal gearing components which offers a 25% increase in strength and durability.
Waterproof Design – The Alloy X fishing spinning reel comes with strong seals from the drag knob to the reel's main body to block the invasion of water, dust and debris. This ensures great reliability, durability and performance when fishing the Alloy X under harsh elements and conditions.
Premium One Piece Bail Wire– Allows the line to travel unimpeded to the line roller. This seamless design and special surface treatment reduces friction and line tangles while using the Alloy X spinning reel.
Light & Tough – The precise machining process accurately removes unnecessary corners, the weight of Alloy X spinning reel is reduced and the strength is ensured. This also greatly reduces the fatigue placed on your wrist over a long day of chasing trophy fish.
Unique & Innovative – The Alloy X is loaded with incredible features like our easy to maintain back cover, super powerful carbon fiber drag and tough alloy drive gear, direct drive screw-in aluminum handle, hollow shaped spool, smooth positive click drag, and high density EVA knob. These features are typically found in spinning reels in a much higher price range, but we have made Alloy X spinning reel affordable for everyone.

Piscifun® Carnivore X Baitfeeder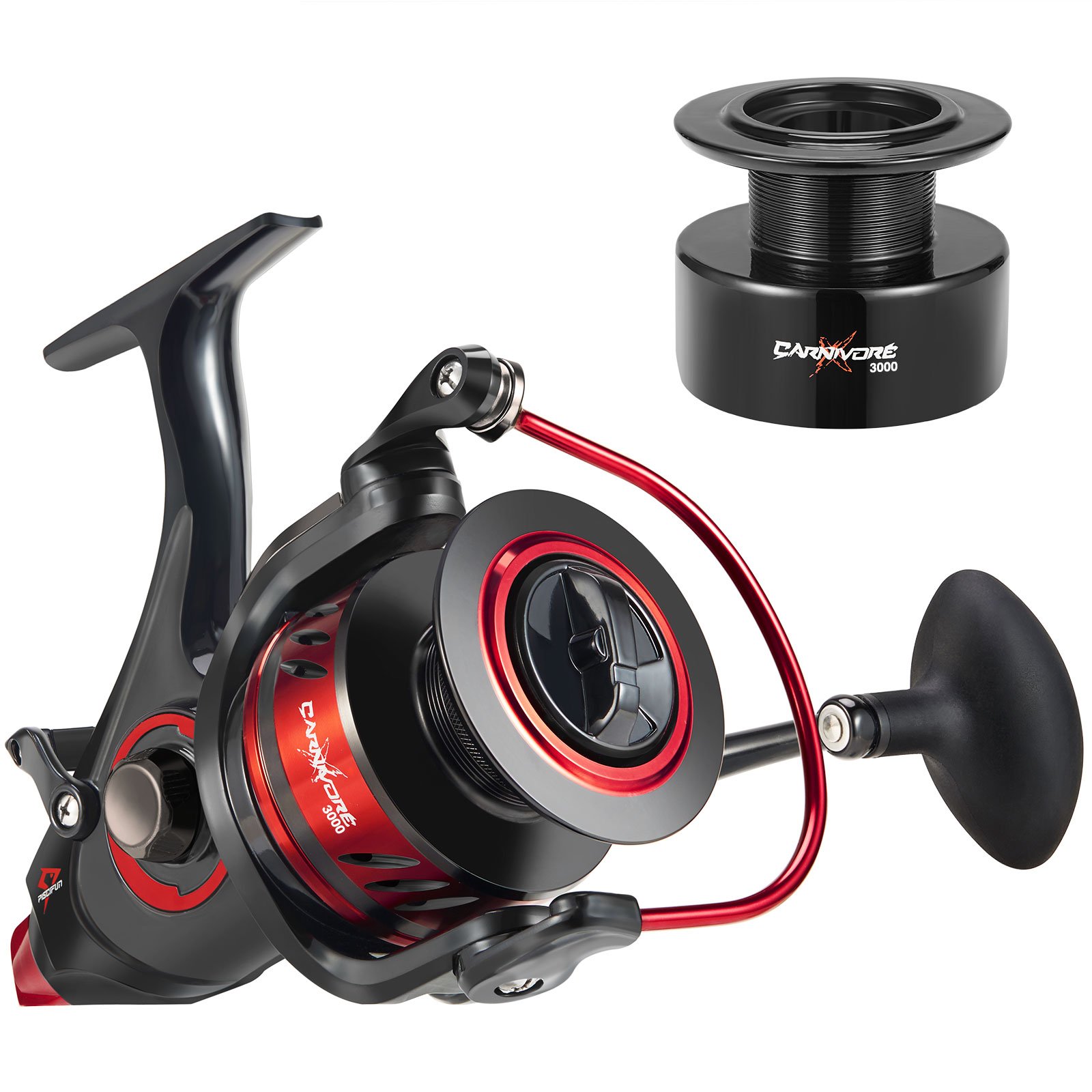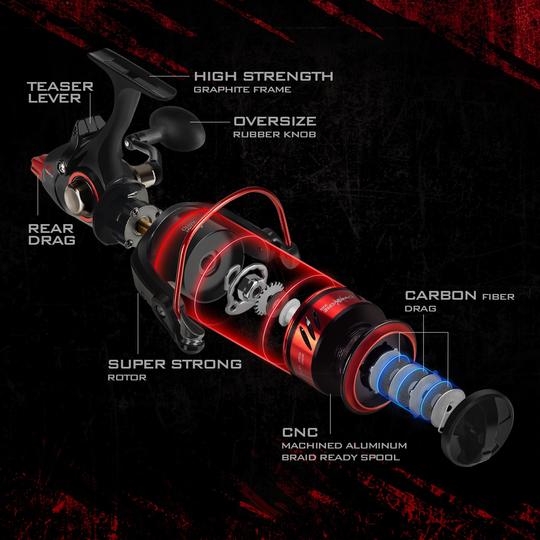 Incredibly Powerful & Strong – The main body and the rotor of Carnivore X are made of high-end graphite, ensuring the overall strength of the reel, this makes it suitable for many different fishing techniques. The top class carbon fiber washers deliver up to 26.5lbs/12.5kg of drag power.
Super Smooth – The precise cut gearing system greatly ensures the smoothness and performance of the reel. Triple premium carbon drag washers gives you ultimate smooth drag operation when battling big fish.
Durable – Piscifun Carnivore X bait feeder spinning reel with classic front and rear drag functions. Provides incredible durability to handle both freshwater and saltwater fish.
Braid Ready Spool – The Carnivore X bait feeder spinning reel comes with a forged and machined aluminum spool which is braid ready to eliminate mono backing when spooling braided fishing line. The free extra graphite spool gives you an extra option.
Power Handle – All models of Carnivore X reels are equipped with a large T-shaped rubber handle, which makes the use of reel easier and greatly improves the comfort of the grip.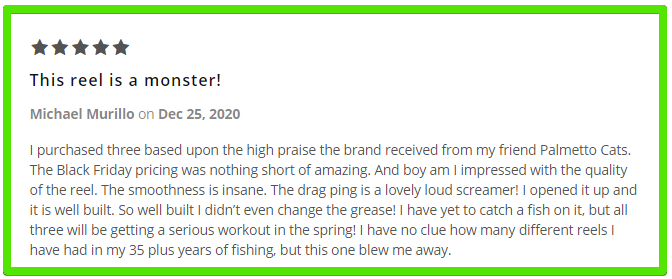 Piscifun Fly Reels
---
Piscifun fly reels having stood the test of time and won the praises of fly fishers around the world. Strong drags, smooth performance, stunning finishes, durable, and at a great price, You can find fly reels for freshwater or saltwater fly-fishing at Piscifun. The following are just a few of the more popular models.
Piscifun® Sword Fly Fishing Reel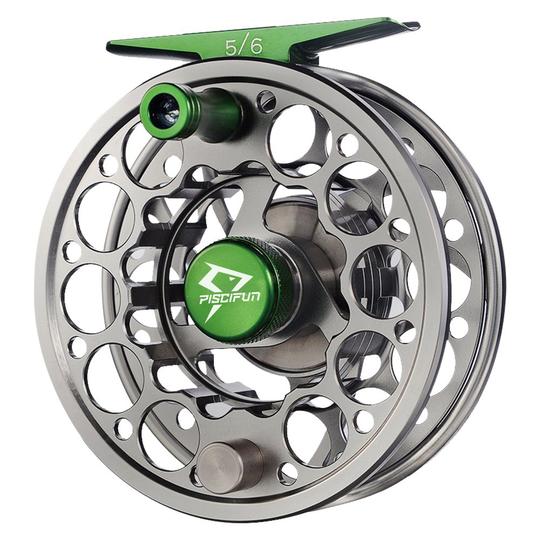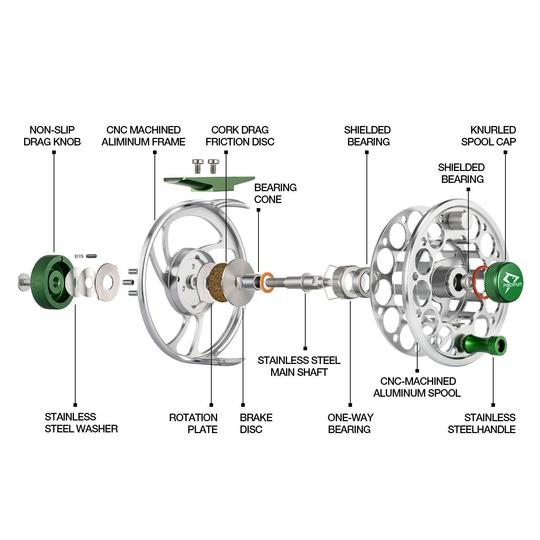 SOLID and LIGHTER WEIGHT – Precision CNC-machined 6061-T6 aluminum alloy for high-impact durability; Larger CNC hollow design makes the reel lighter than ordinary ones.
SILKY SMOOTH DRAG – Multi-disc cork and stainless steel drag system with a one-way clutch bearing for smooth immediate drag engagement. Accurate click drag and silent retrieve.
CORROSION RESISTANCE – Hard anodized for surface protection increases abrasion resistance and weather fastness; Cold forged and tempered for superior strength and rigidity.
Mid-ARBOR DESIGN – Reducing line memory while also facilitating lightning-quick line pickup.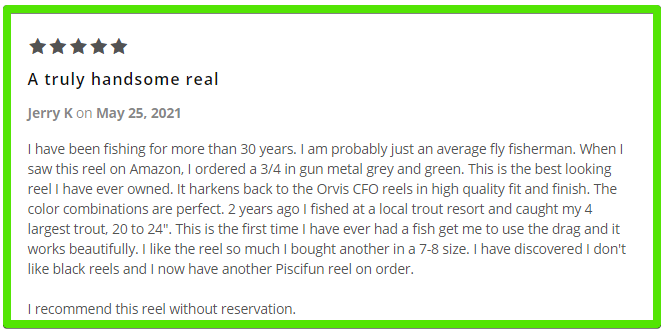 Piscifun® Platte Pro Fly Reel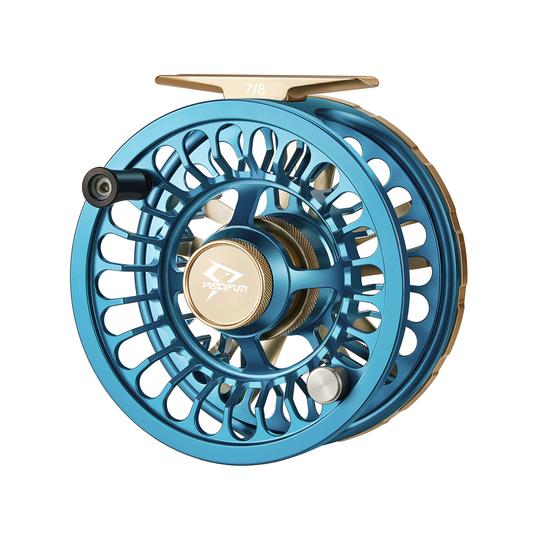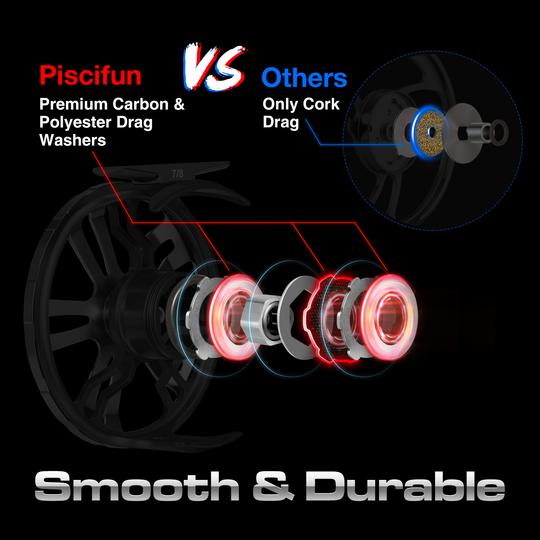 Innovative Full-size Drag Knob – The compact, ergonomically designed Platte Pro frame is ultra-comfortable. Provides better grip.
Fully Sealed Drag – The drag system of Platte pro fly-fishing reel is fully sealed by sturdy rubber O ring, which is impervious to water, sand and grit. The excellent corrosion resistant performance makes it a great reel for both fresh and saltwater fishing.
Precisely CNC Machined Aluminum Body – Platte Pro fly reel body is made of high quality 6061-T6 aircraft aluminum alloy and made by Japanese Brother CNC Machine. This helps the reel come with superior quality, lightweight and strength. Meanwhile, promotion Die-cast technology makes the spool much smoother.
Large Arbor Spool Design – Increases retrieve rate and holds more backing and fly line to give you the edge over freshwater and saltwater species.
Click Drag & Retrieve – Platte Pro fly reel features click retrieve design which provides you a super sweet sound when reel the line in. At the meantime, you will also enjoy its drag sound.
Piscifun Reels Pros and Cons
---
In the table below, I have listed what are, in my opinion, the Pros and Cons of Piscifun reels. As always, if you think you might be interested in Piscifun reels, I suggest you click the button below and check them out for yourself. Only you know what is important to you and your fishing situations. You can check out all the high quality fishing gear and tackle at Piscifun.
Piscifun Reels Pros
Piscifun Reels Cons
| | |
| --- | --- |
| Highest Quality Manufacturing Standards | Shipping From China Takes up to 15-days |
| Same Factory and technology as Popular Brands | Can't try before you buy |
| Direct to Customer Sales | May be hard to get service and parts locally |
| Great Price Compared to Popular Brands | |
| One Year Warranty, 30-day Return Policy | |
Piscifun Reels – Final Verdict
---
Piscifun reels are a high quality and affordable alternative to some of the name brand manufacturers.
Made by, and in the same factory, as the folks that make Daiwa reels they bear striking resemblance to some of the "name" brand models you may be familiar with.
Piscifun is a direct to consumer company so you don't have the luxury of being able to check them out first before you buy.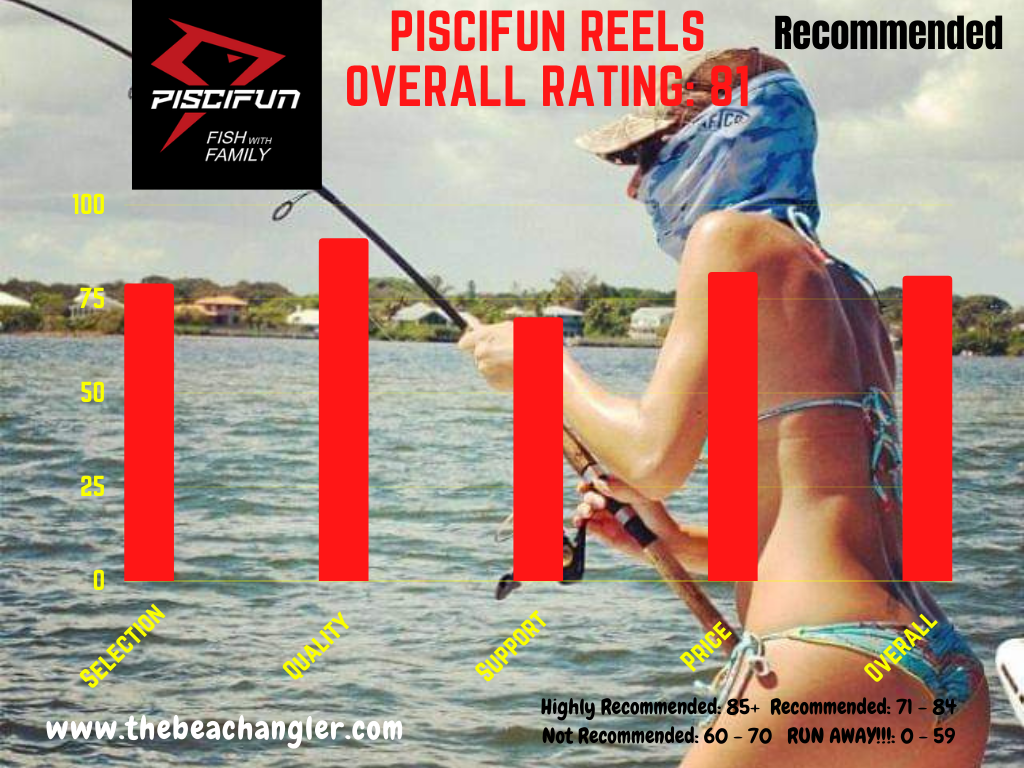 If you need parts and repairs, you may have difficulty finding a tackle shop to work on them, and parts will have to be ordered from Piscifun and shipped from China. Because of these facts, as you can see in the chart below I give Piscifun reels an overall rating of 81 out of 100.
Frequently Asked Questions About Piscifun Reels
---
What is Piscifun?
Piscifun is a brand that specializes in manufacturing fishing reels and other fishing gear. They are known for producing high-quality products at affordable prices.
Are Piscifun fishing reels durable?
Yes, Piscifun fishing reels are known for their durability. They are designed using high-quality materials and undergo rigorous testing to ensure they can withstand the demands of fishing.
What types of fishing reels does Piscifun offer?
Piscifun offers a wide range of fishing reels, including spinning reels, baitcasting reels, fly reels, and trolling reels. Each type is designed for specific fishing techniques and preferences.
Are Piscifun reels suitable for saltwater fishing?
Yes, Piscifun reels are designed to handle both freshwater and saltwater fishing. They incorporate corrosion-resistant materials and coatings to protect against the harsh conditions of saltwater environments.
How do I choose the right Piscifun fishing reel?
When choosing a Piscifun fishing reel, consider factors such as the fishing technique you'll be using, the species you'll be targeting, the reel's gear ratio, drag system, and line capacity. Piscifun provides detailed specifications for each reel to help you make an informed decision.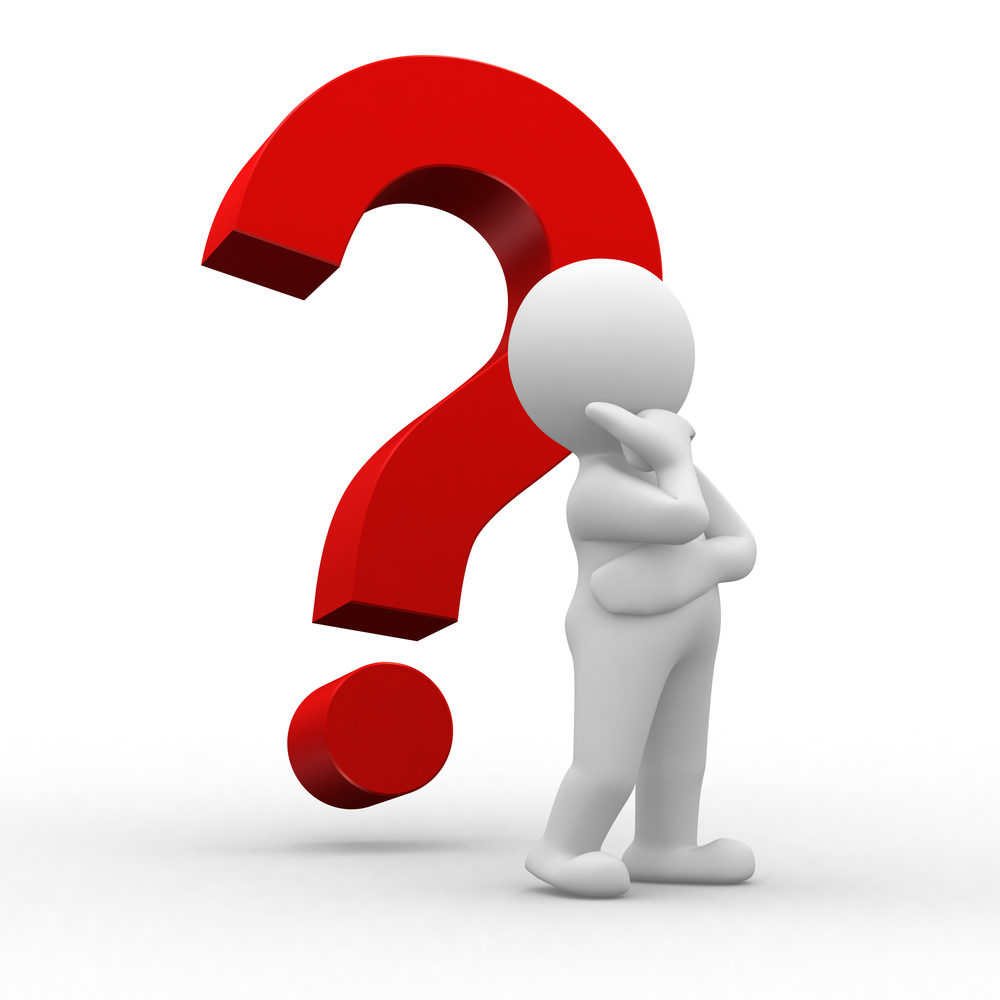 Are Piscifun reels suitable for beginners?
Yes, Piscifun reels are popular among beginners due to their user-friendly designs and affordable prices. They offer a good balance of performance and ease of use, making them suitable for anglers of all skill levels.
Can I use Piscifun reels for freshwater fishing?
Absolutely! Piscifun reels are versatile and suitable for various freshwater fishing applications, including lake fishing, river fishing, and pond fishing.
Are spare parts available for Piscifun reels?
Yes, Piscifun provides spare parts for their reels. In case any part needs replacement, you can contact their customer support or visit their official website to order the required parts.
Does Piscifun offer a warranty for their fishing reels?
Yes, Piscifun offers a warranty for their fishing reels. The warranty period may vary depending on the specific model, but they generally provide a warranty against defects in materials and workmanship.
Where can I purchase Piscifun fishing reels?
Piscifun fishing reels are available for purchase through various channels. You can buy them from authorized retailers, sporting goods stores, or directly from the Piscifun website.
Spend Less and Fish More with Piscifun?
---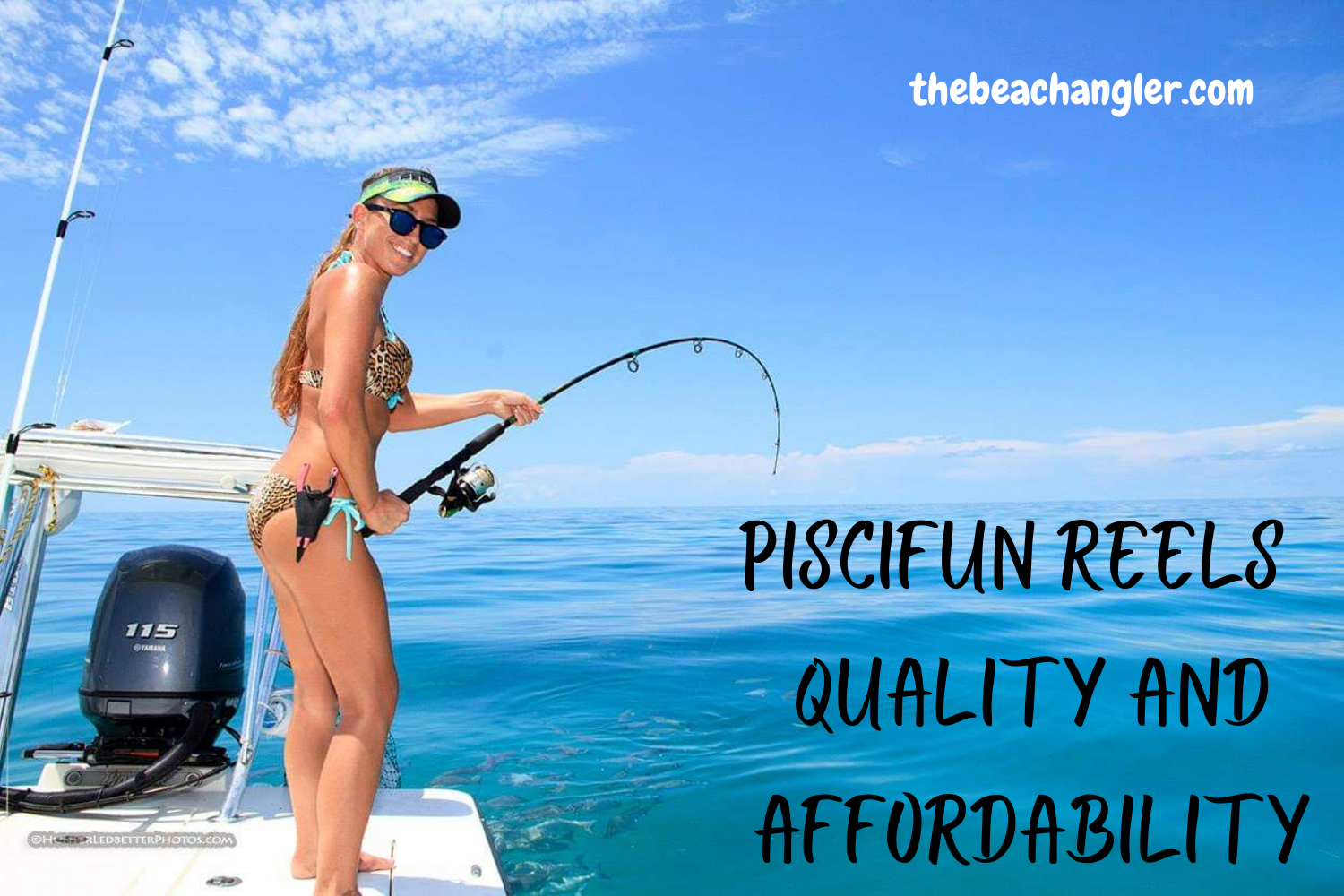 Piscifun has a wide variety of fishing gear in addition to fishing reels, check out the complete lineup of Piscifun fishing rods, reels, combos and gear at piscifun.com.
They make some of the name brands you are probably using now, and their Piscifun products are made with the same care and technology, but at about half the price of the name brands.
They have been putting together an impressive pro staff, and one of their pro staff recently won a BassMasters tournament using Piscifun tackle. I know, "made in China", but just remember, brand names like Daiwa and yes even Penn are now made in China.
As always, stay safe, enjoy the journey and please try to leave it cleaner than you found it. If you have any comments, questions, ideas or suggestions please leave them in the comment section below and I'll get back to you asap. You can follow us on Facebook: Rex The Beach Angler, Instagram: thebeachangler7, Twitter: @AnglerBeach, and YouTube: Man Art Creations.