There has been a new fishing drone to hit the market recently. The SharkX waterproof fishing drone. As drone technology advances, and capabilities continue to improve, Fisherman now have the opportunity to fish areas impossible to reach previously from the shore, and to fish bigger baits for bigger fish than ever before.
The SharkX fishing drone from Rippton, is the latest 100% waterproof dedicated fishing drone to be released. Let's take a closer look at the SharkX and see what it has to offer and how it stacks up to the drones from SwellPro and Gannet. And, ultimately if it is a good drone choice for you and your drone fishing situation.
Quick Look:
The Rippton SharkX fishing drone is a dedicated, 100% waterproof fishing drone. No cameras or extra attachments are available. This drone is strictly for fishing. It is a large well-built drone with a load capacity of 3KG (6.6lbs) putting it between the SwellPro FD1 and the Gannet Pro Plus when it comes to carrying capacity. Giving you the option to fish bigger baits. The advanced GPS abilities of the SharkX allows you to program flights for a hands off bait delivery system. If all you want is a fishing drone and you don't need a camera feature, then the SharkX could be just what you're looking for.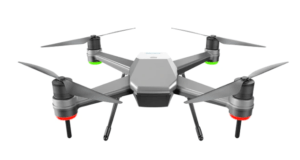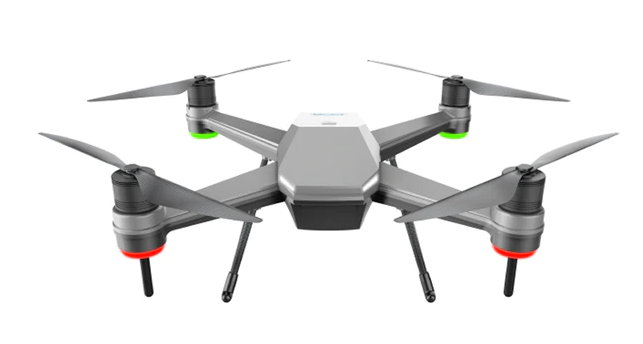 Rippton's SharkX fishing drone is a large, powerful and well built drone designed specifically as a fishing drone.
Payload Capacity
3 KG or 6.6 LBS
Auto Pilot
Drone can fly itself
Waterproof and Wind Resistance
100% Ip66 waterproof, 26MPH wind rating
Price
Moderate Price but Less accessories
Pros
Waterproof and Wind Resistant
Cons
Must supply your own device for view screen
Only supplied with one battery
Surf Fishing with a Drone
---
For years surf fisherman, particularly beach shark fisherman, have been looking for ways to get their bait further from shore than they could cast. Everything from inflatable rafts, zodiacs, personal watercraft, and kayaks are used to carry big baits far offshore where the big ones hang out. Sometimes however, the weather and waves made these methods difficult to impossible and often too dangerous.
In recent years there have been other options for bait deployment developed. The bait cannons to launch your bait off shore.
Radio controlled bait boats to float your bait out and drop it, and the use of drones. The first drones used for fishing were simply modified hobby drones.
Their major drawbacks were limited carrying capacity and they weren't waterproof so if they crashed in the water, it was the end of your drone.
Fishing Drones
Drone manufactures took notice of these limitations, and the growing sport of drone fishing, and began to develop dedicated fishing drones. These new drones were designed with larger carrying capacities and were built to be 100% waterproof with some even able to land and take off from the water.
We've looked at some of these previously. Drones like the SwellPro fisherman FD1, SwellPro Splash Drone series, the Gannet Pro Plus Drone, and now the Rippton SharkX Fishing Drone. All are designed from the ground up to be first and foremost fishing drones. Each has its pros and cons and some have an assortment of available accessories you can add.
Is Fishing with a Drone Legal?
Yes and No. IMPORTANT REMINDER: Check your local regulations regarding drone use. Some beaches, particularly national or state parks, are closed to drone usage. There are plenty of open areas where drones are permitted. Just "Know Before You Go".
The Rippton SharkX Fishing Drone Story
---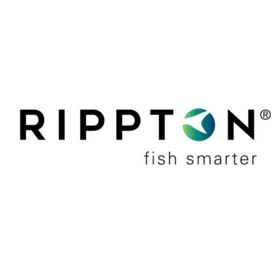 Contact information:
Ningbo Pelican Smart Fishing Tackle Co., Ltd.
Address: No.16, Yongchang Road, Chengdong Industrial Park, Xiangshan County, Ningbo City, Zhejiang Province, China
Phone: +86 0574 87399966
Website: rippton.com
Founded in 2017, Ningbo Pelican Smart Fishing Tackle Co., Ltd. (under the trademark Rippton) is a forward-looking smart fishing tackle company focused on building fishing products and solutions for anglers. Rippton is committed to building a fishing ecosystem by integrating hardware and software.
Rippton has its powerful R&D and manufacturing center with advanced robotics-based hardware and algorithm technology. By far, the product range has included independently developed smart fishing drones, bait boats, bite alarms, fish finders etc.
All the smart devices can be controlled by the APP "Rippton". Rippton strives to make fishing smarter utilizing cutting-edge technologies for anglers while maintaining the fun of fishing.
The Rippton SharkX Waterproof Fishing Drone
---
The SharkX fishing drone has been designed and built from the ground up to be a pure, 100% waterproof, fishing drone.
No added cameras, or frills. Just loaded with features like its advanced GPS technology, large payload capacity and heavy wind resistance ratings.
With the SharkX, you can fish smarter, safer and without worry about rain or a water landing.
Check out the following features and specifications of the Rippton SharkX fishing drone and see for yourself just how special this fishing drone is. You may just find that it's the fishing drone you've been looking for.
Failsafe Auto built-in return system: If the SharkX ever loses signal, or the battery level gets too low, the drone will automatically drop the payload and return to its take off point.
Remaining Range indicator: Screen indicator that allows you to see how much longer the SharkX can operate under the current load and remaining battery charge.
Electronic Fence: Use the advanced GPS technology of the SharkX fishing drone to set up an invisible boundary that the drone will not pass.
Overloading Alert: The auto weighing feature of the SharkX will alert you if your payload exceeds the drones carrying capacity. And, if you continue to fly, the drone will automatically drop the payload to avoid damaging the drone.
Environmental Adaptability: With a wind resistance of 12 m/s (26.8 mph) and IP66 waterproof rating, the SharkX can keep fishing in rainy and windy weather that would ground other drones. Distance Is No Longer a Problem, with the SharkX you will be able to reach fishing spots previously not accessible from the beach.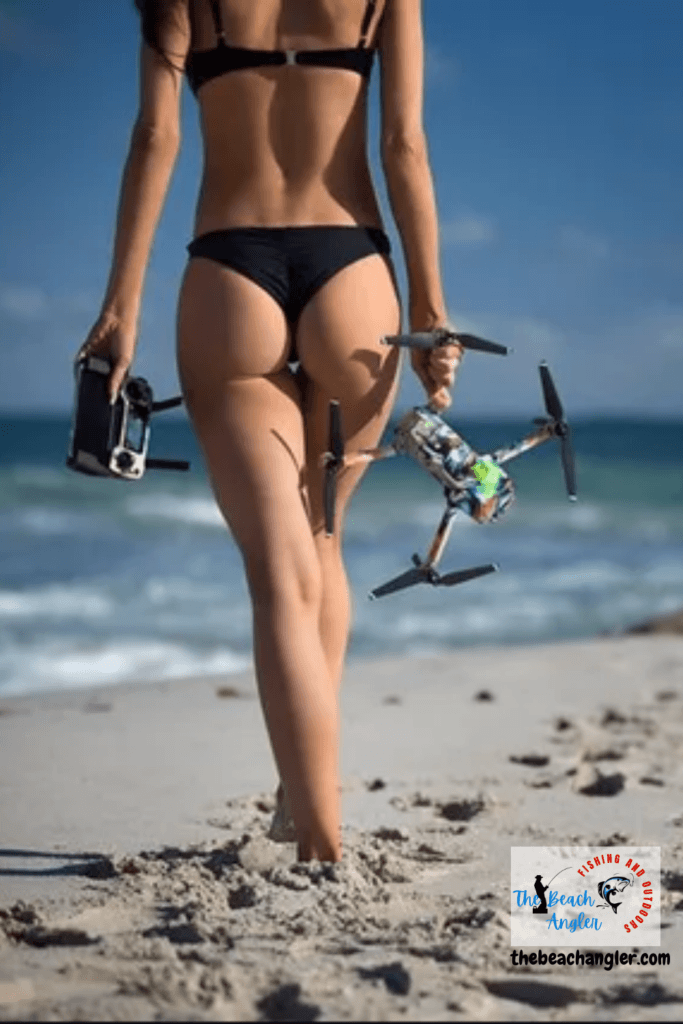 Powerful Flight Performance: The SharkX fishing drone features a 24-minute maximum flight time, 3 KG payload capacity and 26 mph wind resistance.
Tough Modular Design: Makes for easy replacement of components for quick and easy repairs and adjustments.
IP66 fully waterproof: The SharkX can land and take off from the water. No more worrying about your drone landing in the water.
Powered by Rippton's self-developed Gamma 2 flight control system and SharkX Firmware App: that is specially tailored for fishing, SharkX can achieve the stability and agility that other fishing drones cannot compare. Release your bait by just tapping on the screen. Drone and payload controls can be easily operated within simple screen taps. Your drone and flight control system will be continuously upgraded through free online software updates.
Autopilot Mode: Pre-program flights to drop your baits in designated spots and let the drone do the flying all by itself. It will fly out, drop the bait, and return home using its advanced GPS navigation.
What Do You Get with the SharkX Fishing Drone?
Specifications
Dimensions: 480X480X215mm
Weight: 2.4kg
Max speed: 10m/s
Propeller size: 16"
Max payload: 3kg
Remote range: 1km
IP class: IP66
Battery: 6000mAh Lipo 6S 25.2V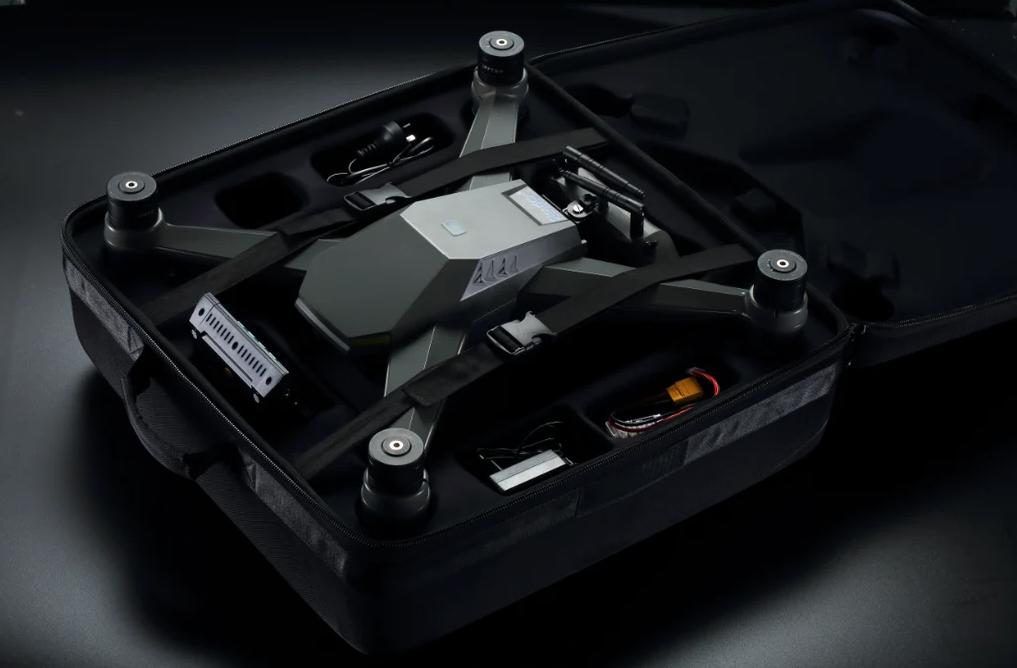 In the Package
SharkX Drone *1
Remote Control *1
Mobile Holder *1
Propeller * 6 (CW *3 & CCW *3)
Drone Battery *1
Battery Charger *1
Remote Control Charger *1
Battery Capacity Checker*1
Manuals *2
Neck Lanyard *1
Propeller Pouch*1
Propeller Box*1
Protective Carry Case*1
Comparison of the SharkX and SwellPro FD1
---
The SharkX fishing drone and the SwellPro Fisherman FD1 are similar in price and function. The SharkX has a slightly larger carrying capacity while the SwellPro has many more available attachments and accessories. The SwellPro comes with a built in screen in the controller and with the SharkX you will need to supply your own device for a screen.
| Feature | SharkX Fishing Drone | SwellPro FD1 Drone |
| --- | --- | --- |
| Image | | |
| Payload Capacity | 3.0 KG (6.61 LBS) | 2.0 KG (4.5 LBS) |
| Battery Life | 24 min | 30 min |
| Wind Resistance Rating | 26 MPH | 38 MPH |
| Available Accessories | None | Many |
| Effective Range | 1 KM (.62 Miles) | 3.0 Miles |
| Price | Same as SwellPro FD1 | Same as SharkX |
Pros and Cons of the SharkX Fishing Drone
---
In the table below you will find what are, in my opinion, some to the pros and cons of the SharkX fishing drone. As always do your own due diligence as only you know your unique fishing situations and budget limitations. The folks at Urban Drones (urbandrones.com) are very knowledgeable and helpful if you need advice and or technical assistance.
3Kg payload capacity/6.61 lbs
advanced GPS receiver
auto pilot flight planning
Auto weighing and overload release
adjustable return to home function
one tap bait release and return home
100% IP66 Waterproof
only comes with one battery
no spare propellers included
no camera options
must supply smart phone for controller
Final Thoughts on the SharkX Fishing Drone
---
The Rippton SharkX fishing drone is a large well-built fishing drone with enough carrying capacity to haul some large shark baits. Their GPS technology is superior to most of the drones on the market allowing you to pre-program your bait deployments and allow the drone to do all the flying on its own.
It would be nice if it came with its own view screen with the controller instead of needing supply your own smart phone. A camera option would be nice, but not necessary.
The SharkX comes with a single battery which limits your bait drops as you will need to recharge. Including an extra battery would be a nice improvement.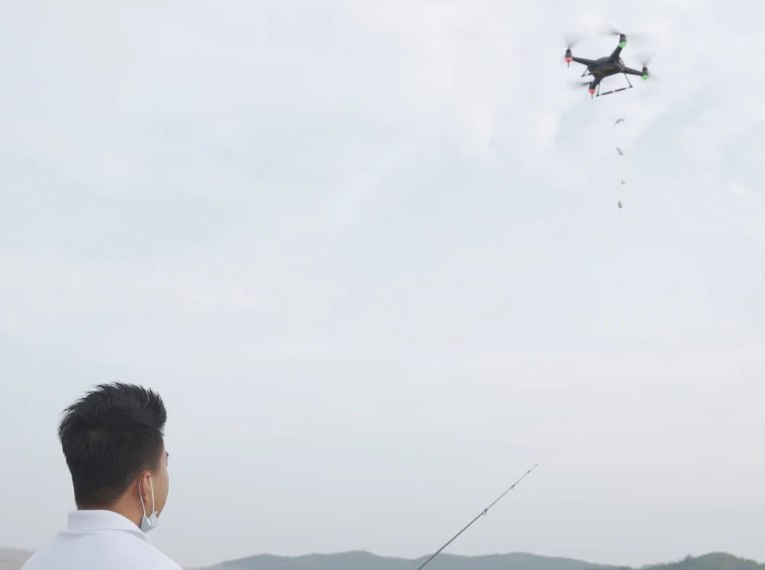 All in all, the SharkX fishing drone is a good fit for the fisherman looking for a strictly fishing drone and no need for additional frills or accessories. With it's 6.6 lb carrying capacity, advanced GPS technology, 100% Ip66 waterproof rating and moderate price it is a good drone choice for serious drone fisherman.
Grab a Drone and Go "Fly" Fishing
---
So, if you're looking to get your bait to areas that were previously out of reach, or wanting to carry shark baits offshore while staying high and dry on land, take a look at the waterproof fishing drones. The new SharkX fishing drone from Rippton is a solid well-built drone built solely for fishing.
Try a drone and go "fly-fishing". You will fish further than you ever thought possible and you will be able to fish in conditions that would cancel a kayak or zodiac fishing trip. And, with a waterproof fishing drone, you won't have to worry about any unexpected water landings killing your drone.
As always, stay safe, enjoy the journey and please try to leave it cleaner than you found it. If you have any comments, questions, ideas or suggestions please leave them in the comment section below and I'll get back to you asap. You can follow us on Facebook: Rex The Beach Angler, Instagram: thebeachangler7, Twitter: @AnglerBeach, and YouTube: Man Art Creations.