Cold weather surf fishing typically means cold temperatures, and water. So, what do you do? Sit at home all winter and watch fishing shows wishing you were at the beach fishing? How about going fishing instead of wishing? But, Can you surf fish when its cold?
I mean we all love Surf fishing when the weather and the water are warm. But, when old man winter rears his ugly head with cold water, cold air and often blustery winds and even rain, many of us head indoors. That's unfortunate because some of the best fishing of the year can be had in the fall and winter when water and weather conditions align.
And, there is a lot less competition for fishing spots and fish during the fall and winter. Most of the tourists and many of the fisherman are gone giving you more room to fish and more fish all to yourself. Of course, the best time of year for surf fishing will depend on where you are and what fish you are targeting.
In general, the fall and spring are when bait fish migrations move up and down the beach front which brings the predators in close as well.
But, even in the dead of winter, you can catch fish from the surf. You may have to adjust your tactics and gear, but there are fish to be caught. Ask those diehard surf fisherman in New York and New Jersey about winter surf fishing. 😉
The trick is, how to stay warm and dry when cold weather surf fishing. With a few minor additions to your fishing gear and clothing you can spend more time fishing and still be comfortable despite the colder temperatures.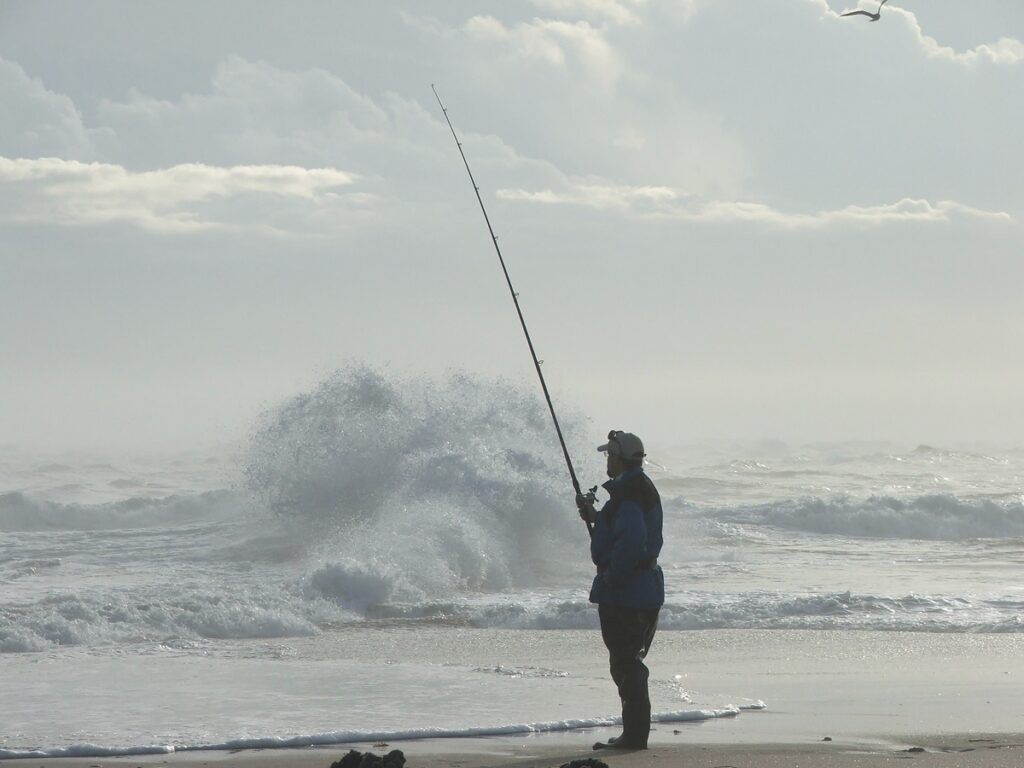 IN SHORT
For cold-weather surf fishing, you will want to wear several layers of clothing that you can easily take off, or add to, depending on your activity level and resulting body temperature. Layers like wool boot socks, a wool or synthetic base layer or thermal underwear, waterproof and wind proof jacket, neoprene fishing gloves, insulated hat or cap and a good pair of waders. The four essential areas to protect are: Head, Core, Hands and Feet.
The Four Essential Areas to Protect when Surf Fishing in Cold Weather
Essential Gear for Cold Weather Surf Fishing
---
What do you wear to surf fishing in the winter?
So, what are the secrets to cold weather surf fishing and what gear is essential for staying warm, dry and comfortable? Surf fishing means water and waves so how to, not only stay warm, but how to stay dry in the surf zone becomes important.
When it comes to warmth, think layers so you can add or subtract layers as the temperature changes. A good base layer like thermal underwear followed by a warm and insulating pants and shirt with a waterproof and wind proof jacket for an outer layer.
To stay dry, a good set of waders, pair of fishing gloves to keep your hands warm, warm heavy socks for your feet, and an insulated or knit hat will make your trip much more pleasant.
How to Dress for Cold Weather Surf Fishing
When beach fishing in cold weather you need to focus on the following 4 areas when it comes to staying warm, dry and comfortable.
1. Head – You lose up to 50% of your bodies heat through your head. A good insulated hat or cap will hold in that heat. Knit cap, ski mask, or even a hooded jacket will do the trick.
2. Core – Your bodies core is where all of your major organs and systems are located. If your core gets cold, you will be miserable. If it gets too cold, you could be facing hypothermia and that can be very serious even life threatening. A base thermal layer with insulated over shirt followed by a wind proof and waterproof jacket, preferable with a hood, will take care of most cold weather conditions.
3. Hands – In cold wet conditions your hands and fingers can get cold quick and it becomes harder to fish, and stay comfortable when your hands get cold. Neoprene fishing gloves will provide insulation and protection from the elements. Gloves can make things like rigging, reeling and handling fish a bit more cumbersome, but cold stiff fingers are even worse.
4. Feet – Nothing can ruin your day quicker than cold feet and toes. They become cold, then downright painful. Use thermal socks with a good pair of wool or synthetic boot socks under your waders to keep your feet warm and comfortable.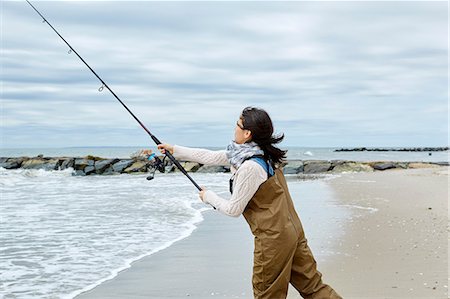 Always remember to dress in layers so you can adjust to the temperature and weather conditions as they change during your fishing adventures.
Also, carry some hand warmers just in case. You can put them in your gloves, pockets, even under you hat if the need for some extra warmth should arise.
Base Layers for Cold Weather Fishing
---
What exactly is a base layer?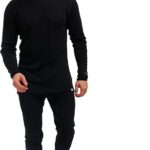 A base layer is the first layer of clothing closest to your skin and fits tight acting essentially as a 'second skin' as you go about your day. Base layers trap air next to your skin to insulate the body from cold and to absorb and wick away moisture to keep you dry. They are made of either natural or synthetic materials.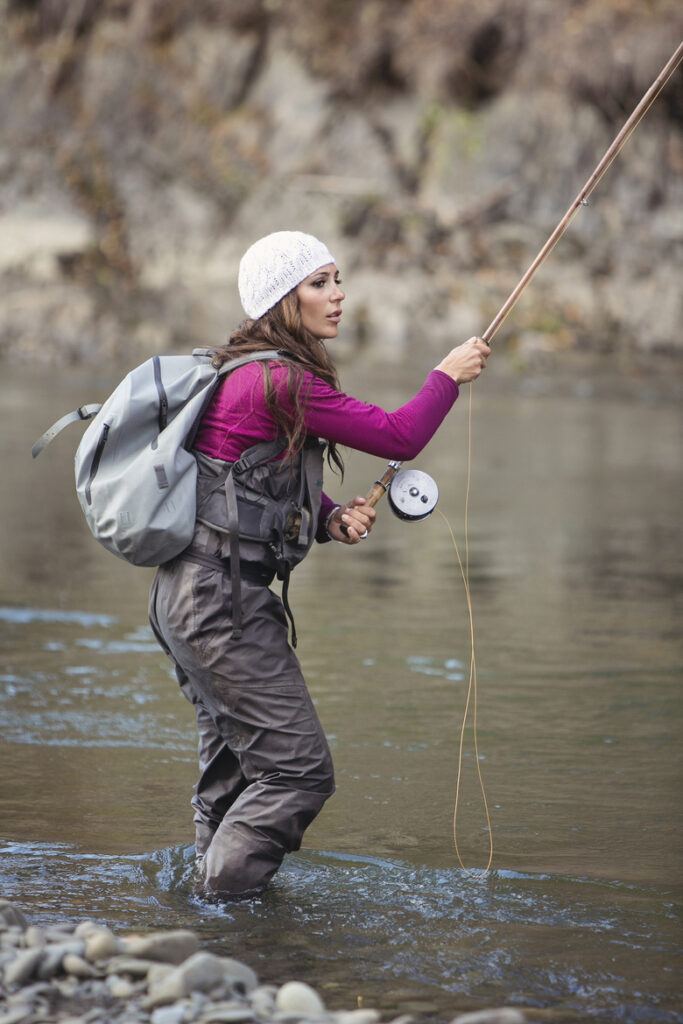 A good base layer should be your first consideration when it comes to cold weather surf fishing gear. It will function to trap heat and wick away moisture if you should start to perspire.
You have a wide variety of options for base layers, beginning with the materials they are made of.
There are two basic options, natural fibers or synthetics. Natural fibers like cotton, wool, silk, and bamboo versus synthetics like polyester, polypropylene and GoreTex.
All have their advantages and disadvantages, as well as different price points.
Thermal Pants and Shirt Base Layers
What is the difference between a base layer and thermal underwear?
Base layers and thermal underwear are both designed to keep you warm and dry. However, base layers are specialized more for their moisture wicking properties to keep the body dry during more strenuous cold weather activities like skiing, hiking or surf fishing. Thermals are more specialized for trapping heat and best for less active pursuits like sitting in a tree stand all day or ice fishing.
Of the natural fibers, merino wool and bamboo are the better choices. You should avoid cotton as it absorbs moisture and, once damp, it will lose much of its insulating capacity. Silk is very comfortable but not as insulating as wool and more expensive.
Merino wool is not your granddaddy's wool. The wool clothes, blankets and hunting garments of 80 years ago were itchy and scratchy, just not comfortable next to the skin. Merino wool, on the other hand, is a much softer wool without the itch factor but with superior loft for trapping heat and excellent moisture wicking properties to keep you dry.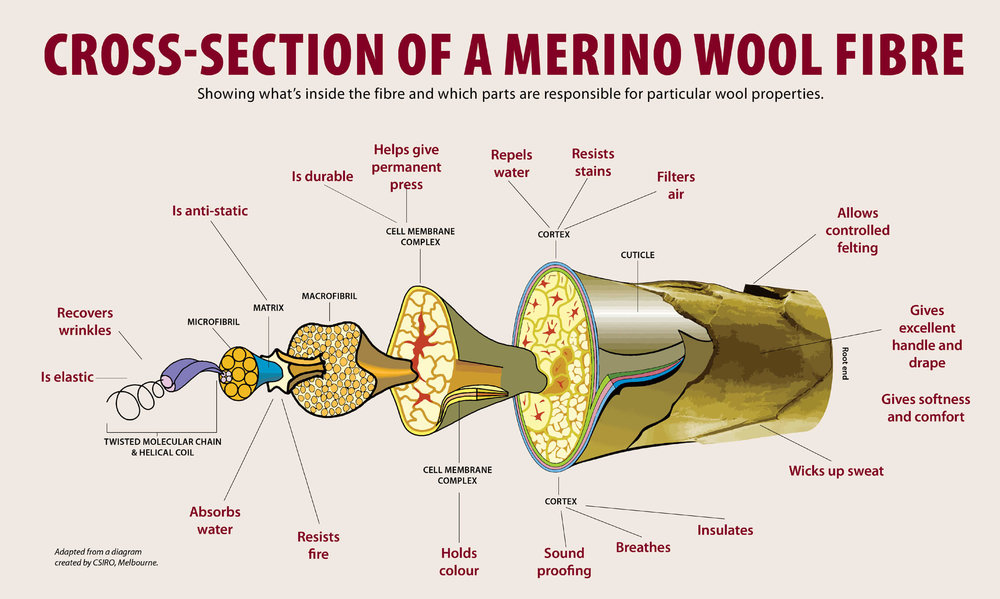 Natural merino wool is breathable and superior to synthetics in wicking moisture away from your body where it can evaporate. Merino wool is the warmest and best option for a natural fiber base layer.
I have a review of the Ibex Merino wool line of outdoor clothing that if you would like a more in-depth look at the advantages of merino wool.
Another good natural fiber base layer option is bamboo. Yes, they actually make fabric from bamboo. And, its softer and more durable even than wool. Its also warm with good moisture wicking properties, not quite as good as wool, and more cost effective (cheaper).
Synthetic base layers are made from fibers such as polyester, polypropylene, and spandex. Polyester is fairly inexpensive and is woven into a variety of fabrics and garments. Polypropylene holds heat better than polyester and has better moister wicking properties making it a better choice for active cold weather sports like surf fishing.
Socks for Cold Weather Surf Fishing
Don't forget your feet. A good polypropylene sock, followed by a wool or wool blend boot sock will help keep your feet warm and dry while surf fishing in cold weather.
The polypropylene inner sock will wick away moisture and keep your feet dry. The wool boot sock will trap heat to keep your feet warm while still wicking moisture away.
Jackets and Hats for Cold Weather Surf Fishing
---
Another very important layer in your cold weather surf fishing gear should be a waterproof and windproof jacket. Not only will it add another layer for holding in warmth, it will block the cold wind that can sap the heat out of your in a hurry. And, if you should get rain or other precipitation, it will protect you and keep you dry.
If you put your jacket on over our clothes and your waders, then fasten your wading belt over the jacket and waders, you will seal out water from getting into the top of your waders.
Either from rain, or from waves splashing over the top of your waders. There are many great fishing jackets to choose from lightweight breathable frogg toggs to heavy-duty insulated parka types.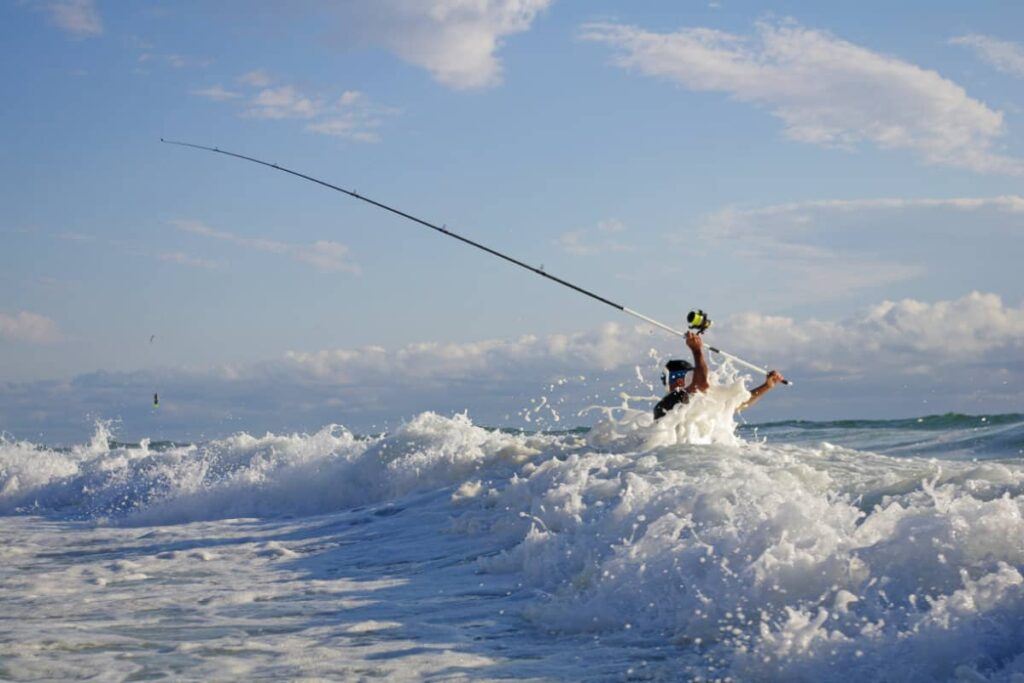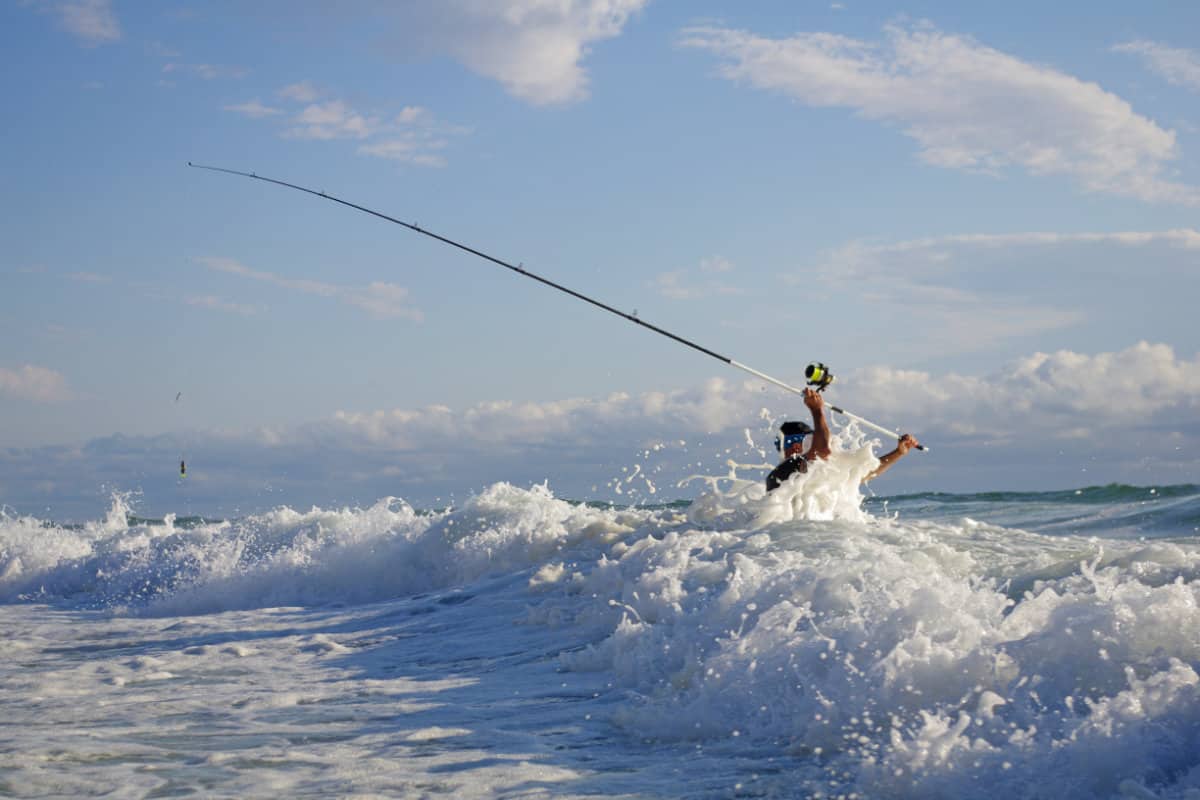 I strongly suggest that, whichever you chose, get one with a hood. It makes a big difference in keeping your head warm and dry when the need occurs. And, eventually, it will.
Don't forget a good insulated hat or cap. Fifty percent of the bodies heat loss occurs from your head. Keeping your head covered and insulated is not an option if you want to keep warm when fishing in cold weather.
Pants Shirts and Bibs for Cold Weather Surf Fishing
---
After your base layer, you will need pants and shirt or bibs as your next layer over your base. You should avoid garments made of cotton as they will absorb water and leave your cold and miserable. But there are numerous options for insulated pants, shirts and bibs in nylon, polyester, and wool that will serve you well.
Remember one of the purposes of dressing in layers is, that if you start to get too warm, you can take off layers until you find what is most comfortable for you. You can wear just your base layer under your waders if need be. You may have to adjust your layers several times depending on weather conditions.
Waders for Cold Weather Surf Fishing
---
If, you're going to be surf fishing in cold weather, a dependable (not leaking) pair of surf fishing waders to keep you dry will be essential. And, fortunately, there are numerous quality waders of various materials to suit nearly every surf fishing situation and budget.
Waders come in three basic types, either PVC coated canvas, neoprene, or breathable. PVC waders have been around the longest and are by far the least expensive. Neoprene waders provide the most warmth but can get too warm at times. The newer "breathable" waders are lighter and more comfortable but don't provide much in the way of warmth.
If you will be fishing in extreme cold conditions, there is no doubt that neoprene waders will keep you warmer and keep you fishing longer and more comfortably. Now, you can certainly use PVC or breathable waders in cold weather. You will simply need more and layers underneath your waders to keep you warm and comfortable.
Waders come in two styles, boot foot and stocking foot. In either case, for cold weather surf fishing, you will need some good socks to wear under your waders. Not only will they help keep your feet warm, but they will prevent the wader material rubbing on your feet and causing blisters.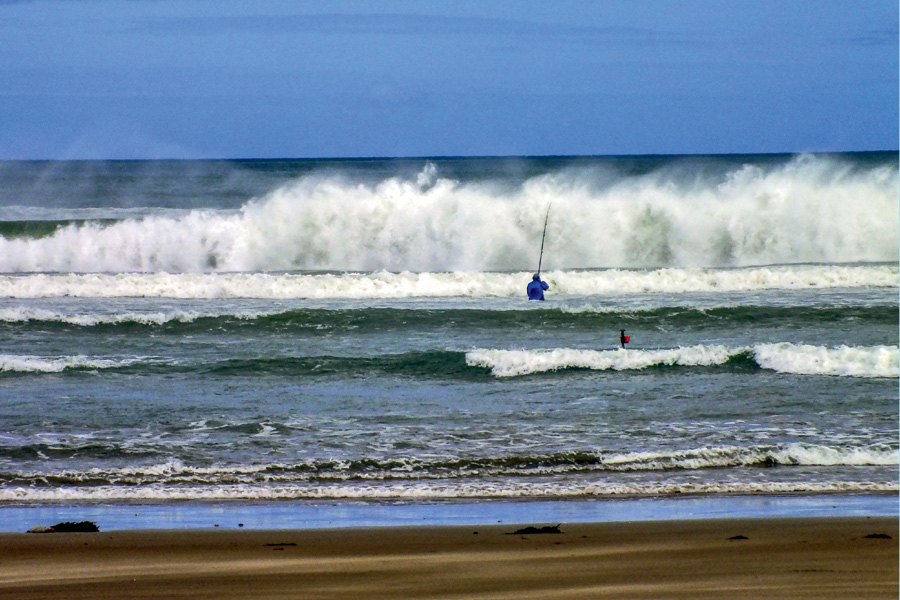 If you decide to go with stocking foot waders, you will need to add a pair of wading shoes or boots to wear with them. Wading boots are specialized to wear over stocking foot waders and have various types of soles for different fishing conditions, and some are even insulated for added warmth.
Boot foot waders come with boots attached to the waders and there are insulated boot varieties. With stocking foot waders you can change shoes or boots to fit the type of fishing you are doing. Boot foot waders limit you to the boots and soles that came attached to the waders.
Whatever waders you choose, always wear a wading belt with them. The wading belt is designed to go over your waders and keep them closed so, if you happen to get knocked over by a wave, your waders won't fill with water and pull you under or out to sea with the current.
And, if you put your waterproof jacket on over your waders and then put your wading belt over both, you will prevent waves from splashing up and over your waders. A good tip to keep you dry when surf fishing. The wading belt is a very important safety item when wearing waders.
Cold Weather Surf Fishing Stay Warm and Dry
---
Fishing in winter can be tough and the weather conditions may change rapidly. But if you're prepared, with the proper gear, you can still fish and stay relatively warm and dry.
A good base layer, comfortable waders, waterproof fishing jacket, neoprene fishing gloves and a well insulated hat or cap can be the difference between warm and comfortable and wet and miserable.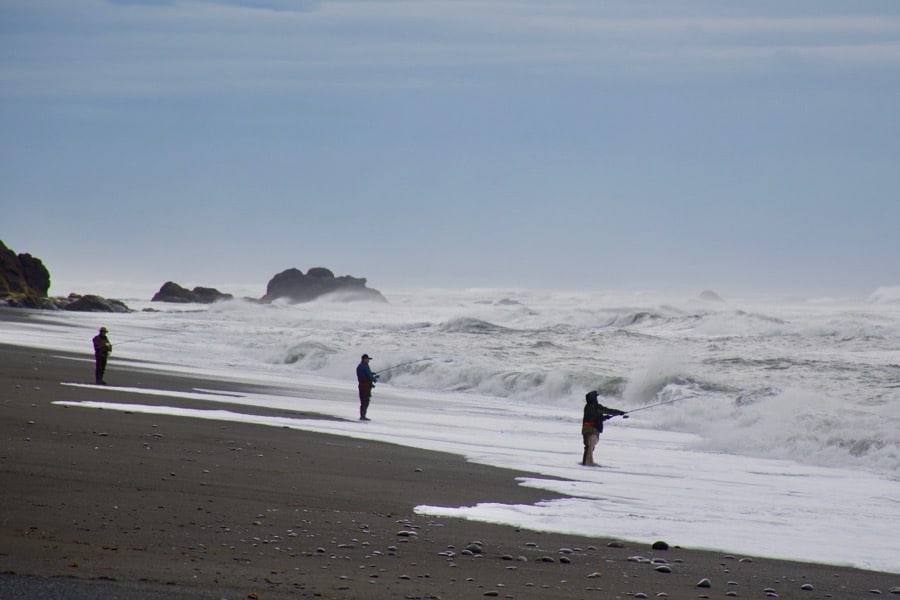 Don't let a little cold weather keep you off the beach. The fish are there. They are cold and wet already. You can't catch'em if you aren't fishing for em. I have yet to catch any fish from my couch at home. Get out there and get ya some!
As always, stay safe, enjoy the journey and please try to leave it cleaner than you found it. If you have any comments, questions, ideas or suggestions please leave them in the comment section below and I'll get back to you asap. You can follow us on Facebook: Rex The Beach Angler, Instagram: thebeachangler7, Twitter: @AnglerBeach, and YouTube: Man Art Creations.