Summer is winding down, fall is in the air and the air and water temperatures will soon begin to cool. It's about time to look into a good pair of surf fishing waders to keep you warm, dry and comfortable fishing the cool seasons.
Some of the best fishing of the year is in the fall and spring when the water temperatures can still be a bit cool. Fishing waders can be the difference between going fishing, or just wishing. Between warm and dry or wet and miserable.
In the summer, fishing waders may not be necessary. A good pair of wading boots and quick dry pants will be more standard summer surf fishing wear.
But in cold weather/water, a good pair of surf fishing waders will sure make fishing more comfortable.
But what should you look for when choosing surf fishing waders? What are your options, and how to determine which waders are the best for you and your surf fishing style?
There are plenty of options, so let's take a look at what's available, what makes a good fishing wader, and hopefully help you make the best choice for you. After all, only you know your particular fishing style, fishing environment and budget.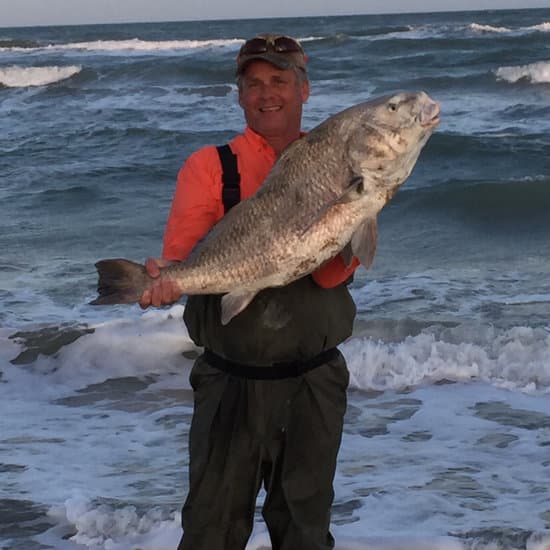 Quick Look
The best surf fishing waders will depend on the location you will be fishing and the time of year / water temperatures. There are 3 primary fishing wader types suitable for surf fishing. 1.) PVC nylon Chest Waders, 2.) Neoprene Chest Waders, and 3.) Breathable Chest Waders. They come in both boot foot and stocking foot styles from a wide variety of quality brands. PVC waders are the most economical, Neoprene are the most durable and warmest. Breathable waders offer the most flexibility for different weather and water conditions. They are however, the most expensive option. BEST RECOMMENDED: Frogg Togg Hellbender stocking foot breathable waders.
| PVC Nylon Waders | Neoprene Waders | Breathable Waders |
| --- | --- | --- |
| | | |
| Most Economical | Moderate Price | Most Expensive |
| Non insulated | Most Insulating | Multi Season Use |
| Good Beginner waders | Best Cold Weather | Best for hiking and walking |
| See More | See More | See More |
Types and Styles of Fishing Waders
---
If you've been considering getting a pair of fishing waders, and spent some time looking at what's available, you may be a bit overwhelmed by all the options. There're different styles, materials, boot foot, stocking foot, breathable, neoprene and on and on.
There are hip waders and waist high waders, but for surf fishing, you will need chest waders so we will skip the hip and waist waders for now. What does it all mean, and what is the best choice for you? It will depend on you and your style of surf fishing and the first thing to consider is what type waders.
Now, for surf fishing, you will be fishing in saltwater so your waders will need to be able to stand up to the harsh saltwater environment. That will mostly depend on good care after your fishing trip by rinsing in freshwater and proper drying and storage.
There are three main types of fishing chest waders:
PVC / Nylon Chest waders
Neoprene Chest Waders
Breathable Chest Waders
The difference in the types is in the wader material itself. They all will work and keep you dry. But, each has its own unique advantages and price points.
PVC chest waders are made of PVC coated nylon material. This style has been around for decades and is the most economical. They keep the water out but can be a bit bulky and uncomfortable.
Neoprene Chest Waders are made of the same neoprene rubber used in SCUBA diving wet suits and dry suits. They are the most durable and warmest style. They are moderate in price but can be too hot for some fishing situations.
Breathable Fishing Waders are made with a variety of synthetic fabrics that allow moisture to escape from inside the waders without letting water in from the outside. Hence, the name breathable. They are lighter weight and more comfortable to wear, but not as warm as the other wader types.
Chest Wader Styles
In addition to type of material, chest waders come in two different styles: Boot foot and Stocking foot waders. Boot foot waders, like the name suggests, have rubber boots already attached to the waders. This is handy as everything is together in one place and you simply slip them on and you are ready to fish.
Stocking foot waders have neoprene or nylon stocking or booties attached instead of rubber boots. You will need some kind of wading shoe or boot to wear over them and that is an additional expense. But, it does offer you the flexibility to find waders that fit your body and shoes or boots that fit your feet. Sometimes not an easy task. 😉
Also, if you will be doing a lot of walking or hiking to get to your fishing location, you can purchase much more comfortable wading boots or shoes than the rubber boots that come standard with boot foot waders. Now just because they are called stocking foot waders, you still need to wear socks. Neoprene rubbing on your feet can produce some rather painful blisters.
Chest Wader Accessories – Wading Boots and Belts
If you choose stocking foot waders, you will need a good pair of wading boots to go with them. These are specialized boots designed to be worn with stocking foot waders. With boot foot waders, your have no choice they come with boots attached and that's what you get period.
You could use tennis shoes or wading shoes with stocking foot waders but wading boots will offer much more protection and support when wading around sharp rocks, shell and other underwater hazards. In cold weather, you could wear rubber boots over your stocking foot waders for added insulation but they will hold water and be heavy.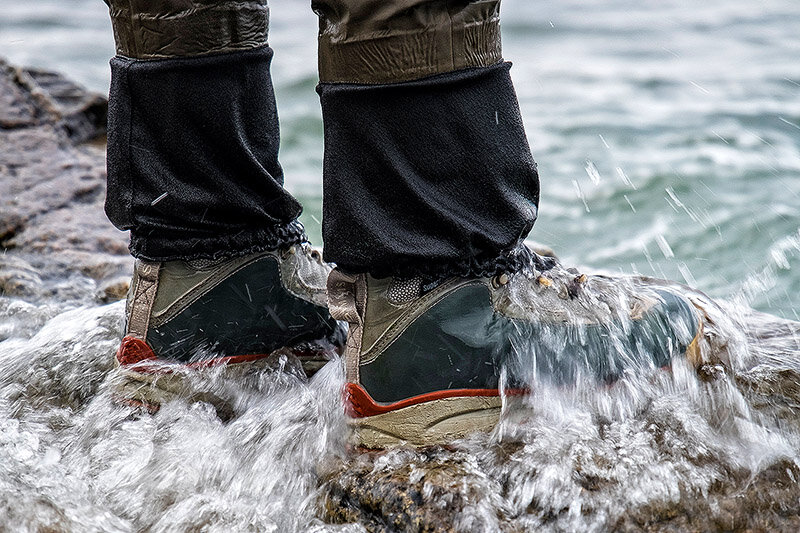 Wading boots come in a variety of sizes and styles to suit any fishing situation.
It is important to invest in a good pair of wading boots or shoes to protect you and your waders, and to provide traction and support for wading the surf.
Wading boots come with your choice of lug soles, felt soles and studded for fishing icy conditions.
Keep in mind, when selecting wading boots, you need to consider that they need room to fit over the neoprene stockings or booties, and if you are fishing in cold water, perhaps thick boot socks as well. Look for wading boots or shoes at least one size larger than your normal shoes. If you can, try them on over your waders to be sure.
One of the most important wader accessories, for surf fishing, is the wader belt. Wading into the surf there is always a risk of stepping in a hole or getting knocked off your feet by a wave. If that happens, your waders can fill with water and act like an anchor weighing you down and making it difficult to get back on your feet and back to shore.
If you do have an accident and your waders fill up with water, don't struggle against the current, drift with it and slowly work your way back to shallow water where you can stand up. Once you get ashore you can take off your waders and empty them of water and dry yourself off.
The wader belt keeps the top of your waders tight to your body minimizing the amount of water that can get in if you happen to take a swim.
The belt also traps air inside the waders which will help keep you afloat if you do get knocked off your feet. A good wading belt can prevent a potential tragedy, and at the very least, keep you from getting completely soaked.
The wader belt has become such a standard accessory that most waders now come with a wading belt included as part of your purchase. And, you can attach other handy accessories to your wading belt like pliers, stringer and tackle box.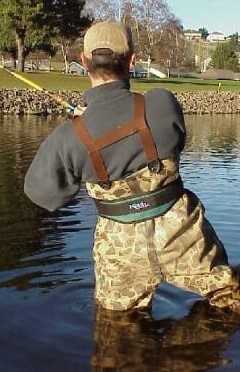 PVC Coated Nylon Waders for Surf Fishing
---
Ah, the original "rubber" waders. Big, bulky, loose fitting with attached heavy rubber boot. At the time, they were the greatest thing. You could fish cold water and or weather and stay dry. These waders were made of PVC rubber coated fabric and are still made and sold today.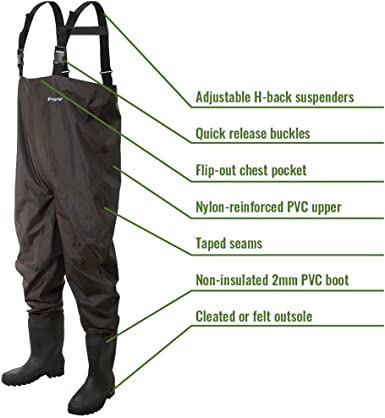 They are the most economical chest waders compared to the more advanced neoprene and breathable waders. But if you are on a budget, the PVC chest waders are still a good option for surf fishing provided you use a wading belt in case you take a dip or a big wave breaks over the top of your waders.
PVC Chest Waders still can provide you with comfortable protection from the water and cold. And, since they tend to be rather loose fitting, you can add extra layers of clothing for warmth and still be able to get your waders on. Proper cleaning, drying and storage is necessary to prevent the weathering and cracking of the PVC rubber coating.
In warmer weather, but still cold water, you will need to change to lightweight fishing pants and shirts as PVC waders are not breathable and you can start to sweat when out of the water waiting for that next bite. They are available everywhere and are your least expensive option. A good place to start for beginners still deciding if surf fishing is for them or not.

Pros and Cons of PVC Chest Waders
PVC Nylon Wader Pros
Inexpensive and available everywhere
Good for beginners
Room for extra clothes for warmth
PVC Nylon Wader Cons
Less durable and rip easier
Less insulating against the cold
Not breathable can cause sweating
Loose fitting and bulky
Neoprene Waders for Surf Fishing
---
The next advancement in waders was the neoprene wader that utilized the same material used for SCUBA diving wet suits. Warmer, more durable and tighter fitting than PVC waders, neoprene soon became the standard for surf fishing chest waders.
Available in both boot foot and stocking foot as well as several colors and camo patterns, the were definitely a step up from the PVC waders. Of course, this came at a higher price as does all new innovative products. Since the 1970s, and until recently, neoprene was the top of the line when it came to chest waders.
They are more snug fitting but flexible to allow easier movement but, like PVC, they are not breathable and you can get hot in them when the weather is warm or you have to do a lot of walking in them. Neoprene waders are the strongest, warmest and most durable of the options and less expensive than breathable waders.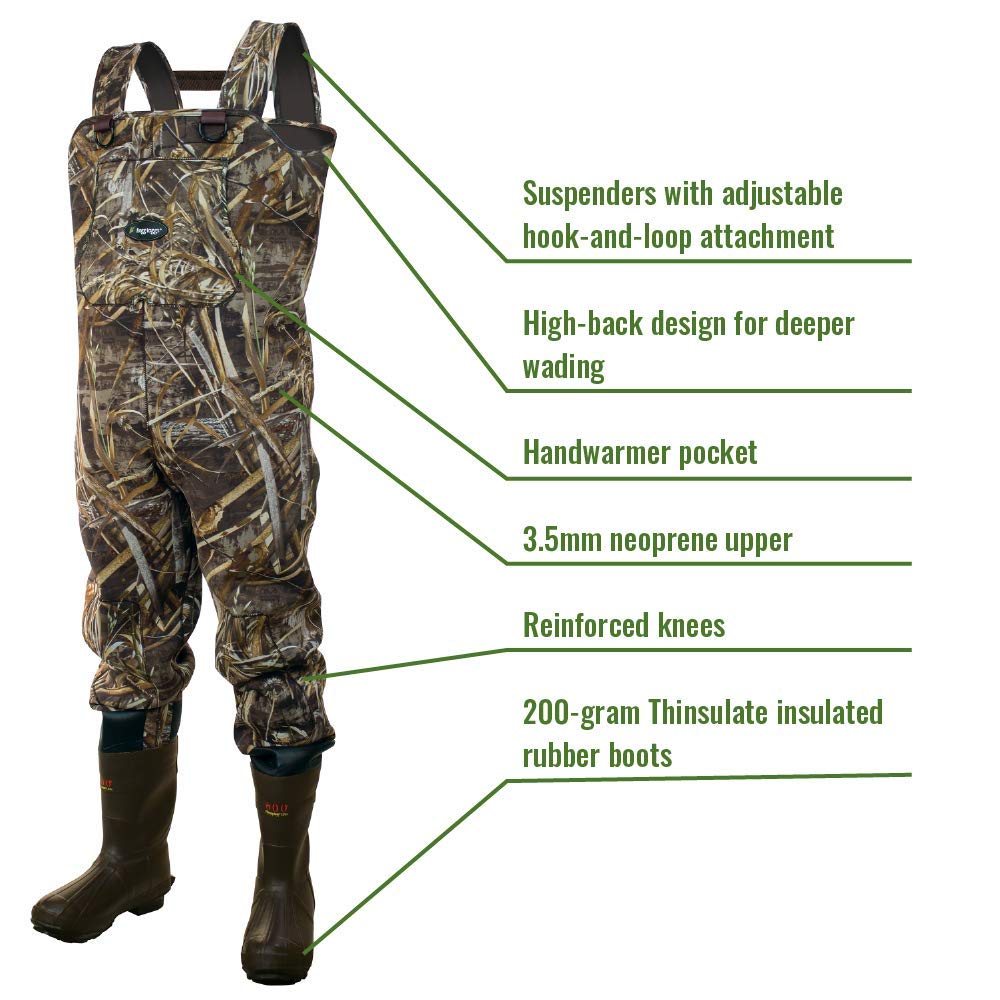 Neoprene chest waders are the most popular choice for surf fisherman in areas with extreme cold weather and water. They are also very popular with water fowl hunters for their warmth, flexibility and durability. With proper care you can expect to get 4 to 5 seasons of use out of a good pair of neoprene chest waders. I've gotten as much as 9 years of use out of a pair.
Pros and Cons of Neoprene Chest Waders
Neoprene Chest Wader Pros
Warmest and most insulating
Most durable and long lasting
Moderate Price
Best Bang for Your Buck
Neoprene Chest Wader Cons
Not breathable and can cause sweating
More expensive
Tighter fitting can be hard to get on and off
Breathable Waders for Surf Fishing
---

The latest advancement in fishing waders is the "breathable" waders. Made of lightweight, synthetic materials that allow moisture out but not in. So if you are doing a lot of hiking or walking, or in the case of surf fishing wading out to cast baits, any sweat can escape instead of accumulating on the inside of your waders.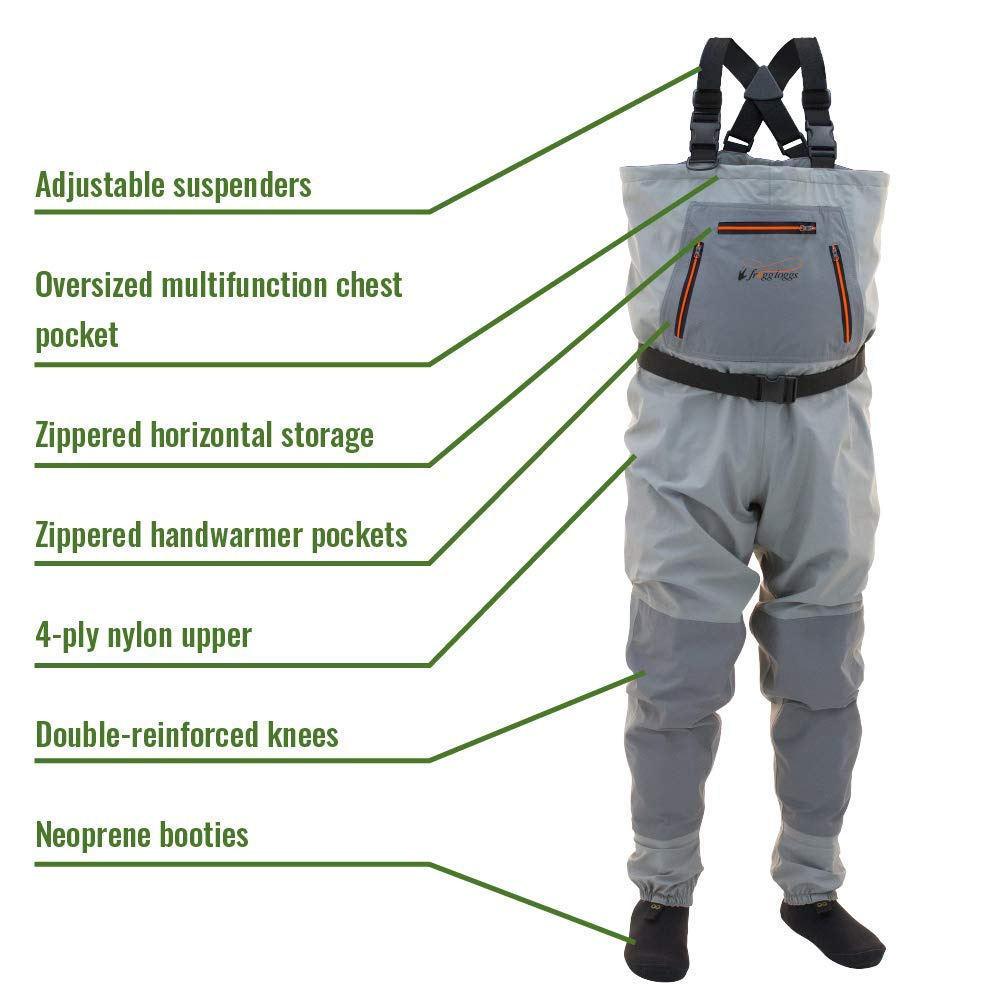 Breathable chest waders are much lighter than either neoprene or PVC waders and less resistant to tears and punctures.
They are also loose fitting like PVC waders which allows you to add layers of warm clothes for cold weather wading. They are the least insulating of the options and, as a consequence, the most adaptable.
In warmer weather you can wear your breathable waders over a pair of shorts and a t shirt. In cold weather you can add insulated pants and jackets under your waders for warmth. They are the most expensive option however.
Pros and Cons of Breathable Waders
Breathable Chest Waders Pros
Breathable helps prevent sweating
Light weight and easier to move in
Multi season waders
Best for hiking and walking
Breathable Chest Waders Cons
Most expensive
Less durable and less abrasion resistance
Not as warm or insulating
Best Surf Fishing Waders
---
So, there are your options, but what are the best surf fishing waders? That you will have to decide for yourself. It will depend on where you will be surf fishing, what times of the year you will be fishing and, of course, on your budget. And, if you do other types of fishing in cold weather, you can use your waders for that as well.
If you will be fishing extremely cold weather and water, neoprene might be your best choice.
If you will be fishing in areas where the weather can be comfortable but the water still a bit chilly, then breathable may be your best bet.
And, if you have a limited budget and or just beginning with surf fishing, then PVC nylon waders are a good option.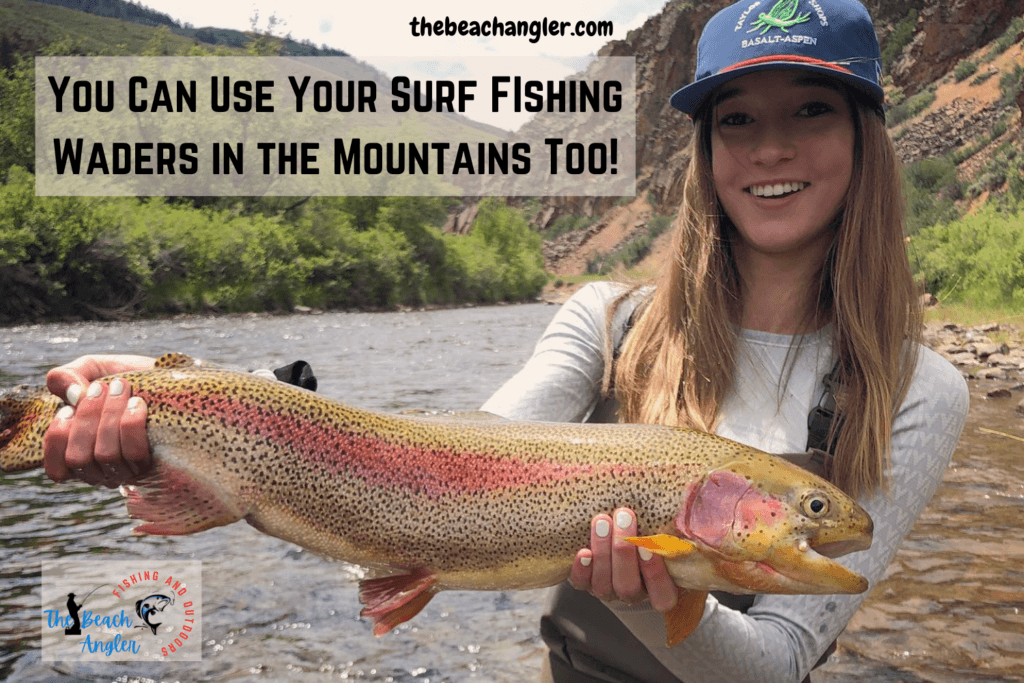 For example, my surf fishing is mainly along the Gulf Coast of Texas where we really only need waders for 3- 4 months out of the year. And, a couple of those months, the air temperature can be upper 70s F while the water can still be too cold to comfortably wade without waders. So, for me, breathable waders are my preferred option.
I can add layers for warmth in the coldest months, and in spring and fall put waders over shorts and a T-shirt and stay comfortable where neoprene and PVC would be too warm and cause sweating.
I also prefer stocking foot waders because I can by wading boots that fit better and are more comfortable to wear during a long day of surf casting than most of the rubber boots that come attached to boot foot waders. Breathable waders are lightweight, easy to pack and store, and more comfortable to wear than either PVC or neoprene.
There are a number of good wader brands and you can find all different price ranges. Realistically, they are all made in China. The name brands like Simms and Orvis are very good but a good portion of the price is paying for the name. If you can, go to a good tackle store and try them on to see what best fits you and your budget.
Or, as an alternative, many online retailers will allow returns if you don't like them or they don't fit. But there will be the shipping time delay to get your replacement. Amazon, Cabelas, Bass Pro Shops, Tackle Direct and others all have good return policies. So don't worry about making a bad choice, just send them back and try something else.
Whatever fishing waders you choose, you will need to take proper care of them to ensure as many years of use as possible for your hard-earned dollar.
Care Maintenance and Repair of Waders
Surf fishing waders must hold up to saltwater, sun, sand, shell, rocks and the pounding waves. It can take a toll and shorten their life. But, with a little cleaning and maintenance, you can get years of use out of your fishing waders.
Steps for Proper Care of Surf Fishing Waders:
Rinse thoroughly with freshwater after each use.
Allow to dry completely before storage
Store in a cool dry place until next use.
Rinse the salt, sand and other debris from your waders and if you got water inside you will need to rinse the inside out as well. After rinsing, hang them upside down and allow to dry completely inside and out. Then store them in a cool dry place by hanging upside down and fully extended.
For breathable waders, you can periodically coat with a Direct Water Repellent (DWR) to restore any of their waterproof protection that may have been worn off from use and abrasions. Waders can be expensive, but if you take care of them they will give you years of comfortable and dry surf fishing.
Frequently Asked Questions on Waders for Surf Fishing
---
What are waders?
Waders are waterproof garments that cover your legs and lower body, allowing you to stay dry while standing in water during activities like surf fishing.
Why do I need waders for surf fishing?
Waders are essential for surf fishing because they keep you dry and protect you from the cold water, waves, and potential hazards like rocks or shells.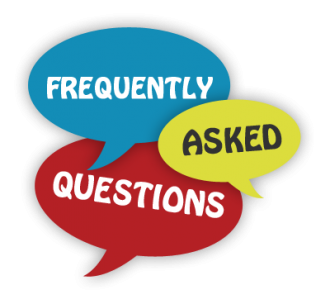 What types of waders are suitable for surf fishing?
The two most common types of waders for surf fishing are bootfoot waders and stockingfoot waders. Bootfoot waders have integrated boots, while stockingfoot waders require separate wading boots.
What material should I look for in surf fishing waders?
Neoprene and breathable fabrics like Gore-Tex or nylon are commonly used for surf fishing waders. Neoprene provides insulation and warmth, while breathable fabrics offer better ventilation.
Are there different wader sizes available?
Yes, waders are available in various sizes to ensure a proper fit. It's crucial to choose the right size to ensure comfort and freedom of movement.
How do I determine the correct size for waders?
To find the right size, measure your inseam, shoe size, and waist or chest size, depending on the type of waders. Refer to the manufacturer's sizing chart for accurate measurements.
Can I wear regular fishing boots with stockingfoot waders?
No, stockingfoot waders require separate wading boots. These boots provide better traction and support in the water and are specifically designed for use with stockingfoot waders.
How should I care for my surf fishing waders?
Rinse your waders with fresh water after each use to remove saltwater, sand, and dirt. Hang them to dry thoroughly before storing them in a cool, dry place. Avoid direct sunlight, excessive heat, and sharp objects that could damage the material.
Are waders necessary in warmer climates?
In warmer climates, breathable waders can help regulate body temperature and prevent overheating. They also protect against hazards like sharp rocks or jellyfish. Consider lighter-weight waders designed for warm water if you frequently fish in these conditions.
Can waders prevent hypothermia in cold water?
While waders can provide some insulation, they are not a guarantee against hypothermia in extremely cold water. Layering appropriate clothing underneath the waders and using additional insulation like fleece can help in colder conditions.
Remember to consult with local experts or fishing professionals for specific recommendations based on your location and fishing conditions.
Grab Some Waders and Go Fishing
---
Hopefully now you have a better idea of what to look for in surf fishing waders so you can choose the best fishing waders for your particular surf fishing style and situation. Some areas the water stays cool year round and waders can make fishing much more comfortable.
Neoprene waders are by far the warmest and most durable. Breathable waders are more comfortable and give you more options with layering your clothes, to fish waders in warmer weather. The old standby PVC/Nylon waders are the least expensive and still work fine, they are however, bulky, heavy and can fill with water if you take a tumble in the surf.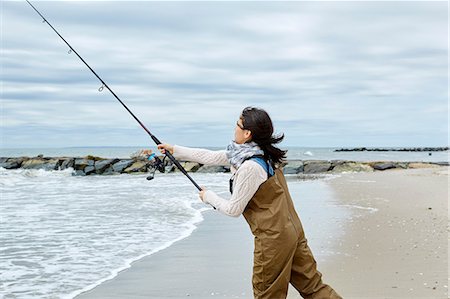 I've owned and tried all three. For my fishing in Texas, the breathable waders make the most sense. Particularly in fall and spring when air temps are comfortable but the water temperature can still be a bit cool. Consider your surf fishing location and fishing style then make the best choice for you. Most important, spend more time fishing and less time wishing!
As always, stay safe, enjoy the journey and please try to leave it cleaner than you found it. If you have any comments, questions, ideas or suggestions please leave them in the comment section below and I'll get back to you asap. You can follow us on Facebook: Rex The Beach Angler, Instagram: thebeachangler7, Twitter: @AnglerBeach, and YouTube: Man Art Creations.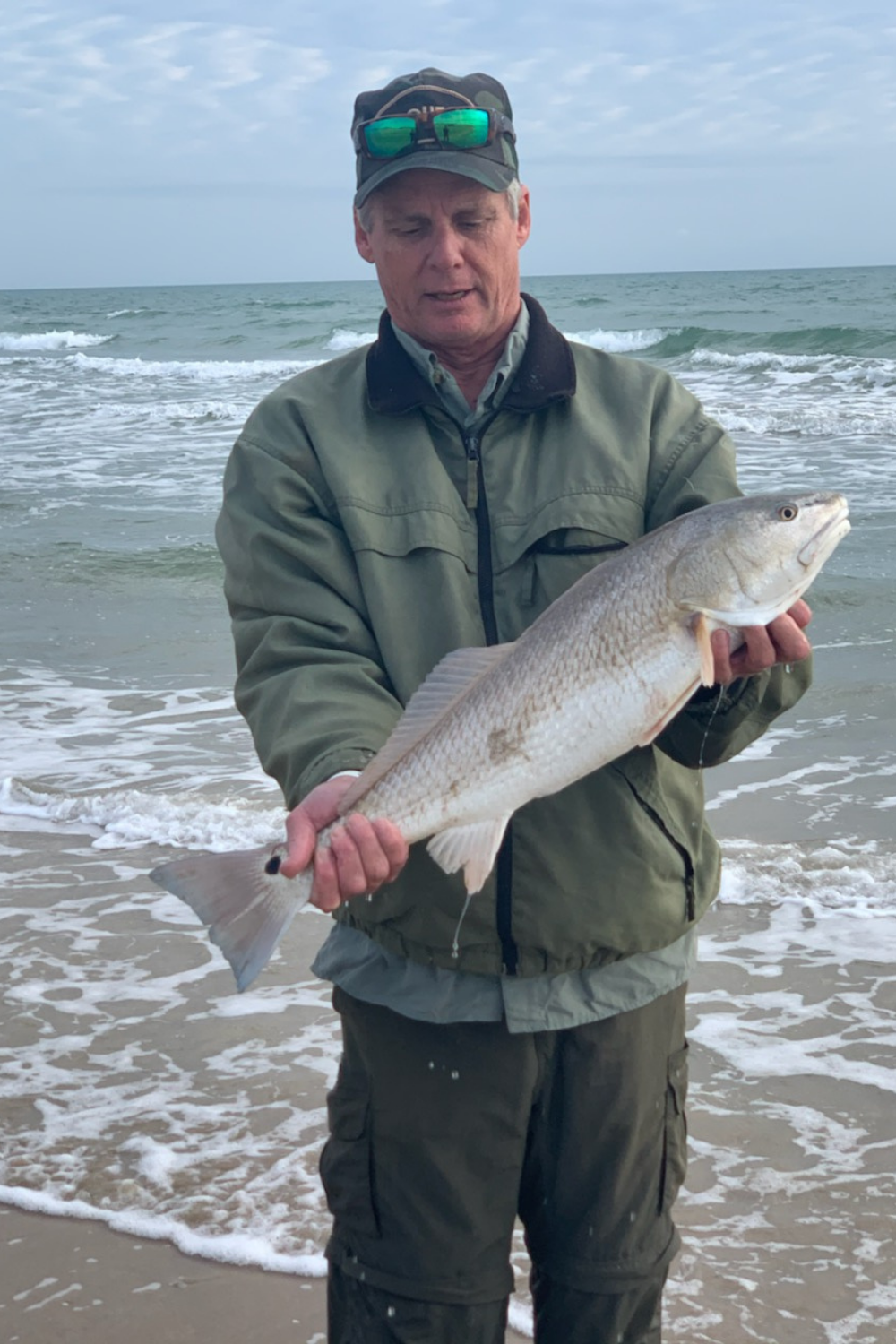 A life long surf fisherman with 50+ years of experience, I am also an avid hunter and outdoorsman. I will be sharing my passion for the outdoors with you so be prepared for hunting, fishing, camping, hiking and more. Along with gear reviews and the latest trends and innovations in the outdoor industry.