You have acquired a Penn Battle II 6000 spinning reel and now you need a rod for it. You have this awesome Penn saltwater reel but now you have a decision to make: what is the best size rod for a Penn Battle II 6000? There are so many choices from length, to action, material, brand and price.
We've all been there. You get a new reel, either by purchasing it yourself or as a gift, and you need a rod to match with it. There are so many options, and the best choice will depend on your fishing style and situation, and yes your budget as well.
Quick Look
What is the Best Size Rod for a Penn Battle II 6000 Reel?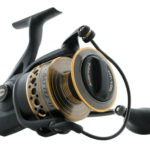 That will depend on your target fish as well as how and where you will be fishing for them. But, in general, if fishing from a boat, good medium-heavy to heavy action 6 – 7 ft spinning rods like the Penn Rampage or the Ugly Stik Bigwater rod will be good choices. If you are a shore bound angler, a longer 8 – 9 ft medium action spinning rods like the Tsunami Trophy II or the Okuma Rockaway with a medium-heavy action will give you the strength you need as well as the casting distance needed to fish from shore, pier, beach or jetties.
What will you be fishing for, as well as how and where will you be fishing will be important considerations when choosing the best size rod to pair with your Penn Battle II 6000, or any other reel for that matter.
TOP RECOMMENDATIONS
| Ugly Stik Bigwater | Penn Rampage | Tsunami Trophy II | Okuma Rockaway |
| --- | --- | --- | --- |
| | | | |
| Boat and Shore Models | Best Boat Rod | Shore and Surf | Shore and Surf |
| Extremely Durable | Superior Strength | Great casting | Strong and light |
| Best Value | Moderate Price | Good Value | Great Price |
| See More Info | See More Info | See More Info | See More Info |
Penn Battle II 6000 Spinning Reel
---
The Penn Battle II was first released in 2014 and rated for both fresh and saltwater. A very solid all aluminum reel body and spool for corrosion resistance with 5 sealed stainless steel bearings. It is a little heavier when compared to the graphite composite reels on the market but, the trade off is added strength.
Even better, you get a strong, saltwater rated, corrosion resistant Penn spinning reel at a very affordable price. Definitely a great value and proven hard-working reel. With sizes ranging from the 8 oz ultra light 1000 up to the heavy-duty 30.2 oz 8000 there is a Penn Battle II for most any fishing style or situation.
The Penn Battle II 6000 is second only to the 8000 is size, weight, drag rating and line capacity. With a max drag rating of 25lbs and a line capacity of up to 330 yards of 50 lb braid or 230 yards of 25 lb mono, you have a spinning reel capable of handling big fish and big water.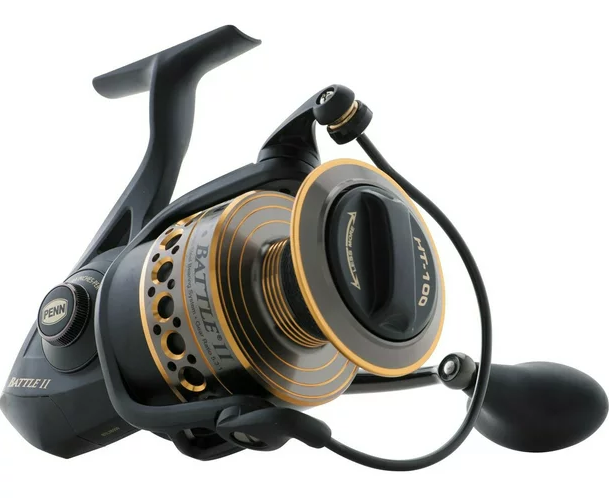 Penn Battle II 6000 FEATURES
Full Metal Body and side plate
CNC Gear™ technology
HT-100™ carbon fiber drag washers
5+1 sealed stainless steel ball bearing system
Superline Spool
Durable, high range spinning reel ideal for conquering big saltwater game fish
Full metal body, side plate, and rotor and heavy-duty aluminum bail wire offer exceptional durability
HT 100 carbon fiber drag system provides a powerful drag without sacrificing smoothness
Fluid cranking with 5 sealed stainless steel ball bearings and instant anti reverse bearing
Superline spool requires no backing, is braid ready, and has line capacity rings marked at 1/3, 2/3, and full capacity
Since you will most likely be targeting bigger fish using bigger baits, choosing the best rod for the Penn Battle II 6000 will come down to what you will be fishing for, how you will be fishing for them, and where you will be fishing for them.
What Will You be Fishing for, and How?
---
What type of fish you will be targeting and what methods you will employ to catch them will go a long way in determining the best rod for your Penn Battle II 6000.
Will you be tossing large topwater plugs at schooling jacks, tuna or stripers? Vertical jigging for snapper, grouper or amber jacks? Or maybe fishing live bait for king mackerel, Cobia?
For tossing plugs, a medium heavy action rod will allow you more casting distance and still enough backbone for fighting big fish. Fishing with bait or vertical jigging a better option is a heavy action rod to horse big snapper and grouper away from the bottom structure before they cut you off.
Then of course, you need to consider where you will be fishing. From a boat or will you be shore bound?
Where will You Be Fishing? Boat or Shore?
---
If you will be fishing from a boat primarily, then your rod will need to be shorter than rods for shore bound angling. Boat fishing limits rod length for storage, casting and for getting fish to the boat for landing.
Longer rods are more difficult to cast from a boat what with railings, consoles, motors and other anglers. And, when trying to land a fish, longer rods make landing you catch more difficult as the longer rod will have the fish farther from the boat when trying to get it to net or gaff.
Shore bound anglers, on the other hand, will find longer rods a better choice. You need a longer rod for casting distance whether fishing from a pier, jetty or the beach. Taking all these factors into consideration, let's take a look at some of the best size rods for the Penn Battle II 6000.
What are the Best Rods for the Penn Battle II 6000?
---
There are numerous fishing rod brands and styles. The following are some of my recommendations for the best rod for the Penn Battle II 6000. These are based on my experiences and yes, my budget. If you've been reading any of my other articles, you know that I focus on value for the money rather than the name.
For fishing from a boat, a good 6 – 7 ft medium heavy or heavy action rod will be the best choice. And, like I said, there are a number of great rod choices. Brands like Shimano, Tsunami, ODM, Shakespeare and Penn themselves, all have great choices and at various price points.
For jigging or bait fishing from a boat I would recommend the heavy action rods. For casting plugs from a boat, the medium heavy action rods will give you better casting distance with enough backbone to fight and land the big ones.
Two of my personal favorites are the Shakespeare Ugly Stik Bigwater rods and the Penn Rampage jigging rods listed below. I have been using both and have several that are over 20 years old and still going strong.
Penn Rampage Rods
Penn Rampage Boat Rods were designed for charter boats or anglers that need durability in a variety of fishing situations. Constructed with tubular glass blanks for extra strength, Penn Rampage also features a solid glass tip that helps keep the rod tip from breaking even when high sticked.
A heavy duty Pac Bay reel seat ensures a secure lock on the reel foot, eliminating flex while under heavy load. Each rod features guides built with heavy duty stainless steel frames and aluminum oxide inserts that are perfect for both mono and braided lines.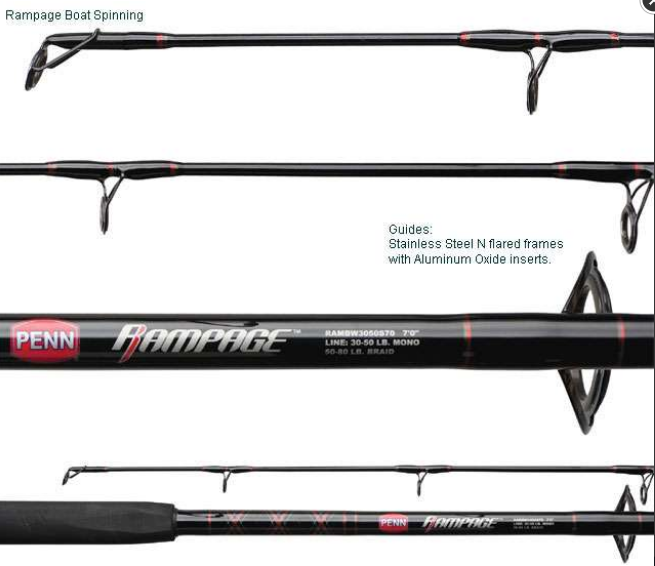 Ugly Stik Bigwater Rods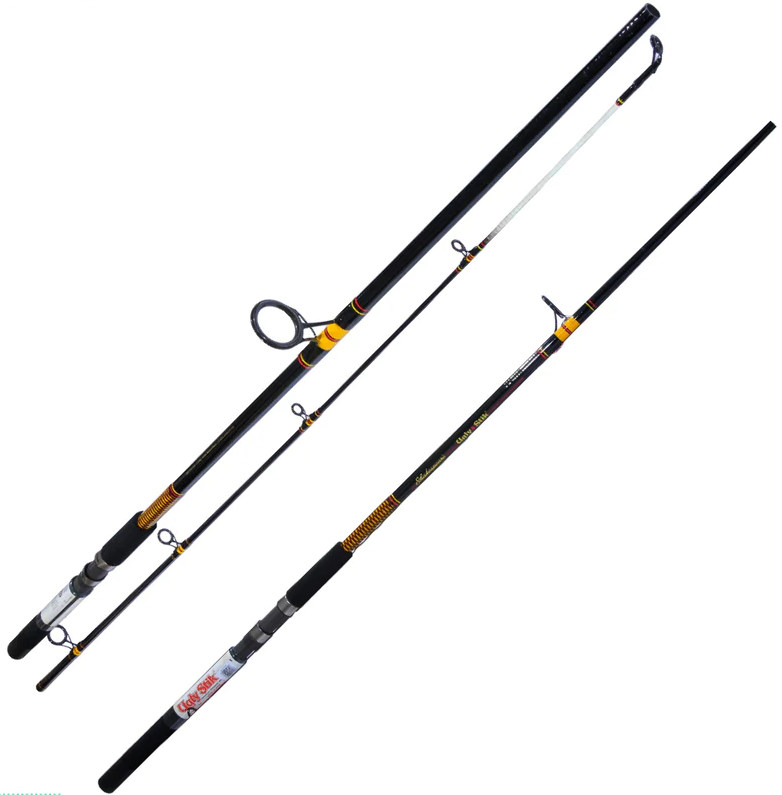 Ugly Stik Bigwater Spinning Rods provide the ultimate balance of performance, durability, and value. The rod blanks feature Ugly Tech construction with a combination of graphite and fiberglass to achieve the important balance between sensitivity and durability. These rods are built with the Clear Tip design for superior strength and sensitivity and Ugly Tuff one piece stainless steel guides that resist corrosion and eliminate insert pop-outs. All models feature comfortable EVA handles fitted with a rubber gimbal and include a 7 year warranty.
For the shore bound angler that needs a more casting distance, The Tsunami Trophy II or the Okuma Rockaway rods would be great choices and both have given me excellent service.
Tsunami Trophy II Rods
70/30 ferrule system for one-piece feel
Non-braid fouling guides
High density graphite fiber blank construction for strength improvement
Lighter, tougher, and more powerful small diameter blank construction
Light, corrosion proof graphite and stainless steel cushioned reel seat
Tough, high gloss epoxy wrap finish
Tsunami Trophy II Surf Spinning Rods are affordable surf rods and are ideal for beach fishing. Featuring vinyl shrink grips, graphite cushioned reel seats and guides made for making long casts with braided line.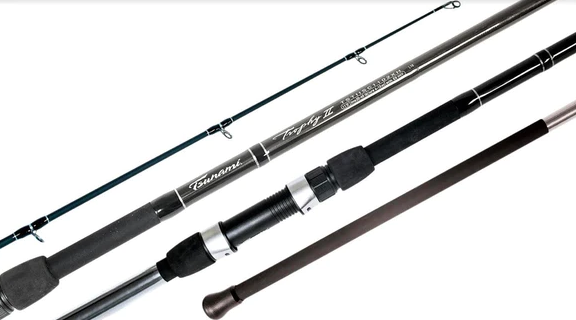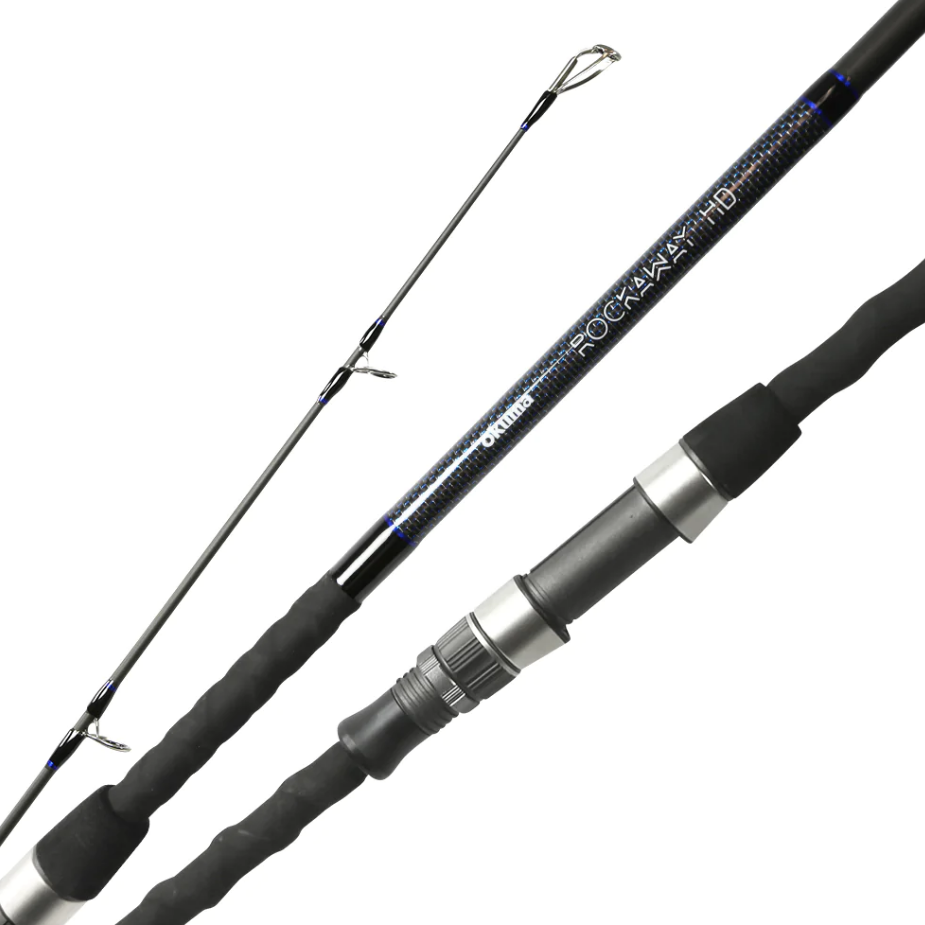 Okuma Rockaway Spinning Rods Features:
Durable and responsive 24-ton carbon blank construction
XQ series angled Sea Guide 316-Stainless steel frames
Tapered shrink tube grips for non-slip surface
UFR-II: Unidirectional Fiber Reinforced rod tip
Zirconium inserts offer compatibility for braid and mono
Rounded EVA butt cap for improved casting leverage
24-ton carbon rod blank construction
Choose the Best Rod for You and Go Fishing
---
Ultimately the choice of the best rod for your Penn Battle II 6000 will be up to you, your fishing style and situation, and of course your budget. There are many options available in all price ranges. Pick one and go fishing. Don't spend all of your time thinking about it, spend it fishing. 😉
Besides, if you order a rod from the folks at tackledirect.com, you will have 30 days to return it for a full refund if it's not the right one for you. So, don't worry about making the wrong choice, you can choose again.
A good heavy action 7 foot rod for fishing from a boat. Or, a medium heavy 8 – 9 foot rod if fishing from the beach would be my recommendation.
As always, stay safe, enjoy the journey and please try to leave it cleaner than you found it. If you have any comments, questions, ideas or suggestions please leave them in the comment section below and I'll get back to you asap. You can follow us on Facebook: Rex The Beach Angler, Instagram: thebeachangler7, Twitter: @AnglerBeach, and YouTube: Man Art Creations.