Established in 1986, OKUMA FISHING is a fishing tackle manufacturer based in Taiwan. OKUMA FISHING strives to deliver the ultimate fishing experience to everyone, as well as create the best fishing reels and rods for our fellow anglers, which are lightweight and precise, including surf rods.
OKUMA FISHING delivers quality and affordable fishing rods such as fly rods, float rods, spinning rods and surf rods; fishing reels including spinning, bait cast, trolling, and fly reels. They are all made with advanced materials with dynamic designs.
OKUMA fishing tackle is a great choice for freshwater or saltwater fishing. With advanced technology and over 31 years of fishing tackle manufacturing experience, OKUMA FISHING delivers excellent quality fishing rods and reels for any fishing environment.
Okuma Surf Rods
---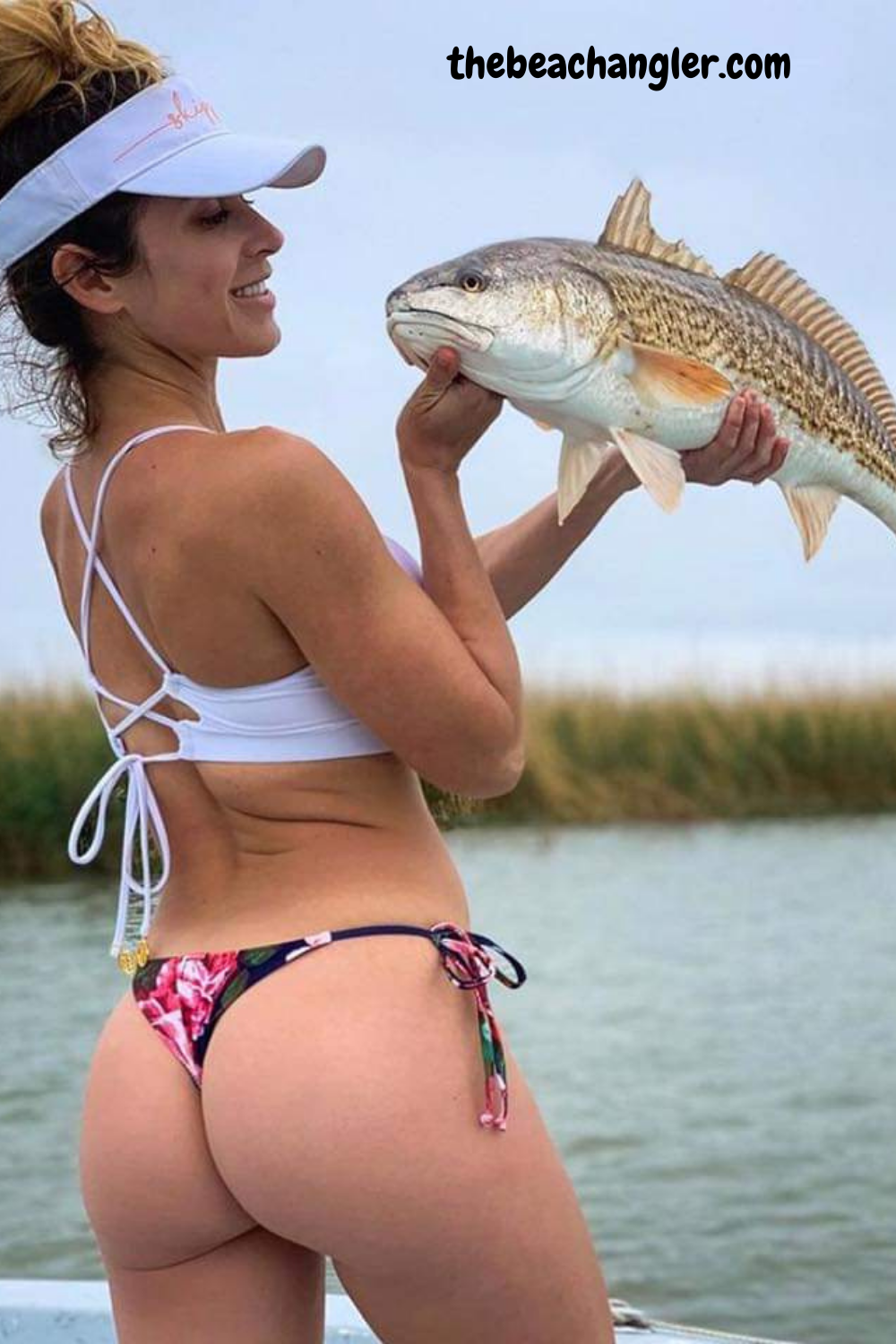 Okuma Saltwater rods are suitable for saltwater fishing such as boat / rock / surf fishing. Designed with Okuma patent UFR (Ultimate Flex Reinforcement) technology provides three times the strength and lifting power over traditional rods.
Okuma provide a variety of saltwater fishing rods with high quality design, materials, and construction tech delivering a fantastic fishing experience for anglers and fishermen. The Makaira Saltwater Rod, PCH Custom Rod, Epixor Rod, Competition Rod, and Tundra Pro Rod are just a few of their high performance saltwater rods. When paired with one of the Okuma Surf Fishing Reels we reviewed here, you have a durable, and affordable surf fishing combo that will serve you well for years to come.
Okuma provides a variety of surf fishing rods with high quality design, materials, and construction tech delivering a fantastic fishing experience for anglers and fishermen. The Cedros Surf Rod, Nesika Surf Rod series, Tundra Surf Rod series, and Azores Tele Surf Rod are just a few of our high performance surf rods.
I have reviewed Penn rods and Tsunami rods as well. I own and use all three of these brands. Penn is the standard by which all others are measured. They are the granddaddy, if you will. Tsunami is a relative newcomer, but my Tsunami rods have given me great service with no failures or problems.
Okuma Tundra Surf Rods
---
Okuma Tundra Pro Series Spinning Rod Features:
 Durable glass fiber rod blank construction
Reinforced double footed guides
Long lasting ceramic guide inserts
Medium heavy action; 10 to 30 line weight; 2 to 8 lure weight
Five plus tip reinforced, double footed guides with ceramic inserts; fold down stripper guide
EVA foam fore and rear grips; split butt grip configuration with a rubber butt cap
Corrosion resistant stainless steel hooded real seats; one year warranty
1 year warranty
UFR-I: Unidirectional Fiber Reinforced rod tip technology
Double footed stainless steel guide frames
Comfortable EVA fore and rear grip configuration
Composite rod blank construction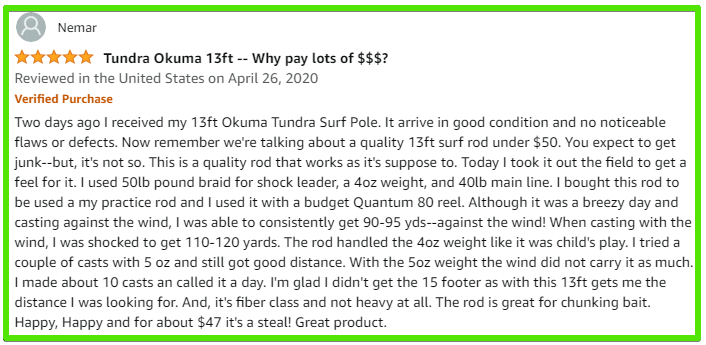 The Okuma Tundra Surf Rod is a larger diameter rod and will have fewer eyes per foot of rod than the more expensive models. However, it is an extremely strong and durable rod that will handle most anything you might tangle with in the surf.
Okuma Nesika Surf Rods
---
Specializing in long distance casting, the Okuma Nesika Surf Rods help land-based anglers reach untouched waters from beaches, piers, jetties and more. Built on a rugged 24-ton carbon blank, the Nesika has the power to give surf fisherman the upper hand on anything that swims near the coastline, but remains lightweight for comfortable all-day casting. Featuring Okuma's UFR-Ultimate Flex Reinforcement tip technology, the Nesika achieves up to 400% more power and lifting strength than other surf rods in its class.
The Nesika is designed with an ideal moderate-fast taper that allows the rod to load with energy on the cast, propelling baits forward tremendous distances. All models are two pieces and feature tip-over-butt ferrule connections to give the rods a true one-piece feel. For components, the Nesika is wrapped with corrosion resistant stainless steel deep press guide frames with titanium oxide guide inserts for smooth casting of braided lines. The handle has a comfortable EVA construction in a split grip configuration.
Features:
Extremely lightweight and responsive 24-ton carbon rod blanks
UFR-II: Ultimate Flex Reinforced rod tip technology
Tip over butt ferrule connection for improved strength
Stainless steel deep press guide frames for durability
Titanium oxide guide inserts for reduced abrasion
Comfortable EVA fore and rear split grip configuration
Nesika Surf rods are backed by a 1-year limited warranty
The Okuma Nesika Surf Rods are next up the ladder in the Okuma line up. Built with strong but lightweight carbon rod blanks and titanium guide inserts. These rods are designed for casting distance. And, anyone who fishers the beach front knows that sometimes casting distance can make all the difference between catching and just casting. Also, they come with a 1-year limited warranty.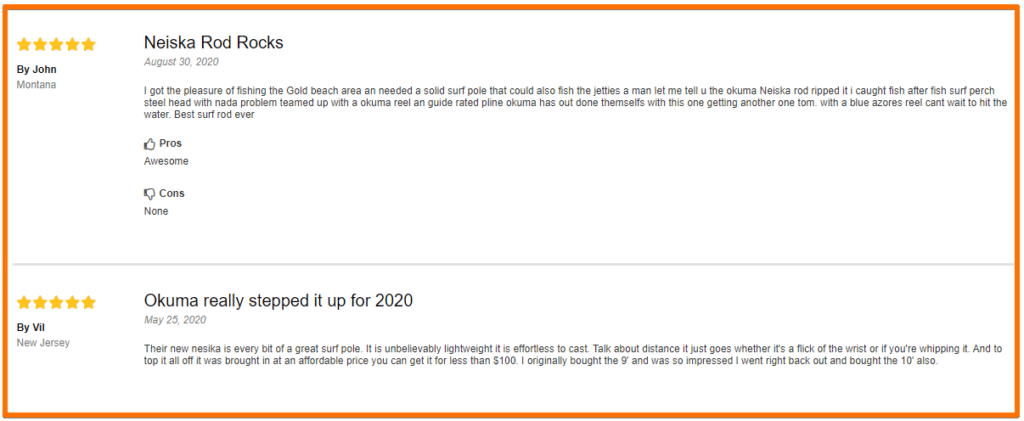 Okuma Cedros Surf Rods
---
The Cedros Surf CSX Rods by Okuma Fishing are durable with 30-ton carbon and responsive blank construction. These rods are perfect for saltwater surf fishing. Fish unobstructed with these rods with their low profile butt cap design. These 2 piece rods are designed with Pac Bay reel seats as well and ALPS stainless steel double footed guide frames for increased distance. The perfect surf fishing rods by Okuma.
Durable quality made rods by Okuma Fishing. The Cedros Surf CSX Rods are made from 30-ton carbon, ultra sensitive and responsive blank construction. With this construction these rods are fierce when it comes to surf fishing. These rods provide unobstructed fishing with the low profile butt cap design. Perfect saltwater fishing rods.
Features
ALPS Stainless steel double footed guide frames for increased distance
ALPS blazing Zirconium guide inserts
Pac Bay reel seats with blue anodized hoods and rings
Non slip rubber shrink tube handle with tapered rear grip
2 pieces blank construction
Limited lifetime warranty
The Okuma Cedros Surf Rods are Okuma Fishing's top of the line model. Featuring the latest materials and technologies for strength, durability and castablility. Okuma is so sure of their Cedros Surf Rods that they come with a "lifetime limited warranty" You won't find that many places. The price is higher, but you only have to buy it once.

A Rod for Every Situation
---
As you can see, Okuma Fishing makes a rod for most any type of surf fishing and affordable options for any budget. The table below will give you the quick comparison of pros and cons of each of the models we reviewed here today.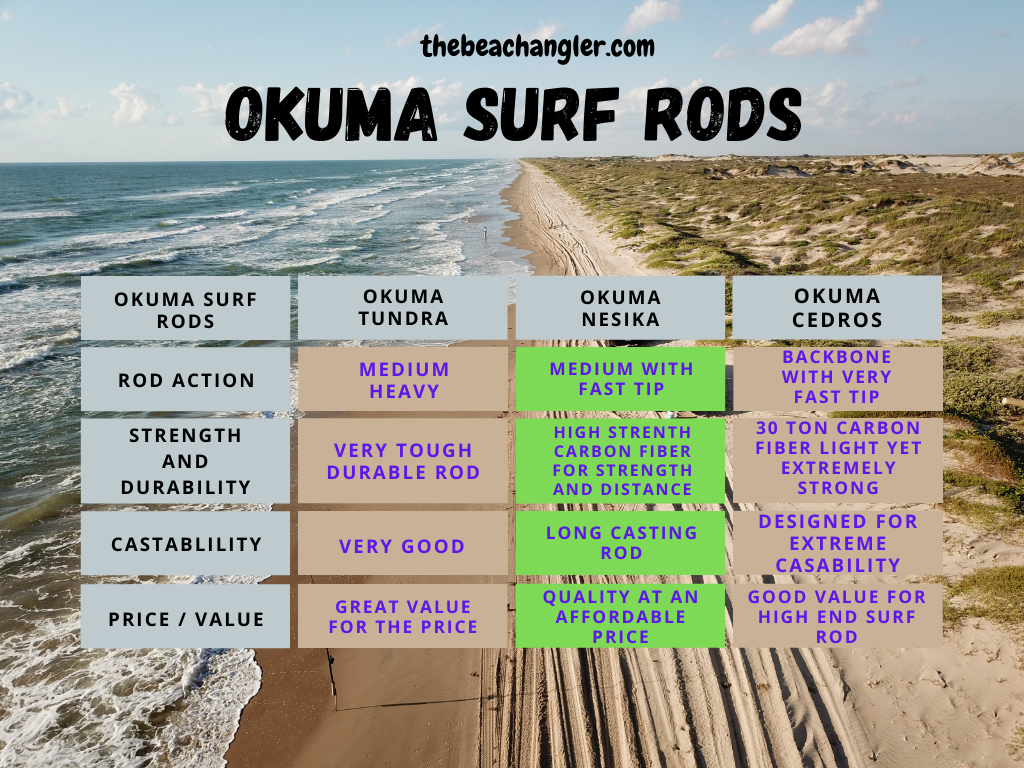 Okuma A Great Rod Choice
---
Since Okuma Fishing came on the surf fishing scene in 1986 they have really made a name for themselves. They continue to build quality, durable products that are made with the latest in materials and technologies. And, the great thing is, they have a wide range of price points to fit most anyone's budget requirement. If you are looking for a great surf rod at a great price, take a long look at the rods built by Okuma Fishing. You will not be disappointed. If you are interested in other good surf rods, take a look at my review of the Tsunami surf rod line up here.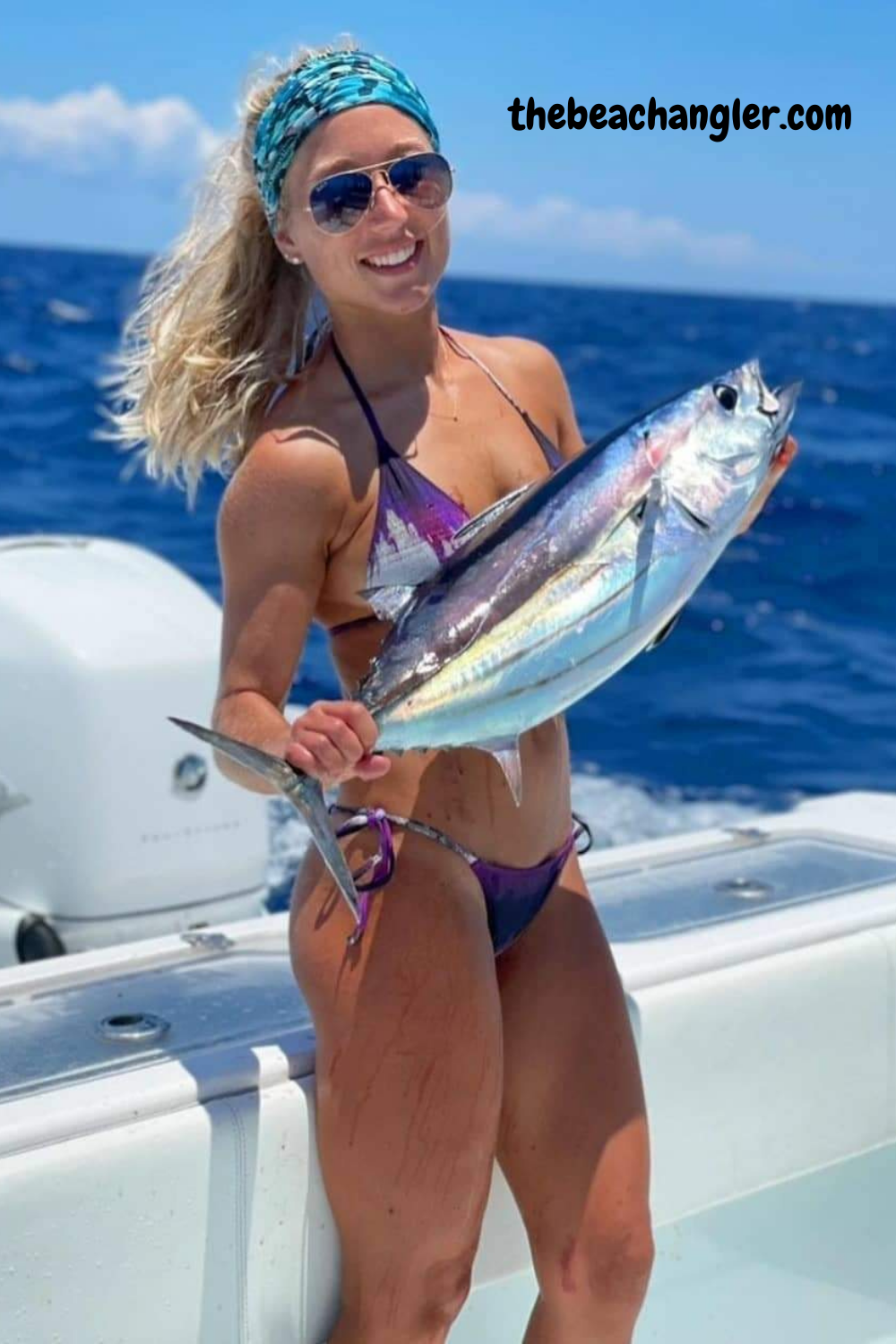 Other Essential Surf Fishing Gear:
Essential Surf Fishing Gear:
As always, be safe, enjoy the Journey, and please try to leave it cleaner than you found it. If you have any comments, questions, ideas or suggestion, please leave them in the comment section below and I will get right back to you. Follow me on Facebook: Rex The Beach Angler, Instagram: thebeachangler7 and Twitter: @AnglerBeach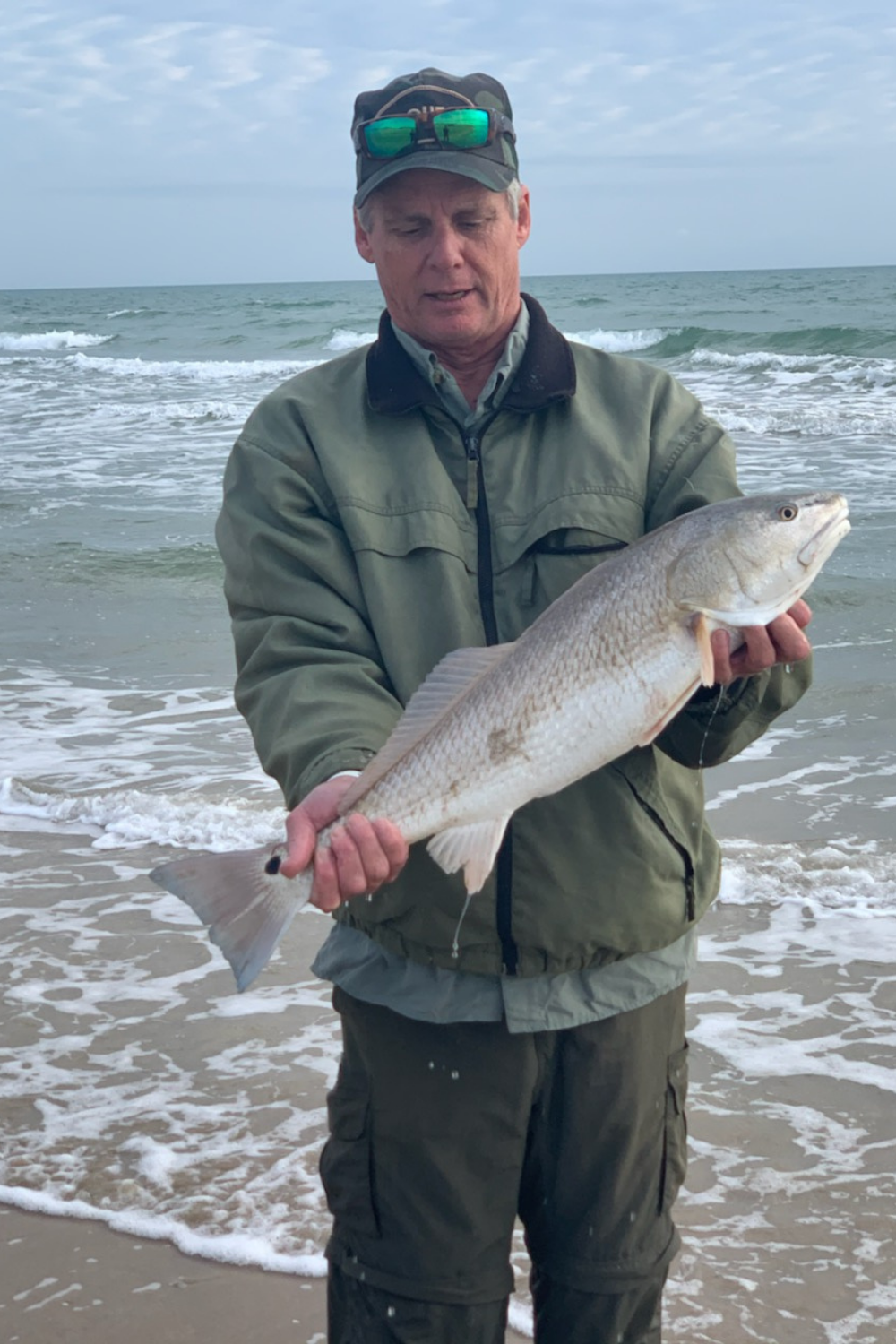 A life long surf fisherman with 50+ years of experience, I am also an avid hunter and outdoorsman. I will be sharing my passion for the outdoors with you so be prepared for hunting, fishing, camping, hiking and more. Along with gear reviews and the latest trends and innovations in the outdoor industry.