Surf fishing requires some specialized fishing gear. Tsunami surf rods were designed with this im mind.
The saltwater environment is one of the most harsh on the planet and it takes its toll on your equipment, rods included. I have used many different makes and models of rods for fishing the surf over my many years, with varying results.
One of my favorites is my Tsunami surf rod by Bimini Bay. It has been up and down the beach for over a decade now and has yet to let me down. It has seen its share of abuse and big fish as well. Tsunami has three surf rod offerings to fit any budget and we will take a look at them here. You can check out some of my other recommended surf rods HERE:
I have reviews of both Okuma rods and Penn rods, as well. Penn of course, is the granddaddy and the standard by which all other are measured. Okuma is a relative newcomer when compared to Penn, but I own and use both brands and highly recommend them also.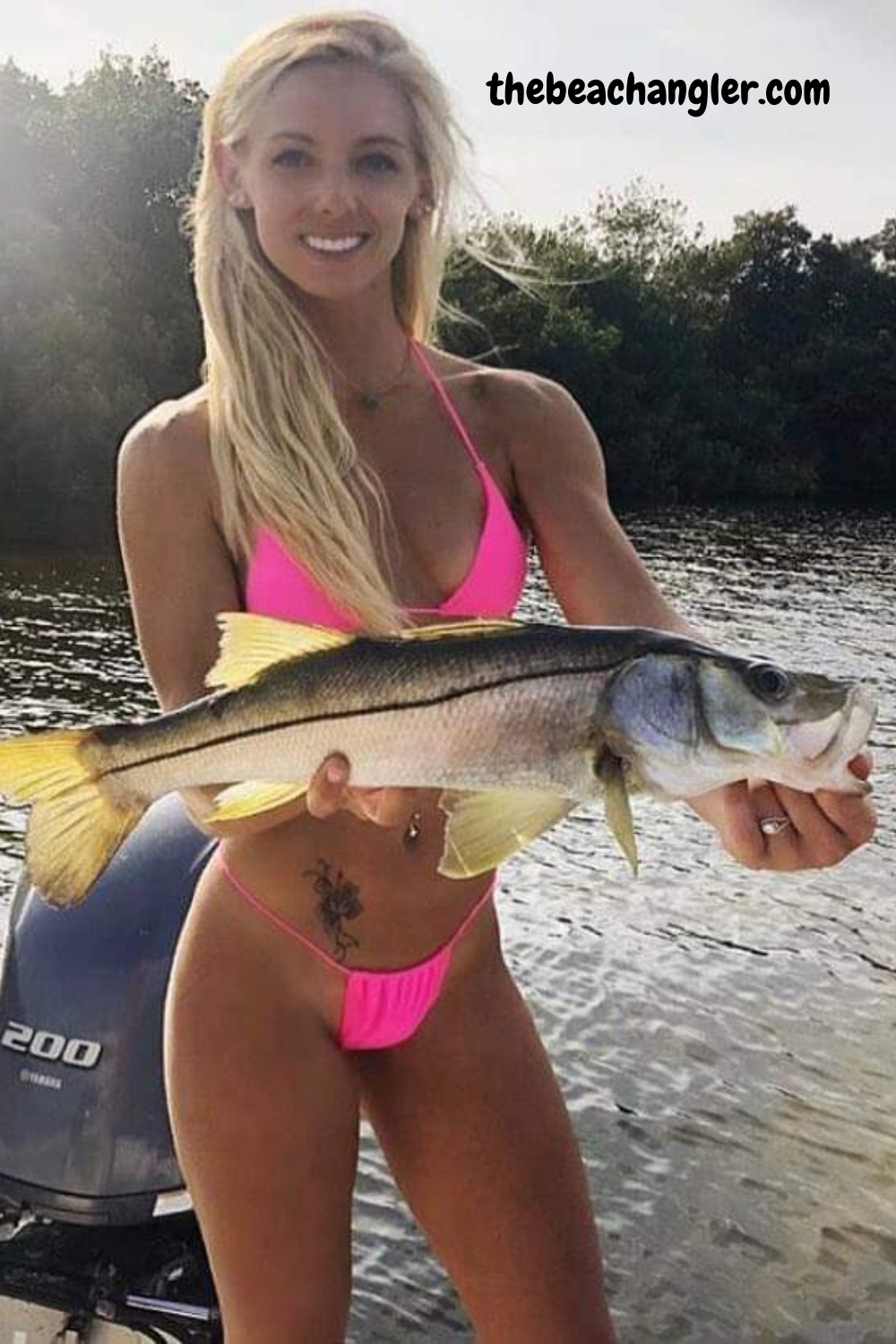 ---
First up, lets look at the Tsunami Trophy II Surf Spinning Rods. They are very affordable surf rods and are ideal for beach fishing. I have one in an 11-foot casting version. Tsunami Trophy II Surf Spinning Rods are lightweight with the action and backbone that makes them ideal for throwing plugs, or baits. Featuring vinyl shrink grips, graphite cushioned reel seats and Fuji K series guides made for making long casts with braided or mono filament lines. Tsunami Trophy II Surf Spinning Rods are quality surf rods at an affordable price.

FEATURES:
70/30 ferrule system for one-piece feel
Non-braid fouling Fuji guides
High density graphite fiber blank construction for strength improvement
Lighter, tougher, and more powerful small diameter blank construction
Light, corrosion proof graphite and stainless steel cushioned reel seat
Tough, high gloss epoxy wrap finish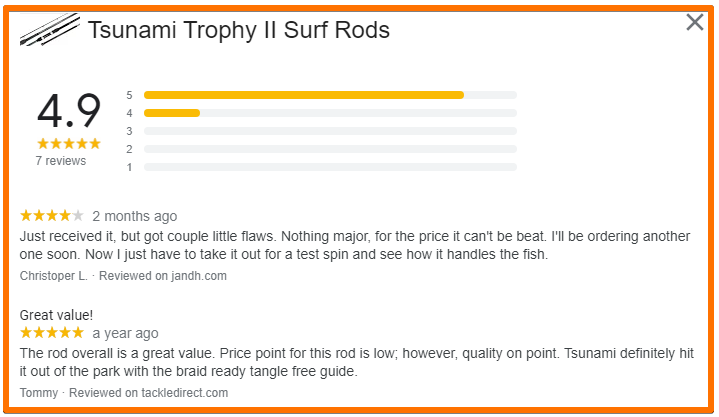 ---
Next on the list, and a bit higher on the price scale, is the Tsunami Airwave Elite Surf Rods. Built using unique high-pressure production techniques, the Tsunami Airwave Elite Surf Spinning Rod boasts a powerful blank with no excess weight. The high-density blank promotes extreme sensitivity and resilience, adding impressive power to each cast; the result is more distance and greater accuracy.
The Airwave Elite rod selection has been designed to achieve maximum distance performance with the least amount of physical effort ! Each model has been designed for specific lure/sinker and line ratings to allow for long hours of use without the fatigue often associated with other rods. Extra Long thick walled ferrules on the 70/ 30 split 2 piece models ensure one piece rod performance and strength while allowing for the portability of 2 piece 50/ 50 style surf rods.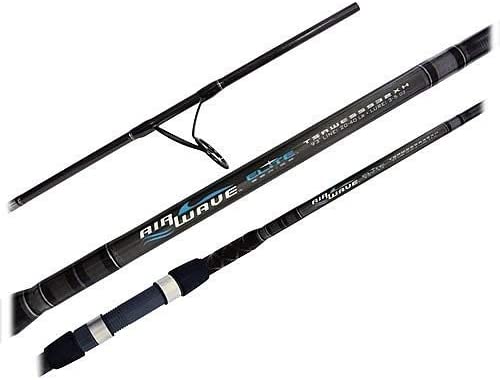 Airwave Elite Surf Rods Feature:
High density, high fiber blank construction offers, lightweight, increased sensitivity and faster shock recovery
Fuji reel seats and Fuji Concept K series braided line ready guides
Light durable diamond textured shrink vinyl grips
70/30 split ferrule rods
Models TSAWESS932XH, TSAWESS1002XH, TSAWESS1142XH are 50/50 split ferrule rods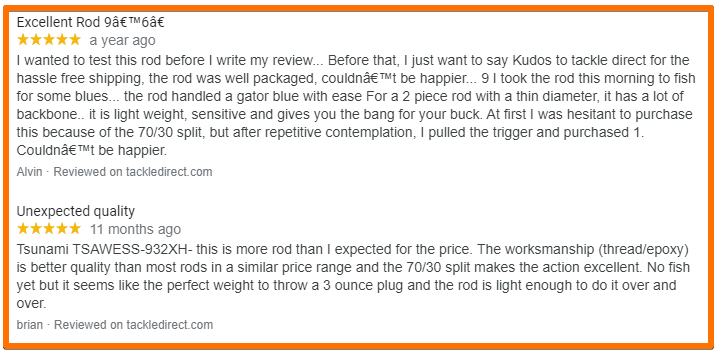 ---
The latest surf rod offering from Bimini Bay is the Tsunami Salt X Surf Spinning Rods. Tsunami is expanding their surf rod product line with yet another "weapon" of mass destruction. Ideal for those Surf anglers looking for the highest quality components in their fishing rod. The 100% D15 Nanotech, lM7 carbon fiber blank construction delivers light, strong, powerful and reliable performance cast after long cast.
Boasting features and components frequently seen in rods at much higher price points, the Tsunami SaltX Surf Spinning Rods are a significant step forward in affordable performance engineered surf rods. In a market where high performance surf fishing gear is becoming more affordable for all anglers, the Tsunami SaltX Surf Rods are perfect for the avid surf angler who pushes their gear to the limits. Featuring a unique eight-axis blank with D16 Nanotech and IM7 carbon fiber construction, the SaltX Surf Rods achieve the ideal moderate action to load properly and allow you to cast well past the breakers.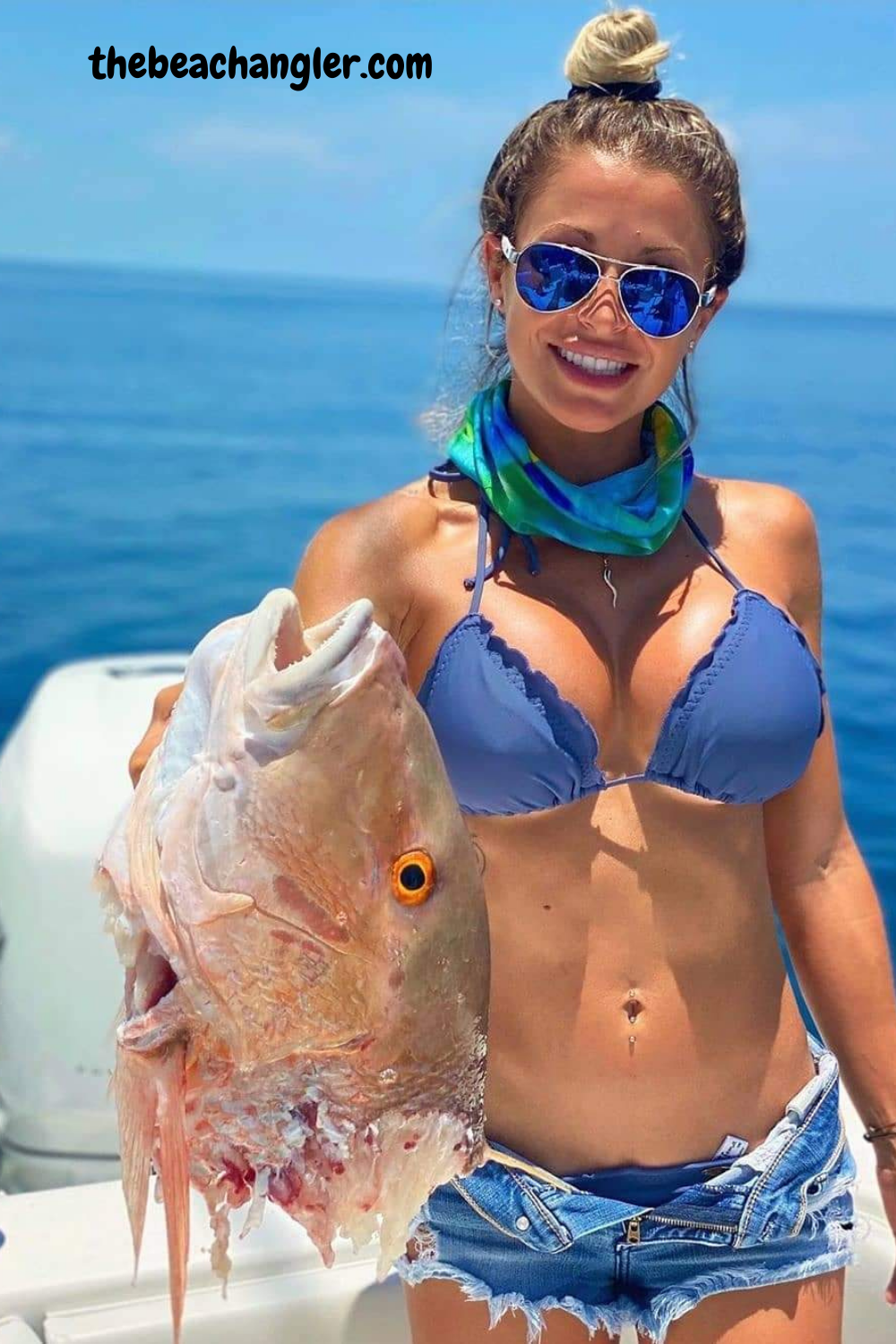 While most surf rods only excel at casting lures within the middle range of the rod's rated lure weight ( referred to by surf fishermen as the rod's "sweet spot"), you will find the SaltX to be a phenomenal caster of lures and baits at both the lighter and heavier end of the respective model's lure rating. The SaltX Spares no expense in terms of components, and is fitted with genuine Fuji silicon carbide K-frame guides and Fuji graphite and stainless steel reel seats with back stop lock rings. The handles are wrapped with comfortable shrink vinyl grips.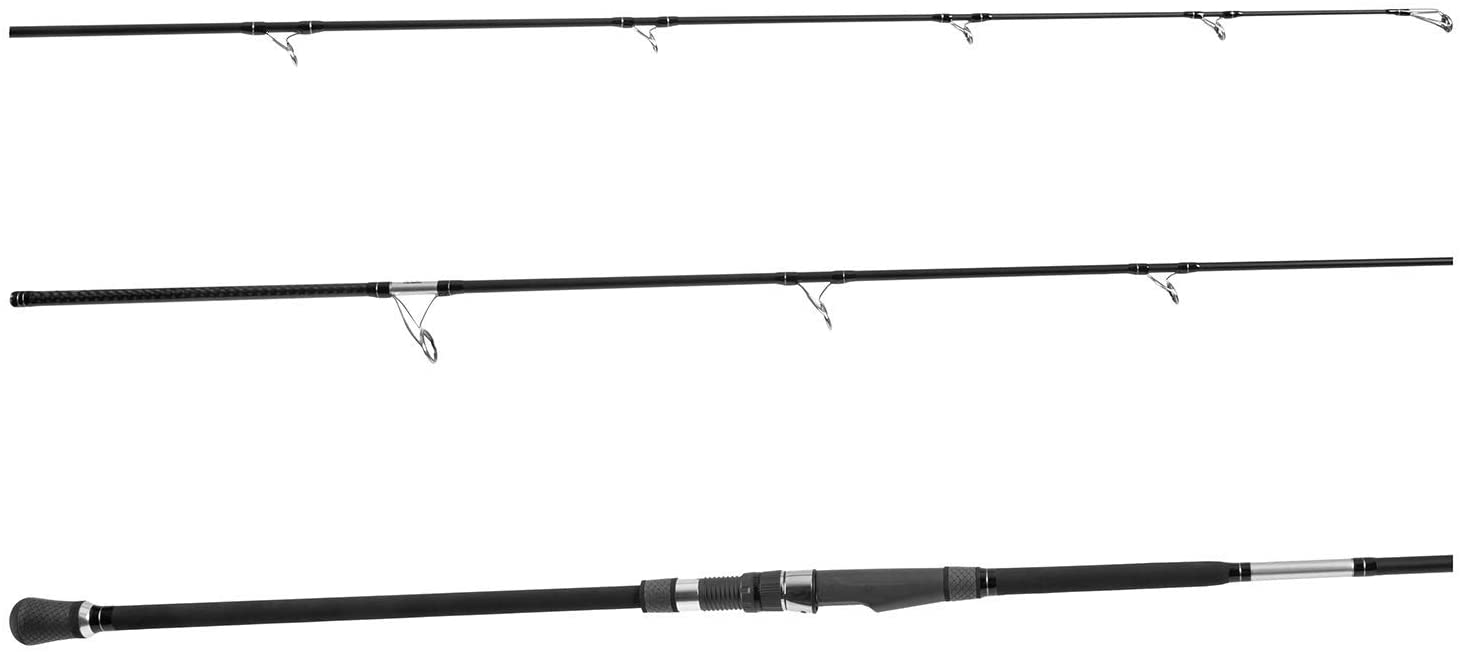 Salt X Features:
100% D16 Nanotech, IM7 carbon fiber construction
Eight axis blank construction for greatest hoop strength
Genuine Fuji silicon carbide braid proof, K-frame guides
Genuine Fuji graphite and stainless steel reel seats with Back Stop Lock Rings
70 / 30 split ferrule for smooth, one piece action
Durable, lightweight shrink vinyl grips with scale textured stops
Tough, high gloss epoxy wrap finish

Tsunami Surf Rods the Pros and Cons
---
Now Let's do a side by side comparison of these Tsunamis rods and compare the features, benefits and of course prices. We will focus on the core features you need when surf fishing of durability, strength, castability and value for your dollar.
As you can see, it will depend on what you are looking for and what you are willing to spend. All of the Tsunami models are great rod choices for the surf.
The Airwave is a faster action longer casting model than the Trophy II but the Trophy II is tough as nails and can take more abuse.
The Salt X is a top of the line cadallac model that combines light weight with strength and superior castability. You will love it, but you have to pay a little more for it.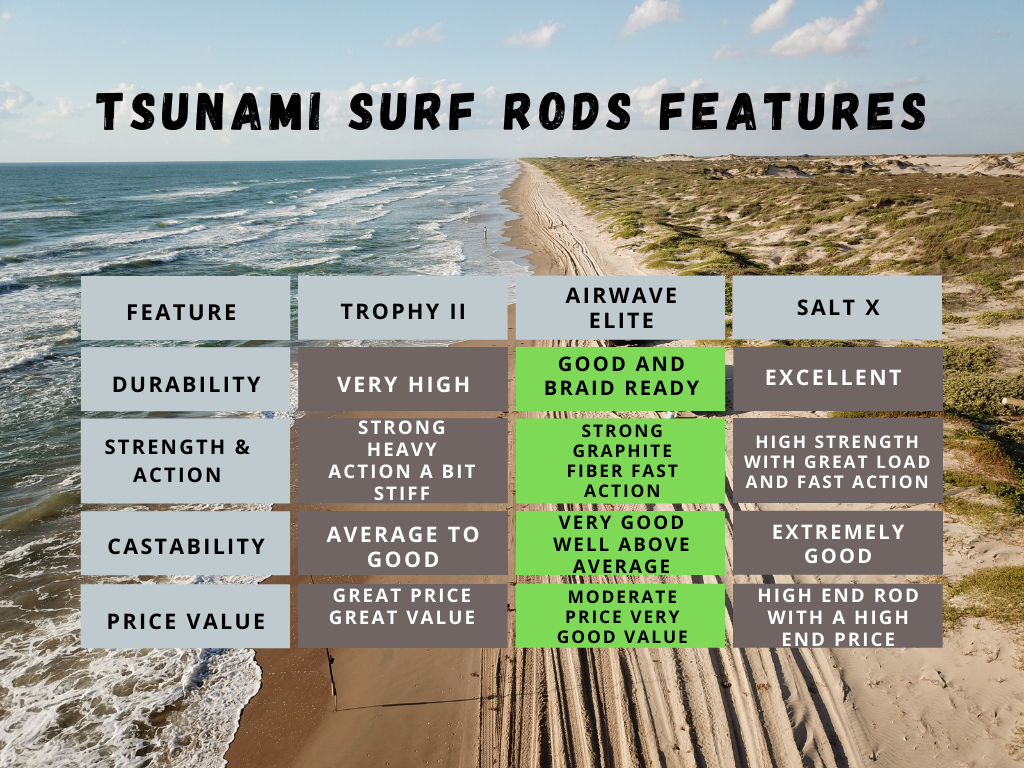 Tsunami Rods Quality for any Budget
---

I certainly understand budget. I tend to look more to the more moderately priced versions. My theory is based on the fact that where I spend most of my time fishing, my rods take a lot of abuse both from the elements and from the travel up and down the remote sections of beach I like to fish.
Whatever your budget, and no matter where in the world your fish the surf, Tsunami by Bmini Bay has a quality surf rod for your. From the budget friendly Trophy II to the latest and most advanced Salt X your can't go wrong. From their high density graphite fiber rod blanks to the braid ready Fuji K series rod guides, Tsunami has built surf rods to take on the harsh saltwater environment and keep your catching fish.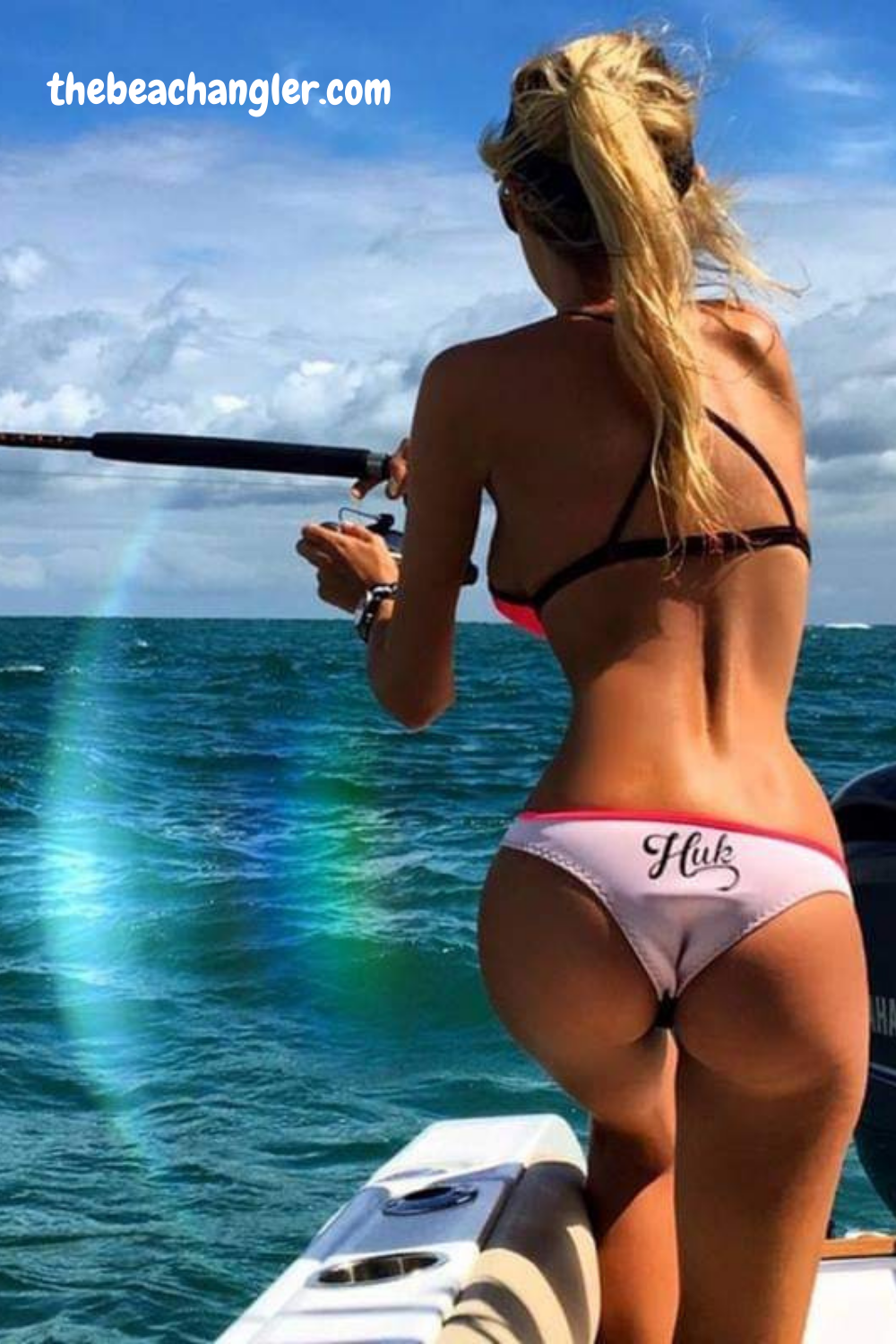 Essential Surf Fishing Gear:
As always, stay safe, enjoy the journey and please try to leave it cleaner than your found it. If your have any comments, questions or suggestions, please leave them in the comment section below and I'll get back to your asap. You can follow on Facebook: Rex The Beach Angler, Instagram: thebeachangler7 and Twitter: @anglerbeach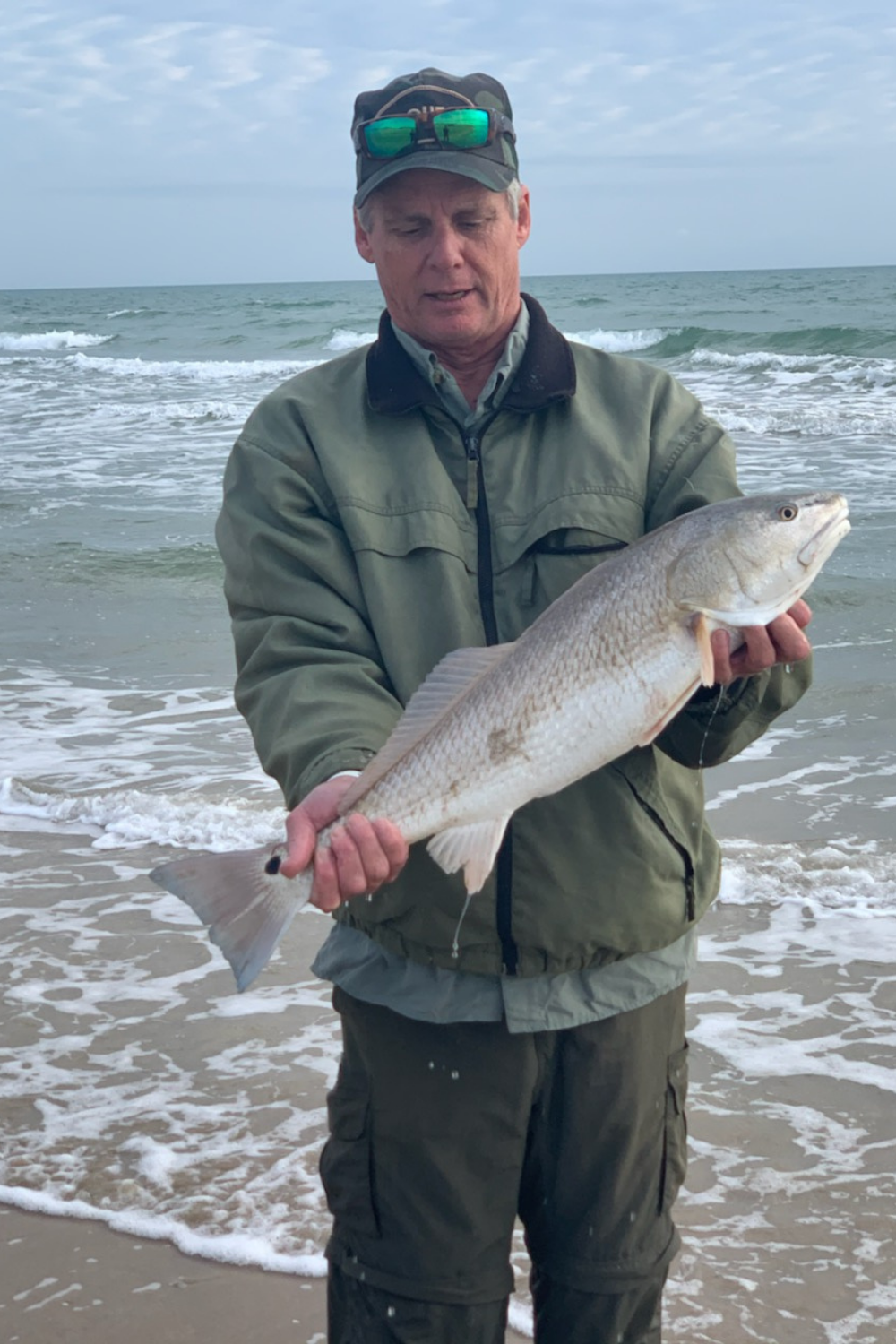 A life long surf fisherman with 50+ years of experience, I am also an avid hunter and outdoorsman. I will be sharing my passion for the outdoors with you so be prepared for hunting, fishing, camping, hiking and more. Along with gear reviews and the latest trends and innovations in the outdoor industry.