Surf fishing, like most other types of fishing, has some specialized gear for the conditions you'll be fishing in.
One of those specialized pieces of equipment is Surf Fishing Rods. Surf fishing Rods are longer and heavier duty than standard freshwater or bay fishing rods.
The extra length is for casting baits longer distances as well as keeping your line up out of the wave action.They are heavier duty to handle the heavier weights, waves, and potentially fight some large fish.
There is a wide range of quality and price, as you might expect, when choosing surf fishing rods. The goal of this article is to help you make an informed decision about what will give you the best value for your money.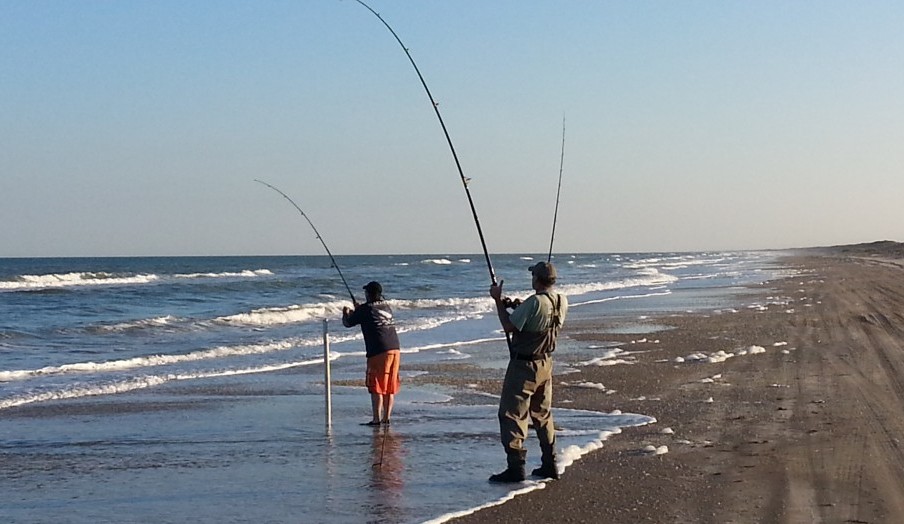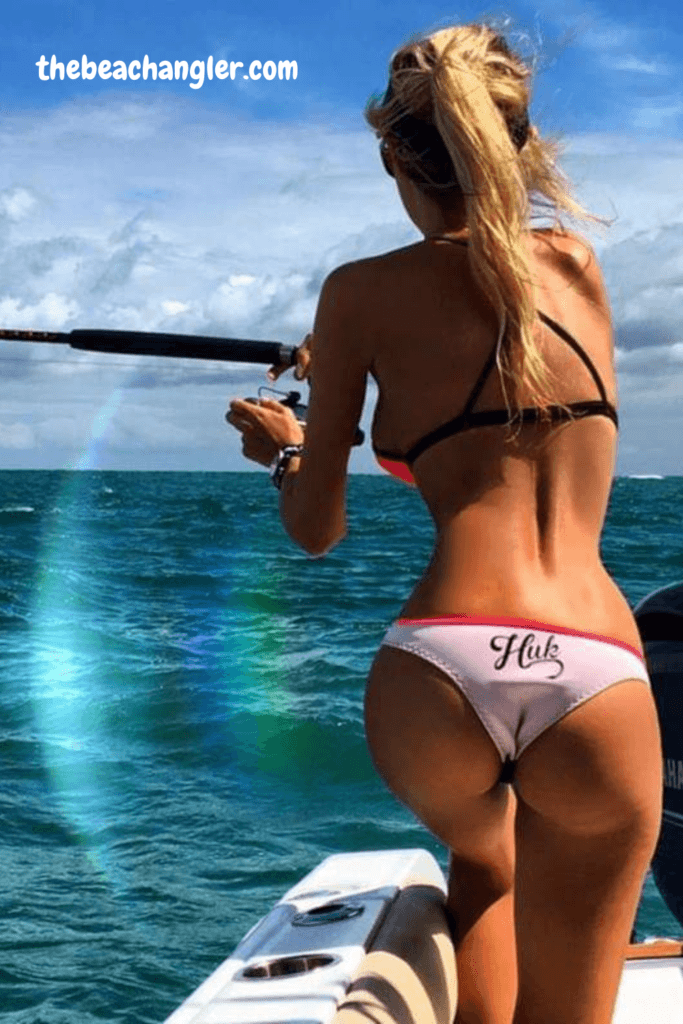 My Recommendations
| Best Surf Rods | Shakespeare Big Water | Penn Squadron |
| --- | --- | --- |
| Key Features: | | |
| Strength and Durability | Awesome can take a lot of abuse | Great toughness |
| Castability | Great long casting rod | heavier action with good castability |
| Pricing | Best Value for your money | Great price for high end features |
---
What Makes a Good Surf Rod?
---
When surf fishing, keep in mind that at times there are strong currents, large waves, strong winds and big fish to fight. These factors make stronger and longer rods necessary. The saltwater environment is also very hard on equipment, so surf fishing equipment needs to have corrosion resistant components if it's going to survive for any length of time.
When choosing surf fishing rods, you will need to look for a rod from 9 feet on up to 15 feet in length. For beginners, something in the 9 – 11 foot range will be easier to fish with as you get used to handling and casting a larger rod and larger baits, while battling the waves 😉

The rod components need to be not only durable, but corrosion resistant as well. The rod eyes should be stainless or some other corrosion resistant material. Better rods will also have more eyes to distribute the load more efficiently over the rod. A good rule of thumb is one eye per foot of rod, so an 11-foot rod would have 11 eyes. Less expensive rods will have fewer eyes, but don't worry, they will still catch fish.
How much do they cost?
---
When shopping for most anything these days, you will notice a wide range of prices and surf fishing rods are no different. You can plunk down $200-$300 dollars on a top of the line high end brand name rod, and you can also find rods in the $40-$70 dollar range. I'll be the first to admit, price is not always a valid indicator of quality. In my humble opinion, there isn't $250 dollars difference in quality or performance. If you're interested in good starter rod and reel combinations for surf fishing, check out my recent post here.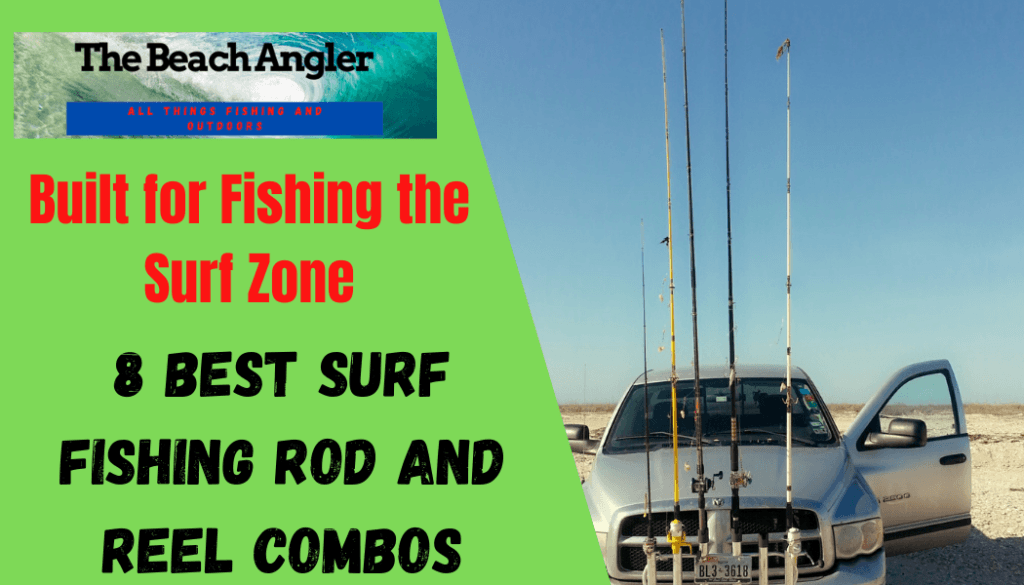 That being said the higher end rods will generally have higher quality components with the latest in rod building technologies and materials.
You should try to strike a balance between cost, quality, and your budget of course. What's the best bang for the buck?
A good quality rod, with quality corrosion resistant components that will stand up to the conditions and perform adequately. This will help ensure you enjoy your surf fishing experience without breaking the bank.
Good Surf Rods – Good Value
---
Here are some examples of good quality, well built surf fishing rods that can take the tough conditions of surf fishing and not bust the budget.
Shakespeare Ugly Stik Bigwater Spinning Rod 
I have several Ugly Sticks, some for over twenty years now. They have never let me down and really are some of the toughest rods I have ever used. Not the most expensive, and there are more advanced rods out there of course, but dollar for dollar, it's hard to beat the Shakespeare Ugly Stick. And, their surf fishing rods are no exception.
Durable and tough fishing rod designed for the challenge of big water fishing

Ugly Tech blank construction with a combination of graphite and fiberglass

Clear Tip design delivers added responsiveness and strength

Lightweight EVA grips provide comfort during lengthy fishing outings

1-piece stainless steel Ugly Tuff guides eliminate insert pop-outs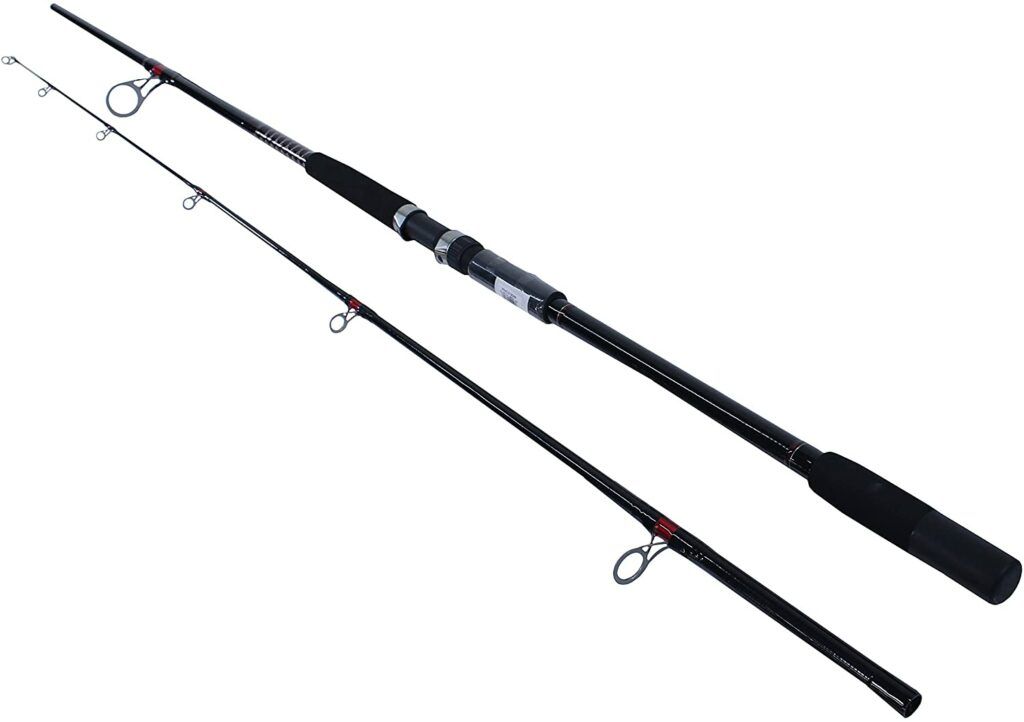 Fiblink 2-Piece Surf Spinning Fishing Rod Carbon Fiber
A newer entrant into the surf fishing rods and saltwater fishing rod market, Fiblink has built a very high quality rod with high end components and features and kept it at a very affordable price. You'll enjoy many years of service from these rods.
Sensitive and Solid Carbon Fiber Construction – Carbon construction for improved performance-action and increased sensitivity. The rod delivers the extraordinary toughness of solid carbon fiber construction and precisely tuned action for boat fishing.

High-Quality Guides – Stainless steel mixed with ceramic guide makes it more smooth, avoids line sticking in the guides, minimize friction for smooth, long casts, while also enhancing sensitivity by transferring vibrations from the line through the guide to the rod and to your hand. The guides are precisely aligned, along the bottom of the spine of the blank which is perfectly straight and true.

Non Slip Rubber Shrink Tube Handle – Non slip rubber shrink tube handle with tapered rear grip Tip over butt ferrule connection for maximum strength and durability Machined tapered hood transitions above and below.

Extreme Exposure Reel Seat and Cork Grip – Wheel seat with stainless steel tapered hood transitions above and below reel seat protecting cap. With high quality cork grip, for comfortable and traditional look and feel.

Excellent Design – Precise data calculation and the perfect combination of performance presents a cost-effective

pole

Okuma Fishing Tackle CSX-S-1102MH Cedros Surf CSX Graphite Saltwater Spinning Rods
Okuma makes a variety of quality rods and reels. I have used both, and found them to be exeptional performers in the harsh saltwater and beach front environments. The Cedros series of surf fishing rods is a bit more expensive, but you get the very latest in rod building technologies for you money and a "Lifetime" warranty.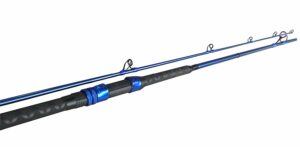 30-Ton carbon, ultra-sensitive and responsive blank construction

ALPS stainless steel double footed guide frames for increased distance

Non slip rubber shrink tube handle with tapered rear grip

ALPS blazing Zirconium guide inserts

Cedros CSX Surf rods are backed by a limited lifetime warranty

Tica UGSA Series Surf Spinning Fishing Rod
Tica produces some of the finest fishing rods in the world. Their Surf fishing rods are built in this same tradition. You will get the finest materials and the most advanced rod building technologies available. They do come with a bit of a higher price point however.
Constructed of high modulus TC3 graphite material

High quality FUJI ALCONITE tip-top guide, FUJI HARDLOY ring guides, FUJI DPS reel seat

Specially designed Tica sliding fold able hook keeper

Non-slip cork handle; custom diamond wraps handmade in Tica's state-of-the-art facility

Perfect match with Tica's Talisman/Samira/Scepter/Abyss reel series

Okuma's Solaris Surf Fishing Rods-SS-C-1102H-2
Another of Okuma's great Surf Fishing Rods is the Solaris line. Again a bit more on the higher end, but still budget freindly. You will get the latest in fishing rod technologies and materials with a lifetime warranty. That is saying something with a saltwater rod.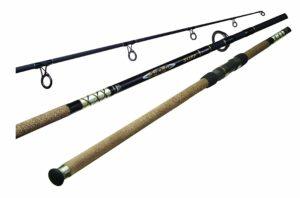 IM-6 graphite blank construction

Fuji aluminum oxide guide inserts

Stainless steel double footed guide frames

Cork wrapped non-slip for and rear grips

Limited Lifetime warranty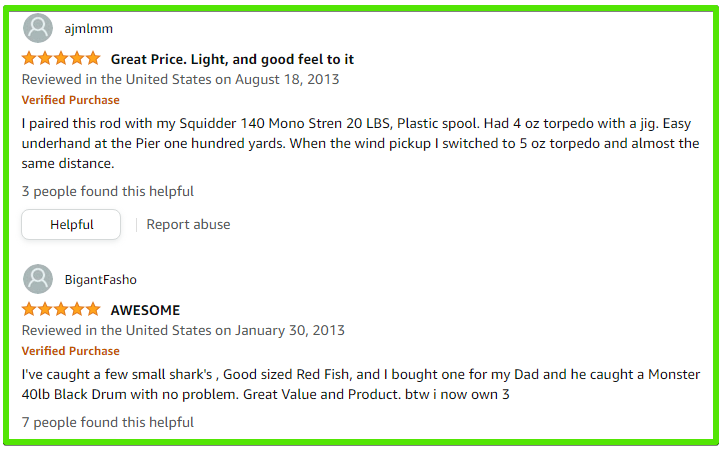 Penn Squadron II Surf Spinning Fishing Rod
If you have read any of my other articles, you know that I am a huge Penn fan. I have been fishing with Penn rods and reels for over 50 years now. They are, by far, the most durable and reliable on the market. And, you get a 5 year warranty with Penn surf fishing rods. They are very moderately priced making them one of the very best buys for you buck. If you are looking for a great reel to pair with your new rod, check out my Penn Reels Review HERE: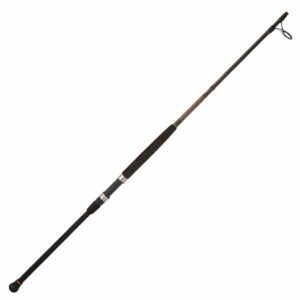 Smooth intermediate modulus carbon fiber blank

Fuji reel skeleton and full reel seats

Sea guide Ss316 stainless sloped guides with Zirconium inserts

Premium cork and TAC grips in split and full handle 1404020

5 Year limited Warranty

How to Choose?
---
All of these are good quality rods with good components that can stand up to the elements and provide for a quality surf fishing experience. There is a wide range of prices that will fit most any budget.
There are much more expensive rods of course, but we are looking for value for the money. Ultimately it will be up to you and your budget.
When someone closes the tailgate or car door on your rod, it hurts a little less when is a $60 dollar rod than if it's a $140.00 rod.
The Jack Crevalle, in the picture on the right, was caught using a $65 surf rod. You don't have to break the bank to get a good surf rod and reel set up.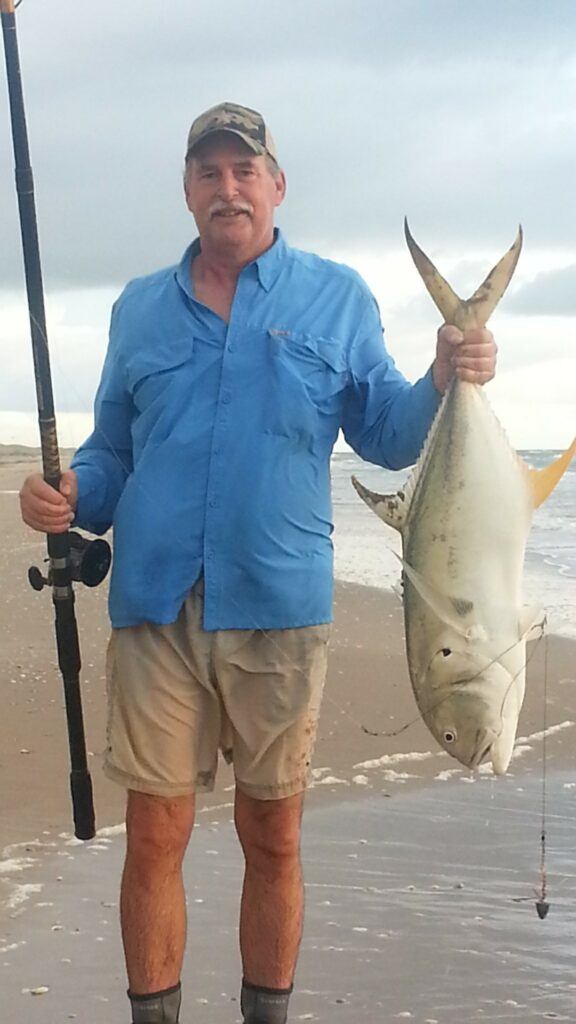 Check'em out and get Fishin
---
Take a look at these rods, I've provided links to the reviews etc. See if they will work for you and go try it out. Let me know what you think. The ultimate test is landing a nice fish on the beach front. What ever surf fishing rod you choose needs to fit you and your surf environment and how you personally fish.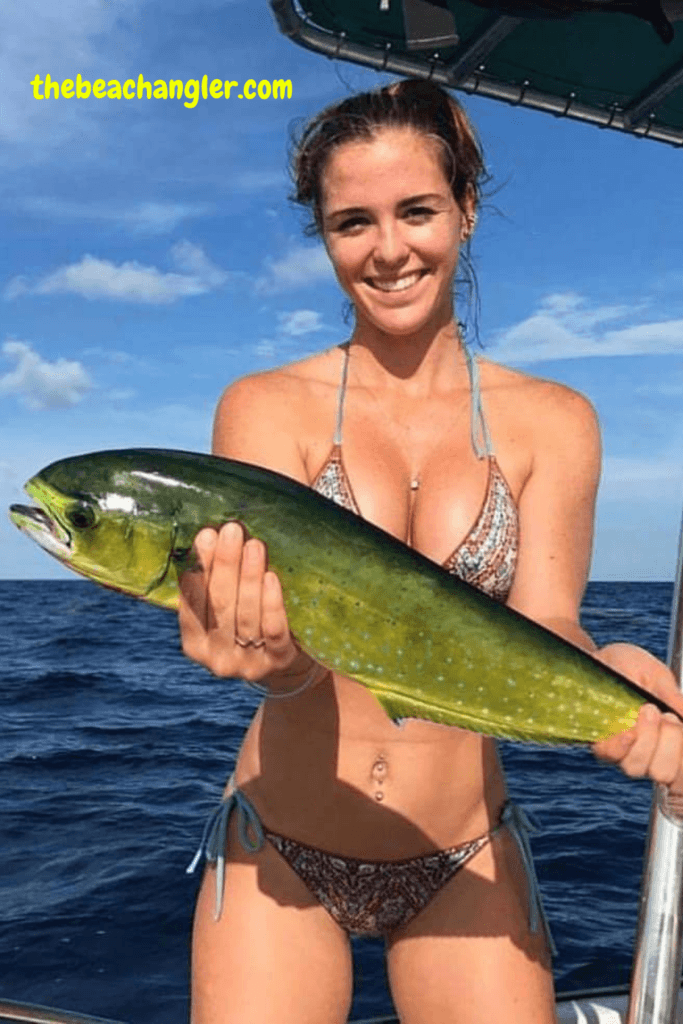 Essential Surf Fishing Gear:
Good Luck, good fishing, safe travels and enjoy the journey. Please leave the beach cleaner than you found it. If you have any comments, questions, ideas or suggestions, please leave them in the comment section below and I will get back to you asap. You can follow us on Facebook: Rex The Beach Angler, Instagram: thebeachangler7, Twitter: @AnglerBeach, and YouTube: Man Art Creations.