Sometimes we find ourselves in a fishing situation where either the water is too cold, or we simply don't want to get wet. You need something more than just wading boots or shoes. A good pair of waders can go along way to keeping you warm, dry and fishing. I've tried them all over the yeas. The original boot footed rubber coated canvas waders, the "form fitting" neoprene and the more modern "breathable" versions.
Technology has come along way, and waders are no exception. There are a number of high quality wader manufacturers, and Frogg Toggs is one of the finest. You may be thinking, "frogg toggs®, I thought that was rain gear." Well, that is where they started. Lightweight breathable rain gear that was easy to pack and kept you dry in the heaviest of downpours.
Well, that was 23 years ago, and while frogg toggs® still makes the highest quality rain gear, they have expanded into waders and footwear. They are applying the same technological advancements and innovations to their line of waders as they did with their rain gear.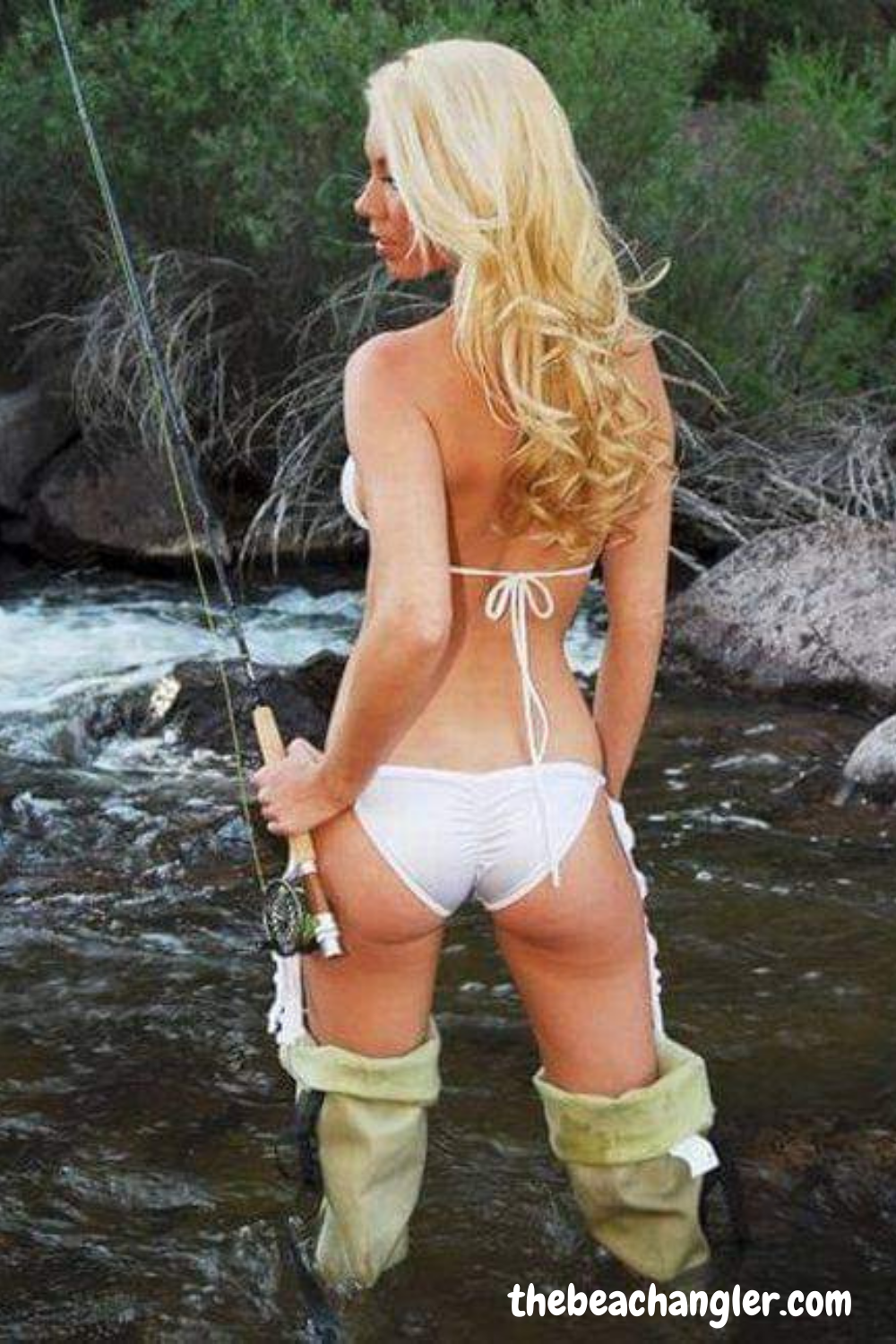 Frogg Toggs
---
I'm sure you've no doubt heard of frogg toggs®, but in case you are not familiar with the brand, the following is the back ground on the company and their product developments.

The Frogg Togg Story:
For 23 years, frogg toggs® has endeavored to provide the world's best rain wear, waders, cooling products, footwear and accessories at the best possible prices. Their mission has always been to keep folks comfortable during their outdoor pursuits. Whether you work or play outdoors, frogg toggs® has a product that will keep you comfortable while you pursue your passion or put food on the table.
frogg toggs® has provided many "firsts," in technology advancements and innovations. Their focus is on providing better performance, technology, features and affordability for you, their customers. frogg toggs® is not about flashy advertising campaigns, making a quick buck on flamboyant, overpriced gear, copying someone else or making the customer overpay because of the name on the gear.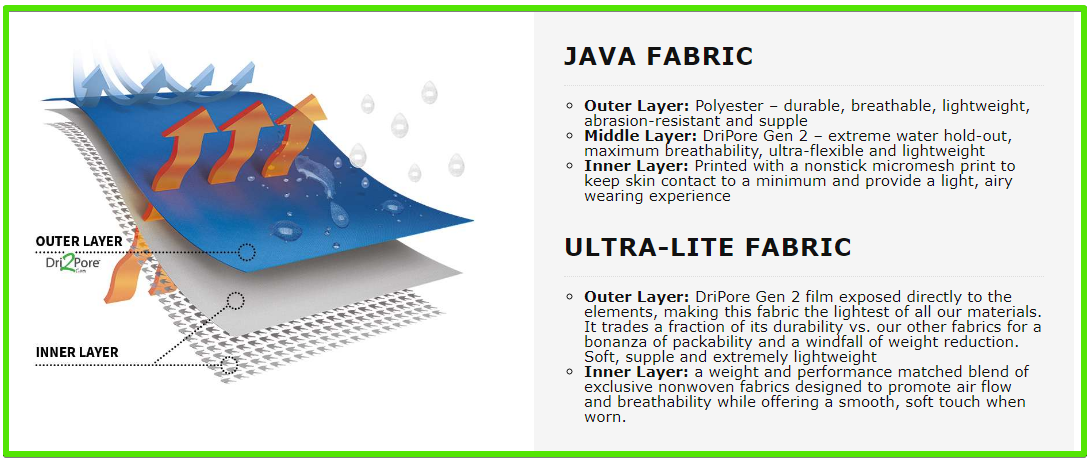 frogg toggs® is about connecting with their customers on a personal level so they can understand what you need from their gear. frogg toggs® is about providing the best customer service to its consumers and retailers. frogg toggs® is about being a good trading partner and a respected business in its industry.
frogg toggs® is about being accessible, no matter what your budget might be. frogg toggs® is about creating the best outerwear on the planet while maintaining affordability for our family of users.should be accessible to the world.
frogg toggs® made from 13 uniquely different fabric families.
That's a lot of different fabrics for a product that is, at the end of the day, designed to keep you dry. Why so many choices? Basically, because you, their customer, requires it. Any one of their fabrics will keep you dry, warm and comfortable. However, not every fabric behaves the same way, and because there are so many ways to experience and enjoy the outdoors, they strive to provide the perfect outerwear for you and what you do.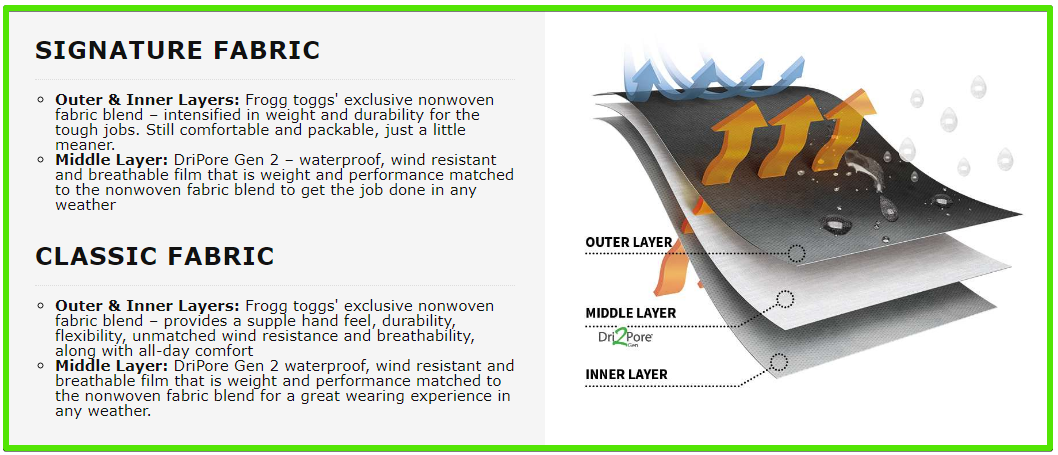 Hiking, biking, hunting (in both warm and cold weather), casual outings, fishing (tournament, commercial and recreational), spectator sports, changing a tire in the rain, tarping a load on a long haul truck, performing utilities and emergency work, farming and ranching, motorcycling (long-distance or around town), gardening, and winter sports all require different levels of performance (water holdout, breath ability, ease of movement, visibility) and different levels of durability (abrasion resistance, tear resistance, contact resistance, heat resistance).
frogg toggs® builds the right technology and performance into every product — so that we always provide the very best product and price for our valued and loyal fans, friends and family.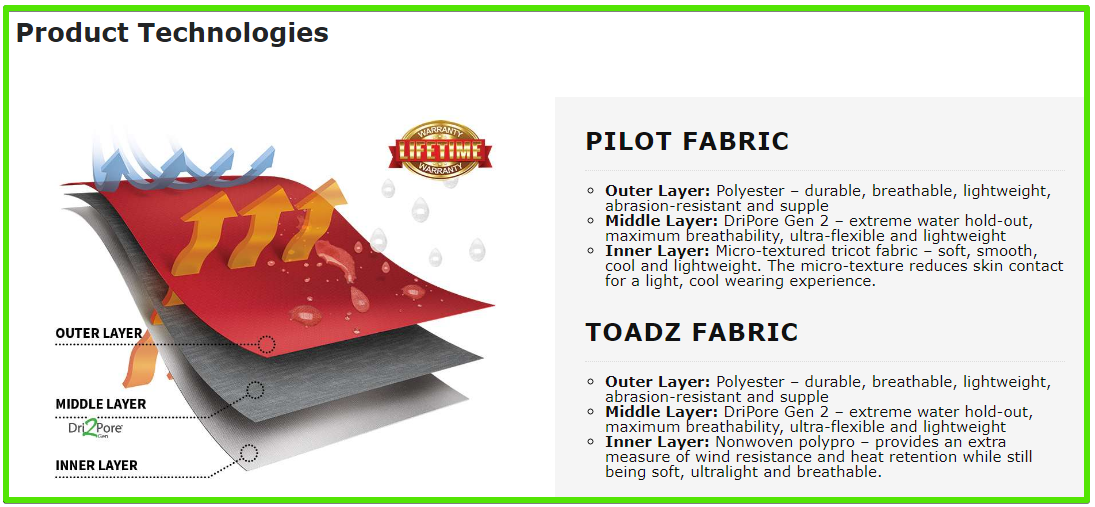 Company: frogg toggs
Website: www.froggtoggs.com
Address: 131 Sundown Drive NW
City/State: Arab, Alabama 35016
Phone: 1-256-931-1580
Toll free: 1-800-349-1835
frogg toggs® makes a variety of waders, hip boots, guide pants and over shoes. Their wader line up includes heavy-duty neoprene, various breathable and lightweight offerings and everything in between. They have a wader that will take care of your needs. The newer technology of lightweight fabrics that can be worn over layers of clothes when its cold, or over shorts when the weather is hot, are the most versatile for surf fishing. Let's take a look at some of their best.
Frogg Toggs Anura II Waders
---
The frogg toggs® Anura II Waders are a lightweight, breathable and durable wader in stocking foot. Great for surf fishing on wade fishing bays, lakes rivers and streams in warm to moderate climates. You can wear warm layered clothing under them when the temps get colder. All in all a great all around wader choice.
DETAILS
• Chest pocket features expandable center compartment, deep side-entrance pockets, and center scissor and tippet pocket
• Handwarmer pockets behind center storage
• Zippered flip-out security pocket
• Single-seam straddle design reduces wear
• 4-ply nylon upper with reinforced knees and legs
• Adjustable wading belt
4 mm double taped neoprene booties
Adjustable X-back suspenders with quick-release locking buckles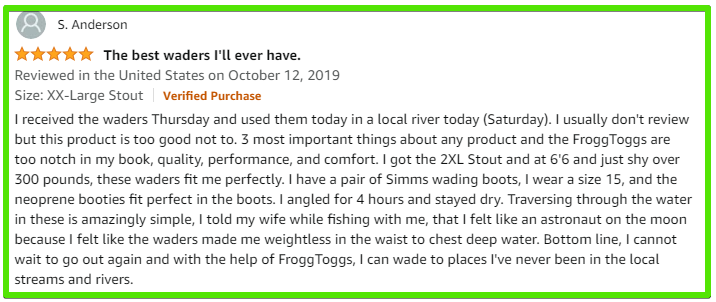 Frogg Toggs Hellbender Waders
---
The frogg toggs® Hellbender Waders are made of breathable and durable nylon fabric with extra storage and hand warmer pockets built in. Available in either boot foot or stocking food Hellbender Waders are built tough for those heavier duty applications.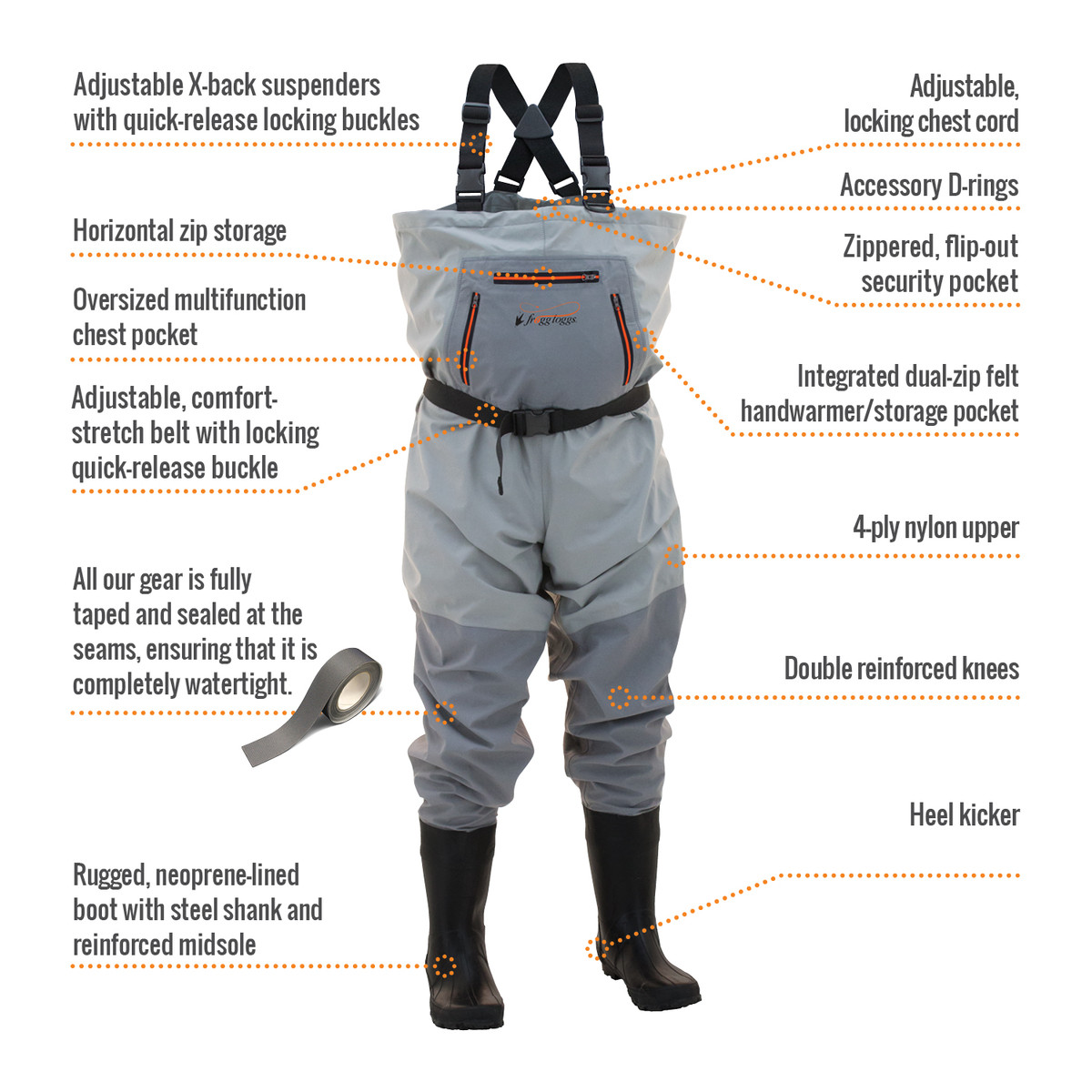 • 4-ply nylon upper with double reinforced knees
• Adjustable wading belt with locking buckle
• Adjustable X-back suspenders with quick-release locking buckles
• Horizontal zippered chest storage pocket
• Integrated dual-zip hand warmer/storage pockets
• Cleated neoprene-lined boot with steel shank, reinforced mid sole, and toe cap


---
Frog Toggs Steelheader Waders
---
frogg toggs® Steelheader Waders are for those who from time to time might face some extreme cold water situations. With a removable insulated liner system you have a pair of waders that can work for you over a wide range of weather extremes.
DETAILS
• Multi-climate, Breathable, Insulated Chest Wader
• Patented removable zippered liner system for complete versatility and adaptive comfort in all weather conditions
• 120-gram zip-in/zip-out, removable insulated liner
• 4-ply nylon upper with reinforced knees and seat area
• Adjustable elastic suspenders with quick-release buckles
• Zippered flip-out security pocket
• Zippered storage pocket
• 2 diagonal-zip, fleece-lined hand warmer pockets
• Adjustable wading belt with locking buckle
• 1,200-gram Thinsulate™ boot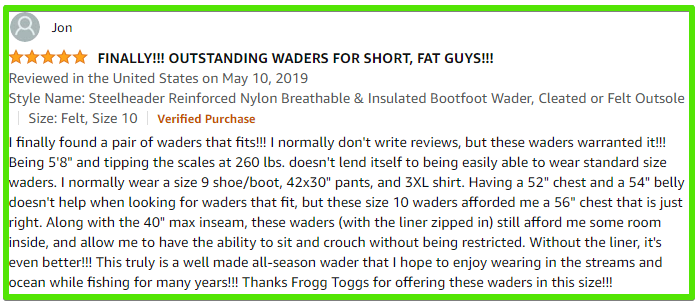 MULTI SEASON, WATERPROOF, BREATHABLE INSULATED – perfect for multiple seasons with zip in/out removable insulated liner with 4 mm double-tapped neoprene booties with attached gravel guards, lace hooks
ADJUSTABLE – H-Back suspenders and wading belt feature quick release locking buckles
Frogg Toggs Hellbender Guide Pants
---
frogg toggs® Hellbender Guide Pants are great for wading shallow streams and for hiking through wet country. Built extra tough and durable for "bustin brush" the Hellbender Guide Pants will keep you dry weather its fishing for brook trout in a mountain stream, or tracking a bull moose through the willows.
DETAILS
• 4-ply nylon upper
• Adjustable wading belt
• Attached gravel guards with no-slip grips and integral lace hook
• 4 mm double-taped neoprene booties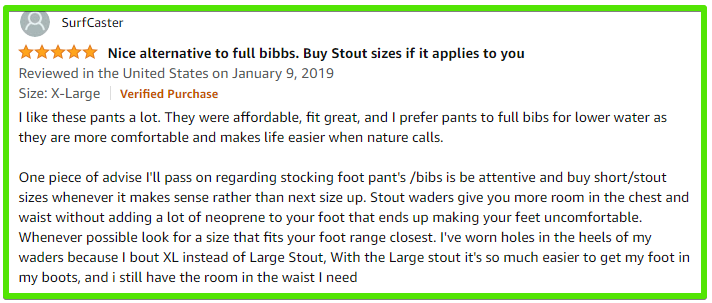 Frogg Togg Waders Comparison
---
Any of these frogg toggs® waders will do the job for you. The following chart will let you compare some features and benefits side by side.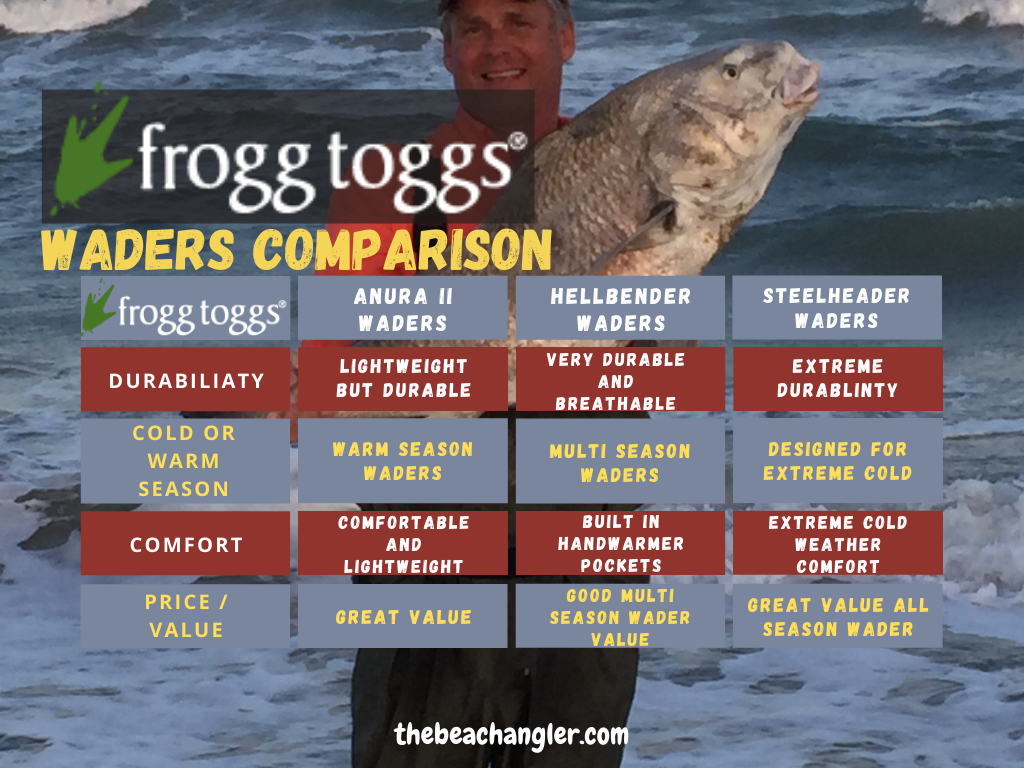 Frogg Toggs Built to Keep Water Out
---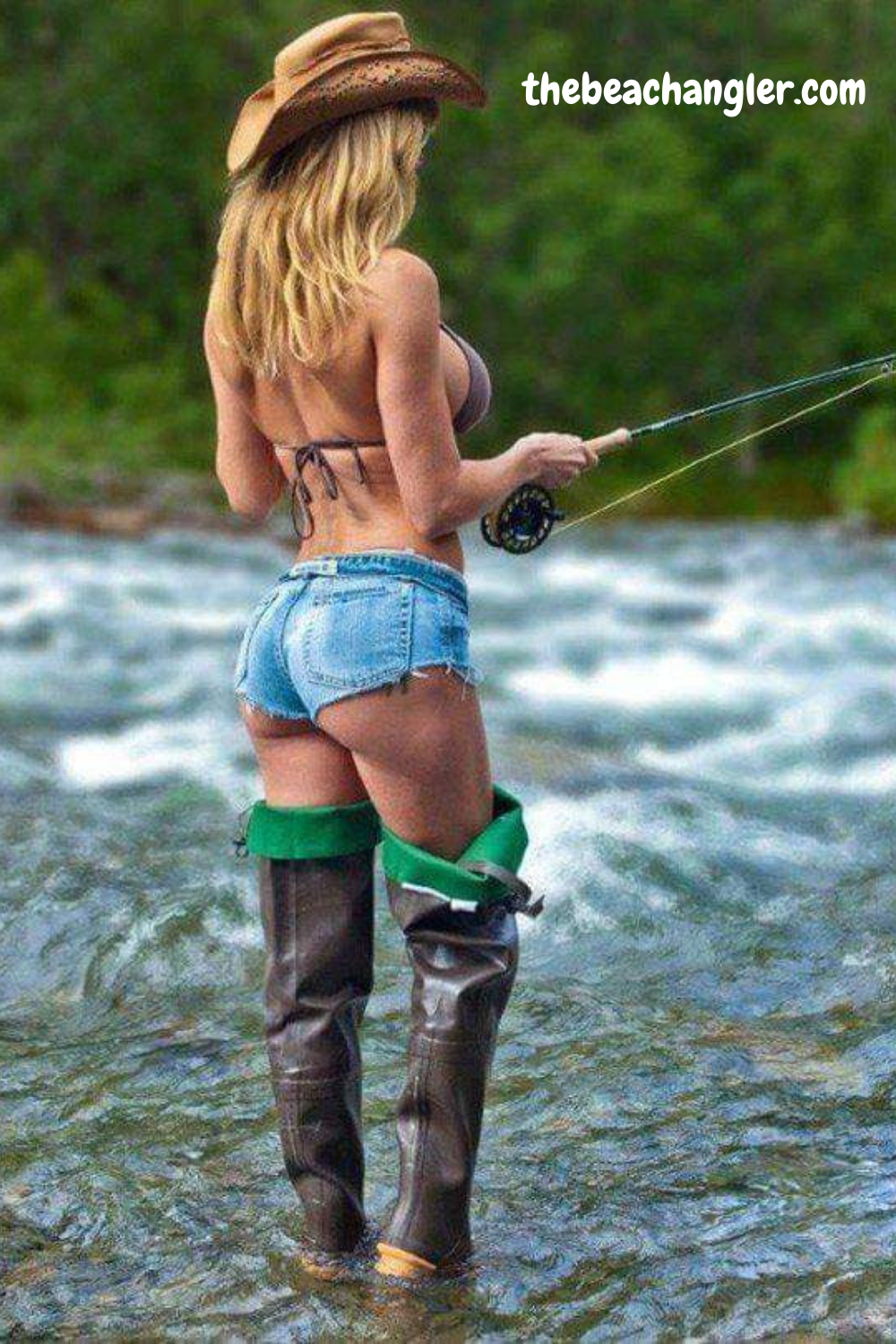 Do you need insulated for cold water and weather, or just the guide pants for wading shallow streams and walking through wet brush. Whatever it may be, frogg toggs® has got you covered….literally. If none of these we reviewed today meet your needs, you can head over to froggtoggs.com and check out their full line up of rain gear, footwear, and waders. They've been keepin people dry for 23 years, they know what they're doing.
And, as always, stay safe, enjoy the journey and please try to leave it cleaner than you found it. If you have any comments, questions, suggestions or ideas, please leave them in the comment section below and I will get right back to you. You can follow me on Facebook: Rex The Beach Angler, Instagram: thebeachanger7, Twitter: @AnglerBeach and YouTube: Man Art Creations.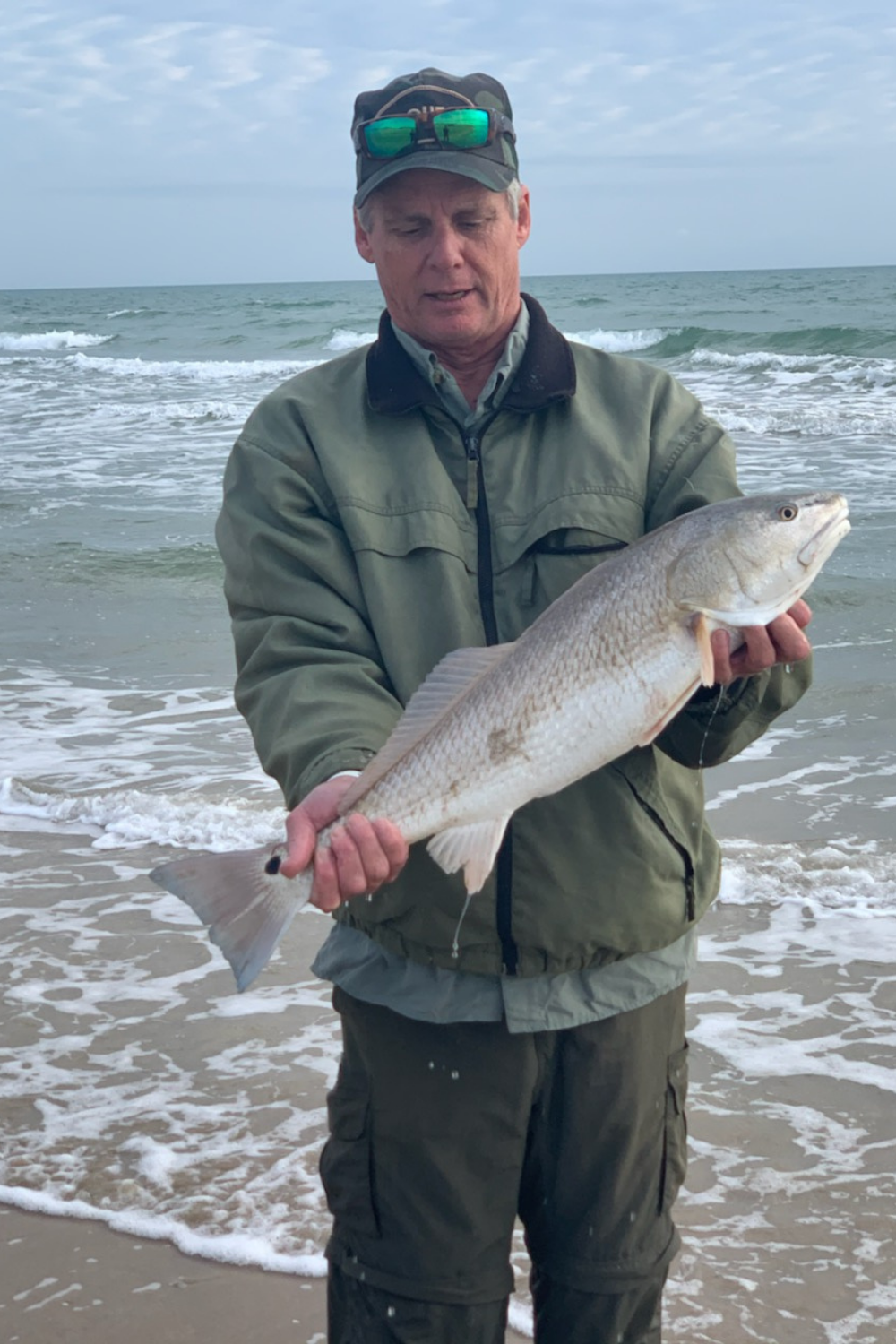 A life long surf fisherman with 50+ years of experience, I am also an avid hunter and outdoorsman. I will be sharing my passion for the outdoors with you so be prepared for hunting, fishing, camping, hiking and more. Along with gear reviews and the latest trends and innovations in the outdoor industry.