You may have heard about the FishBrain app for your phone where you can get maps, fishing locations, fishing reports and more right on your smart phone. It was inevitable that the smart phone, with all of it's available apps, someone would eventually develop a fishing app. FishBrain did and, I'm sure there will be many more to come. Technology just keeps advancing.
Fishing is more than a hobby – it's a passion. And, there's a way for technology to improve on that passion. FishBrain is changing the way people fish and how anglers connect. They've got big plans for the sport of fishing, and they're backed the same investors that are behind some of the most successful social networks and apps in the world. In short, FishBrain is Facebook for Fishing.
Quick Shot:
The FishBrain App is the world's #1 fishing app. From your smartphone you can access maps, fishing reports, catch locations, best fishing times and baits, and more. They even have a fishing store as part of the service. With over 11 million users worldwide, you have all the information to make you a better fisherman at your fingertips. A very thorough and detailed app with a free version and Pro version for $9.99 per month or $74.99 annually. I give it a rating of 93 out of 100 – HIGHLY RECOMMENDED.
Fishing and Technology
---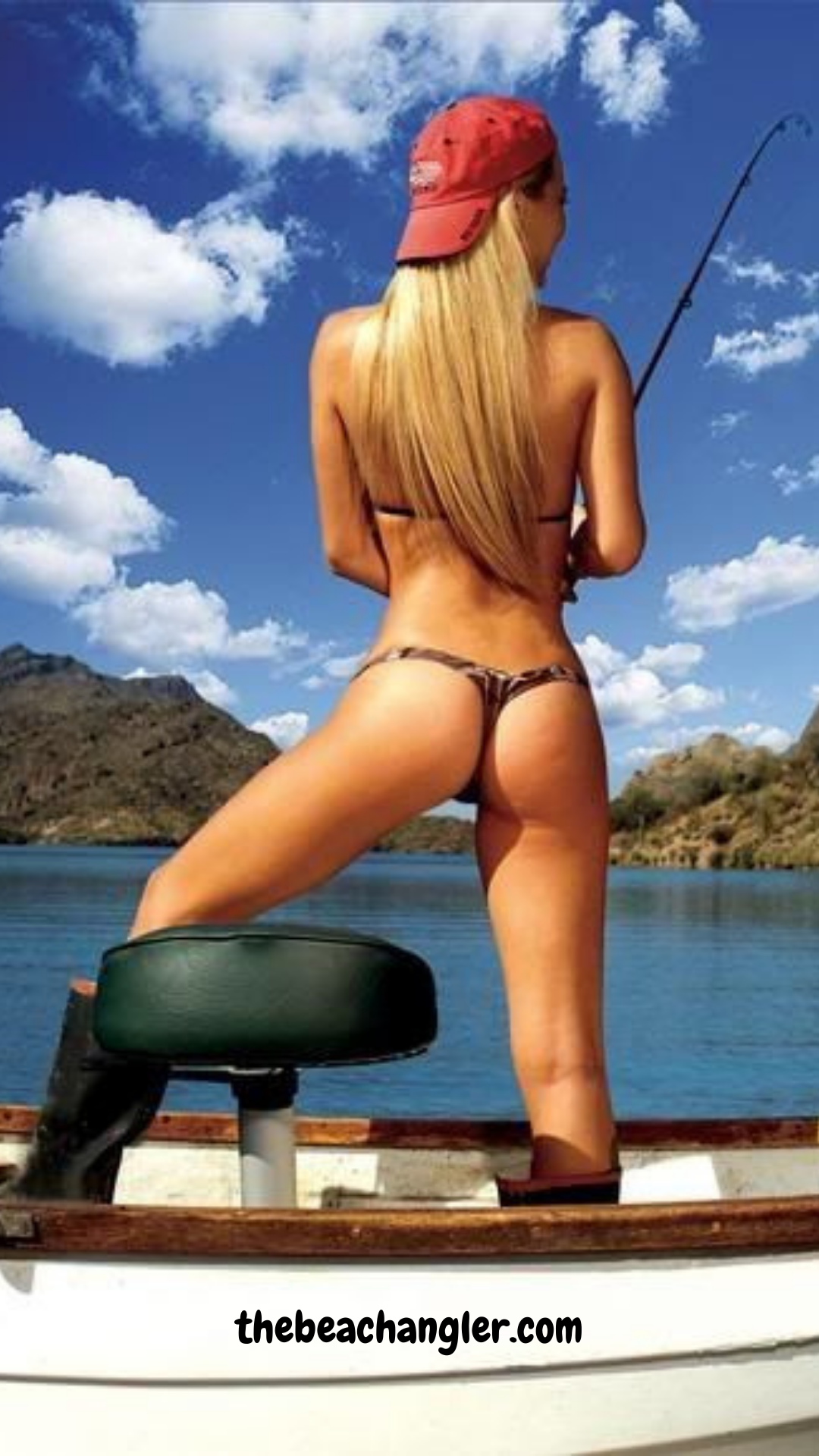 Technology is nothing new to fishing. The fish finder was invented by two Japanese brothers from Nagasaki in 1948. Darrell Lowrance founded Lowrance electronics and developed the first commercially available fish finders for recreational fishermen. And, from there, everything from marine band radios, GPS, LORAN, Satellite Phones and smart phone apps have been developed
The FishBrain App like the TowBoatUS app that we reviewed in another article, is a smart phone app that gives you the resources to plan your fishing trip, record the results, and connect with other fishermen all in the palm of your hand from anywhere you can get a phone signal. Let's take a look at what the FishBrain app is all about and see if it's a worthwhile addition to your fishing gear.
What is the FishBrain App?
---

FishBrain, Inc.
263 Shuman Blvd, Suite 145
Naperville, IL 60563
Drottninggatan 26,
111 51 Stockholm, Sweden
fishbrain.com
FishBrain is the world's No.1 fishing app. It provides the tools and knowledge to help anglers get better at fishing, so you can catch more fish. Find nearby fishing locations for your next trip, discover the best times to fish, and what bait you should throw. The FishBrain app also allows you to socialize with other anglers, share fishing memories and brag about your latest catch. Fishing intelligence in the palm of your hand. Harness the power of data to land your next PB. From fishing forecasts to finding the perfect spot to fish, the FishBrain app has everything you need. Download app for iOS or Android.
OUR MISSION
Commitment to Sustainability. At FishBrain, we're connecting anglers to make fishing dreams come true, today and tomorrow. We have a part to play in making sure future generations can continue to fish the oceans like the rest of us. Our global data set is one of the largest in the world, and we freely share it with scientific research partners in both North America and Europe to better understand our fisheries. This is just the start; sustainable fishing is an ongoing project, and we have so much more to come.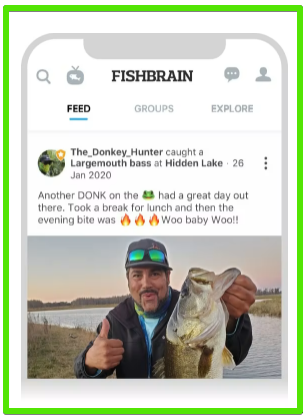 How Does the FishBrain App Work?
---
The FishBrain App works by combining the functions of solunar, weather and fishing forecasts along with maps and fishing logs all in one app on your smart phone. Data that normally you would have to gather from many other websites and apps you now have all-in-one. Take a look at all that FishBrain provides for you to plan and record your fishing adventures. I think you'll agree, it's an awesome tool.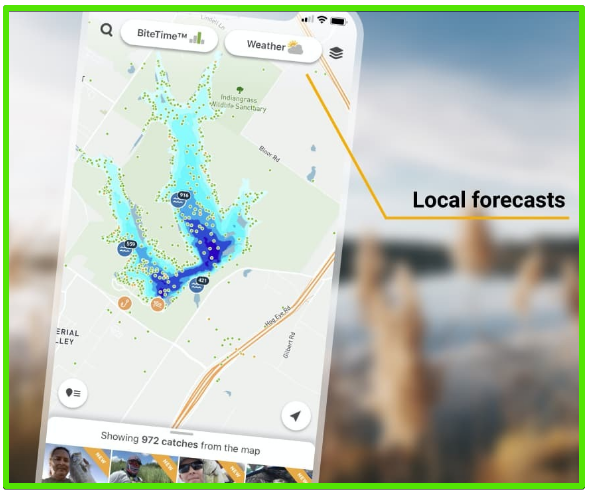 Curious about the best time to go fishing? FishBrain has you covered. Simply open up the app to easily identify weather trends so you can find that perfect window to catch your next personal best. Planning a trip is easier than ever with our extended fishing forecast. With FishBrain Pro you can see weather forecasts and patterns days in advance, allowing you to pick the best day, the best time, and best spot to fish.
See forecast conditions by the hour: – Easily see fishing weather conditions by time of day, broken out into hourly intervals. Want to grab your rod and reel and pop out to the lake over lunch? See the best hours to take your lunch break and increase your odds of catching a fish. Want to know the best time to catch bass near you? With FishBrain you can determine the exact time of day and spot to find your personal best bass. Simply scroll through the fishing forecast data in the FishBrain app and see which species are most active during the time of day chosen.
Local fishing forecast data: – You can see fishing forecast data at a hyper-local level. Simply find the fishing spot you want to visit and click "Weather" to see what the forecast is for that specific body of water.
Solunar forecast and tables: – FishBrain Pro will also give you access to solunar tables, perfect for identifying the right time to fish, or when trying to catch a specific species. See data on the sun and moon phases and their effect on the tides with our tide table data.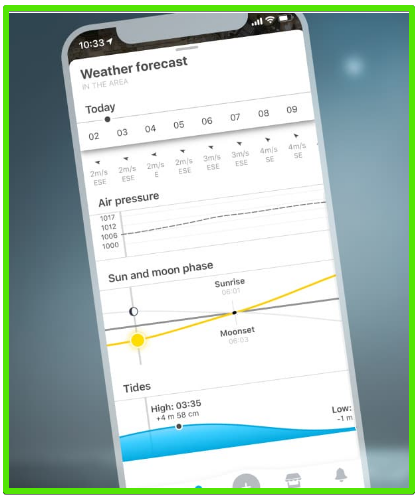 Struggling to find the perfect fishing spot? FishBrain helps you find new places to fish with our interactive map and over 8 million catches. You'll be surprised what fishing spots you didn't know of. Now you can browse the map, and discover the closest spots, or you can select a fishing hole based on the type of species you want to catch.
One of the things I love most…
One of the things I love most is exploring new areas, going to a place unknown to me, and looking for my fishing spots. After exploring, making my attempts, I always open Fishing Spots inside the App to check if I fished any of the spots or if I missed any important structure. Certainly, Fishing Spots is a very useful tool, besides giving us several tracks of fishing spots it is a learning tool.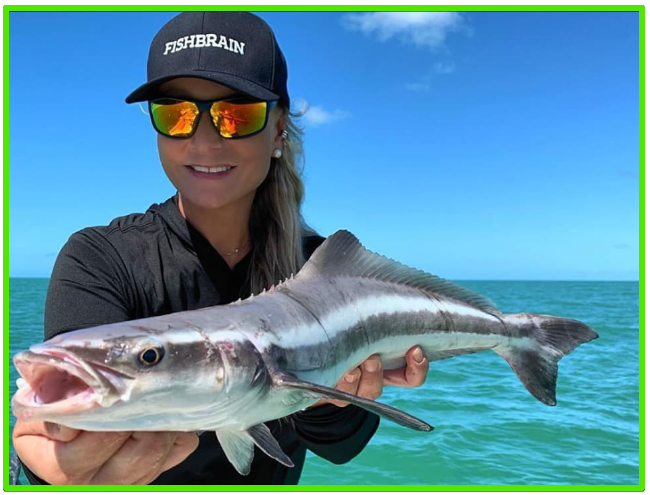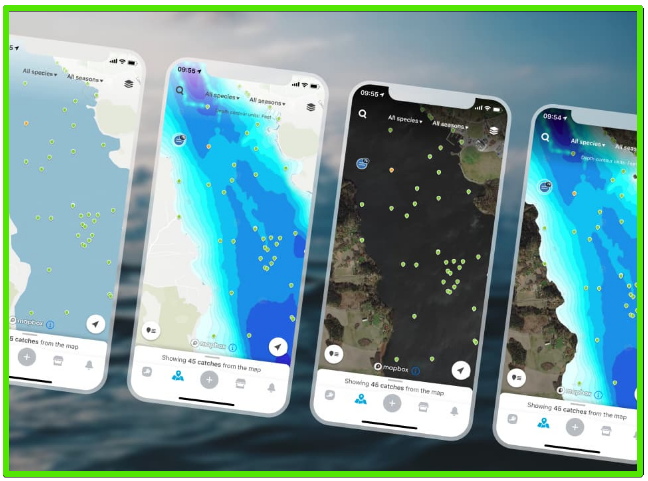 Pan and zoom on the map to find exact fishing spots and points of interest in your favorite fishing area. Planning a Fishing Trip out of state? With Plan ahead with FishBrain by scoping out the location prior to hitting the road. Know the best time to target species with our fishing forecast right from the interactive map.

Customize your fishing map – Change the view of your map based on your preferences. FishBrain map details allow you to switch between terrain, hybrid and satellite views. Start your planning off in the right direction before heading out to the water.

Local points of interest – FishBrain not only provides you with tons of catch data, we also have information on local points of interest just for anglers. Looking for a place to launch your boat for a day out on the water? Simply browse our map to find boat ramps, marinas, bait shops, and more. You can even find local fishing license vendors.

Explore catches near you – Curious what is being caught around you? Search for new fishing spots and see exactly how many catches were logged in areas near your location. Worried about giving away your fishing spots? You are always in control of what you share, it's 100% up to you. FishBrain puts you in control of your data.
The perfect tool – Fishing spots helps me to see other users success in new waters. This is a perfect tool to expand your fishing grounds. You can also see the leader board in each water to find out if there has been caught any big fish in that specific water which is a huge advantage when searching new waters.
FishBrain helps you find new spots – FishBrain helps you find new spots when you go fish a new area. Whether you're fishing saltwater or looking for some new ponds and lakes, you can go on FishBrain and see where other people were catching fish. When you're traveling somewhere without your boat, you can scout out ponds near you on the FishBrain app and go catch some bass.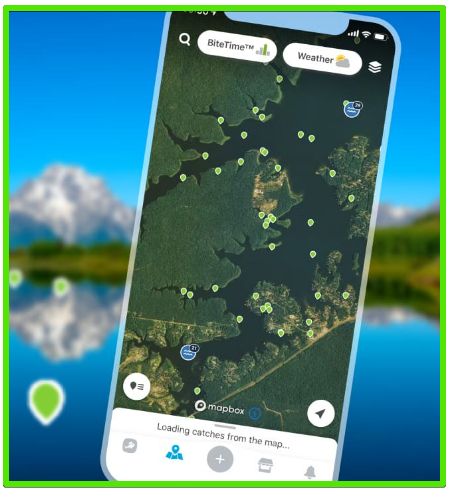 Have you ever been out fishing and found a great honey-hole, but didn't quite remember where that spot was next time you were out? Drop a way point in the FishBrain app by long-pressing anywhere on the map. Add a note, change the icon, and customize the title. You'll never have to remember that honey-hole ever again.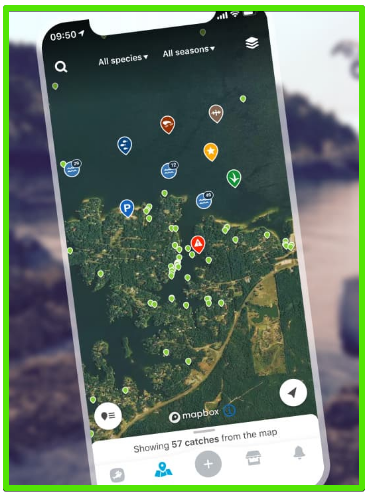 Never forget that honey-hole – Waypoints allows you to mark exactly where you found a great catch in the past. Whether that was a school of fish, great fishing spot, or where you caught your latest personal best, drop a way point and remember it for later.

Avoid, or remember, specific structures – If you lost a lure somewhere, and want to avoid that spot in the future, simply keep a record of it with way points. You can also note down specific structures where fish might like to hide, such as rocks, lily pads or weeds.

Add points of interest that make your fishing experience better – Do you look for specific amenities when out on the water? Perhaps you like having a picnic area nearby or want to know if there is a slipway for your boat. You can track specific area amenities including parking, shelter, bonfires, gas, and electricity.

Mark any other noteworthy locations – Find a sunken log and want to note down this type of high-risk, high-reward situation? Add a specific note so you can remember exactly where that log was in the future. In addition, add a photo of the area and your own notes.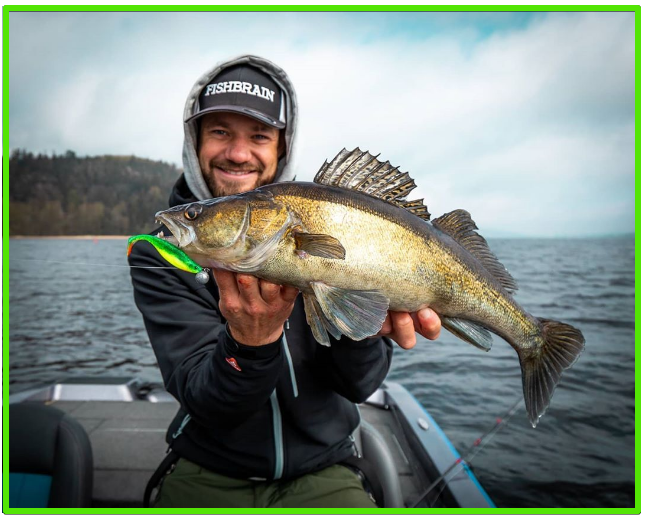 Waypoints is a great tool…
Waypoints is a great tool when you want to add that extra information to a specific place. For example where you lose that big fish, or want additional information about that specific spot. It can be everything from when to fish this spot during a certain time due to the direction of the current, or specific lures that work extra well in that area and so on. Such a vast variety on how you can use this new feature to help you in your fishing!
Anglers throughout history have used fishing logbooks to keep track of their catches and improve their skills. A fishing logbook helps you keep track of what you catch, where you catch it, when you caught it, and what you caught it with. All of this data helps you spot patterns in your fishing so you can become a better angler. Logging your catches is essential for any angler who wants to improve. Track catches, see trends, and more with your own personal fishing logbook. A journal of every fish you've ever caught at your fingertips.
What data do you log? – Logging your catches is key to improving your skills. With the FishBrain App, you can track a ton of information. Check out the data you can remember with every catch below:
Species
Length
weight
Location (GPS coordinates and location names). Choose only what you want for privacy.
Gear used
Time of day
Weather
Solunar Phases
Barometric Pressure
Other personal notes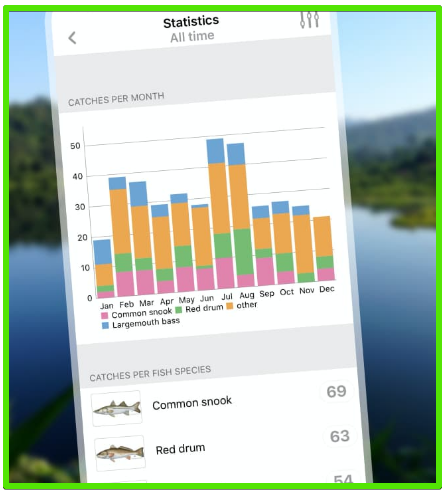 How do you track your fishing history? – Once you upload your catch to FishBrain, you will be prompted to add a photo of your catch to better remember it, as well as share it with the community (if you choose to). You can view all of your catch history in the app, at any time. This feature is free to all users.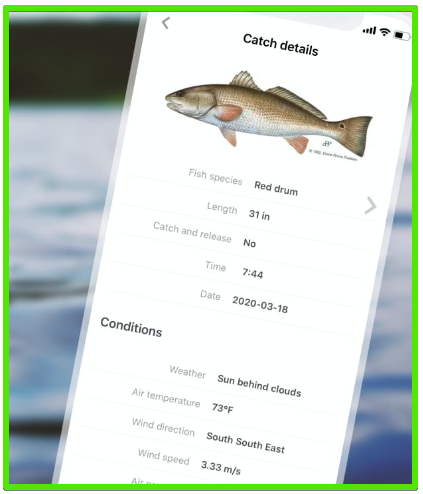 How can a logbook improve your fishing? – It's common for an angler to think they will remember the details of each fish they caught, but in practice, it's difficult to store all of this information for long periods of time. A fishing logbook will help you when testing things like which baits is more effective when catching particular species, spot patterns, when you should switch up your fishing tactics, and more.
Not only is logging the data of your catches more advantageous for you, you can also share this data with your friends and family. Help friends and family understand the fishing environment and patterns near them, or just share your catches with one another.
So much simpler than writing it down…
You know, there are charter captains that have actual logbooks and hand write everything. FishBrain app does this for you. Every time you log catch, anywhere in the world it takes in all the data and saves it for you so you can go back and see when you caught it, where you caught it, what you caught it with, and what the tide and weather was like. And it is so much simpler than writing things down plus knowing me I would lose rest paper that I wrote it down on. ????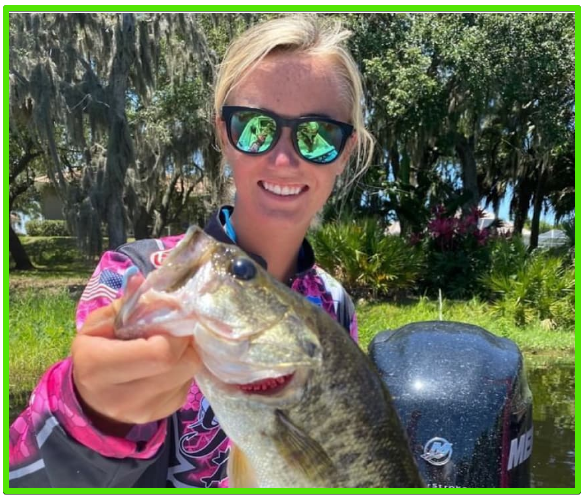 Depth maps are your underwater eyes, helping you pinpoint depth changes and find structure where fish concentrate. Depth maps allow you to create a strategy on where to fish based on observable structures and depth of the water. The depth of a water area is displayed through the use of contour lines and color, which indicate how shallow or how deep a water area is. Contour lines also serve to help highlight underwater structures where fish may be hiding.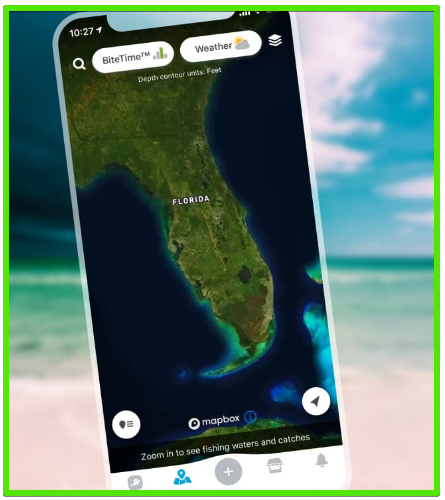 Why contour lines help you fish better – One of the most important features of a good fishing map is the ability to see the contour lines within the water. Within the map you will be able to identify structures based on these lines. For example, reefs may be lighter color when comparing this information to the darker structures and water surrounding it. Many fish like to hide among the reefs, so this lets you as an angler know the best spot to fish.
Contour lines also help anglers spot rapid changes in depth, where fish may be concentrated. The closer together the lines are the greater the drop off is. If lines are spaced further apart, this illustrates a more gradual depth change. Certain species like to hang out in various depths, so if you're looking to catch a bass or walleye, you will know exactly where to look.
Find Fishing spots with depth maps – Depth maps are perfect for finding your prime fishing spot. When creating your fishing strategy, first analyze the map for any structures that look promising, as well as take note of depth changes and anything else of interest. Along with the depth map, take a moment to look at the area itself. For example, streams that lead into a big lake, might be an area where fish are concentrated and be an excellent opportunity to find a school of fish.
Logging your results – Once you catch a fish, you can add way points to your map overlaying the depth contours so you can note down exactly what type of fish was caught at what depth. You can also make notes of any specific structures you found that could impact your fishing in the future. This could be man-made objects or natural objects like rocks or weeds.
FishBrain Store
---
Welcome to the FishBrain Shop, your one-stop-shop for all things fishing. They've partnered with over 85 fishing brands to bring you the best fishing gear and apparel at the best prices. Search by fishing category, or your favorite brand to find the latest fishing equipment for your next trip.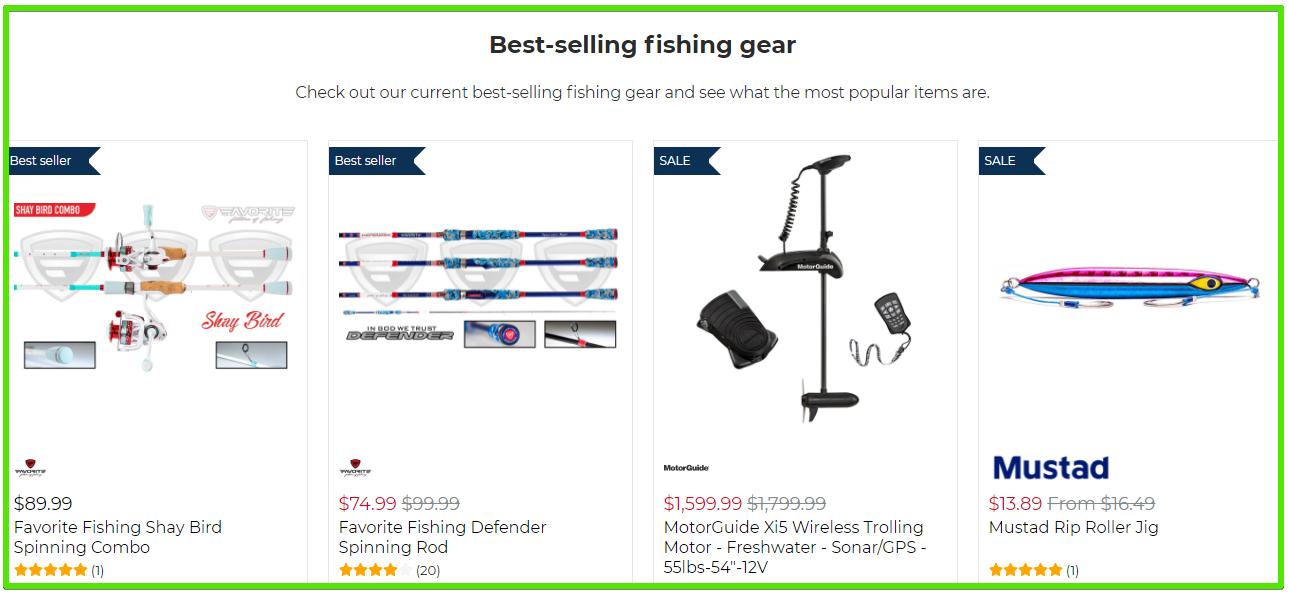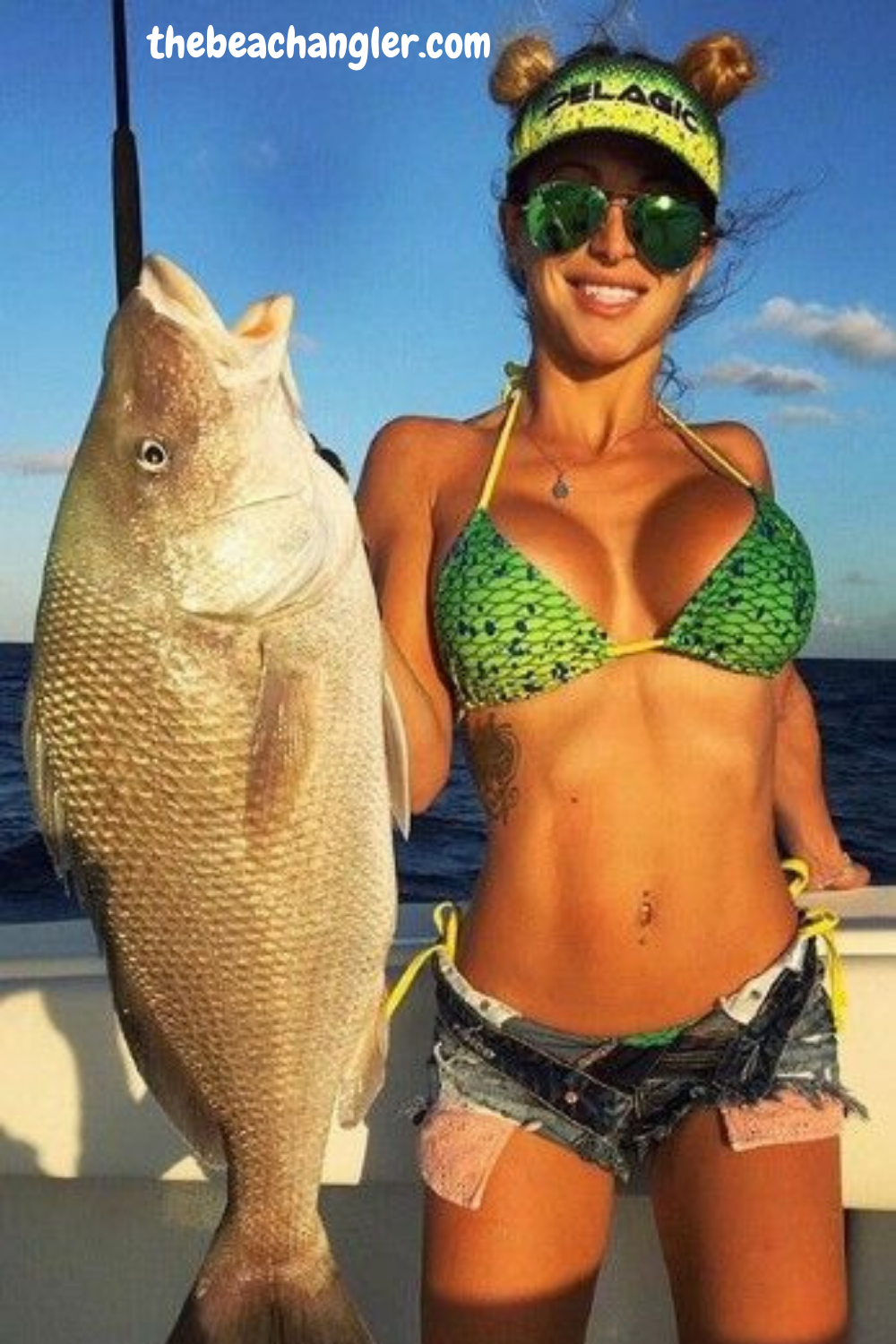 They're always adding new gear and great deals on your favorite fishing brands, so don't forget to check back often. FishBrain Pro members also get special weekly deals and free shipping. Upgrade to FishBrain Pro now to get all the tools and insights from our app, and start saving money on your fishing gear needs.
Whether you're looking for a new fishing rod, reel, or new baits to fill up your tackle-box they have you covered. They've also got fishing apparel from major brands so you can look the part while out on the water. Fish in style and comfort while reeling in your next personal best.
Not sure what to buy? Their support team is happy to help with recommendations. Whether you're seeking gear as a beginner angler, or a seasoned pro, they have fishing expertise partnered with data-driven insights to ensure you get what you need.
FishBrain Store Features:
Trusted by over 12 million anglers
Shop fishing gear from over 350 brands
80.000 products
Free shipping over $50.
Pro members enjoy free shipping over $10.
Shipping to all U.S. states.
Visa, MasterCard, American Express, Google Pay and PayPal.
Buy now, pay later with Afterpay.
30 day returns.
Fast and easy
Impressive customer service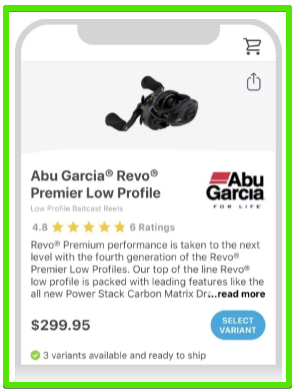 FishBrain Pricing:
The FishBrain App has two versions. A free version and a Pro version. In order to get access to all the advanced features of the app, you will need the Pro version. The FishBrain Pro pricing and features are listed below. It comes with a 14-day free trial period and then it is either $9.99 per month or $74.99 annually.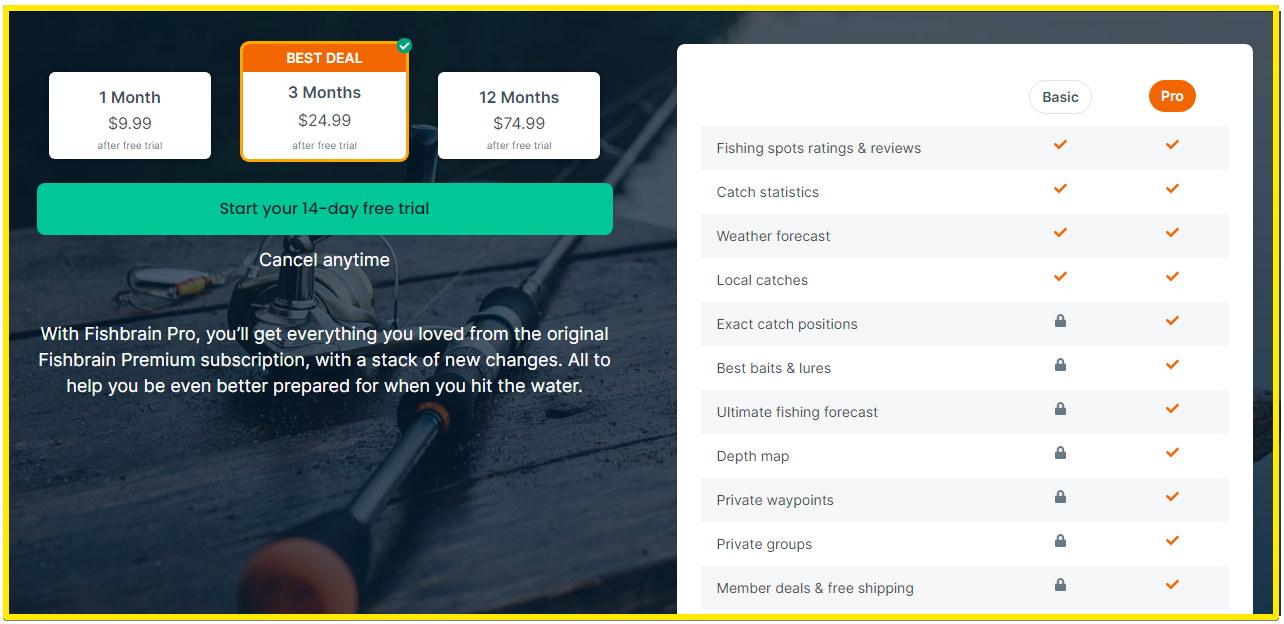 FishBrain App: Pros and Cons
---
In the following table, I have listed what are, in my opinion, the Pros and Cons of the FishBrain App. If you think you would like to try it out, as always I suggest you check it out for yourself. After all, it's your money and your fishing. And, you're in luck because if you click on the red button below, you can get a full 14-day free trial of the FishBrain app to see if it's really for you.
| FishBrain App Pros | FishBrain App Cons |
| --- | --- |
| Very Easy to use | Monthly fee for full features |
| Plan and Research from one app | Must have a Cell Signal to use |
| Weather and Fishing Forecasts | |
| Members only online store | |
| 14-Day Free Trial | |
FishBrain App: Final Verdict
---
FishBrain App is a very detailed and extensive fishing app. It has a tremendous amount of information at your finger tips, from weather, mapping, fishing reports, solunar tables to an online fishing tackle store with great prices. As you can see from the chart below, I give the FishBrain App an overall rating of 93 out of 100 – HIGHLY RECOMMENDED. Best of all, you don't have to take my word for it, they will give you a full 14 days free to try it out for yourself.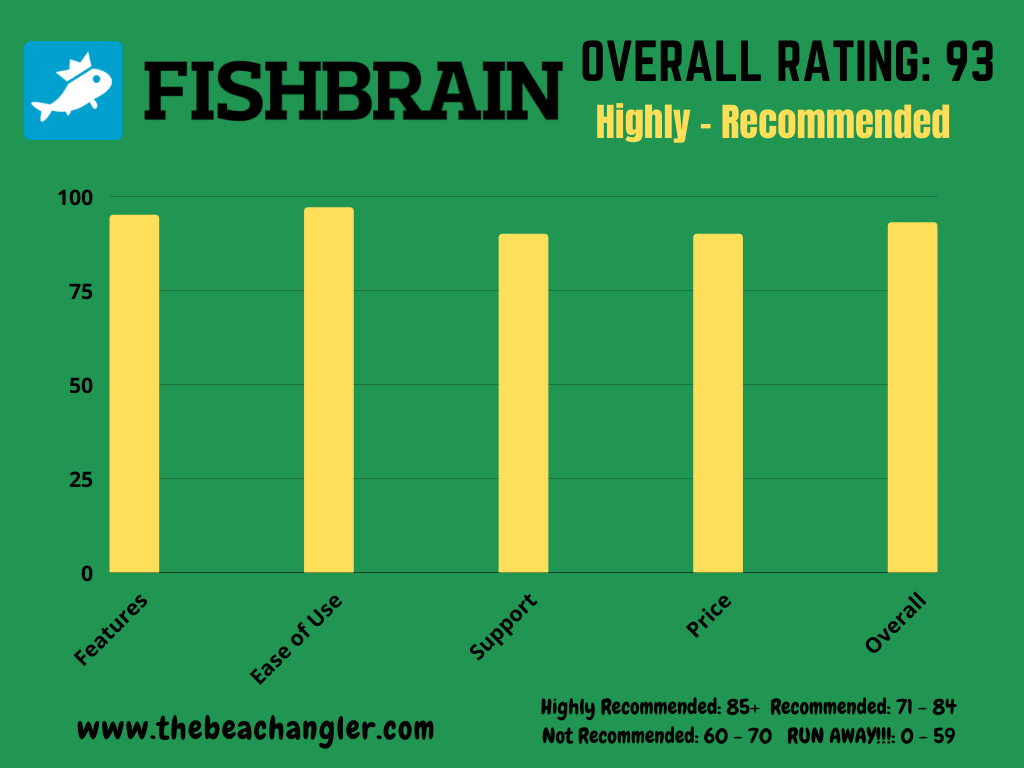 Grab the FishBrain App and Go Fishing
---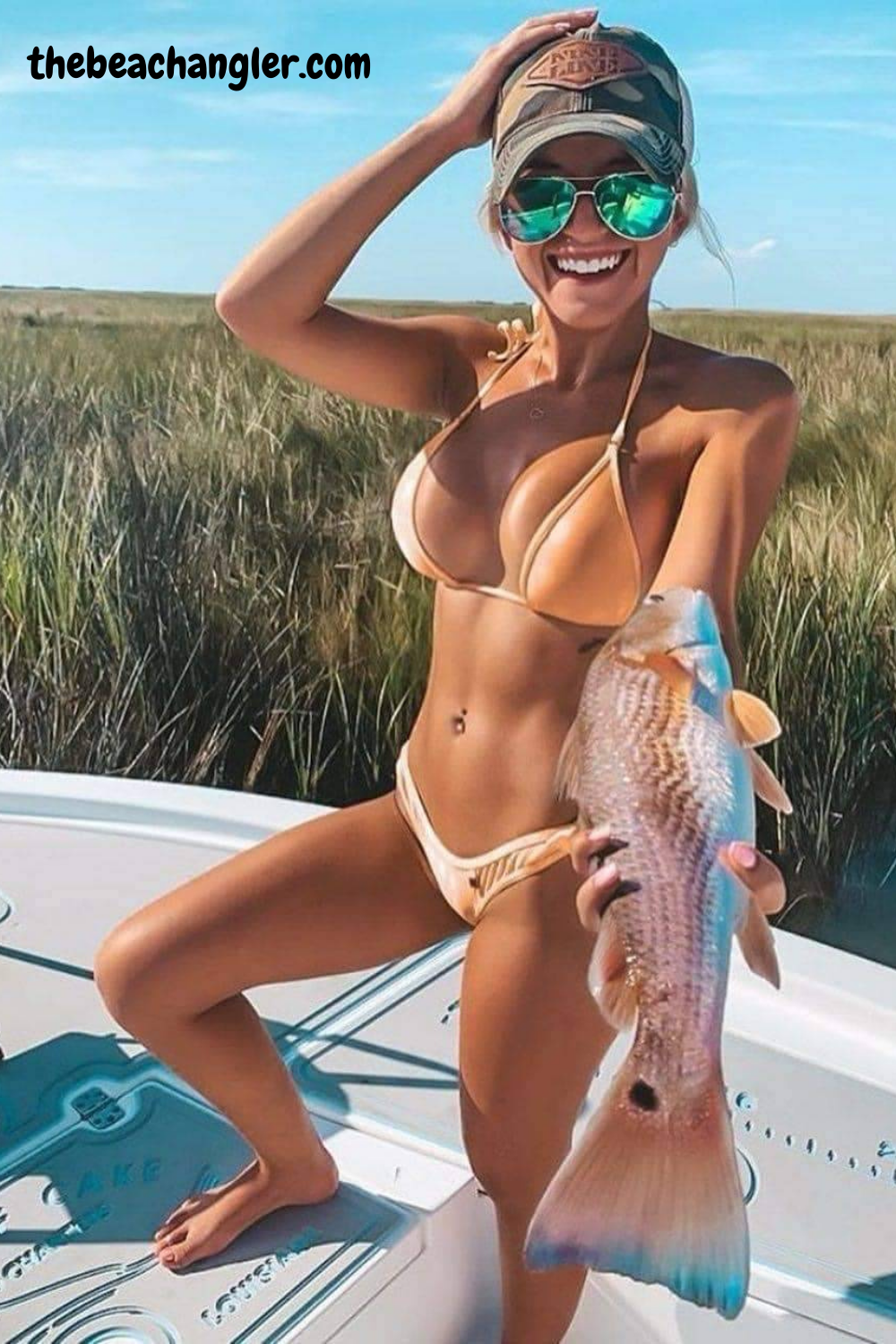 The power and technology found in the FishBrain App will help you become a better fisherman and enjoy more success on the water. It's a great tool and puts everything you need to plan you fishing trips right in the palm of your hand. You really have nothing to lose, they are offering a 14-day free trial. So, click the button below, grab your free trial and see for yourself if how the FishBrain App can become an important part of your trip planning and fishing tackle.
As always, stay safe, enjoy the journey and please try to leave it cleaner than you found it. If you have any comments, questions, ideas or suggestions please leave them in the comment section below and I'll get back to you asap. You can follow up on Facebook: Rex The Beach Angler, Instagram: thebeachangler7, Twitter: @AnglerBeach, and YouTube: Man Art Creations.