There are two types of boaters in the world, those that have broke down and needed to be towed in, and those who will break down and need a tow. TowBoatUS is ready 24/7 365 when you find yourself stranded and needing a tow back to the dock, or something as simple as a jump start.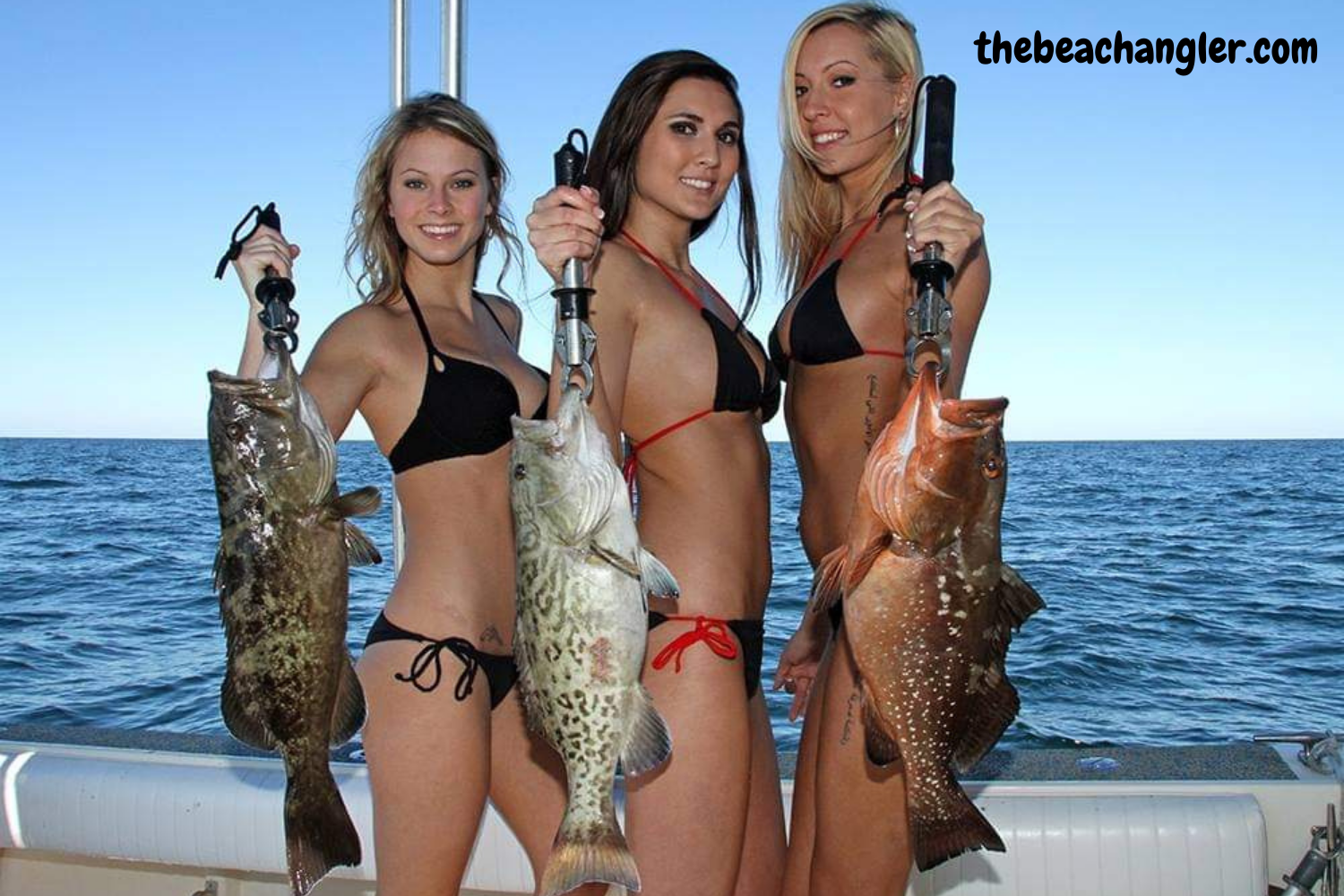 Maybe you'll be fortunate and never have a break down and need a tow, or if you do, maybe a good Samaritan will come along and give you a tow in. But, then again, you could find yourself stranded far from the regular boating lanes. That's where TowBoatUS can save the day, and you money. But what exactly is TowBoatUS, how does it work, and how much does it cost? Well, lets check it out.

QUICK SHOT:
TowBoatUS is a membership based fresh and saltwater towing service available to boat owners as a part of membership in BoatUS (Boat Owners Association of The United States). They offer unlimited towing services for an annual membership fee. In addition, they offer boat insurance, boat financing, trailering services, jump start and ungrounding services. High quality service available 24/7 365 giving boat owners one less thing to worry about. Highly recommended, I rate it at: 97 out of 100.
TowBoatUS is BoatUS
---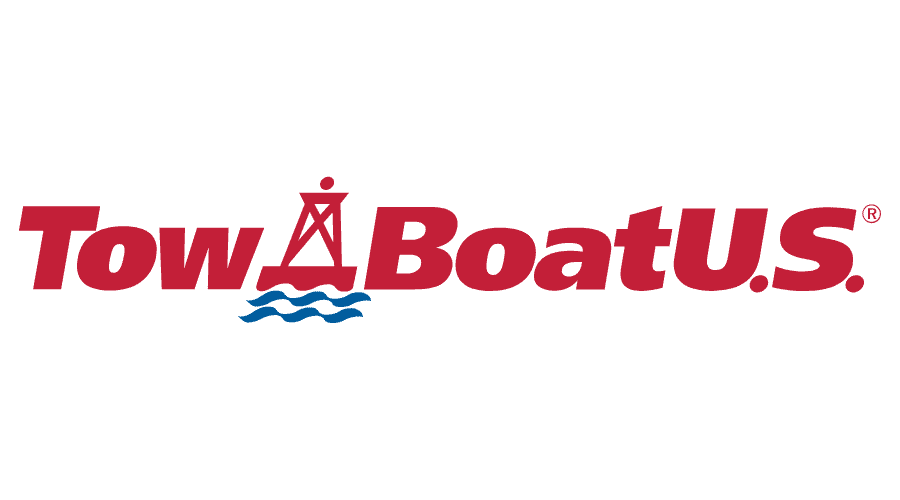 TowBoatUS is a service of BoatUS (Boat Owners Association of The United States). It is a service of membership in the association and provides members with the peace of mind knowing that if the worst happens and they need towing assistance, TowBoatUS is there to come to the rescue. Established in 1966 BoatUS has a long track record of service to boat owners.
The History of BoatUS
BoatUS proudly remains the single source of exceptional service and savings. We are steadfast in our commitment to protect boaters and their rights, making boating more safe, affordable and accessible — whether helping to have a safe day on the water, ensuring that boating taxes go to boating programs, offering competitive boat insurance coverage that boaters need, or having the largest on water towing fleet in the nation.
Boat Owners Association of The United States (BoatUS) has been looking after the interests of recreational boaters since its founding by Richard Schwartz in 1966. We are the nation's largest organization of recreational boat owners, with over half a million dues-paying Members.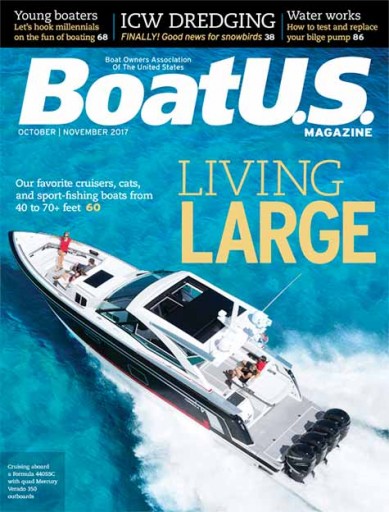 We provide a diverse offering of marine services for the recreational boater, including insuring over 9 billion dollars' worth of boats through GEICO, operating the largest on the water towing fleet — TowBoatUS, representing boaters' interests on Capitol Hill, providing financing for boat-buyers, creating quality boat graphics and lettering, publishing the most widely circulated boating publication — BoatUS Magazine, and more.
BoatUS is THE BOAT OWNERS AUTO CLUB®, we offer discounts to our Members through strategic partnerships to save on a variety of services and products. Over 1,200 businesses nationwide offer discounts on fuel, transient slips, repairs and more.
BoatUS provides many resources you need to take care of you boat. Offering expert advice on maintaining you boat, equipment recommendations and safety requirements, BoatUS has you covered.
Our nonprofit BoatUS Foundation for Boating Safety and Clean Water provides tools such as online safety courses, to keep boating safe and water clean.
BoatUS Makes Boating Better
We proudly provide a single-source of exceptional service and savings for boaters; including marine insurance and towing. We remain dedicated to educating and protecting boaters and their rights; making boating safer, more affordable, and accessible. As the first to fight for legislation on behalf of boaters, the original mission of "service, savings, and representation" stands true today.
How Does TowBoatUS Work?
---
First you must purchase a BoatUS membership. Either a towing membership, or if you purchase boat insurance through BoatUS, as an add on to your boat insurance policy. A BoatUS Unlimited Towing Membership is the best value & lowest-priced towing service available. The TowBoatUS service is $90 per year for Freshwater and $165 per year for saltwater.

Unlimited Towing from TowBoatUS – the Nation's Largest Fleet. Take TowBoatUS with you on the water!
$90/year | Unlimited Freshwater Towing Membership
$165/year | Unlimited Saltwater Towing Membership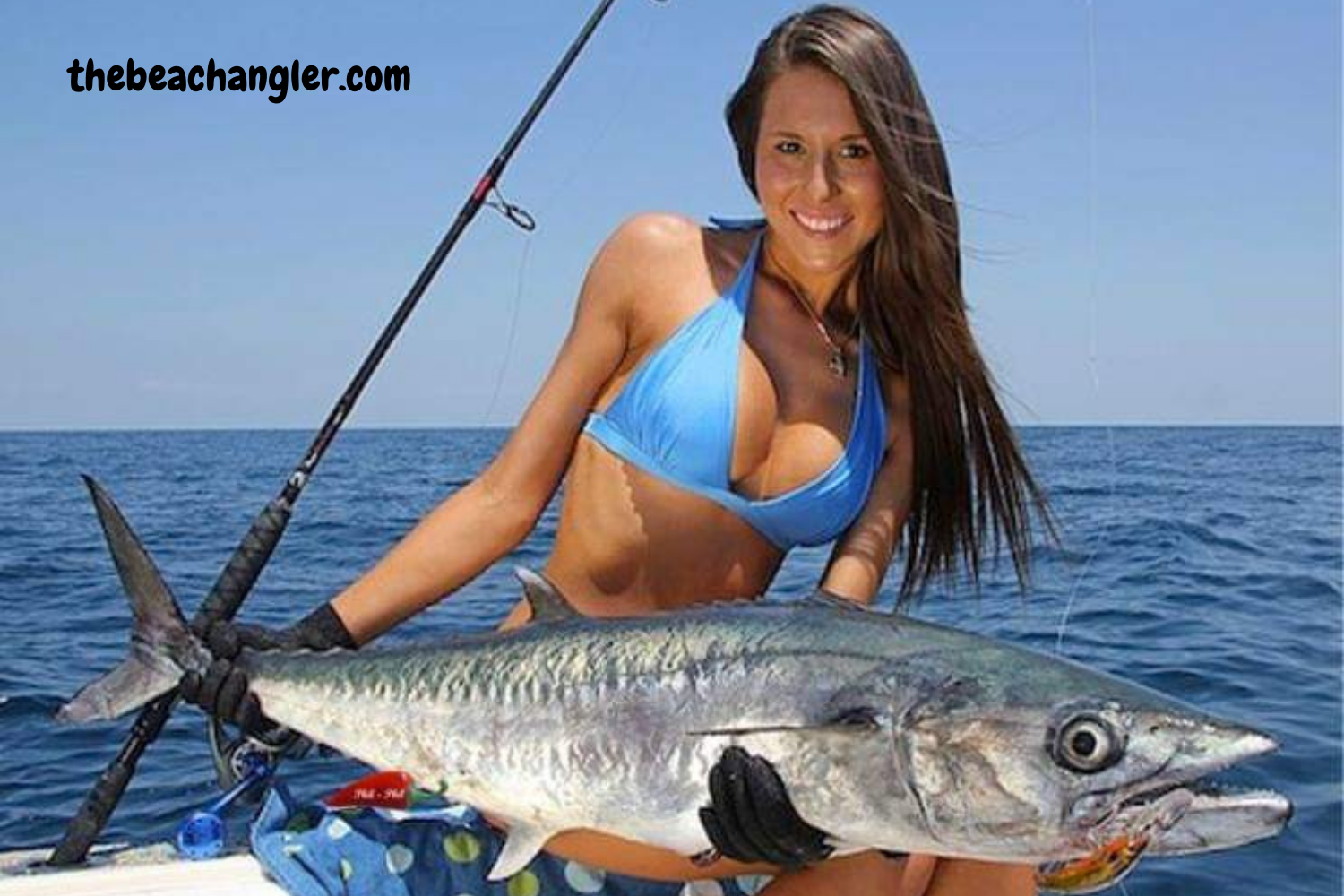 Once you are a member, if you find yourself needing a tow, you simply contact TowBoatUS and they will be on the way to your location to get you back to the dock safe and sound. If you are a premium member of the FishBrain App, you qualify for a special "members-only" discount on your TowBoatUS membership.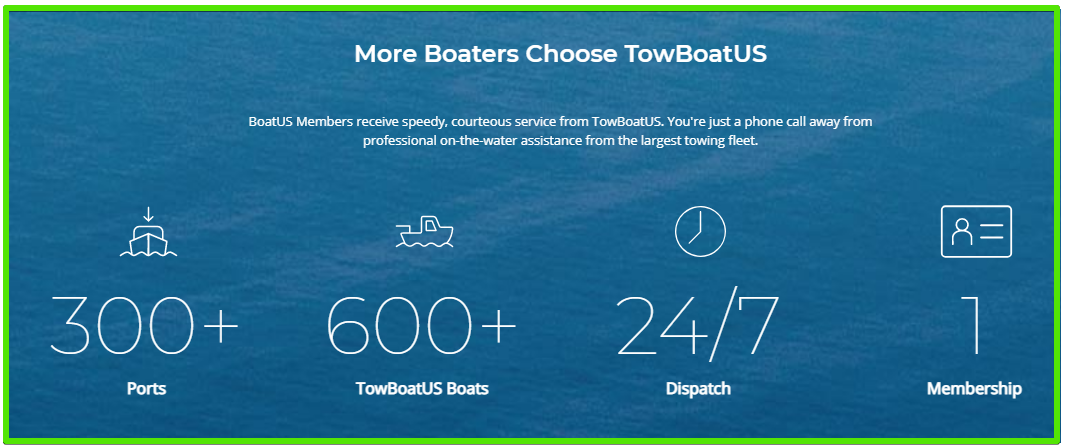 How to Contact TowBoatUS
You can reach TowBoatUS in any of the following ways:
BoatUS Mobile App – One push of a button connects you and provides our crew your location. FREE for all boaters!
Local Tower – Use your cell phone to call the closest TowBoatUS Company listed in our online service locator.
Hail BoatUS on Channel 16 – Key your VHF mic and hail "TowBoatUS."
It's as simple as that. Then you can relax and wait for your TowBoatUS operator to arrive. BoatUS and TowBoatUS, offer several other optional services that might be of interest to you as well.
Trailer Your Boat? – Add on Unlimited TRAILER ASSIST® Service for just $15/year. Service includes towing to the nearest repair facility, flat tire repair, battery jumps and fuel delivery. Unlimited Trailer Assist – Trailer/Vehicle Towing up to 100 miles, Flat Tire Service, Jumpstarts, Fuel Delivery, Lockout & Trailering News.
BoatUS Membership dues and Towing prices are billed on an annual basis. Towing Services goes into effect for breakdowns that occur after midnight the day we receive your application and do not provide for service due to pre-existing conditions. Towing is not available for commercial use boats or paid captains. Our water towing options are valid on any boat you own, borrow or charter.
Services – Keeping you safe on and off of the water
Water Towing
Road Towing
Marine Insurance
Boat Graphics
Boat Loans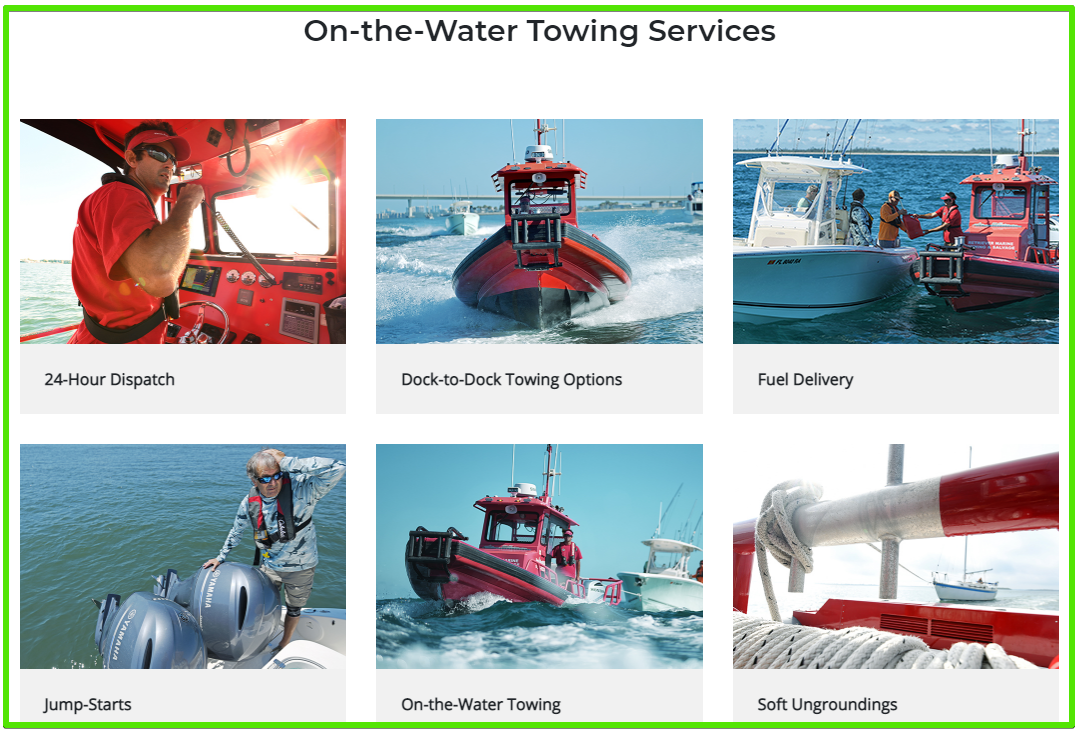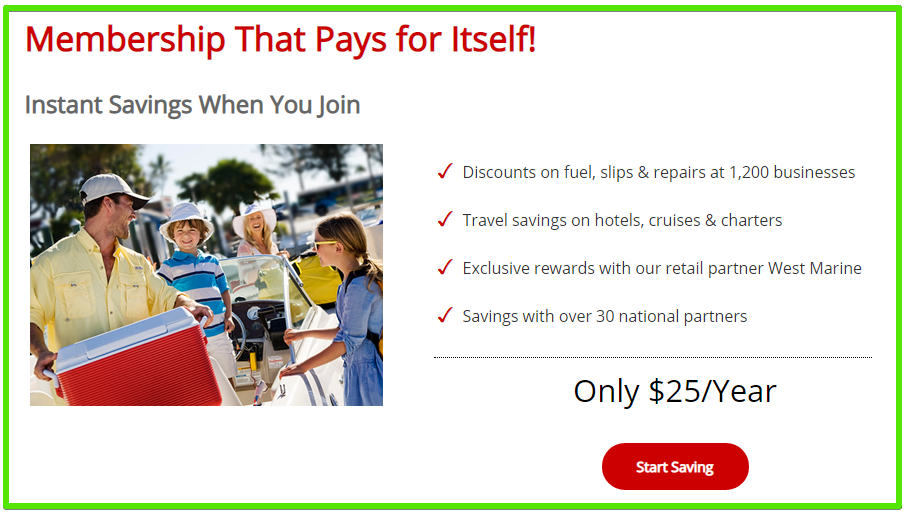 Savings – Discounts with local businesses and our national partners
Online Resources – Boating tips, safety courses, storm tracking and more
Advocacy – Protecting boaters' rights and promoting safety through lobbying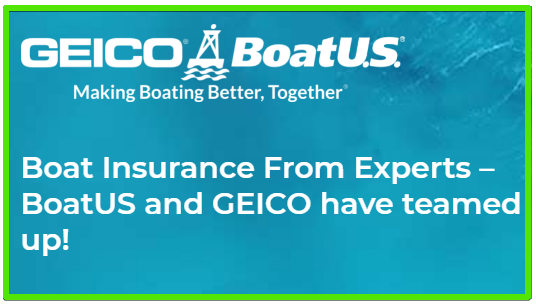 Boat Insurance with BoatUS
BoatUS and GEICO have teamed up to bring boaters a great boat insurance policy at a great price. Serviced by boating experts, and backed by the nation's second largest auto insurance company, our coverage options for boaters of all kinds can't be beat. Add Unlimited Towing to your boat policy for as little as $3 a month based on boat size and location.
How Much Does TowBoatUS Cost?
---
TowBoatUS services are available to both members and non-members. The cost for non-members is on a per hour basis. The following is a break down of TowboatUS service fees.
Member
No out-of-pocket expense for towing in an unlimited service area. An Unlimited Service Area is up to a minimum of 25 miles from the responding TowBoatUS Port. Many TowBoatUS Companies offer larger Unlimited Service Areas to meet the need of their boating community.
No out-of-pocket expense for soft ungrounding in an unlimited service area. For soft ungroundings within an Unlimited Service Area, a BoatUS Unlimited Towing Membership pays for the cost per foot fee billed by the towing company.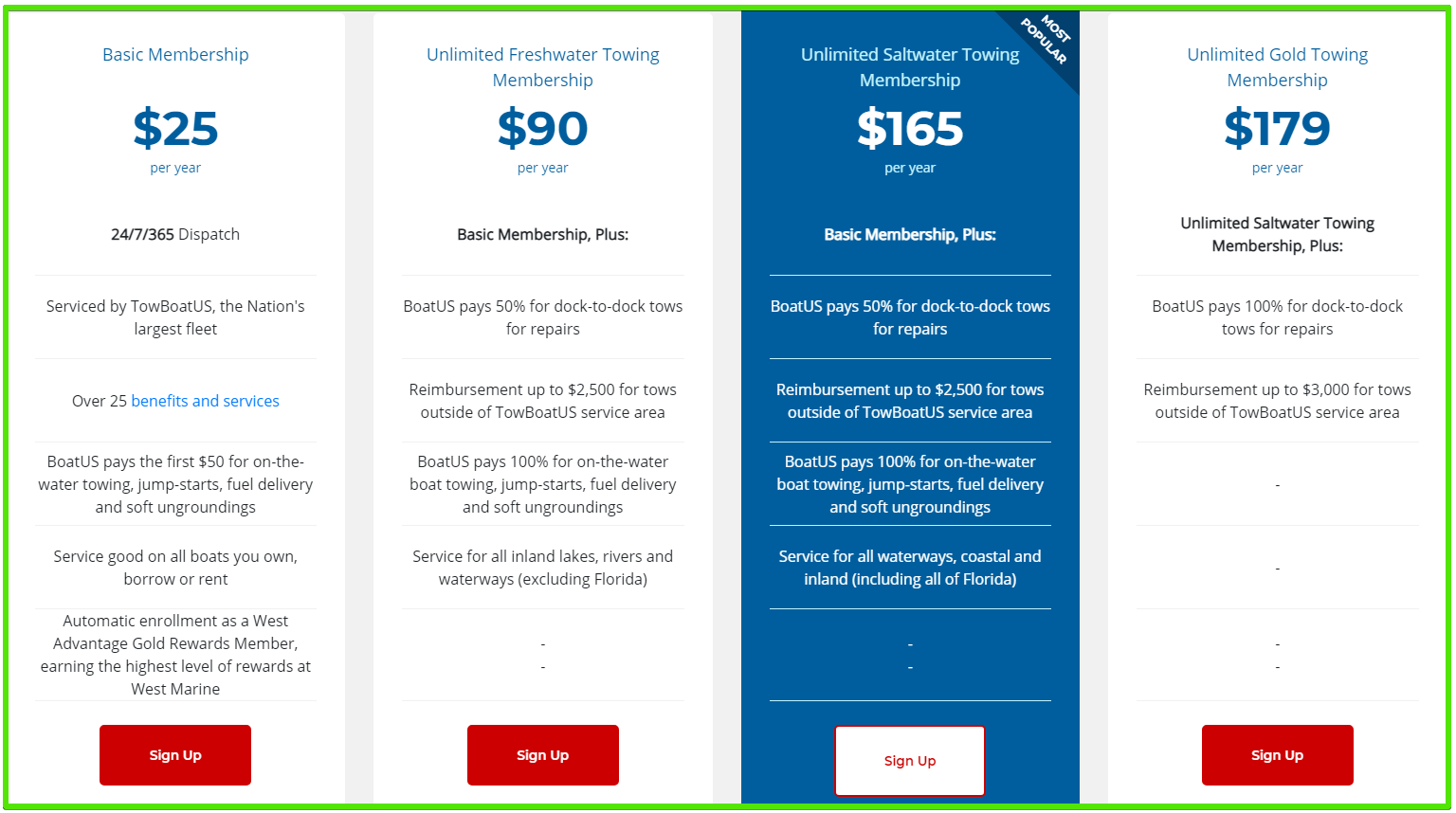 Non – Member
Towing bills with rates of $250/hour or more! The average daytime hourly rate for a commercial towing company is $300 from the time they leave their dock until they return. That amount goes up for service provided at night or in bad weather. A BoatUS Unlimited Towing Membership would handle these expenses.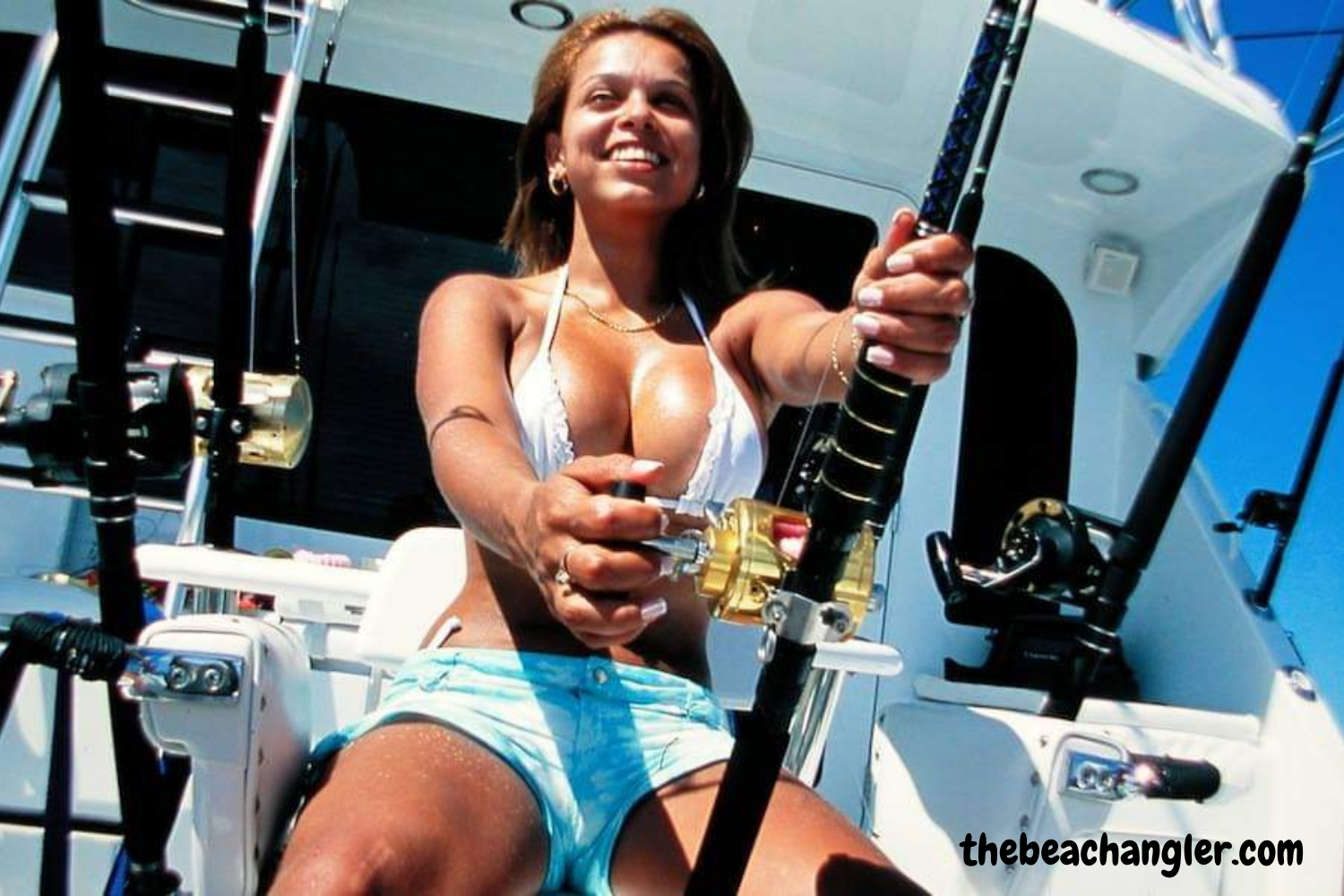 Soft ungrounding fees of $20/foot or more! Towing Companies charge an additional per foot fee to unground your boat in addition to the hourly rate. The BoatUS Unlimited Towing Membership would handle this expense.
Make It Gold
For those who want 100% of their towing bill paid for from you home dock to a repair facility, BoatUS Unlimited Gold Towing Membership is the level to go with.
Choose A Membership Plan To Fit Your Boating Needs
Not interested in TowBoatUS towing service, you can still become a BoatUS member and with the Basic Membership Dues you get discounts on Travel, Marinas and Boating equipment. Plus a 1-year subscription to BoatUS Magazine, all for just $25.00. Plus, with your membership you will earn 4% back on all your equipment purchases from West Marine.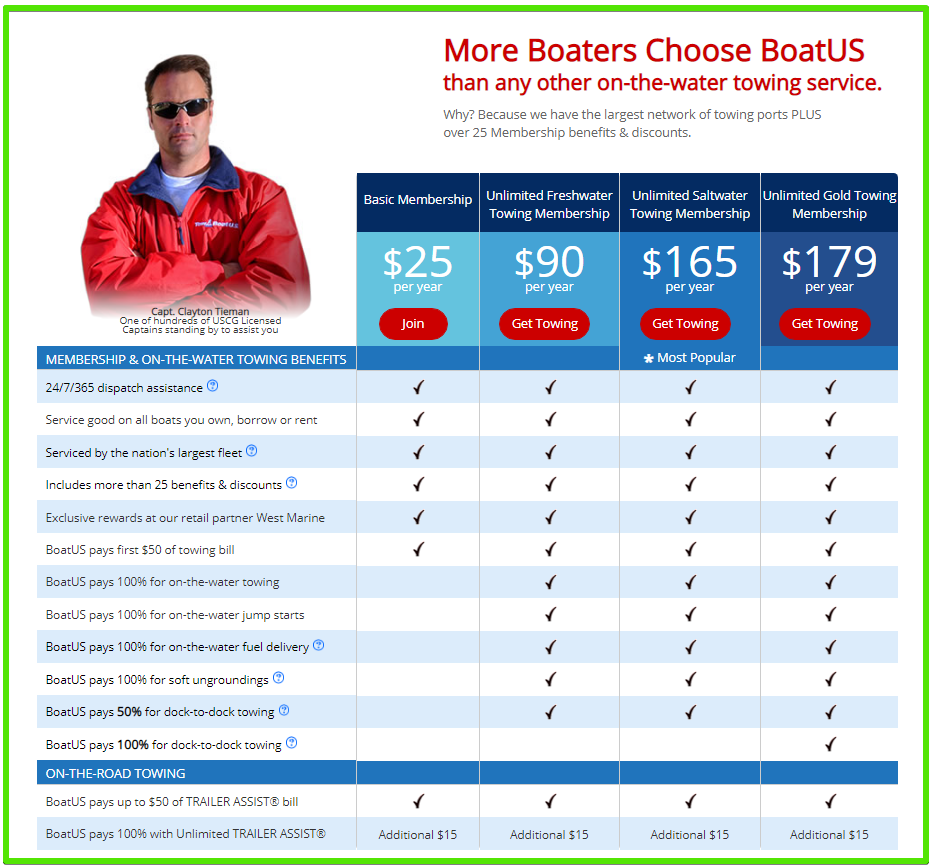 Who is TowBoatUS for?
---
TowBoatUS membership is for anyone who owns a boat. Face it, sooner or later, everyone ends up needing assistance on the water. With TowBoatUS, help is just a phone call, or radio call away. Freshwater or Saltwater, there is a TowBoatUS operator there to save your day.
If you own a boat, you will need boat insurance. TowBoatUS, through BoatUS, can handle all of your boat insurance needs as well. And, you can add the unlimited towing service of TowBoatUS for just $3 per month to your boat insurance policy. If you're looking at buying a boat, BoatUS can help save you money and get you financed with their boat loan programs.
And, with your membership, you will be supporting the Lobbying of BoatUS on behalf of boat owners everywhere. As an added benefit of membership, you can save at their numerous retail and boating industry partners, and get 4% back on all your West Marine purchases, just for being a BoatUS member.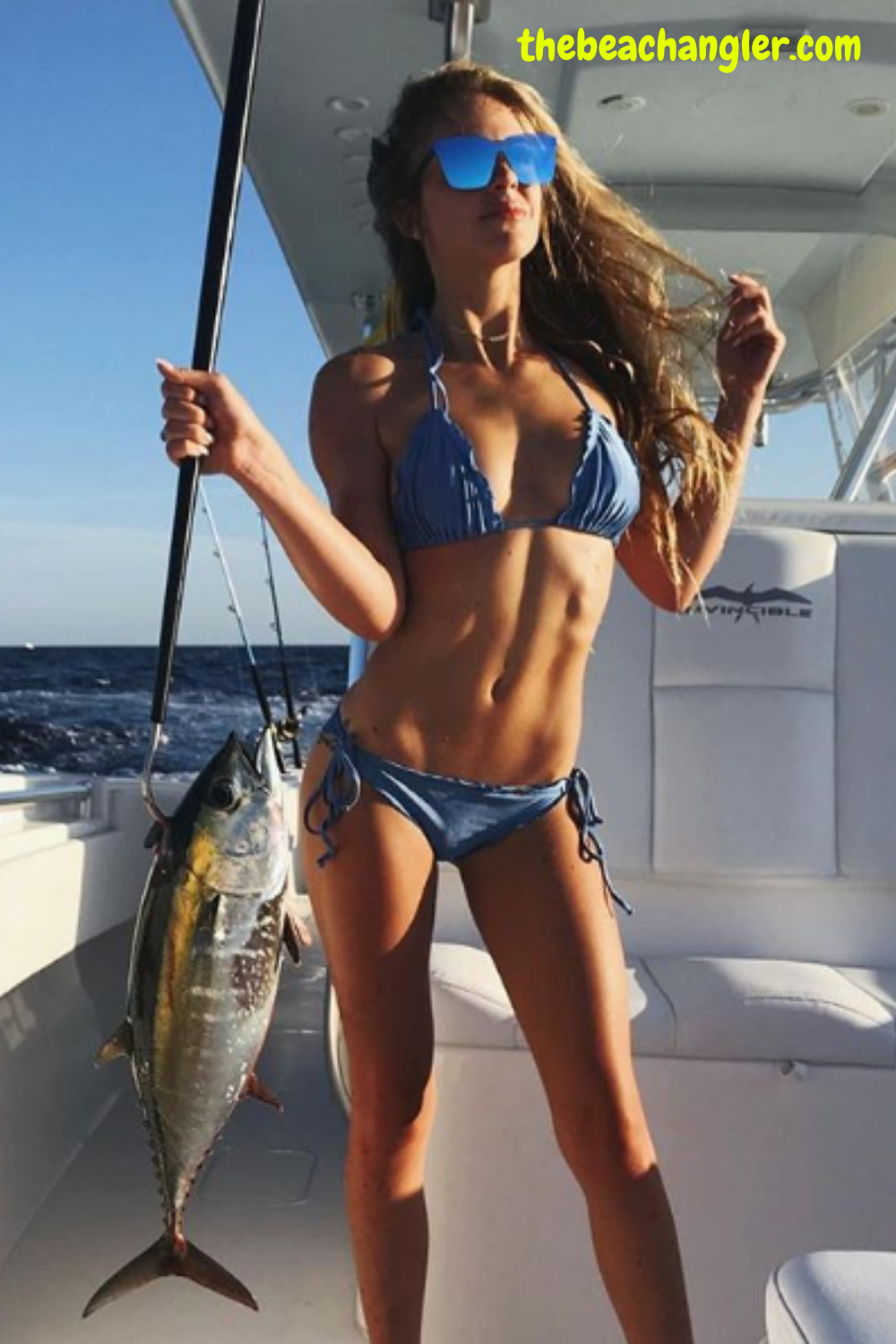 TowBoatUS Pros and Cons
---
In the table below I have listed what, in my opinion, are the pros and cons of the TowBoatUS membership and services. If you feel that these services might be of interest to you, I always recommend you check them out for yourself, as it is your money and your boat after all. Just click the button below the table to check out all the services and options at BoatUS and TowBoatUs.
| TowBoatUS Pros | TowBoatUS Cons |
| --- | --- |
| Unlimited towing for one fee | Annual fee even if you don't use it |
| Available 24/7 365 | |
| Contact by phone, marine radio or App | |
| Proven track record of service | |

TowBoatUS The Final Verdict.
---
TowBoatUS is a great service and provides peace of mind for boat owners. They are available 24/7 365 and the annual fee of $165 is very reasonable. If you have to be towed in and you are not a member, the cost of a single tow can exceed two or three years membership fees. The Chart below gives you a side by side comparison of the towing costs of Membership versus Non-Membership.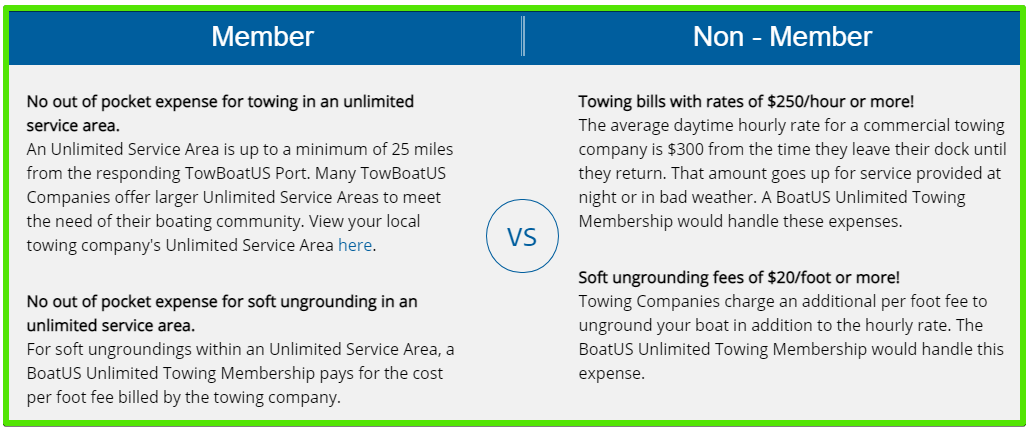 If you choose to purchase boat insurance from BoatUS, the towing service is just $36 per year. You can't beat that anywhere. In addition, you will be supporting a great organization of boat owners who are working to protect your boating rights and secure the best services and discounts for members. And, if you are in the market for a marine radio, Cobra Electronics is offering a free 1-year BoatU.S. membership with any marine radio purchase.
Stop Worrying and Enjoy Your Boat
---
Give yourself the peace of mind knowing that, if the worst case scenario happens and you're broke down, you have TowBoatUS services at you fingertips anytime or anywhere. If you need boat insurance, boat financing or new equipment for you boat, BoatUS has you covered and can save you money. Click the button below and check out all the services and benefits of a TowBoatUS and BoatUs membership. It costs nothing to check it out, and it could save you thousands in the long run.
As always, stay safe, enjoy the journey and please try to leave it cleaner than you found it. If you have any comments, questions, ideas or suggestions please leave them in the comment section below and I'll get back to you asap. You can follow us on Facebook: Rex The Beach Angler, Instagram: thebeachangler7, Twitter: @AnglerBeach, and YouTube: Man Art Creations.