The RTIC Coolers 65 Hard Cooler is just one of many options available in coolers or ice chests. Whether it's a trip to the beach for a weekend of fishing, a self-guided elk hunt in the mountains, or just a simple family picnic to the city park, you need a cooler to keep your perishables cold and ice for your beverages.
Now coolers have been around for decades, and until the recent development of roto molded coolers came along, the best you could hope for from the available coolers was to hold ice for a day or two at best. This meant that if you were on a trip longer than a couple of days, you were having to run to town to get more ice, or you had to limit your excursion because you ran out of ice. Without a doubt, the best coolers for keeping ice are the roto molded coolers.
These new "roto molded" coolers will hold ice for several days ( up to 10 they claim) allowing you to spend more time fishing, camping, hiking, hunting or whatever your trip may entail. Yeti was the first to offer one of these coolers to the market, but today there are dozens of companies producing them Including RTIC Outdoors, with their RTIC coolers, out of Houston Texas.
In this article, we're going to take a look at the RTIC 65 hard cooler and then compare it with the Yeti Tundra 65. The coolers are very similar in form and function, but RTIC coolers comes in at $100 less. So, how does compare to the Yeti and is it a good choice for you and your cooler needs?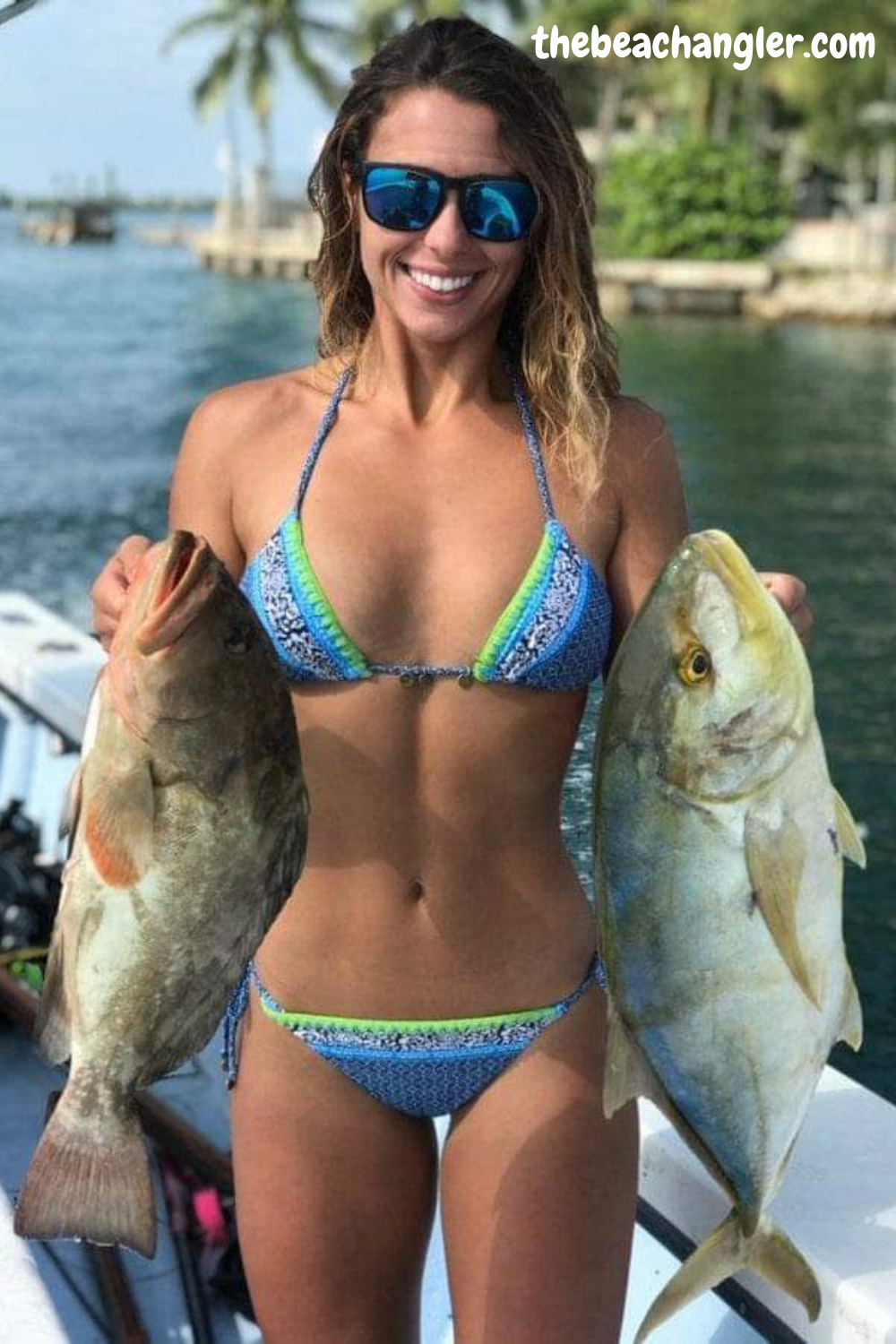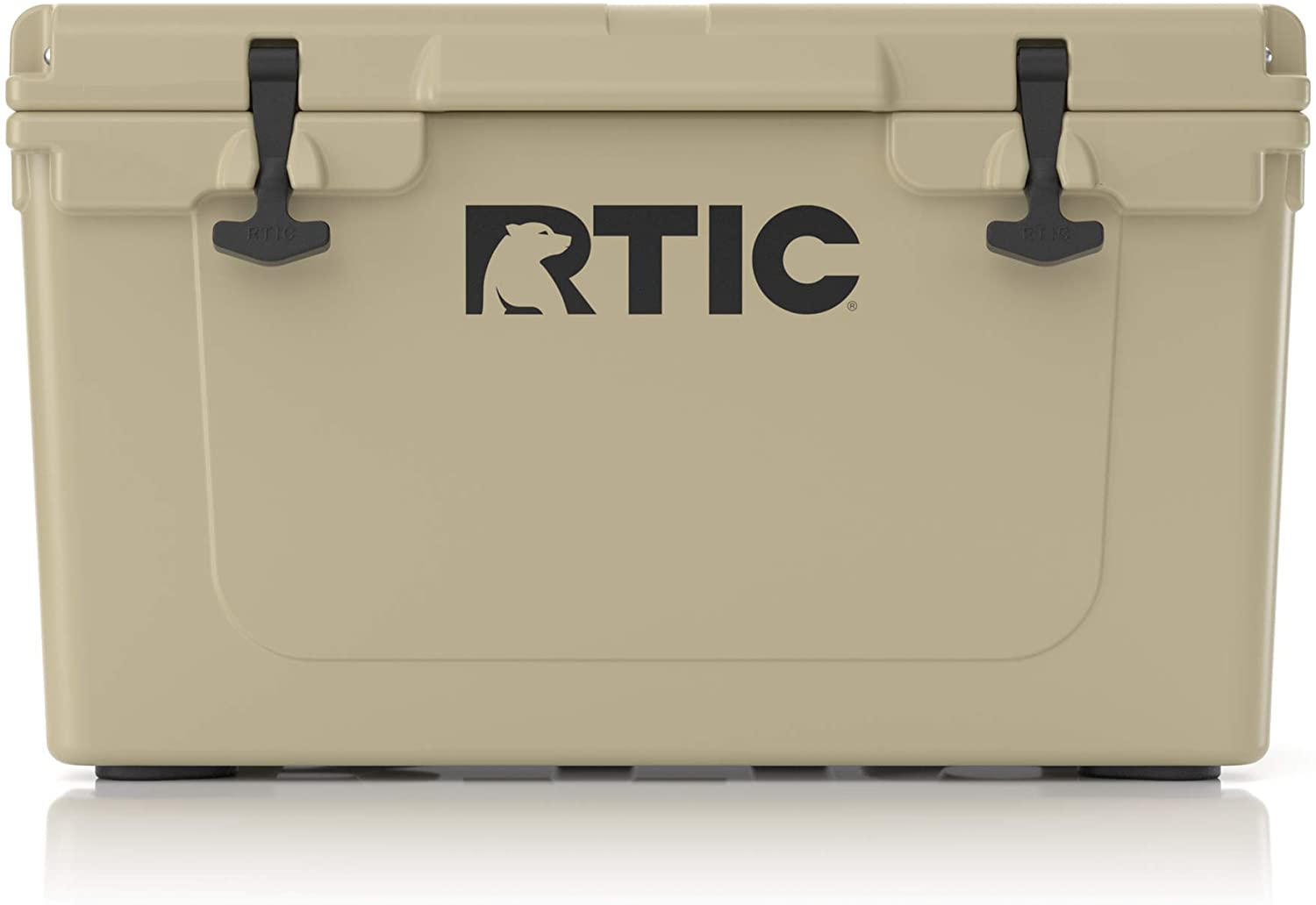 QUICK SHOT:
The RTIC coolers 65 Hard Cooler looks and performs very similar to the Yeti Tundra 65 but at a $100 less making it a great cooler option. It will keep ice for up to 10 days, hold up to 64 12oz cans, or up to 70 lbs of ice. With an empty weight of 36 lbs it is a very strong, durable and bear resistant cooler. And, the best cooler for the money. My Rating: 90 out of 100. Priced from: $249 versus Yeti @ $349
The Best Coolers for Camping and the Outdoors
---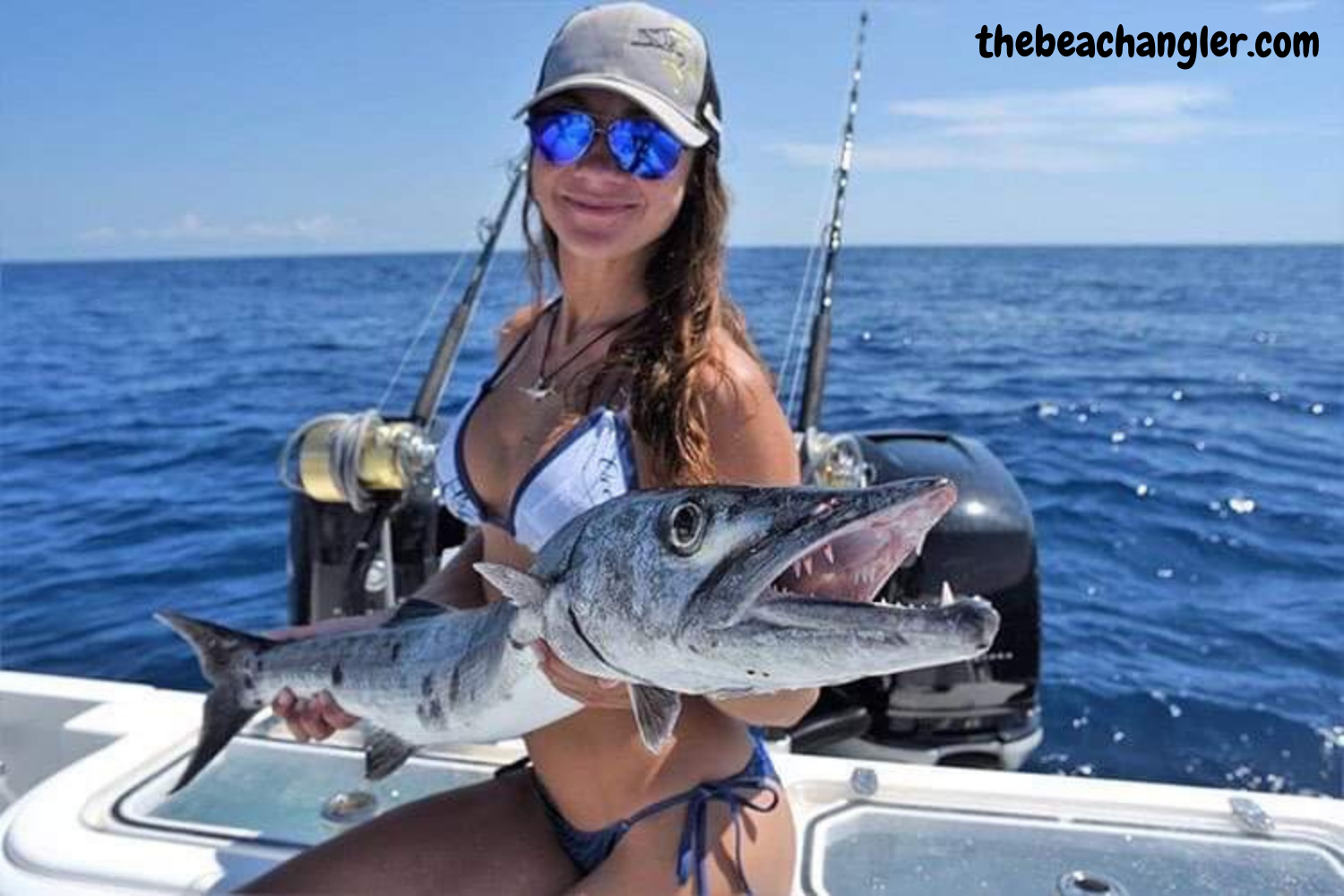 Now, my theory on the best coolers for camping and outdoors are the coolers that hold ice the longest, with the greatest capacity and for the least money. Yes, that's right, I am a value shopper. I'm not caught up too much in the name, I look for the best performance for my dollar. Sometimes that might be the name brand, but other times there are products just as good or better for less.
Cooler companies have sprung up everywhere. The old standbys that have been around forever like Igloo and Coleman are still making the standard cooler/ice chests and have fallen behind to some degree when it comes to the new roto molded coolers, but they are starting to catch up. I know what you're thinking, "what are roto molded coolers"? And, what makes them so much better?
Roto molded coolers, or rotationally molded coolers, are made to keep ice for a very long time and keep your perishables protected from critters. These high end coolers are constructed with what is known as rotationally molded plastic. The roto molding procedure ensures that every part of the cooler is made with a continuous thick wall with no imperfections and much more insulation than a standard cooler.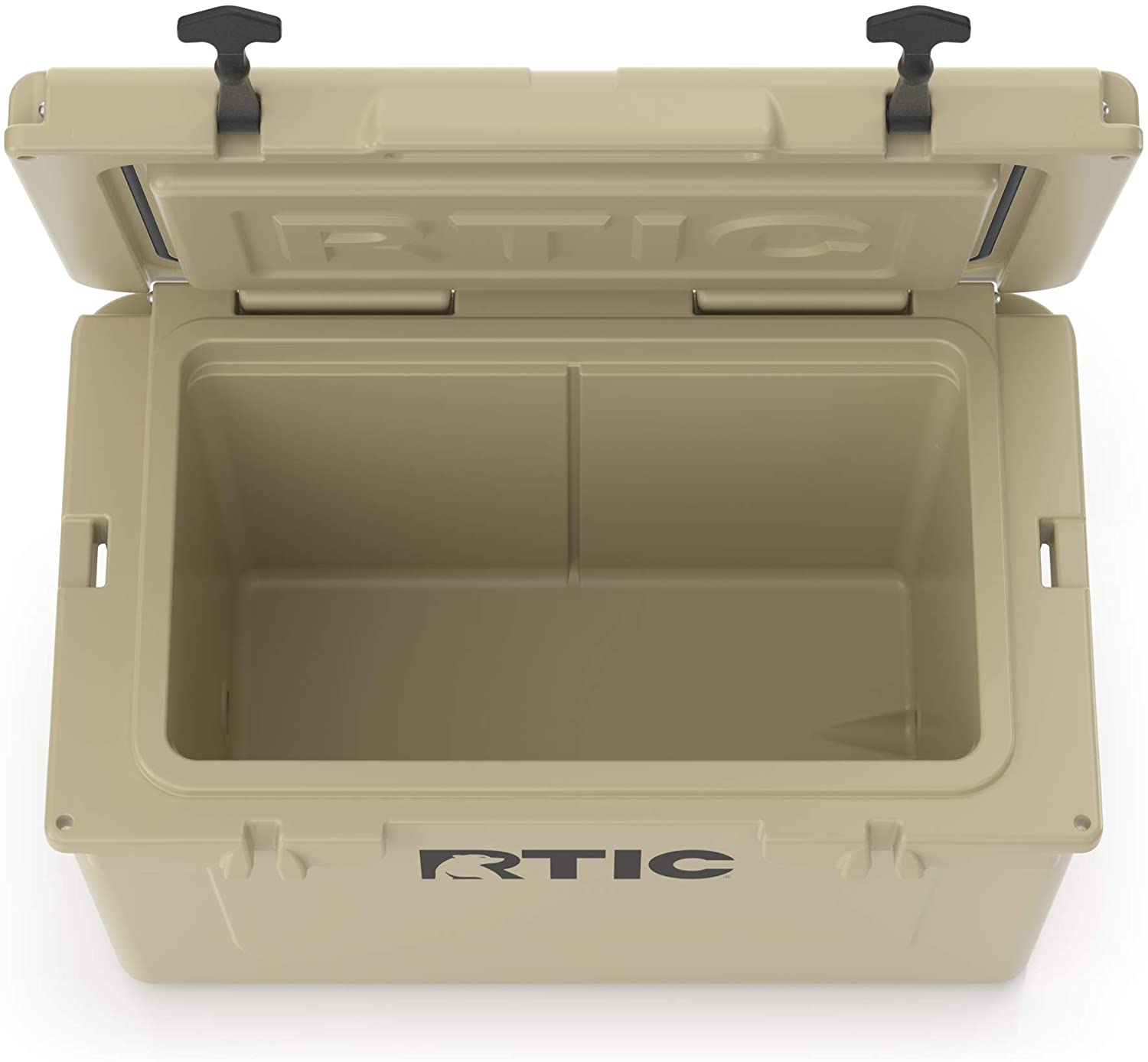 Roto Molded Coolers are extremely strong and can take a tremendous amount of abuse, including being tossed around by grizzly bears. This makes roto molded coolers significantly more durable than your average cooler and much better for keeping ice. Longer ice retention means you keep ice longer to keep your food and drinks cold, and keep fish or game from spoiling on your fishing or hunting trip.
RTIC Outdoors is just one of many companies offering roto molded coolers. There are at least a dozen or more cooler companies and some of them, have been known to compromise on quality in order to stay competitive on price. While some others ride their name recognition and brand image to the point of pricing themselves out of the reach of many potential customers. RTIC coolers has struck that middle ground between Quality and affordability to produce a great cooler at a more modest price point.
RTIC Outdoors
---
The RTIC Outdoors Story:
We love the great outdoors. And we love those who love the great outdoors. That's why we've dedicated ourselves to two things. First, to build outdoor gear you can rely on. Second, to price that gear for the real world. You shouldn't need to take out a second mortgage just to keep your drinks cold.
Entrepreneurial twin brothers, John and Jim Jacobsen, gained success in the cooler industry by selling their high-end products for less. They offer high quality coolers with all the features customers want – at a fraction of the price you can buy in a retail outlet. How? By cutting out the big box retailers, using word of mouth, & social media to promote their coolers.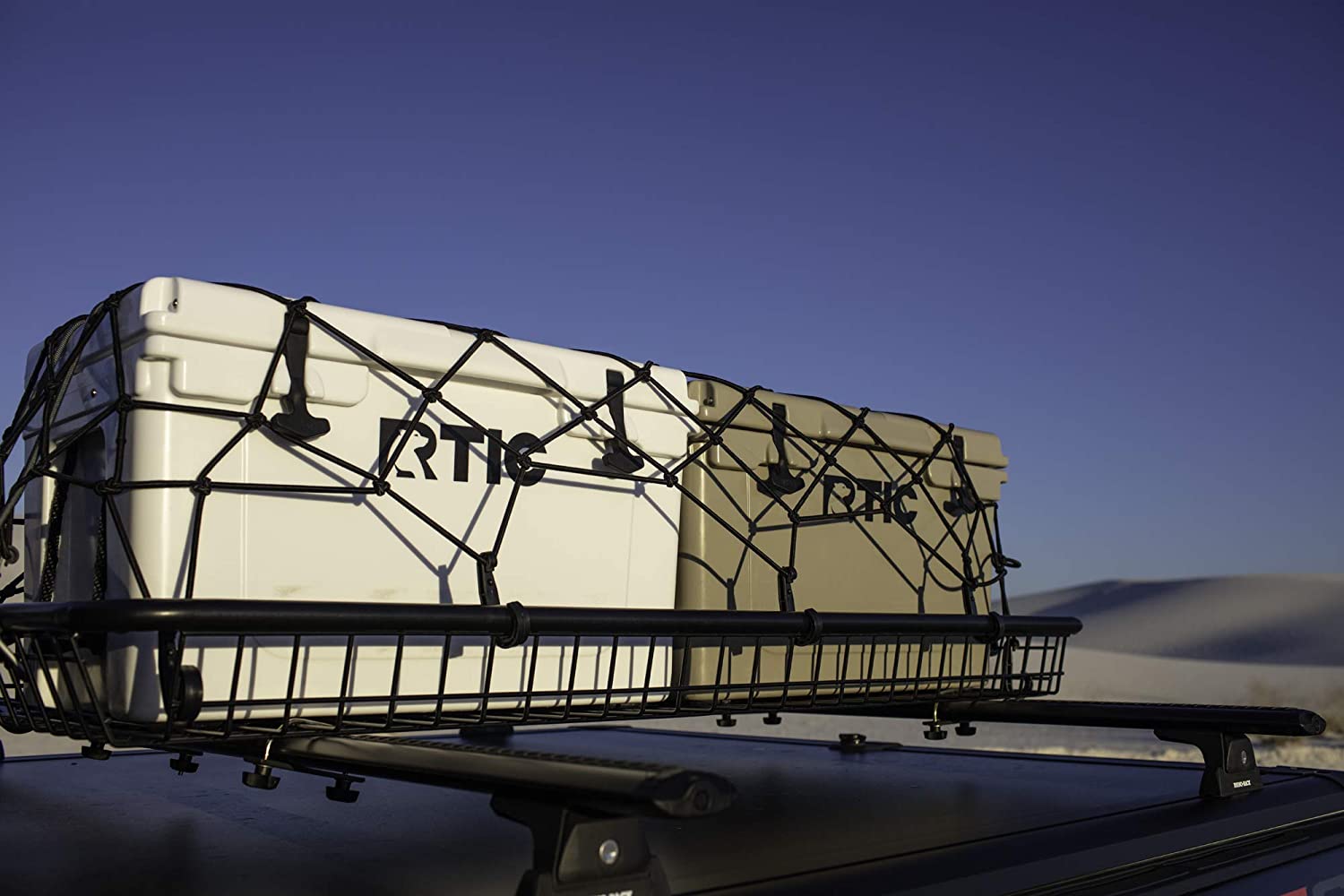 In the three years since launching RTIC Coolers—now known as RTIC Outdoors—the duo's ultimate goal remains the same; provide high-quality, affordable products for all. The brothers are ready for the journey ahead!
"It's about the adventure, and how you can take RTIC along—you spend the money on the adventure, not on the gear." – Jim Jacobsen
We are a direct to consumer retailer. We offer a very compelling value proposition on quality roto molded coolers. In this article, we're the brand, the importer, the shop, and the marketing arm, all in one. We intentionally forgo the traditional cooler distribution channel the other brands are tied to because this outdated distribution channel is expensive. The company is based in Houston Texas and has 5 fulfillment warehouses located in Fresno California, Romeoville Illinois, Houston Texas, Atlanta Georgia & Pittston Pennsylvania.

RTIC Coolers RTIC 65 Roto Molded Cooler
---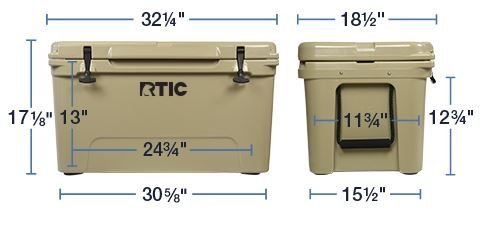 RTIC coolers makes some best large coolers available on the market. They are ideal coolers for marine, hunting, camping or any long term cold storage needs. The RTIC 65 is still small enough for one person to carry and will keep your drinks, food, and meat cold for days. Spend more time enjoying your trip and less time running for ice. The following are just some many features of the RTIC 65.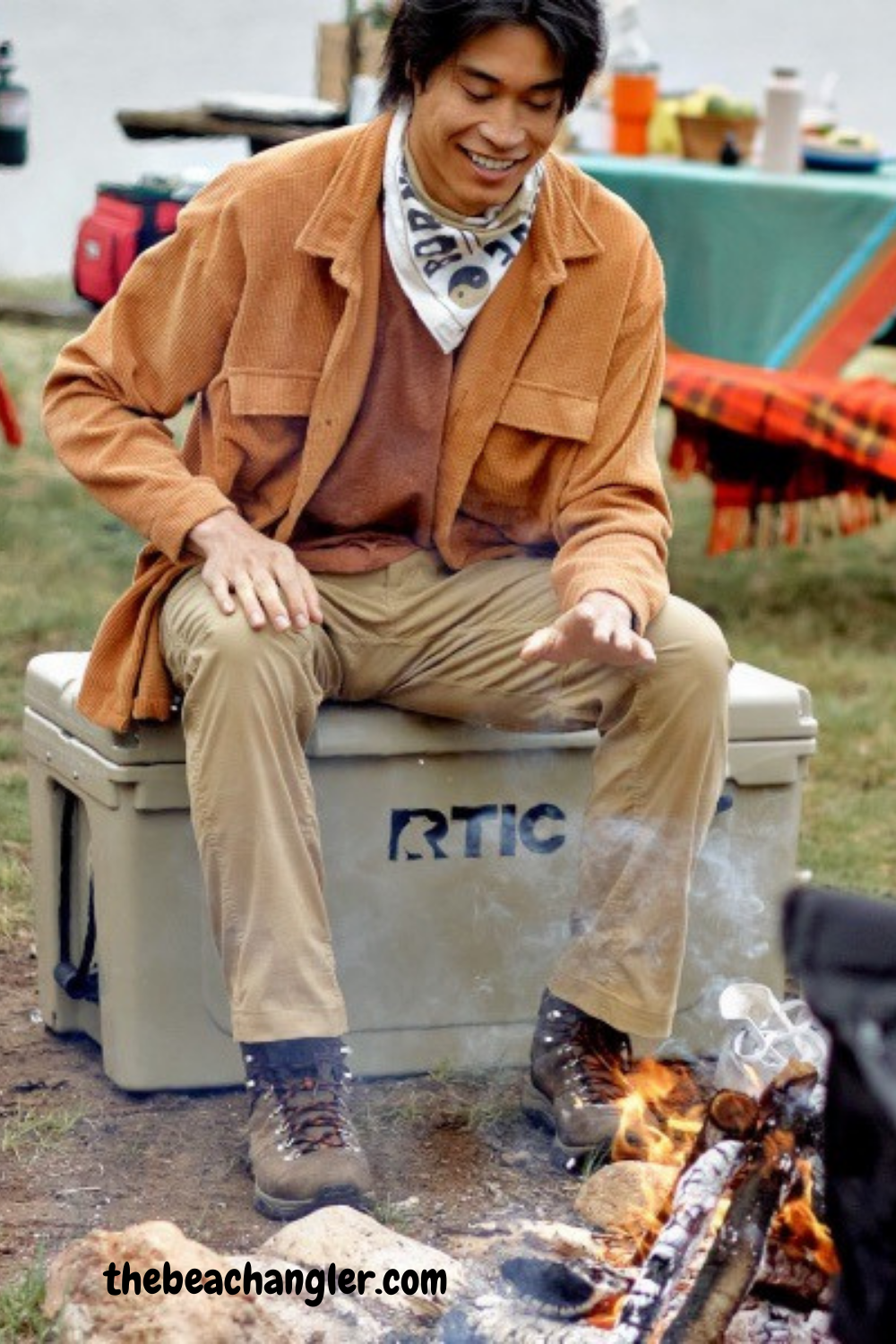 TECHNOLOGY & FEATURES
Weight: 36 lbs.
Up to 64 can capacity
65 qt / 16.25 gals of water
Holds 70 lb of ice
Keeps Ice Up To 10 Days
Roto Molded ConstructionVirtually Indestructible
Heavy Duty Rubber T-LatchesSmooth trouble-free closure
Molded Tie-Down SlotsKeeps your cooler anchored
Bear ResistantDesigned to keep bears out
Rapid V-Drain SystemAllows quick draining
Traction lid Can be used as a casting platform
Heavy Duty Rope HandlesMarine-grade ropes & textured grips
Cool-Lift DesignLifts cooler above the hot surface
Integrated Locking SystemKeep your contents safe
Non-Slip FeetKeeps your cooler in place
Freezer Style Lid GasketProvides a tight seal
Molded-In Side HandlesUnbreakable, easy lifting
Up to 3″? Insulated WallsCommercial grade insulating foam
No Sweat ExteriorThe outside stays dry
Easy Lift Lid HandleAllows quick & easy access
No Fail HingesFull length interlocking hinges
Easy-Flow Drain SpoutLets the water out, keeps ice in
Now RTIC claims that their coolers can hold ice up to 10 days. That doesn't mean you can leave the cooler out in the sun in 120 degree temperatures and open it every 30 minutes. If you are going to be in and out of your cooler many times during the day, it will not hold ice for 10 days. Keep it in the shade and keep it closed as much as possible and it will keep ice for days.
RTIC coolers use three inches of pressure-injected commercial-grade polyurethane foam in the walls and lid with an R-Value of 7 per inch of thickness, which is among the best insulation properties in the industry. The use of this polyurethane closed-cell foam keeps out air and moisture – and being very dense, the foam adds to the structural strength to the walls of the coolers.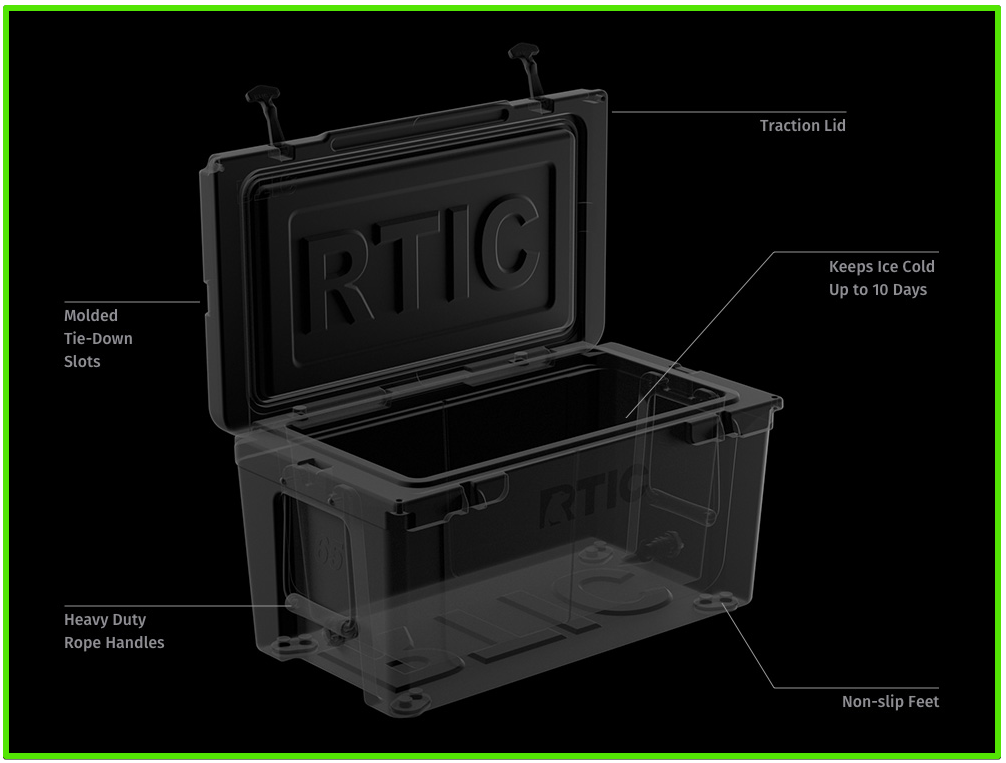 Like most of their competitors, RTIC coolers are made in China in order to provide the best quality at the lowest price to you, the consumer. Just like many of the outdoor products you will buy at your favorite sporting goods store; overseas manufacturing is a cost effective way for retailers to provide an affordable product to it's customers. It's just a fact of life, China can do it cheaper and in many ways better.
That being said, RTIC Outdoors stands behind their products and provides the following one-year warranty on it's roto molded coolers:
LIMITED WARRANTY. RTIC warrants it's products to be free from defects in material or workmanship under normal use and service from the date of original receipt for the period of 1 Year on Hard Sided Coolers.

The following are some helpful hints and tips from RTIC to help you maximize the performance of your RTIC coolers, or any cooler for that matter, and insure a long and useful life span as well. To achieve maximum performance in your RTIC coolers you must use it properly. Use plenty of ice and pre-chill the cooler and it's contents before placing them in the cooler. We highly recommend using cubed ice.
Cooler Performance Guidelines
For best performance, always pre-chill food and drinks.
Put the ice in the cooler. Remember, cold air travels down, so if you want your beverages well chilled, load cans and bottles first, then cover with ice.
Do not store cooler in hot locations. When storing cooler, avoid hot places such as the garage or the trunk of a car. If this is unavoidable, bring the cooler inside at least 24 hours before use. Do not place the cooler directly on a hot surface as this will melt the bottom of the cooler. For Example, place a towel beneath the cooler if placing the cooler on a hot surface like the back of a pick-up truck, on the top of a car or on the floor of your boat.
Keep cooler out of the sun. Ice lasts up to twice as long when the cooler is in the shade.
Choose cube or block ice. Use cube ice to quickly cool food and drinks, block ice to keep it cold longer.
Don't drain the cold water. Recently melted ice keeps food and drinks cold. Melted ice water preserves ice better than empty air space.
Close lid quickly after opening. Do not leave the lid open longer than necessary.
Protect perishable foods. Place perishable foods like meat and dairy products directly on the ice. Sealed plastic containers will keep food dry.
For soft coolers, keep the zipper clean and lubricated with the enclosed lubricant.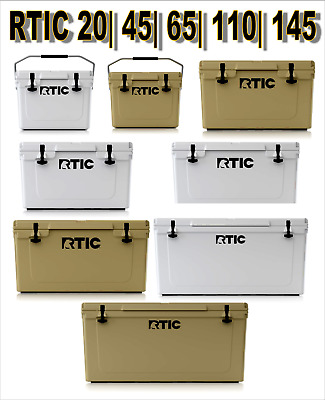 RTIC Coolers Versus Yeti Coolers
---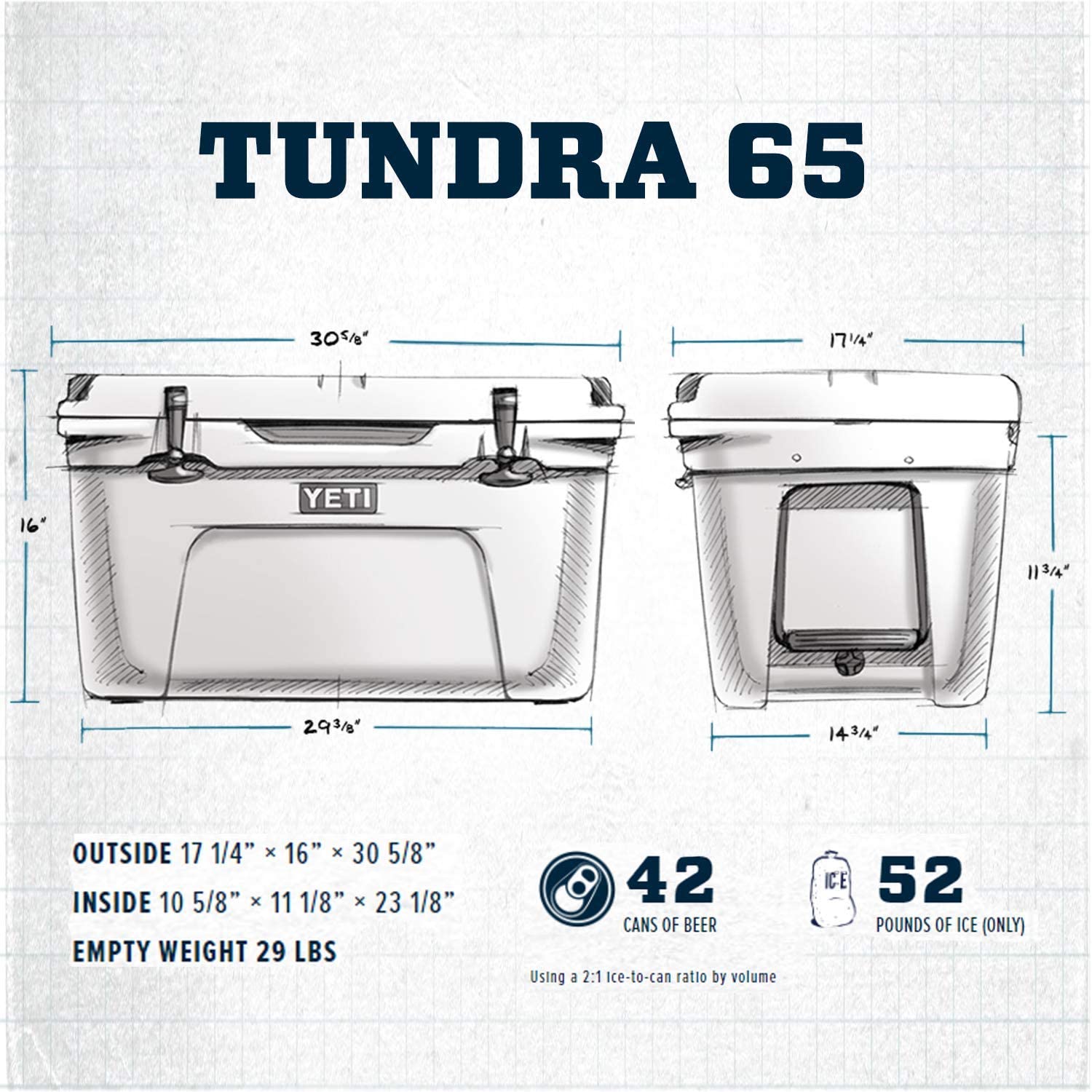 OK, so RTIC makes a good tough cooler that will hold ice for days but, are RTIC coolers really as good as Yeti? Well, remember, Yeti was the first to the market. They are the Rolls Royce of cooler market if you will. They have the brand name and recognition and produce a great product. Just compare the features of the Yeti Tundra 65 below with those of the RTIC 65 above, and as you can see, they are indeed very similar.
The question becomes, "Do you need the brand name"? Is the status symbol of having a "Yeti" important to you? If it is, great, go with the Yeti. But, If you are just looking for the best cooler for the money, then you might consider the RTIC.
FEATURES Yeti Tundra 65
FATWALL™ DESIGN – Extra-thick walls hold up to three inches of insulation for unmatched temperature retention.
PERMAFROST™ INSULATION – Pressure-injected polyurethane foam in the walls and lid locks in that just-packed temp.
ROTOMOLDED CONSTRUCTION – Makes it armored to the core and virtually indestructible.
T-REX™ LID LATCHES – These heavy-duty rubber latches are engineered with patented tech, which means busted latches are a bummer of the past.
ANCHORPOINT™ TIE-DOWN SLOTS – The built-in molded tie-down slots promise easy mounting to your boat, trailer, or truck bed.
NEVERFAIL™ HINGE SYSTEM – Two hinge pins and interlocking design prevent the hinge from ever breaking.
INTERLOCK™ LID SYSTEM – Creates a form-fitting barrier against extreme temps.
COLDLOCK™ GASKET – A freezer-quality gasket circles the length of the lid to block out the heat and lock in the cold. (Or block out cold and keep in the heat if you're hauling hot meals).
LIPGRIP™ HANDLES – These streamlined handles stay out of the way to make carrying your catch (or cold ones) less of a chore.
DOUBLEHAUL™ HANDLES – Our military-grade polyester ropes deliver extra durability.
VORTEX™ DRAIN SYSTEM – Leakproof, rugged, and designed for quick and easy draining.
BEARFOOT™ NON-SLIP FEET – Budge-resistant padding prevents rogue sliding on the boat or in the backseat.
Yeti has trademarked most of the names for their features, but as you can see they are very similar to those of the RTIC coolers. Take a look at the image below. You will notice that the two coolers look almost identical even down to the shape, and finishes. The performance of the two coolers is also nearly identical.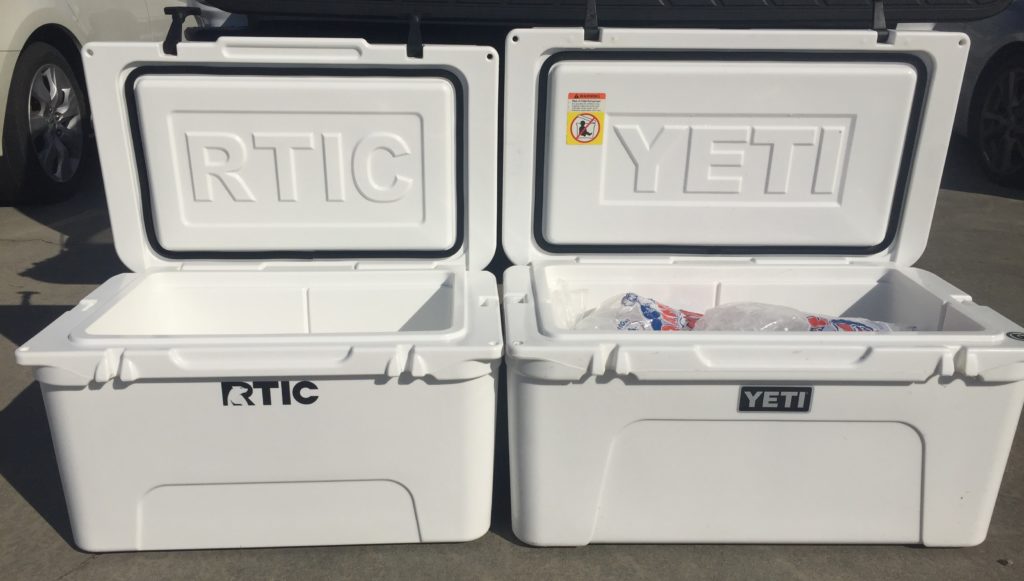 Now Yeti claims it's coolers are made in the US, although their other products are made in China. RTIC coolers are made in China and that may be an issue for some I know. But for $100 less, and essentially the same capacity and performance, some will take the savings over the Name brand or, made in USA feature. That's totally a personal choice, and in the end, it is your choice and your dollars. In the chart below I have listed some important cooler features for a side by side comparison of the RTIC 65 and the Yeti Tundra 65.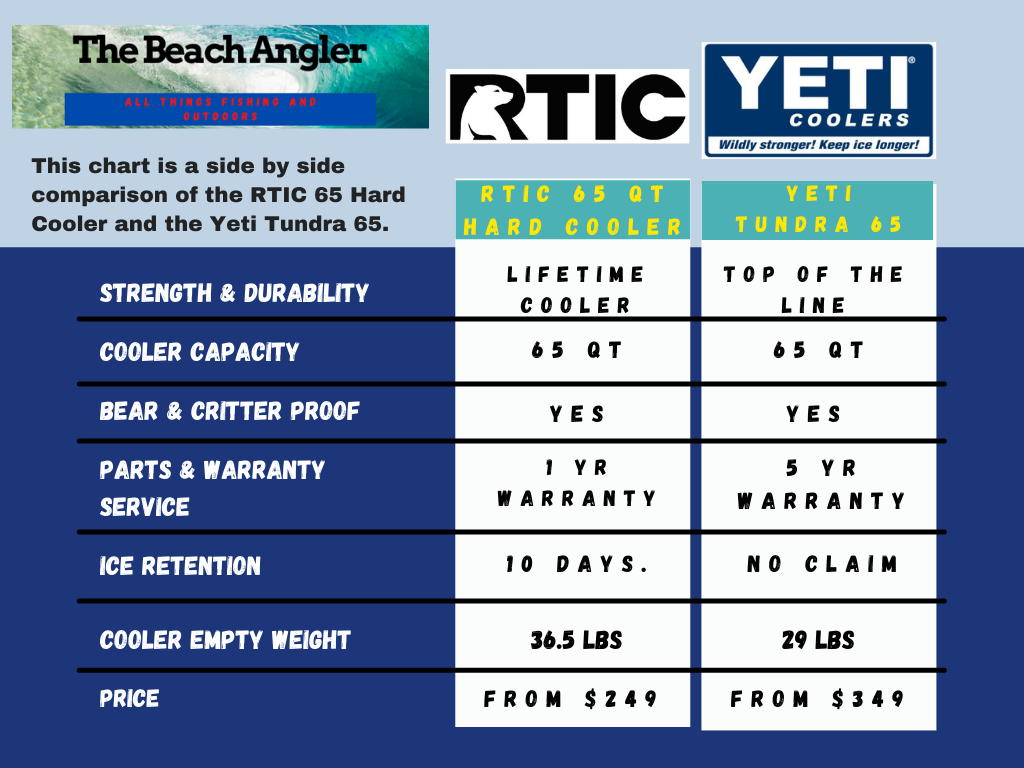 RTIC Coolers Pros and Cons
---
In the following table I have listed what I think are the Pros and Cons of the RTIC 65 Hard side coolers. I always suggest that if you think RTIC coolers might be a good option, that you take a look for yourself. After all, only you know what you will like, need or require for the type of activities or applications you pursue. Just click on the button below to check out the RTIC 65 Hard Cooler.
| RTIC 65 HARD COOLER PROS | RTIC 65 HARD COOLER CONS |
| --- | --- |
| Strong and Durable Cooler | Made in China |
| Holds Ice for up to 10 days | |
| Bear and Critter Resistant | |
| Good Price for roto molded cooler | |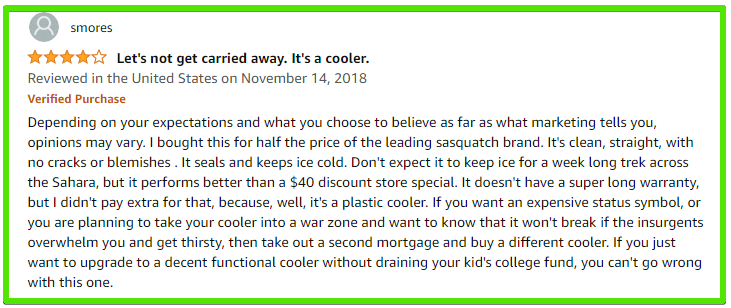 RTIC 65 Hard Coolers Final Verdict:
---
In my humble opinion, the RTIC 65 hard cooler is a great alternative to the Yeti Tundra 65. Similar features and performance and with a price $100 less, it's hard to go wrong choosing the RTIC 65. Some of my crew use the RTIC coolers on our extended fishing and camping trips with great results. I also have a Yeti ( given to me) and it is a great cooler as well you just pay extra for the name. If it were my dollar, and those were my two options, I'm going with the RTIC coolers and I give it a rating of 90 out of 100.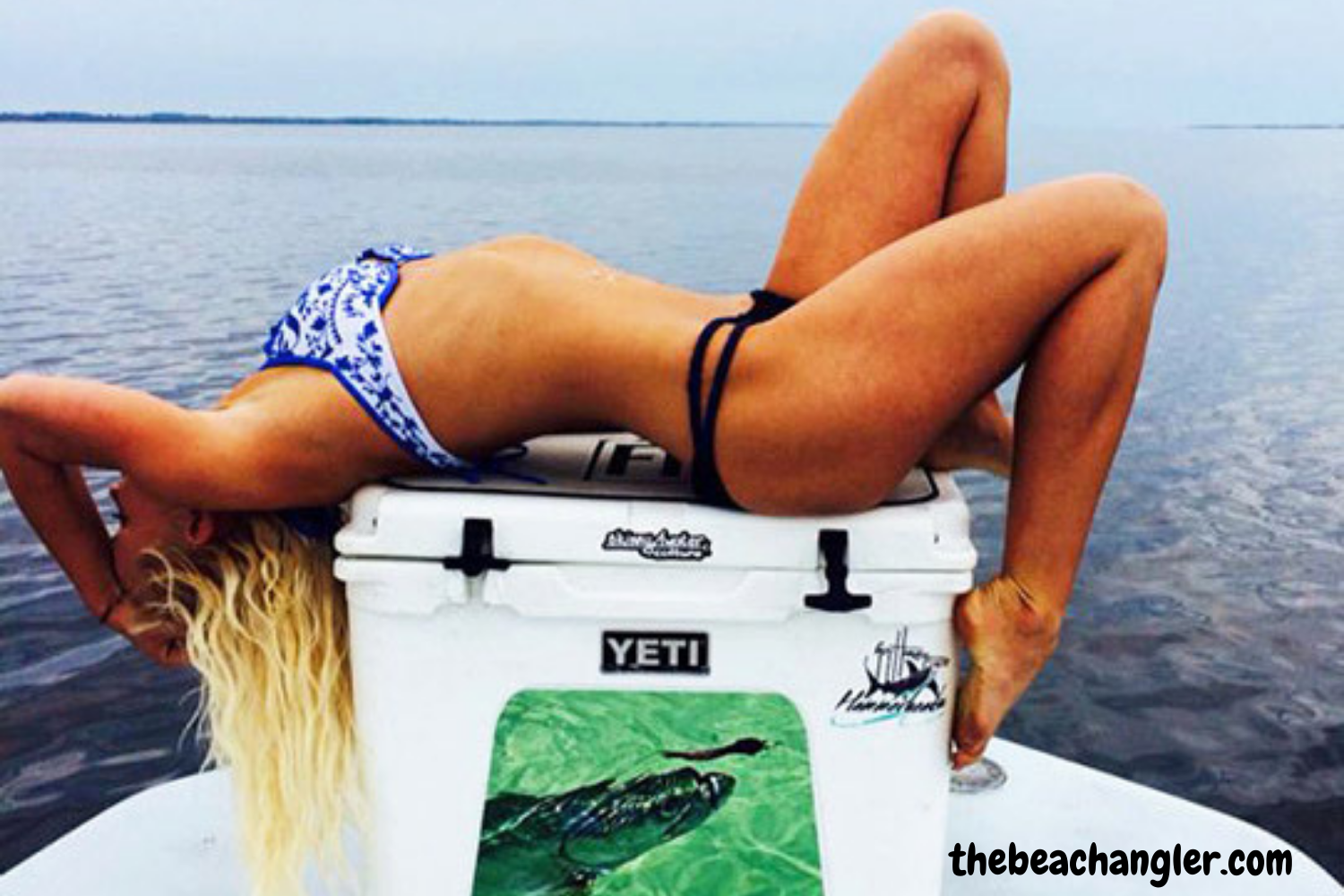 As always, stay safe, enjoy the journey and please try to leave it cleaner than you found it. If you have any comments, questions, ideas or suggestions please leave them in the comment section below and I'll get back to you asap. You can follow up on Facebook: Rex The Beach Angler, Instagram: thebeachangler7, Twitter: @AnglerBeach, and YouTube: Man Art Creations.