Christmas is right around the corner and, for the surf fisherman on your list, there are some great gift ideas that will bring a smile to their face whether it's Christmas, their birthday, anniversary or any occasion. If you are a fisherman, or know one, you can bet fishing gear and accessories are always high on their "want" list. You can never seem to have enough gear, rods, reels, tackle or lures.
The following are some fishing gift ideas that are sure to please the fishing addict on your list for any occasion. There are fishing gifts for men, for women, for kids, for beginners and even experts. What ever category your fishing enthusiast falls in, you can find some very functional and unique fishing gift ideas. Let's take a look and see if we can find the perfect gift for the fisherman on your list.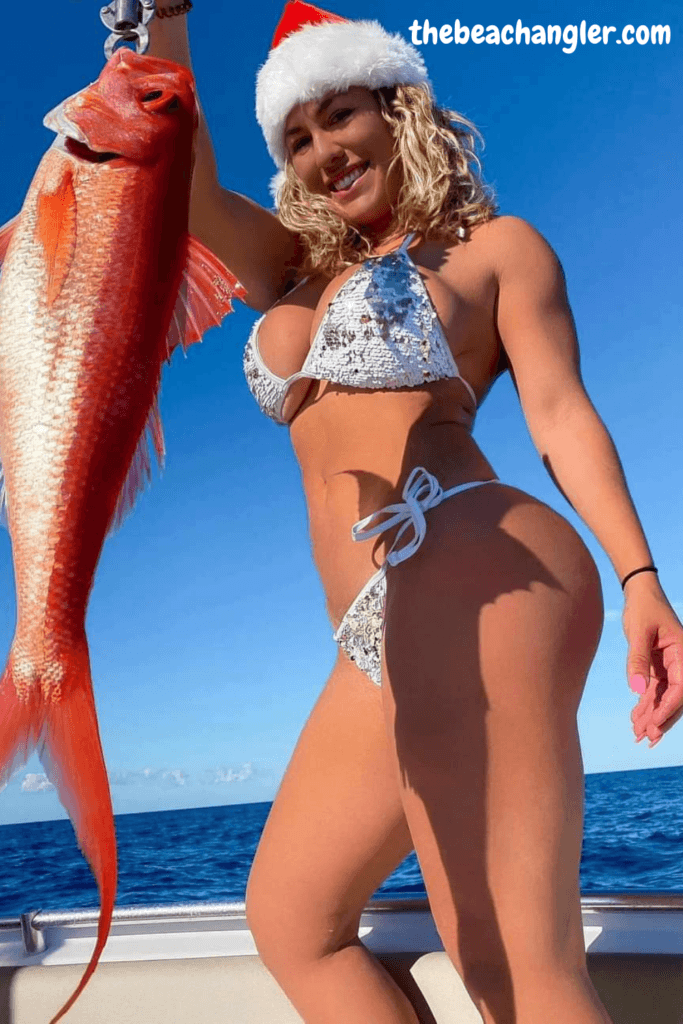 Surf Fishing Gift Ideas
---
One thing about fishing and fisherman is that there is no shortage of gear and tackle options which means there are plenty of gift ideas for any type of fishing or fisherman. Surf Fishing is no different. From rods, reels, tackle, gear and accessories, to lures, clothing and even guided fishing trips. No matter who you are shopping for, you can find great fishing gift ideas.
For Example:
surf fishing rods
surf fishing reels
surf fishing combos
tackle bags and boxes
surf fishing carts
surf fishing tackle, rigs and lures
fishing clothing
fishing waders
And, these are just a few of your options. As a surf fisherman myself, let's take a look at some of what I think make great fishing gift ideas. For either giving, or receiving for Christmas, birthday, anniversary or any occasion. 😉 If you know someone who loves surf fishing, they will enjoy any of these fishing gift ideas.
Surf Fishing Rods Reels and Gear Gift Ideas
---
Surf rods are longer and stronger than your typical inshore fishing rods. They are designed to cast larger baits for longer distances to reach beyond the breakers. They make great gifts too. The folks at Penn have been building quality saltwater fishing gear for decades. Their surf rods are just one example.
PENN Squadron III Surf Conventional Fishing Rod
The PENN® Squadron® III Surf rods were engineered to be versatile surf rods at an affordable price. Built with durability in mind, the rod offers a graphite composite blank construction, PENN's virtually indestructible one piece stainless steel Dura-Guides (no more insert popouts), and comfortable shrink tube and EVA grips offer a traditional style and feel. This saltwater set up is truly up to the challenge.
Graphite Composite Blank
PENN Dura-Guides
Graphite Reel Seat
Rubber Shrink Tube Handles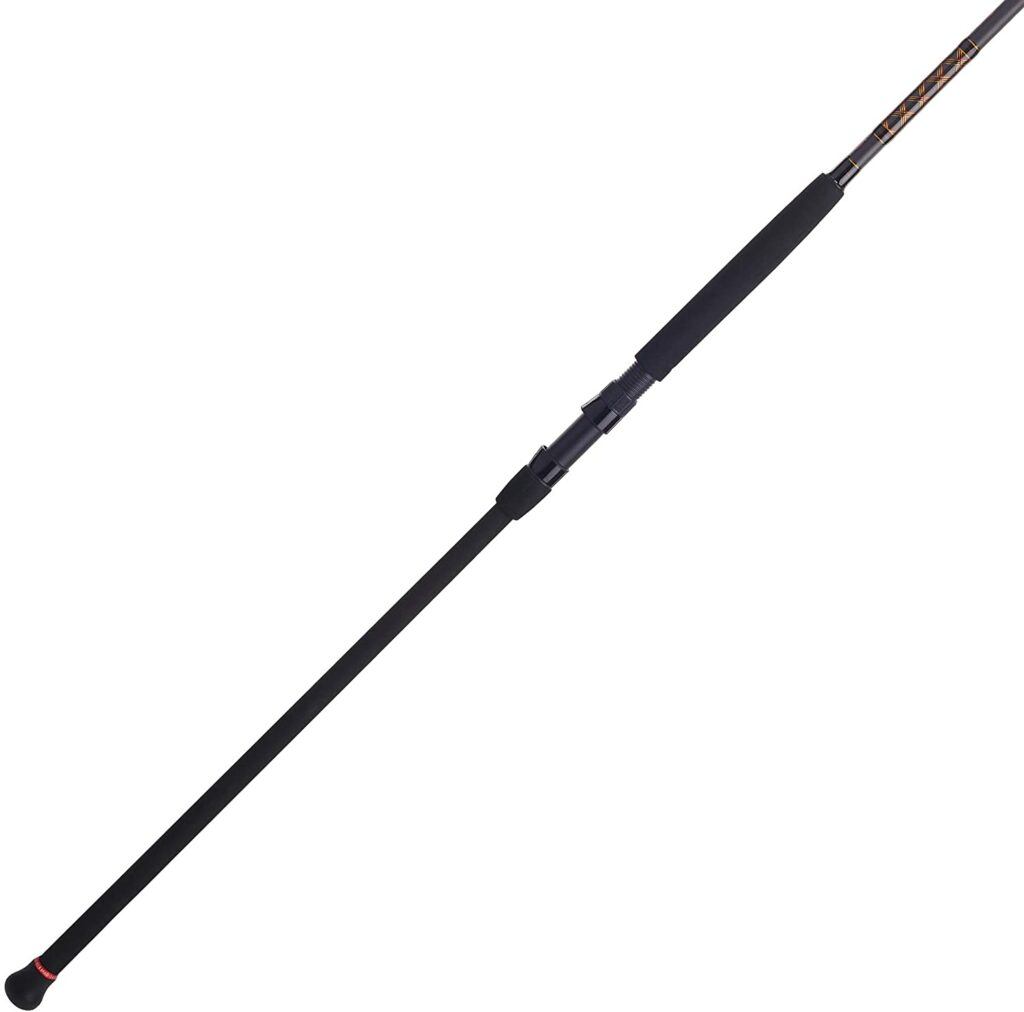 Surf reels, like surf rods are generally larger and stronger than standard reels. They are designed with larger line capacities and stronger drags for increased casting distance and for fighting bigger fish. Also, they are built to resist the harsh marine saltwater environment. Okuma builds surf fishing reels using the very latest in materials and technology.
OKUMA Reels Surf 8K Spinning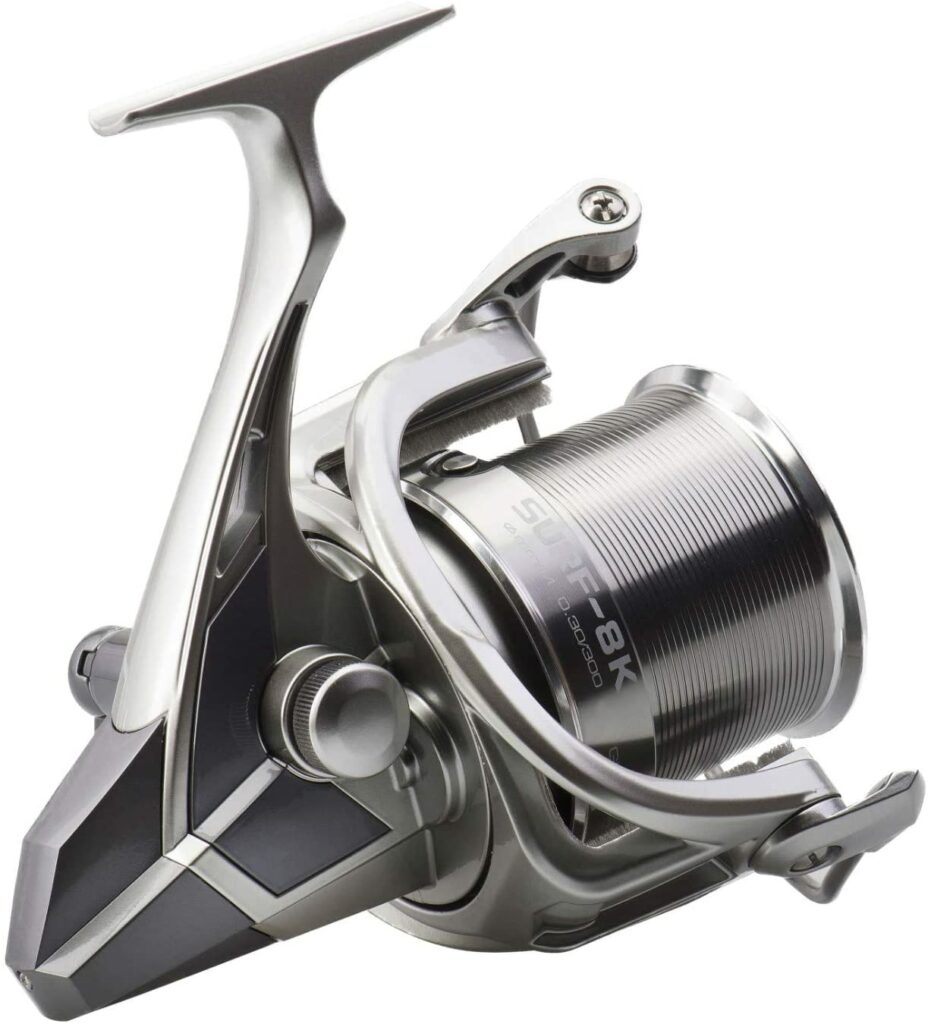 Quick set anti reverse roller bearing
CFR cyclonic flow rotor
Slow oscillation system
Fast drag system
Double stainless steel line clickers
Surf rod and reel combos are matched for optimum performance and value for your dollar. The Berkley Glowstik has a unique glow in the dark coating so you can easily keep track of your rods when night fishing.
Berkley Glowstik Surf Spinning Reel and Fishing Rod Combo
Fiberglass blank construction
Stainless steel guides with titanium oxide inserts
Full rubberized shrink-wrapped handles
One touch battery operated red LED core
Stainless steel corrosion resistant 2 bearing system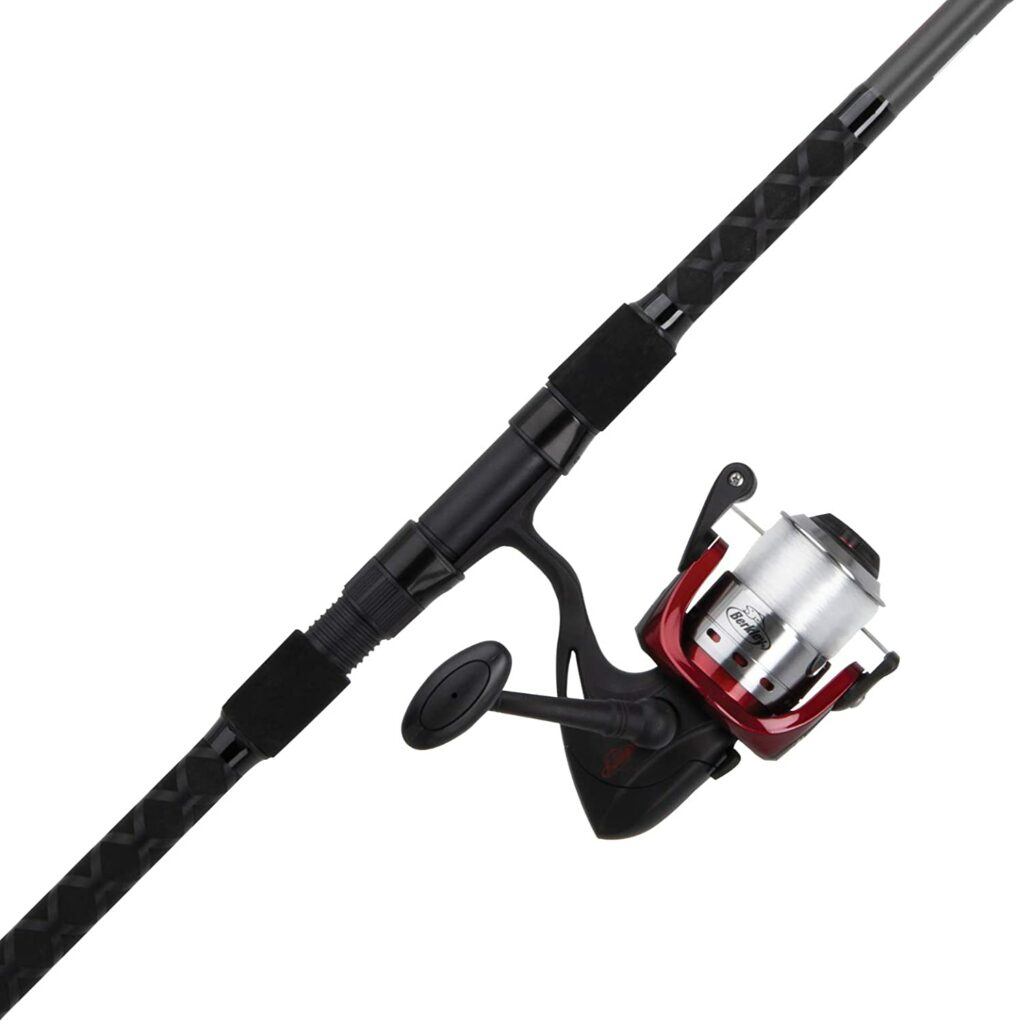 Surf fishing Carts are designed for those beaches that don't allow you to drive to your fishing spot. They make it much easier carry all of your gear across the dunes and beach. They can also be used for pier fishing to haul gear and ice chests down the length of the pier. Fish-N-Mate makes several great beach cart options to choose from.
The Angler's 310 Large Fish-N-Mate Cart is great for the beach, pier, home or garden! The Fish-N-Mate carries eight rods and reels, 2 coolers, a tackle box and an umbrella. Get all your gear from the truck in one trip, or easily change fishing locations while keeping everything you need close at hand with this tough, handy and easy-rolling cart.
Fish-N-Mate 310 Lg Cart with Poly Wheels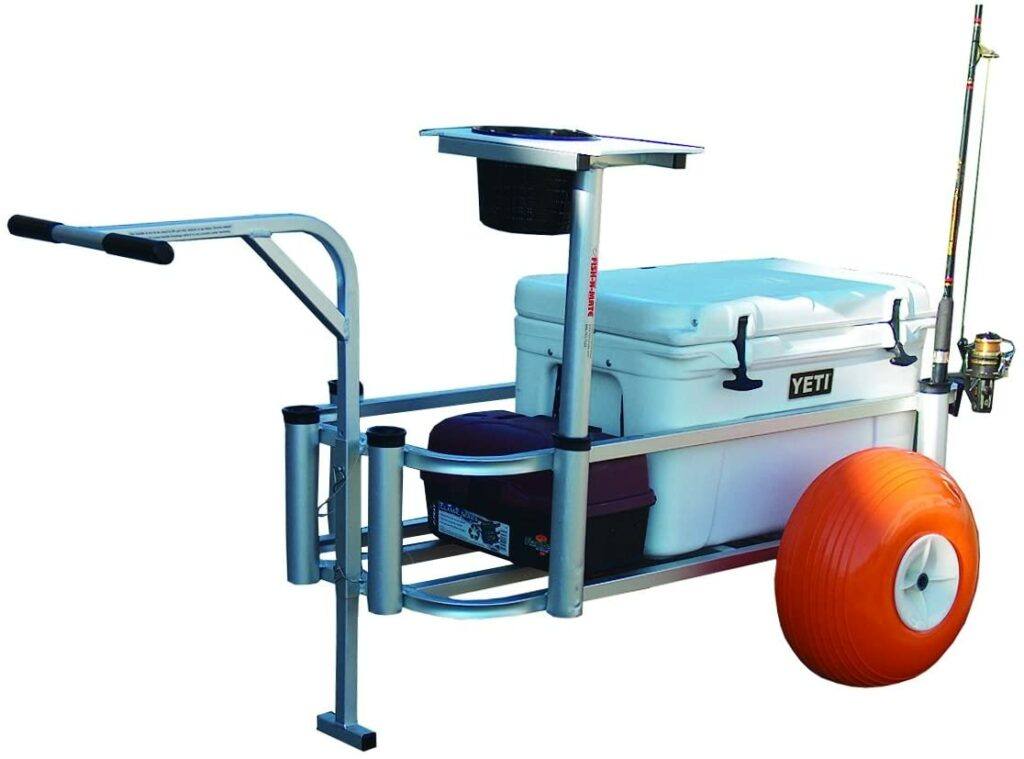 Detachable handle
15-inch tires. Poly Wheel Tires : 6 X 6 Inch diameter X 5/8 Inch hole
Stabilizer legs
Vinyl rob tube covers
For those times of year when the water temperatures start falling, waders can make it much more comfortable for fishing. Frogg Toggs is a trusted and proven name in water and weather proofing gear.
Frogg Toggs Hellbender Breathable Fishing Chest Wader
The Frogg Toggs Hellbender Breathable chest waders feature 4-ply nylon upper and double-reinforced knees. An oversized multi-function chest pocket provides ample storage to keep hands free. Zippered handwarmer/storage pockets provide protection from the elements for the users hands. Available with Neoprene booties and cleated or felt bootfoot styles to match all your fishing needs.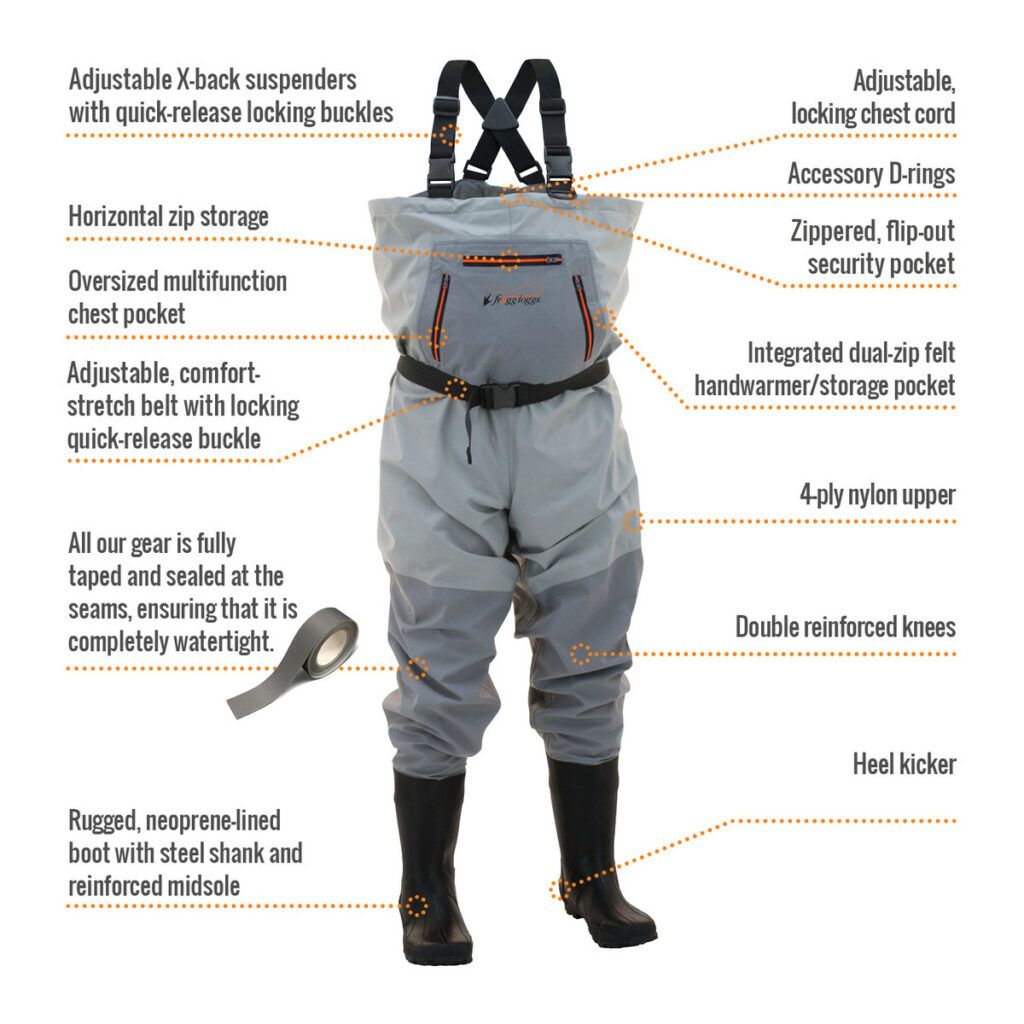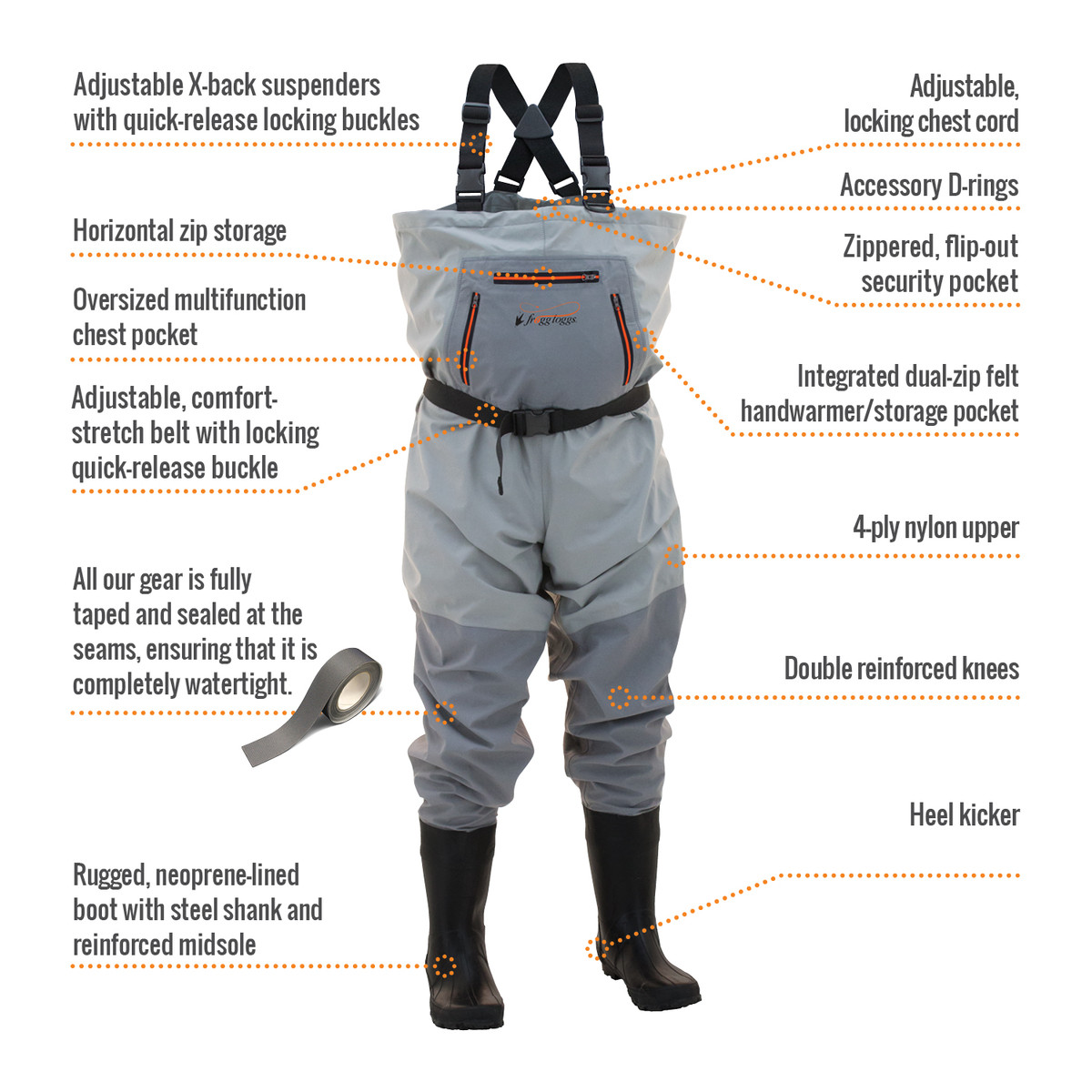 Wading boots make great gifts for the surf fisherman. They protect your feet from sharp shells, rocks and other objects that could ruin your day. ForEverlast has designed wading boots that even protect against the painful sting ray barb encounters.
ForEverlast Ray-Guard Reef Wading & Fishing Boots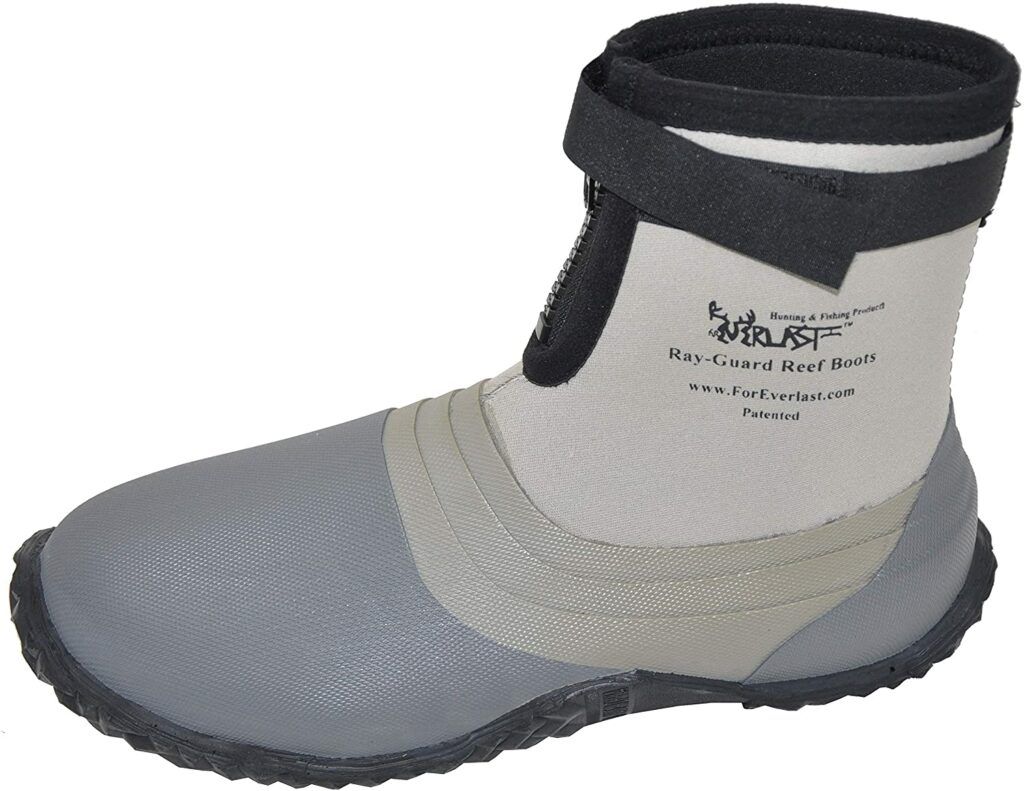 RAY GUARD REEF BOOTS: The ForeverLast Ray-Guard Reef boot provides the support and grip to help you navigate the uneven river bottoms or reef structures. Enabling you to stay stable and safe in the unknown terrain
DURABLE: The Ray Guard Reef Boots have a hard-soled bottom with 4 layers of vulcanized rubber for the superior protection in the water. Protection against underwater creatures and uneven, sharp terrain.
COMFORT: Lightweight and comfortable without sacrificing quality. Offering the hook and look cuff closure with the added zipper to get a secure and personalized fit. Strong ankle support; Great for beach wear or site casting from the deck of the boat
VENTING: Features a vent on the inside sole to help excess water to drain outside of the boot; SD System to elimate rock and grit from entering your boots while letting the water out
HYRDOPHOBIC: Water resistant materials keeping you dry and lessening the possibility of spreading invasive water species
Surf Fishing Rigs and Tackle Gift Ideas
---
Surf fishing rigs and tackle, like surf rods and reels, is designed specifically for the bigger fish and strong currents you find along the beach front. And, every surf fishing enthusiast needs more rigs and tackle. They just seem to get lost, broken and simply worn out over time.
Surf Fishing tackle boxes are larger with multiple trays and compartments. It takes a lot of tackle to fish the surf and tackle boxes need to be big enough to carry it all. Sometimes you need more than one. 🙂 The Elkton rolling tackle box has an extra large capacity with the addition of wheels so you can roll it to the fishing hole instead of carrying it.
Elkton Outdoors Rolling Fishing Tackle Box
OVERVIEW: Durable, waterproof, light, compact, and convenient makes it easy to get your fishing gear to your favorite spot. Dimensions: L 15.7″ x W 9.6″ x H 18.7″.
LOTS OF STORAGE: Padded and adjustable top storage compartment, five 3600 size, 18 compartment tackle trays to fulfill of your organization and storage needs for all your gear!
MADE TOUGH: Tough fabric and durable zippers allow this fishing gear roller to hold up to 26.5 pounds, and will help keep your fishing gear in great condition.
EASY TRANSPORTATION: Extend the handle to use as a rolling tackle box, retract the handle and use the shoulder strap to carry it.
ROD HOLDERS: 4 rod holders make it easy to get everything where you need to go in one shot and will keep your fishing rods in great condition!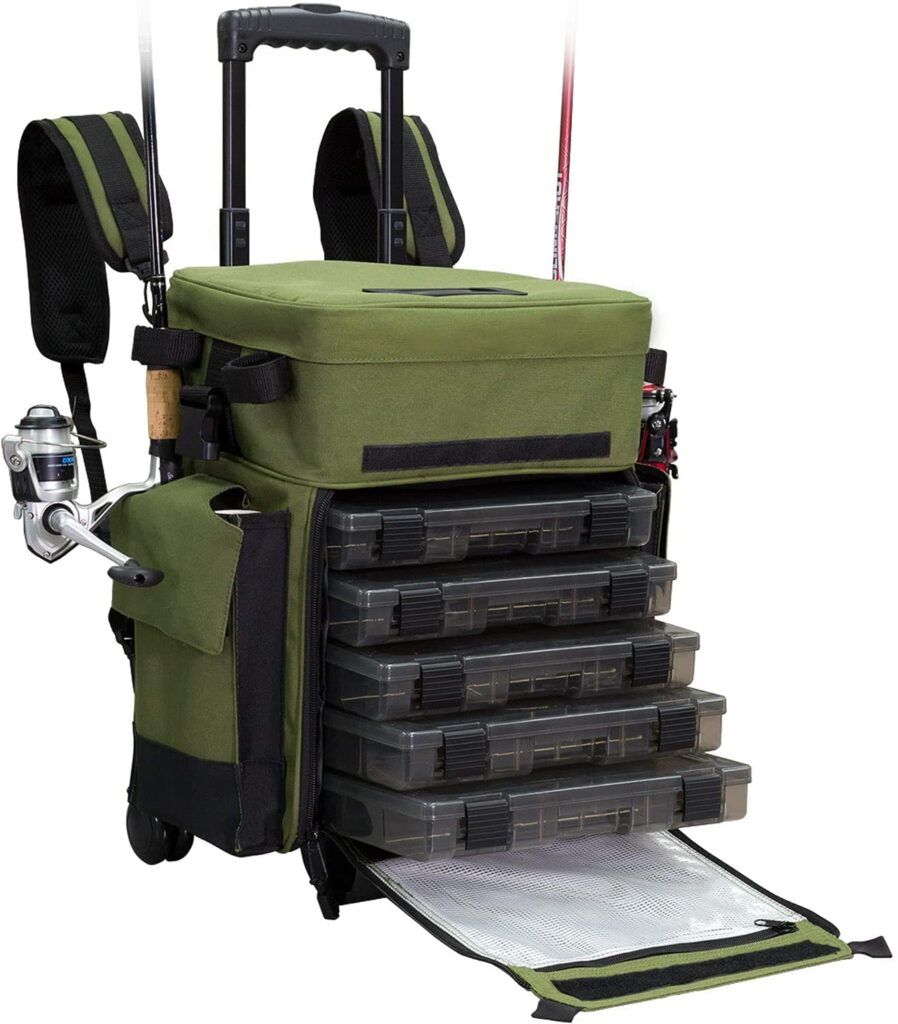 The EGO tackle backpack allows you to carry your tackle on your back to those remote fishing locations where you can drive, or get your surf cart to. Plenty of storage capacity for rigs and lures while keeping your hands free to carry rods and other gear.
EGO Kryptek Tackle Box, Fishing Pack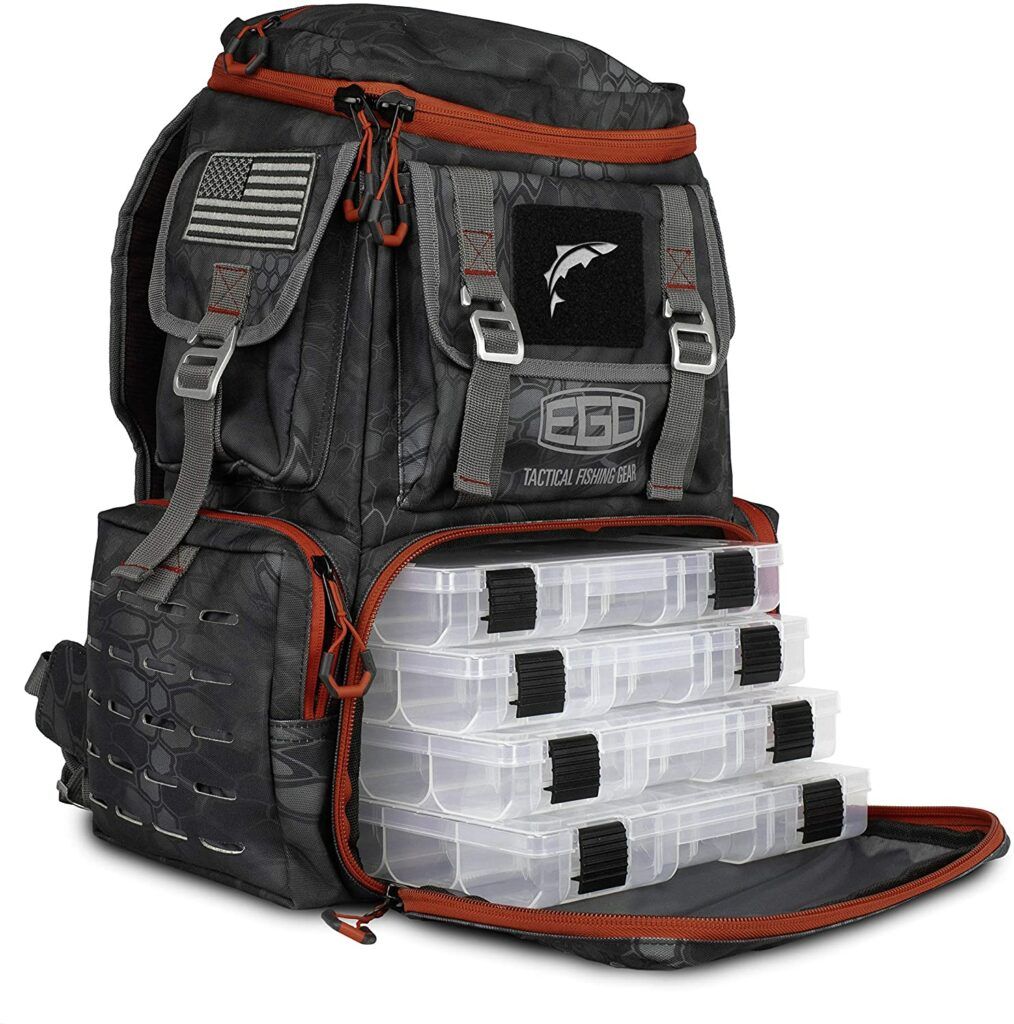 EXTRA DURABLE- Nylon fabric with PVC coated backing that will not rot or mildew, offers excellent tear strength and high abrasion resistance
G-HOOK- Closure system offers quick access and long-lasting hardware to keep your items secure
MOLLE – Loop strapping, conveniently add your favorite tactical fishing accessories for easy transport and access
TACKLE TRAYS – Comes with (4) – 10 x 7 inch high quality clear plastic trays with adjustable compartments and durable latches
TACKLE BOX BACKPACK – 1000D Nylon fabric, covered with Kryptek Camo technology , Size – 17'' L x 11'' Wide x 19'' H Weight- 6.31 lbs
Surf weights are specialized like most surf fishing gear, and are designed to dig into the bottom and hold your baits in place against the strong currents and wave actions of the surf zone. Breakaway tackle is the leader, by far, in surf weight design and technology. These surf sinkers prevent your weight from moving in the surf. The stainless steel arms lock in place and anchor in the sand. When you are ready to retrieve, pull on the line and the arms snap open to allow for easy retrieval.
Breakaway Super Sinkers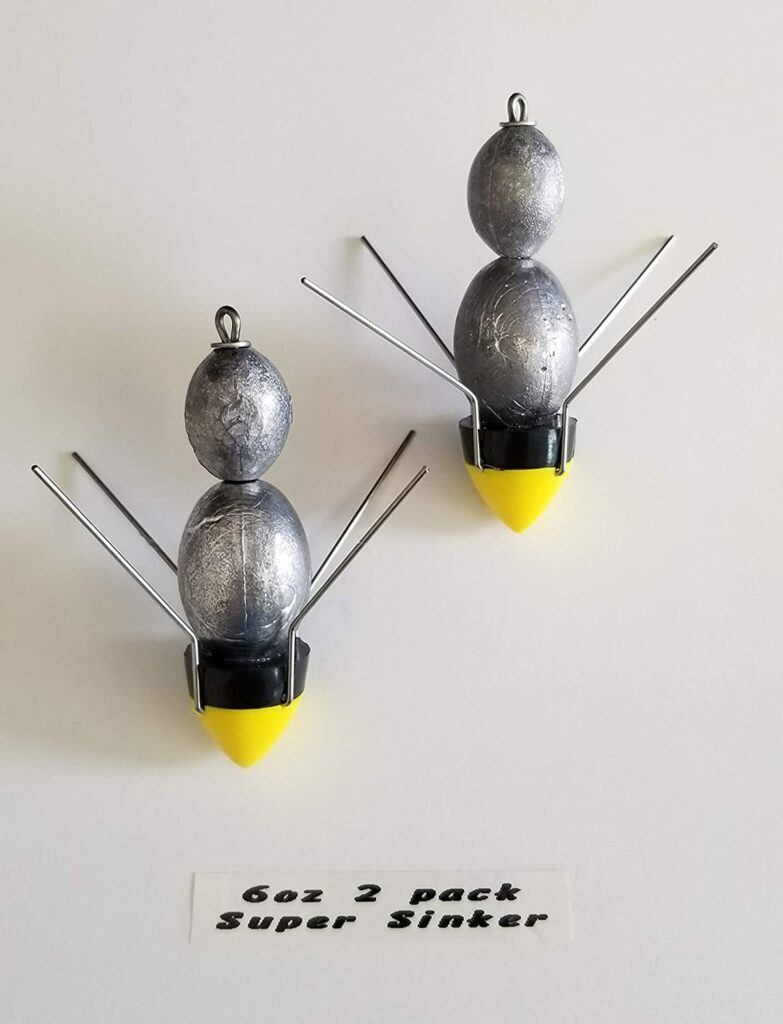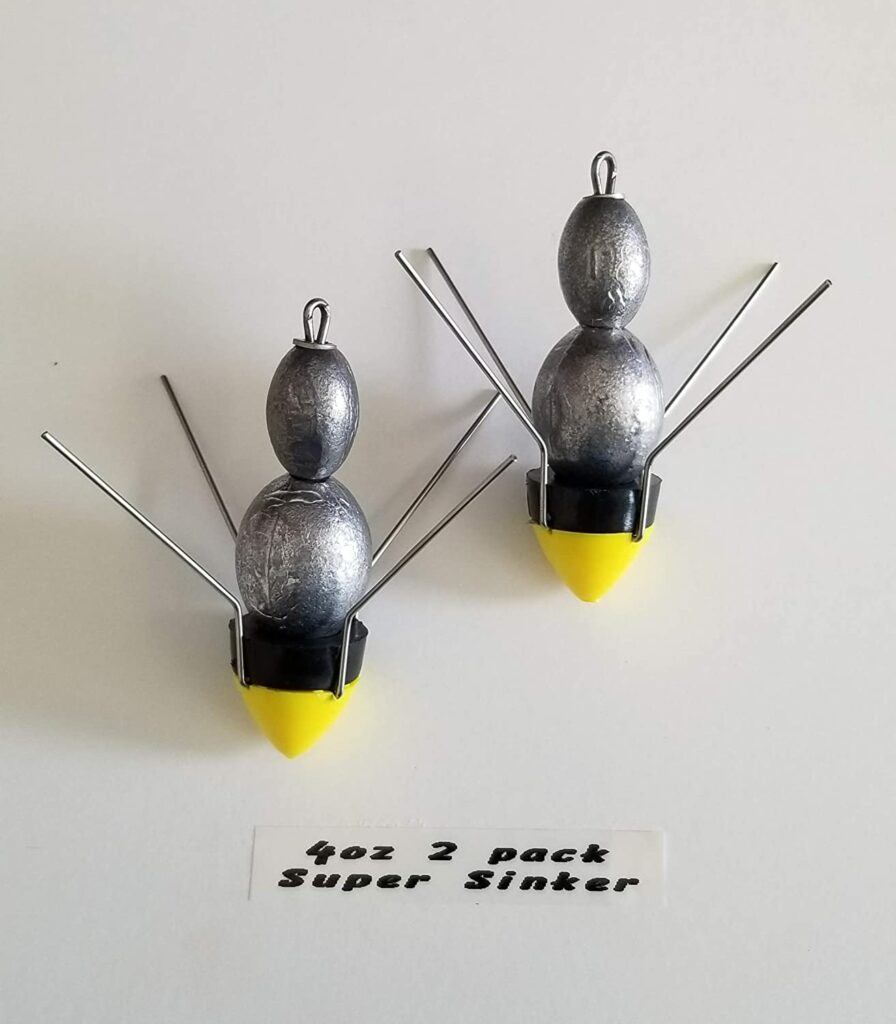 Surf rigs, much like surf weights, are designed for the harsh marine environment and to handle big fish that often have very sharp teeth. Which means, you tend to go through a lot of them over time and can never have too many.
2 Pcs Drum Rigs Fish Finder Rig Surf Rig – 8/0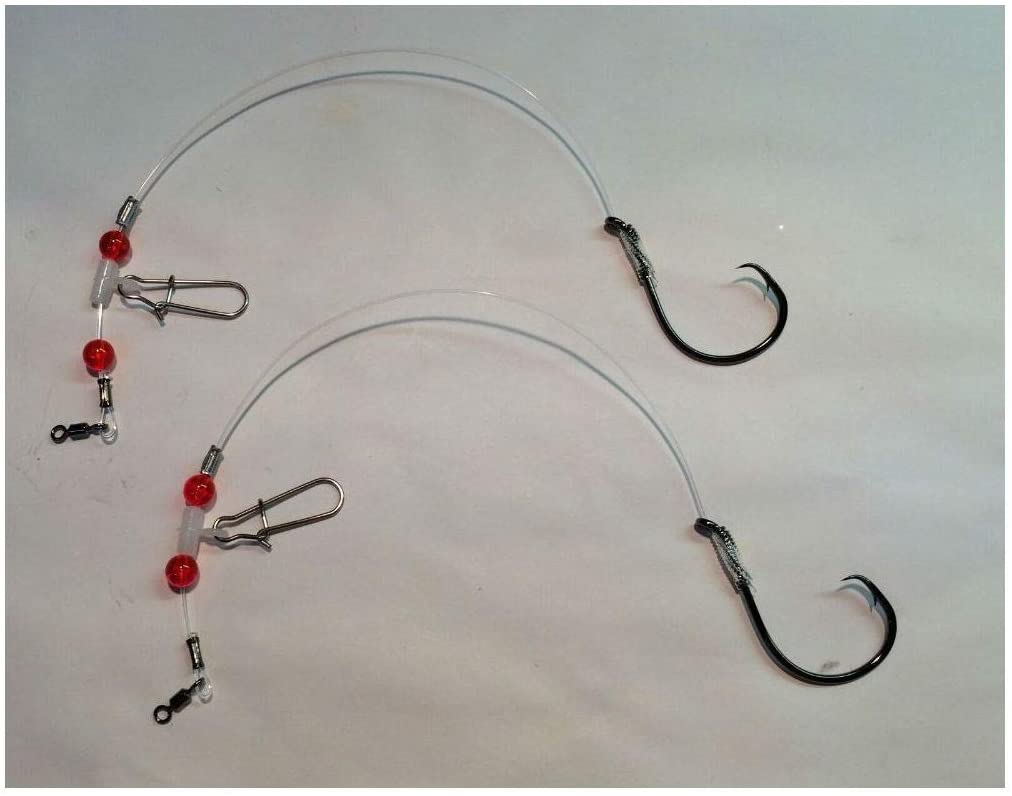 ? Size # 8/0 Gamakatsu Snelled Circle Hooks
? 100 lb. test Sufix Superior Monofilament Leader
? Spro Power Swivels SPSB-04 130lb Test
? Fish Finder sinker slides with Duo-Lock Snaps. 8mm Beads
Surf fishing lures are again, larger and stronger than your typical fishing lures. They come with corrosion resistant hardware and are built to cast farther against the wind and waves. Dr Fish saltwater lures are built tough to handle the large toothy predators along the beach front.
Dr.Fish 6 Pieces fishing plugs with brilliant holographic laser finish and 3D eyes
Latest modify: 2 of them equipped with Mustad Treble Hooks and 4 with ultra-strong Saltwater Stainless Treble Hooks. Superior Chamber Rattler System, Life-like swimming action in water.
Equipped with Strong Mustad plated treble sharp hooks. Much better quality than those kit with final price less than 1 buck per piece.
Strictly selected colors and designs for covering various condition.Work great for both saltwater and freshwater.Productive when trolling, surfcasting on salmon, sea trout, striper, musky etc. Ideal for bass, pike, walleye and musky in lake, pond and river.
Integrated long casting system partners with the irresistible rattle to make them even more tempting. |6 different style lures for different condition. All of them are 5″ or longer.
Dr. Fish Saltwater Fishing Lures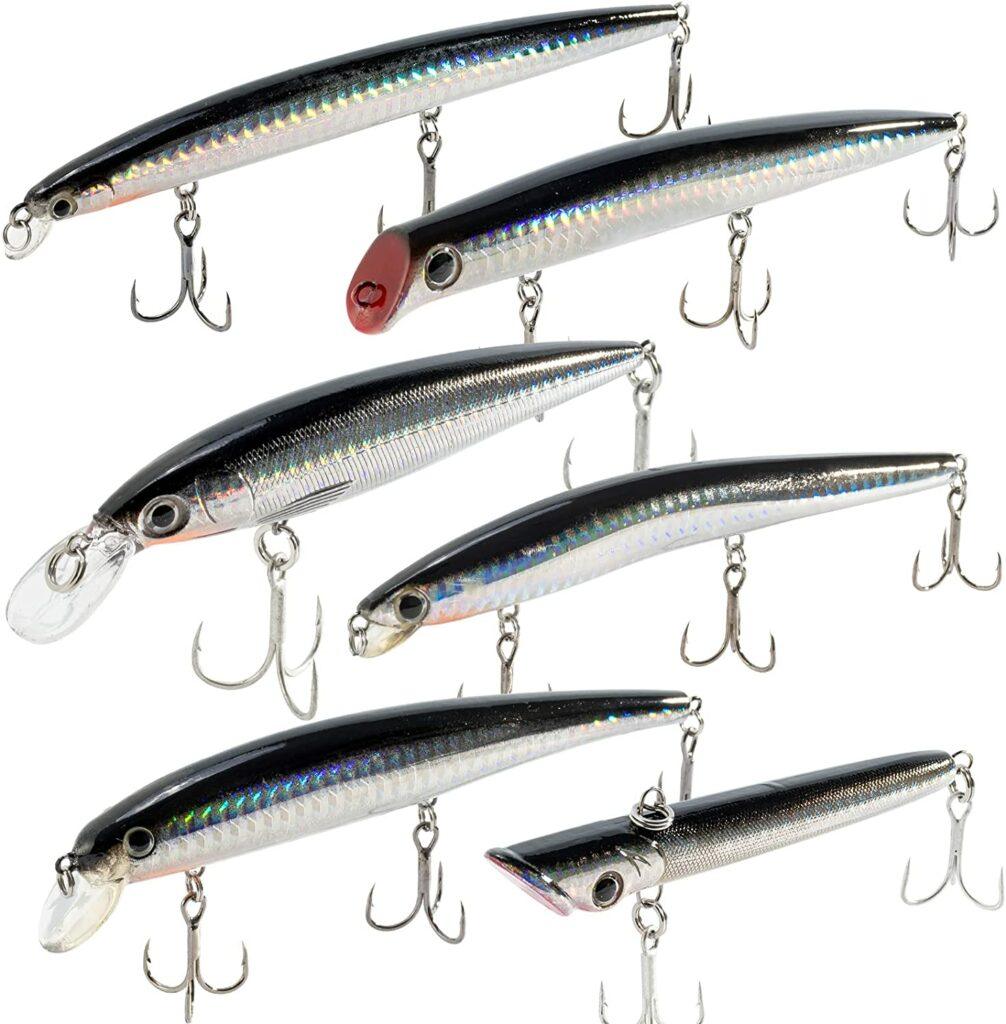 Surf Fishing Stocking Stuffer Gift Ideas
---
If you are looking for some quick gift ideas for that fishing enthusiast on your list, check out some of these "stocking stuffer" fishing gift ideas. Saltwater fishing pliers are a must have for any surf fisherman and the Bubba Blade stainless steel fishing pliers are some of the very best available.
Bubba Blade 7.5 Inch Fishing Pliers with Stainless Steel Jaws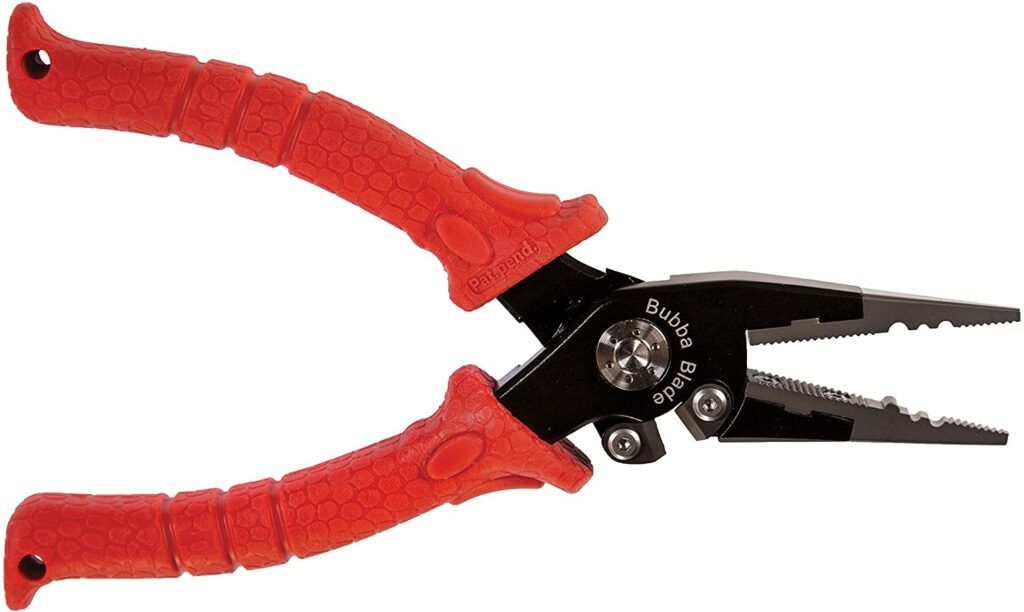 DIMENSIONS: 7.5" overall length with 2" jaws
EASE OF USE: Quickly remove hooks or replace treble hooks on your favorite lure while out catching fish
RELIABLE: Patented Bubba Blade Non-Slip Grip handle ensure the pliers stay firmly anchored in your hand even when wet
DURABLE: Aerospace aluminum construction for reliable lightweight usability – built for ultimate control, strength and durability
CONVENIENT: The Ti-Nitride coated, rust resistant blade cuts through scales easily and features an extra sharp tip to make starting your cut a breeze and a sheath with a belt loop for close, hands free carry
When landing big fish in the surf, the BOGO grip is a great tool to protect you and the fish. It keeps your hands and fingers away from sharp teeth and gills while protecting the fish from over handling and injury in case you want to release it to fight another day.
This BogaGrip is Model 315: The scale weighs fish up to 15 pounds in 1/4 pound increments. It is 9 inches long and weighs 9 ounces.
The BogaGrip is designed to promote "catch and release fishing," as it will land, handle, and weigh fish quickly and simultaneously without injury to the fish. It is particularly good for handling fish in cold weather, or hard-to-handle fish.
The fish's weight is checked by reading the point that the main tube's embossed scale has been pulled down to inside the grip tubing. The fish is released by pulling back on the trigger.
In use, the fisherman will hold the grip sleeve, and using his index finger or thumb will pull back the trigger sleeve, which causes the jaws to open.
Made in the USA, and of USA-made materials. All metal parts of the BogaGrip are made of stainless steel. All plastic parts are made from acetal, which is a high-performance engineered thermoplastic that is used in unlubricated bearing applications.
Boga Grip 315 15lb Scale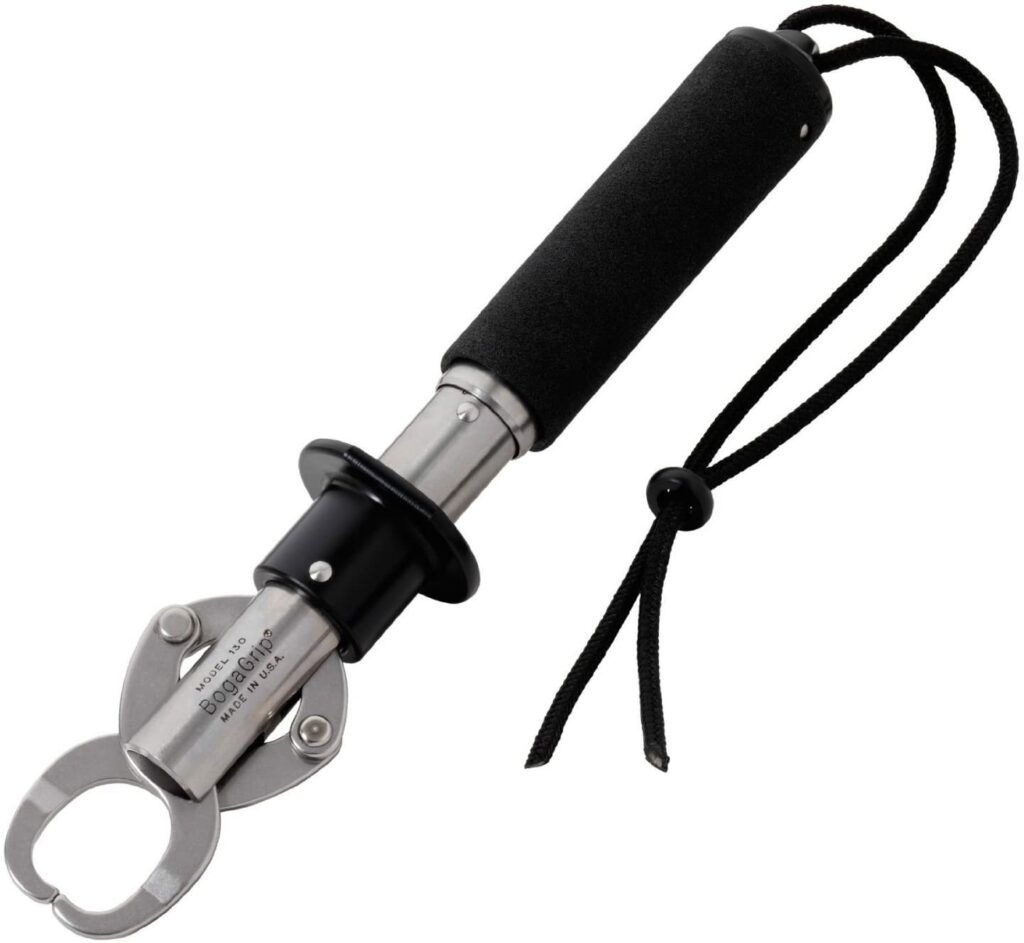 There comes a time when we might want to take a few fish for the dinner table and that is when you need a good filet knife, like the Bubba Blade, to make quick work of your fish cleaning and preparation.
BUBBA 9 Inch Tapered Flex Fillet Knife with Non-Slip Grip Handle

DIMENSIONS: 15" overall length with 9" blade
EASE OF USE: Non-Slip Grip handle for outstanding grip security providing ultimate knife control with trigger grip for added security
RELIABLE: Features safety guards for protection from the blade and spines of fish
DURABLE: Ideal for detailed precision cutting, a super thin 8Cr13MoV blade allows for effortless maneuvering to easily remove meat without loss, making it the ideal fishing knife
CONVENIENT: The Ti-Nitride coated, rust resistant blade cuts through scales easily and features an extra sharp tip to make starting your cut a breeze and a sheath with a belt loop for close, hands free carry
Other great fishing gift ideas tor the surf fisherman is fishbites synthetic fish bait. Easy to store and carry and will catch a wide variety of saltwater fish. You should always have a couple of packs with you, it can save your day when other baits may be hard to come by.
Can be used to catch a whole host of saltwater species
Comes with 2-strips per bag
Best for saltwater fishing
12-inches in length
Lures are biodegradable
Fishbites 141 2212-0047 0 E-Z Shrimp Longer Lasting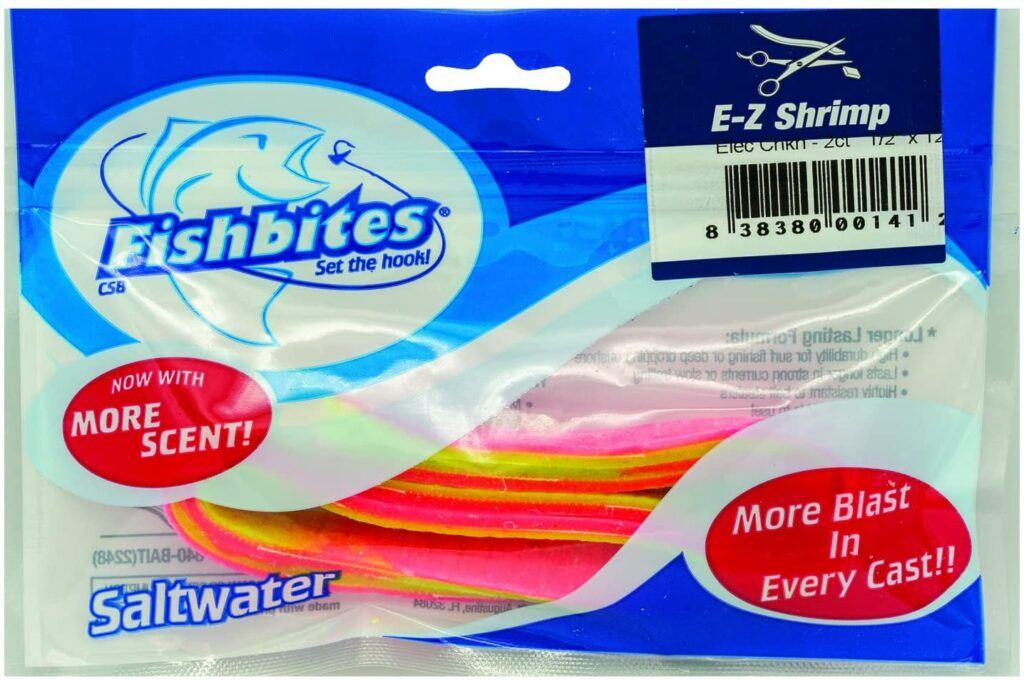 Of course another essential piece of fishing gear is a good pair of polarized sun glasses. The folks at Costa Del Mar have been making high quality polarized fishing glasses for years and are some of the best available for surf fishing.
Costa Del Mar Men's Rinconcito Rectangular Sunglasses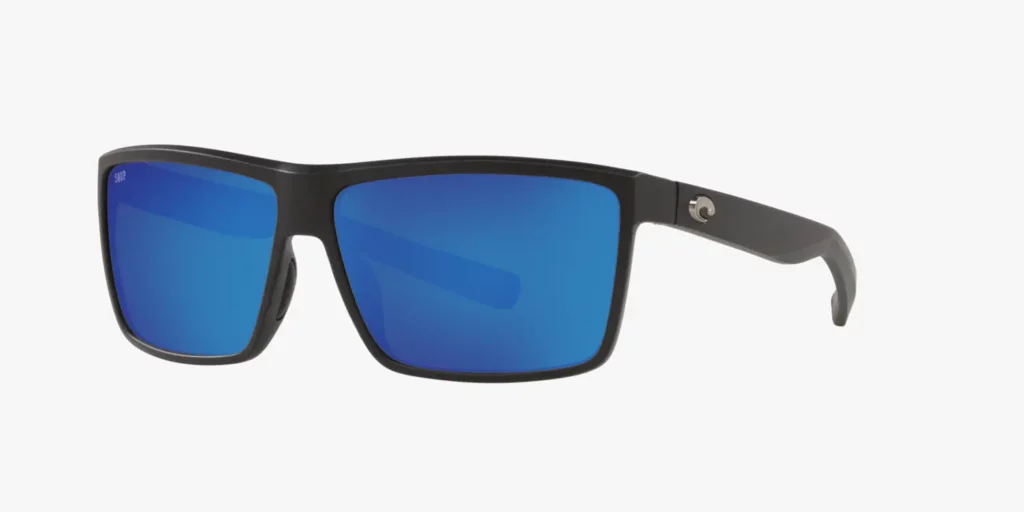 Made in the USA
Resin frame
Plastic lens
Polarized
UV Protection Coating coating
Costa's 580 Polycarbonate provides high clarity, impact- and scratch-resistance along with lightweight all day wear-ability.
Blue Mirror Polarized is best for bright, full-sun situations on the open water and offshore.
Costa's co-injected bio-based nylon frame material, TR-90, is both tough and durable, while offering a comfortable fit.
Costa case and cleaning cloth included to keep your Costa's safe while you are getting after it
Don't forget the fishing shirts. Lightweight and breathable with SPF to protect you from the sun, wind and elements. Huk shirts and fishing wear will provide you with long-lasting wear and protection, and make a great gift.
Polyester-blend
Imported
Huk: Uniting anglers through performance-engineered, technical gear designed to fuel your passion and pursuit no matter when, where or how you fish
The Huk Pursuit Vented Long Sleeve Shirt is packed with Huk Performance Technology to handle the elements on the water |This lightweight crew neck shirt with mesh vented sides is an ideal layer on cooler days and perfect worn by itself when its hot
SUN PROTECTION: This fishing shirt protects your skin from the sun's harmful rays – Huk added the most advanced sun-blocking +30 UPF materials to their apparel to block both UVA and UVB rays
STAIN RELEASE: Because fishing can be dirty, Huk added a special stain release treatment that not only enables stains (such as oil guts and others) to be easily washed out but also resists oily substances from attaching to the garment in the first place
ANTI-MICROBIAL: Like all sportsmen, fishermen sweat – Huk anti-microbial treatment inhibits and kills the growth of odor causing micro-organisms
SUPERIOR BREATHABILITY: Keep your skin dry and comfortable on the water – Huk performance shirts includes special fibers that transport sweat away from the skin and synthetic materials that allow air to pass through to create superior breath-ability
Huk Men's Pursuit Camo Vented Long Sleeve Shirt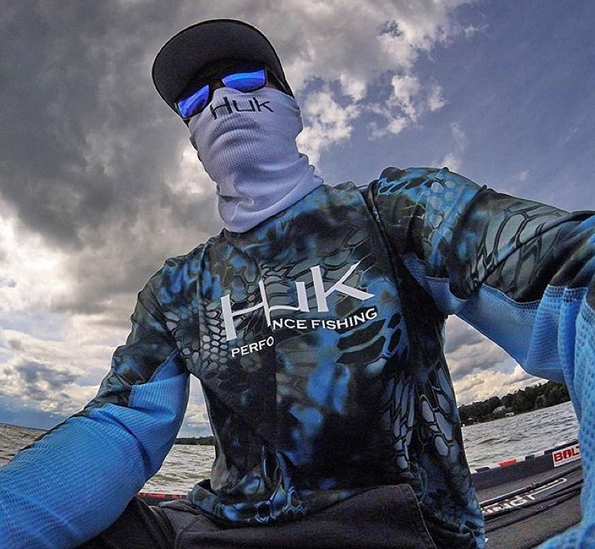 These are just some of the many fishing gift ideas and options available for the fishing addict on your gift list. You can check out some other great options that my friends at Tackle Direct have put together by clicking on the banner below.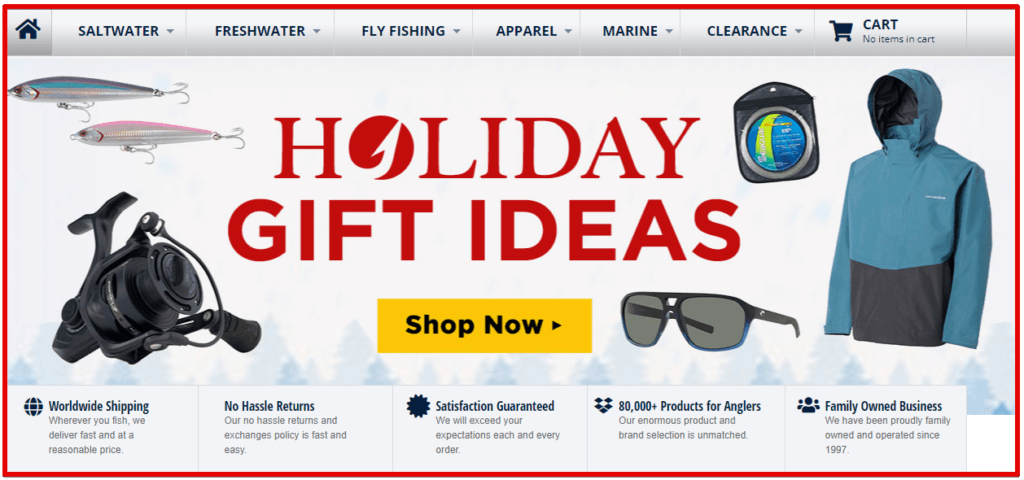 Merry Christmas and Happy New Year of Surf Fishing
---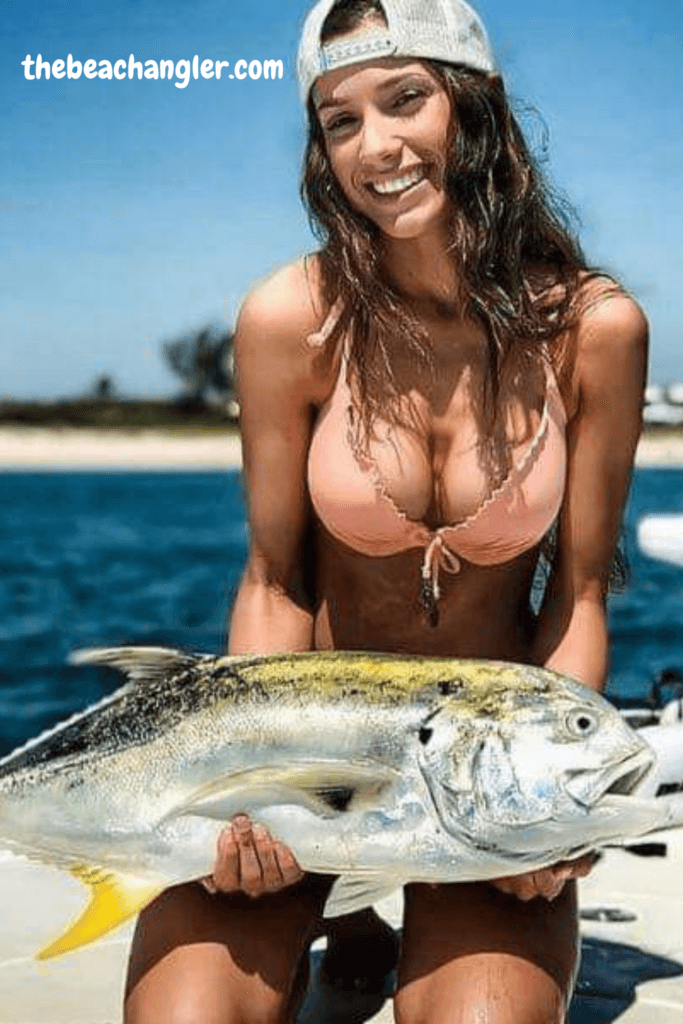 I hope this has helped you find some unique fishing gift ideas. If you have a fishing junkie on your shopping list, any of these fishing gift ideas will bring a smile to their face and give them many pleasurable days on the water. May you have a very Merry Christmas and Happy New Year! Remember, days spent fishing are better than days not. 😉 Some of the best fishing of the year is right now! Go experience it for yourself and enjoy some quality time at the beach.
As always, stay safe, enjoy the journey and please try to leave it cleaner than you found it. If you have any comments, questions, ideas or suggestions please leave them in the comment section below and I'll get back to you asap. You can follow us on Facebook: Rex The Beach Angler, Instagram: thebeachangler7, Twitter: @AnglerBeach, and YouTube: Man Art Creations.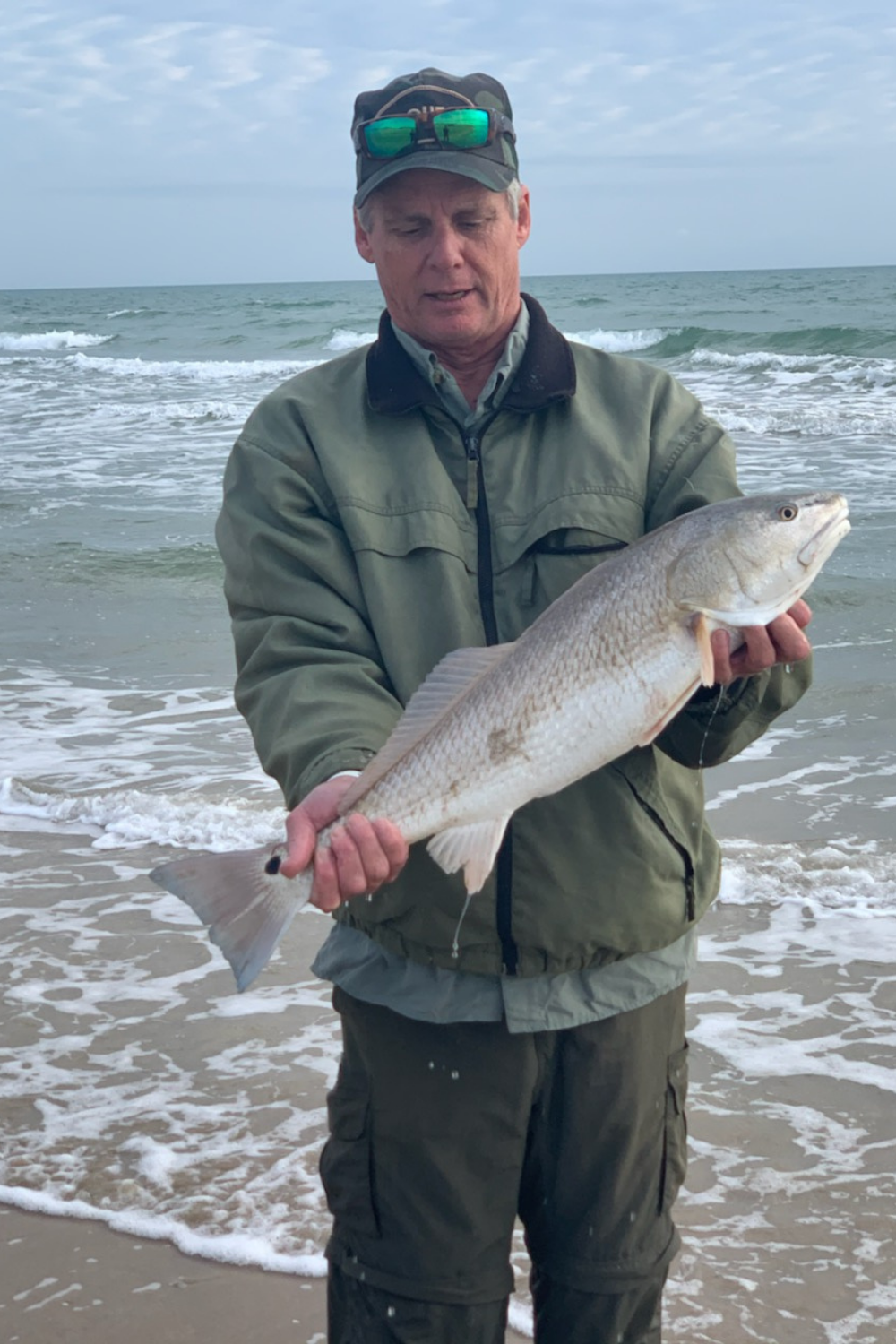 A life long surf fisherman with 50+ years of experience, I am also an avid hunter and outdoorsman. I will be sharing my passion for the outdoors with you so be prepared for hunting, fishing, camping, hiking and more. Along with gear reviews and the latest trends and innovations in the outdoor industry.