Surf Fishing is a great sport that can be enjoyed by the whole family. But, surf fishing with kids takes some extra planning before heading to the beach. If you have kids, you know that they tend to have short attention spans, and can get cranky when bored and or tired. If you plan for accordingly, you will have a much better time, and maybe even get to catch a few fish yourself. Now, I have been both, the fishing kid and the parent taking kids fishing. And now, the grandparent taking kids fishing.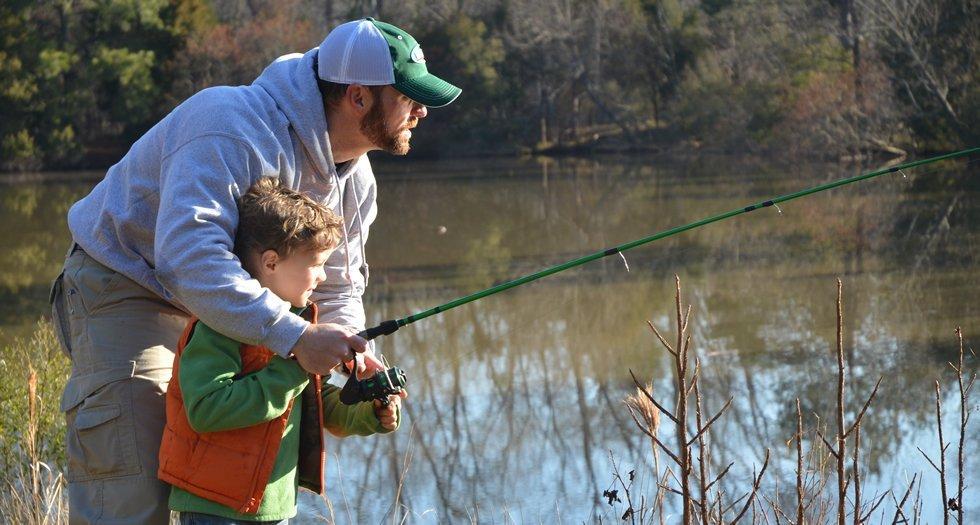 I have been on the beach since I was in diapers so I have logged a lot of miles and hours surf fishing both as a kid and as an elder. I have been very fortunate to have been raised by parents and grand parents that loved to fish and the outdoors, and took me along on their adventures from the very beginning. As I grew up and became a parent myself, I continued that tradition with my kids and grandkids.
It is a great way to spend time together with kids and family and if you get a chance, I highly recommend you give it a try yourself. But when surf fishing with kids, there are some things you need to know and plan for that will make your trip more fun and enjoyable for all. Let's take a look at how to put together a trip to go surf fishing with kids.
Quick Shot:
Tips for surf fishing with kids: 1.) Remember the trip is about them. 2.) Target smaller, easier to catch fish. 3.) Let the kids catch the fish. 4.) Make sure they wear a life jacket. 5.) Use good easy to use kid sized fishing rods and gear. 6.) Use natural baits that attract more fish. 7.) Bring lots of snacks and drinks. 8.) Bring extra dry clothes and plenty of towels. 9.) Always have a Plan B in case the fish don't cooperate.
Surf Fishing with Kids
---
Surf Fishing with kids, or any kind of fishing with kids, is an entirely different adventure for both the kids and parents. And, of course, the first question that comes to mind is: What is a good age to start kids fishing?
They can begin at almost any age, but they usually learn best, and have enough attention span, by the time they get to be around four years old. But, take them whenever they show an interest, regardless of the age. If you wait, you'll wake up and they've lost interest or discovered video games, and then it may be too late.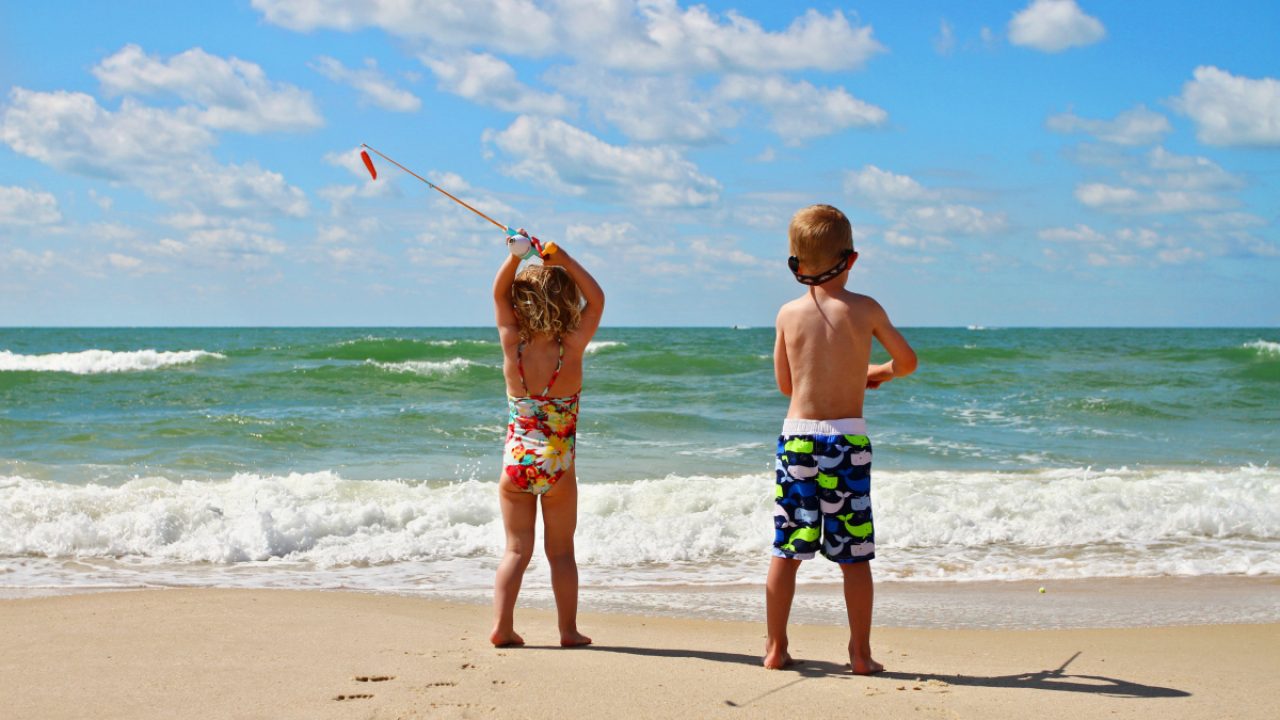 Also, In many states, there are no fees or licenses required for children under a certain age, eliminating that expense when starting your kids fishing at an early age. Many states have special " take a kid fishing" days. Now, keeping in mind that kids have a short attention span and can get a little cranky when they're tired and or bored, "What are some things to consider when taking kids fishing, particularly for the first time?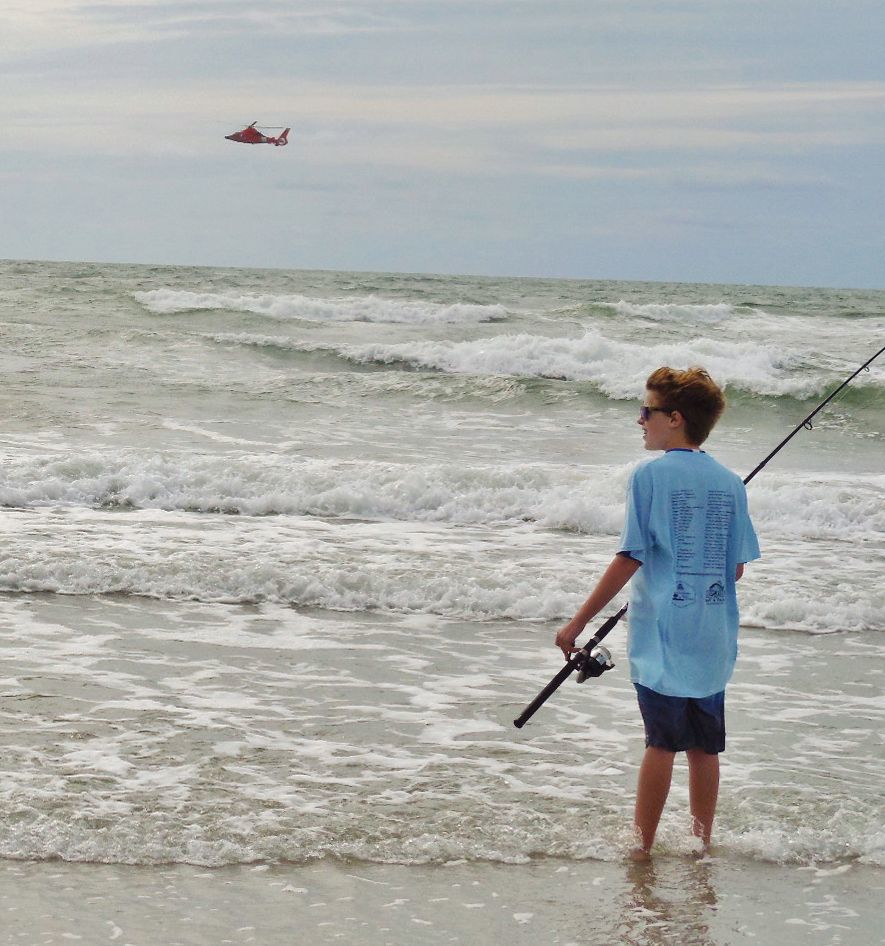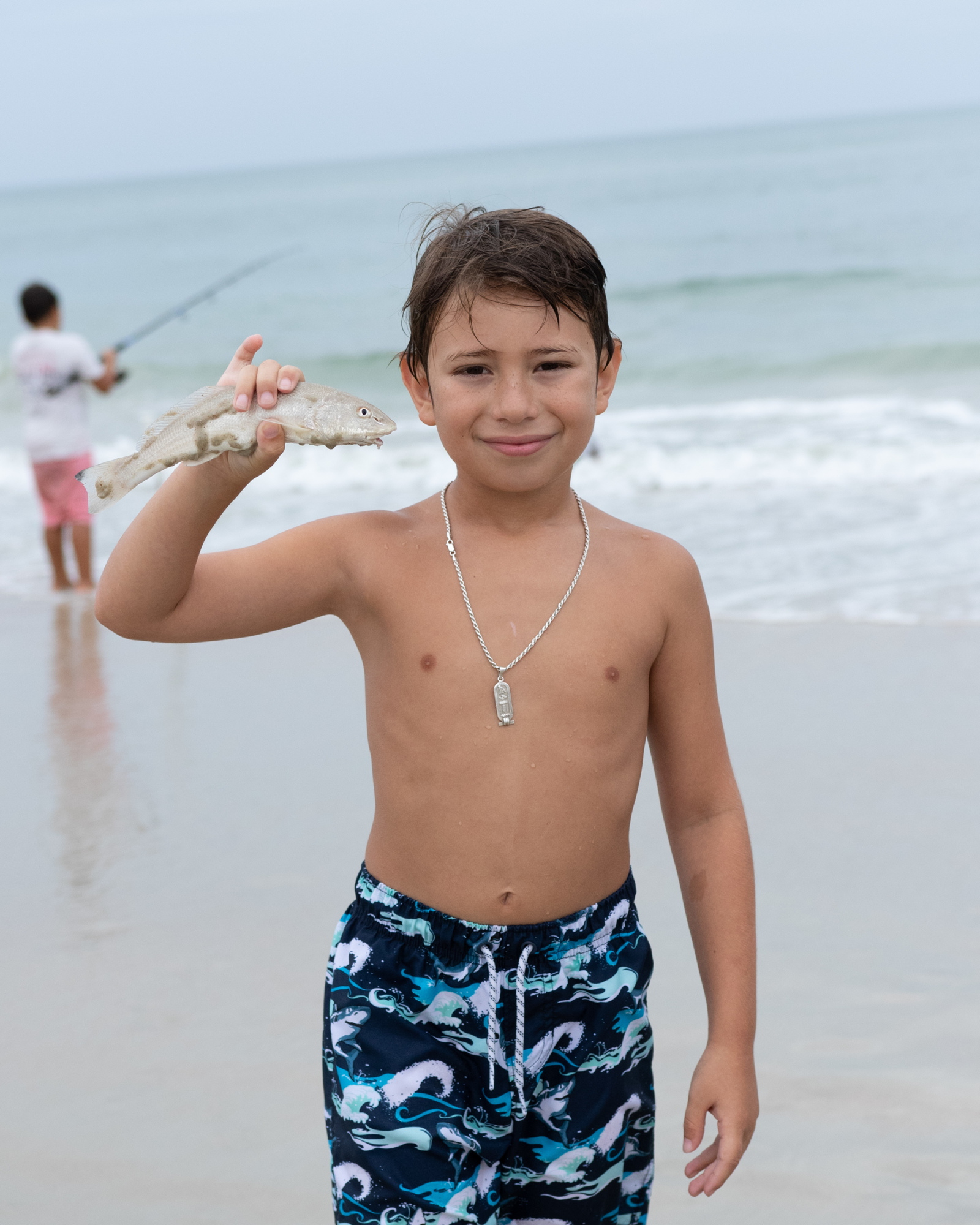 Tips for Surf Fishing with Kids:
Remember this day is all about them – I know if you are like me, you love to fish, but your focus will need to be on the kids. You will spend most of your time baiting hooks, casting, untangling lines, dusting sand off of reels, getting snacks and drinks, and on and on. But that's OK, it will be worth it, trust me. 😉 Don't lose your cool, and roll with it.
Target smaller, more plentiful and cooperative fish – It doesn't matter if they are good to eat, it's about action and keeping the kids excited and interested. Every beach has some kind of fish roaming close in that are plentiful and not shy about biting.
Let Them catch the fish – Don't give in to the temptation to land the fish for them. Let them fight the fish, help them hold the rod if needed, but encourage them to catch it on their own. When they catch a fish, celebrate with them and make it a big deal, because it is!!
Bring life jackets for the kids – SAFETY FIRST, ALWAYS! Especially when fishing the surf, currents and waves can sweep a kid off their feet and out to sea in a flash. Don't risk it, and when the fishing is done, they can use the life jacket to play and float in the water.
Use good, simple fishing gear for the kids – You don't need to spend a ton of money, but it needs to be easy to use and reliable. Remember their short attention spans ( and sometimes tempers) A good closed faced spinning combo will be perfect for first timers. Older kids may be able to handle the open-faced spinning reels, but leave the bait casters at home. You don't need to be dealing with all the backlashes.
Use natural baits that will catch the most fish – Even if they are "trash" fish, it doesn't matter, all you want is action and preferably lots of it.
Bring lots of Snacks and Drinks – They will get hungry and, if things are slow, some snacks will keep their attention that much longer until hopefully the fish start biting.
Bring plenty of towels and dry clothes – They will get wet and sandy so just be prepared for it.
Have a back up plan – If the fish don't cooperate or the kids get bored, you need a plan B to keep them busy and entertained. If they get tired, call it a day. Remember it's about them having fun. When they're done, they're done.
One of the great things about surf fishing with kids, or beach fishing, is: You're at the beach! There are a ton of Beach activities that are fun for kids. So, plan B can be as simple as playing, swimming, and body surfing. Take the kids beach combing and let them explore the seashore.
And, of course, there are always sandcastles to build and maybe even a campfire where they can roast a marshmallow or two. Another good distraction is to give them a dip net and let them try to catch fish and crabs in the shallows, or bring your cast net and let them be in charge to the bait bucket. You want it to be a fun and memorable adventure for them.
---
Best Fishing Rods for Kids
---
When surf fishing with kids, the best fishing rods for them will be easy to use, smaller sized and able to take some abuse. Kids will drop them in the water, or the sand, or both and the line will get tangles and twisted. Ideally, You should look for a closed face spinning rod and reel combo with 8 to 10 lb line.
These combos are designed to be easy to cast without all the backlash concerns you face with other designs. There are several good options that are both durable and well-built so you can concentrate on the kids and not so much on the gear.
Now your older, more experienced kids, may be able to handle a bit larger gear and the open-faced spinning reels. There are good spinning rod and reel combos at very reasonable prices, that are great option for older kids.
I would still steer clear of the bait casters until they are able avoid backlashes or at least able to clear them themselves. You will be busy enough baiting hooks, casting, untangling lines, rescuing reels from the water and sand, you don't need to add backlashes to the mix. Hopefully, you will have some fish to take off the hook as well.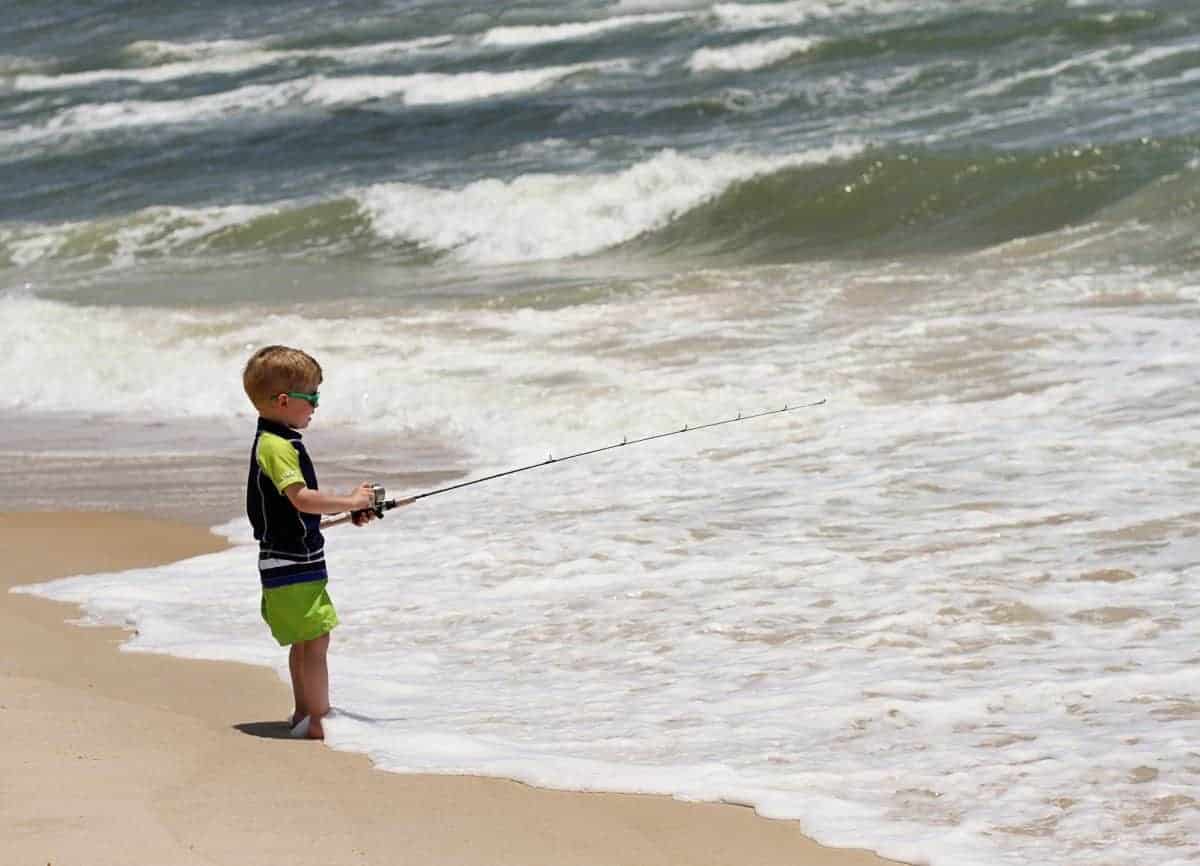 Best Fish for Kids in the Surf
---
Wherever you are in the world, there are smaller fish, close to shore, that are plentiful and easier to catch. It doesn't matter if they are good to eat or considered trash fish, you just want lots of action to keep the kids interested and having fun. My home waters of the Texas gulf coast have whiting and they hardhead catfish both of which are plentiful and easy to catch with a variety of baits. There are many other species that are more glamorous, but that's for a different trip. For the kids, it's about lots of action and having a good time.
Your older and more experience kids can try for the larger species, but the younger and first timers should concentrate on the smaller and easy to catch fish. On the west coast of the US that would include surf perch and croaker.
It really doesn't matter, as long as they are plentiful and hungry and every beach on the planet has some. The more action the longer you will keep the kids interest. If the bite is slow, you will need to break out the snacks to keep them interested. If that doesn't work, see plan B above. 🙂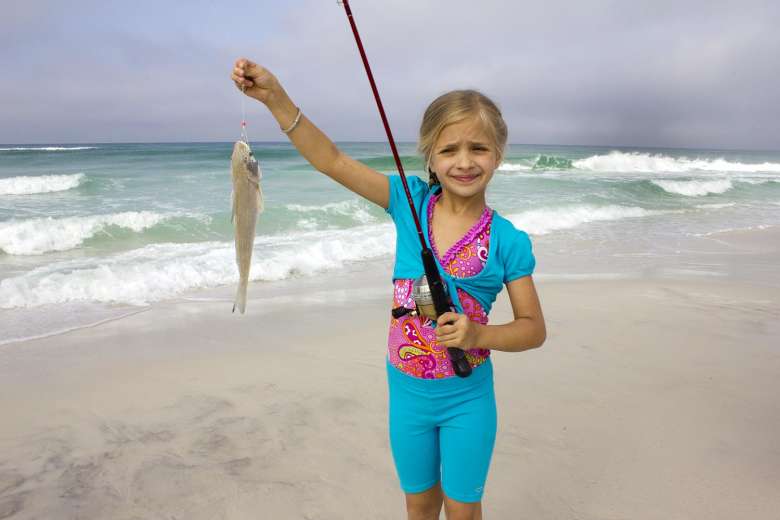 Surf Fishing with Kids How to Plan Your Trip
---
When planning a trip to go surf fishing with kids, or any fishing trip with kids for that matter, always begin with the end in mind. You end goal should be to introduce them to fishing in such a way that they have fun and hopefully develop a long term love and passion for the sport.
The best way to do that is find a fishing spot that you are fairly sure will produce plenty of action for them. Surf fishing will involve a beach somewhere of course and preferably one you can drive on, or at least fairly close to so your not lugging your gear and kids a long distance.
That isn't fun for any of you and can start the day on the wrong foot.Once you have your destination, then will need to gather your gear and supplies for the day, and for Plan B should the need arise. The following is a good list to start with what to buy or bring when making your plans for surf fishing with kids.
Surf Fishing with Kids Gear List:
Life jacket – Make sure you bring along a youth life jacket or PFD that properly fits each of your kids. Even though you are fishing from the beach, guess what?, they will get in the water you can count on it.
Kids fishing rod and reel combo – closed faced spinning or open-faced spinning combos work best for young kids.
Fishing tackle – hooks, weights, leaders and an assortment of small spoons and jigs that can be tipped with bait.
Bait – live bait is always a good choice, but fresh dead bait works well too, synthetic baits, like "fishbites" are great as you can catch several fish without having to re bait each time. Whatever the bait stealers like, and then gear down to target them. Remember its about catching fish, any fish, to keep them excited and interested.
Fishing license – Depends on your local laws. Some areas kids can fish without a license up to a certain age. Check with your local game and fish office.
Portable shade – Fishing at the beach you will be exposed to wind, waves and the sun. A good portable shade will make the difference between comfort and misery during the heat of the day.
Ice Chest – A good ice chest and plenty of ice to keep your drinks and snacks cold.
Drinks – Bring plenty of their favorite drinks, you will need to keep them hydrated. The wind and sun will take their toll.
Snacks – Whatever they enjoy. Remember this day is about them. And, snacks will keep them occupied when the fishing is slow.
Swimsuit – You're at the beach, they will find a way to get into the water. So, be prepared with their swim suits and let them enjoy the waves and water. Just keep the life jacket on them.
Sunscreen – It's all fun in the sun until they get sunburned, then it's misery. Remember to reapply after they go swimming.
Sunglasses – Help ease the strain on their eyes, but don't spend a lot of money here. They may end up at the bottom of the sea.
Hat – Like sunscreen and sunglasses, a good hat will shade their eyes and face and help prevent sunburn.
Beach Toys – Remember Plan B? Bring some toys for building sand castles and playing in the sand in case fishing slow or they are tired of it.
Boogie Board – Kick board, float, something they can play in the water and waves with.
Water Toys – Water guns, floating toys, anything to keep them interested and having fun in the water.
Swim Goggles – Swim googles are a good idea when swimming in salt water. The salt will irate their eyes and make it uncomfortable.
Towels – They will get wet, sandy and dirty. You need plenty of towels to dry them off and clean them up at the end of the day, if not more often.
Extra dry clothes – At the end of the trip, after a day of surf fishing with kids, they will be much more comfortable and make less of a mess in your vehicle, if you change them into some fresh dry clothes for the trip home.
Camera – Bring a good camera or, if you have a smartphone, use it as a camera and take plenty of pictures. You're making memories that will last a lifetime. Be sure to document your trip and make copies so, many years from now, you can look back with them and remember together.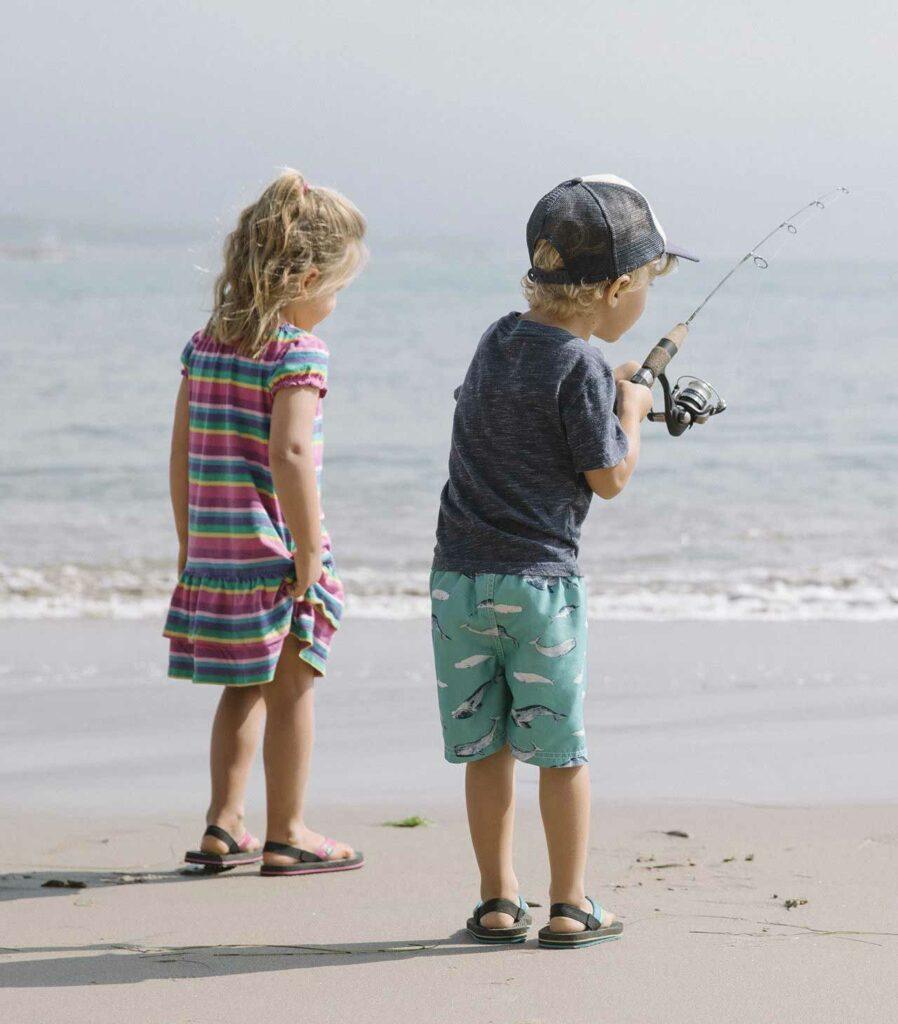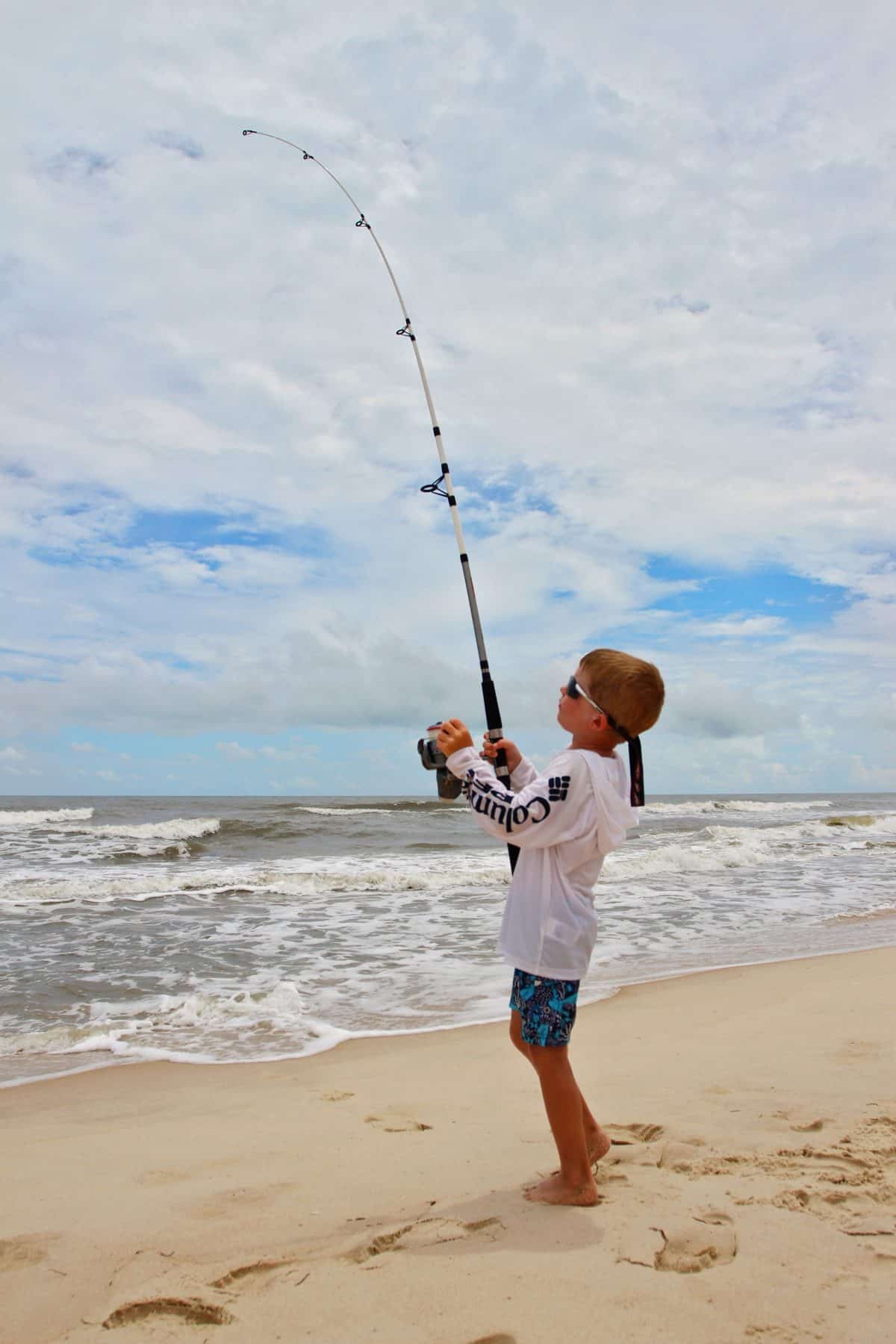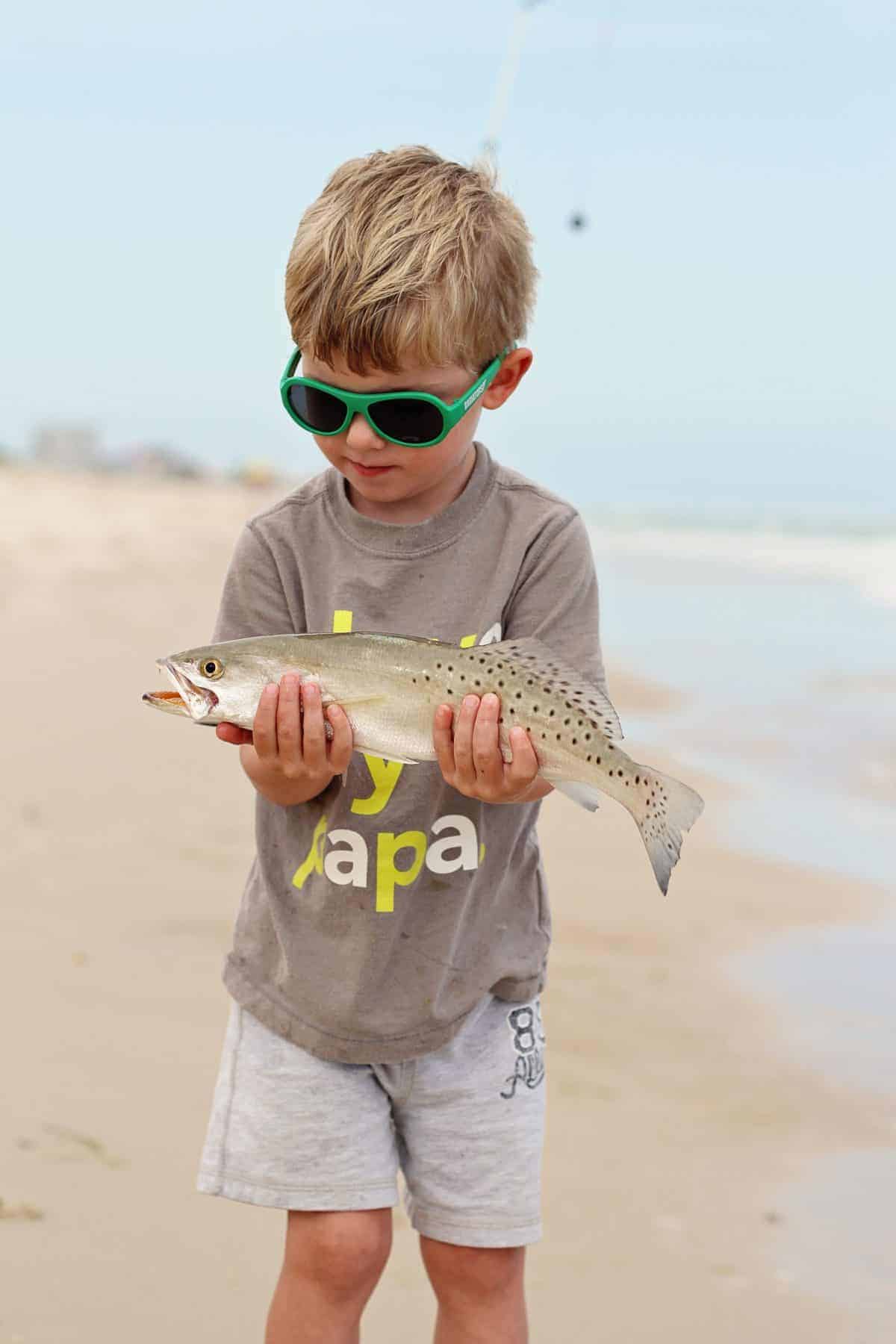 Load up the Kids and Head to the Beach
---
So, there you go, if you'll take a little extra time planning, you and your kids will have a great time and create some lifelong memories. Remember when surf fishing with kids, it's about spending time with them, and them having fun.
Don't worry about catching a mess of fish, that will come down the road as they get older. Eventually, they will no doubt, out fish you, but they also will become your best fishing buddies. Heck, when you get old, maybe they will even return the favor and take you fishing. 😉 Hopefully you will build the passion for fishing and the outdoors in them and they will pass it on to their kids one day.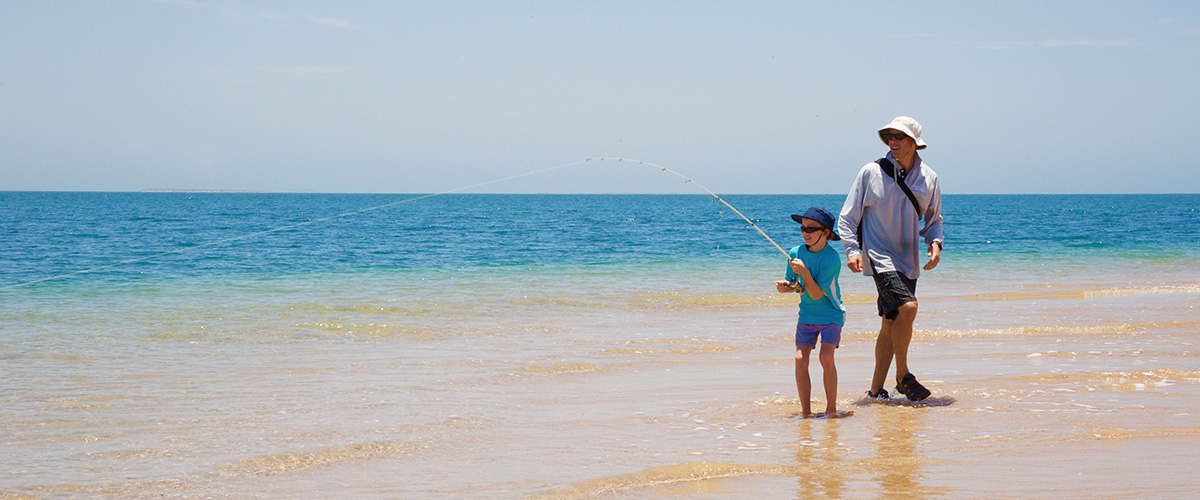 As always, stay safe, enjoy the journey and please try to leave it cleaner than you found it. If you have any comments, questions, ideas or suggestions please leave them in the comment section below and I'll get back to you asap. You can follow us on Facebook: Rex The Beach Angler, Instagram: thebeachangler7, Twitter: @AnglerBeach, and YouTube: Man Art Creations.