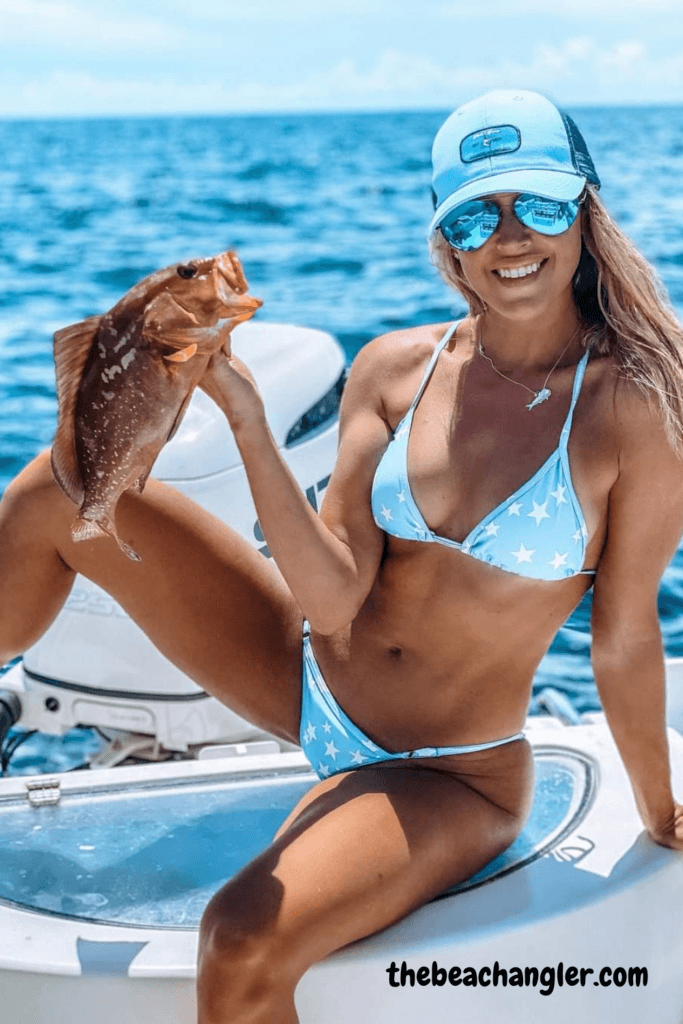 If you have ever tried to book a guided fishing trip, you know how difficulty and time-consuming it can be. FishingBooker was founded to make planning and booking fishing trips quick, fun and hassle free.
In this review, we will take a look at what FishingBooker is, how it works, who it's for, and let you decide if it could be the answer for booking your next guided fishing trip.
Booking a guided fishing trip can be a daunting task. What with choosing your destination, fish species available, fishing techniques and available charter captains, you could spend hours trying to find the right trip for you.
The internet has made information much more readily available, but it can be too much. Information overload can result in the paralysis of analysis and leave you still searching.
FishingBooker was founded and designed from the ground up, to simplify this process. So, let's take a look under the hood of FishingBooker and see it for ourselves.
What is FishingBooker?
---
QUICK SHOT:
FishingBooker is the world's largest online service that enables you to find and book fishing adventures with over 29,000 trips available in over 2,000 destinations worldwide. They have trips available for all experience levels and for a multitude of fish species and fishing techniques. And, with their world-class customer support available 7 days a week, over 10,000 verified customer reviews and thorough vetting of each and every charter captain, you can feel sure that planning your next fishing trip will be quick, fun and hassle free. Rated 4.8 out of 5 by shopperapproved.com.
FishingBooker is an online marketplace specializing in booking charter boats for recreational fishing. The company was founded in Belgrade, Serbia, by CEO Vukan Simic and Nemanja Cerovac, and is headquartered in Norfolk, Virginia. WikipediaFounder(s): Vukan Simic; Nemanja CerovacHeadquarters: Norfolk, VA Founded:: 2013, Belgrade, Serbia
COMPANY NAME: FishingBooker
FOUNDED: October 2013 by Vukan Simic
CEO: Vukan Simic
COO: Dino Delic
STAFF: 100 people
STATUS: Privately held
HEADQUARTERS: FishingBooker, Inc.:
101 West Main Street, Suite 101,
Norfolk VA 23510, USA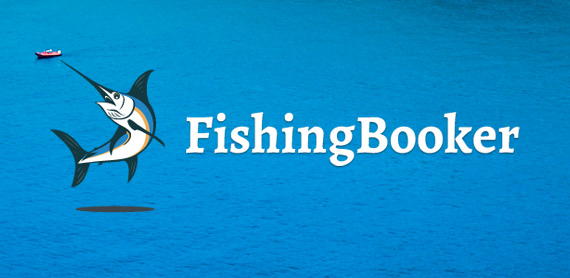 FishingBooker is the world's largest online platform for booking recreational fishing trips. The company was founded in October 2013 by Vukan Simic, a Serbian-Canadian software engineer passionate about fishing and diving. At this moment, FishingBooker offers over 29,000 trips in more than 2,000 destinations worldwide.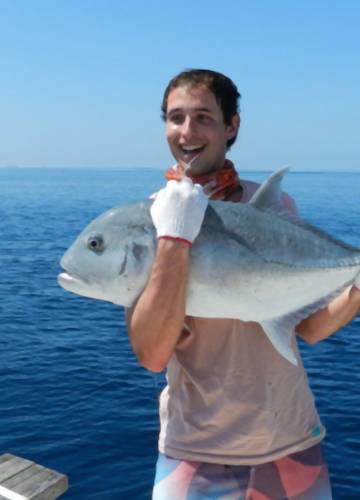 Vukan Simic had tried his luck many times at big game fishing all over the world, but he soon concluded that the current way of searching for, as well as booking a fishing charter, is unnecessarily complicated (Google "fishing charters in Tampa Bay" and notice the quality of the sites in the top 10 results).
To tackle this issue, he founded FishingBooker, a website which simplifies the task of finding, comparing and booking fishing charters anywhere in the world.
This of course includes fishing gear and the services of a captain to make your fishing experience complete. His friend from high school and university, Nemanja Cerovac, soon joined in on his venture.
Just four months into the company's lifetime, FishingBooker had already covered its startup costs; Nemanja handed in a resignation letter to his old boss, and the FishingBooker team was up to six people.
FishingBooker achieved early recognition from the tech community in September 2014 after winning the prestigious TechCrunch Disrupt Choice Award in San Francisco. The pitch attracted the attention of the renowned investor Marc Andreessen and sparked one of the most heated online tech debates at the time. FishingBooker grew quickly after that.
Dino Delic became partner and COO in March 2015, and today the company has 100 people on board full-time. The company has been incredibly successful in expanding its offering into the world's top fishing destinations such as the USA, Australia, New Zealand, and the Middle East. Today, over 30% of all professional fishing guides worldwide can be booked online through FishingBooker.
The secret of their success has been the combination of expertise, resourcefulness and work ethic – and of course, they love what they do. In 2019 alone, FishingBooker helped over 270,000 people book their fishing adventures. They have the honor of calling heads of parliament, A-list Hollywood celebrities, and public company executives their customers.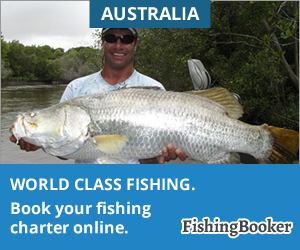 Why Use FishingBooker?
---
The world's biggest collection of fishing trips
Right this second, you've got more than 29,000 fishing experiences at your fingertips. Whatever type of fishing you're looking for, from Marlin fishing in the Maldives to testing your skills against Bonefish in the Bahamas you'll find it at FishingBooker. Everything from inshore, offshore, nearshore, lakes and rivers to back country, FishingBooker has the perfect trip just for you.
Last year, over 100,000 anglers used FishingBooker to connect with a professional fishing guide and enjoy the perfect fishing trip tailored just for them. You can select your trip from a worldwide variety of fresh and saltwater species. And, choose your desired fishing techniques from jigging, trolling, heavy tackle or light tackle and more.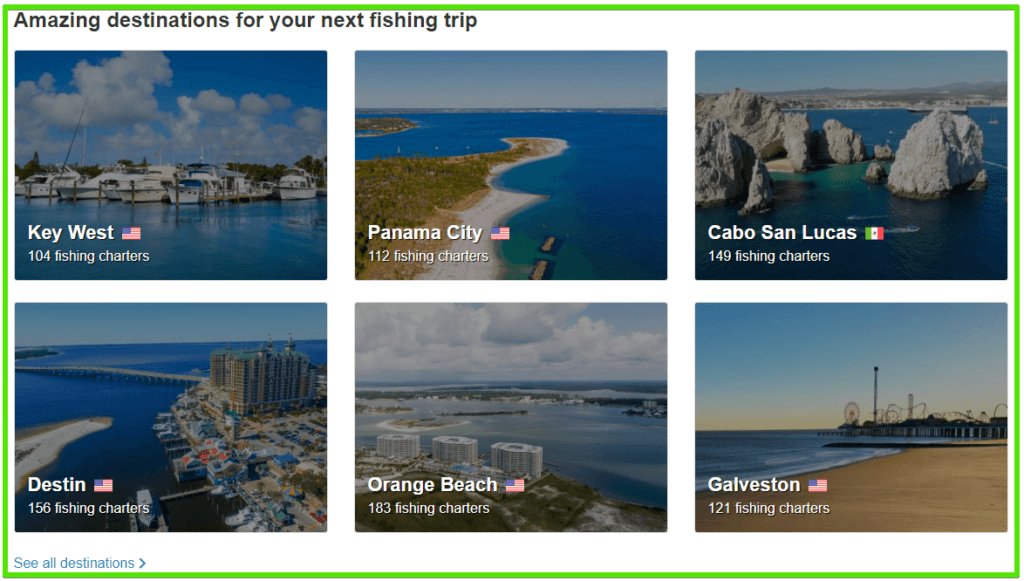 Safety is always a Priority with FishingBooker
It is their goal to help make sure the fishing experiences offered through FishingBooker are safe and comfortable. Since the beginning, they have worked hard to design policies and features which protect their customers. FishingBooker offers a range of resources that protect your privacy and help look after your safety. They're dedicated to what matters most: keeping you safe while you fish.
Every charter operator in the US is screened within two weeks of listing on our platform. Our legal team performs 2 kinds of checks:

Charter Captain Profiles
Detailed profiles of each Charter Captain. Everyone on FishingBooker has a profile to help other customers or captains get to know each other. To book or list your boat, you'll be asked to provide FishingBooker with your full name, phone number, payment information and email address.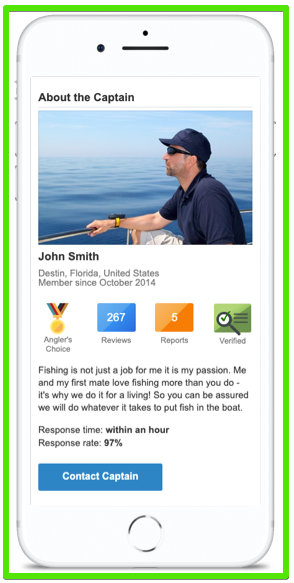 Secure messaging
Two way secure communications between captains and clients. Their secure messaging tool lets you know to get a captain or customer and asks questions about a listing ahead of time. After the trip is booked, you can easily message back-and-forth to coordinate things like directions, etc.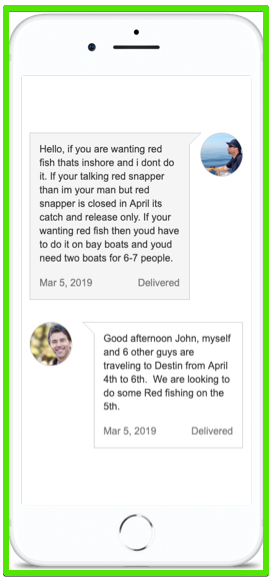 Verified customer reviews
FishingBooker has more than 20 thousand verified reviews from anglers like you that help match you with the perfect charter and captain for your fishing adventure. Customers and captains can only review each other after the trip is done.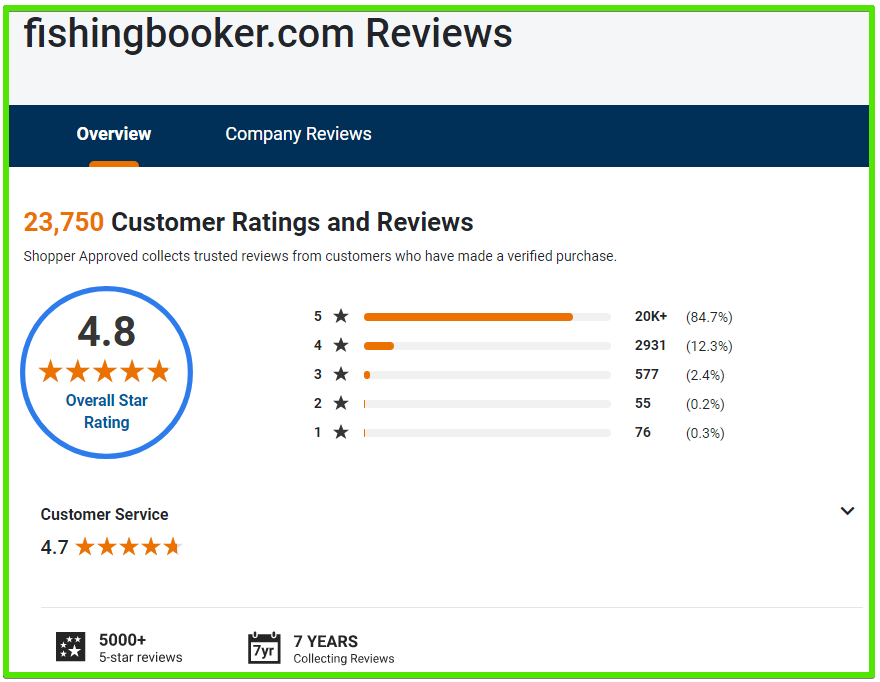 Who is FishingBooker For?
---
Whether its Marlin in Costa Rica, or Bass in Alabama, FishingBooker is for anyone who is looking to book a fishing adventure anywhere in the world. It's a great solution for the novice or experienced angler alike. The FishingBooker platform allows you to select locations, fish species, type of fishing and the captains of your choice.

You will be able to search past customers for the trips you are interested to get a feel for what to expect from the adventure as well as from the captain, crew and gear. Their services will save you time, money and help ensure you have the best experience on you fishing adventure. From experience world angler to rank beginner, FishingBooker has an adventure for you.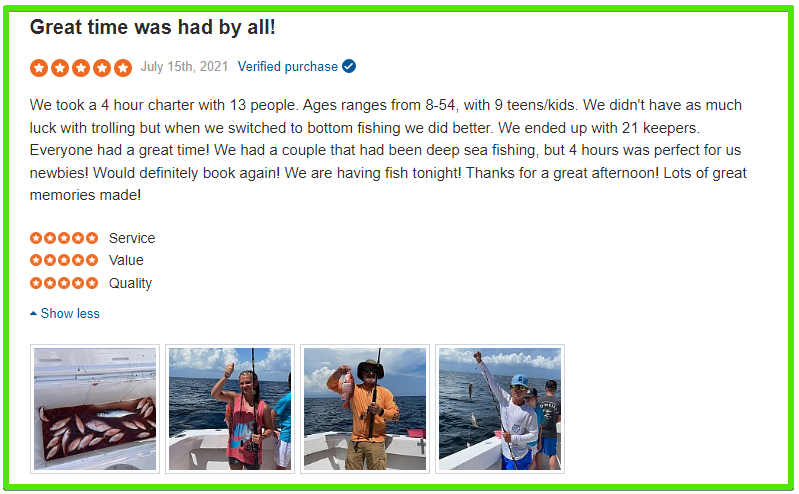 FishingBooker is for those of us who are planning our next fishing adventure but don't have the time to do all the research and vetting of the locations, captains, customer reviews, best fishing times or available fish species and fishing techniques. They have combined all of this information in one easy to use site and make selecting a fishing trip quick and hassle free.
FishingBooker Pros and Cons
---
The table below lists what are, in my opinion, some of the Pros and Cons of the FishingBooker service. They are rated very highly by the independent rating service. But, like all booking agents and travel services, they do have the occasional dissatisfied customer. Most of the lower ratings are related to cancellations due to weather or the COVID pandemic situation. Be sure to read all the terms and conditions of any travel service when deciding to book a trip.
FishingBooker Pros
FishingBooker Cons
| | |
| --- | --- |
| Rated 4.8 out of 5 with over 20,000 reviews | Cancellation policy may vary between captains |
| Easy to use website to customize your trip | |
| Charter Captains Checked and Verified | |
| Over 29,000 trips and over 2,000 destinations | |
| Secure messaging between customer and captain | |
FishingBooker Versus Do-It-Yourself
---
Now, of course, you could always try booking your next fishing trip yourself. But, it takes a lot of time to research locations, captains and types of fishing offered. Then you need to check references and customer reviews and contact the captains for availability.

And, then you are on your own. There will be no one to call, other than the captain you choose, if you have a problem or are dissatisfied.
FishingBooker takes care of all the research and puts the information you need to choose your next fishing trip, at your finger tips. As a booking agent, they will help resolve any issues you have if your trip is canceled or doesn't' go off as planned. That is not to say that nothing will go wrong, but in the event it does, you will have the folks at FishingBooker there to help you handle whatever may come up.
So, it's up to you, if you are comfortable doing the research yourself, and confident in your ability to screen captains and resolve any weather or other cancellation issues, then by all means do-it-yourself. But, if you would rather concentrate on your trip and have professionals handle the details, then FishingBooker could be the answer for you.
Fishing Booker: Final Thoughts
---
If you're interested in booking a guided fishing trip, locally or internationally, you owe it to yourself to check out FishingBooker. They give you all the tools and information you need to book your fishing adventure with confidence. FishingBooker will save you a tremendous amount of time in selecting the best fishing adventure for you.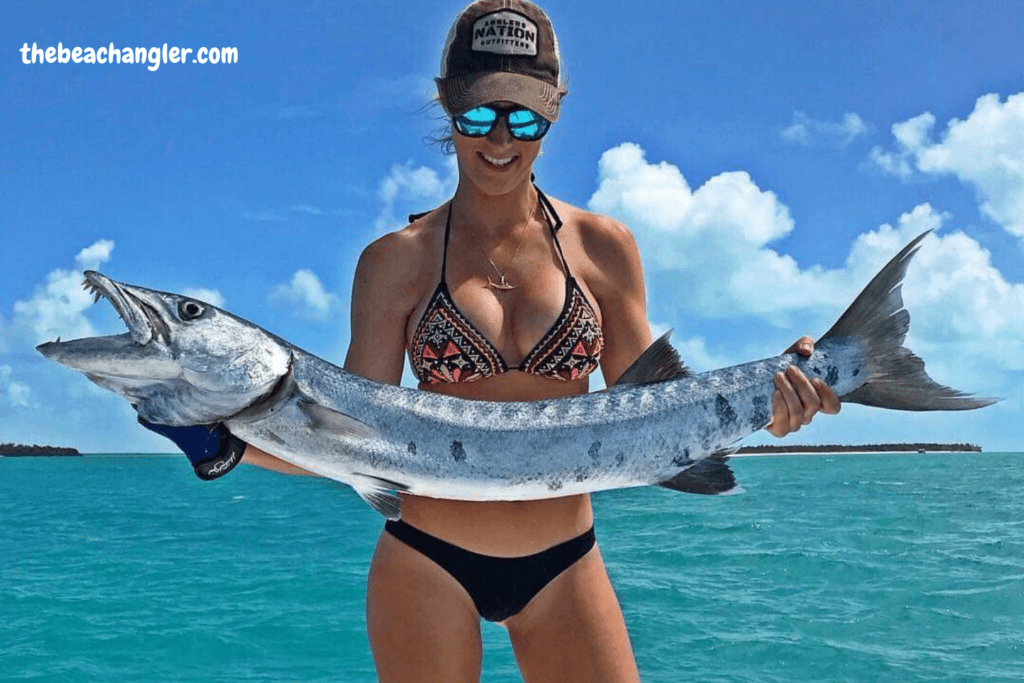 Like anything else, be sure and read the terms of use, guarantee and cancellations policies. Remember, it is fishing, there is no guarantee of catching and there are weather and other factors that can affect your scheduled trip. And, if there is a problem, you will have someone to help remedy the situation in the best manner possible for all parties involved.
**While they go the extra mile to ensure legal compliance, it's important that potential clients looking to go fishing also do their best to protect themselves. Asking captains to see their credentials is a good start, as most reputable charter operators will gladly provide their licenses to a customer.**
As always, stay safe, enjoy the journey and please try to leave it cleaner than you found it. If you have any comments, questions, ideas or suggestions please leave them in the comment section below and I'll get back to you asap. You can follow us on Facebook: Rex The Beach Angler, Instagram: thebeachangler7, Twitter: @AnglerBeach, and YouTube: Man Art Creations.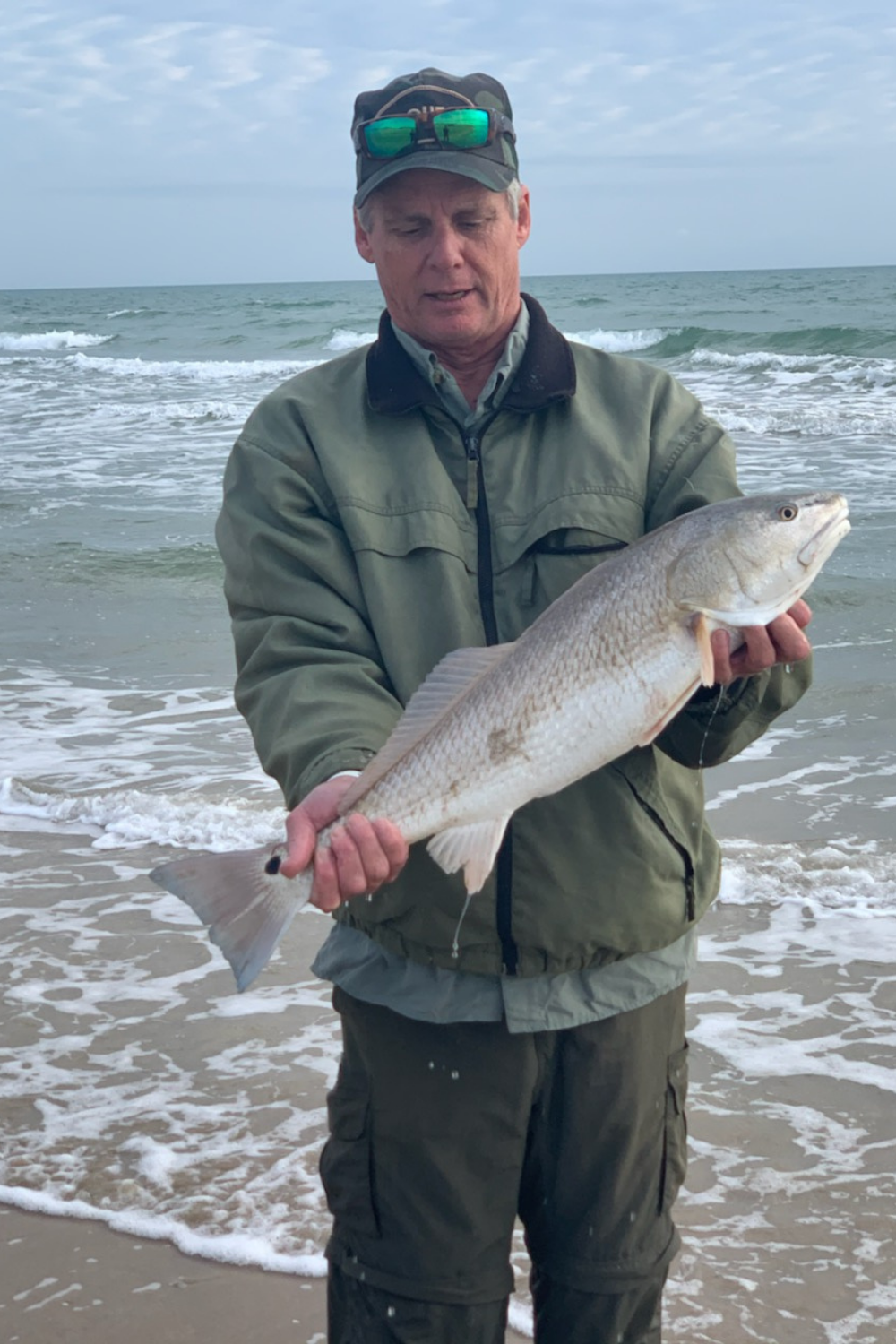 A life long surf fisherman with 50+ years of experience, I am also an avid hunter and outdoorsman. I will be sharing my passion for the outdoors with you so be prepared for hunting, fishing, camping, hiking and more. Along with gear reviews and the latest trends and innovations in the outdoor industry.