The Golden State of California, with its 840 miles of coastline, has some awesome surf fishing opportunities. And, when it comes to surf fishing in California, one species that attracts anglers from near and far is the striped bass, also known as "stripers." Whether you're a seasoned angler or a beginner, surf fishing for stripers in California offers anglers an opportunity to do battle with these aggressive and impressive fish.
Surf fishing combines the thrill of the ocean with the art of fishing, and targeting stripers adds an extra layer of excitement to the experience. Striped bass are known for their powerful fights and delicious taste, making them a highly sought-after species among anglers. I've spent over 50 years fishing all over the world, all kinds of fishing including surf fishing.
And, even lived for a few years in California where I experienced fishing the beaches and surf, rivers and lakes of the golden state. Follow along and we will explore the techniques, locations, gear, and regulations associated with surf fishing for stripers in California.
Surf fishing allows you to target a variety of fish species that inhabit the coastal areas, including the prized striped bass. Unlike fishing from a boat or pier, surf fishing requires specific techniques, gear, and knowledge of the surf zone's dynamics in order to be successful. But first, let's take a look at Stripers and how they came to be in California.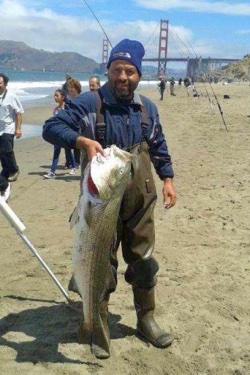 The History of Striped Bass in California
California boasts a thriving population of striped bass. Stripers are known for their aggressive feeding habits and can grow to impressive sizes. The California coastline provides a diverse range of habitats, such as sandy beaches, rocky shorelines, and estuaries, which are all prime locations for targeting stripers, and makes California an ideal destination for surf anglers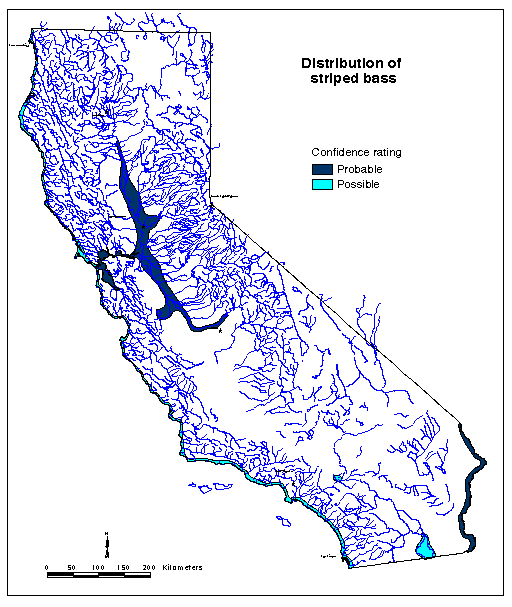 In California, most striped bass are found in the Sacramento-San Joaquin Delta and in the larger tributary rivers downstream from dams. Limited fisheries also exist in Tomales Bay and the Russian River, but outside of the aforementioned areas, sea-run, or surf run, striped bass are uncommon. Striped Bass are not native to California.
Originally there were no striped bass in California. They were introduced from the East Coast, where they are found from the Gulf of St. Lawrence to Alabama. The initial introduction took place in 1879, when 132 small bass were brought successfully to California by rail from the Navesink River in New Jersey and released near Martinez.
Fish from this lot were caught within a year near Sausalito, Alameda, and Monterey, and others were caught occasionally at scattered places for several years afterwards. There was much concern by the Fish and Game Commission that such a small number of bass might fail to establish the species, so a second introduction of about 300 stripers was made in lower Suisun Bay in 1882.
In a few years, striped bass were being caught in California in large numbers. By 1889, a decade after the first lot of eastern fish had been released, bass were being sold in San Francisco markets. In another 10 years, the commercial net catch alone was averaging well over a million pounds a year. In 1935, however, all commercial fishing for striped bass was stopped in the belief that this would enhance the sport fishery.
Distribution and Migration of Califronia Striped Bass
Many of California's striped bass spend their winters in the American, Sacramento, Feather, and San Joaquin rivers feeding. Their cue to spawn comes when river temperatures warm in spring. By late spring, many have worked their way down into the Delta, which is still fresh water but tidal influenced. Here stripers feed on bluegill and baitfish, often roving in schools. By late spring, many of these bass are in the briny waters of San Francisco Bay hunting various types of baitfish and crustaceans.
Around June, a bump in water temperatures pushes most of the bass past the Golden Gate Bridge to roam the coastline between Point Reyes in the north and Monterey Bay to the south. Once ocean waters cool down, usually in October, the striped bass migrate back into the San Francisco Bay. They eventually retrace their path, moving up through the Delta in the fall and arriving back in the rivers in the winter. Unlike Pacific salmon, they are repeat spawners, and make this migration annually.
What's so Special about Surf Fishing for Stripers in California?
Striped bass are migratory fish that can grow up to 60 inches and weigh over 50 pounds. They are prized for their fighting ability and their delicious meat. Surf fishing for striped bass in California is a thrilling and rewarding activity that anyone can enjoy. Whether you are a beginner or an expert, you can find some great spots to cast your line and hook some of these powerful fish.
Surf fishing for striped bass in California is popular along the coast, especially in the San Francisco Bay Area, Monterey Bay, and San Diego. The best time to surf fish for striped bass in California is from spring to fall, when the water temperature is between 55 and 70 degrees Fahrenheit. However, some anglers catch them year-round, depending on the location and conditions.
Keep in mind that you won't catch as many stripers in the surf as you will fishing the California Delta or San Francisco bay. But, what you give up in numbers, you make up in size. Surf run stripers tend to be much larger than those schooling fish in the delta or bay.
The fight of surf stripers is unlike that of stripers in any other fishery. They are all muscle out here, well-fed on the Pacific's coastal buffet and strong from working the coastline and fighting the currents and waves. Stripers bolt for the deep water once they are hooked, and will often run far past the breakers on their first run.
Surf fishing for stripers in California is a combination of fishing and hunting where you are looking for those big mature surf running fish. And, while you can catch smaller striper in the surf, you can also catch some real monsters. The surf is not the place for catching high numbers of bass. In fact, a good day in the surf is sometimes just one bass, but that one bass can be a real trophy.
The Best Locations for Surf Fishing for Stripers in California
When it comes to surf fishing for stripers in California, certain locations stand out for their consistent catches. Some popular spots include:
San Francisco Bay Area: The beaches along San Francisco Bay, such as Ocean Beach and Baker Beach, are known for their productive striper fishing.
Monterey Bay: Beaches like Marina State Beach and Moss Landing are renowned for their striped bass fishing opportunities.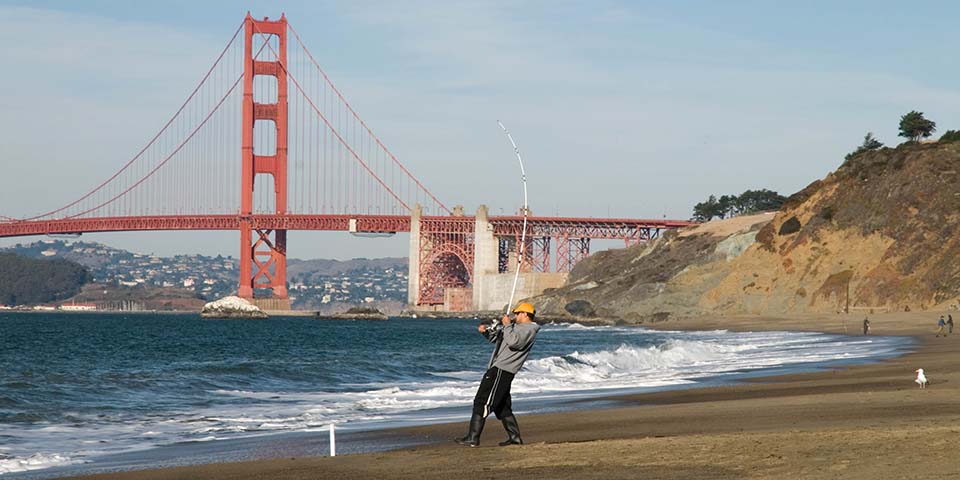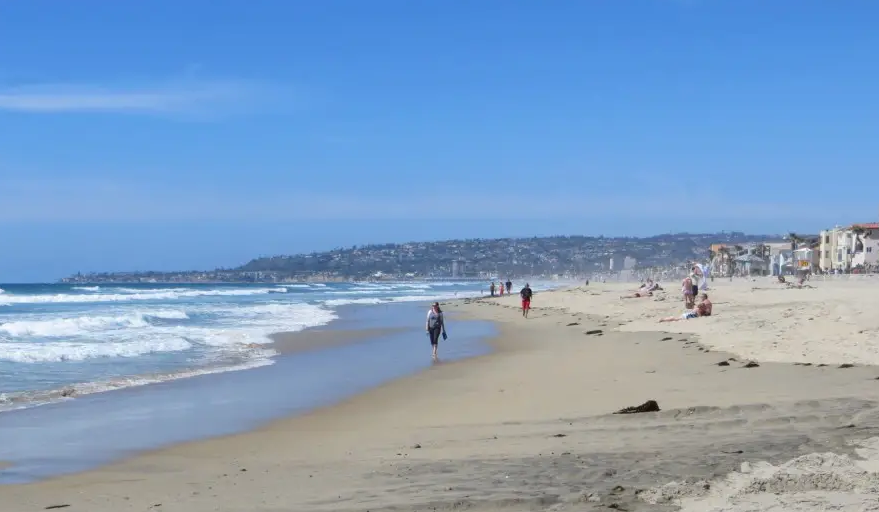 Central Coast: Areas like Pismo Beach, Morro Bay, and Avila Beach attract surf anglers looking to hook into stripers.
Southern California: Beaches along the Southern California coast, including Huntington Beach, Newport Beach, and San Diego's Mission Beach, offer excellent chances to catch stripers.
Local California Surf Fishing Information:
surffishinginsocalsd.com
californiasurffishing.net
fishthesurf.com
casurffishing.com
scsurffishing.com
wildlife.ca.gov
What Do You Need to Surf Fish for Striped Bass in California?
To maximize your chances of success while surf fishing for stripers, it's important to have the right equipment. Here are some essentials:
Rod and reel: You will need a sturdy rod that can handle the weight and fight of a striped bass, as well as a reel that can hold enough line and has a smooth drag system. A medium-heavy or heavy action rod of 9 to 12 feet long, paired with a spinning or conventional reel that can handle saltwater conditions, and with a line capacity of at least 200 yards of 15 to 30 pound test monofilament or braided line is ideal for surf fishing for striped bass in California.


Leader: You will need a leader to connect your main line to your hook or lure. Leaders are short pieces of line that are stronger and more abrasion-resistant than your main line. A leader of 2 to 4 feet long and 20 to 40 pound test fluorocarbon or monofilament is a good choice for surf fishing for striped bass in California.

Swivel: You will need a swivel to prevent your line from twisting and tangling when using bait or lures that spin or move erratically. A swivel is a small metal device that has two rings that can rotate independently. A swivel of size 4 to 8 is adequate for surf fishing for stripers in California.

Hook or lure: There are many types of hooks and lures that work well for surf fishing for striped bass in California, such as:
Bait hooks: These are hooks that are designed to hold natural baits, such as live or dead anchovies, sardines, mackerel, squid, shrimp, sand crabs, bloodworms, or clams. Bait hooks come in different sizes and shapes, but a circle hook of size 2/0 to 6/0 is a good choice for surf fishing for striped bass in California. Circle hooks are hooks that have a curved point that reduces the chances of gut-hooking the fish and makes it easier to release them.
Artificial lures: These are lures that mimic the appearance and movement of natural prey, such as swimbaits, spoons, jigs, plugs, poppers, or bucktail flies. Artificial lures come in different colors, sizes, and shapes, but a lure of 3 to 6 inches long and silver, white, blue, green, or yellow color is effective for surf fishing for striped bass in California. Artificial lures can be fished with or without added weight, depending on the depth and current of the water. Don't forget to experiment with different colors and sizes to find what works best in the local conditions.

Sinker: You will need a sinker to keep your bait near the bottom of the water column, where the striped bass are likely to be. A sinker is a weight that is attached to your main line or leader. There are different types of sinkers that vary in shape and size, but a pyramid sinker of 1 to 6 ounces is suitable for surf fishing for stripers in California. Pyramid sinkers are sinkers that have four sides that dig into the sand and prevent them from rolling with the waves.

Surf fishing rig: You will need a rig to connect your sinker, swivel, leader, hook or lure together. There are different types of rigs that vary in complexity and function, but a simple and effective rig for surf fishing for striped bass in California is the fish finder rig. The fish finder rig consists of:
A main line with a sliding sinker attached to it.
A swivel tied to the end of the main line.
A leader tied to the other end of the swivel.
A hook or lure tied to the end of the leader.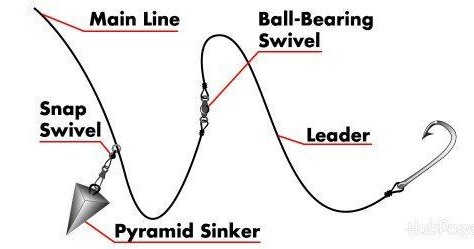 The fish finder rig allows the bait or lure to move freely with the current and the fish, while the sinker stays on the bottom. The fish finder rig also allows you to adjust the length of the leader and the weight of the sinker, depending on the conditions and preferences. Other Popular rigs for stripers include the Carolina rig, and high-low rig. Stock up on various weights, hooks, and swivels to adapt to different fishing conditions.

Bait: Stripers are opportunistic predators and can be caught using various bait and lures. Some effective options include: Live bait such as anchovies, sand crabs, and sardines are highly attractive to stripers. Cut bait, like mackerel or squid, can also entice these voracious feeders.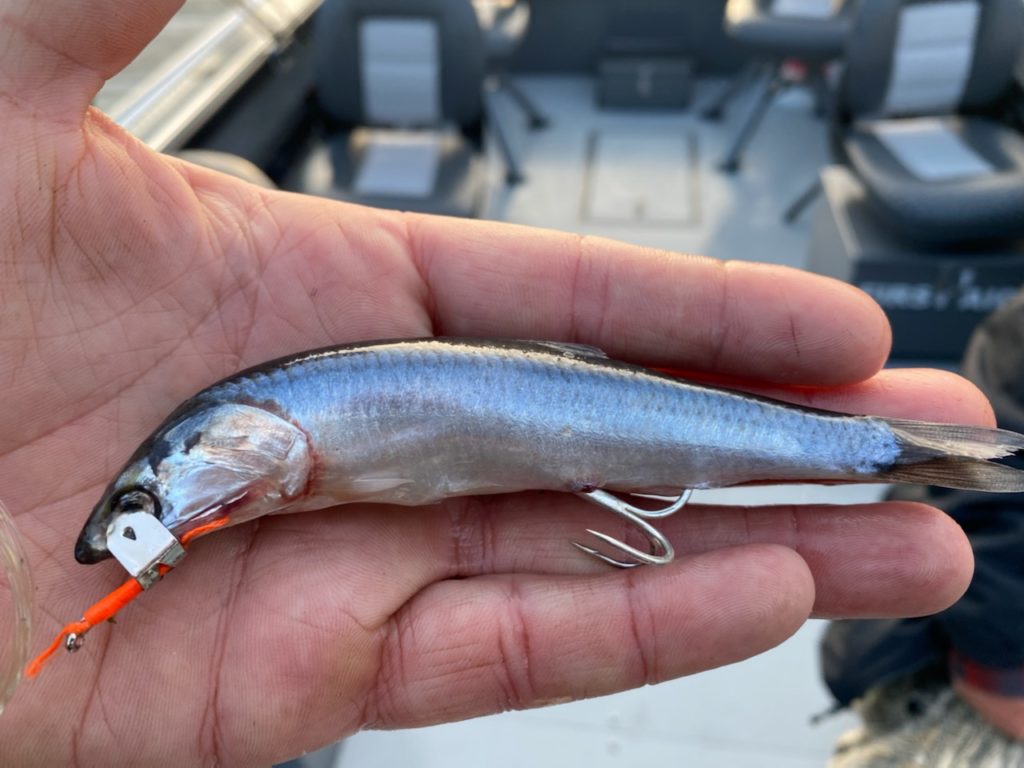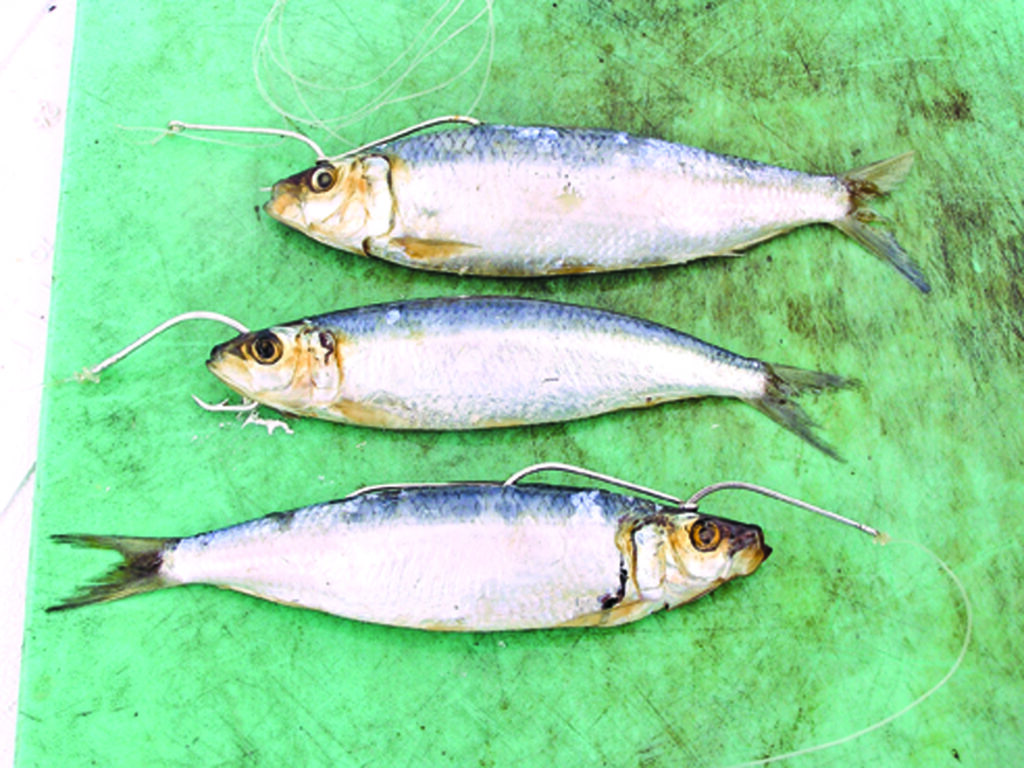 Surf Fishing Accessories:
You will also need some other accessories to make your surf fishing for striped bass in California more comfortable and successful, such as:
A fishing license: More like a necessity than an accessory, you will need a valid fishing license to fish in California, unless you are under 16 years old or fishing from a public pier. You can buy a fishing license online, by phone, or at any authorized agent. The cost of a fishing license varies depending on the type and duration of the license. For more information, visit wildlife.ca.gov/Licensing/Fishing.

A rod holder: You will need a rod holder to secure your rod on the beach or jetty, while you wait for a bite or take a break. A rod holder is a device that has a spike that can be driven into the sand or rocks, and a tube or fork that can hold your rod. You can buy a rod holder at any fishing store or online, or you can make your own with some PVC pipe.


A tackle box: You will need a tackle box to store and organize your hooks, lures, sinkers, swivels, rigs, and other fishing gear. A tackle box is a container that has multiple compartments and trays that can fit different sizes and shapes of items. You can buy a tackle box at any fishing store or online, or you can use any sturdy and waterproof box that has enough space for your gear.

A measuring tape: You will need a measuring tape to measure the length of your catch and make sure it meets the legal size limit. The legal size limit for striped bass in California is 18 inches minimum.

A pair of pliers: You will need a pair of pliers to remove the hook from the mouth of your catch and release it safely. A pair of pliers is a tool that has two jaws that can grip and pull objects. You can use any sturdy and long-nosed pliers that can reach the hook easily.

A cooler: You will need a cooler to keep your catch fresh and edible until you get home. A cooler is a container that has insulation and ice that can keep the temperature low inside.
Waders or wading boots: The waters of the Pacific can be cold. Waders will help keep you dry, warm and comfortable while surf fishing. Wading boots will protect your feet from underwater hazards like sharp shells, rocks and barnacles.
Life Jacket or PFD: It is recommended that, if you will be wading in the surf, you wear a life jacket or personal flotation device. It only takes one rouge wave to ruin your day. There is no fish in the ocean worth drowning over.
Tips and Techniques for Surf Fishing for Stripers in California?

Now that you have all the equipment and gear you need, you are ready to surf fish for striped bass in California. Mastering the right techniques and implementing some tried-and-true tips can significantly improve your chances of catching stripers while surf fishing. Consider the following: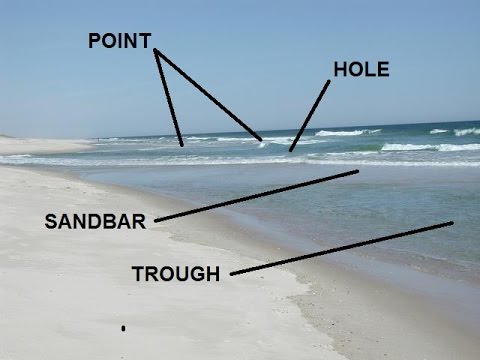 You will need to find a good spot where there are striped bass and where you can access the water safely and easily. Some factors to consider when choosing a spot are:
Pay attention to The tide: Understanding the influence of tides and weather conditions is crucial for successful surf fishing. Tides boil down to two main elements: water movement and water height.
Regarding movement, it is key to have enough tidal movement to create current and turbulence to stimulate feeding, but not so much that the surf becomes so rough you can't properly present a fly. Tidal movement is what uncovers crustaceans and disorients baitfish creating opportunities for predators
Stripers often feed actively during specific tide cycles, such as incoming tides or during changing currents. You will want to fish during an incoming or outgoing tide, when the water is moving and bringing food and oxygen to the fish. The best time to surf fish for striped bass in California is usually two hours before and after high tide or low tide. You can check the tide charts online.
Look for Fish Holding Structure: The reality is that 90 percent of the beach terrain will not hold stripers. You will want to fish near areas where there are changes in depth, current, or bottom composition, such as sandbars, troughs, holes, points, rocks, jetties, piers, or bridges. These areas create breaks in the water flow and provide cover and food for the fish.
You can look for these areas by observing the waves, as they tend to break differently over them. You can also use a depth finder, Google Earth, fishing app, or a GPS device to locate these areas. Also, check with the local bait shops, forums and fisherman for beaches with good fish holding structure.
Look for signs baitfish: You will want to fish where there are schools of baitfish, or bait, that striped bass feed on, such as anchovies, sardines, mackerel, squid, shrimp, sand crabs, bloodworms, or clams. You can look for signs of baitfish by watching for birds diving into the water, fish jumping out of the water.
Try to Match the Hatch: You want to select baits or lures that mimic what the stripers are currently feeding on. You may have to try a few different baits to find what they want. Check with the local bait and tackle shops and the local surf fishing forums to get some idea as to what is catching fish currently.
Important Considerations when Surf Fishing
Etiquette
Respecting other anglers and the environment is crucial when surf fishing for stripers. Follow these etiquette guidelines:
Give fellow anglers enough space between fishing spots to avoid tangling lines and maintain a peaceful atmosphere.
Properly dispose of any trash or fishing debris, keeping the beaches clean and safe for everyone.
Observe and follow any specific regulations or guidelines for the beach you're fishing on.
Safety Precautions
While surf fishing can be an exhilarating experience, it's essential to prioritize safety. Here are some precautions to keep in mind:
Be aware of your surroundings and constantly monitor the ocean's conditions, including waves, currents, and potential hazards.
Use caution when wading into the water, especially in areas with strong surf or rip currents.
Always wear a personal flotation device (PFD) when necessary.
Protect yourself from the sun by wearing sunscreen, a hat, and appropriate clothing.
Let someone know about your fishing plans and expected return time, especially if you're fishing alone.
Fishing Regulations
To ensure the sustainability of striped bass populations, California has specific fishing regulations in place. These regulations include size limits, bag limits, and seasonal restrictions. It's crucial to familiarize yourself with the current regulations for the area you plan to fish and adhere to them accordingly.
Catch and Release
Practicing catch and release can help conserve striped bass populations for future generations. If you choose to release a caught striper, handle it carefully, minimize the time it spends out of the water, and release it gently. Proper catch and release techniques promote the survival and well-being of the fish.
Frequently Asked Questions about Surf Fishing for Stripers in California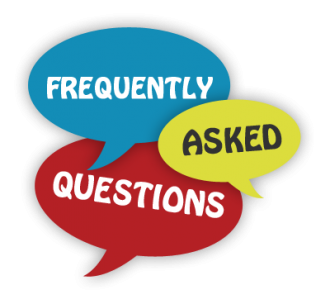 What is the best time of year to surf fish for stripers in California?
The prime time for surf fishing stripers in California is typically from spring through fall when they are more active and migrating along the coast.
Can I catch stripers from the shore without wading into the water?
Yes, you can catch stripers from the shoreline without wading into the water. Casting your line beyond the breaking waves can often be productive.
Do I need a fishing license to surf fish for stripers in California?
Yes, a valid California fishing license is required for anyone aged 16 and older to engage in surf fishing for stripers.
Are there any specific regulations for fishing from piers or jetties?
Yes, different piers and jetties may have their own specific regulations. It's essential to check and comply with the rules for each location you plan to fish.
Can I eat the striped bass I catch while surf fishing?
Yes, striped bass are known for their delicious flesh and are a popular choice for consumption. However, ensure you adhere to size and bag limits and follow any local consumption advisories.
Surf Fishing for Stripers in California: Final Thoughts.
Surf fishing for stripers in California offers a thrilling and rewarding experience for anglers of all skill levels. By understanding the best locations, equipping yourself with the right gear, employing effective techniques, you can increase your chances of hooking into some impressive stripers. And, you may just hook up with some of the other fish prowling the California surf.
Everything from surf perch, halibut, corvina, croaker and more can be caught from the beaches of California. So, pack your gear and plan a surf fishing trip to the west coast. Remember to prioritize safety, practice catch and release, and enjoy the beauty of California's coastal waters as you embark on your surf fishing adventure.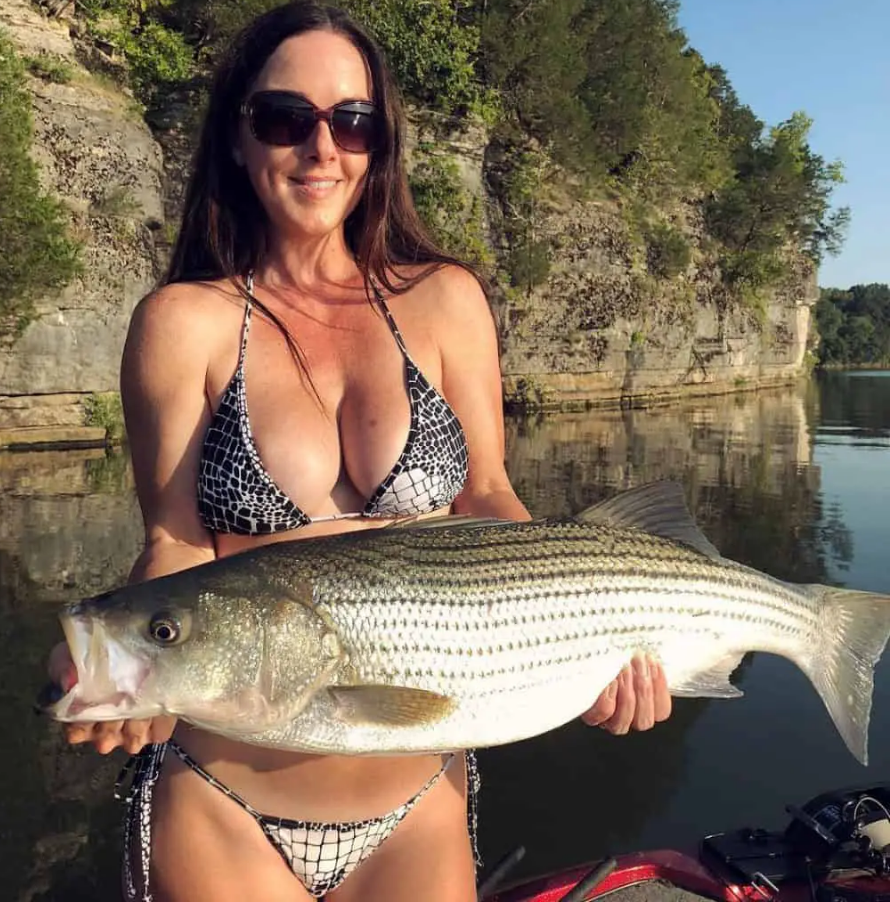 As always, stay safe, enjoy the journey and please try to leave it cleaner than you found it. If you have any comments, questions, ideas or suggestions please leave them in the comment section below and I'll get back to you asap. You can follow us on Facebook: Rex The Beach Angler, Instagram: thebeachangler7, Twitter: @AnglerBeach, and YouTube: Man Art Creations.
P.S. – Thanks so much for checking out our blog we really appreciate it. Just so you know, we may receive a commission if you click on some of the links that appear on our site. This helps us keep our content free and up-to-date for everyone. We appreciate your support!