71 percent of the earths surface is covered by water and, there are about 620,000 kilometers (372,000 miles) of coastline. It's safe to say that no matter where you live in the world, you can find a beach and do some surf fishing. Surf fishing truly is a worldwide sport. So, let's take a look at what are some of the very best surf fishing destinations in the world.
In this article, we will take you on a journey to the most remarkable surf fishing spots around the globe. These breathtaking locations offer everything an avid surf angler dreams of from abundant marine life, pristine beaches, and the opportunity to reel in trophy-sized catches. And, are some of the most sought-after surf fishing spots around the globe.
Welcome to the world of surf fishing, where anglers combine the thrill of catching fish with the exhilaration of the waves and ocean breezes. If you're an avid surf angler seeking the ultimate fishing experience, look no further than these world's best surf fishing destinations.
In this article, we'll not only explore the destinations, but also provide you with valuable information, tips, and tricks to increase your chances of success and on your angling adventures.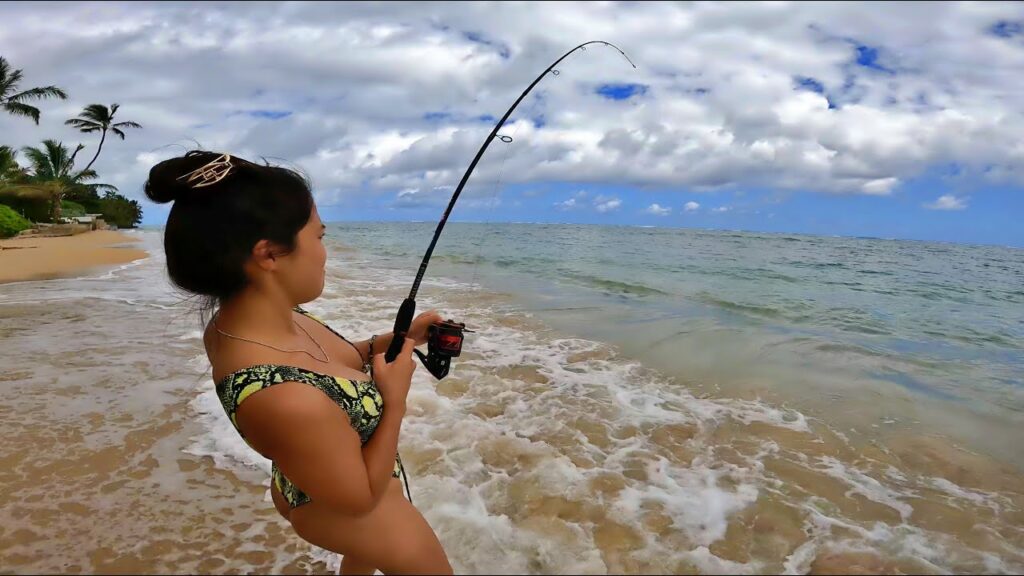 The World's Best Surf Fishing Destinations
When it comes to surf fishing, certain destinations stand out for their exceptional fishing opportunities, stunning natural beauty, and overall experience. Let's delve into some of the worlds best surf fishing destinations:
1. California Dreamin': Surf Fishing Paradise on the West Coast of the USA
California's coastal waters are teeming with a wide variety of fish species, attracting anglers from all over the world. The combination of the Pacific Ocean's rich ecosystem and the state's strict conservation measures has led to abundant fish populations, making it a true paradise for surf fishing enthusiasts.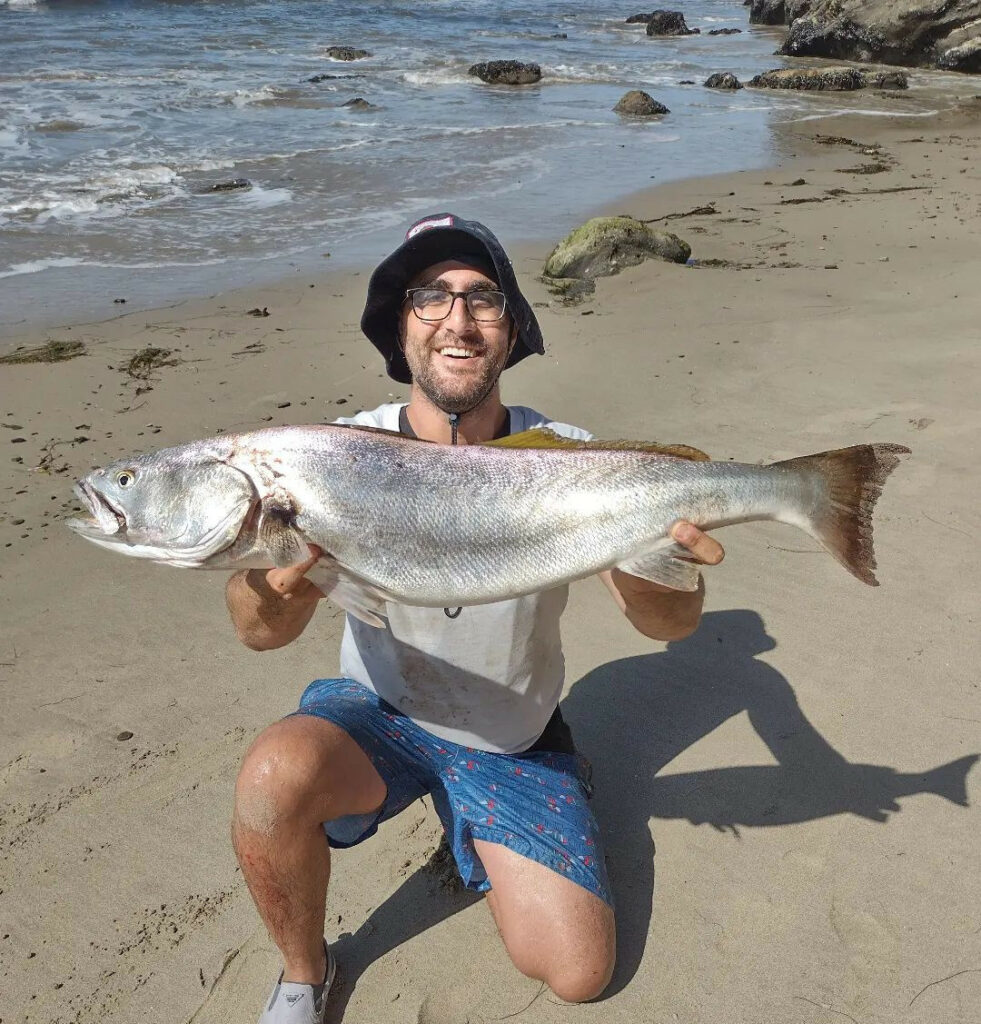 California's coastline stretches for over 800 miles, offering anglers a plethora of surf fishing hotspots. From the iconic beaches of Malibu to the scenic shores of San Diego, to the north coast beaches, California presents a diverse range of target species, including striped bass, halibut, and surfperch among others.
To maximize your chances of a successful surf fishing expedition in California, it's important to consider the seasons and the behavior of target species. While fishing is possible year-round, certain times of the year offer better opportunities for specific fish. For example, summer is prime time for surfperch, while spring and fall are ideal for targeting striped bass.
To make the most of your surf fishing experience in California, consider these tips:
Research the target species and their behavior patterns.
Check with the local bait and tackle shops and online forums.
Pay attention to tidal movements and fish feeding times.
Use fresh bait and adjust your presentation based on conditions.
Be patient and persistent, as surf fishing can be a waiting game.
Observe local regulations and practice catch-and-release to preserve fish populations.
You can read more about surf fishing California here:
For more info on surf fishing California check out:
surffishingsocalsd.com
fishthesurf.com
californiasurffishing.net
2. The Sunshine State's Bounty: Florida's Surf Fishing Haven
Florida's extensive coastline and favorable climate make it a haven for surf fishing enthusiasts. Whether you prefer the Atlantic side or the Gulf Coast, Florida offers a myriad of opportunities to catch prized game fish like snook, redfish, and tarpon. From the world-famous beaches of Miami to the serene shores of Destin, each region offers its unique fishing experience.
Whether you're seeking big game fish or delicious table fare, Florida presents anglers with an array of surf fishing opportunities. Florida's surf fishing seasons are influenced by factors such as water temperature, migration patterns, and spawning cycles.
Here are some popular target species and their prime seasons:
Snook:

Prime Season: Spring and Fall
Best Locations: Jupiter Inlet, Sanibel Island, Sebastian Inlet
Bait: Live bait (shrimp, mullet) or artificial lures

Redfish:

Prime Season: Fall and Winter
Best Locations: Mosquito Lagoon, Tampa Bay, Indian River
Bait: Live or cut bait (mullet, shrimp) or artificial lures

Tarpon:

Prime Season: Spring and Summer
Best Locations: Boca Grande Pass, Florida Keys, Everglades National Park
Bait: Live bait (crabs, mullet) or artificial lures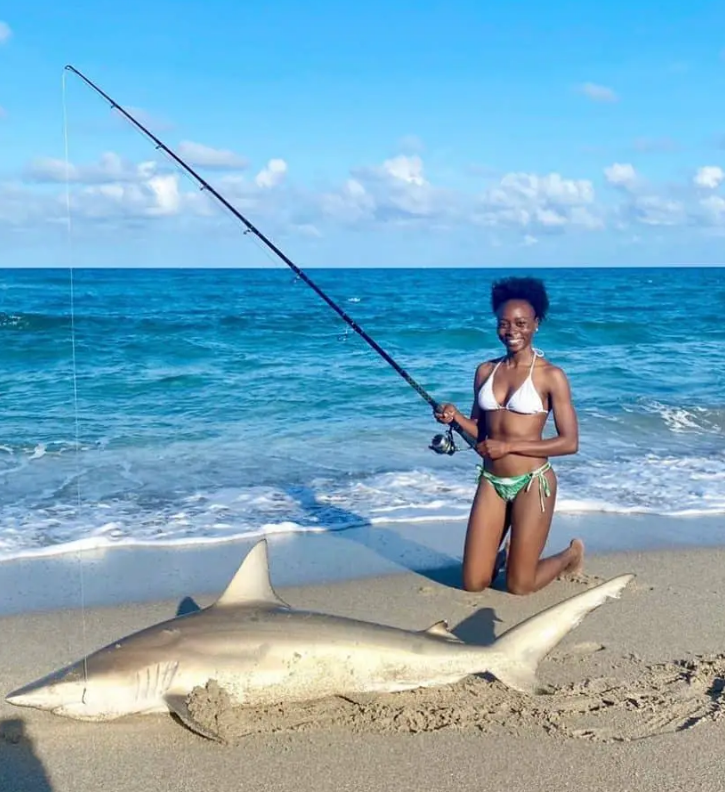 To enhance your surf fishing experience in Florida, consider these insider tips:
Observe the tides and fish during the incoming or outgoing tide for better chances of catching fish.
Pay attention to water clarity and adjust your bait presentation accordingly.
Explore different fishing spots along the beach to find productive areas.
Be mindful of weather conditions, especially during the hurricane season.
Engage with local anglers, online forums, and bait shops to gather up-to-date information on fishing conditions.
You can read more about surf fishing Florida Here:
For more info on surf fishing in Florida check out:
surfcastingflorida.com
floridashorefishing.com
floridagofishing.com
3. Montauk, New York, USA
Montauk is the Surf Fishing Capital of the World situated at the eastern tip of Long Island, New York. Surrounded by water on three sides by the Atlantic Ocean and Block Island Sound, this area is teeming with a wide variety of fish species, including striped bass, fluke, and bluefish. The diverse fishing opportunities, combined with the scenic beauty and charming coastal community, make Montauk a must-visit spot for passionate surf anglers.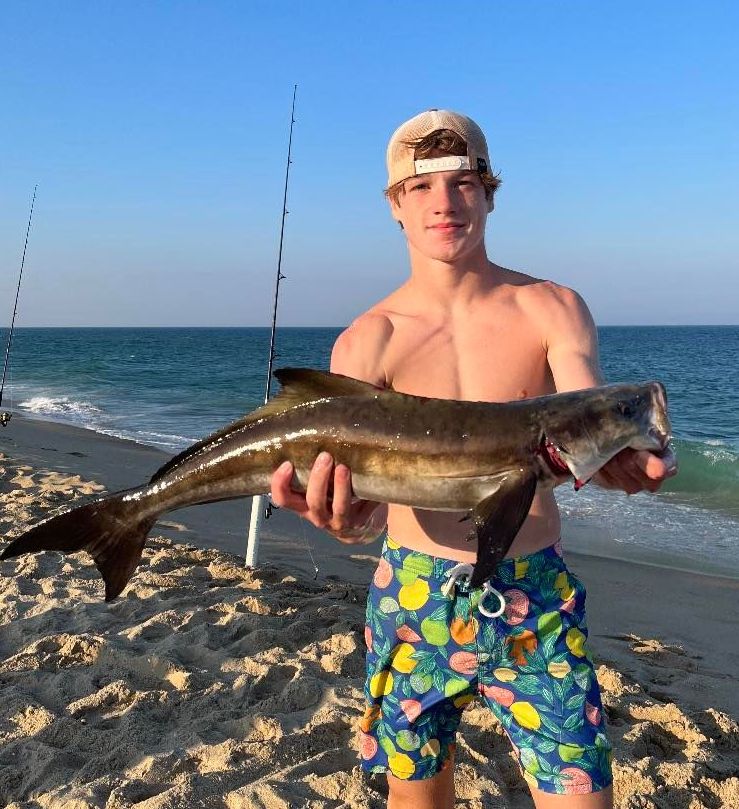 The town has some of the most beautiful beaches you could ask for. Just beyond the sand, big boulder fields dot the surf, creating cover for fish and endless fun for anglers.
Montauk is a major tourist destination and has six state parks and is particularly famous for its fishing, claiming to have more world saltwater fishing records than any other port in the world.
Montauk is perfectly placed for awesome angling. Every species migrating in and out of Long Island Sound knocks on its door twice a year. Heading offshore, you get a 20-mile head start compared to the mainland.
Then there are the strong currents and structure that predators love to hunt in. Add that all together and you get lots of fish. Here are a few of the local favorites.
Montauk beaches rank among the top in the country. Great rolling breakers move in on miles of white gleaming sand. No boardwalks or development here, it's all natural In some places low rolling dunes rim the beach, in others high cliffs. On the north side of Montauk the protected waters of Block Island Sound are much gentler than the ocean. Here the beaches can be rocky or sandy and provide the best beachcombing.
For more info on fishing Montauk, New York, USA check out:
onmontauk.com
montauk-online.com
montaukoutfitter.com
4. Outer Banks, North Carolina, USA
Located off the coast of North Carolina, the Outer Banks is a true paradise for surf fishing enthusiasts. With its extensive shoreline stretching over 200 miles, this destination provides a variety of fishing opportunities. From striped bass to red drum and bluefish, the waters of the Outer Banks teem with exciting game fish. Whether you choose to cast your line from the sandy beaches or from one of the piers, you're bound to have an unforgettable fishing experience.
If you're into surf fishing, chances are the Outer Banks are already on your bucket list. People have landed incredible catches in the surf here, from world record Red Drum to huge Sharks, Stripers, Bluefish, and more. The added bonus is that you can enjoy a beach day with the family without missing out on the area's angling.
There are a few things to bear in mind when surf fishing in OBX. Many areas are so remote that you need a 4X4 to get to them. The best spots are sometimes closed to protect local wildlife. It's best to stop in at a local tackle shop when you arrive to get the most up-to-date info on what's biting and where. You can read more about fishing the Outer Banks of North Carolina here:
For more info on surf fishing the Outer Banks check out:
outerbanks.com
obxconnection.com
outerbanksfishing.com
5. Padre Island National Seashore, Texas, USA
As you might guess, my personal favorite, Padre Island National Seashore is 60 miles of undeveloped and uninhabited barrier island, most of which is accessible by 4 wheel drive vehicles only. The warm waters of the gulf of Mexico bring a wide variety of game fish to the surf zone.
From red drum, speckled trout, bluefish, pompano, whiting to numerous species of sharks, Padre Island is a must for any serious surf angler. The best times to fish the island are spring through fall. Check with the local bait and tackle shops and online forums for the most up to date island fishing information.
If you travel to Padre in the fall, you can check out the cast and blast opportunities of combining surf fishing with dove and or duck hunting. Nearby Corpus Christi, Texas offers plenty of lodging, activities, and an international airport for your convenience. Read more here on surf fishing Padre Island National Seashore.
For more info on surf fishing Padre Island National Seashore, check out:
corpusfishing.com
pi-adventures.com
breakawaytackleusa.com
6. Tropical Paradise: Surf Fishing in Hawaii, USA
Besides being one of the worlds premier tourist and vacation destinations, Hawaii offers some outstanding surf fishing opportunities. Known mostly as an offshore fishing mecca, you can get plenty of excitement fishing in Hawaii without a boat. Drive down the coastline of any of the Islands and you'll see lines of poles set up in the sand or on the rocks.
Surrounded on all sides by the Pacific Ocean, they are islands after all, the islands of Hawaii provide miles of beaches with a wide variety of gamefish within casting distance of shore. Some of the more popular beach and surf fishing spots in Hawaii are:
Spencer Beach Park, Big Island of Hawaii. One of the top parks on the Big Island.
Keahou Harbor, Big Island of Hawaii. This is another family friendly Hawaii shore fishing destination.
Hanalei Pier, Kauai.
Black Rock, Maui.
Kaena Point State Park, Oahu.
The allure of Hawaii's pristine beaches and warm and deep waters make for some unique Surf fishing opportunities on the Hawaiian islands. The deep waters bring some very large predators within reach of surf anglers. Gamefish such as barracuda, bonefish, blue-striped snapper, bluefin trevally, snapper, triggerfish and sharks, among others.
Consult with the local bait and tackle shops, online forums and local anglers for the most up to date information on what is biting where, and on what. See Hawaii and get in on some great surf fishing at the same time.
Good sources of info on surf fishing Hawaii:
livinginhawaii.com
hifishfinder.com
hawaiifishingreports.com
7. Islands of the Caribbean: Surf Fishing Secrets
The Caribbean is renowned for its turquoise waters and thriving marine ecosystems. From the abundant coral reefs to the deep-sea drop-offs, these waters teem with a wide variety of fish species, attracting anglers from all corners of the globe.
Surf fishing in the Caribbean not only offers exciting angling opportunities but also allows you to soak in the vibrant Caribbean culture. From sampling local cuisine to exploring colorful markets and immersing yourself in the lively music and dance scene, the Caribbean promises a holistic experience for all your senses.
The crystal-clear waters and vibrant marine life of the Caribbean make it a true paradise for surf fishing enthusiasts. With its stunning beaches, tropical climate, and diverse fish species, the Caribbean offers an unparalleled surf angling experience.
Each Caribbean island offers its unique surf fishing experience, with a range of target species and fishing techniques. Here are some islands worth exploring:
Puerto Rico: Known for: Tarpon, Snook, Jack Crevalle
Bahamas: Known for: Bonefish, Permit, Snapper
U.S. Virgin Islands: Known for: Mahi-Mahi, Wahoo, Tuna
Being islands, like Hawaii, the Caribbean islands offer the surf angler miles of beaches to fish as well as a variety of other sights and activities to keep you and your whole family entertained. For more about surf fishing in the Caribbean, visit fishingbooker.com.
8. Cabo San Lucas, Mexico
Nestled at the southern tip of the Baja California Peninsula, Cabo San Lucas is renowned for its stunning beaches and abundant marine life. This Mexican gem offers fantastic surf fishing opportunities, attracting anglers from all over the world. Roosterfish, snapper, and yellowfin tuna are just a few of the species you can target here.
Surf fishing is a great way to spend time exploring the coast of Los Cabos and the East Cape. You'll find many well-known spots such as "Rooster Alley" in Los Frailes as well as discovering some of your own secret spots. There are companies that offer guided surf fishing trips, some that utilize ATV's to cover more shoreline. You're not limited to one or two areas along the coast. In fact, just about any stretch of coastline offers up the chance to catch any one of a number of species.
Combine your fishing adventure with the vibrant local culture and breathtaking scenery, and you have a recipe for an extraordinary vacation. Cabo is truly a world-class fishing destination for both surf fishing and offshore fishing adventures. You can read more about surf fishing Cabo San Lucas, as well as other surf fishing opportunities in Mexico, here:
For local information on surf fishing Cabo San Lucas, check out:
cabosbest.com
loscabosguide.com
cabosanlucasbeaches.com
loscabosshorefishing.com


9. Casting Lines Down Under: Australia's Pristine Surf Fishing Spots
Australia, known for its stunning landscapes and diverse wildlife, is also home to some of the worlds most captivating surf fishing spots. From the rugged beaches of Western Australia to the pristine coasts of Queensland, Australia offers a wealth of angling opportunities.
Australia's vast coastline and its proximity to various oceanic currents create a unique ecosystem that supports an abundance of fish species. This, combined with the country's commitment to sustainable fishing practices, has earned Australia a well-deserved reputation as an angler's paradise.
When it comes to surf fishing in Australia, several destinations are worth exploring. Here are some of the top spots:
Fraser Island, Queensland: Fraser Island, the largest sand island in the world, is a fishing haven that beckons anglers with its pristine beauty and diverse marine ecosystem. Situated off the eastern coast of Australia, this destination boasts an array of fish species, including tailor, bream, and whiting. Casting your line into the crystal-clear waters while surrounded by stunning landscapes is an experience like no other. Don't miss the chance to explore the island's unique attractions during your visit.
Ninety Mile Beach, Victoria: Known for: Salmon, Gummy Sharks, Flathead
Exmouth, Western Australia: Known for: Giant Trevally, Queenfish, Mackerel
Surf fishing in Australia presents some unique challenges due to the vastness of the coastline, unpredictable weather conditions, and the presence of potentially dangerous marine life. Here are some tips to navigate these challenges:
Familiarize yourself with local fishing regulations and size limits.
Be cautious of strong currents and rips, especially during high tide.
Protect yourself from the harsh Australian sun by wearing sunscreen, a hat, and protective clothing.
Stay informed about weather conditions and heed any warnings or advisories.
Be aware of marine stingers, sharks, and other potentially dangerous creatures, and take necessary precautions.
It is advisable to hire a guide when fishing the more remote beaches of Australia.
Surf fishing in Australia offers not just exceptional fishing opportunities but also the chance to witness breathtaking natural wonders. From witnessing humpback whale migrations to marveling at the Great Barrier Reef, your angling adventure Down Under promises to be an unforgettable experience.
For more info on surf fishing in Australia, check out;
beachesofaustralia.com
koalaoutdoor.com
australianfishing.com.au
ausfish.com.au
10. South African Surf Fishing Safari: A True Angler's Expedition
The South – African coastlines boast some of the best Rock & Surf fishing spots in the world with the southern Wild Coast being one of the premium land-based fishing destinations in South Africa offering a huge variety of exciting species in a vast selection of spectacular fishing spots.
The fishing season lasts all year long in this part of the world and there is always an abundance of gamefish in the waters. Depending on conditions it is possible to target many highly sought after angling species including edibles such as kob, silver steenbras/musselcracker, pignose grunter/steenies, black steenbras, shad/elf, bluefish, galjoen, yellowtail, garrick/leervis, as well as, arm stretching non-edibles like ragged tooth sharks, zambezi/bull sharks, bronze whalers, hammerheads, diamond rays, duckbill rays and many more.
Jeffreys Bay, located along the Sunshine Coast of South Africa, is not only famous for its world-class surfing waves but also for its exceptional surf fishing. This vibrant coastal town offers thrilling angling adventures with the chance to catch cob, white steenbras, and shad, among others. Experience the thrill of surf fishing during the day and unwind by witnessing the mesmerizing sunset over the Indian Ocean. Jeffreys Bay truly encapsulates the spirit of adventure and natural beauty of South Africa.
Beautiful Mtonga Bay is both an angler's paradise for Surf and Shark Fishing. Plan your Surf fishing adventure for a tented camp destination based on the cliff tops overlooking a spectacular sandy beach, or Mazeppa bay hotel accommodation.
Either way, your beach fishing holiday will see you fishing for everything from large baitfish from the shore, to tackling the colossal sharks that are abundant in southern African waters. Surf fishermen in South Africa have been leaders in the use of drones for surf fishing as well.
For more local info on surf fishing South Africa, check out:
fishthesea.com.za
explore-southafrica.co.za
greatkeiadventures.com
11. The Emerald Isle's Coastal Gems: Surf Fishing in Ireland
Ireland's rugged coastline, ancient history, and rich culture make it a captivating destination for surf fishing enthusiasts. Its sandy beaches, rocky shores, and abundance of fish species create an angler's paradise that should not be missed. With a coastline that stretches for approximately 3,000 kilometers, providing ample opportunities for surf fishing.
The country's diverse marine ecosystem supports a wide range of fish species, including bass, cod, pollock, and mackerel, among others. The Island country of Ireland, my ancestral homeland, boasts numerous stunning beaches that are ideal for surf fishing. Here are some notable locations to consider:
Rossnowlagh Beach, County Donegal: Known for: Bass, Flatfish, Ray
Dog's Bay, County Galway: Known for: Sea Trout, Mackerel, Bass
Curracloe Beach, County Wexford: Known for: Bass, Flounder, Plaice
While exploring Ireland's surf fishing spots, don't hesitate to connect with local anglers and gather valuable insights. They can offer tips on the best fishing times, preferred baits, and lesser-known gems that might not be widely known. Embrace the warm Irish hospitality and immerse yourself in the local culture for an enriching angling adventure.
For more on surf fishing in Ireland, check out:
fishingireland.info
ireland.com
anirishanglersworld.com
12. Algarve, Portugal
For surf fishing enthusiasts seeking a European adventure, the Algarve region in Portugal is an excellent choice. With its picturesque cliffs, golden beaches, and temperate climate, it offers an idyllic setting for surf angling. The Algarve is particularly famous for its sea bass fishing, attracting anglers with the opportunity to catch these prized game fish.
Additionally, you can explore charming coastal towns, indulge in delicious local cuisine, and immerse yourself in the rich Portuguese culture. Some of the more popular surf fishing destinations in Portugal are:
Algarve: The southern region of the Algarve is your fishing dream. The towns of Lagos, Portimão, Faro and Vilamoura are popular for shore fishing and boat fishing, especially for sea bass, bream, mackerel, and tuna.
Lisbon Region: The Lisbon region, including Cascais, Sesimbra, and Ericeira are great for shore fishing from rocky areas and surfcasting from beautiful beaches.
Peniche: Peniche has numerous rocky cliffs, jetties, and beaches that are ideal for shore fishing. Some productive spots for shore fishing include the Cabo Carvoeiro cliffs, Baleal Beach, and the Peniche Marina area. You can also charter boats or join fishing tours to venture further offshore and target larger fish.
Costa Vicentina: The Costa Vicentina, located in the southwestern part of Portugal, is characterized by rugged cliffs and untouched beaches where you can fish from the shore, surfcast, and rock fish.
Depending on which beach you choose, you could find a lot of different species on your line. Seabream, Atlantic Mackerel, Turbot, Conger Eel, and Bluefish are on the menu. Some other great destinations to consider for your portuguese surf fishing adventures would be beaches like Peniche, Praia de Faro, Alentejo coast, Praia de Olhão, and Albufeira.
For more great info on surf fishing in Portugal, check out:
catchandfillet.com
issuu.com
algarvefun.com
13. Majestic Beauty: Surf Fishing in New Zealand
The beautiful island nation of New Zealand consists of two land masses. The north island and the south island. You can find excellent surf fishing opportunities on either island. And, in case you're not familiar, New Zealand offers some world-class hunting for red stag, chamois, and Himalayan tar. If you're going to travel to New Zealand, why not make it a combination adventure.
In any area of New Zealand, there will be a number of popular surfcasting beaches along the coastline. In terms of the fishing, look for deep beaches (think Canterbury's east coast beaches, Torere in the Bay of Plenty, and Whakaki in Hawkes Bay). These beaches can hold huge numbers of fish and it's not uncommon for surfcasters to catch 20-30 fish in a session.
The shallower surf beaches of New Zealand are harder work, but are often made up of the softer, fine sands that support shellfish and crustaceans, and therefore some of the finest land-based fish available – big snapper and trevally. The West Coast is one of the best places in the South Island to catch an elusive snapper while surfcasting.
In the winter months the West Coast beaches offer some of the best surf fishing to be had anywhere. Elephant fish, huge red cod, various sharks, and kahawai can be caught in the great numbers. Some of the better surf fishing areas of New Zealand include:
Amberley Beach
Birdlings Flat
Conway Flat
Kaikoura Coast
Nape Beach
New Brighton Pier
Golden Bay
Rabbit Island
Ward Beach
For more local info on surf fishing New Zealand, check out:
fishing.net.nz
fishingmag.co.nz
fishandgame.org.nz
World's Best Surf Fishing Destinations Frequently Asked Questions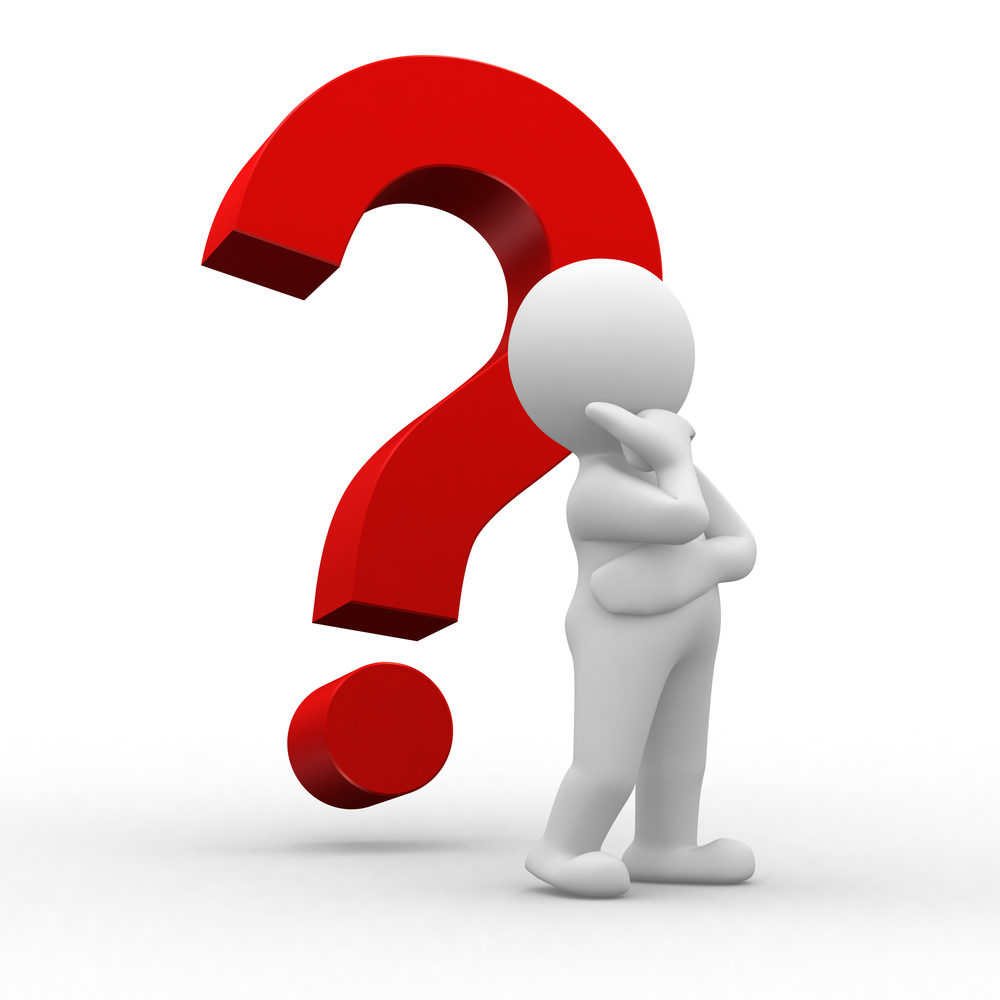 What are the worlds best surf fishing destinations?
Some of the worlds best surf fishing destinations include California, Florida, Australia, Ireland, and the Caribbean. Each of these locations offers unique fishing opportunities and a chance to catch a variety of fish species.
Do I need a fishing license for surf fishing?
Yes, in most places, you will need a fishing license to engage in surf fishing. Fishing regulations vary by location, so it's important to check the specific requirements of the destination you plan to visit.
What type of bait should I use for surf fishing?
The type of bait you should use for surf fishing depends on the target species. Popular baits include live bait such as shrimp, mullet, sand crabs, and various worms. Additionally, artificial lures like plugs, spinners, and flies can be effective in enticing fish.
How can I stay safe while surf fishing?
To stay safe while surf fishing, it's important to be aware of your surroundings, including tidal movements and weather conditions. Always practice caution when wading in the water, and use appropriate safety gear such as life jackets if necessary. It's also a good idea to let someone know about your fishing plans and to fish with a buddy whenever possible.
Are there any specific rules and regulations for surf fishing?
Yes, there are specific rules and regulations for surf fishing that vary by location. These regulations may include size and bag limits, fishing seasons, and restricted areas. It's crucial to familiarize yourself with the local fishing regulations and adhere to them to ensure the sustainability of fish populations and the preservation of the environment.
Is surf fishing suitable for beginners?
Surf fishing can be suitable for beginners, but it's important to learn the basics and understand the techniques involved. Researching the target species, understanding the local fishing regulations, and practicing casting and reeling techniques are essential for beginners. It's also helpful to seek advice from experienced anglers or consider hiring a guide to enhance the learning process.
Why Not Explore the World While Surf Fishing?
These are just some of the World's Best Surf Fishing Destinations. They offer anglers unparalleled adventures and the opportunity to combine their love for fishing with breathtaking natural beauty and unforgettable experiences. Whether you choose to cast your line in California, Florida, North Carolina, Texas, South Africa, Australia, Ireland, New Zealand, Portugal, Spain, or the Caribbean, each destination has its own unique charm, and provides unique fishing experiences, as well as a chance to catch some prized game fish.
Whether you're a seasoned surf angler or a beginner, these destinations will undoubtedly satisfy your craving for thrilling surf fishing adventures.
Remember to research local regulations, acquire the necessary fishing licenses, and respect the environment to ensure sustainable angling practices.
So, plan your next fishing expedition, pack your fishing gear, get ready to feel the sand between your toes, and embark on a thrilling surf fishing adventure that will create memories to last a lifetime.
And, if you have some surf fishing destinations that we missed, leave them in the comment section below. I am always looking for new locations and adventures.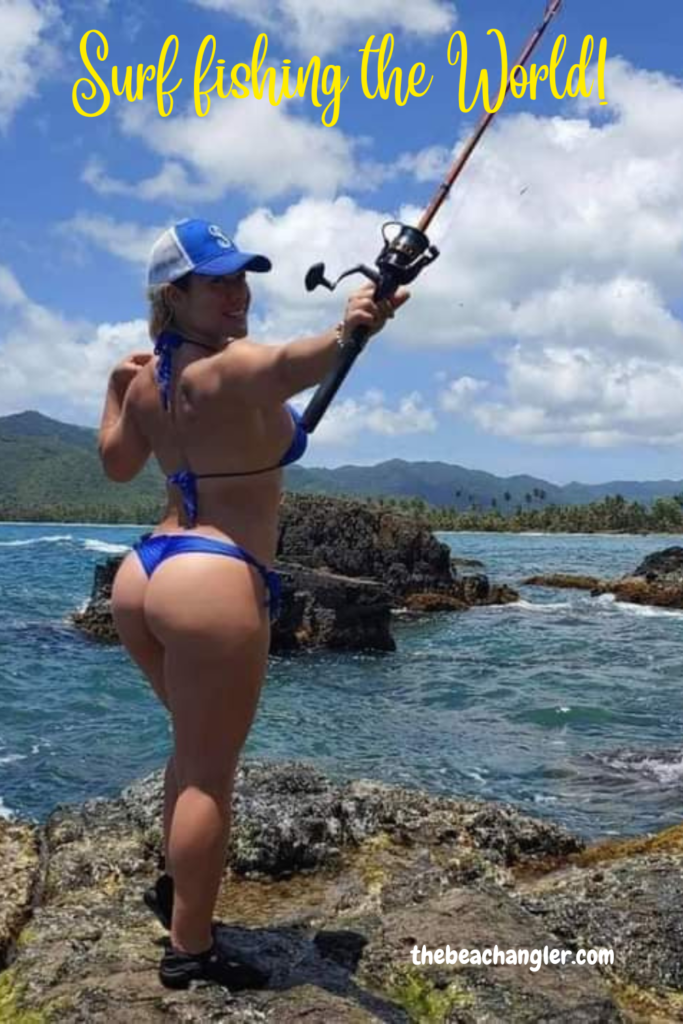 As always, stay safe, enjoy the journey and please try to leave it cleaner than you found it. If you have any comments, questions, ideas or suggestions please leave them in the comment section below and I'll get back to you asap. You can follow us on Facebook: Rex The Beach Angler, Instagram: thebeachangler7, Twitter: @AnglerBeach, and YouTube: Man Art Creations.
P.S. – Thanks so much for checking out our blog we really appreciate it. Just so you know, we may receive a commission if you click on some of the links that appear on our site. This helps us keep our content free and up-to-date for everyone. We appreciate your support!