On many occasions when planning a surf fishing trip, you may want to explore the possibility of an overnight trip. There are many beaches around the world that you can camp on and fish, combining a camping trip with a fishing trip. When fishing more remote beaches, this allows you more time to fish and spend less time driving to your fishing spot.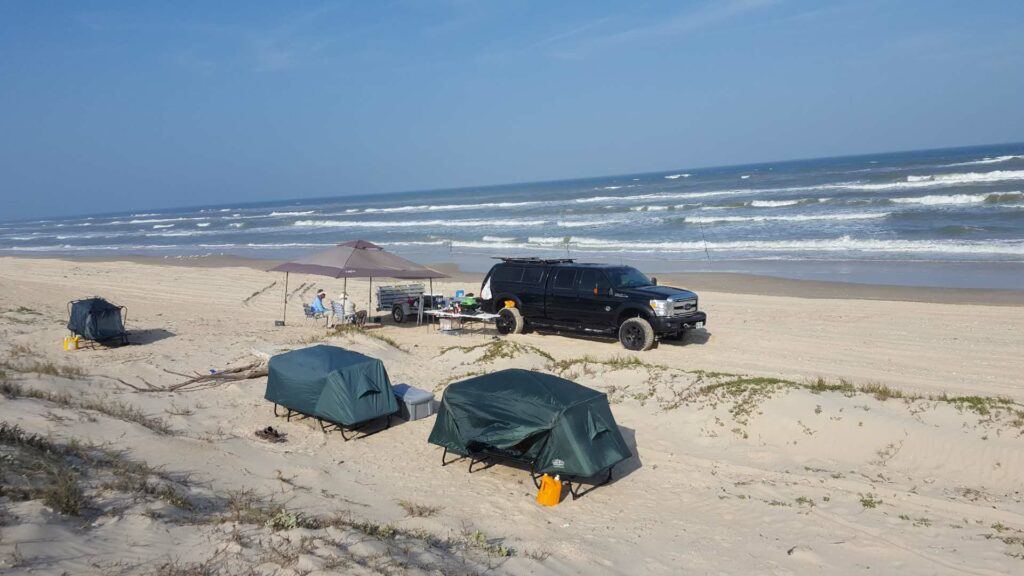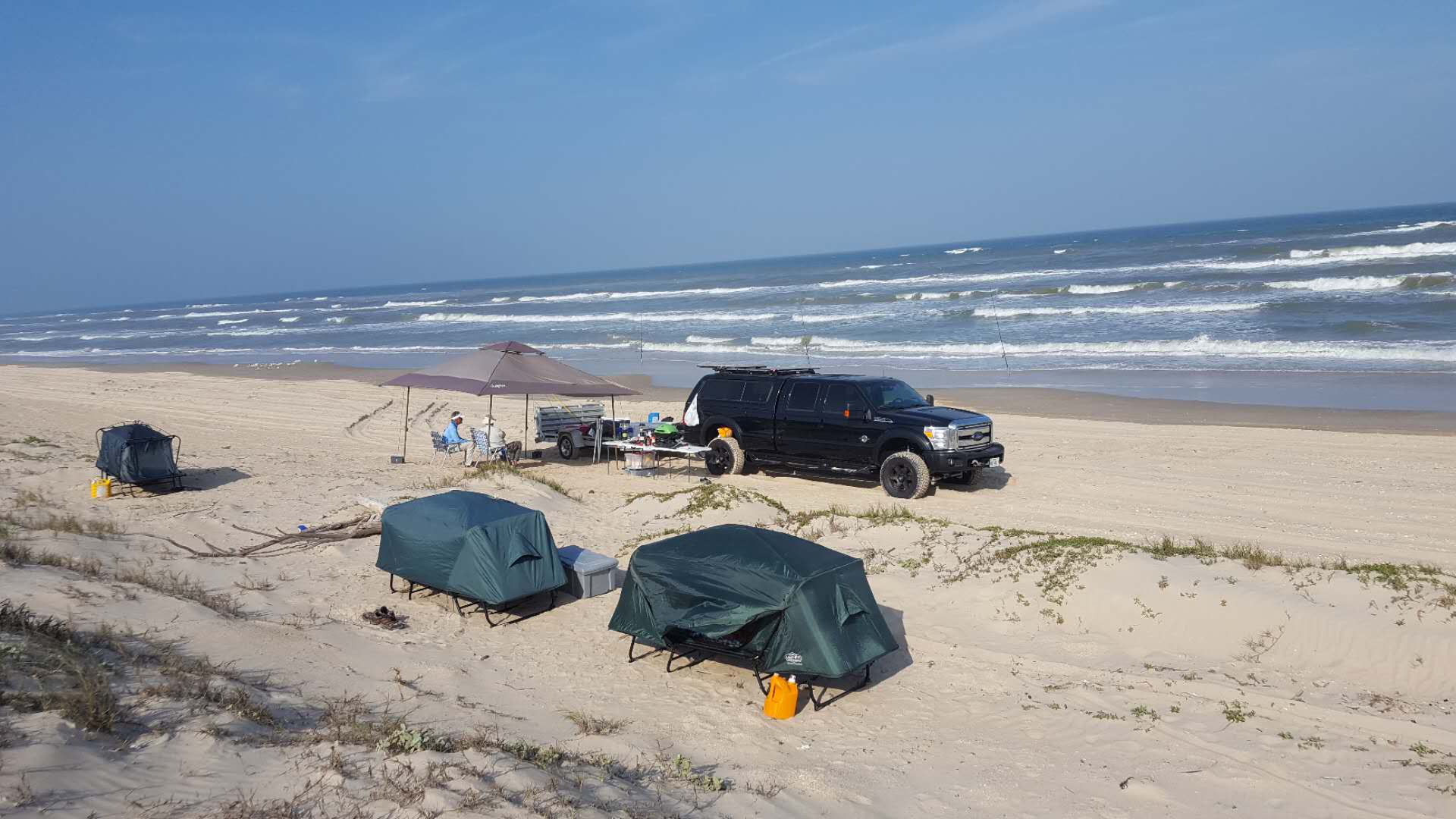 You of course need to check with the local authorities about the rules and regulations associated with camping at your beach destination. Once you have that taken care of, the planning of an overnight surf fishing trip can begin. Camping on the beach can have its own special requirements. This article will focus on the Kamp-Rite Tent Cot review.
Beach Camping
Camping and fishing on the beach have been one of my favorite activities for more than 50 years now. Most of the time, camping on the beach will involve what is commonly called "primitive camping". Which means, " If you think you might need it, you better bring it".
That means pretty much everything from food, water, bait, tackle and all your camping gear for overnighting with no facilities. When surf fishing, there is usually miles of beach front to fish and explore, so if they aren't biting where you are, just pick up camp and move.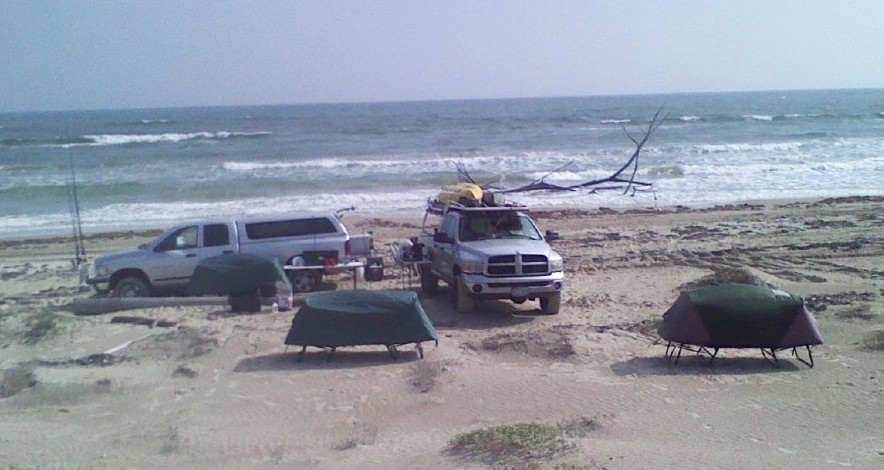 Of course moving camp can be an ordeal if you are having to take down and re pitch at the next location along with moving the rest of your camping and fishing gear. It can make moving inconvenient at best. In recent years however, the development of the tent cot has made moving camp much much easier. Simply fold up your cot and the tent folds up with it, throw it in your vehicle and move on to the next spot.
I have been using the Kamp-Rite Tent cot for over ten years now and have found it to be a great way to camp on the beach in all kinds of weather and conditions. I can break camp in a fraction of the time that it would take if I were using conventional tents, and once at the new location, camp can be reset just as quickly and easily.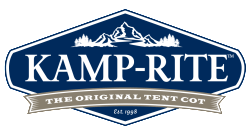 The Kamp-Rite Tent Cot
Kamp-Rite Tent Cot, Inc. was founded in ten999 with the goal of producing unique, innovative solutions to common problems associated with many standard forms of camping gear. Armed with only the advice and suggestions of family members who are avid, experienced outdoorsmen, Kamp-Rite forayed into the camping gear market.
The result was the "Original Tent Cot," a camping system that combined the comfort of a standard sleeping cot with the protection of a tent. This fully enclosed off-the-ground sleep shelter would become Kamp-Rite's breakthrough product, earning Kamp-Rite the title of World Leader in Off-the-Ground Camping Gear.
The Kamp-Rite® Oversize Tent Cot stands 11" above the ground and brings additional comfort with its expanded sleeping area. The Oversize Tent Cot is wider and longer than the Original Tent Cot and adds a domed top to create more head room and interior space. This off-the-ground sleep shelter ensures superior protection from the elements and delivers a level of comfort and convenience not usually found in traditional, old style camping gear.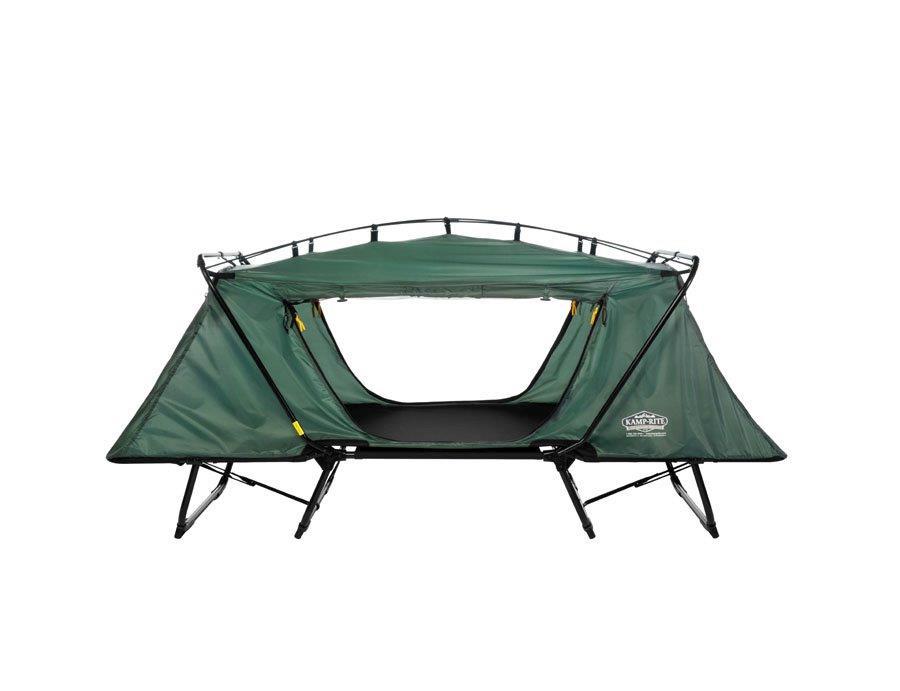 The sturdy cot base includes two additional support legs located at each end of the Tent Cot for extra stability. Extremely versatile, the unique hinge design enables the Oversize Tent Cot to be converted to a lounge chair for daytime relaxation or a standard style cot for sleeping under the stars. The Oversize Tent Cot sets up in mere minutes and comes complete with a waterproof Kamp-Rite® Rain Fly and a convenient Carry Bag.
Kamp-Rite Oversize Tent Cot Features:
Heavy duty ten90T Nylon

No-See-Um Mesh on all windows and doors

Elevated cot base for off-the-ground comfort

Heavy duty, powder-coated aluminum steel frame

Easy use, corrosion-resistant zippers

Unique multi-function hinge design

Converts to a lounge chair or cot

Superior quality clips and buckles

Interior storage pouches

a convenient Carry Bag

Kamp-Rite Tent Cot vs Tent
When it comes to convenience and mobility, there is really no comparison between the Kamp-Rite Tent Cot and your standard conventional tent. Tents take time to stake down and set up, usually need at least two people, and can be a real chore to set up in windy or other adverse weather conditions.


Tent cots are much simpler and easier to set up and take down. Simply unfold, attach roof poles and rain fly, if needed, and your ready to make your bed. It will take you all of ten minutes to set up, if you take your time, and take down is just as quick and easy. If you want to move camp, your tent cot can be folded and loaded in just a few minutes.
Once folded, they lie flat and canned be stacked for easier packing and storage. They are much easier to clean up as well once you return from your trip. Simply set it up and vacuum or sweep out the inside, then hose off the outside and let dry. Then fold it up and put it away until next time.
Kamp-RiteTent Cot Options
Double Tent Cot: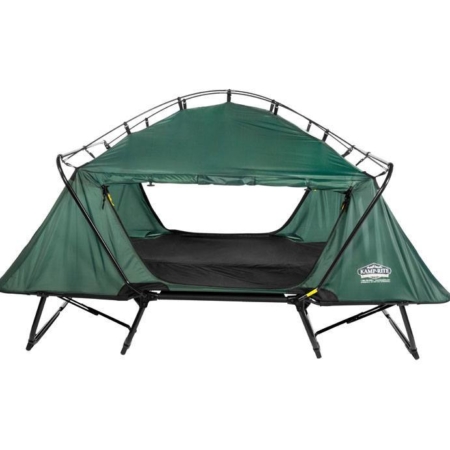 Kamp-Rite®'s Double Tent Cot is the two-person version in the line of Tent Cot products. The sturdy aluminum frame keeps you ten1" above the ground to provide comfort and protection from insects, rocks and dampness.
The fully enclosed Double Tent Cot creates a private sleep shelter and brings a level of convenience to outdoor outings not typically found with old style camping gear. Quick easy set up can be done alone without the help of an extra pair of hands, making it the ideal solution to get out and enjoy the Great Outdoors more often and more comfortably.
The Double Tent Cot's unique hinge design creates great versatility and function—it can be easily converted into a lounge chair or a standard style cot for use in larger, family-style tents.
Kids Tent Cot: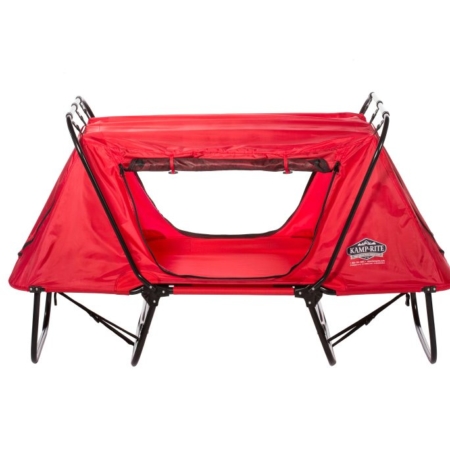 Modeled around the concept of the Original Tent Cot, the Kid's Tent Cot with Rain Fly is a great addition to family camping gear. Extremely versatile, the Kid's Tent Cot provides protection at the beach from sand and sun, and the "no-see-um" netting on each of the 4 tent openings offers protection from bothersome insects.
Just like the larger versions of Kamp-Rite's Tent Cots, the Kid's Tent Cot converts to a lounge chair or sleeping cot in seconds, while the 4 sturdy support legs provide greater stability and entry from all 4 sides. The compact design allows for easy storage in small spaces and conveniently sets up in minutes for use as a "play fort" by day or an extra bed for camp-outs and sleepovers
Try a Kamp-Rite Tent Cot
If you plan on doing any overnight surf fishing trips, you owe it to yourself to check out the Kamp-Rite Tent Cot. You'll find it to be sturdy, durable, easy to pack and store and very convenient to set up and take down. I've used mine in the cold of the Colorado mountains at 18 degrees, and in the hot humid Gulf Coast beaches in the Texas Summer.
With some basic care and cleaning after use, the Kamp-Rite Tent cot will give you many years of service and you won't want to go back to tent camping again. They have several models to fit most any camping environment, even a kids size;). You can CHECK THEM OUT HERE, or go to kamprite.com.