Fall is in the air and winter is just around the corner. Along the Texas Coast, the changing seasons bring cooler water temperatures and that brings schools of Pompano within casting distance of the beachfront. A hard fighting and great tasting member of the jack family, the Florida Pompano frequents the Texas surf in the fall when clear water reaches the beach. Many beach anglers will be switching their focus to surf fishing for Pompano.
The Florida Pompano
---
The Florida pompano (Trachinotus carolinus) is a species of marine fish in the Trachinotus (pompano) genus of the family Carangidae. It has a compressed body and short blunt snout; coloration varies from blue-greenish silver on the dorsal areas and silver to yellow on the body and fins. It can be found along the western coast of the Atlantic Ocean, depending on the season, and is popular for both sport and commercial fishing. Most Florida pompano caught weigh less than 3 lb (1.4 kg) and are less than 17 in (43 cm) long, though the largest individuals weigh 8–9 lb (3.6–4.1 kg) and reach lengths up to 26 in (66 cm).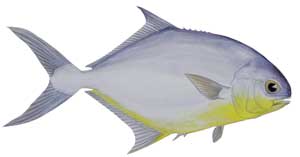 The Florida pompano (T. carolinus) is part of the jack family and usually survives for only about three to four years, although individuals as old as 6-7 yr have been caught. Pompanos are very fast swimmers and live in schools. They are bottom feeders. They have very short teeth and feed on zoobenthos and small clams.
The pompano supports an important commercial and recreational fishery. Florida pompano are commercially fished in all states on the East Coast from Virginia to Texas, with Florida producing over 90% of the annual harvest.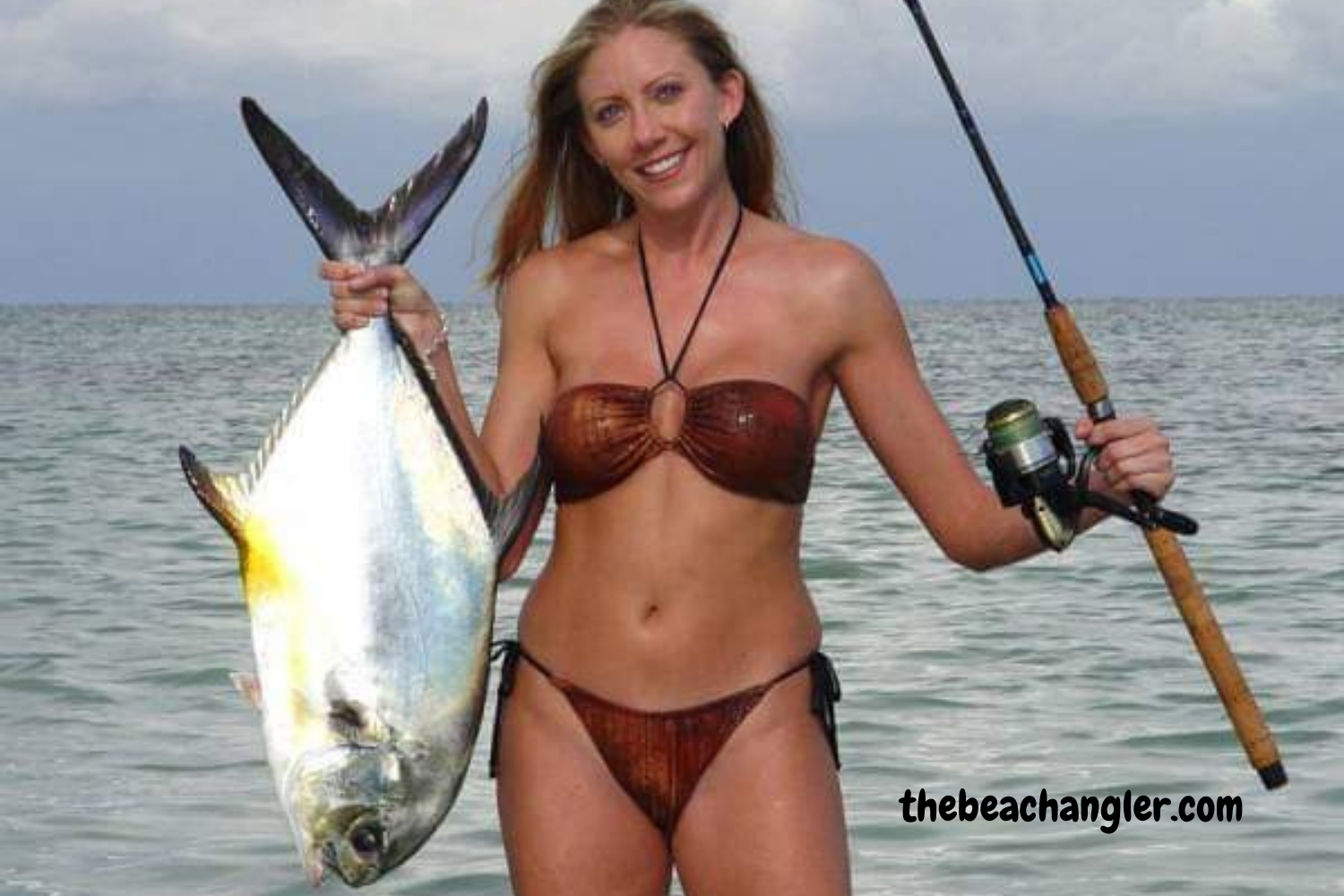 Where to catch Pompano in the Surf
---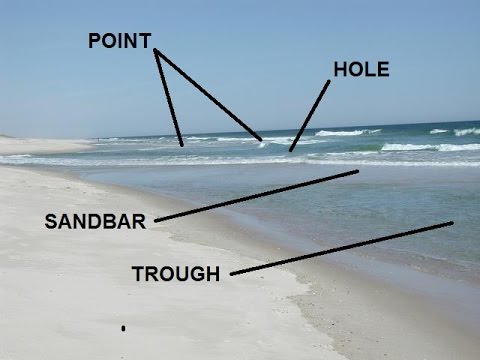 Pompano feed on crustaceans like Shrimp, coquina clams, and sand fleas (mole Crabs). In fact, when surf fishing for pompano along the Texas coast, finding concentrations of coquina clams along the beach is a good area to try. They will tend to run on the backside of the sandbars near deeper guts and breaks in the sandbars.
As you are surf fishing for pompano, look for deep guts with clear water, combine this with concentrations of coquina clams along the beach and you could be in for some fast action. Place your baits along the back side of the sandbar as the pompano will be cruising the area looking for bait washed over the bar by the waves and tide action. Days and areas with good tidal movement will produce better than areas of slack tide.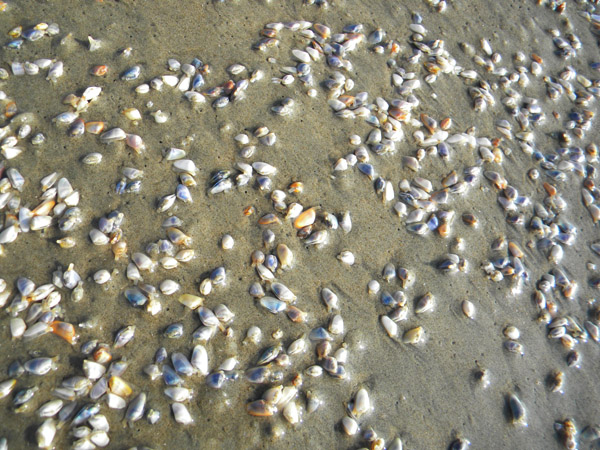 Surf Fishing For Pompano

Tackle and Gear
---
When gearing up for Surf Fishing for Pompano, a good 7-12 ft surf rod and a medium heavy bait caster or spinning reel spooled with 12 to 20 lb line will do the trick. Pompano have small mouths so 1/0 or 2/0 circle hooks on a standard double drop leader made of fluorocarbon will get the job done.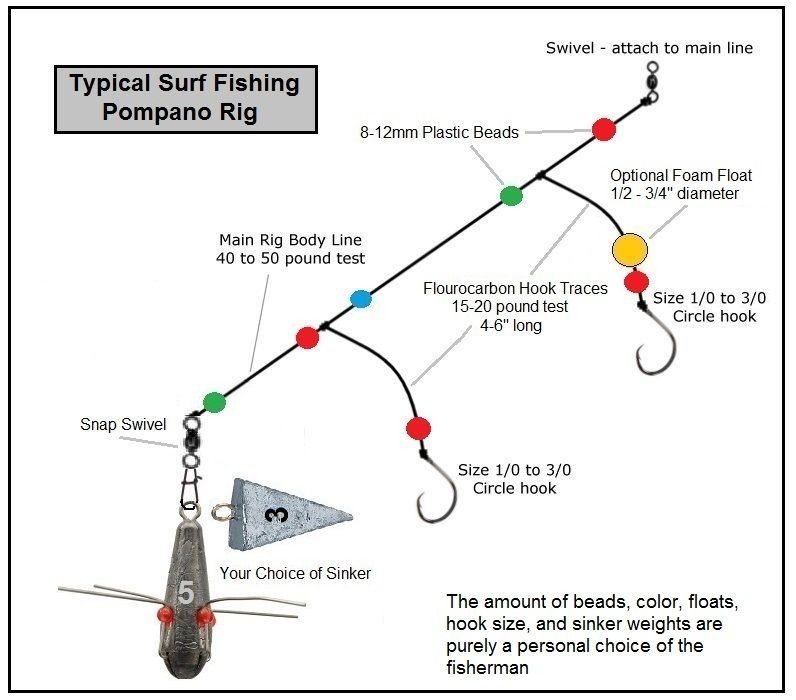 Essential Surf Fishing Gear:
If you are surf fishing for pompano, or any other fish for that matter, you will need a good spider or anchor weight to hold your bait in place against the wave and current action. A good sand spike to hold your rod while you wait for a strike is a good idea as well. You can run several rods out at different locations along the sand bar and guts giving you greater chance of locating the fish
Fresh dead shrimp and or fishbites are the preferred baits along the Texas Coast. Live sand fleas (mole crabs) are a favorite of Pompano as well. Small hooks and small baits for the small mouth of a pompano. Fishbites catch lots of Pompano and are easier to store and handle. When surf fishing for pompano, you can catch whiting and redfish (red drum) as well, so be ready as you never know what might grab your line and run. For more information about the best baits for surf fishing, check out my recent article here.
Pompano are Great Table Fare
---
The Florida pompano is a mild fish that's rich in taste with firm, white meat that almost melts in your mouth. All you need to bring out its subtle flavor is a squeeze of lime juice, some olive oil, and a sprinkle of salt and pepper. The ideal way to cook the golden pompano is to grill it with the skin on.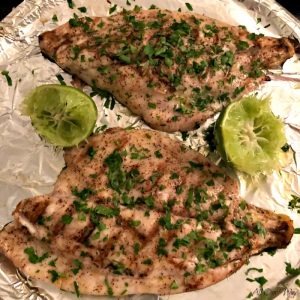 Course: Main Course Cuisine: American Prep Time: 15 minutes Cook Time: 10 minutes total Time: 25 minutes Servings: 2 people Calories: 195 kcal Author: Marisa Franca
Ingredients
2 8 oz. pompano fillets skin on

1 Tbs vegetable oil

2 Tbs olive oil extra virgin

1 tsp sea salt

1/2 tsp pepper

1 lime

2 Tbs flat-leaf parsley fresh
Instructions
Rub the fillets with vegetable oil and season with salt and pepper to taste.

Grill the fillets skin-side up over a medium-hot-fire for 3 to 4 minutes. Turn them and cook an additional 2 to 3 minutes, until the fish is opaque all the way through.

Remove the fillets from the fire and set them on a tray. Drizzle them with olive oil and squeeze a half lime over each.

Sprinkle with the Italian parsley. Serve Immediately.
Nutrition
Calories: 195kcal | Carbohydrates: 4g | Fat: 20g | Saturated Fat: 7g | Sodium: 1166mg | Potassium: 55mg | Fiber: 1g | Vitamin A: 320IU | Vitamin C: 14.8mg | Calcium: 16mg | Iron: 0.4mg
---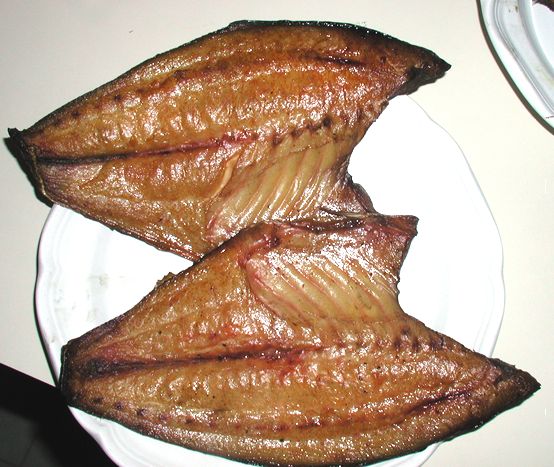 All the fish in the jack family (the most familiar around here are pompano and amber jack) have a higher-than-average oil content, and so are perfect for smoking. This will work for either fish, as well as for salmon, mackerel, or tuna. The fish picks up a terrific smoke flavor throughout, without getting a barbecued taste.
My technique is instructed by Chef Roland Huet, the original chef at Christian's, who developed this for that restaurant's great smoked salmon.
3 large pompano or 2 small (two-pound) amberjacks
1 lb. salt
1/2 lb. brown sugar
1 tsp. Dried basil
1/2 tsp. Black pepper
Serves twelve appetizers
1. Fillet and skin the fish. If using amber jack, remove the big blood line that runs through the center.
2. Dissolve the other ingredients in a gallon of cold water. Marinate the fish in the brine for twelve hours, refrigerated
3. Using a fruit wood (cherry, apple, or grapevine), cold-smoke the fish at 75-90 degrees for two hours.
4. Slice the fish at a very narrow bias into slices as thick as a coin. Serve dressed with extra-virgin olive oil, dill, and cracked black peppercorns
Get you some
---
In the fall many of us outdoorsmen will be out in the deer woods, but if you get a chance and some cool clear water along the beach front, load up and try some surf fishing for pompano and get yourself a mess of fillets. Some of the best eating fish in the ocean, lots of fun to catch and there are plenty of worse things to be doing besides sitting on the beach catching fish.
As always, enjoy the journey, stay safe, be courteous and please leave it cleaner than you found it. If you have any comments, questions, ideas or suggestions, please leave them in the comment section below and I will get right back to you. You can also follow us on Facebook: Rex The Beach Angler, Instagram: thebeachangler7, Twitter: @AnglerBeach, and YouTube: Man Art Creations.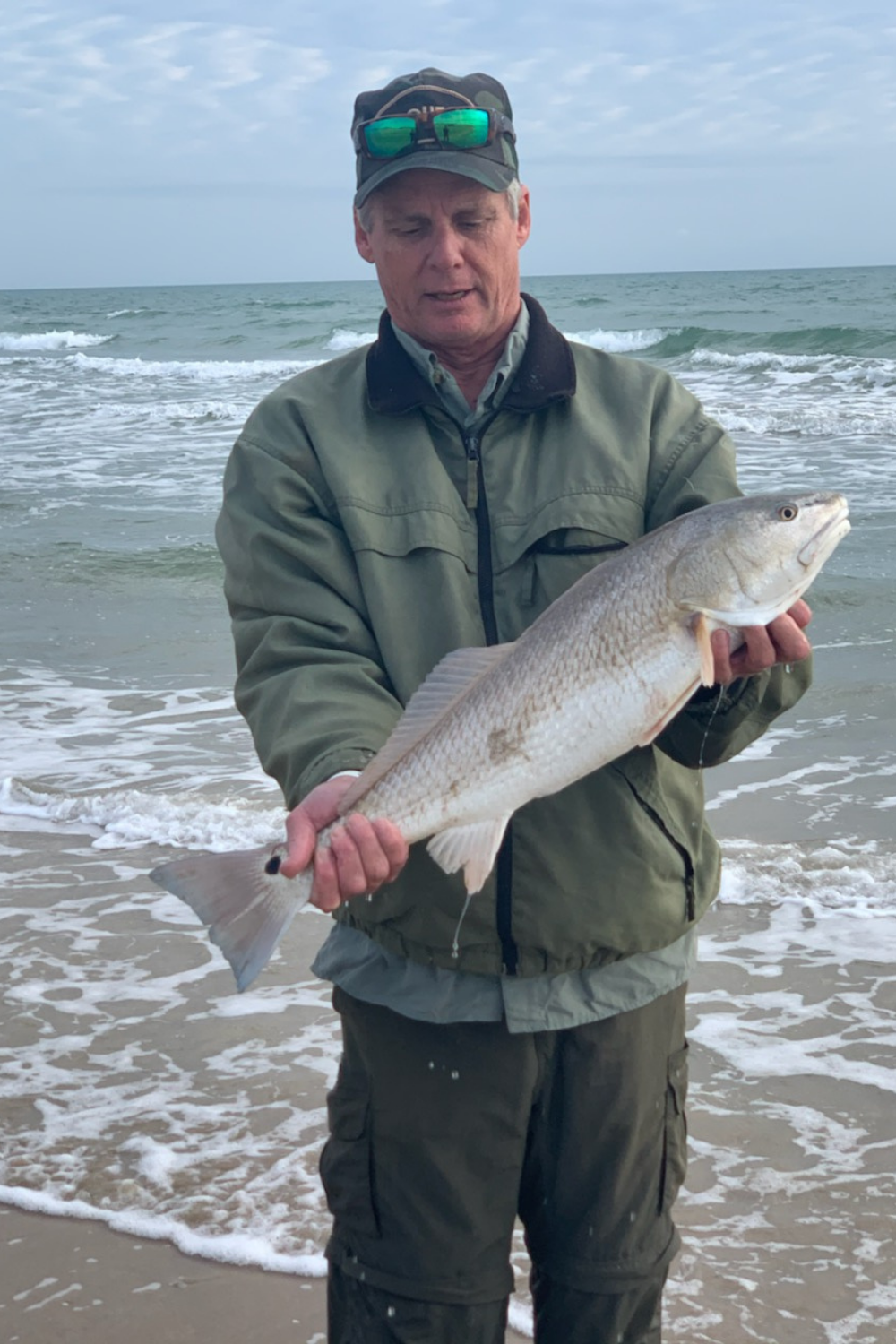 A life long surf fisherman with 50+ years of experience, I am also an avid hunter and outdoorsman. I will be sharing my passion for the outdoors with you so be prepared for hunting, fishing, camping, hiking and more. Along with gear reviews and the latest trends and innovations in the outdoor industry.