You may have seen Pro-Cure Fish Attractant Scents and bait cures at your local tackle shop, online or advertised in fishing magazines. And, like me, wondered if they really work or are they just another gimmick to get fisherman to part with their money? Well, stick around and we'll do a Pro-Cure bait scents review.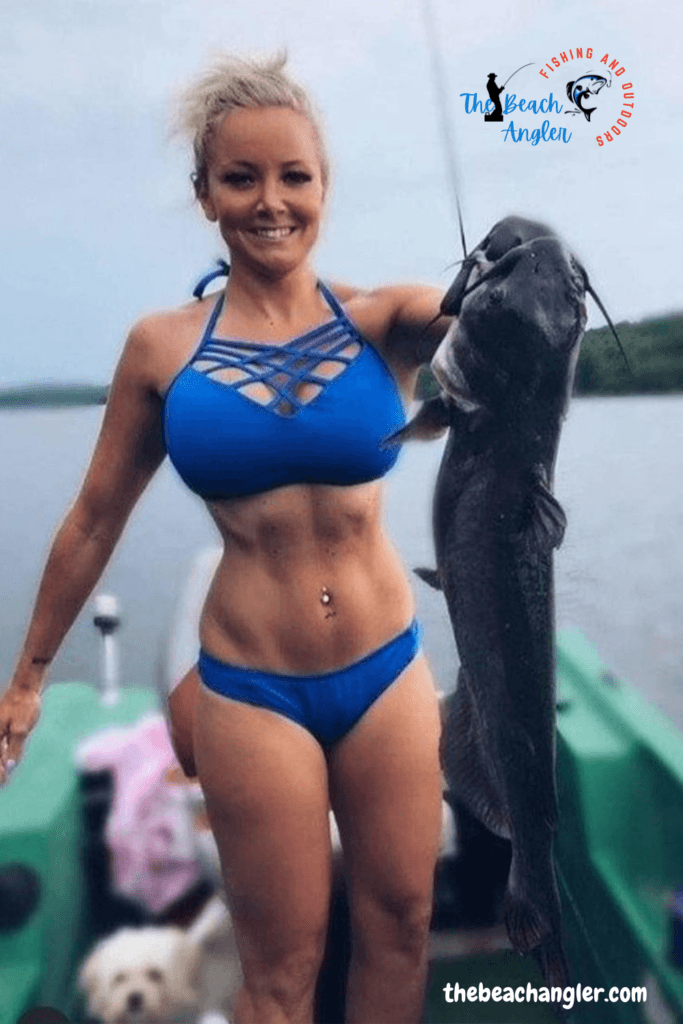 Now, I'm no stranger to fish attractants. I use chum for fishing offshore, inject menhaden oil into my shark baits we kayak out off the beach.
And, I'm old enough to remember the days of fishing with grandpa using Catfish Charlie chicken blood flavored dough bait on trotlines for catfish.
I have had great success with Berkley powerbait and gulp products as well as fishbites synthetic strip baits.
So, I know they can work, but I've also seen many "fish attractant scents" come and go over the years. Everything from sprays, to dips, to gels and even pre scented lures.
So, what's Pro-Cure Baits story and do their products really make a difference in your fishing success?
QUICK GLANCE:
Pro-Cure Baits has been producing a wide variety of highly effective fishing scents, attractants, bait cures and bait brine for over 30 years. Made in the USA at their Salem Oregon headquarters, Pro-Cure makes their scents with all natural bait and scientifically proven amino acid feeding stimulants that results in fish attractants that are species specific, match the hatch the fish are feeding on, and improve your catch rate in both fresh and saltwater. Pro-Cure fish attractant is available in three primary formulations; 1. Water based formula 2. Super Gel formula and 3. Powder formula. I've used Pro-Cure products and I highly recommend them.
The Pro-Cure Baits Story
---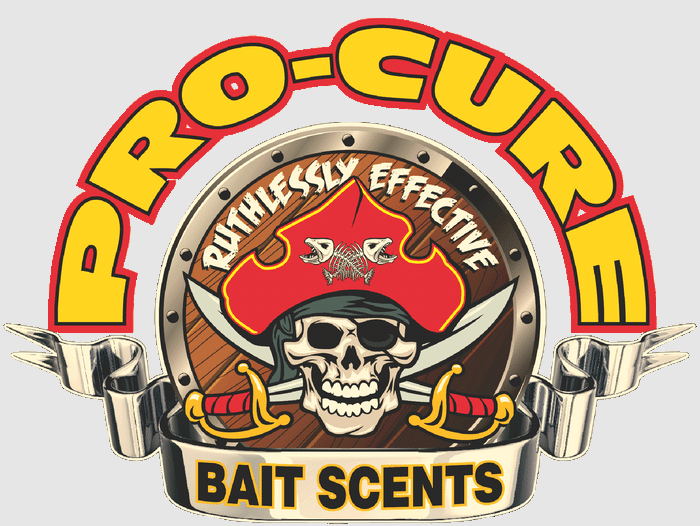 REAL BAIT, MADE IN THE USA, PROVEN RESULTS
Pro-Cure Baits is an American company based in Salem Oregon in the Pacific northwest home to some great salmon and steel head fishing rivers. One of the favorite baits for salmon, steel head and trout is salmon eggs. But, as you might guess, salmon eggs don't keep or store well. Northwest fisherman began to experiment with ways to preserve salmon eggs to have a ready supply of bait year round.
Pro-Cure developed some of the best salmon egg brine and cures available on the market and have a proven track record. They have continued to expand their product offerings into the area of fish attractants and fish scents for both fresh and saltwater species. Pro Cure products use natural bait and amino acid blends in their formulations to produce species specific attractants.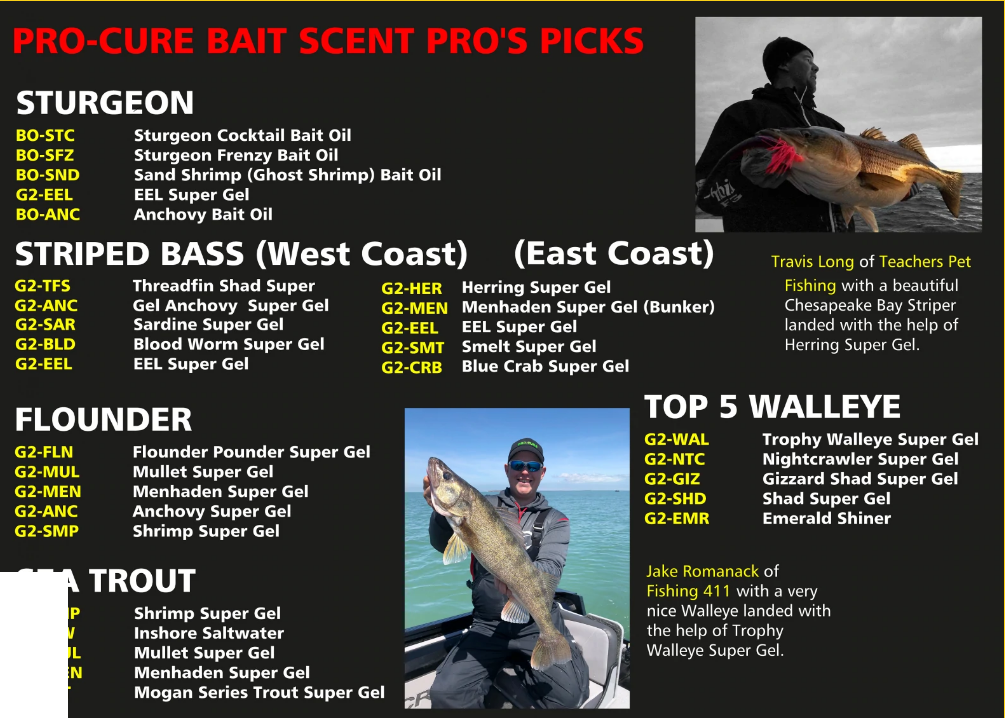 All of their bait scents are made from real whole bait – nothing fake and nothing artificial. All of their bait scents are UV enhanced, which makes your bait or lure more visible to fish, and supercharged with amino acids that boost up the natural flavors of bait and also trigger an impulse in a fish's brain to feed.
Unlike some companies with one flavor for saltwater, one for bass, and one for crappie. They allow anglers to get scent specific to match what your target fish are feeding on. On tough days that makes a huge difference. Pro-Cure is the only bait scent company to ever offer a full money back guarantee on its scents, including return postage. They don't get a lot of product back!
At PRO-CURE their number one goal is to produce products that truly help anglers catch more fish. They manufacture the some of the worlds finest bait scents, all made from real whole fresh bait. Their salmon egg cures and bait brine are legendary for their fish catching performances. I've experienced it firsthand with cut frozen mullet on the Texas gulf coast.
Their series of Bad Azz Bait Dyes are truly changing how serious anglers fish brined bait fish. For over 30 years Pro-Cure have been widely used by fishing guides, lodges, and charter operations all over the world and for one major reason -Pro-Cure Products consistently catch them more fish where other brands have not.
Only Pro-Cure makes their scents from real whole fresh bait, and this makes a huge difference over scents that are formulated chemically in labs. Then they enhance all of their scents with powerful blends of amino acids and bite stimulants to produce the most effective scents offered.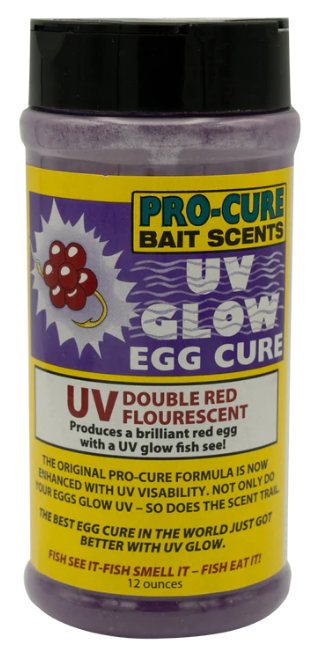 So whether you are looking for fish attractants and scents that will help you catch more fish, or egg cures, bait brine or dyes, Pro-Cure has a product for you. And remember, all Pro-Cure products come with a complete money back guarantee that even covers reasonable return postage. They want you to know that if you have never fished with a Pro-Cure product and are thinking about trying them, then you've got absolutely nothing to lose, but a lot to gain.
Scents and Attractants for Saltwater Fishing
---
OK, you say, that's fine but salmon and steel head that's freshwater fishing. What about scents and attractants for saltwater fishing. Well, I'm glad you asked. Scents and attractants work for saltwater fishing too. The fishbites synthetic strip baits with scent and attractant molded into the bait itself catch saltwater fish every day.
And, the Berkley gulp and power baits have a well-earned reputation for catching fish when nothing else will.
The D.O.A. saltwater baits have real baitfish and or shrimp molded into the plastic baits themselves and work extremely well.
Besides that we've used chums and fish oils to attract fish in saltwater for decades. So, yes, scents and attractants will work in saltwater. I mean, after all, scent is one of the primary ways fish find their food. Therefore, it stands to reason that, if you have the scent for the primary food source of your target species, you should be able to attract them. Question is, do Pro-Cure scents and attractants work or not?
Pro-Cure Fish Attractant
---
Pro-Cure has developed a wide range of fish attractants for both fresh and saltwater fishing. By using real natural bait they have developed species specific attractants, cures and scents. They have also been in the forefront of adding specific amino acids to their formulations to stimulate feeding behavior in fish. This technology is based on research done in the aquaculture industry to stimulate fish to eat more so they grow faster and get to market size quicker. Time is money they say.
By using this combination of natural bait, amino acid feeding stimulants, UV enhancers, brine and cures Pro-Cure bait scents is by far the largest selection of fish attractants and scents available anywhere. And one of, if not the most, effective as well. Pro-Cure fish attractants come in three basic formulations. 1. Pro-Cure Water based formula 2. Pro-Cure Super Gel formula and 3. Pro-Cure Bait Powder formula.
Now, traditionally, fish attractants were added to artificial lures in an attempt to draw fish and trigger strikes by giving your lure the scent of natural prey. Pro-Cure scents work great for that but with their powder formulations you can now add scent and attractant to your natural baits as well.
The Pro-Cure water based formula will dissolve in the water and spread much faster than the gel formula and may attract fish faster, but it will need to be reapplied often as it washes off much faster as well.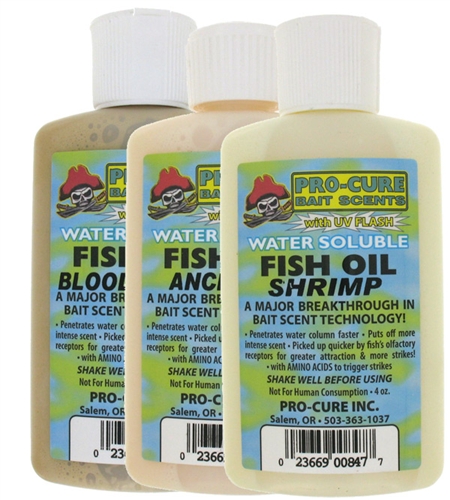 The Gel formula of attractants is much thicker and lasts longer, but does not dissolve and spread through the water column as fast as the water based formula. Both can be used on hard baits or soft plastics and come in a wide variety of scents.
Their fish attractant powders, on the other hand are designed to be added primarily to natural baits. These powders will add additional scent, amino acid feeding stimulant, and help to toughen up your baits so they stay fresher and on your hook longer. I've had great luck fishing the surf for redfish, sharks and black drum with their Bloody Tuna fish attractant powder.
Pro-Cure Bait Cure
---
Pro-Cure also makes a wide range of bait brine and cures. Remember, they got their start over 30 years ago by curing salmon eggs for bait. This involved a brining and curing process to keep the eggs fresh longer and toughen them up so they would stay on the hook longer. But, they also begin to apply their amino acid and scent attractant technologies to the process.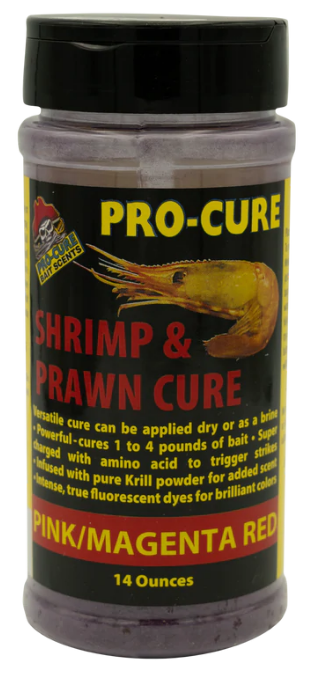 Today, Pro-Cure bait brine and cures are available for salmon eggs, shrimp, chicken livers, mullet, shad and just about any other bait you may wish to use for both fresh and saltwater applications.
They have bait cures with UV enhancers so your bait will "shine or glow" in the water helping the fish to see it. Various colored dyes to enhance bait visibility. And, of course, a wide variety of scents.
There are times that fresh bait is just not available and we have to resort to frozen bait. As you know, frozen baits can be really soft once they thaw out making them less attractive to fish and much easier for bait stealer to get off your hook.
I have used the Bloody Tuna and their shrimp cure on cut frozen mullet and on frozen shrimp with excellent results.
The baits get toughened up so they stay on the hook, they have added attractant and scent to draw more fish and they stay fresher longer. In fact, I would say that your baits will be better all the way around when compared to just thawed out. I've a 3 to 1 catch rate for the cured bait vs non cured thawed baits.
Pro-Cure Saltwater Fish Attractants
---
Pro-Cure has a wide selection of saltwater specific fish attractants. In scents such as, shrimp, pinfish, mullet, menhaden, blue crab and more. Pro-Cure shrimp attractant in both water based and gel formulas is the most popular. For big redfish and black drum, the Pro-Cure Blue Crab super gel has produced great results.
They have attractants and scents effective for saltwater species from flounder and halibut, speckled trout and snook, redfish and black drum, to tarpon, king mackerel, tuna and sharks.
If it swims in saltwater, Pro-Cure has an attractant for it. And, there are specific Pro-Cure scents and attractants for whatever your target species is feeding on at the time.
If they're eating shrimp, there is Pro-Cure Shrimp, if they're chasing mullet, Pro-Cure mullet super gel. With Pro-Cure you have the ability to match the hatch with your bait and lures by simply applying the corresponding attractant. Its just one more tool to have at your disposal to improve your catching.
Pros and Cons of Pro-Cure Fish Attractants
---
Using bait attractants and scents, like anything else, has its pros and cons. Pro-Cure attractants do as well. The table below contains what are, in my opinion, some of the pros and cons of Pro-Cure attractants. I've used them and have been impressed with the results. If you know of something I left out, please leave it below in the comments sections. Always glad to include the experiences of others.
The Pros of Pro-Cure Fish Attractants
Enhanced with Amino Acids Feeding Stimulants
Water based, Gel, or Powder Formulas
Proven Effective over 30 years
Species Specific Attractants
Made with all natural baits
The Cons of Pro-Cure Fish Attractants
Can be Messy to Handle and Apply
Gel doesn't adhere as well to hard baits
Higher priced than some competitors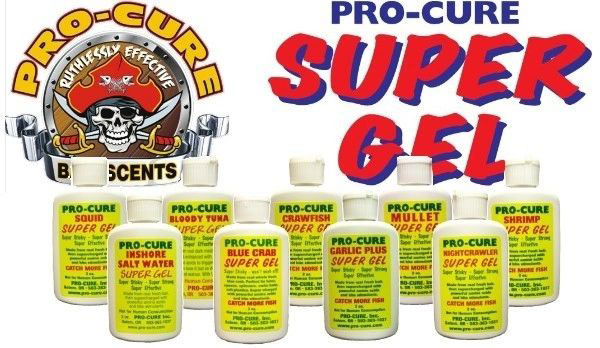 You can get Pro-Cure Scents and attractants below at Tackle Direct, Amazon or factory direct at pro-cure.com. Pro-Cure protects it's retailers so they are a bit higher priced direct. But if you can't find what you need at Amazon or Tackle Direct, then you can get them straight from Pro-Cure.
Get Your Pro-Cure Scents Below
Pro-Cure Attractants – They Really Work!
---
Pro-Cure Scents and Attractants really do work. I've experienced it firsthand. Now, if the fish are active and feeding, scents and attractants aren't going to make much of a difference in your catch rate. However, if the fish are not actively feeding or the water is off color making it more difficult for fish to feed by sight, then scents absolutely will increase your success.
If you have those occasions where you are using previously frozen natural baits, Pro-Cure bait brine, cures and powders will toughen them up, keep them fresh longer, and keep them on your hook longer. The added attractants and scents will draw more bites than untreated baits.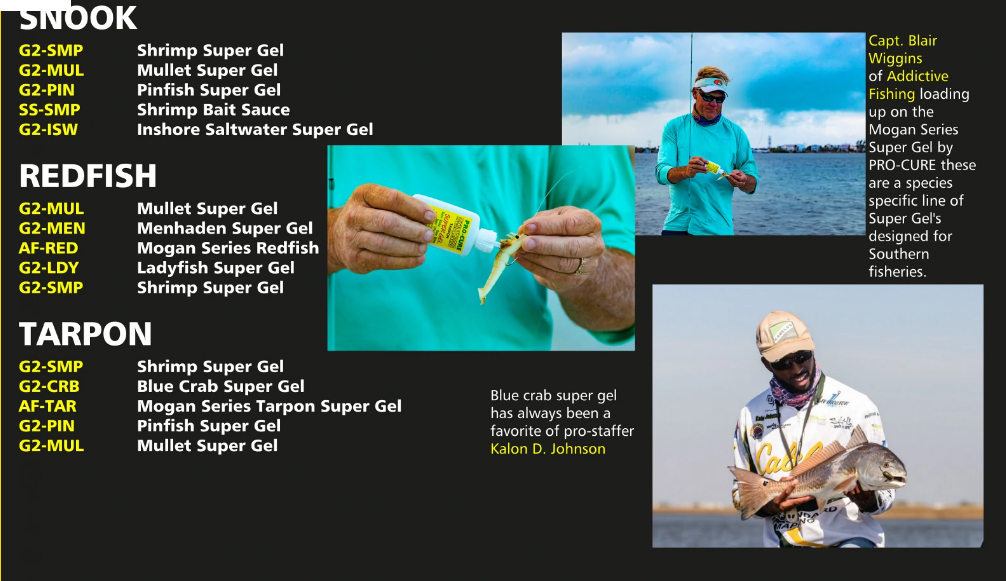 You can also pre treat your lures with Pro-Cure and store them in plastic bags. This will save you time and the mess of having to apply attractant while your fishing. If you are considering fish attractants and scents, you owe it to yourself to give Pro-Cure Attractants and scents a try. By the way, they have a 100% money back guarantee that includes shipping cost.
As always, stay safe, enjoy the journey and please try to leave it cleaner than you found it. If you have any comments, questions, ideas or suggestions please leave them in the comment section below and I'll get back to you asap. You can follow up on Facebook: Rex The Beach Angler, Instagram: thebeachangler7, Twitter: @AnglerBeach, and YouTube: Man Art Creations.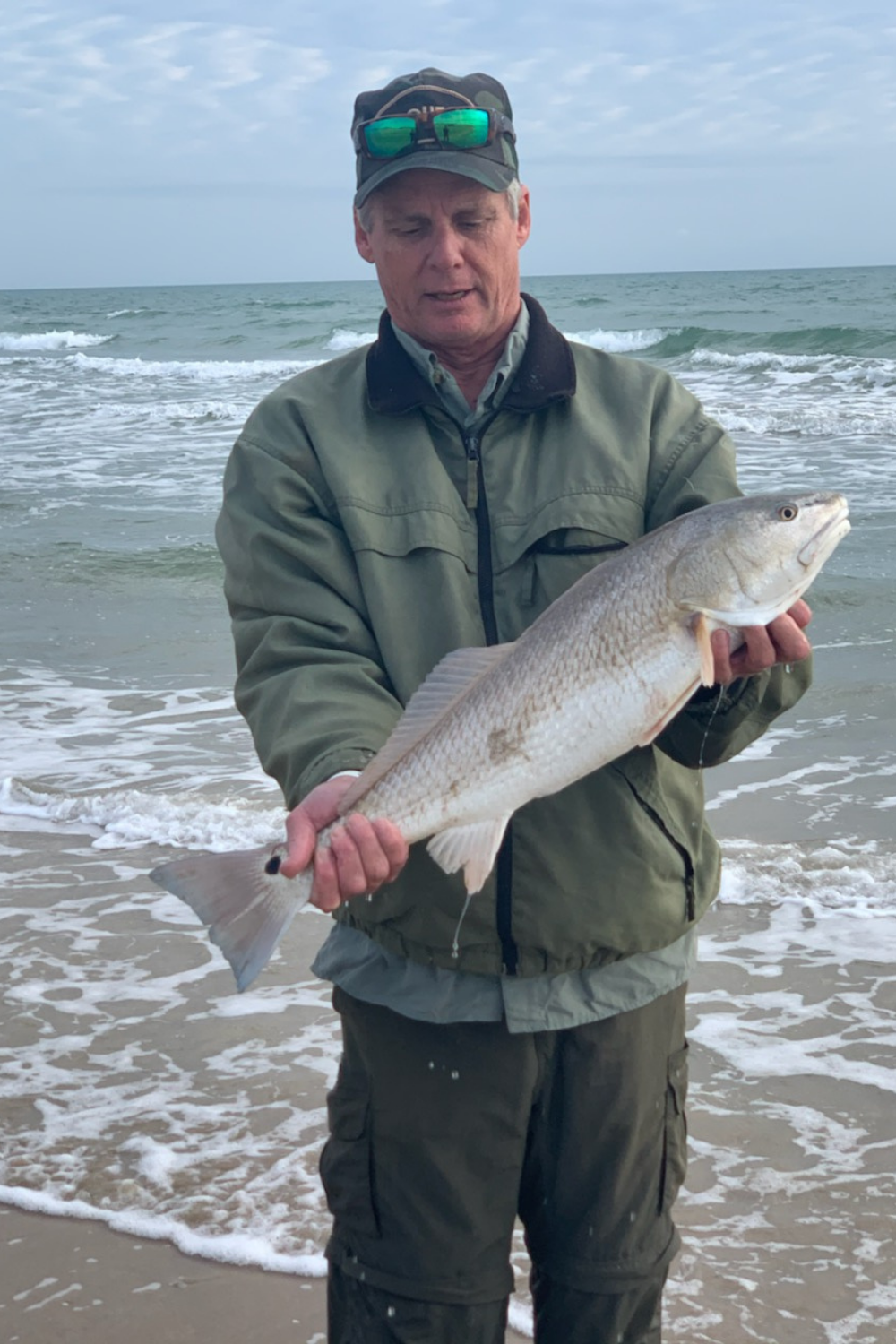 A life long surf fisherman with 50+ years of experience, I am also an avid hunter and outdoorsman. I will be sharing my passion for the outdoors with you so be prepared for hunting, fishing, camping, hiking and more. Along with gear reviews and the latest trends and innovations in the outdoor industry.