The exciting sport of surf fishing is becoming ever more popular and, in many cases, camping on the beach is a great way to enjoy the outdoors and maximize your fishing time. Camping on the beach will take some preparation and planning, not to mention some precautions. The saltwater environment can be extremely harsh on your camping gear. Check out my article beach camping 101 here:
As with any type of camping, the first concerns are safety and comfort. There are several options for camping on the beach, from tents, tent cots, campers and RVs to the more recent creations, the roof top tent. They attatch to your vehicle's cargo rack and they get you up off the ground and away from the blowing sand and nocturnal wildlife visitors. There are numerous options for rooftop tents and we will take a look at some better models here.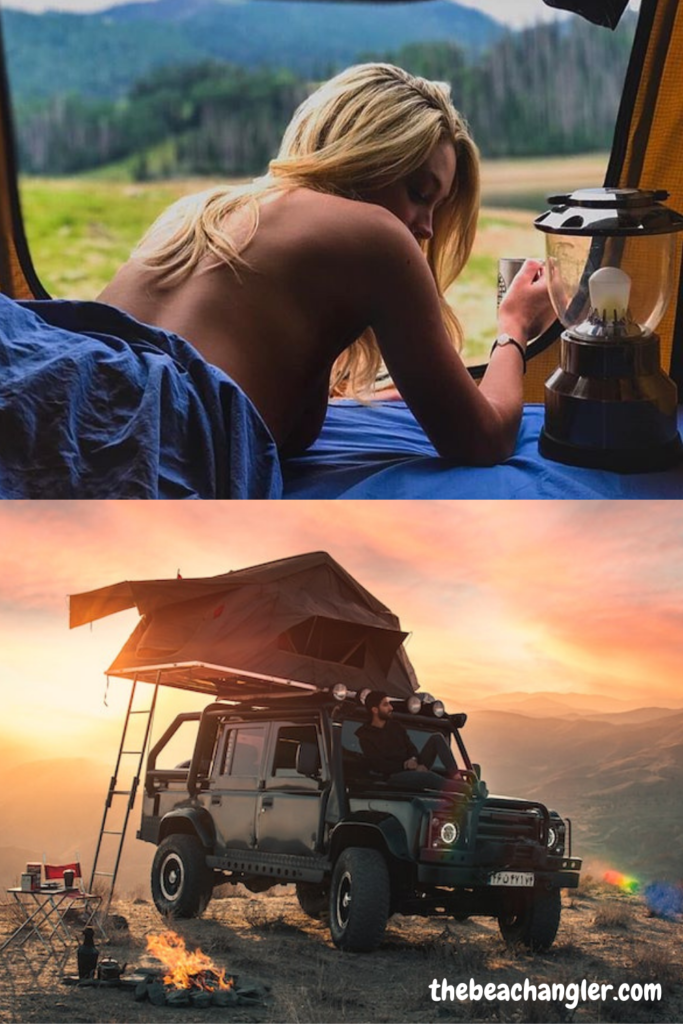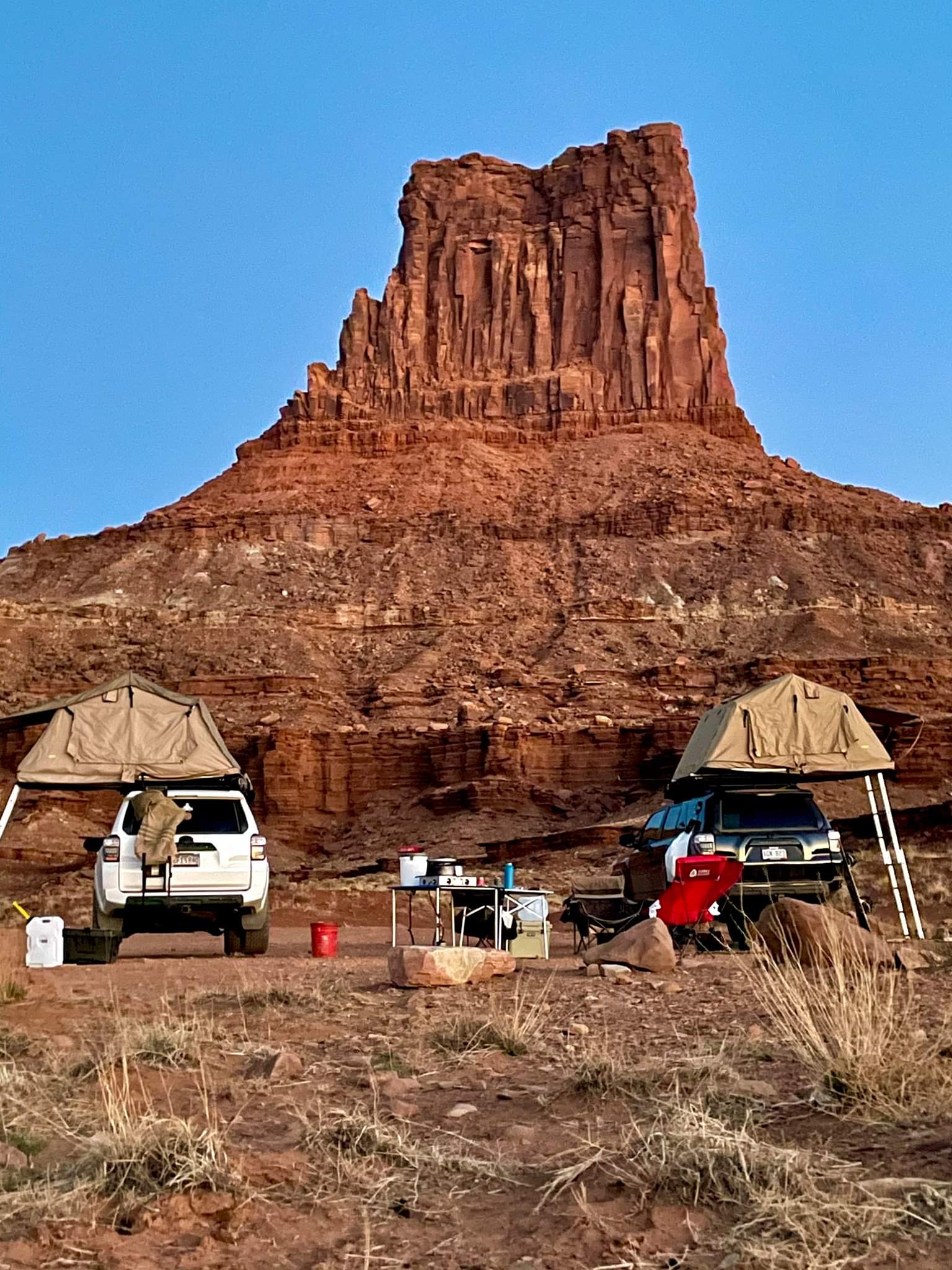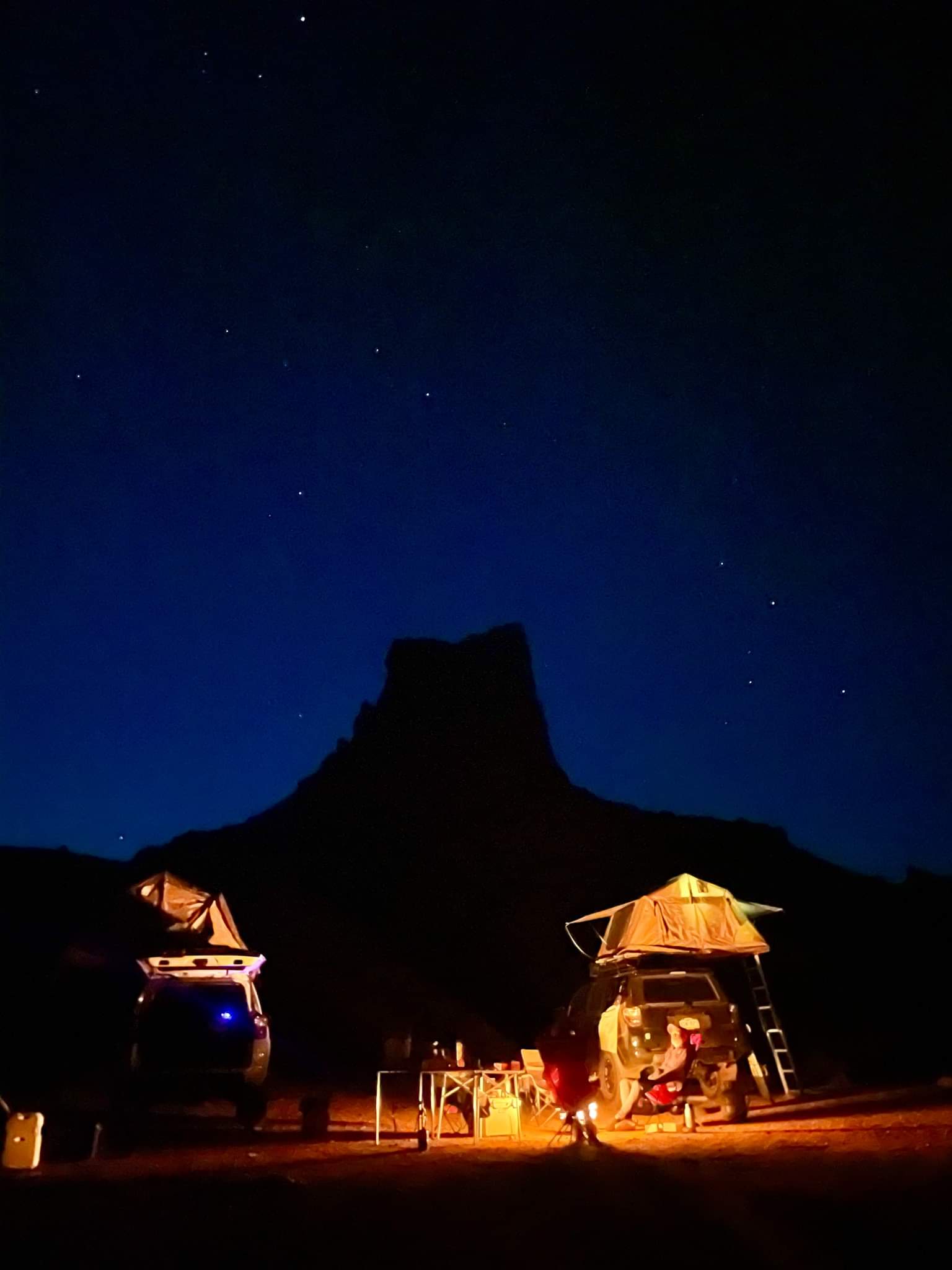 Beach Camping with Roof Top Tents
---
QUICK LOOK:
Rooftop tents became popular with overland adventurers who wanted a way to stay off the ground and away from predators in the Outback of Austrailia. Recently, their convenience and easy setup has generated a demand from campers worldwide. Roof top tents can be attached to your vehicle's roof rack and, when you're ready, can be deployed almost instantly by unfolding and extending the ladder. This makes camping on the beach quick and easy and leaves plenty of room inside your vehicle for the rest of your fishing and camping equipment. There are literally dozens of roof top tent options, ranging from economical soft shells to high end, durable, hard tops, with a variety of excellent options in between.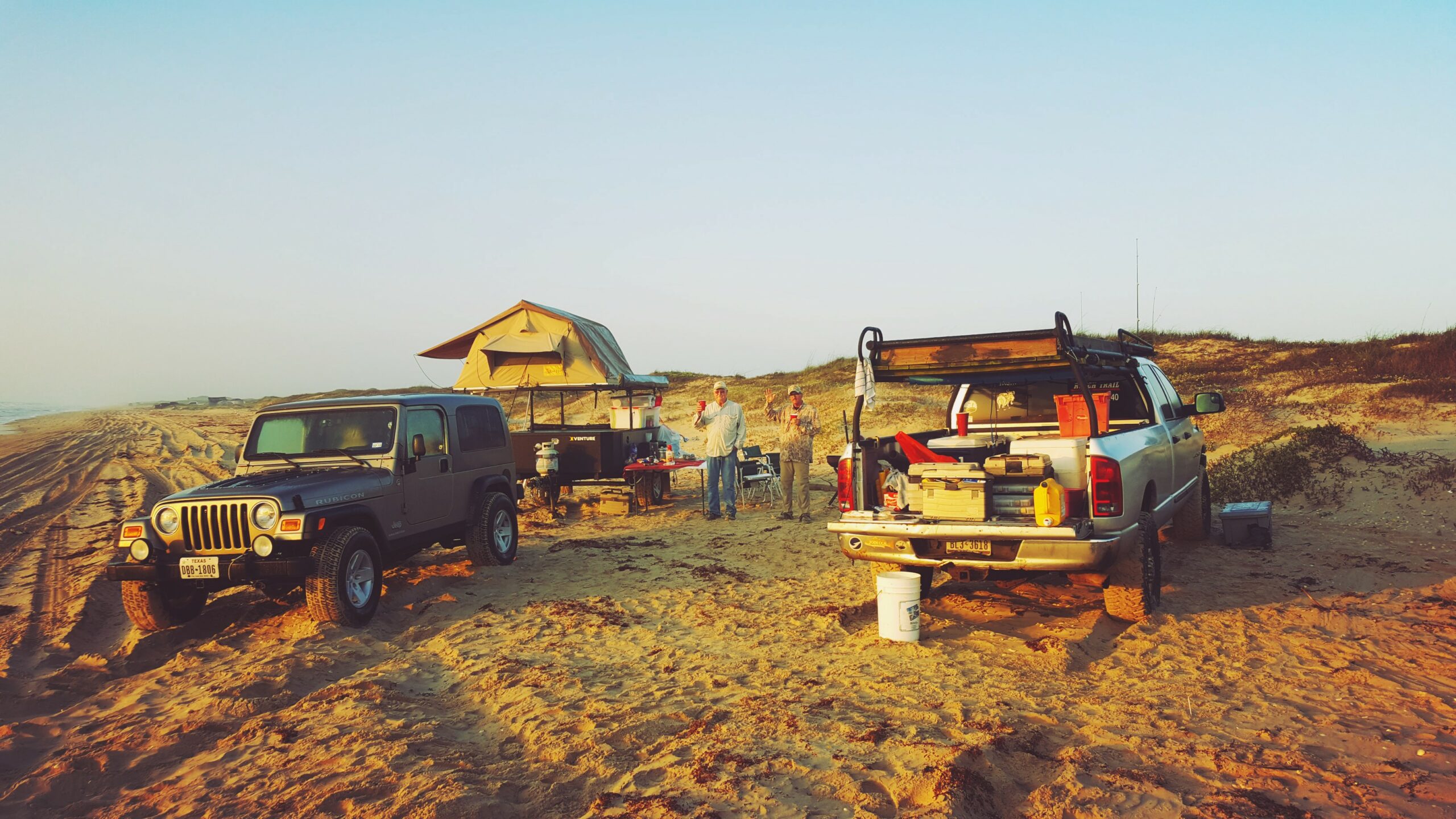 Smittybilt Overlander XL Roof Top Tent
---
An impressive budget-friendly option, the Smittybilt 2883 Overland Tent is less like a compact sleeper and more like a massive on-the-go loft, as it can fit up to a family of four inside with room to spare. And that's not including the space beneath the waterproof awning. Pair that with the fact that it also comes complete with its own high-density foam mattress, telescoping ladder, universal rack-mounting system, rain fly, LED lighting strip with a cigarette lighter power adapter, and more, and this is one of the best bang-for-your-buck options we've ever seen.
Few things are more rewarding than camping in the backcountry with family and friends. The Overlander Tent attaches to the roof of your vehicle and sets up in just minutes, keeping you safe and secure as you sleep. The new Annex can be added to the bottom of the deployed tent with rugged zippers. The optional Annex provides privacy and has windows and mosquito netting to ensure an enjoyable outdoors experience.
Constructed from 600D heavy duty ripstop polyester, the 84-inch x 60-inch Annex provides space for cooking, changing clothes, and more. The tent frame poles and included telescoping ladder are made from lightweight and durable anodized aluminum while the hinges are constructed from stainless steel. The Tent and Annex are easy to set up and take down, and when folded away a heavy duty PVC cover keeps them completely dry and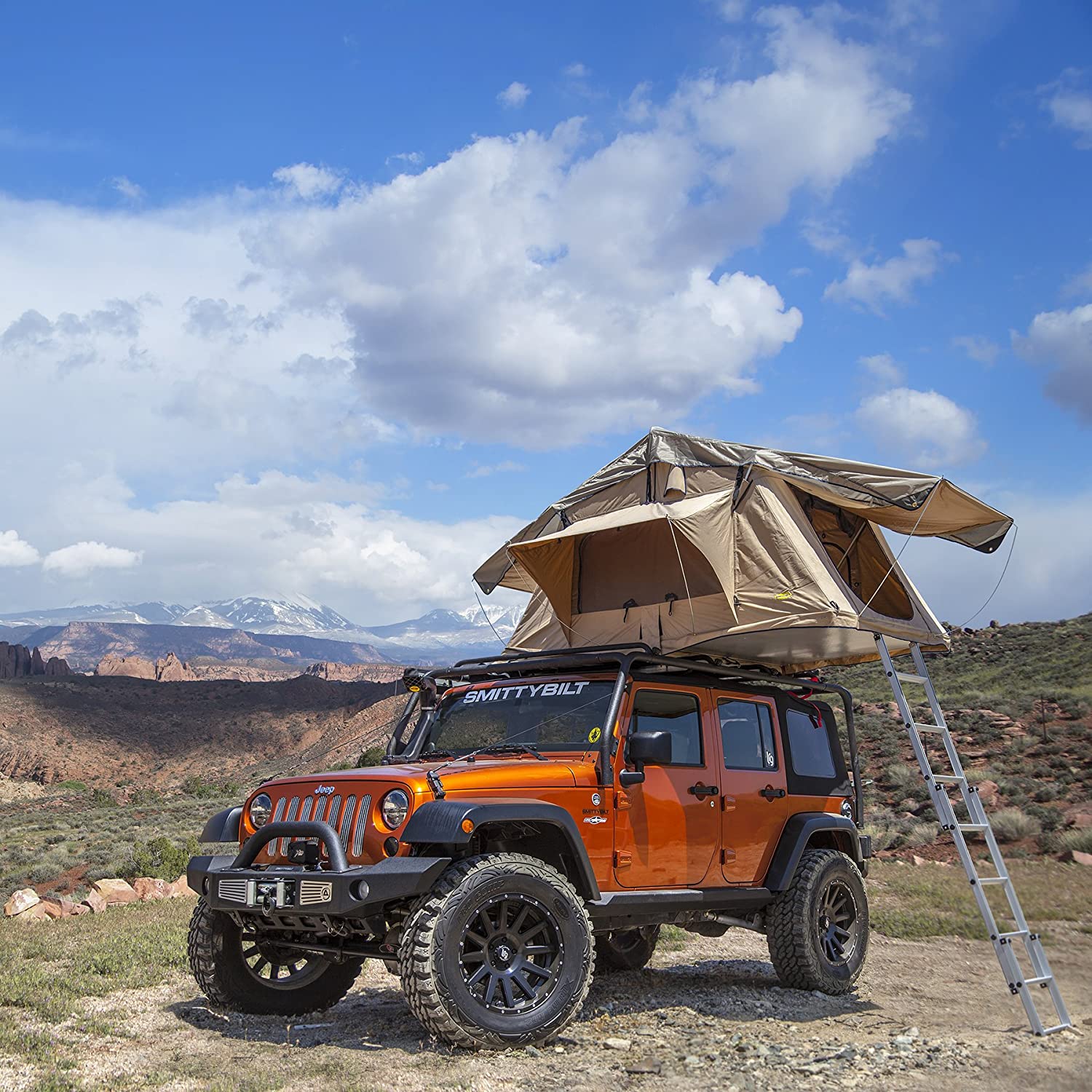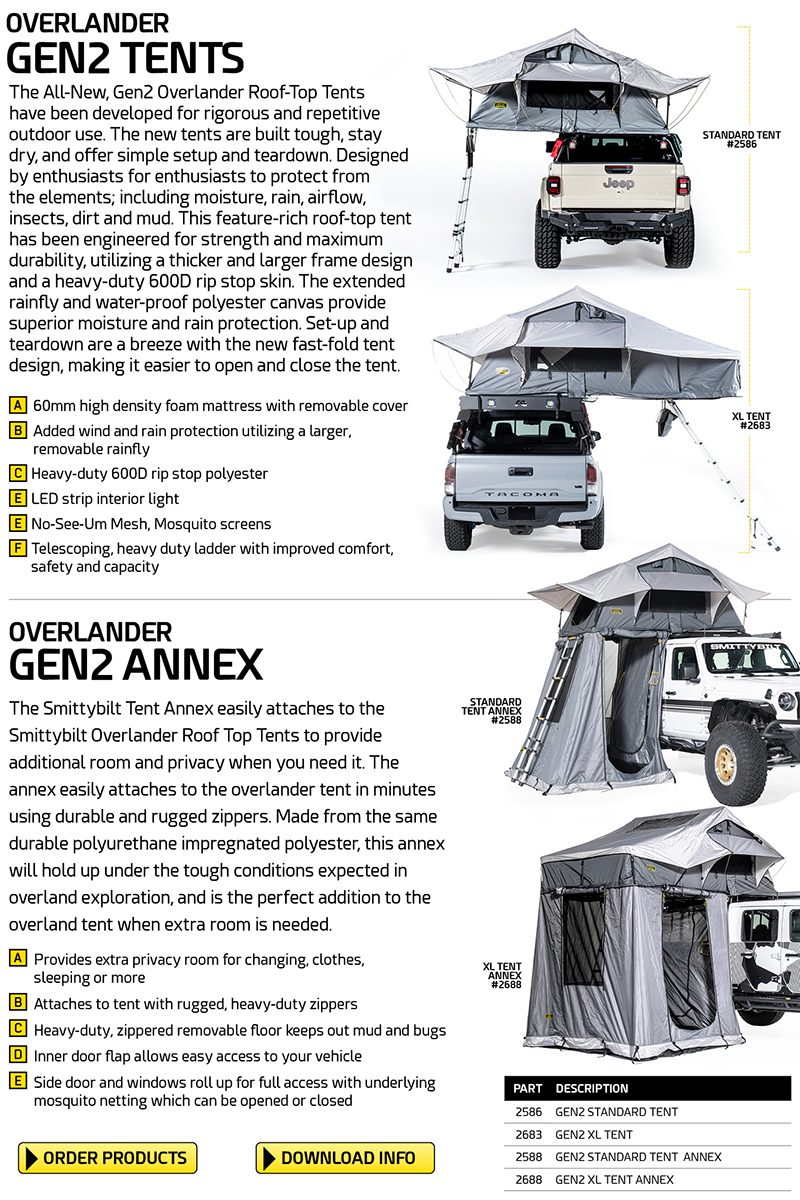 Standard size tent (sleeps 2-3) with high-density 92″ x 55″ foam double/full mattress and 661 lb. max load
600D heavy-duty waterproof top and rain fly; sunroof; side windows with mosquito netting; anodized aluminum tent frame poles; telescopic ladder; interior LED strips and many more features
Easy to set up and take down; heavy-duty PVC cover keeps tent dry and free from UV rays when not in use
Smittybilt Tent Annex (sold separately #2788) with removable floor can be attached with heavy-duty zippers for privacy
Tent also available in Size XL (sleeps 3-4 #2773). Ladder extension also available (#2785).Ladder capacity:265 lbs
Mounting brackets included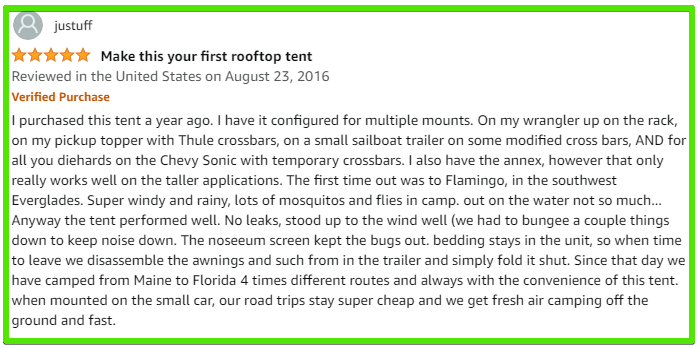 Overland Vehicle Systems Nomadic 4 Roof Top Tent
---
A great feature on the Nomadic 4 is the extended entrance canopy. A two-foot overhang that goes over the ladder, making it possible to stay dry while getting in and out of the tent when mother nature decides to send some rain on your camping trip. It also helps to keep the interior dry so you can sleep dry.
This is a tent that can sleep 4 adults, though it might be a little of tight if you have "large adults" in the group. (Overland Vehicle Systems also makes the Nomadic 2 and the Nomadic 3 if you're needing a smaller size. Built with a diamond-plate bottom panel makes it an extremely durable sleeping system.
Their Nomadic line of roof top Tents, Annex's & Awnings are the best of the best. They use the finest materials to ensure nothing comes between you and your adventure. Their Nomadic tents start with a double insulated one-piece diamond plate base featuring marine grade stainless steel hinges and hardware. And, 600D Premium Double Rip Stop Polyester Cotton Canvas bodies will handle the harshest conditions you can put yourself in.
Marine Grade 600D Rip-Stop Polyester Cotton Canvas Water Proof Body,
420D Polyester Oxford Waterproof Rain Fly,
110g Fade-less Gaze Breathable Windows,
3″ High Density Foam Mattress with Quilted Cotton Cover,
Insulated Base,
Marine Grade Stainless Steel Hardware,
1000g Transportation Cover,
Tubular Telescoping Ladder,
Six Built In Storage Pockets,
Storage Loft,
Power Bank Pouch,
Hand Held LED Light,
LED Velcro Strip & Bonus Pack
Fitment: Anything with a factory or aftermarket roof rack. Please confirm rack weight capacity prior if you're unsure.
Installation: Requires no drilling or modification to your vehicle if equipped with factory or aftermarket roof rack.
Tent Bonus Pack: Memory Foam Pillows, Lap Table & Mini Broom and Dust Pan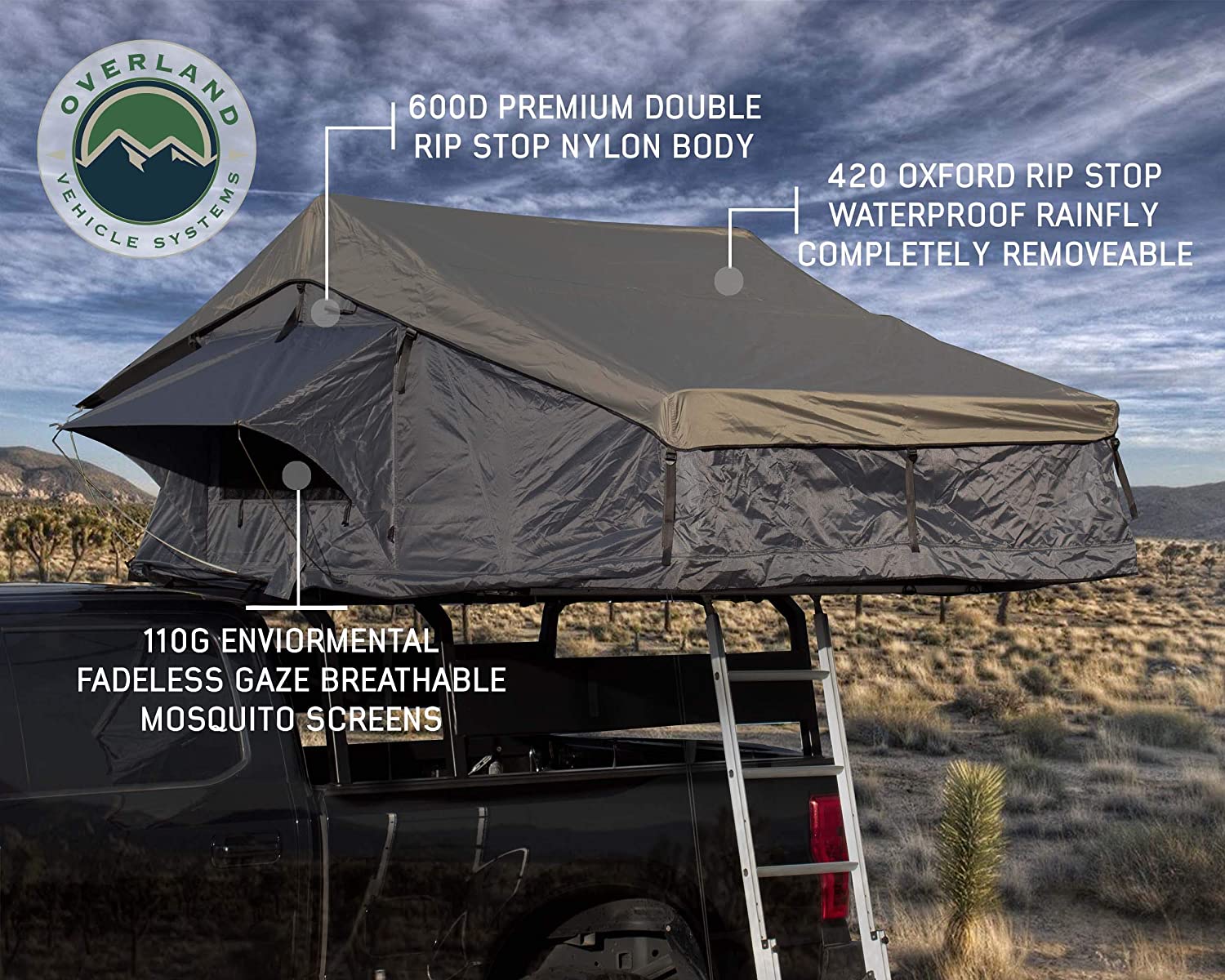 Our Nomadic line of Tents, Annex's & Awnings are the best of the best. We use the finest materials to ensure nothing comes between you and your adventure. Our Nomadic tents start with a double insulated one-piece diamond plate base featuring marine grade stainless steel hinges and hardware. Our 600D Premium Double Rip Stop Polyester Cotton Canvas bodies will handle the harshest conditions you can put yourself in.

Offroading Gear Granville III Roof Top Tent
---
Offroading Gear's Granville III brings luxury to camping. Once you climb the included 6.5 aluminum ladder you will find a roomy interior and screened enclosures to keep the bugs out. The 2.25 inch high density foam mattress offers added comfort. The included window enclosures keep the tent dark enough for late risers in the morning.
Get off the ground with an Offroading Gear "Granville III" Roof Top Tent. The Granville 3 is our lightest and most compact tent but doesn't sacrifice on roominess. Weighing less than 100 lbs it is the ideal roof tent for two adults. It's great for smaller SUVs, wagons, vans, or nearly any other vehicle.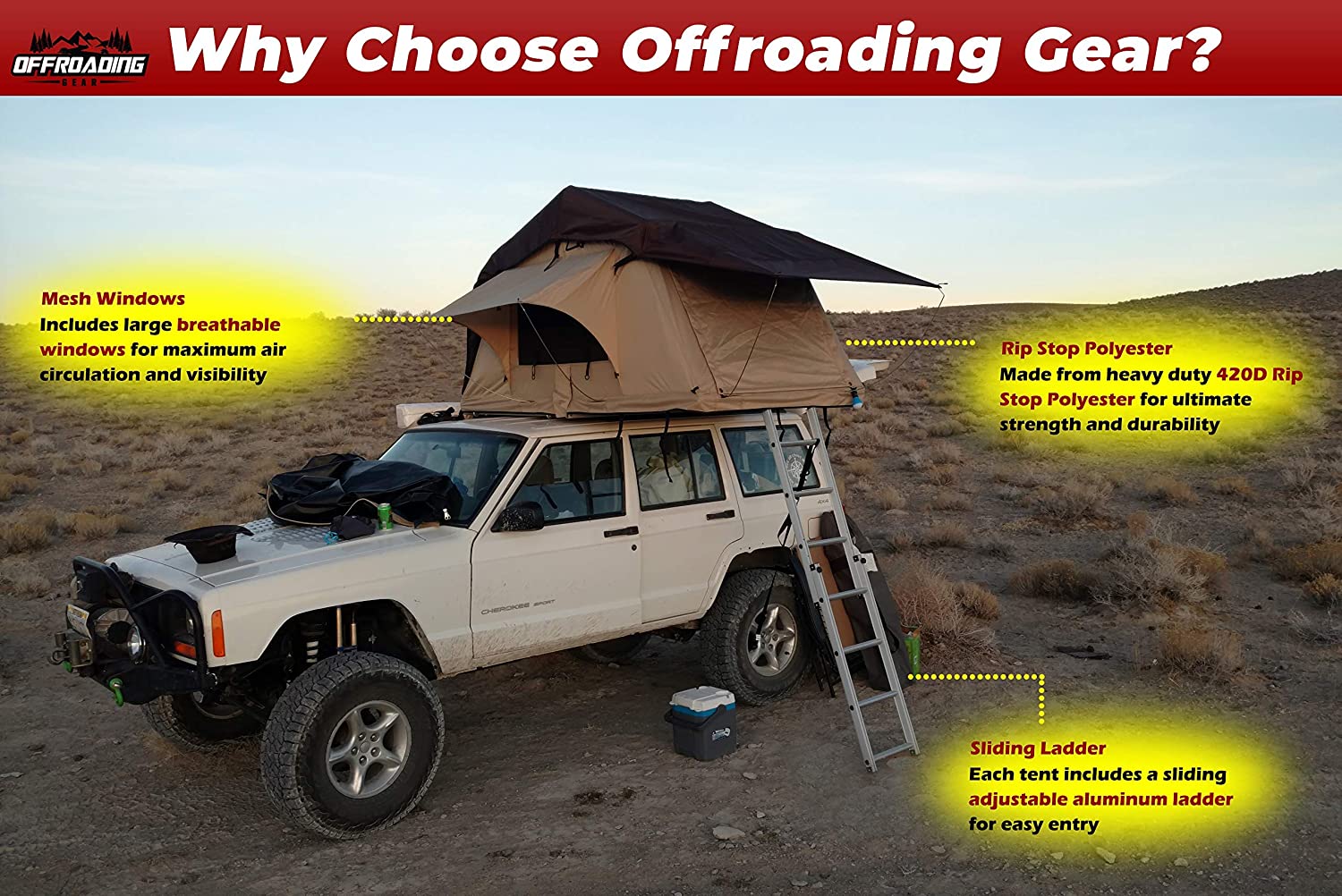 Features:
ULTRA-ROOMY ROOF TOP TENT FOR 2 – The Granville III is spacious for up to 2 adults. Opens to 48″ wide x 83″ long x 49" high.
PEACEFUL NIGHT'S SLEEP – The Granville III will give you the most peaceful night's sleep you've ever experienced while camping with its 2.25′ thick foam mattress (with removable/washable cover).
EASY SETUP & INSTALLATION – Our Rooftents install easily on almost any vehicle with a roof rack. Installation is simple even for the least mechanically-inclined individuals! Includes all necessary hardware and accessories.
INCLUDES 6.5' ALUMINUM LADDER & TRAVEL COVER – Reaching your tent is easy with the included 6.5' aluminum ladder ($199 value) and heavy-duty travel cover.
LIGHT & RUGGED: The Granville III weighs under 100 lbs. but makes no sacrifice in quality with it's durable 5/8′ aluminum tent poles and 420D Polyester Oxford PU-coated material.

Danchel Outdoor Hard shell Roof Top Tent
---
Another roof top tent option is the "Hard Shell" tent. These tents feature a hard case that when deployed, forms the tents roof. This hard shell casing offers more protection for both the tent, and it's occupants. A hard shell tent is a bit heavier and more durable. The robust shell adds more protection against the elements, such as strong winds and thunderstorms and when you're transporting the tent. The Danchell Outdoor Rooftop Tent is one of the best values in Hard Shell roof top tents.
Featuring an ABS plastic exterior shell the Danchel is a durable and aerodynamic tent, with a strong synthetic wood floor. The tent itself is heavy-duty canvas with quality stitched and weatherproofed seams, and strong durable zippers. The Danchel Outdoor has two doorways with awnings, two windows, and with optional no-see-um mesh liners, you will have great ventilation and bug protection. The included three inch foam mattress provides plenty of cushion for a comfortable nights sleep.
Unfortunately, there are no gas struts to help with erecting the tent. You will have to provide the muscle yourself, but it is not a problem for most able-bodied adults. The tent comes complete with interior gear pockets, a gear loft, and storage hangers to keep the interior organized. The tent's aluminum telescoping ladder is easy to deploy and corrosion resistant for that saltwater environment.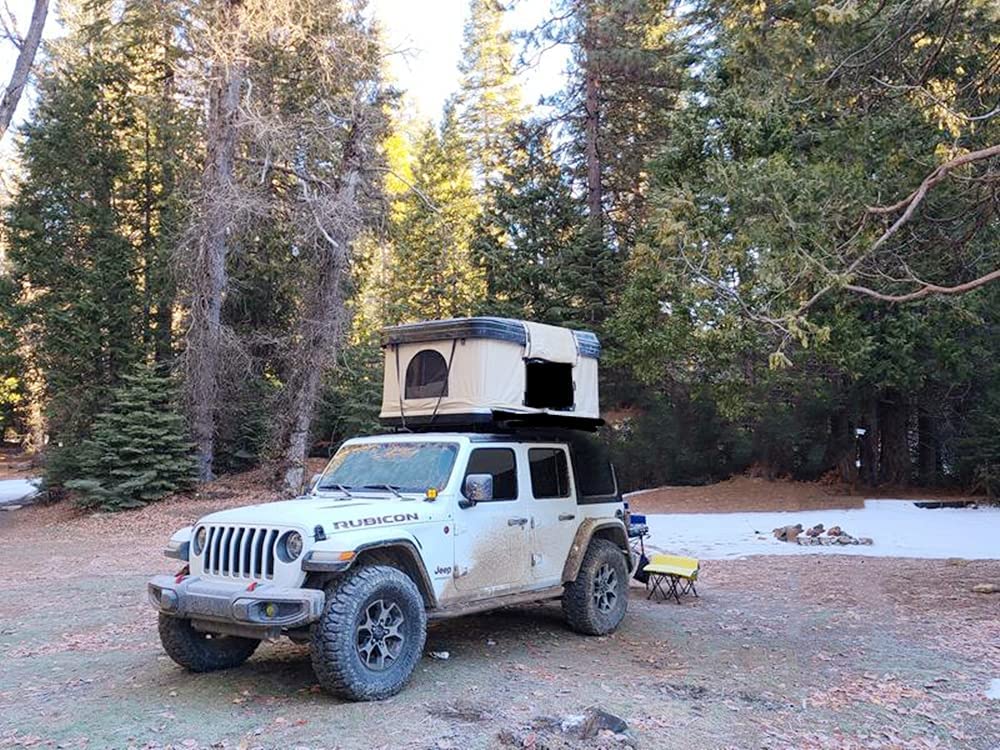 Features:
The 280G exterior canvas material of our hard shell roof top tent is not only durable, but also highly breathable. With a PU 200mm waterproof exterior, you will also stay dry. The tent is also UV-50 rated, so it will not fade or become discolored when you are out camping in bright, sunny conditions.
It can fit 2 adults and a child inside with extra space to place all of your camping gears. 300KG maximum load rating. It includes a 3.15" mattress for sleeping comfortably atop your camping grounds. All windows and doors also come in screens to give you breath ability.
Save time and energy during outdoor excursions, fits most SUVs, trucks, vans with cross bars and roof rails. Ideal for family self-driving tours, offroad events, outdoor camping, overland adventures. In all sorts of conditions, warm, dry, and comfortable.
Rooftop hard shell tent*1, installation accessories*1 set, ladder*1,light*1, hook*1 set, mattress*1. PS: Our lights may not work at the first time we use them, because they rely on solar energy.

Thule Tepui Explorer Autana 4 Roof Top Tent
---
Tepui Outdoors Inc. started in 2010 while its founders were trekking in Venezuela. During their journey, they came across hundreds of rooftop tents used by local campers, road trippers, and fellow outdoor enthusiasts. Inspired by this adventure, they came up with the idea to introduce rooftop camping to a broader audience designed to make it easier for more people to get outside and explore.
Made for year-round adventures in any climate and features an extended canopy for additional privacy. Tepui Ruggedized Series roof-top tents utilize a patented Zipper Gimp to attach the canopy to the tent base, making it easy to interchange canopies depending on the conditions you face. Tepui are one of the more popular roof top tents on the market and you have likely seen them in your travels.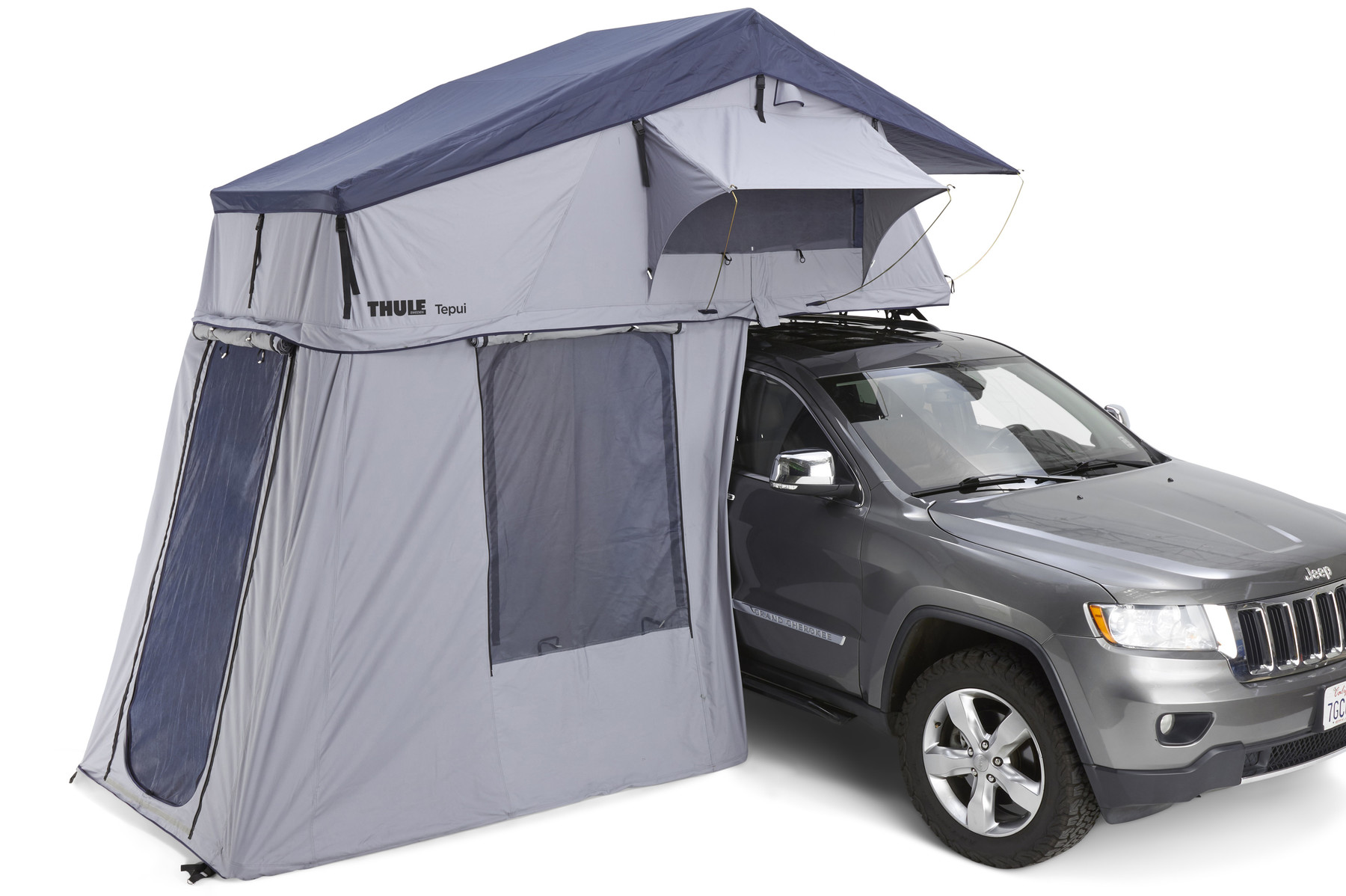 Can accommodate up to four people
Includes an extended private canopy entrance with removable annex
Constructed from coated 600 denier and a 260g poly-cotton blend made to withstand the elements of any season
Tent fabric is both UV and mold resistant to withstand the elements of any season
Mesh panels offer plenty of ventilation and open for more airflow
Four, large internal pockets for storing gear and camping accessories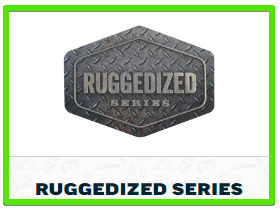 Roof Top Tent Comparison
---
Roof top tents vary in size and weight, as well as weight limit, so keep that in mind when making your choice. Also, they have various available accessories such as annex, shower enclosures and more. The table below lists some more important features for you to compare side by side.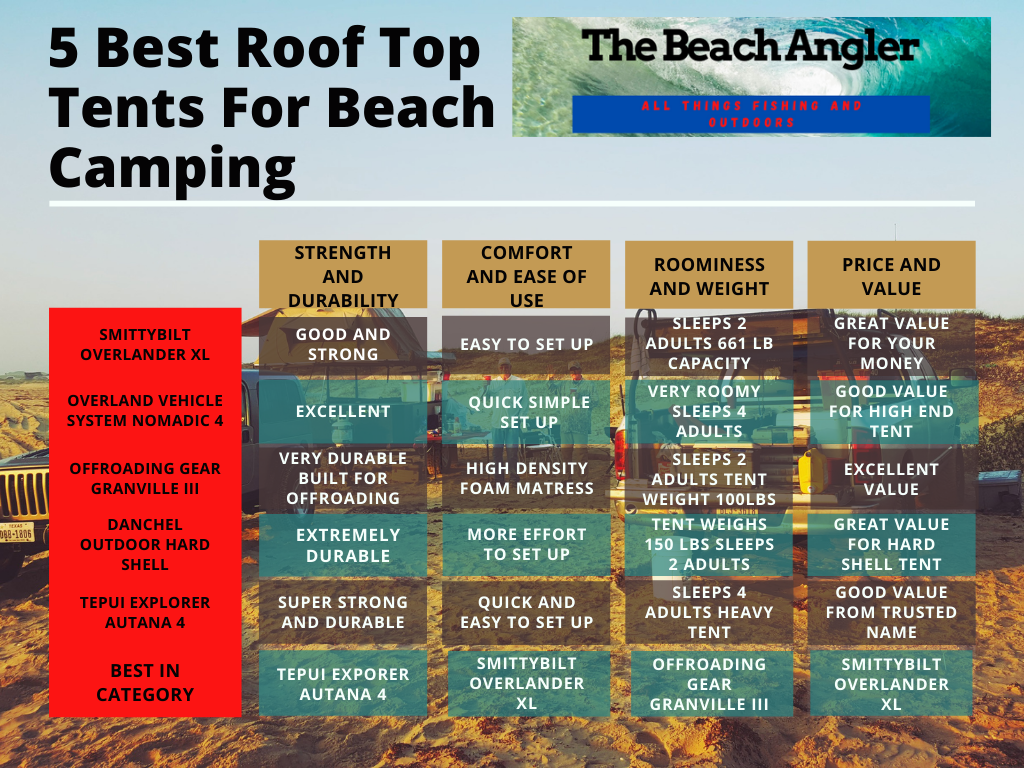 Frequently Asked Questions on Roof Top Tents
---
What is a rooftop tent?
A rooftop tent, also known as an RTT, is a type of camping tent that is specifically designed to be mounted on top of a vehicle, usually a car, truck, or SUV. It provides an elevated sleeping platform and is an excellent option for camping and outdoor adventures.
How does a rooftop tent work?
Rooftop tents typically consist of a foldable tent structure and a sturdy base that attaches to the roof rack or roof bars of a vehicle. When you're ready to set up camp, you simply unlatch and unfold the tent, which often includes a ladder for easy access. When it's time to pack up, the tent folds back into a compact form for transportation.
What are the advantages of a rooftop tent?
There are several advantages to using a rooftop tent. Firstly, it offers an elevated sleeping platform away from the uneven ground, rocks, and critters. Additionally, it provides a quick and easy setup compared to traditional ground tents. Rooftop tents also save space in your vehicle and offer better protection from the elements.
Can any vehicle support a rooftop tent?
Most vehicles can support a rooftop tent as long as they have a suitable roof rack or roof bars. It's important to check the weight capacity of your vehicle's roof and ensure it meets the requirements specified by the rooftop tent manufacturer.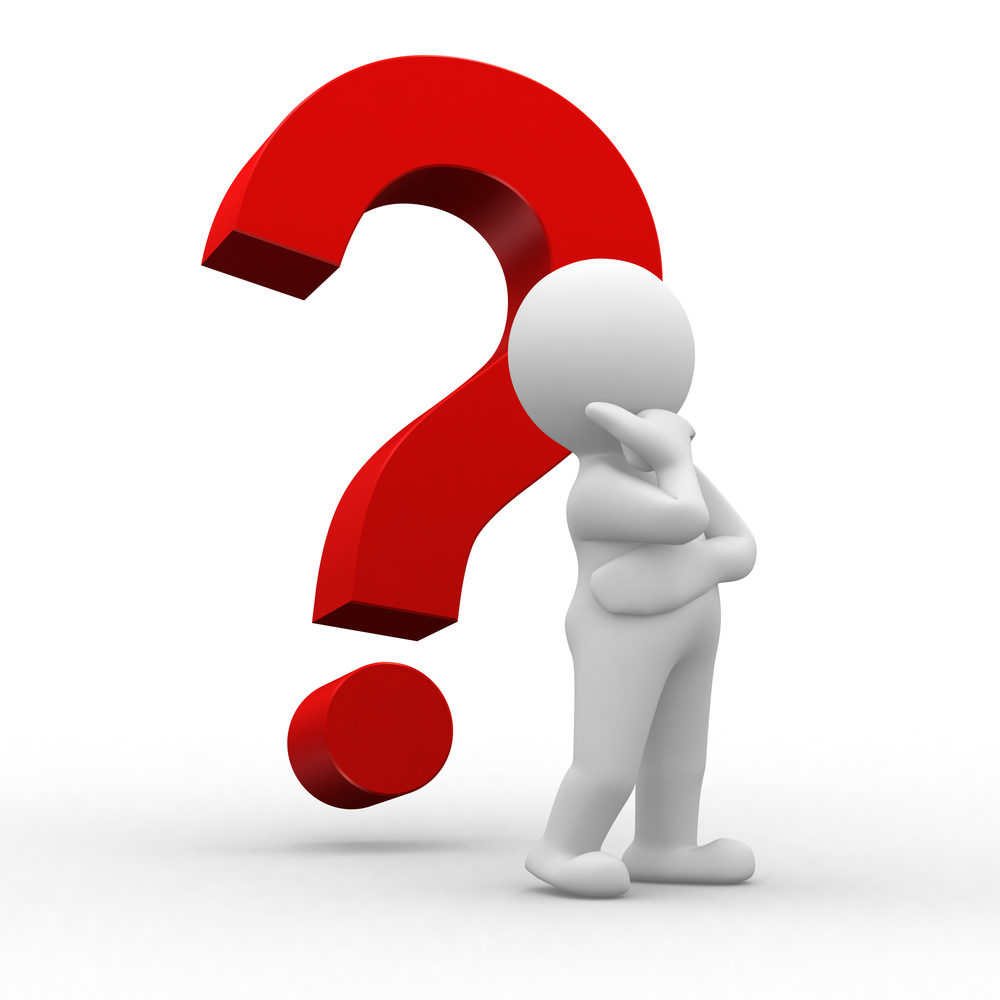 How many people can a rooftop tent accommodate?
Rooftop tents come in various sizes and configurations. They can typically accommodate 2-4 people, depending on the size and model. It's essential to check the specific capacity of the tent you are interested in before purchasing.
Are rooftop tents secure?
Rooftop tents are designed with security in mind. They typically feature locking mechanisms to secure the tent while you're inside or away from your vehicle. Additionally, the elevated position of the tent provides added safety by keeping you away from ground-dwelling animal
Can rooftop tents be used in all weather conditions?
Yes, rooftop tents are designed to be weather-resistant and can be used in various weather conditions. They often feature waterproof and durable materials to protect you from rain and wind. However, extreme weather conditions should be avoided, and it's important to follow the manufacturer's guidelines.
Are rooftop tents easy to set up and take down?
Yes, rooftop tents are generally straightforward to set up and take down. With practice, you can quickly and easily unfold and fold them back into a compact form. It's advisable to familiarize yourself with the specific setup and takedown instructions provided by the manufacturer.
Can I leave my bedding inside the rooftop tent when I close it?
Yes, you can leave your bedding inside the rooftop tent when closing it. Many rooftop tents are designed to accommodate bedding and sleeping bags while folded. This saves time during setup and ensures that your bedding is always ready for use.
Are rooftop tents suitable for long road trips?
Absolutely! Rooftop tents are popular choices for long road trips as they provide a comfortable and convenient sleeping space wherever your adventures take you. They allow you to set up camp quickly, saving time and effort during your journey.
Beach Camping in Comfort
---
Roof top tents certainly add another option for beach camping. The added elevation gets you off the ground and out of the sand. It will keep most of the wildlife away from your sleeping quarters and provide the added benefit of some spectacular views from your elevated perch.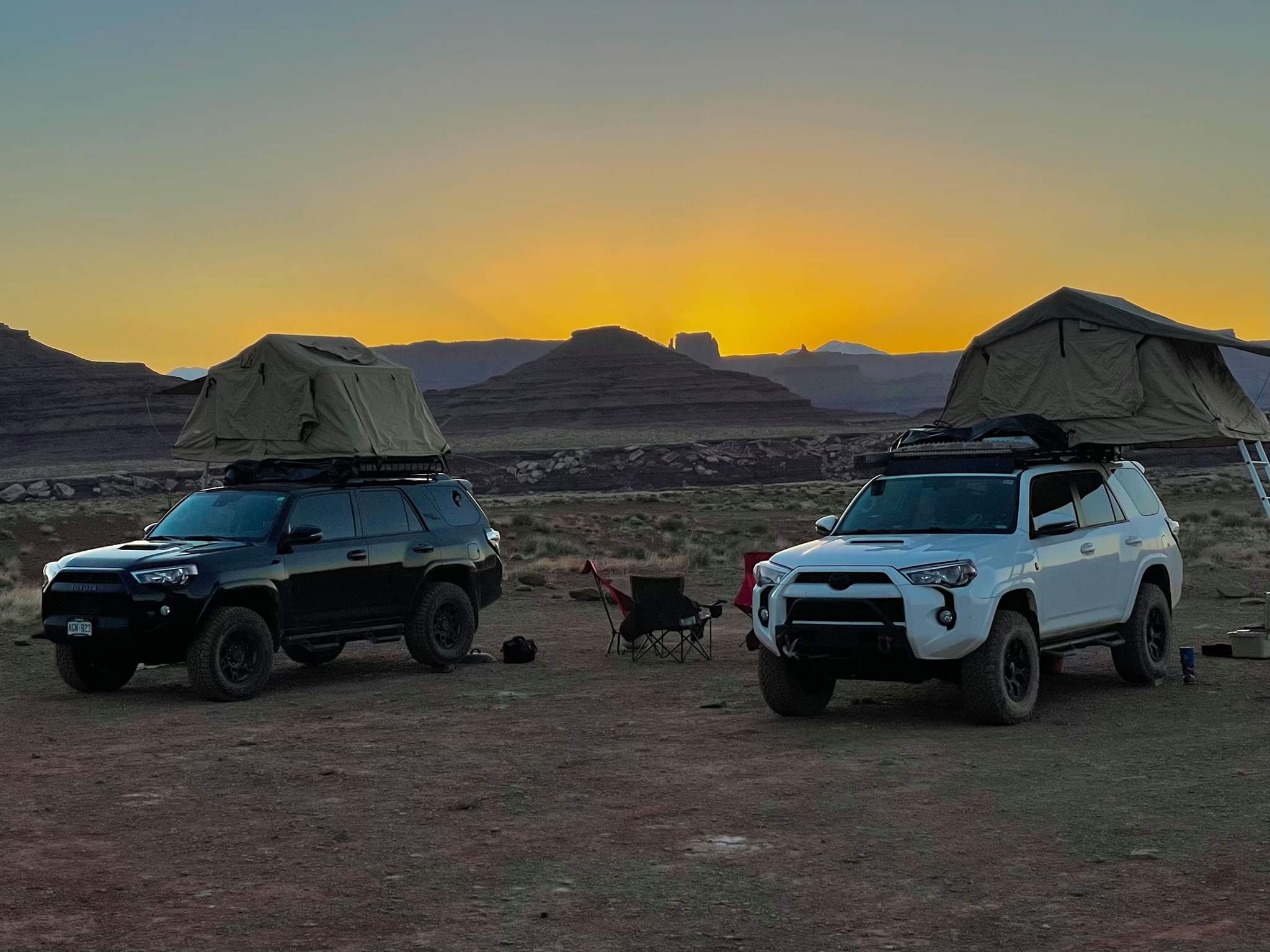 Any of these roof top tent options would be a good choice for beach camping. They are built from high Quality durable materials. They have corrosion resistant components, comfortable and roomy sleeping areas and will provide you with many years of service and enjoyment. I hope this helps you in your camping equipment search. Be safe, enjoy the journey and please try to leave it cleaner than you found it.
If you have any comments, questions, ideas or suggestions please leave them in the comment section below and I will get back to you. You can follow us on Facebook: Rex The Beach Angler, Instagram: thebeachangler7, Twitter: @AnglerBeach, and YouTube: Man Art Creations.