In addition to my love of hunting and fishing, I also enjoy hiking. Mostly, I just love spending time in the outdoors. Hiking is another excuse to spend time exploring and enjoying nature. Whether it's a simple day hike, or an overnight back country camping hike, I'm all in.
Guadalupe Peak trail is a fairly strenuous 8.4 mile round trip hike that can be done in a single day (6-8hrs), or you can overnight in a back country campsite near the top of the trail. A group of friends and I, including my 80+ year old dad, made the hike to the top of Texas and lived to tell about it. 😉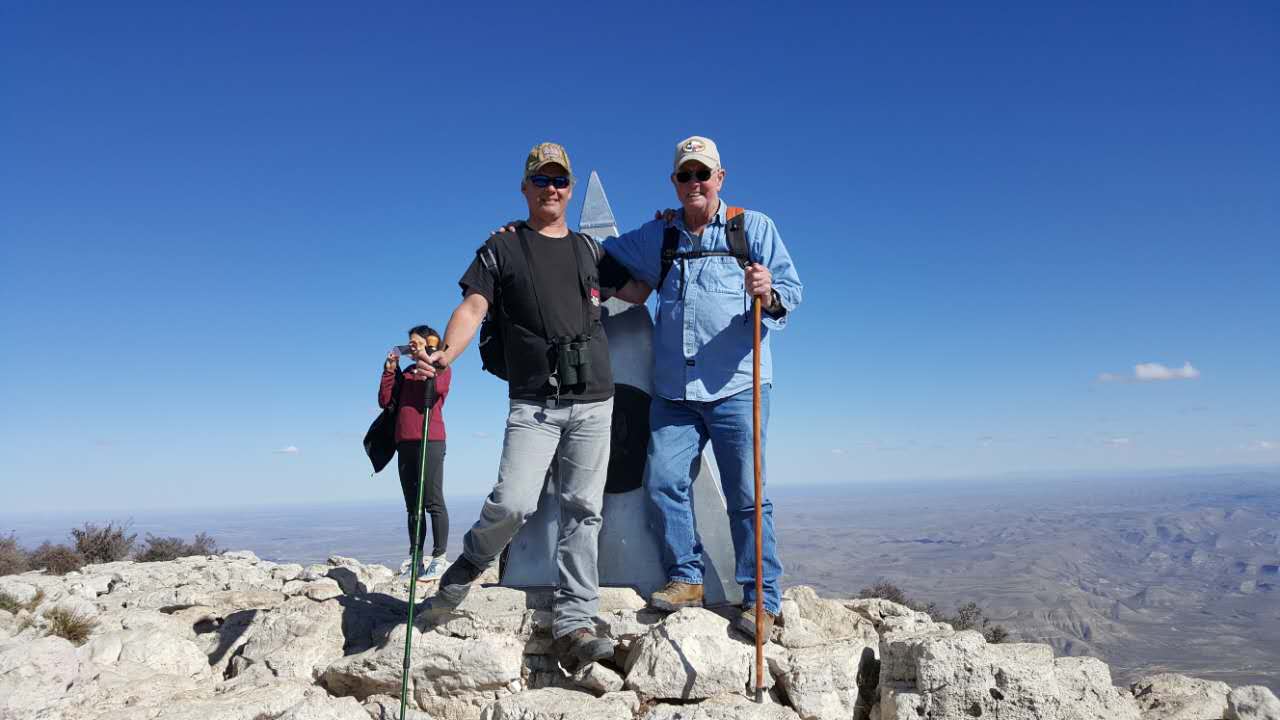 We did the hike in the spring (April) which makes for much more comfortable hiking as summer can see temperatures of 100F plus on the trail. It is a popular destination and can be crowded at peak times like spring break. With no lodging in the park and limited camp sites, we camped on BLM (Bureau of Land Management) land just north of the park in New Mexico.

The nearest town with any lodging to speak of, is Carlsbad New Mexico about an hours drive north of the Park. It is always best to check ahead with the park before making your trip plans.https://www.nps.gov/gumo/planyourvisit/  Another good source of trail information when planning any hike is the website: alltrails.com
Guadalupe Mountains National Park
---
Guadalupe Mountains National Park is a national park in the Guadalupe Mountains, east of El Paso, Texas and approximately 52 miles south of Carlsbad, New Mexico. The mountain range includes Guadalupe Peak, the highest point in Texas at 8,749 feet (2,667 m), and El Capitan which was used as a landmark by the Butterfield Overland Mail stagecoach line.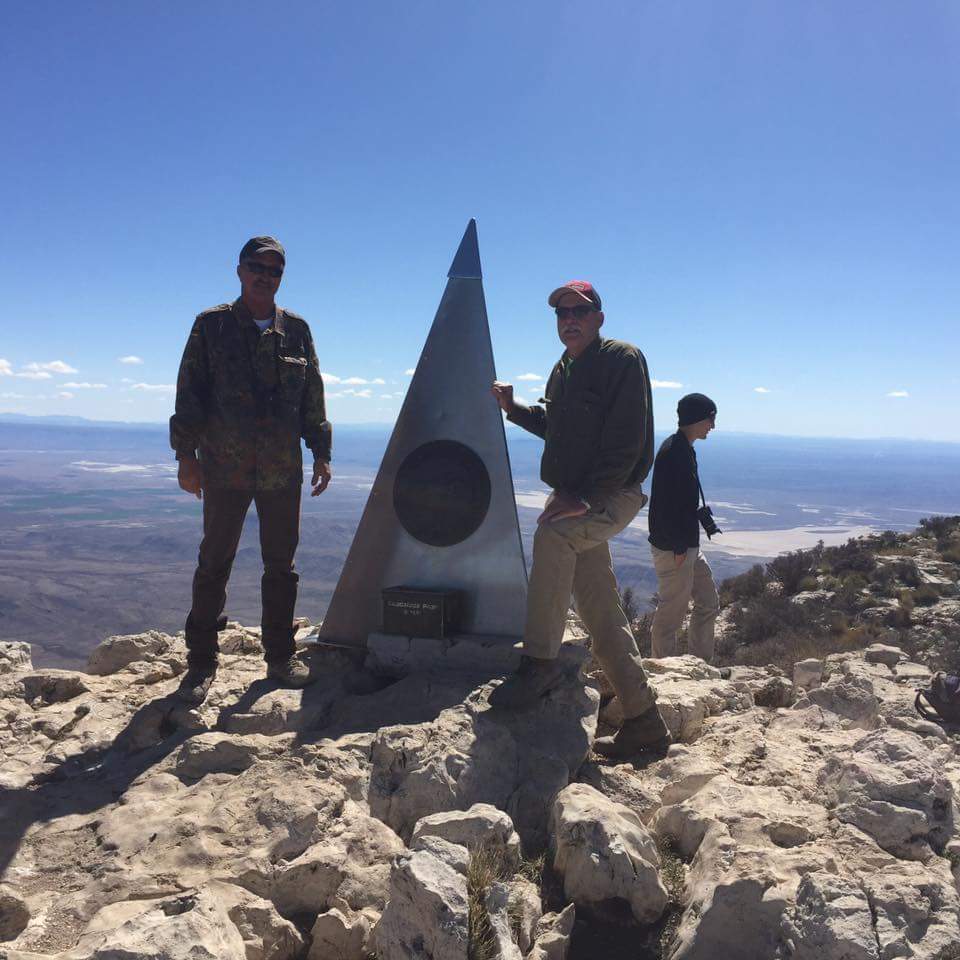 The park covers 86,367 acres and is in the same mountain range as Carlsbad Caverns National Park, about 25 miles (40 km) to the north in New Mexico. The Guadalupe Peak Trail winds through pinyon pine and Douglas-fir forests as it ascends over 3,000 feet (910 m) to the summit of Guadalupe Peak, with views of El Capitan and the Chihuahuan Desert below.
The first mile of the trail is the toughest because of the steepness. It is generally a steady climb all the way, with the last few hundred feet mostly rocks and sheer drop offs. As the say, don't look down. The view from the top, is spectacular on a clear day and definitely worth the hike.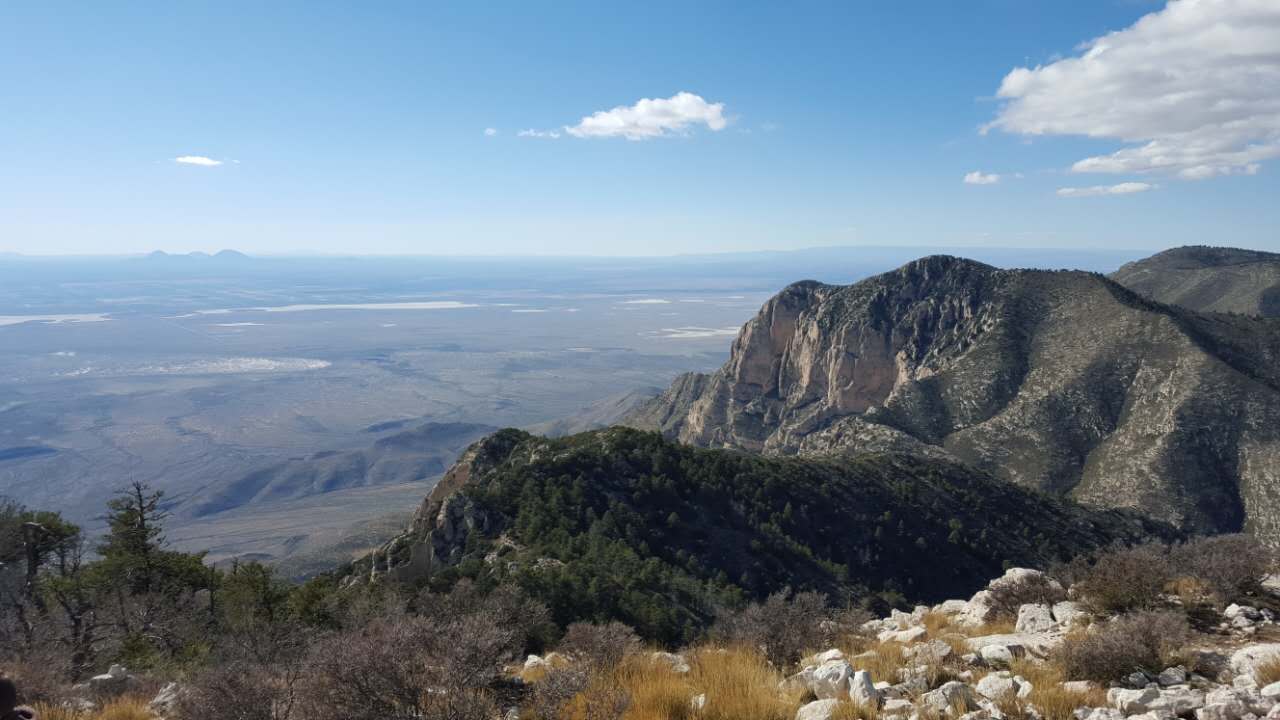 Camping and Hiking Guadalupe Peak
---
Guadalupe Mountains National Park is located in a very remote area in extreme western Texas. There is no lodging of any sort inside the park. It is about an hours drive from the Pine Springs Park entrance the city of Carlsbad, New Mexico which has a wide variety of all services, including many lodging choices. You will pass the Carlsbad Caverns National Park is on the way.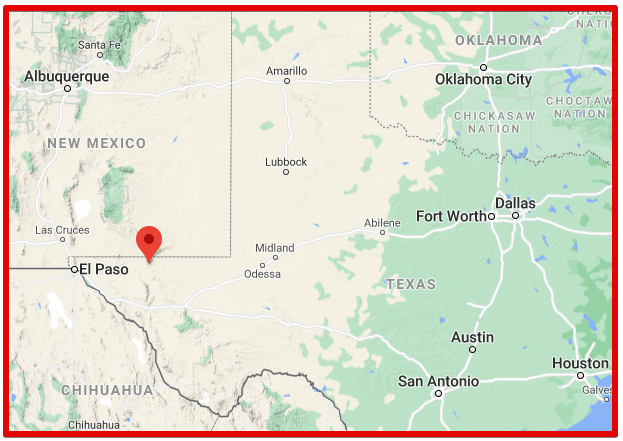 There are two campgrounds available in Guadalupe Mountains National park:
1.) Pine Springs, Located just off U.S. Highway 62/180 near the Pine Springs Visitor Center
Pine Springs Campground is a simple, desert camping area situated at the base of the mountain. Individual campsites are all at a first come, first served basis. Campground conveniences include: potable water, accessible flush-toilet restrooms, utility sink, and pay telephones. There are no showers available in the campground.
Tent campers have a choice of 20 leveled, gravel sites. Small junipers and oaks partially shade most of the sites and each site has a picnic table. Numbers are limited to 6 people or 2 tents per site.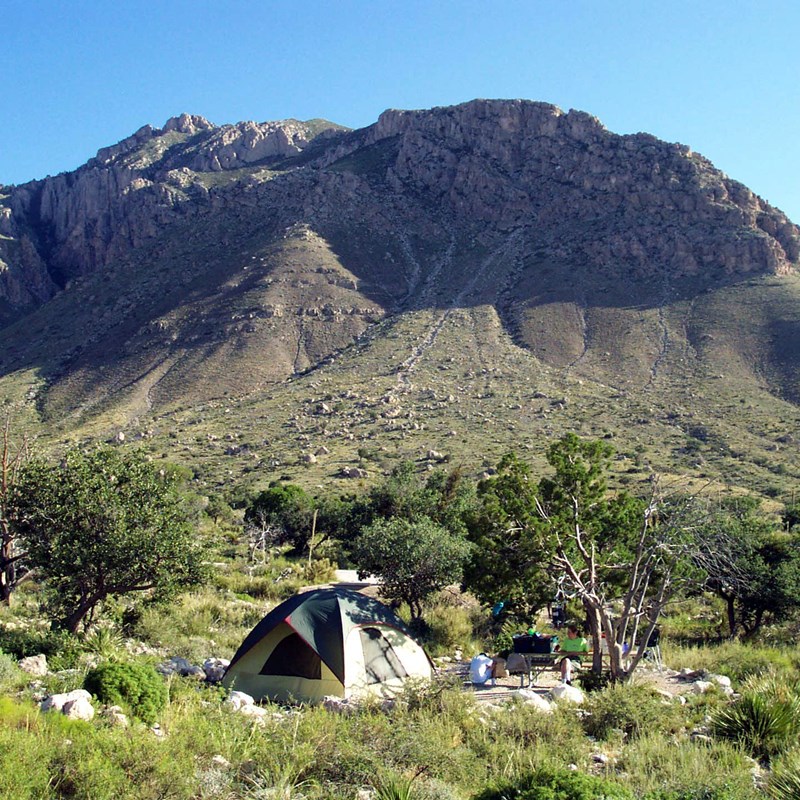 The RV camping area is a paved parking lot with 19 sites to choose from. RV sites are defined by painted lines and numbers on the pavement. There are no hook-ups and there is no dump station. RV water tanks can be filled from an outside water faucet near the registration board There is one RV campsite #21 which is wheelchair accessible.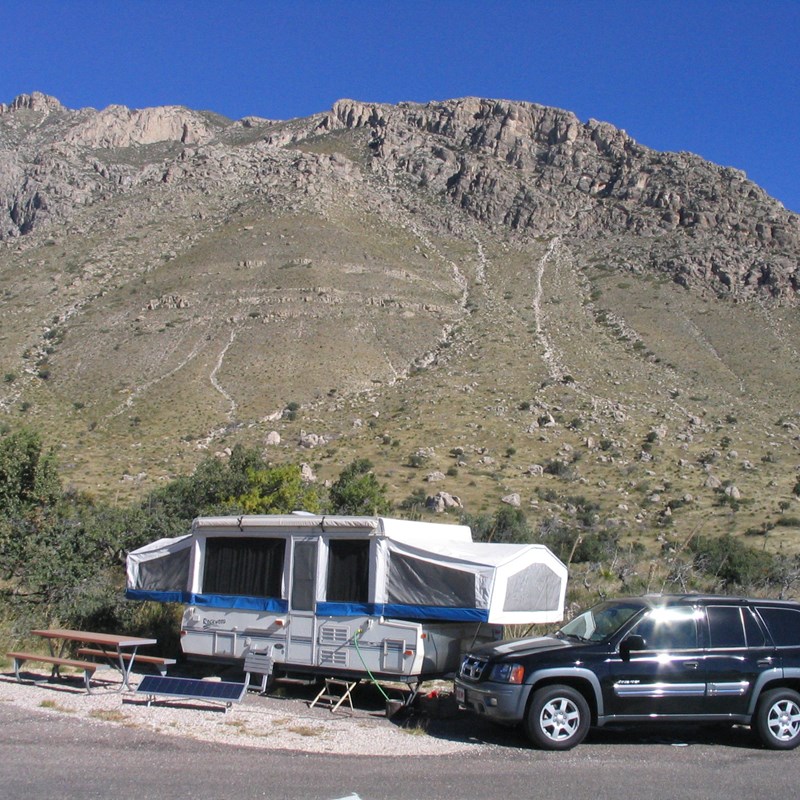 2.) Dog Canyon, on the north side of the park
Dog Canyon is in a secluded, forested canyon, and due to a slightly higher elevation and protected location beneath steep cliff walls, it remains cooler than Pine Springs campground in the summer and sheltered from strong gusty winds in winter and spring. The campground has 9 tent sites and 4 RV sites (maximum length 23 feet, no hookups, no dump station). Restrooms have sinks and flush toilets, but no showers.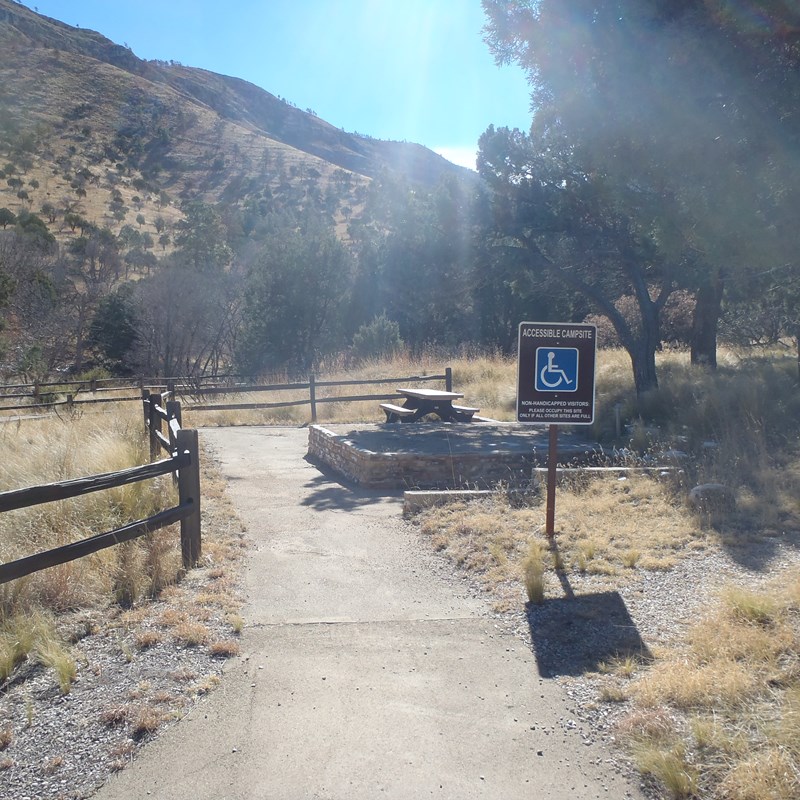 If you are a more adventurous spirit, Backpackers can choose from 10 designated campgrounds in the wilderness and obtain a permit at either the Pine Springs Visitor Center or Dog Canyon Ranger Station. See the table below: These are remote wilderness campsites, so you will have to carry everything in….and out.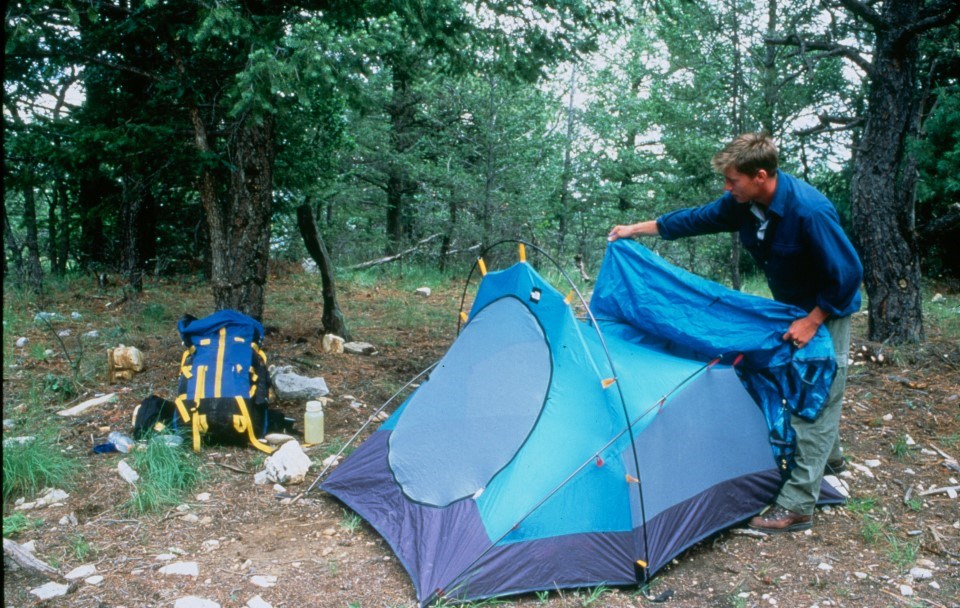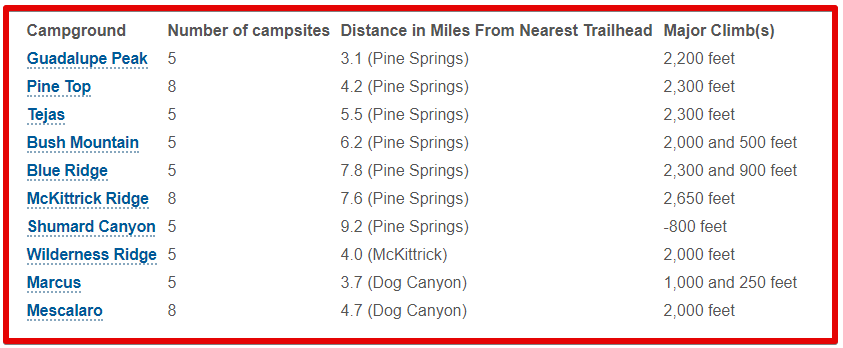 If the camp grounds are full, you can primitive camp on the BLM lands just a short ways north of the park across the New Mexico border between Guadalupe Peak and Carlsbad Caverns National Parks.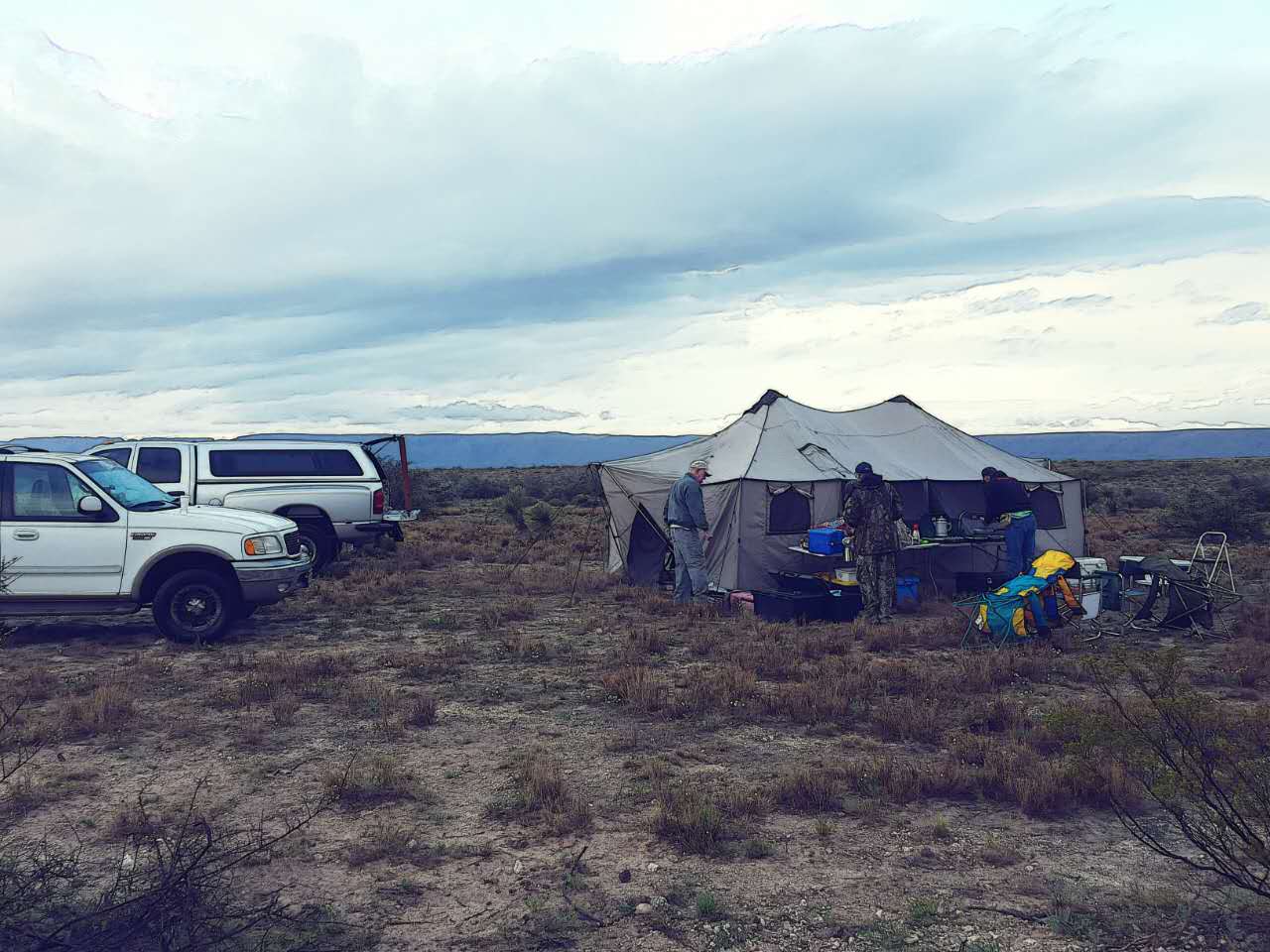 Guadalupe Peak Trail
---
The Guadalupe Peak Trail is approximately 8.4 miles round trip from the Pine Springs Visitor Center to the peak and back. It is a pretty strenuous hike. You will need to carry plenty of water, 3 – 5 liters, because there is none on the trail and you will need to stay hydrated. A few snacks to keep you energy up would be a good idea as well. Ain't no McDonalds on the trail. If you want it, or need it, you better carry it.
On a clear day, the view from the "Top of Texas" (8,751 feet, or 2,667 meters) is spectacular. The trail is very steep, but it is well-established. Some areas are close to cliff edges so if you have a fear of heights, don't look down. The trail is rated as moderate to strenuous, with 3,000 feet of elevation gain. The round trip generally takes 6-8 hours. During times of high winds or thunderstorms, you should reschedule as you are completely exposed on the peak.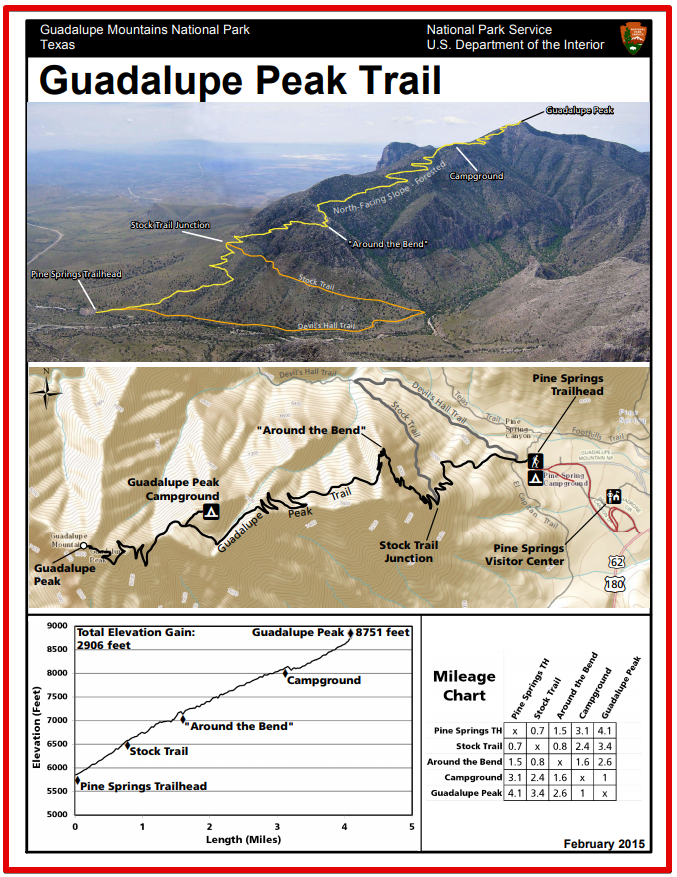 Be sure to bring a flashlight/headlamp in case you get caught on the trail after dark. Wear shoes/boots with good ankle support and a sturdy hiking stick is highly recommended. There are Loose and slick rocks along the trail as well as large steps up & down. There is no cell phone service on the trail except at the peak itself. Be aware that this trail/park is extremely busy during peak times such as spring break so make your plans accordingly.
---
Guadalupe Peak National Park is home to a wide variety of wildlife. Mule deer, javelinas, jackrabbits and a wide variety of birds can be seen early in the morning or late in the evening when temperatures are cooler. Black Bears have been seen along the trail as well. Please do not feed or harass the wildlife and beware of poisonous snakes.
Pace Yourself – It's not a Race
---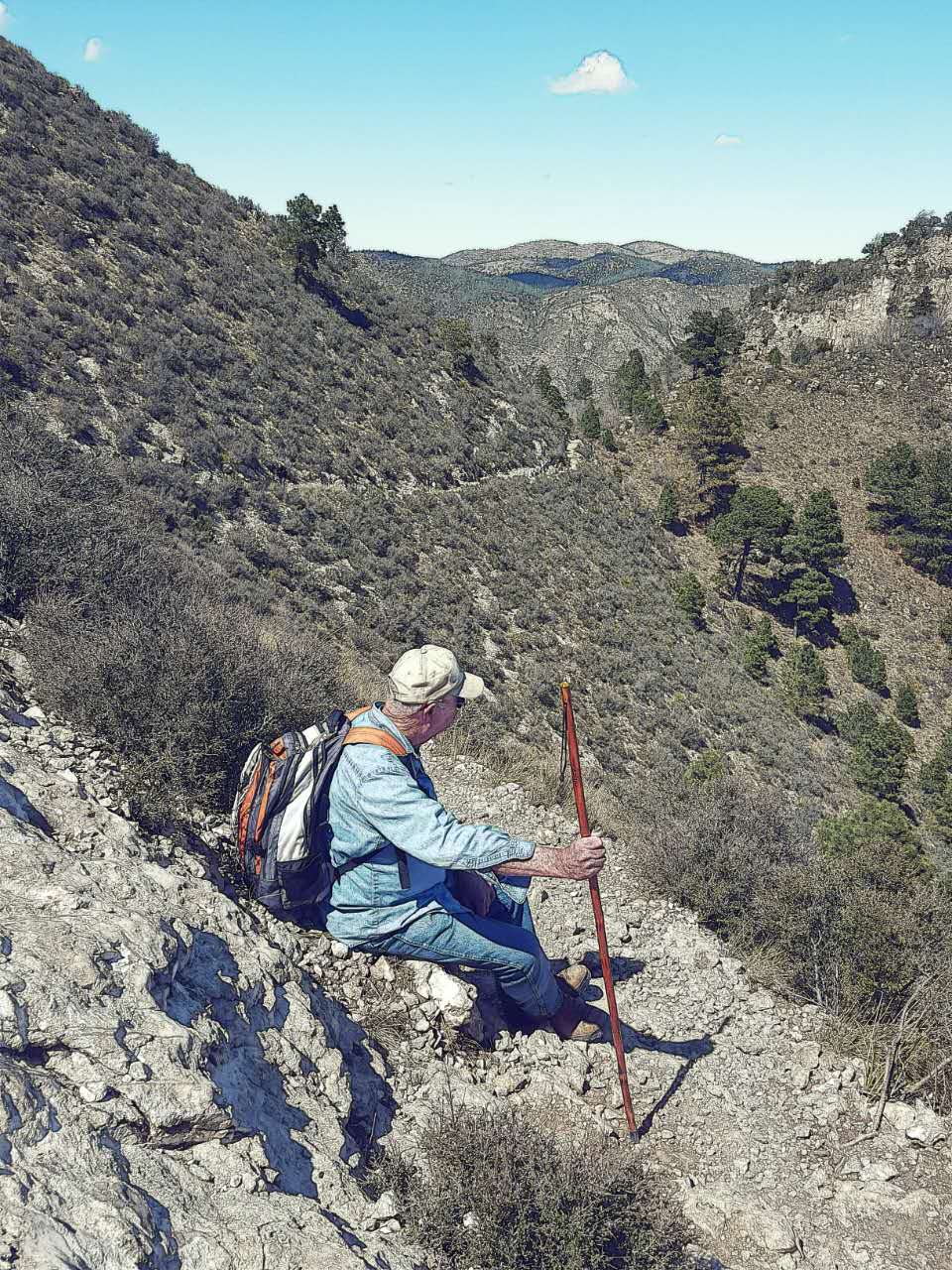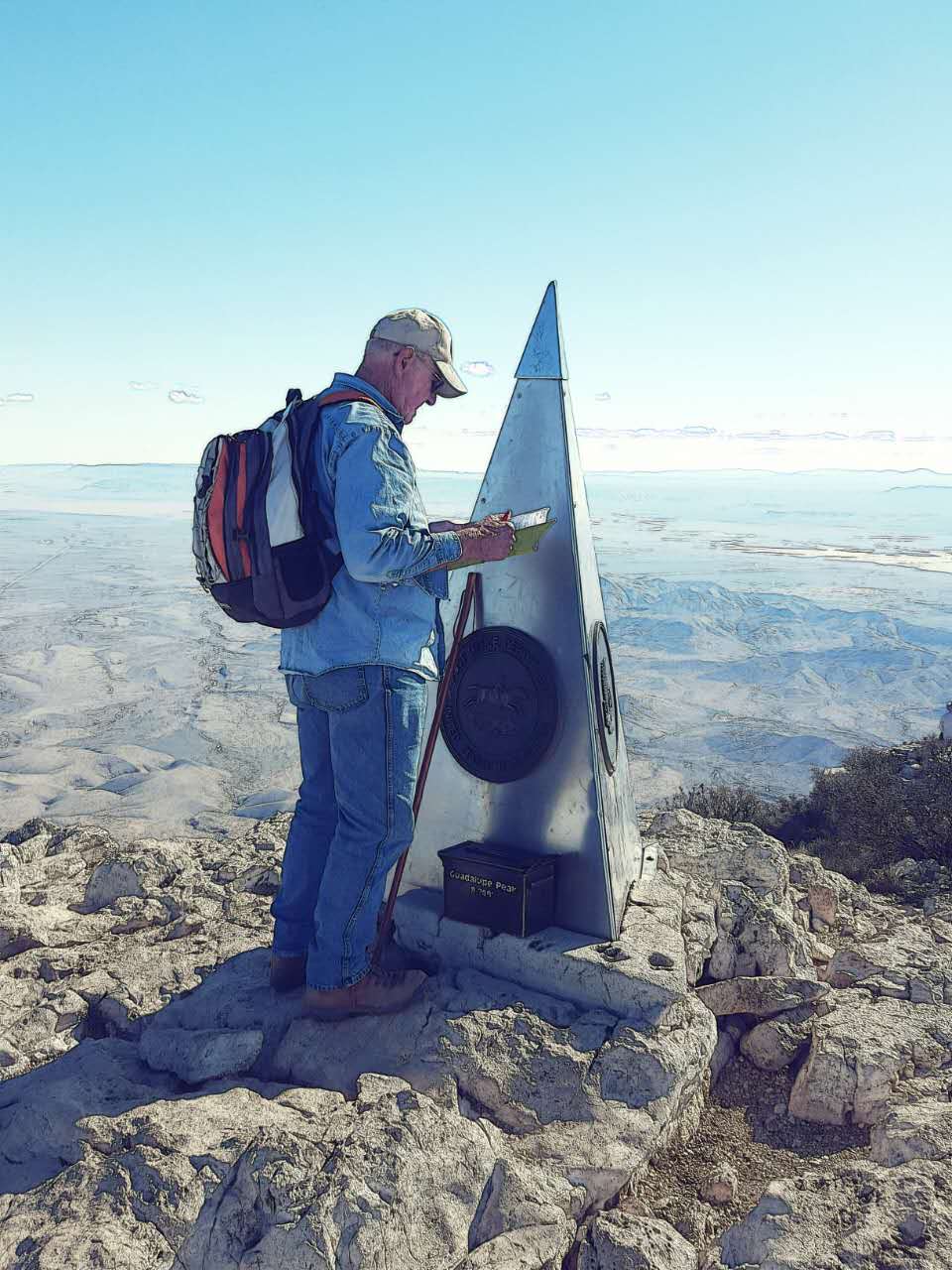 Try to remember, it's not a race. Start early in the morning and take your time. Take photos, look for wildlife, notice the changes in plant life as you gain in altitude. You start out in the desert and as you climb higher and higher, pine forest. At the peak, you will be standing on a rock out cropping looking over miles and miles of the desert floor below. Bring a good camera and take lots of photos.
You will see hikers of all experience levels along the trail. From families with young children to, like my dad, 80+ elders making there way up the mountain. Our entire group would be classified as ……let's just say beyond middle age. 😉 We ran across one hiker who drove 10 hours by himself at 92 years old to hike to the top of Texas and back.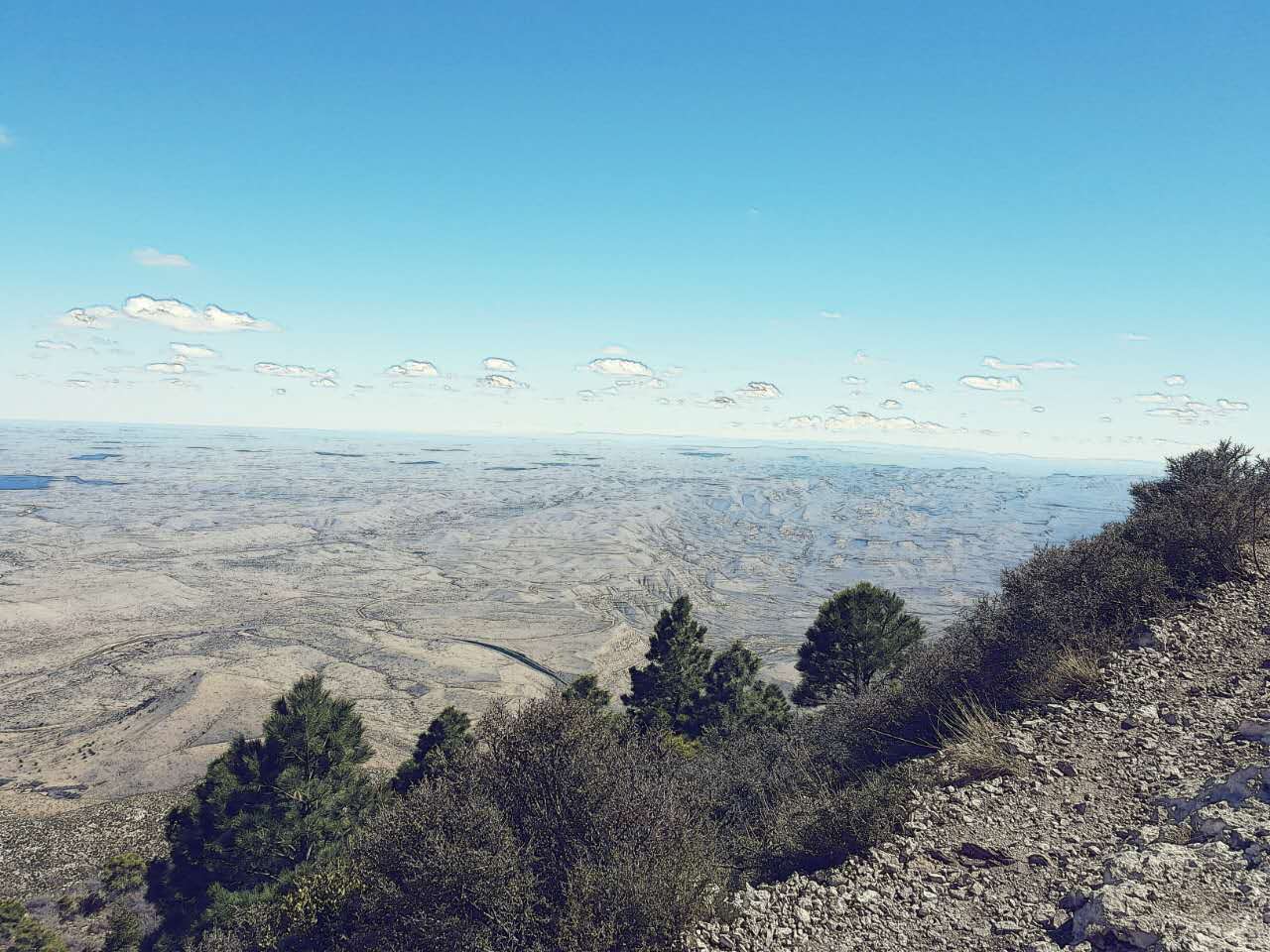 He had a very slow and deliberate pace, and believe it or not, he passed some much younger hikers who had a faster pace, but had to take frequent rest stops because of that pace. We also ran into "trail runners" folks you jog up the mountain and back down again for fitness and training purposes. Looks crazy to me, but to each his own.
It's A Long Walk Back – Enjoy the Journey
---
The trail back can be strenuous as well. 4+ miles of downhill takes a toll on your feet, ankles and especially knees. Plus, you are already tired from the climb up, so be careful, watch your step – and "take your time". Hiking at an 80-year old's pace made the trip slower and easier, but still, by the time we got down, I was pretty tired.
We finished just after dark and good thing, because we didn't take flashlights, which is something I highly recommend. There were others on the trail behind us that needed lights to find their way down. It wouldn't be much fun in the dark, and would be very dangerous.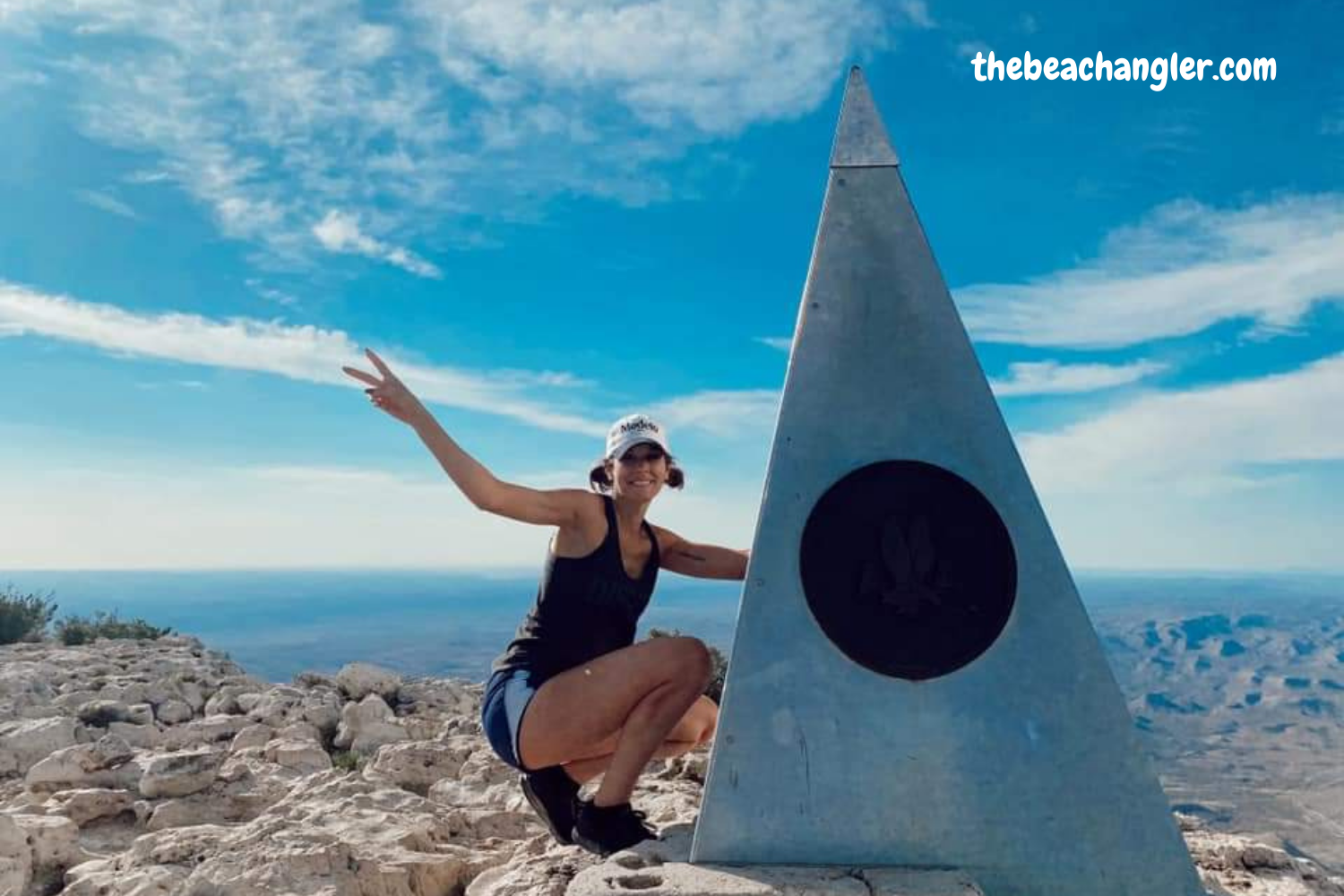 So, again, take your time on the way down. Enjoy the views, drink plenty of water and take frequent breaks to let your legs, feet, ankles and knees rest and recover. Pushing it too hard just increases the chance of fatigue which can lead to accidents. It's a long way to have to carry you down, better be hiking with some really good friends.
Frequently Asked Questions about Hiking Guadalupe Peak
---
Where is Guadalupe Peak located?
Guadalupe Peak is located in Guadalupe Mountains National Park, which is in the state of Texas, United States.
How high is Guadalupe Peak?
Guadalupe Peak is the highest point in Texas, with an elevation of 8,751 feet (2,667 meters) above sea level.
How long is the hike to the summit of Guadalupe Peak?
The hike to the summit of Guadalupe Peak is approximately 4.2 miles (6.8 kilometers) one way, making it an 8.4-mile (13.6-kilometer) round trip.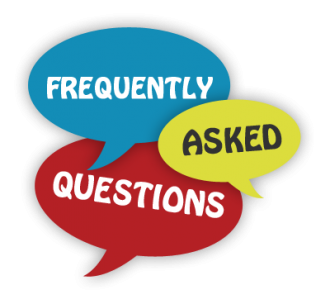 How difficult is the hike to Guadalupe Peak?
The hike to Guadalupe Peak is considered strenuous. It involves steep inclines, rocky terrain, and a significant elevation gain of around 3,000 feet (900 meters). Proper physical fitness and preparation are important.
How long does it take to hike Guadalupe Peak?
The average time to hike Guadalupe Peak is around 6-8 hours round trip, depending on your fitness level and pace. It's recommended to start early in the day to allow enough time and avoid hiking in extreme heat.
What should I pack for hiking Guadalupe Peak?
Essential items to pack include sturdy hiking boots, plenty of water (at least 2-3 liters per person), high-energy snacks or meals, sunscreen, a hat, sunglasses, a first aid kit, a map and compass (or GPS), and appropriate clothing layers for changing weather conditions.
Are there camping options near Guadalupe Peak?
Yes, Guadalupe Mountains National Park offers camping facilities. There are two campgrounds available: Pine Springs Campground at the base of the mountain and Dog Canyon Campground, located further away. Both require reservations.
Are there any restroom facilities along the trail?
Yes, there are restroom facilities available at the trailhead in the Pine Springs Campground. However, there are no restroom facilities along the trail itself, so plan accordingly.
Can I bring my dog hiking on Guadalupe Peak?
While dogs are allowed in Guadalupe Mountains National Park, they are not permitted on the trails, including the Guadalupe Peak trail. Pets must be kept on a leash and are only allowed in designated areas, such as campgrounds and paved roads.
Is there an entrance fee to access Guadalupe Mountains National Park?
Yes, there is an entrance fee to access the park. the fee was $10 per person as of June, 20, 2023 and is valid for seven days. However, it's advisable to check the official park website or contact the park directly for the most up-to-date information on fees.
Guadalupe Peak – You Can Do It.
---
Guadalupe Peak Trail is a great hike. It is strenuous, but you can do it. Just take your time, drink plenty of water and take some snacks to keep your body fueled. Take plenty of rest breaks and enjoy the unique scenery along the way. Don't push yourself and you'll be fine. Always hike with a buddy or buddies and carry a flashlight just in case. Check out our hike to Emory Peak, the highest peak in the Big Bend National Park, HERE.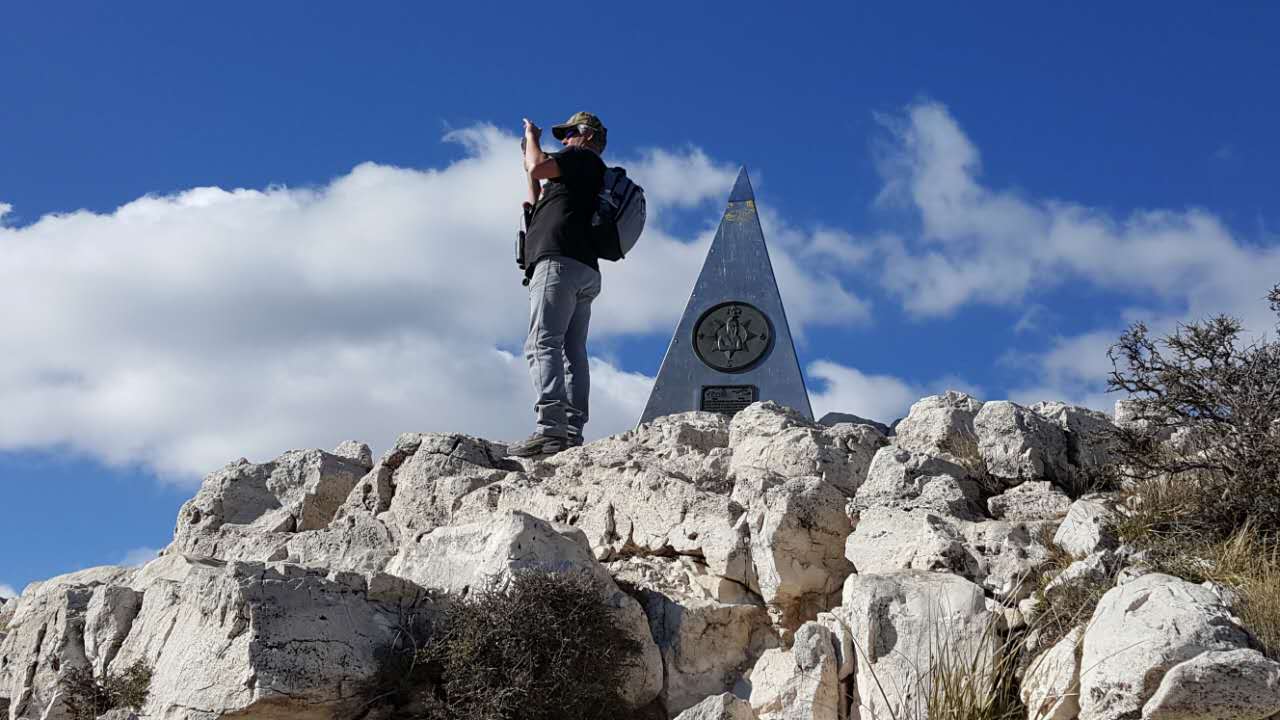 This is a well-used and maintained trail, not some back county hike. So there will be plenty of other hikes coming along if you get into trouble and need assistance. Overall a very safe hike and one that you should consider, if nothing else, just to say you've been to the top of Texas and back. 🙂
As always, be safe, try to leave it cleaner than you found it and enjoy the journey. If you are into hiking, check out our hiking trip to the South San Juan Wilderness of Colorado Here: Or, Our overnight backpack trip to the Chisos Mountains of the Big Bend National Park in Texas here: You can also follow us on Facebook: Rex The Beach Angler, Instagram: thebeachangler7, and Twitter: @AnglerBeach.