Big Bend National Park is in southwest Texas and includes the entire Chisos mountain range and a large swath of the Chihuahuan Desert. Located on the US border with Mexico which is formed by the Rio Grande river which provides water recreation opportunities within the park. This is a remote park with the nearest town of any size being Alpine Texas which is approximately 2 hours drive from the Panther Junction headquarters of the park.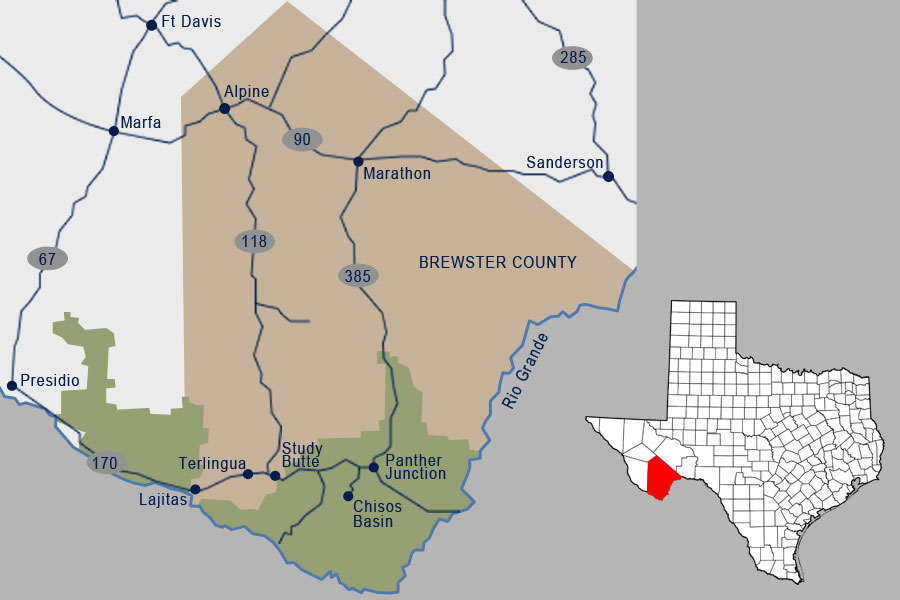 The Park is an 1100 square mile playground and classroom consisting of over 800,000-acres. The national park contains three basic habitats: river, desert, and mountains and encompasses the largest protected area of the Chihuahuan Desert in the United States. The Rio Grande Wild and Scenic River forms its southern boundary, and it's the only park in the United States that contains a complete mountain range – the Chisos.
Big Bend offers a variety of hiking opportunities, everything from short easy walks, to rugged, multi day excursions. Big Bend National Park features a system of over 150 miles of improved hiking trails. Hikers are allowed to travel off trail if they want to, but are required to submit an itinerary and hiking plan and obtain a park permit.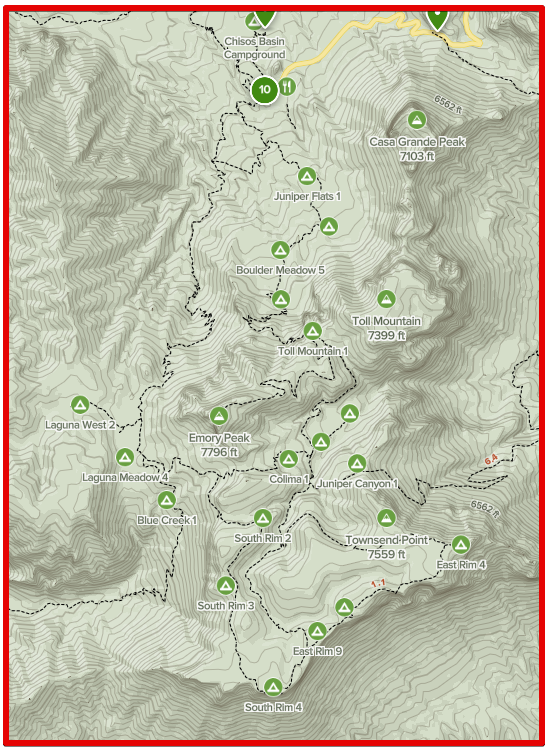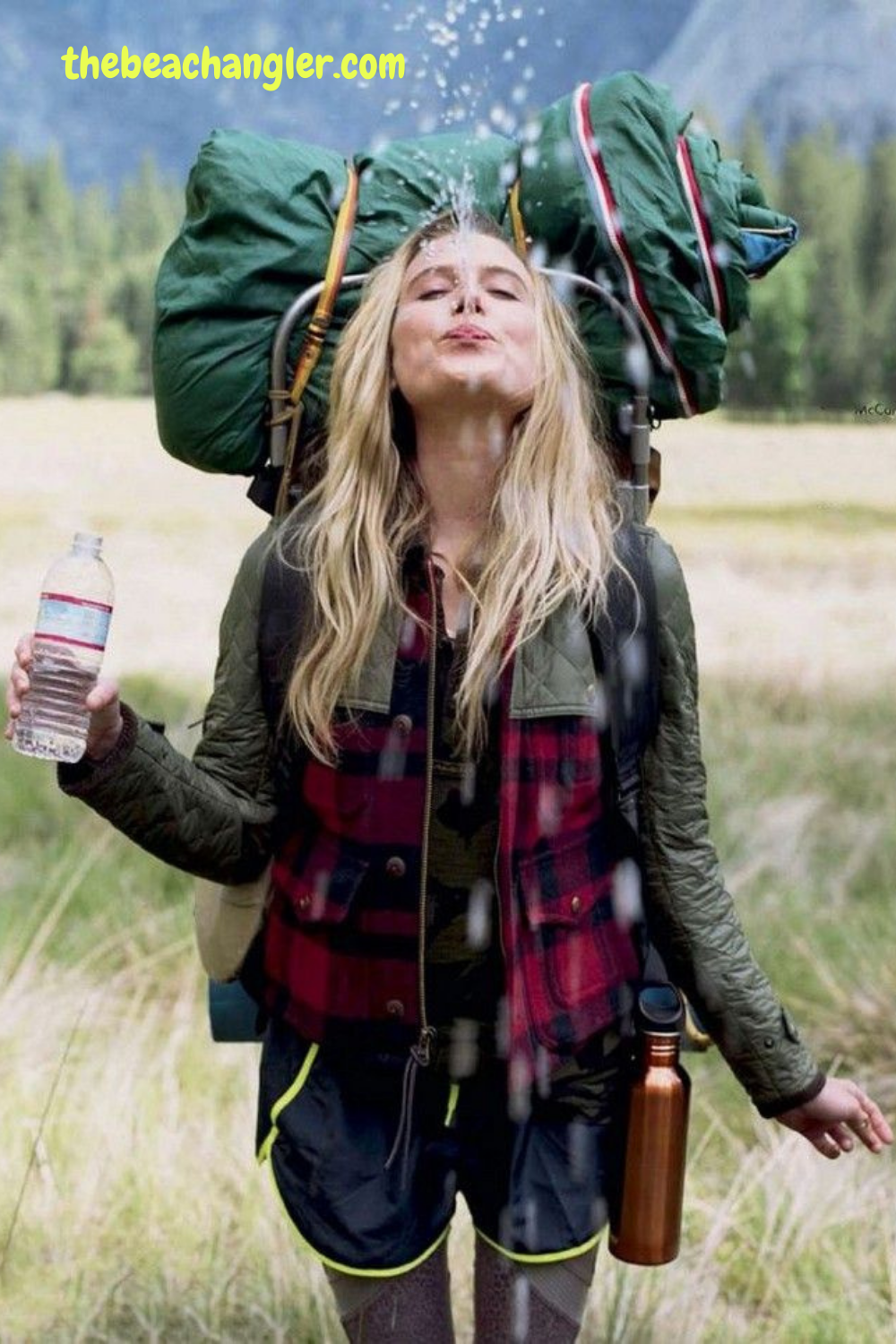 Backpacking in the Desert
---
The most remote areas of Big Bend National Park are best left to experienced backpackers. Each year, park rangers have to respond to desert emergencies of hikers who were not prepared for the heat and extreme conditions of the desert. Due to the rugged desert and mountainous terrain along trails/routes, a topographic map and a compass/GPS are necessary or highly recommended for some hikes.
These back country hikes are not for the novice hiker, you will need to be fully equipped and in good physical condition to pack your gear and water into the desert and camp. Check out our recent day hike to Emory Peak in the Chisos Mountains here:
Most of the desert areas of Big Bend National Park are open to wilderness backpacking. A back country permit is required, and can be obtained at the Panther Junction headquarters. Desert backpackers will need to have all the gear necessary for a safe trip, and provide a detailed itinerary/hiking plan to a park ranger.
You will need to be prepared to hike for at least 30 minutes from any road, and be out of sight of any road. There is no camping near or along or adjacent to any roads in the park. Without a detailed itinerary and hiking plan, you will NOT be issued a back country permit.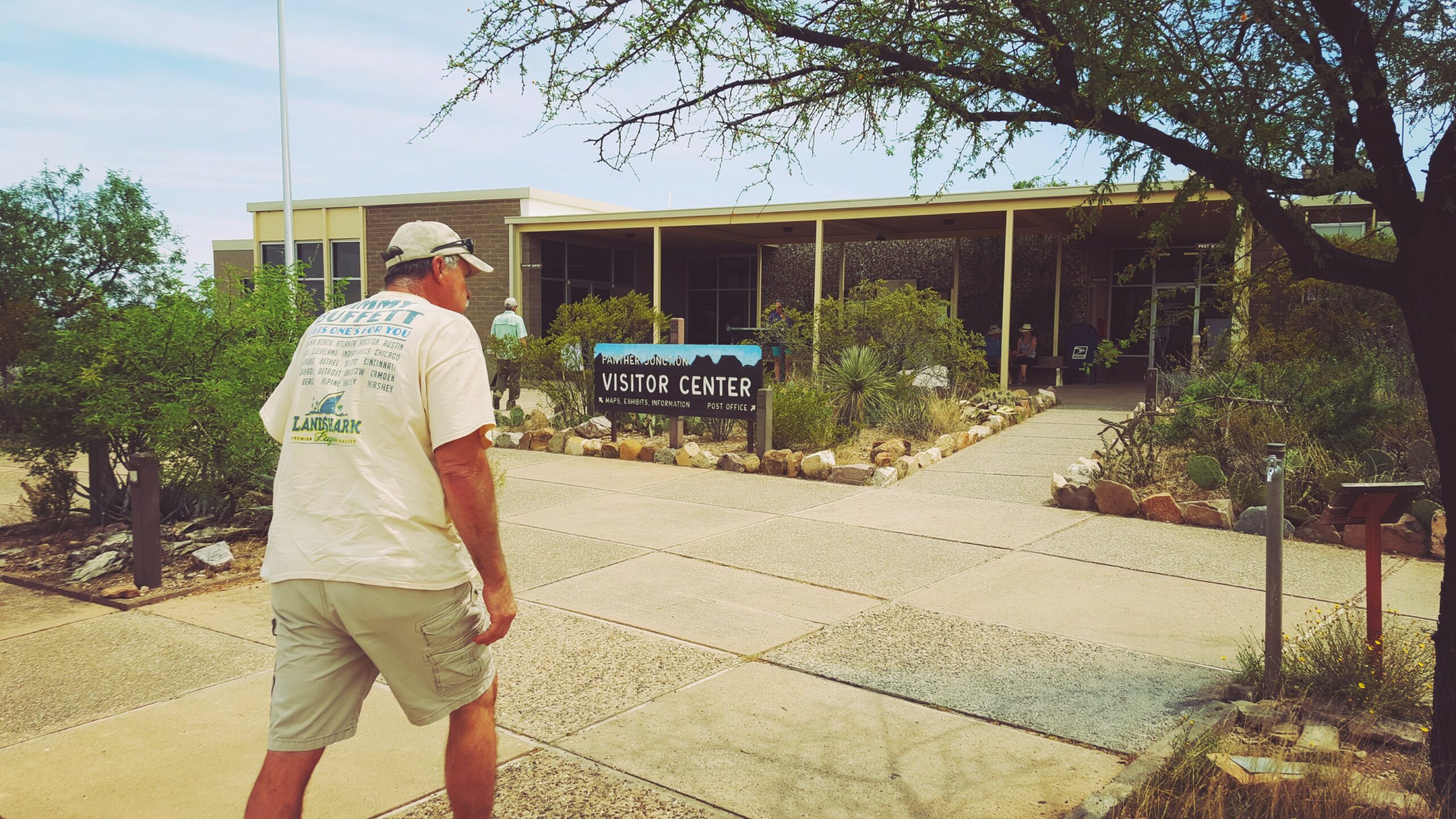 There are hiking trails and back country campsites in the Chisos mountains of the park as well. You will need to present an itinerary and plan to obtain a camping permit for these as well. This was where we were headed on this hike. The top of the Chisos mountains for an overnight backpacking adventure.
Backpacking Big Bend National Park – Planning and Preparations
---
Planning an overnight camping trip anywhere requires planning and preparation, but in the desert and mountains of Big Bend National Park, you will really have to pay attention to the details. Water, of course, will be your most limiting factor. Depending on the time of year and how strenuous the hiking, you will could burn through 3 to 5 liters of water per person per day just to stay hydrated. Then you will need additional water for cooking.
Water is heavy, 2.2 lbs per liter or 8.33 lbs per gallon), and carrying water takes up a lot of room in your pack that could be used for other important items. And believe me, when backpacking and climbing mountains, any extra weight becomes a burden. Including weight around your waist. 😉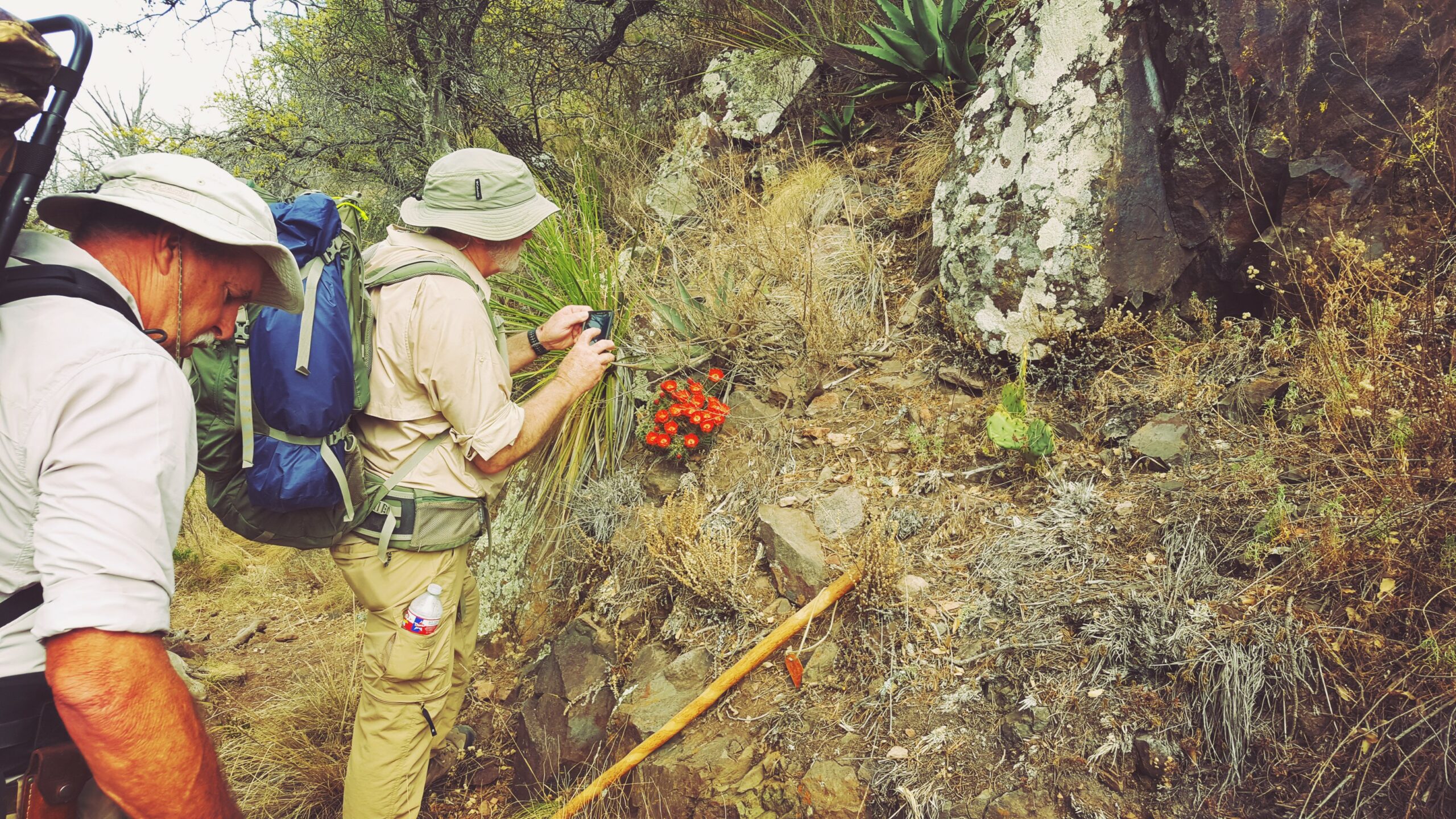 You need room for you will tent and bed roll, cooking gear, extra clothes, flashlights, and all the rest of your essential hiking gear. It becomes a case of: what will I likely need most, and what can I probably be able to do without. Food, water, flashlight, cooking and sleeping gear are a given. The rest become a luxury if you will are willing to carry the added weight.
In the Big Bend National Park, it is a good idea to pack some sunscreen. You will be hiking in the desert where the sun shines most of the time, even in winter. At the higher elevations of the Chisos Mountains of the park, a jacket will be a good item to consider, particularly in the winter and early spring.
Being a National Park, Big Bend requires all campers to register and reserve their campsites. It is a popular backpacking destination, campsites are booked up often months in advance. You can contact to park to reserve a campsite or for more information at: https://www.nps.gov/bibe/index.htm
The Long Hike UP to Camp
---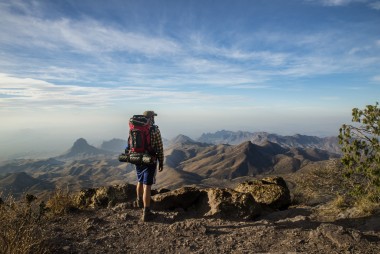 There are more than 150 miles of hiking trails in Big Bend National park ranging from very easy to strenuous.
There is a hike for nearly everyone. Some are merely day hikes while others can take a few days to complete.
It all depends on what you will are looking for. We were there for an overnight trip into the Chisos mountains.
It was a warm up trip if you will, just to get a trip under our belts and test out our legs and our gear. We had done our homework and secured our back country camping permit, and were packed up and ready to head up the mountain. It was spring time in Texas so the nights were cool, but daytime temperatures warmed up enough for you will to build up a good sweat.
We were assigned ER2 (east rim campsite 2) and chose a route up the mountain that, while longer, made for a more gradual climb than the other alternatives. The Laguna Meadow trail is 5.5 miles from the start at the Chisos Basin Lodge to its junction with the Colima Trail.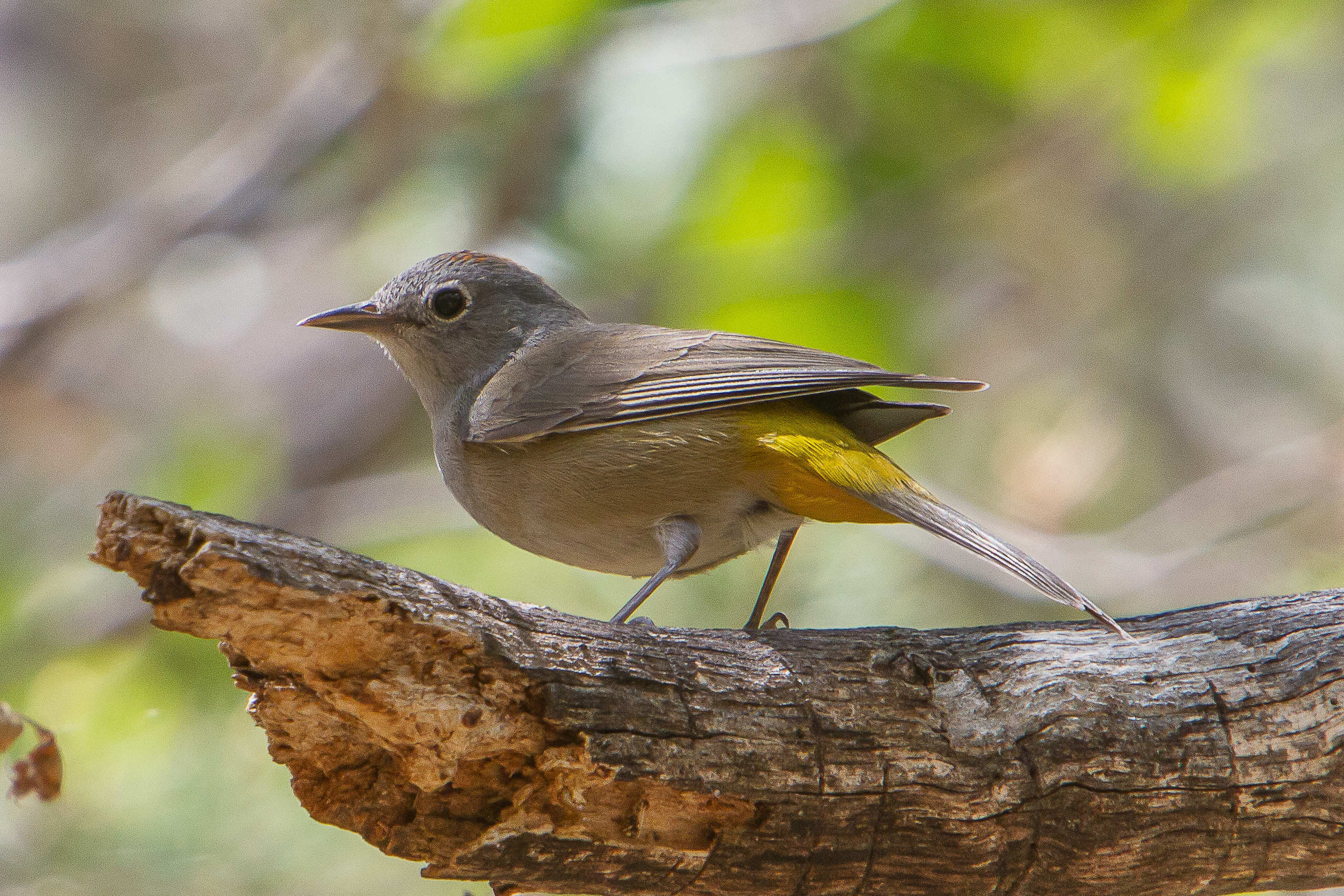 The Colima trail being named for the Colima Warbler a small bird native to Mexico. The Chisos mountains is the only place in the United States where the Colima Warbler is found. We used the Colima trail to cross over to the Boot Canyon trail which we then took about a mile to the Northeast trail. This left us with about 2 miles of rather steep all up hill terrain to our campsite.
It took us about 7 hours of hiking, with a few breaks thrown in as well, to reach camp. Needless to say, we were pretty wore out and ready to unload. We arrived in plenty of time to get camp set up before dark and fire up the jet stoves to boil some water for our dinner of Mountain House Specialties. And believe it or not, they're not bad. Plus they are lightweight and take up very little room in your pack.
Big Bend Back Country Campsite
---
There are lots of wildlife to be seen in Big Bend National Park. Everything from rabbits, squirrels and birds to deer and even an occasional Black Bear. We had a mule deer doe visit us in camp and she hung around all evening looking for a handout I suspect. The park is pretty adamant about not feeding the animals and I didn't carry that food up the mountain to give it away, so she was out of luck with us.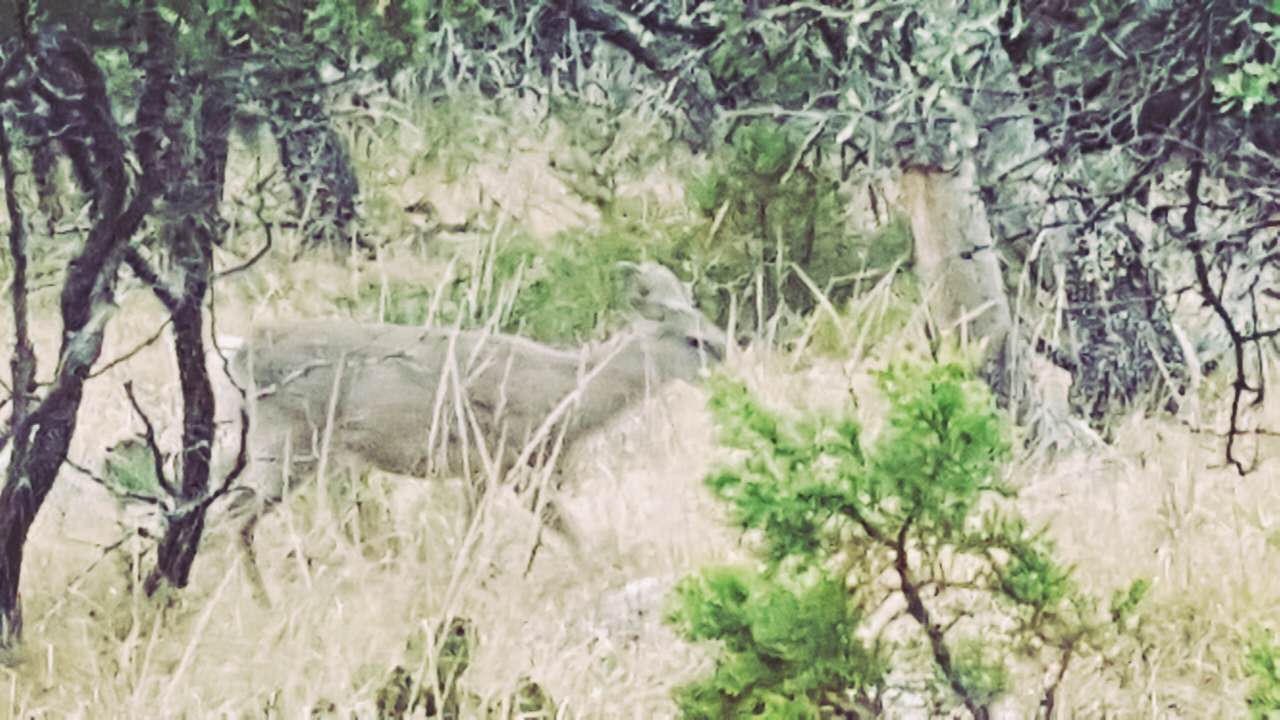 The back country campsites in the park have bear proof food storage boxes to discourage visits from the local bear population and avoid any unpleasant bear vs human encounters. Our camp consisted of individual single person tents, each of us carried a sleeping bag and sleeping pad. I highly recommend a good sleeping pad as the ground in the mountains is rather rocky, and at night, the cold ground can draw the heat out of you will while you will sleep.
There are no open fires allowed in the park so cooking was done on propane fueled jet boil backpackers stoves. Which again was basically just boiling water and adding it to the Mountain House meal Pouch. Which, by the way, emphasized again the need to carry plenty of water. Freeze dried food is useless without water to rehydrate it.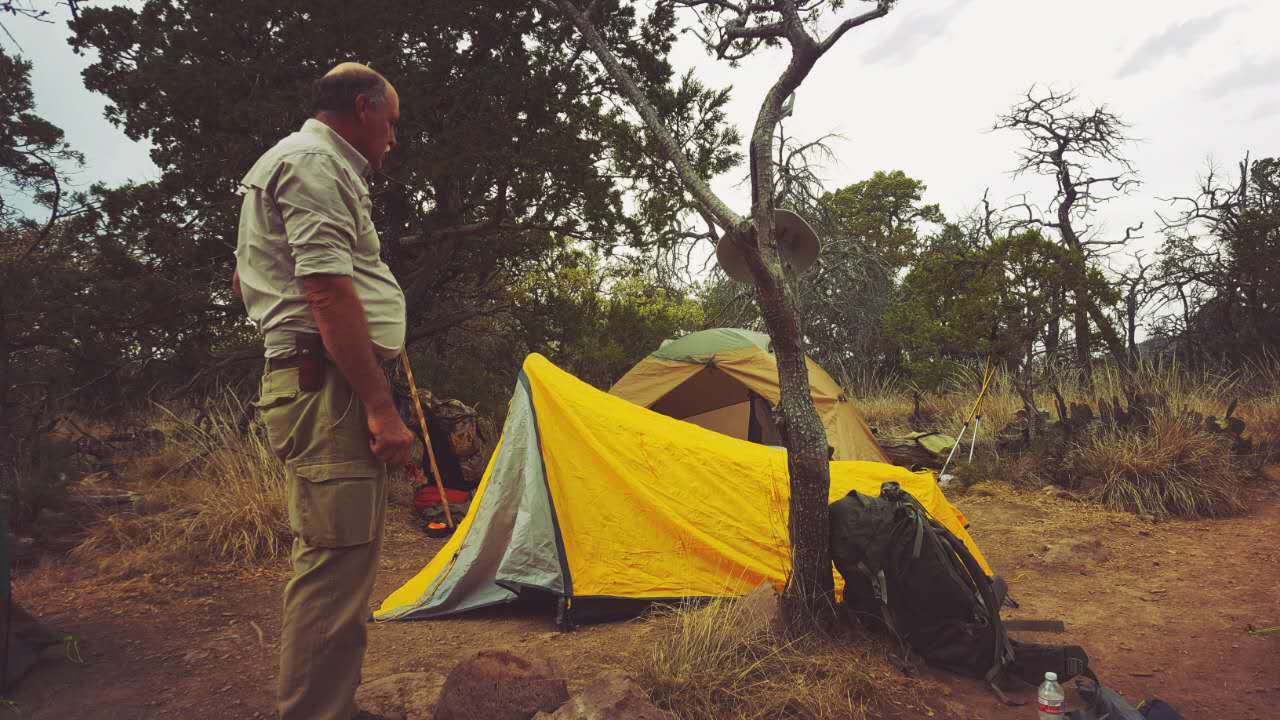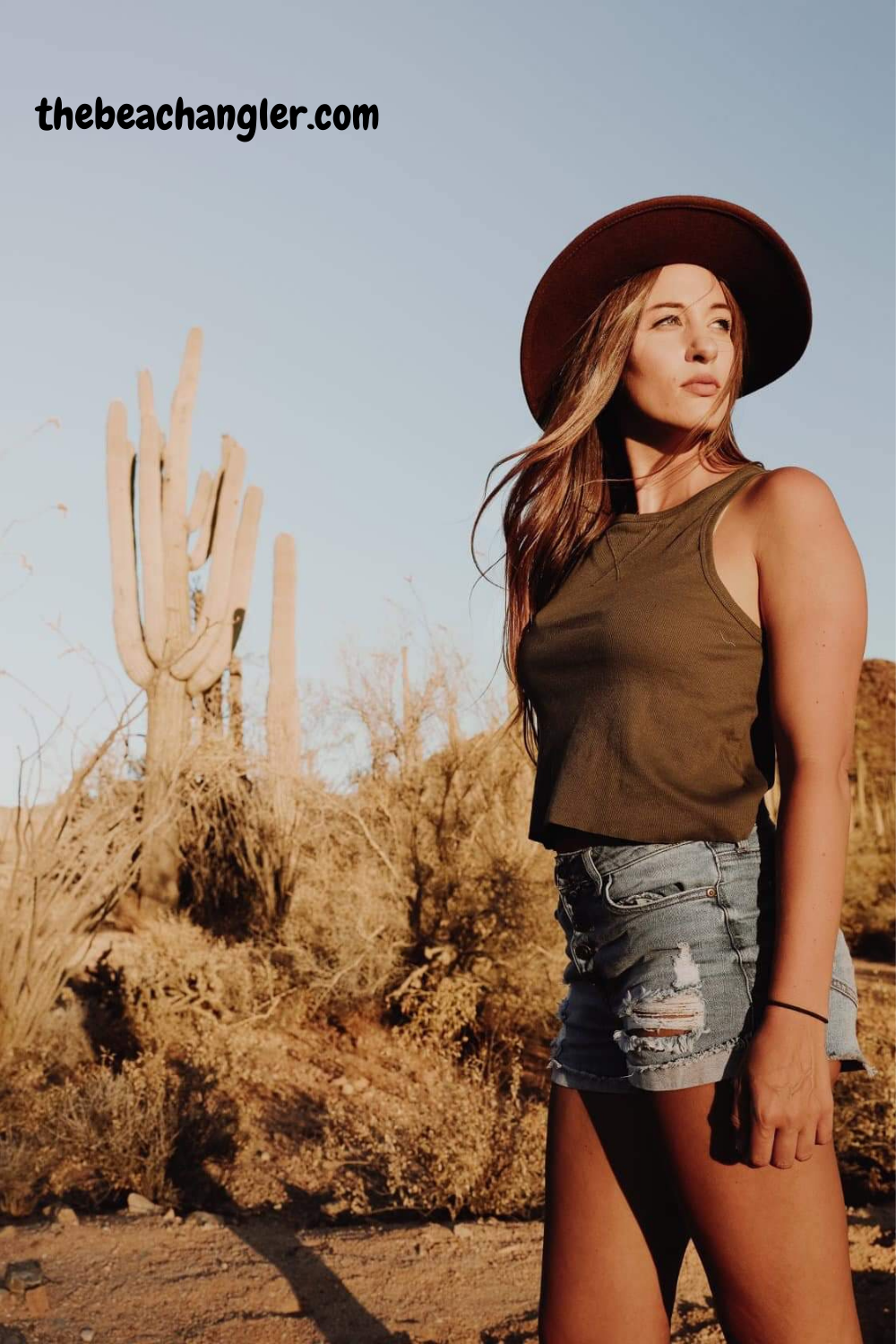 Being so far away from any population centers, Big Bend is one of the best places in the continental USA to view the night sky. If you will're a star gazer, you will be in for a real treat. From the top of the Chisos Mountains, you will can reach out and touch the stars, well almost. 🙂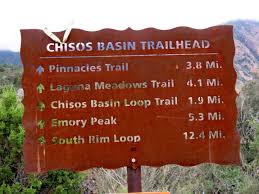 After a good nights sleep, we woke to a chilly morning and a re hydrated breakfast. It's a long hike back down, so we broke camp, repacked our gear and started the hike back to the Chisos Basin Lodge. For variety, we took a different route down.
It's a Long Hike Back
---
We backtracked down the northeast trail to the boot canyon trail then followed it passed the colima trail to the junction of the Emory peak and pinnacles trails. There were plenty of breaks along the way to take in the spectacular scenery. From the rim you will can see not only miles and miles of Texas, but of Mexico as well.
It was spring break time, so there were plenty of other campers and day hikers as well on the trails. Some of us made the 1.75 mile side trip to Emory peak, then we headed down the pinnacles trail to the lodge. The Pinnacles trail is very steep but much shorter route than we took up, but sine we were headed down hill, we elected the shorter route down.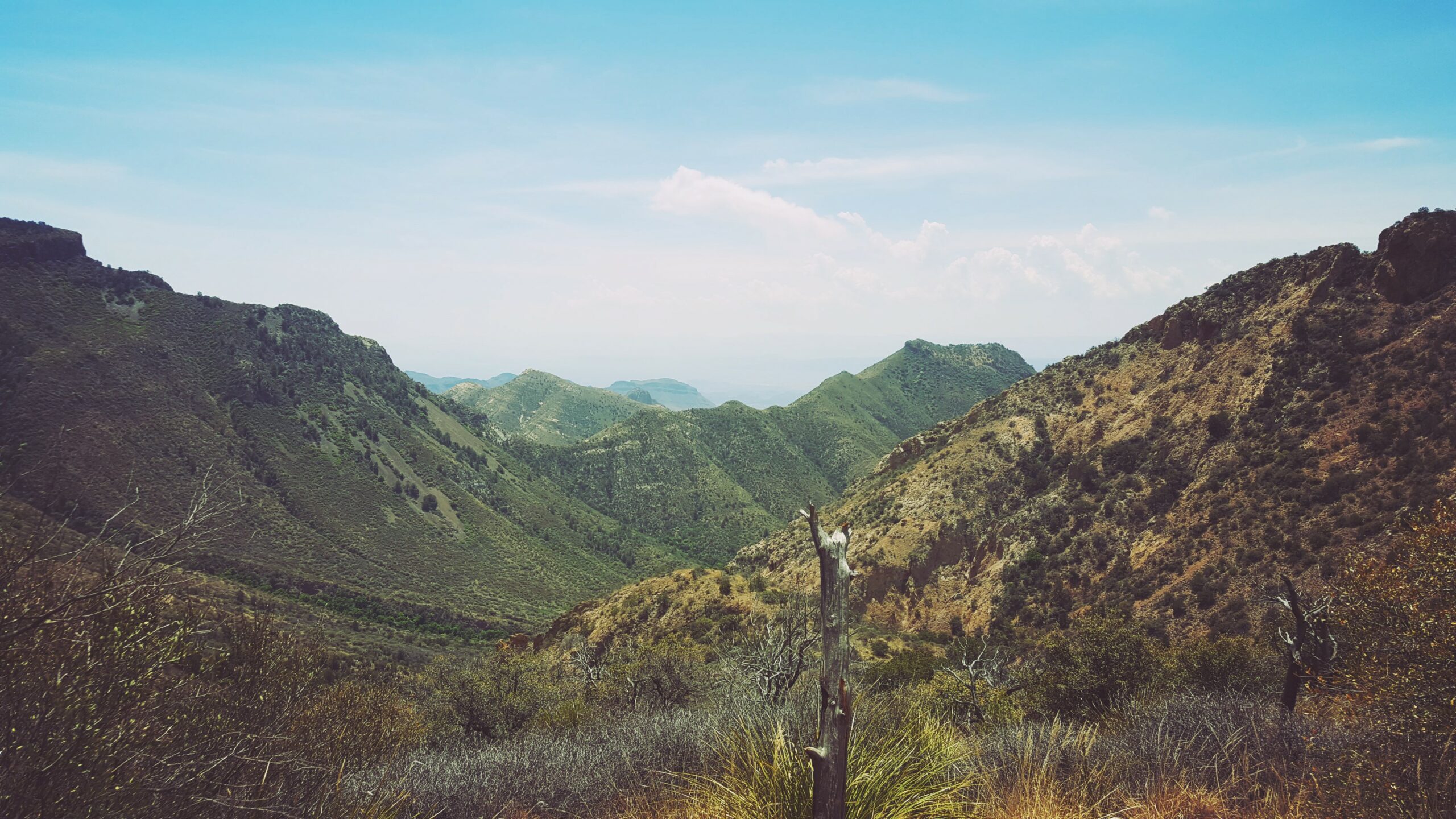 Downhill hiking with nearly 40 pounds of extra weight on your back, can take a toll on your legs, feet and knees. A good hiking stick helps maintain your balance and footing, and a good pair of hiking boots is a must. And by all means, take your time and watch your step, I would venture to guess more people get hurt on the descent from the mountains. You're tired and in a hurry to get down and unload from that pack.
We made it safely down and back to the trail head at the lodge. Unloaded out packs, grabbed some Gatorade and relaxed before heading to the showers. Once cleaned up, it was time to recap the trip and evaluate our plans and preparations as well as our gear. It's the best time to make changes is when its still fresh in your mind. After all, you will learn something from each hike, that's part of the fun.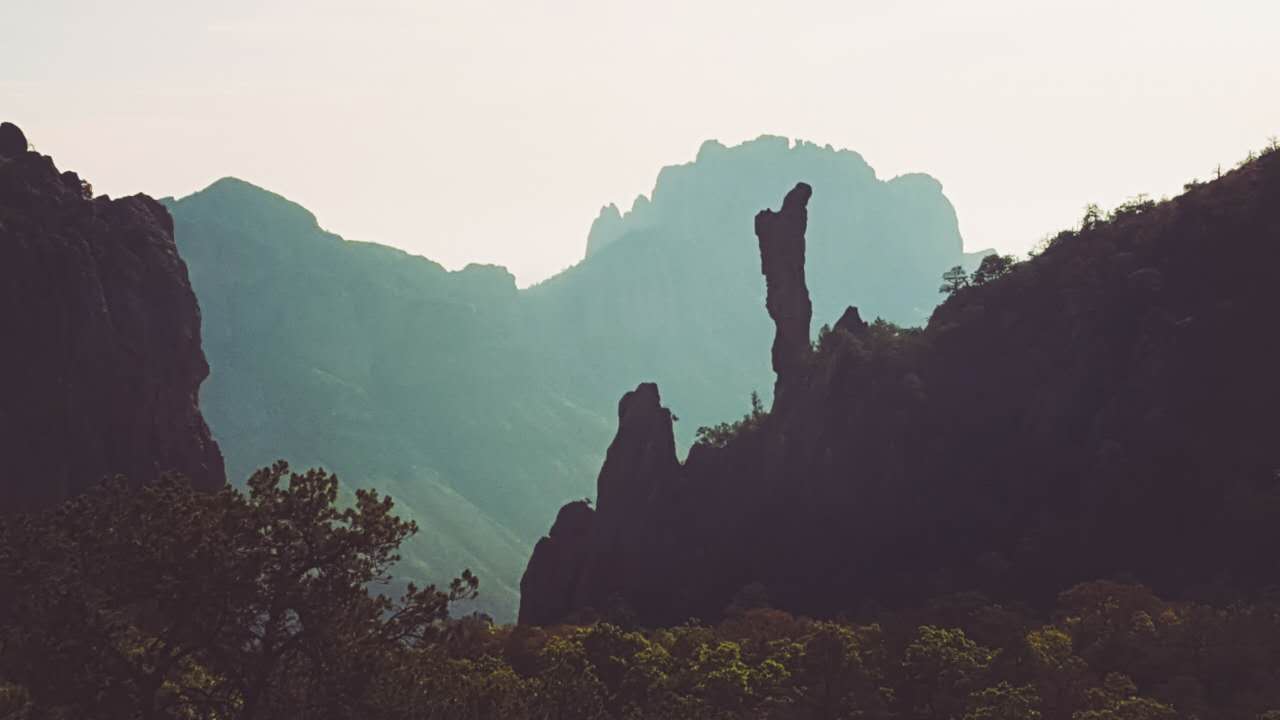 We've made a few hikes since then. One to the South San Juan Wilderness of Colorado (STORY HERE), and another to Guadalupe Peak (STORY HERE) the highest point in Texas. Each one had its own experiences and lessons learned. Check out the video below.
Frequently Asked Questions about Backpacking in Big Bend National Park
---
Can I camp anywhere in Big Bend National Park?
No, backcountry camping in Big Bend National Park is only allowed in designated campsites or zones. Obtain a backcountry use permit to find out the specific areas where camping is permitted.
How do I obtain a backcountry use permit for backpacking in Big Bend National Park?
You can obtain a backcountry use permit by visiting the Panther Junction Visitor Center or Chisos Basin Visitor Center. Permits are issued on a first-come, first-served basis. It is recommended to obtain your permit a day or two in advance, especially during peak seasons.
What is the best time of year to go backpacking in Big Bend National Park?
The best time to go backpacking in Big Bend National Park is during the fall (October to November) and spring (March to April) seasons. These months offer milder temperatures compared to the scorching summer heat and unpredictable winter conditions.
How many days should I plan for a backpacking trip in Big Bend National Park?
The duration of your backpacking trip depends on your preferences and the specific trails you plan to hike. It's recommended to plan for at least 2-3 days to fully experience the park's diverse landscapes and trails. Longer trips of a week or more are also possible for those seeking a more immersive experience.
Are there water sources available for backpackers in Big Bend National Park?
Water sources can be scarce in Big Bend National Park, particularly in the backcountry. It is crucial to carry and treat water. Some established campsites have reliable water sources, but it's always best to check with the park rangers or consult the latest trail reports before your trip.
What should I pack for a backpacking trip in Big Bend National Park?
Essential items to pack for a backpacking trip in Big Bend National Park include a reliable map and compass, sufficient food and water, appropriate clothing for varying weather conditions, a sturdy tent, sleeping bag, stove, first aid kit, and other personal gear. It's important to pack light but be prepared for potential weather changes.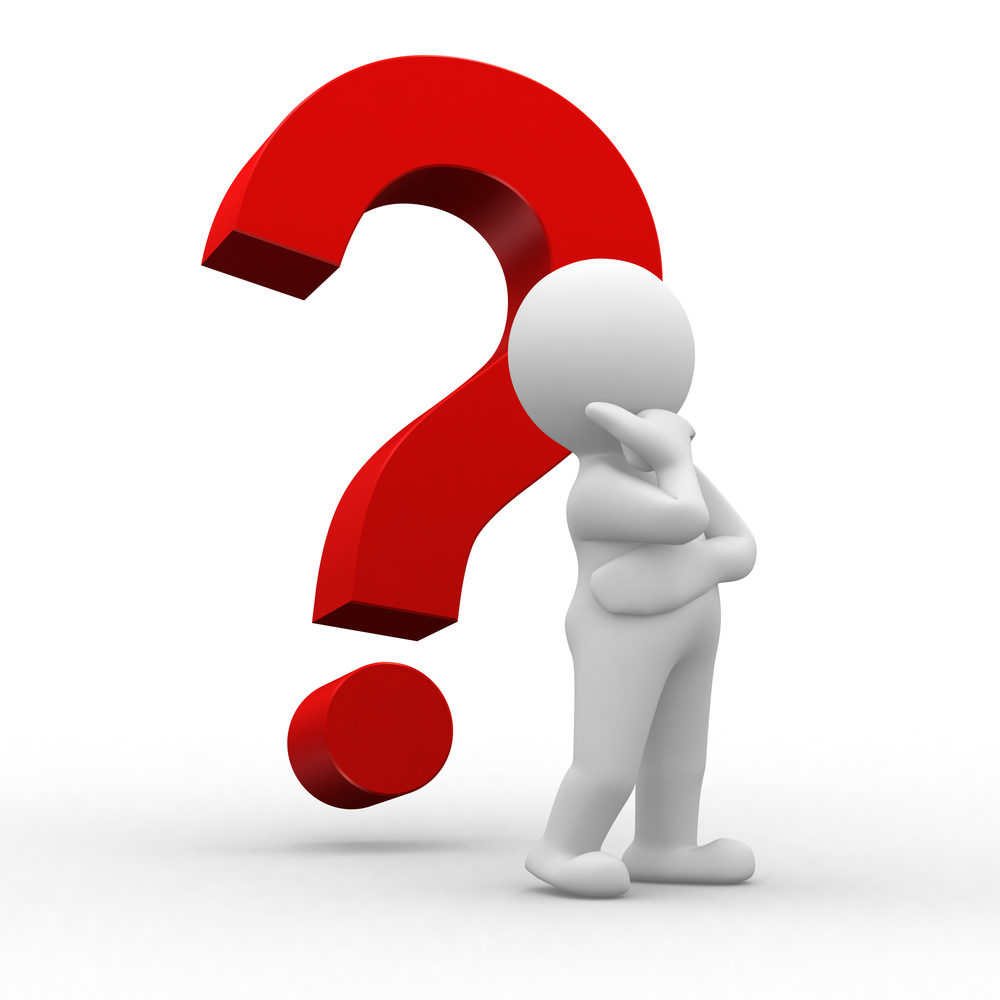 Are campfires allowed during backpacking trips in Big Bend National Park?
Campfires are only allowed in designated areas and require a free backcountry campfire permit, which can be obtained along with your backcountry use permit. In many areas, the use of portable camp stoves is recommended instead of campfires to reduce the risk of wildfires.
Are there any wildlife concerns while backpacking in Big Bend National Park?
Big Bend National Park is home to diverse wildlife, including bears, mountain lions, and snakes. While encounters are rare, it's important to be aware of your surroundings, properly store food and scented items, and follow park guidelines for wildlife safety. Carry bear-resistant food canisters for storing food in bear-populated areas.
Can I bring my dog on a backpacking trip in Big Bend National Park?
Dogs are allowed in developed areas of Big Bend National Park but are not permitted on most trails or in the backcountry. This is to protect the park's wildlife and preserve the natural environment. Make sure to check the park's regulations and plan accordingly if you are traveling with a pet.
Can I drink water from natural sources in Big Bend National Park?
It is generally not recommended to drink water directly from natural sources in Big Bend National Park due to the risk of contaminants. Carry and treat water from reliable sources or bring a water filtration system to ensure your safety.
Head for the Chisos Mountains
---
If you will are into hiking, or think you will might be interested in hiking, The Big Bend National Park is a great hiking destination. You can choose between hiking in the Chisos mountains or the Chihuahua desert. Everything from day hikes to overnight back country excursions.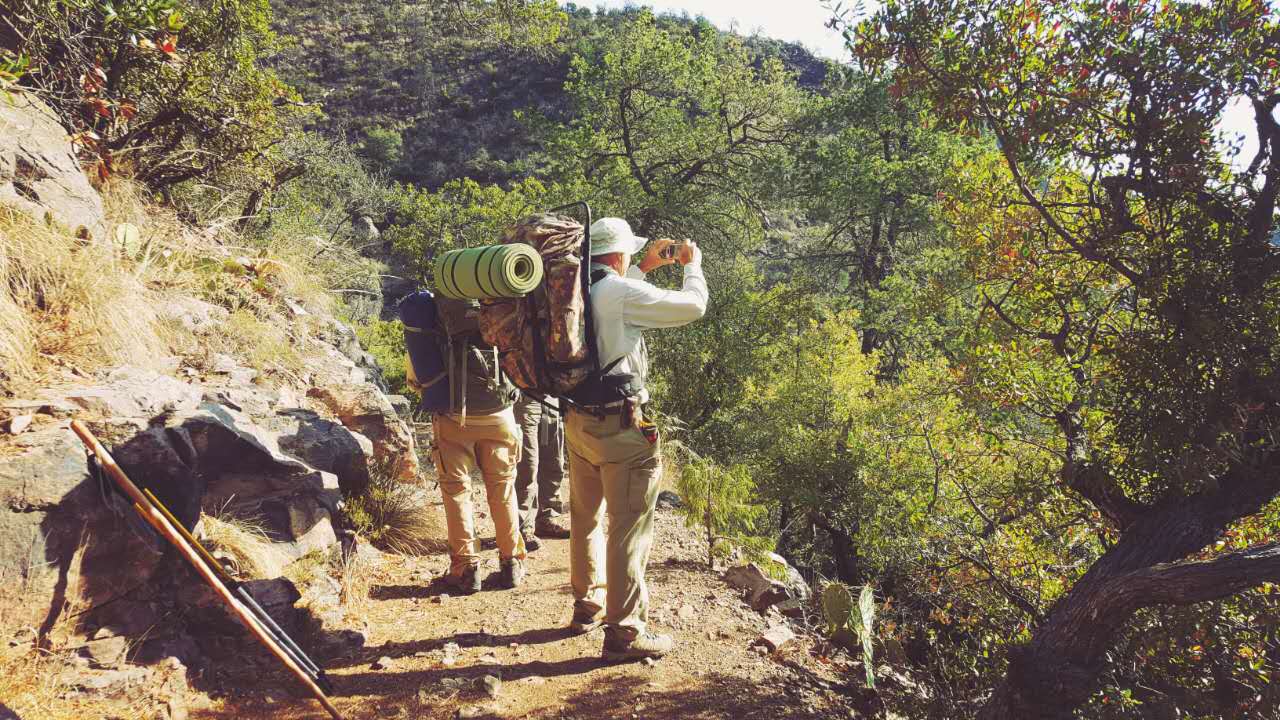 The park staff is very helpful and the trail system is well-marked and maintained. There is lodging and campsites at the Chisos basin, otherwise your nearest lodging will be a couple hours drive away so plan accordingly. Start with the national park service website when making your plans, and contact them to make arrangements for campsites if you will want to do an overnighter.
As always, be safe, try to leave it cleaner than you will found it and enjoy the journey. Follow us on Facebook: Rex The Beach Angler, Instagram: thebeachangler7, and Twitter: @AnglerBeach. If you will have any comments, questions or suggestions, please leave them in the comment section below and I will get back to you will ASAP.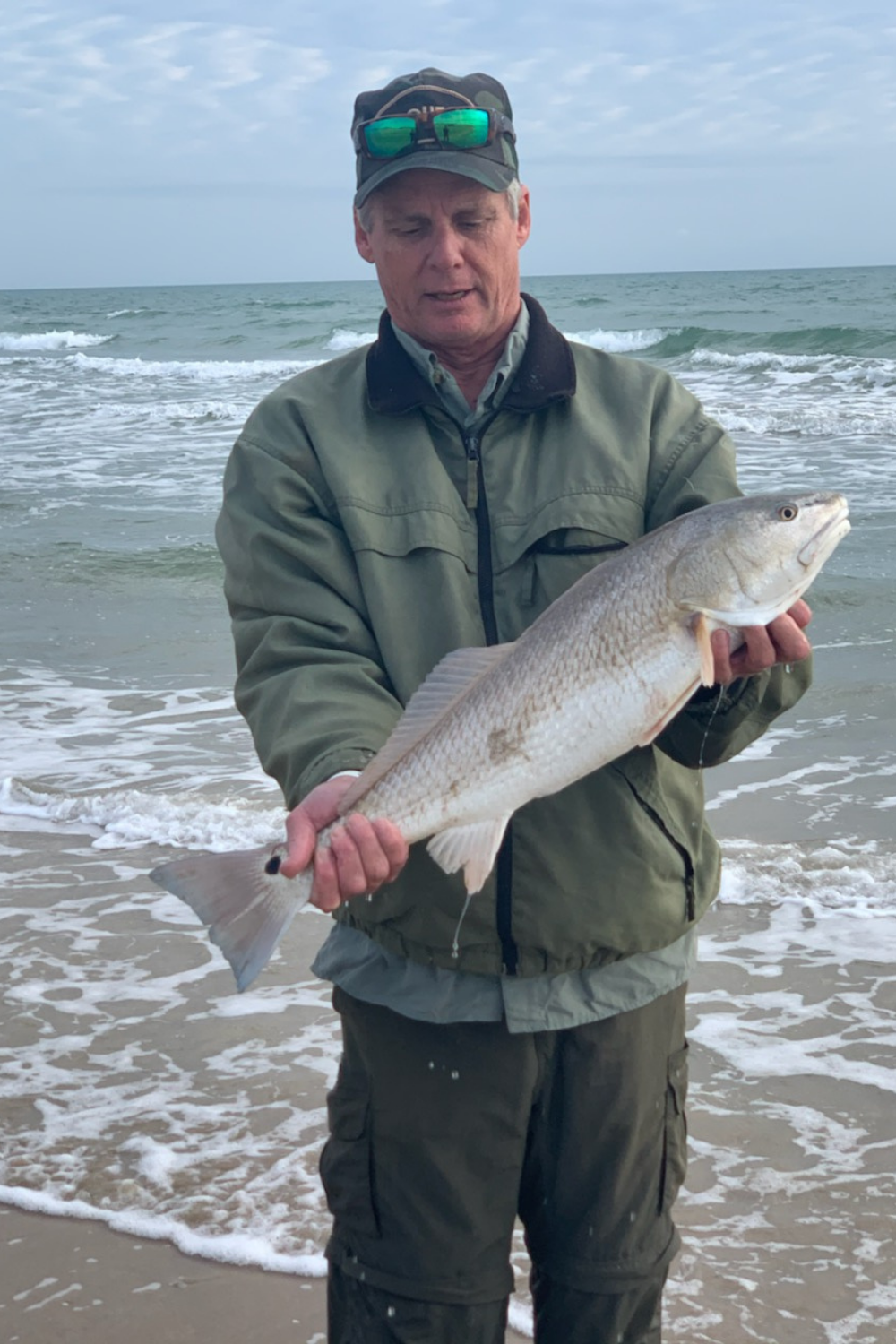 A life long surf fisherman with 50+ years of experience, I am also an avid hunter and outdoorsman. I will be sharing my passion for the outdoors with you so be prepared for hunting, fishing, camping, hiking and more. Along with gear reviews and the latest trends and innovations in the outdoor industry.