Ever since man first began learning how to fish, we've been creating new and better ways to attract and catch more and bigger fish.
From using bones to fashion fishhooks to using hide and hair to make the first fishing lures, man has forever been in a quest to attract and catch fish.
As manufacturing techniques and materials have advanced, the numbers and types of fishing lures has grown exponentially.
From spoons, top waters, flies, hard plastic swim and jerk baits to soft plastics there are vast numbers and types of lures available to the modern fisherman.
D.O.A. (Deadly On Anything) Lures, out of Stuart Florida USA, has been One of the leading innovators in the soft plastic lure industry for over 36 years now.
One of the very first to add actual shrimp and baitfish to the plastic during the molding process, D.O.A. lures have been catching more and bigger fish for anglers consistently.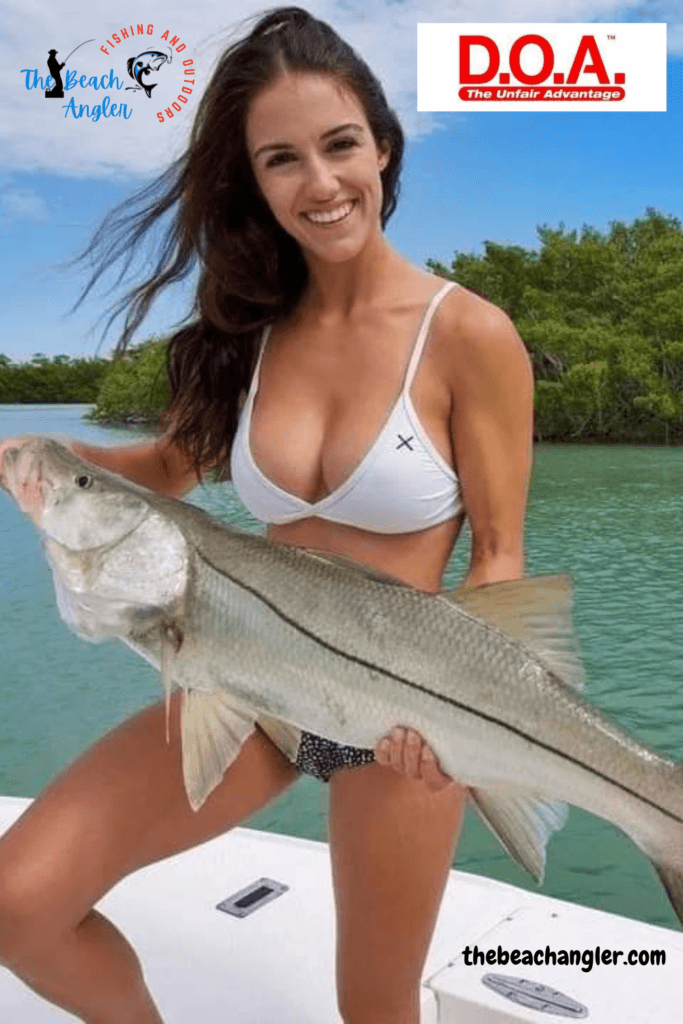 QUICK LOOK:
D.O.A. Lures has been making some of the most advanced and innovative soft plastic lures, for over 36 years, from their headquarters in Stuart, Florida. With the addition of real shrimp and baitfish to the actual plastic of the baits, you have a soft plastic lure that, not only looks real, but smells and tastes real to the fish as well. They have a full line of soft plastic baits for both fresh and saltwater applications. And, a full line of hooks, corks, weights, rigs, jig heads and accessories. I use them, and I can vouch for their effectiveness. They will catch fish and, under the right conditions, will out fish even live bait.
The D.O.A. Lures Story
---
We all know life isn't fair — but you can make it unfair in your favor with D.O.A. Fishing Lures. Founder Mark Nichols knows the satisfaction of getting a big fish to latch onto your line, and he started D.O.A. (Deadly On Anything) Lures so others could feel it as well. Each lure is designed based on decades of actual experience on the water in fishing spots worldwide.
What are D.O.A. Lures?
D.O.A. manufactures soft plastic baits that are impregnated with farm grown shrimp to resemble real shrimp and crabs for added scent attractants. Their lures are some of the most versatile lures on the market today! And they are celebrating over 36 YEARS of making lures in the U.S.A. at their headquarters in Stuart, Florida.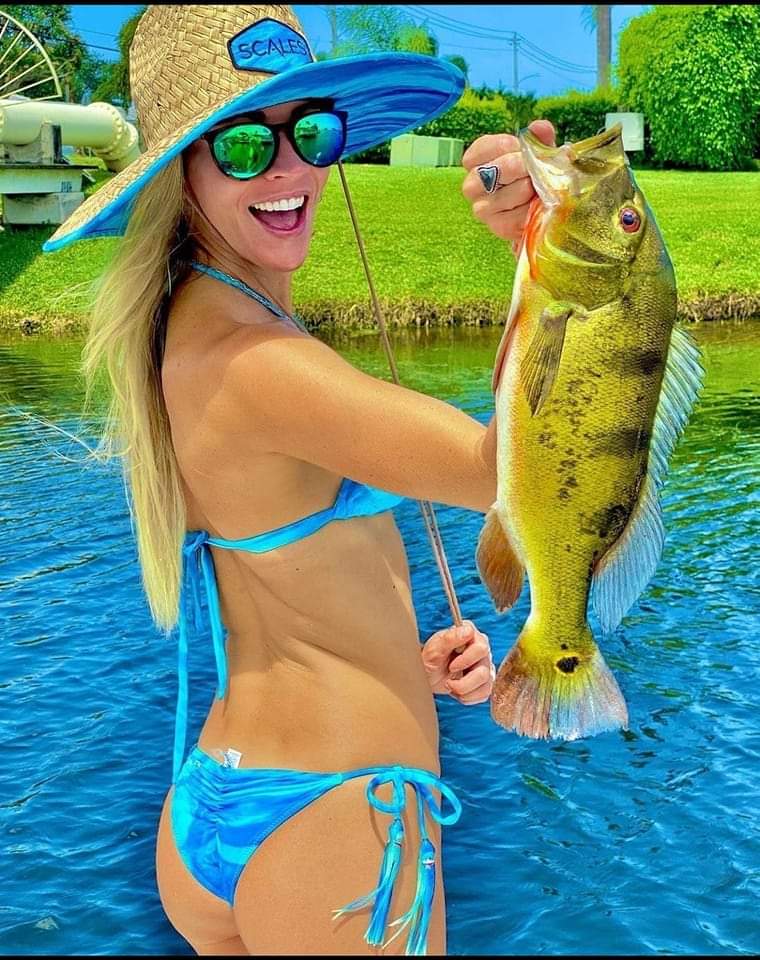 Founder, Mark Nichols started with one 3″ Shrimp and has grown D.O.A. Fishing Lures into a company that now has over 20 different lure families with over 120 different colors. Today, D.O.A. lures covers both Saltwater and Freshwater fishing.
Whether you're Snook fishing in Stuart Florida, or ice fishing in Vermont, D.O.A. has the right lure for you. D.O.A. Lures was one of the first, and still one of the few, that adds real shrimp and baitfish to the actual plastic of the lure during manufacturing.
Thus producing a lure that not only looks real, but smells and tastes real to the fish as well. D.O.A. Lures attract fish and trigger them to strike when other lures are producing nothing. They have recently expanded their freshwater lure selection by adding 2 New Worms, the amazing SNA-KOIL and PT-7 top water!
In addition to their wide variety of lures, D.O.A. has a full line of accessories to supplement their lures and increase their versatility and effectiveness. D.O.A. has floats, jig heads and hooks specifically designed to work with D.O.A. lures.
The DEADLY COMBO is a D.O.A. Clacker with a 3″ Shrimp, we have a nice selection of Short Shank and Long Shank D.O.A. Jigheads and Chug Heads and Hot Heads that turn soft plastic lures into surface lures. And we have our custom-made Long-Neck Hooks in 3.5/0 and 5/0 hook sizes for our Swim Baits, Jerk Baits, Shad Tails and our new D.O.A. Worms.
FROM THE FOUNDER: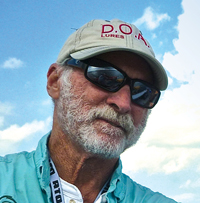 Nature has always been my therapy in life.



D.O.A. Fishing Lures
ContactToll Free: 1-877-DOA-LURES
PHONE: (772) 287-5001
FAX: (772) 287-3843
e-mail: sales@doalures.com
3620A S.E. Dixie Hwy.,
Stuart, FL, 34997
"Whether sitting on the beach looking for whatever appears, or hiking along a mountain stream, I have always been fascinated with the water and the life that spawns from its depths. My fishing career evolved rapidly after soaking a "red wiggler" or a shrimp or some other wiggly thing, to learning to fool my fishy target with a piece of plastic.
The satisfaction I got from enticing my quarry is why I began D.O.A. Fishing Lures. Virtually all my lure designs come from years spent on the water. I consider this mandatory to develop a successful product. I also consider this the reason D.O.A. Fishing Lures has such a strong presence in the market. Here at D.O.A. we also pride ourselves in taking the time to talk to our customers about fishing and how to use our products correctly.
Teaching anglers how to catch and handle fish so they may be released to fight yet another day is one of our mission statements. We have no problem with a fisherman taking home a nice fish dinner, but strongly promote catch & release because every fish that goes in the cooler is one you or your children will not catch in the future."
D.O.A. Shrimp
---
D.O.A. Shrimp have a live shrimp look and swimming action. With their downward facing, vibration legs and consistent level drop rate D.O.A. Shrimp Lures have successfully fooled almost every species of fish that feed on live shrimp.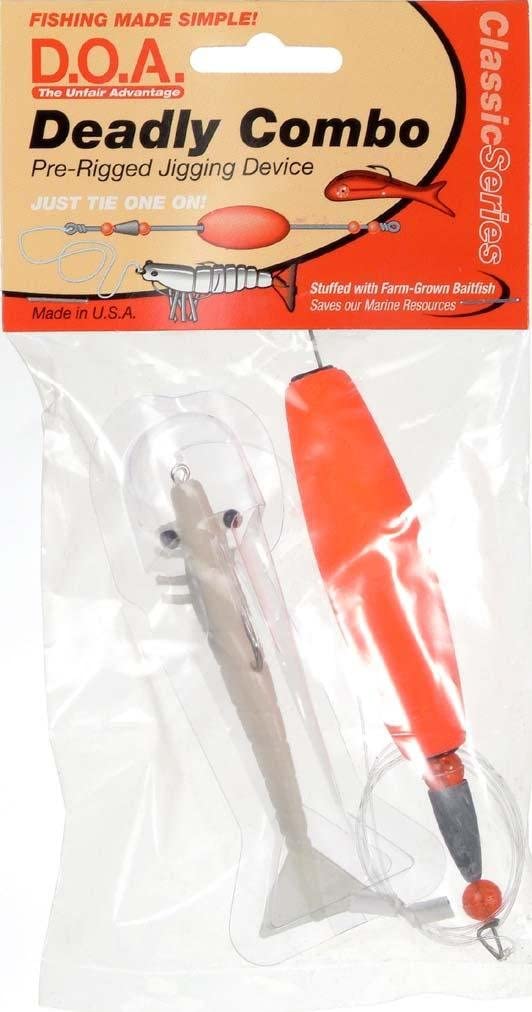 Just to name a few, DOA Shrimp have caught trout, snook, redfish, flounder, tarpon, ladyfish, jacks, sheepshead, large & small mouth bass.
Fishermen need only to present the lures with a natural slow retrieve to be insured of many memorable days on the water.
I have personally experienced a time when the D.O.A. Shrimp actually caught more and bigger fish than live shrimp. I was on a charter with 3 others.
The Captain had us all fishing with live shrimp under a popping cork. He was using a D.O.A. Shrimp under a popping cork and he was catch more and bigger fish than any of us.
The pinfish, piggy perch, and other bait stealers would get our live shrimp before a trout or redfish had a chance to even find it.
One by one we all switched to the D.O.A. Shrimp and began to catch trout and redfish like the captain.
I was the last hold out. I mean, no way a plastic imitation shrimp can out fish live shrimp, right? Wrong! Finally, I gave in and switched over and immediately began catching good solid trout in the same location that before all I was getting was bait stealers. The tough D.O.A. plastic kept the perch and pinfish from stealing our bait which kept our bait in the water long enough for the trout and redfish to pick up the scent and find it.
The D.O.A. Deadly Combo comes ready to fish with the D.O.A. Shrimp rigged with a float; just open the package and tie the end of your line to the swivel that comes in the package. Then cast out the float with the lure attached and let the current take it as far away from the boat as you like. Close the bale on your reel to stop the line from going out.
The float will move with the current or the wind and every once in a while you should give it a twitch so the float makes a clicking noise that mimics the sound a shrimp makes when is jumps or swims. Let it rest for a minute and click it again.
The package comes with a standard 3″ D.O.A. Shrimp tied on and ready to use. This method of fishing has been used as long as men and women have been fishing and it is the easiest way to catch fish.
D.O.A. Saltwater Lures
---
D.O.A. got their start with the D.O.A. Shrimp and cut their teeth, so to speak, in saltwater. Over the years they have developed a wide selection of soft plastic saltwater lures infused with actual shrimp and or baitfish.
D.O.A. soft plastic saltwater lures are made to look realistic by mimicking the size shape and colors of common saltwater shrimp and baitfish — and by flavoring them with bait fish, they smell and taste like real prey as well. D.O.A. jig heads are strong and sharp as well and are made with their proven Terror-Eyz to attract and draw strikes.
D.O.A. Shrimp – the one that Started it all!
The famous D.O.A. SHRIMP that we covered previously come in 5 different sizes – the Fly/Teaser Shrimp, the 2.75″ Shrimp, 3″, 4″ and 6″ Shrimp lures.
For everything from perch to tarpon, the D.O.A. Shrimp is proven to catch them. Available in a wide range of colors, and infused with real shrimp, the D.O.A. Shrimp sets the standard for shrimp imitation lures.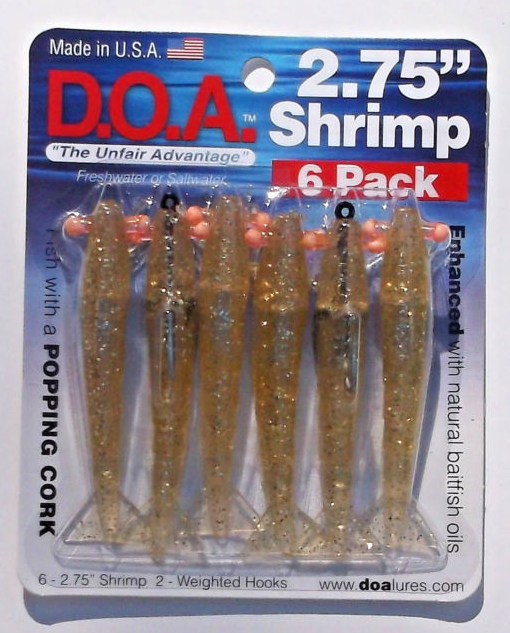 The D.O.A. SOFTSHELL CRAB
D.O.A. Softshell Crab lures came about because local fishermen kept finding small crabs inside so many of the fish they cleaned. We used to catch some really big black drum using small blue crabs for bait here in Texas. Other fishermen confirmed these findings and D.O.A. Lures knew that if the fish were feeding on real crabs, they would feed on their Softshell Crab.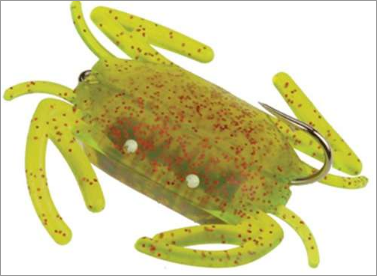 D.O.A. Crab Lures have caught everything from red drum to permit, tarpon, snook and even bass. Try one. Walk it sideways across the bottom or swim it slowly in the current.
This lure can be crept slowly across potholes or slid right across the surface for that top water strike. You'll be pleased with its lifelike swimming and feeding action and you'll be in for some great fishing fun
Available in 3 different sizes from Tiny TerrorEyz, regular and Big One TerrorEyz in 50 different colors, the D.O.A. TerrorEyz Lure is the world's first lure that makes eye contact with fish. The special Holographic Eyes make fish attack because the eyes shoot out flashes of reflected light.
The hidden lead head hook design makes the lure swim correctly every time and the attacking fish never feels the hard head. Surrounded by the super strong soft plastic vinyl body, the lead head hook is snag proof. The nose of the lure bounces off the rocks and other submerged structures.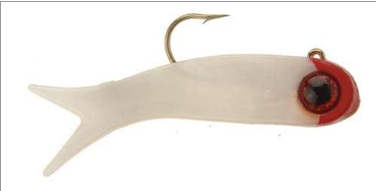 The TerrorEyz imitates a minnow in the water; it will catch any fish that will eat a live minnow, such as snook, trout, walleye, redfish, tarpon, flounder, cat fish, pompano, large mount bass, stripers, ladyfish, bluefish, white bass, rooster fish, dorado and spanish mackerel.
D.O.A. Bait Buster Lures have become a staple for fishermen who like to throw surface and diving plugs. The Bait Buster perfectly imitates a swimming finger mullet or medium size live bait, and comes in Shallow Runner, Deep Runner and Trolling in 55 different color patterns.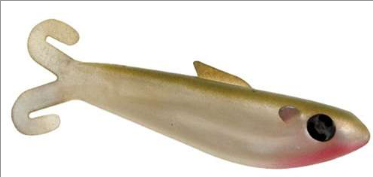 The D.O.A. Bait Buster will catch snook, trout, red fish, tarpon, stripers, bluefish, weakfish, flounder, barra mundi, grouper, snapper and many other varieties. Depending on the model, this lure will tease the fish on the surface or along the bottom.
The single upright hook system reduces hang-ups and weed problems. The hollow body allows the lure to collapse in the fish's mouth and insures better hook sets. Anywhere you fish — from casting in the local bass pond to trolling offshore — D.O.A. Bait Buster lures will produce for you.
This 8 inch long swim bait, looks so natural it even fools humans. This innovative new swim bait gives you many options and you can fish the lure in many different ways. It has proven itself on snook, tarpon, striped bass, trophy seatrout and all offshore species. Its an excellent swim bait for the lunker bass of the West, Southwest and Southeast. Also, good for trophy muskies and northern pike. Probably one of the most versatile lures to come along in years.
Front bill easily removed and replaced.
Don't discard BFL insert as replacement bodies are available.
300 Lb through wire designed to slide out of BFL when fish strikes bait.
3X chemically-treated black nickel treble hook.
Available in 5 colors.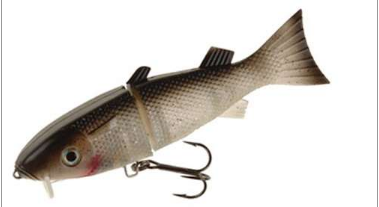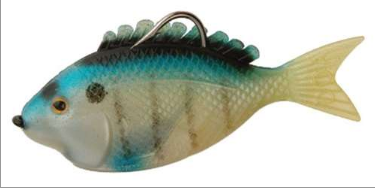 The D.O.A. Tough Guy features the detailed looks and action seen in numerous species of baitfish found worldwide. The hollow lure body creates an air bladder which, when combined with its custom hook/weight design, keeps the Tough Guy running upright whether it's being trolled, bounced along a rocky bottom, or standing still. For best performance use a loop knot instead of a swivel.
The D.O.A. Swimming Mullet can be used in many different ways; it is one of the most versatile lures made by D.O.A. The lure actually comes alive when trolling over the near shore reefs for kingfish, dorado, cobia or any other hungry fish that will hit a ballyhoo or other trolling lure. It is realistic looking and designed to be trolled, cast, or jigged. It's 1 1/4 oz. lead with holographic eyes allows the lure to sit horizontal on a vertical drop.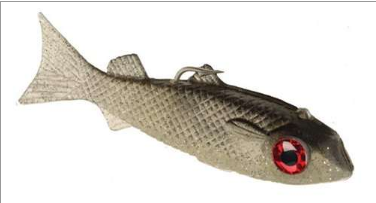 Their newest addition is the PT-7 top water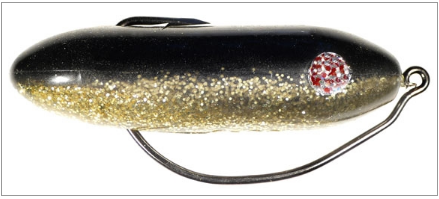 A completely weedless top water lure, you can now walk the dog where no other lure can! The PT-7's aerodynamic body casts like a bullet and skips into tight places where others can't. 3" length and 5/8 oz., this soft plastic minesweeper detonates explosive strikes like no other top water on the market today. Snook, redfish, seatrout and largemouth bass find its "walk-the-dog" action simply irresistible. Pre-rigged with a single premium 7/0 EWG hook, it keeps big fish on where standard trebles fail.
D.O.A. Lures C.A.L. Series
---
One of the more recent developments at D.O.A. Lures has been the C.A.L. lures Just in case you're wondering, C.A.L. stands for "Cheap Ass Lures", really they're serious. This a complete line of soft plastic lures from grubs and worms to jerk baits and paddle tails, much like many of the other soft plastic baits on the market.
With one big difference however, D.O.A. C.A.L. series soft plastics have real baitfish molded into the plastic for added scent and attraction.
And, like the name says, they are cheaper than most of the competitors. So, you get better lures at a better price. Sounds like a winner to me. 😉
The C.A.L. series is a wide selection of lure types and color combinations for both Freshwater and Saltwater including: 5″ Swim Bait, 4″ and 5.5″ Jerk Bait, 3″ and 4″ Shad, Curl Tail, Paddle Tail along with the 5″ Finesse Worm, the 8″ Trick Worm and the amazing life-like 12″ SnaKoil.

These are durable soft baits with lifelike swimming action. Both the D.O.A. Paddle and Curl Tails offer tremendous action even at the slowest retrieves. Like all of their C.A.L. series lures, they marry perfectly to the D.O.A. Jig Heads, Chug Heads and Hot Heads.
D.O.A. AirHead is the Newest
Perhaps the most versatile addition to the D.O.A. Lures lineup, the five-inch long, wide profile body has a broad beaver tail and offers great flash and vibration. Freshwater Bass fishermen are going crazy over the AirHead! Rigged weedless with the airhead 5/0 longneck worm hook, it can be fished through all cover. Add D.O.A.'s pinch weight to the hook and it acts as a keel for added drop and stability.
Used in saltwater, this unique lure is great for inshore application from shallow water Redfish to Striped Bass and everything in between. Also, try the airhead with D.O.A.'s long shank jigheads, or add an attention-getting rattle to the body. The rigging options are limited only by your imagination.

The D.O.A. C.A.L. Shad Tail

Do you fish with soft plastic shad tails? The C.A.L. Shad is a 3-1/2-Inch Lure made of the highest quality material with laminated color backs and tails. Like All D.O.A. Lures it has real baitfish molded into the plastic and they are also available in an economical 50-pack
Realistic look and swimming action
Comes in a 50-pack
Manufacturer of soft plastic baits that are impregnated with farm grown shrimp to resemble real shrimp and crabs
Quality craftsmanship and materials make this product a must have for any fisherman
The D.O.A. C.A.L. 5.5 Inch Jerk Bait
Flavored with real baitfish, and with its new diamond shape tail, the C.A.L. Jerk Bait has proven to be the one of the fish catchinest lures to come down the river in a long time.

The heaviness of the body allows the lure to be cast a long distance even with a bait caster. It can be rigged with a wide gap worm hook or jig head. When you use a worm hook with a D.O.A. pinch weight attached to the shank of the hook the lure becomes weedless and allows you to cast even further.
D.O.A. Shrimp vs Berkley Gulp Shrimp
---
I was recently asked the following question: "Which is better, D.O.A. Shrimp or Berkley Gulp Shrimp?". And I answered with another question: "How and where will you be fishing them?". They both are very good baits and will catch fish when nothing else is working.

But, the D.O.A. Shrimp is much more lifelike in both appearance and presentation. It has a more natural look and action in the water and is more versatile in how you can fish with it. If you want to freeline it and let it drift, or bounce it along the bottom or work it under a cork, the D.O.A. shrimp is more effective.
It is also more durable than the gulp, pinfish and smaller fish can bite chunks out of the gulp where the D.O.A. is a tougher plastic material. Having real shrimp molded into the plastic gives the D.O.A. shrimp a slow release fish attractant that will dissipate over time however.
The Berkley Gulp is made of a very porous material that soaks up the berkley attractant. And, the Berkley attractant is proven to attract fish. All kinds of fish, even those you may not want, but it works. It is a water based formula that disperses much faster in the water than that of the D.O.A. shrimp so it will draw more fish quicker.
The Gulp shrimp looks a little like an actual shrimp, but compared to the D.O.A. shrimp it's like night and day. The D.O.A. is much more realistic than the Gulp. The Gulp is not as versatile as the D.O.A. shrimp and you basically fish with a jig head or under a cork of some type.

I fish with both, and have had great results with both. It really does depend on the fishing situation as to which is better. If you have no idea if fish are even present, then the Gulp with water-soluble attractant might be the best choice. Rigged either on a jig head or under a cork, you can cover a lot of water and if the fish are there they will find your Gulp.
If you are targeting fish that are actively feeding on shrimp, and you need to be able to drift a bait with a natural presentation to them, then the D.O.A. is a much better choice. As a side note: if you buy Berkley Gulp in the tub, you can recharge your gulp baits by placing them back in the tub when your done fishing. And, you can also soak your other plastic baits in the tub as well. 😉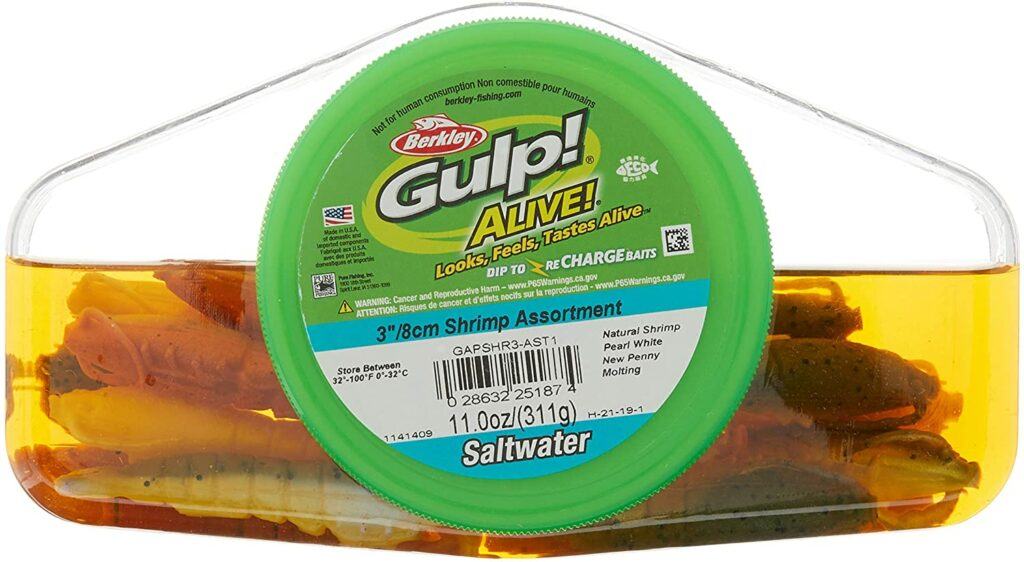 Most of your other plastics are not as porous as the gulp so they won't soak up as much attractant, but they will soak up some and it will attract fish to those baits as well. Another option, they sell the berkley gulp attractant separately now, so you can add it to your other baits. If you want to know more about the Berkley Gulp baits and attractants, you can click on the buttons below for review and more information.
Final Thoughts: D.O.A. Lures Catch Fish!
---
All I can tell you is D.O.A. Lures just work. They have a 36+ year track record of catching fish in both fresh and saltwater.
By molding shrimp and baitfish extracts into the plastic of their lures, they created an artificial lure that would attract more fish and draw more strikes than conventional plastic lures.
I have personally witnessed times when D.O.A. shrimp outperformed live shrimp. Pinfish and other bait stealers would take the live shrimp as fast as it would hit the water.
But, with D.O.A. shrimp, they couldn't steal it and the trout and reds would then get a chance to take it.
D.O.A. lures are very versatile baits that can be rigged and fished in a variety of ways depending on your fishing conditions. Now, you still need to be where the fish are.
They are not some magic potion, but they are another great tool to have in your tackle box to help you catch more fish. Sometimes even more fish than live bait.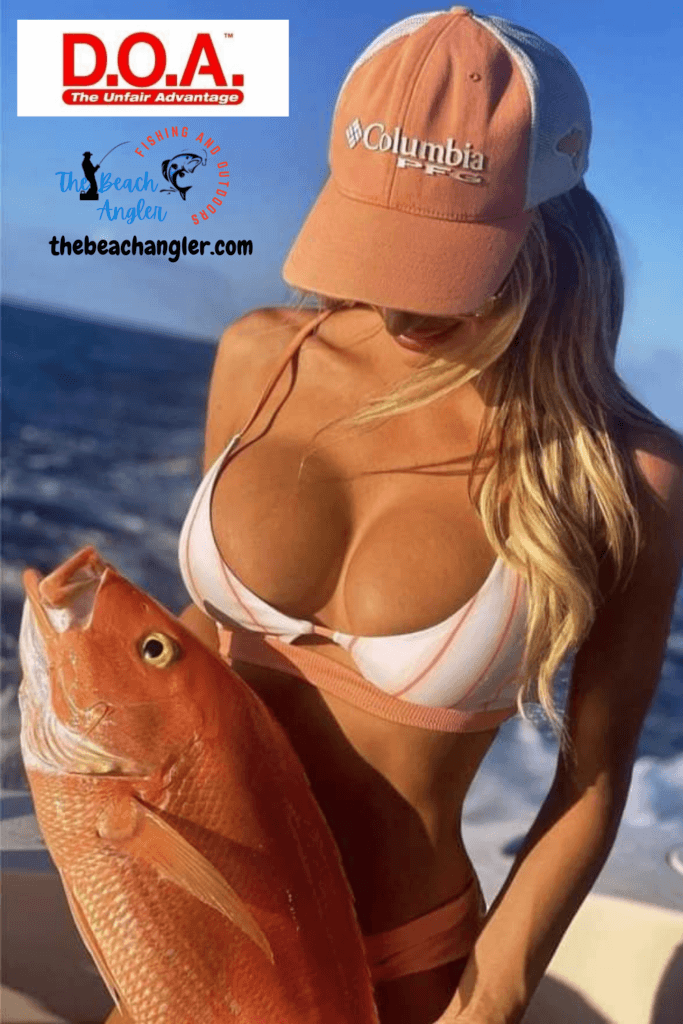 As always, stay safe, enjoy the journey and please try to leave it cleaner than you found it. If you have any comments, questions, ideas or suggestions please leave them in the comment section below and I'll get back to you asap. You can follow us on Facebook: Rex The Beach Angler, Instagram: thebeachangler7, Twitter: @AnglerBeach, and YouTube: Man Art Creations.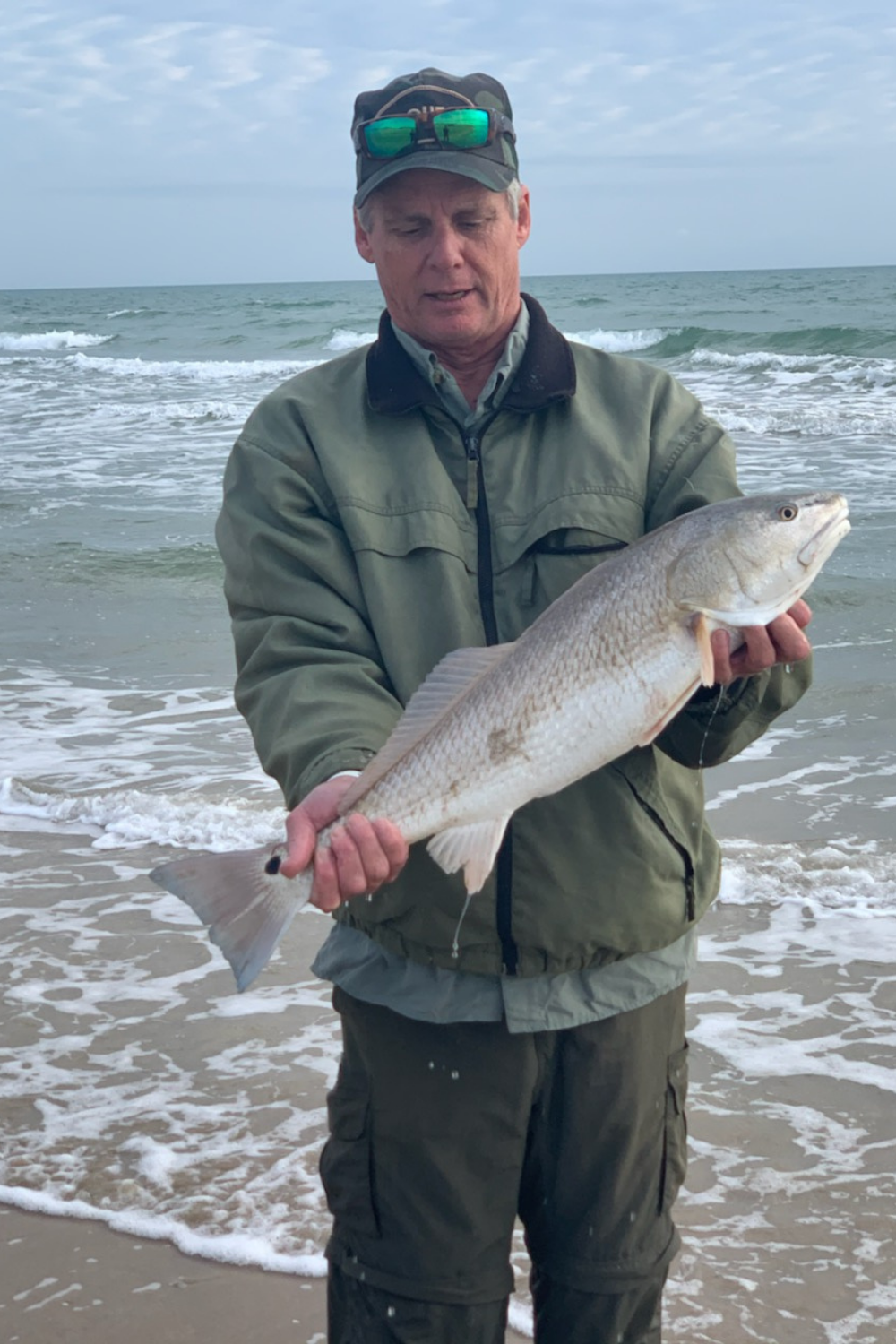 A life long surf fisherman with 50+ years of experience, I am also an avid hunter and outdoorsman. I will be sharing my passion for the outdoors with you so be prepared for hunting, fishing, camping, hiking and more. Along with gear reviews and the latest trends and innovations in the outdoor industry.