It's that time of year. The days are getting shorter and the air temperature is much milder. Bait fish by the millions are beginning their fall migration along the Texas beach front. Huge bait balls of Dusky anchovies, and the annual finger mullet migration are in full swing. Predators of all kinds are in a feeding frenzy and the surf fishing action is the best of the year…RIGHT NOW!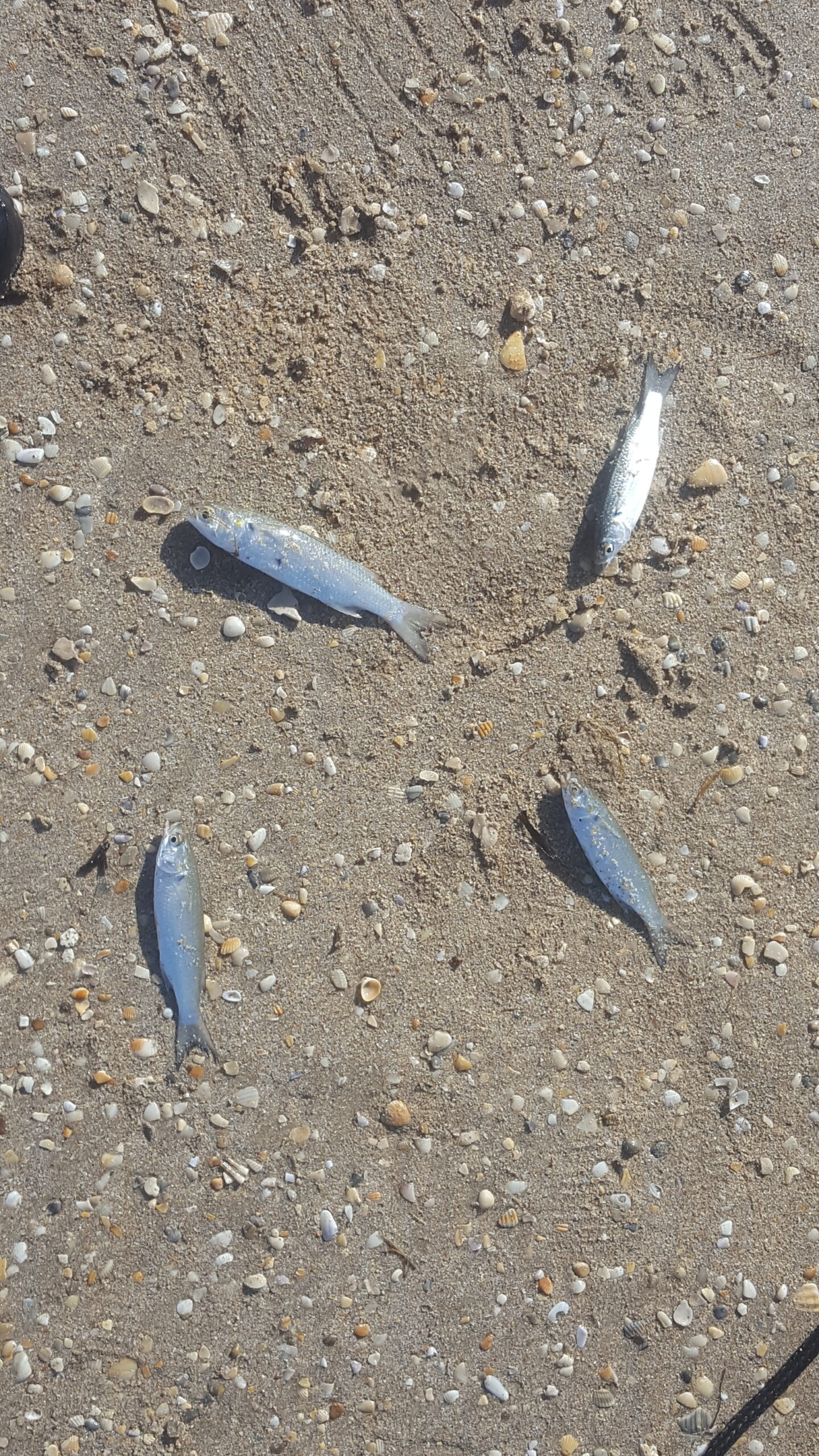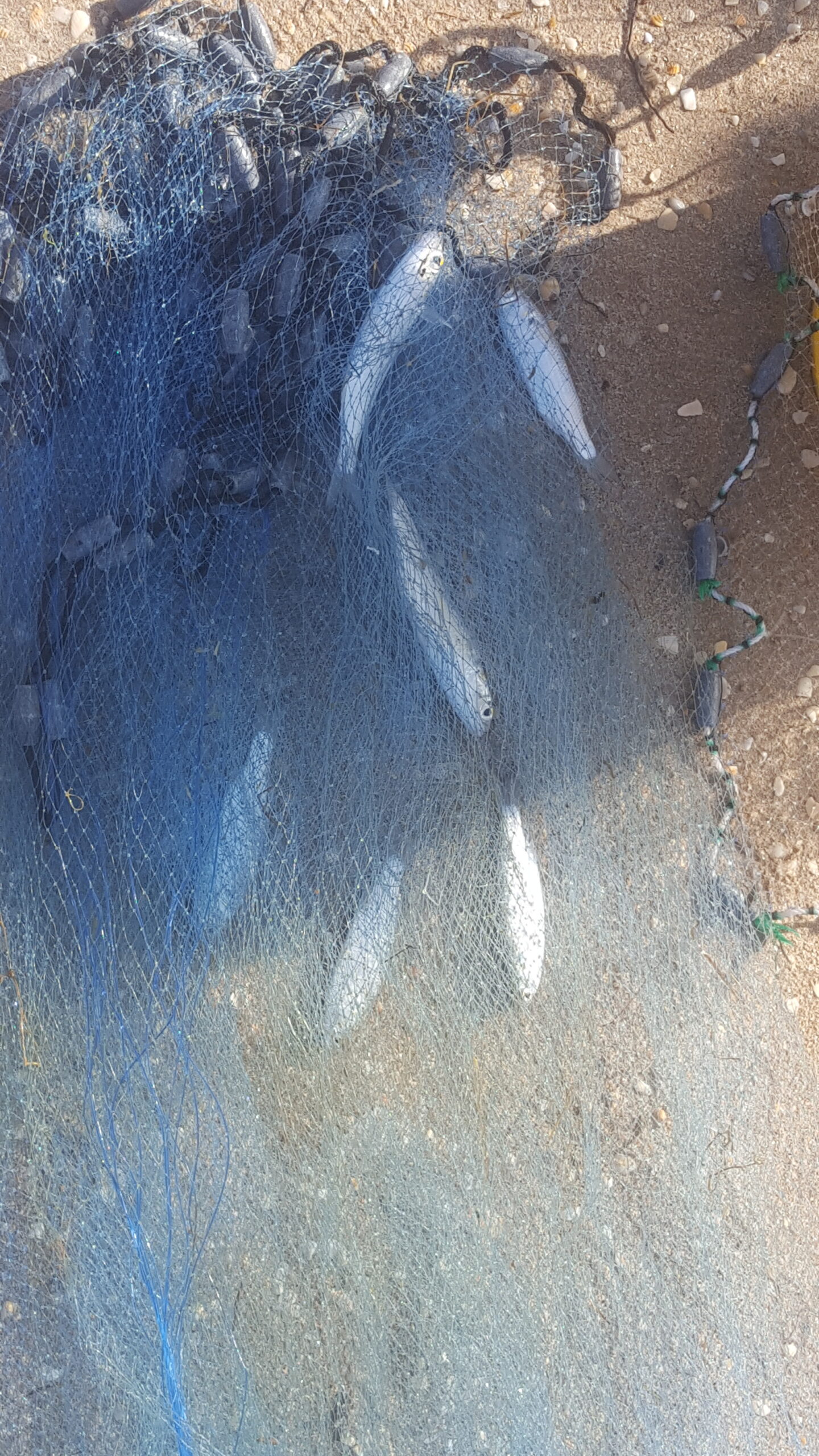 Find the Bait Find the Fish
---
Seems fairly simple, but it's true. If you can find bait, the fish will be there too. In the fall along the Texas coast that bait is finger mullet. Mullet are on the bottom of the food chain. Everything eats mullet Birds, animals, fish, even people. Finger mullet are juveniles that, like the name implies, are about as long as your fingers. Roughly 4 to 6 inch mullet are referred to as finger mullet.
Perfect size for bait, and if you can throw a cast net, great for live bait. You can check out my article on cast nets and there are some how-to to videos included there as well. Every September/October the finger mullet migrate down the beach by the millions. The Fish are following close behind, and the birds are attacking from above. It can be quite the site when hundreds of birds are diving on a school of mullet while fish are attacking from below.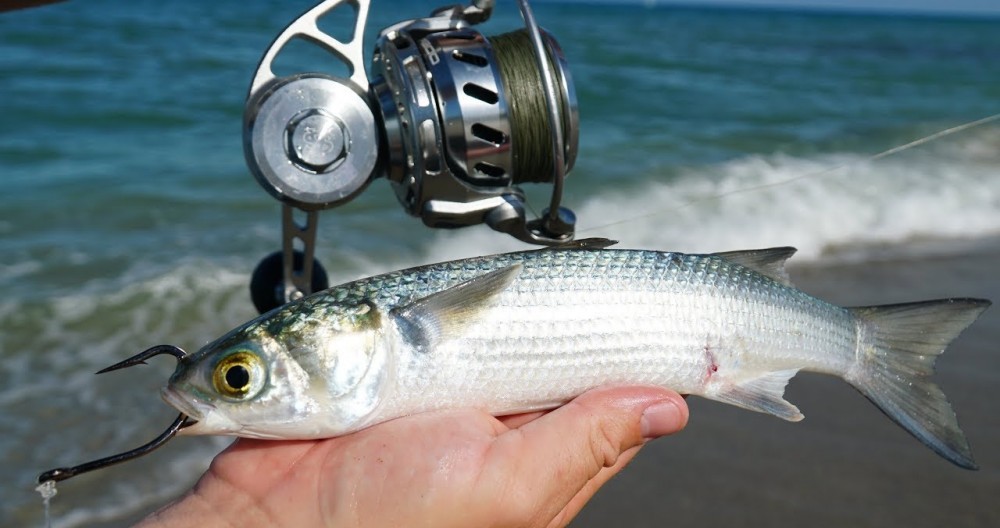 The frenzy can get so wild that I have seen Jack Crevalle and sharks nearly beach themselves chasing mullet in the surf. Many of us outdoor enthusiasts however, are out chasing mourning dove, or in the woods with stick and string for archery deer season and we are missing the best surf fishing of the year.
Fishing the Fall Surf
---
The fall surf along the Texas Gulf Coast comes alive with feeding fish. The water temperature is cooling the bait fish are concentrated and the fall tides push clear green water to the beach. All the ingredients that make for some epic fishing adventures. This fall has not disappointed, and looks to be spectacular.
The Padre Island fishing reports over the first couple of weeks of September were coming in and the redfish and speckled trout action was fantastic. Following the finger mullet were also, Spanish mackerel, sharks, Jack Crevalle, and Lady fish or Skip Jacks. The action was fast and furious, so my friend Ken Kuhn and I made a day trip down PINS (Padre Island National Seashore) Saturday 09/26/2020.
Surf Fishing Padre Island
---
Padre Island National Seashore is 60 miles of undeveloped beach, most of which requires four wheel drive vehicles to access, and as such has some great surf fishing. I've been fishing PINS for 50 + years now and still love to get away from the stresses of everyday life and head down island.
We hit the beach early on Saturday morning to clear green water, high tide and a surf full of migrating finger mullet. It appeared that lots of people had been watching the same fishing reports, as the beach was fairly crowded for September and the added beach traffic had driving conditions on the poor side to say the least. 4X4 was a necessity on this trip.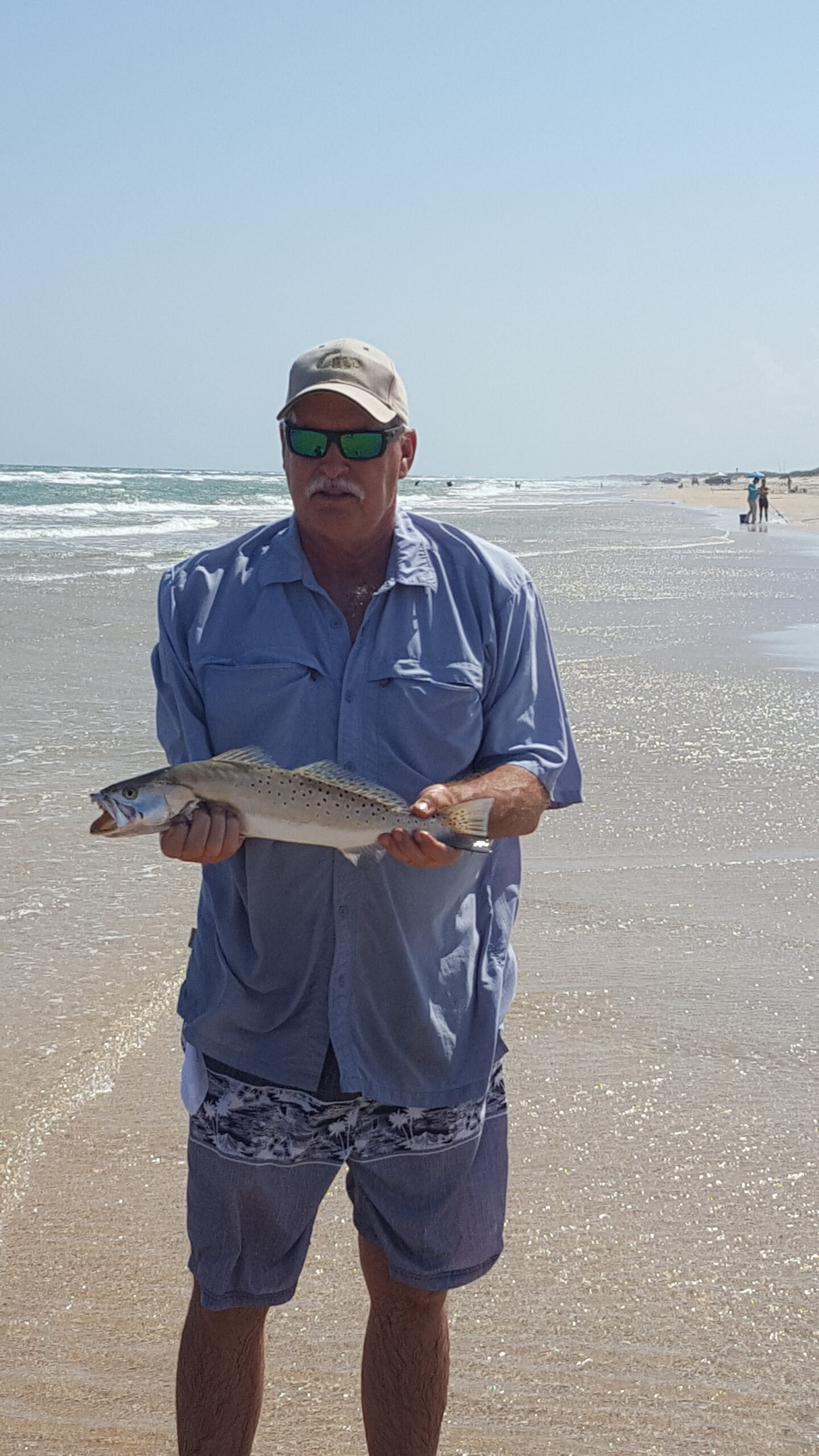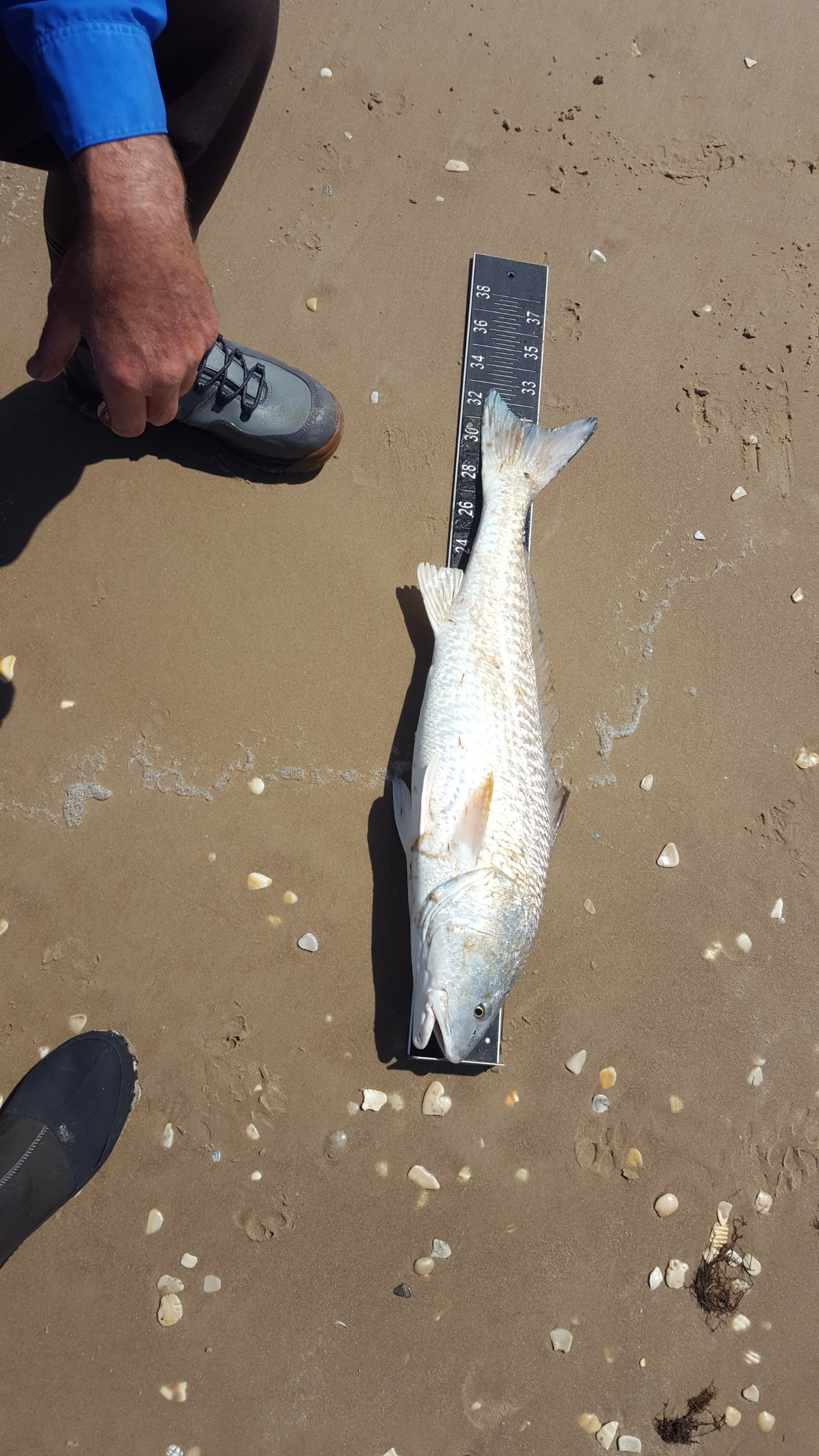 The fish did not disappoint, bait was there and the predators were as well. We caught quite a mixed bag of redfish, speckled trout, Spanish mackerel and Skip jacks. Of course a few of the ever present hardhead catfish as well. Ken had one hook up that nearly took his rod, and all into the surf. Unfortunately it broke off before we could see what it was. Lesson learned (again) always check your drag setting.
We ended up with a nice mess of fillets and had a great time. At one time, a large school of skip jacks came down the beach chasing finger mullet and we were hooked up two at a time while the feeding frenzy was on. You couldn't keep your lines baited they were hitting so fast.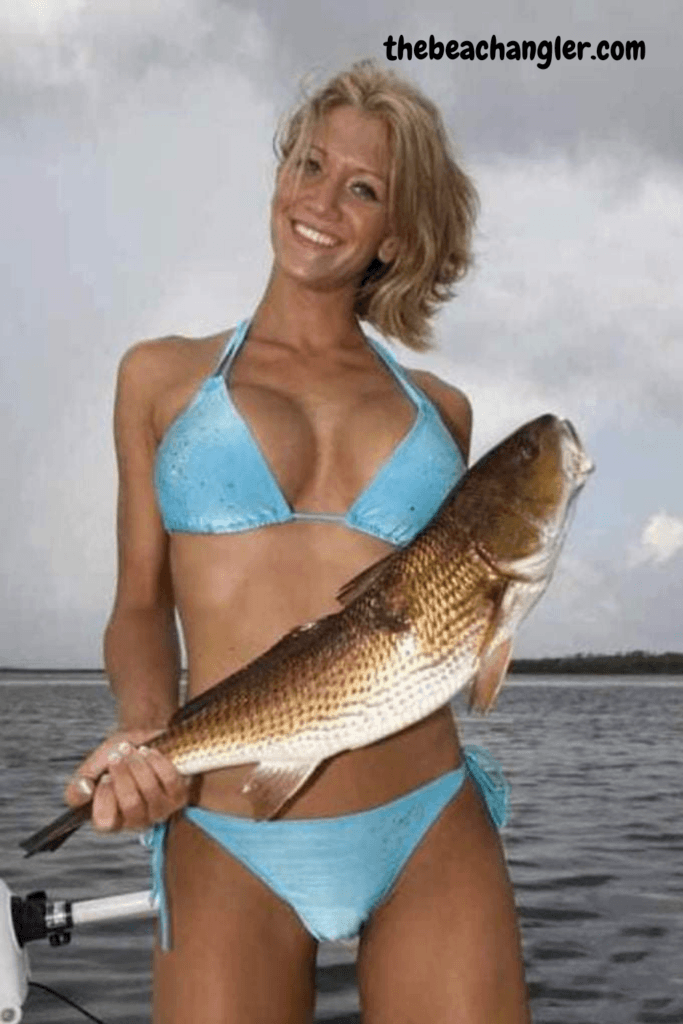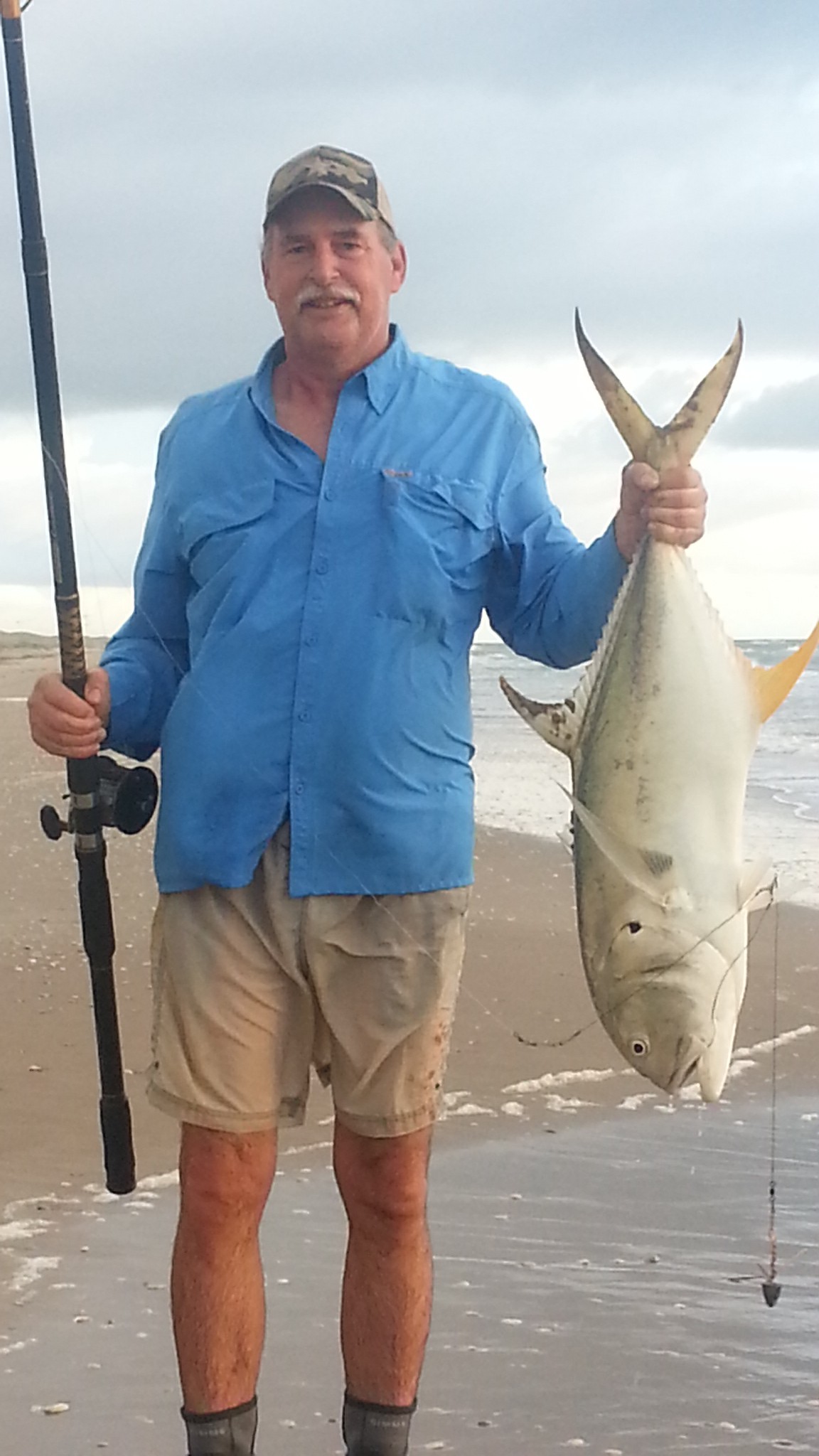 Fall Surf Fishing Gear
---
With the surf full of finger mullet, we used our Fitec Super Spreader cast nets to catch all the live bait we needed. A bait bucket in the surf is usually not an option with the wave action, so we used 5 gallon buckets equipped with a "Cool Bubbles aerator" this kept our bait fresh and lively. Whenever we got low, it was a simple matter to grab the cast net and catch more.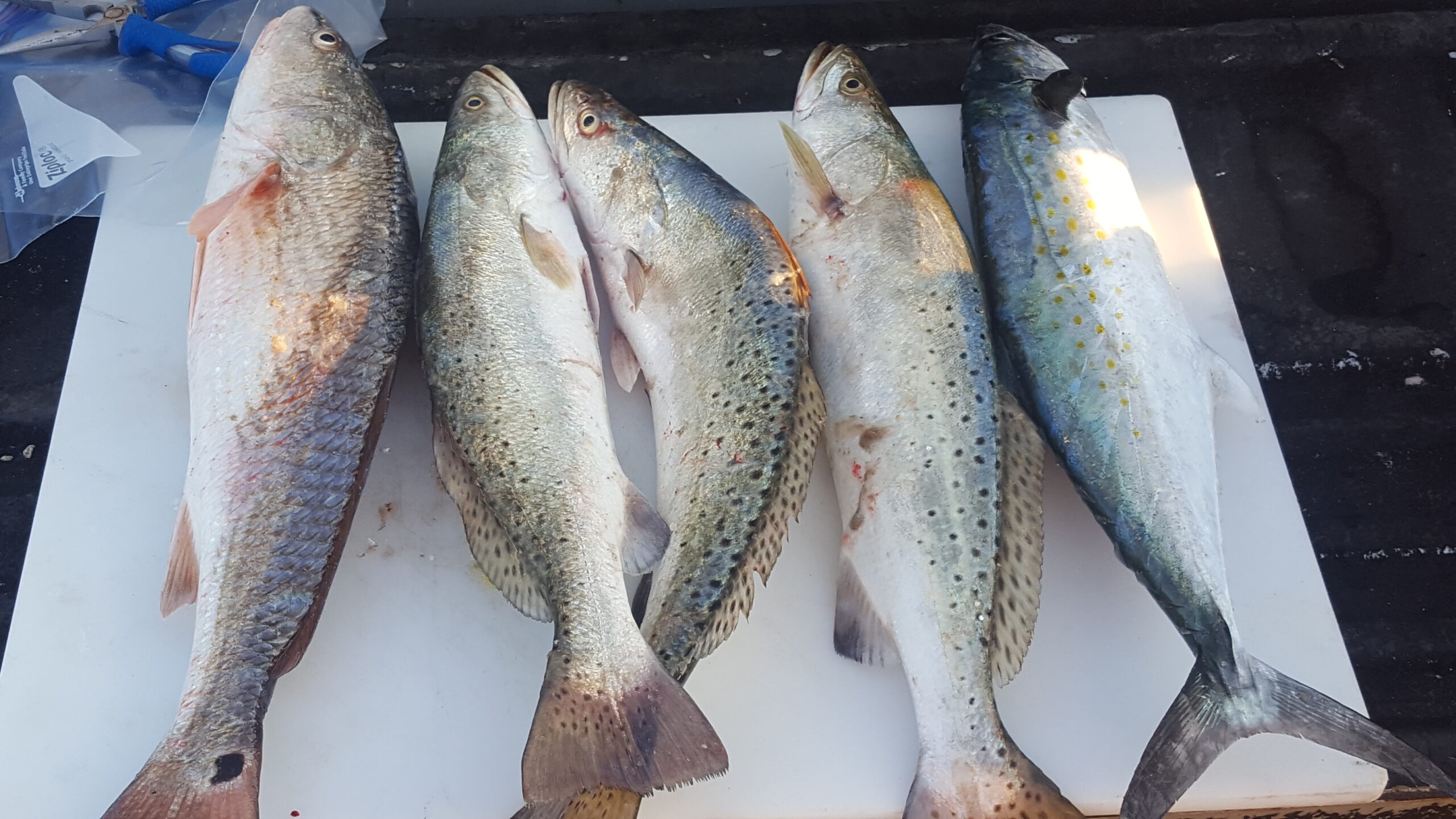 Fishing live mullet in the surf can be done in a variety of ways. For this trip, we were using heavy-duty casting and spinning gear. I was trying out the 11 ft Daiwa Beef Stick casting rod with Okuma Classic Pro reel The beef stick worked very well. It has enough backbone for fighting sharks and bull reds and still retains casting distance to reach the fish. An added bonus, the Beef Stick from Daiwa is very reasonably priced as well.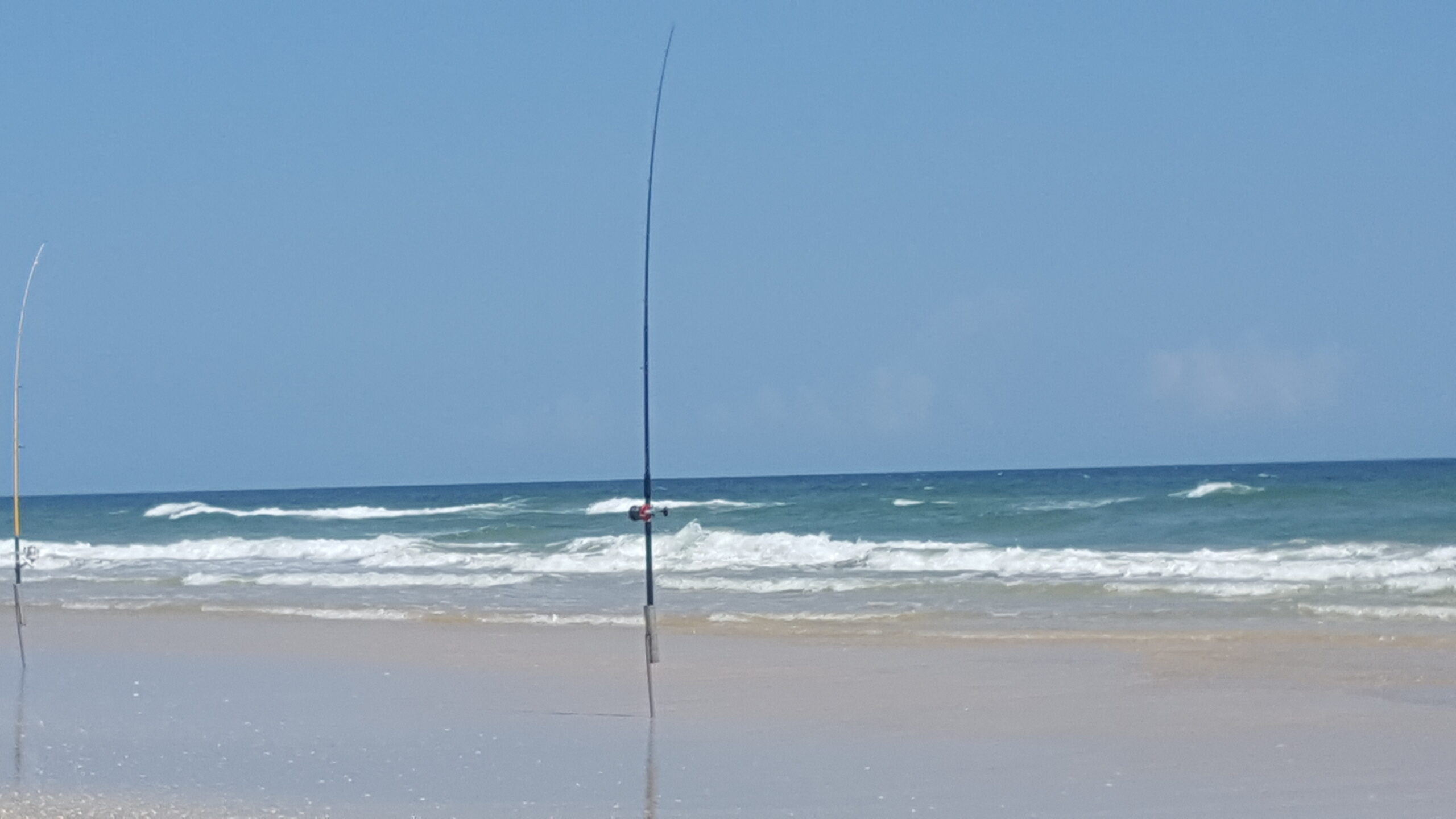 Like I said, driving conditions were poor. The weekend crowds had plowed up the beach making driving very soft in places. Saw quite a few that had to be pulled out of the soft stuff. When you head down island it's always a good idea to take a tow strap or rope, the longer the better. Recent years has seen the advent of traction matts or vehicle recovery systems like Max Trax and others. Basically plastic boards to put under your tires for traction when stuck.
Handy to have, and definitely beats walking up and down the beach looking for drift wood to put under your tires when you're stuck. They do take up space and when you are on a remote island you have to take everything with you so sometimes space can be an issue. Best bet is try to avoid getting stuck. Stay in the track of other vehicles that have made it through. The sand will be packed more and at least have a bottom to it.
Best Time of Year
---
I know for many of us, this time of year, thoughts are of bird hunting and of the deer woods, but if you get a nice cool calm weather window this fall, head for the surf. You could find the best fishing of the year and being on the beach is always good. So, don't put up the rods and reels just yet.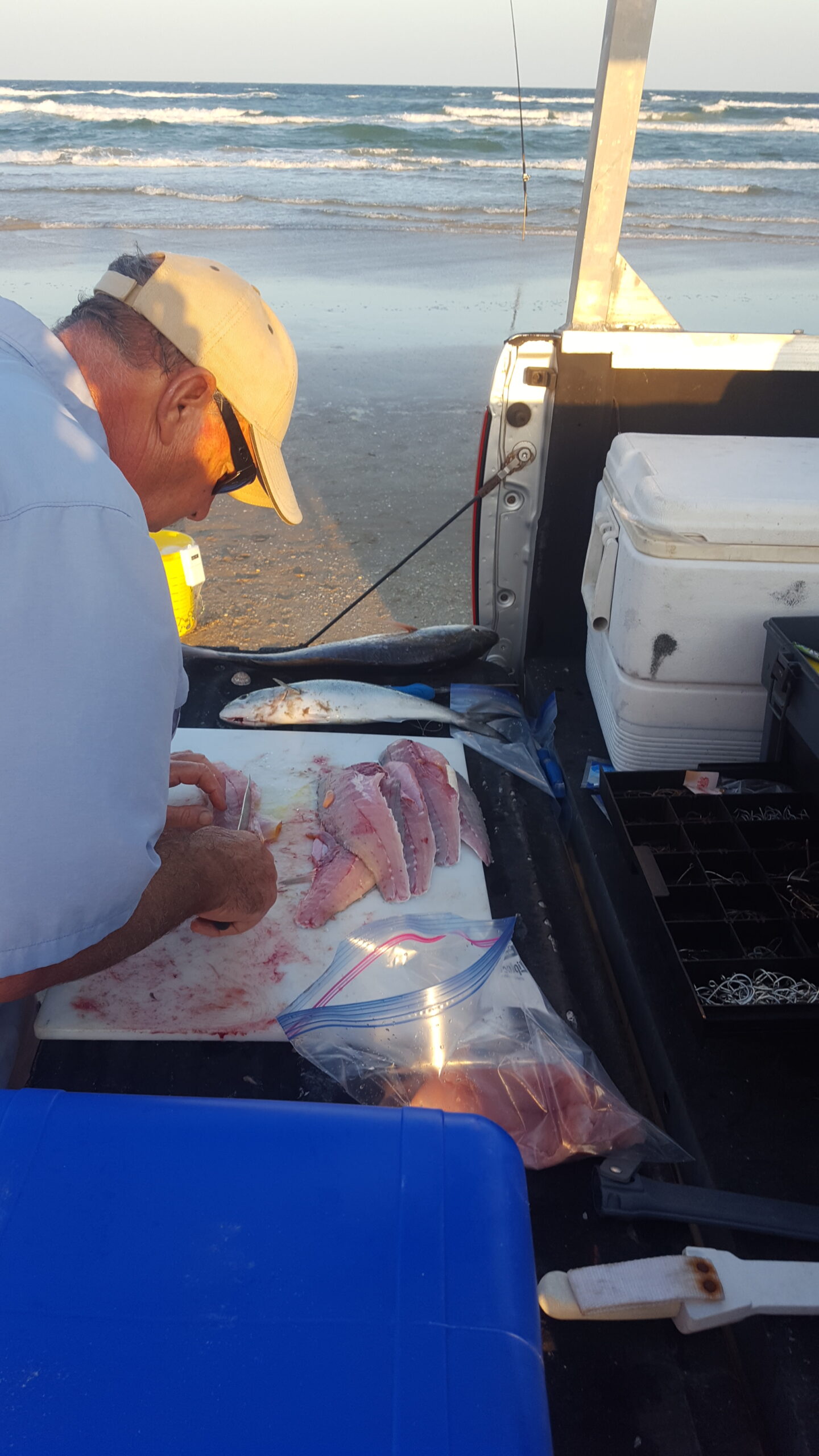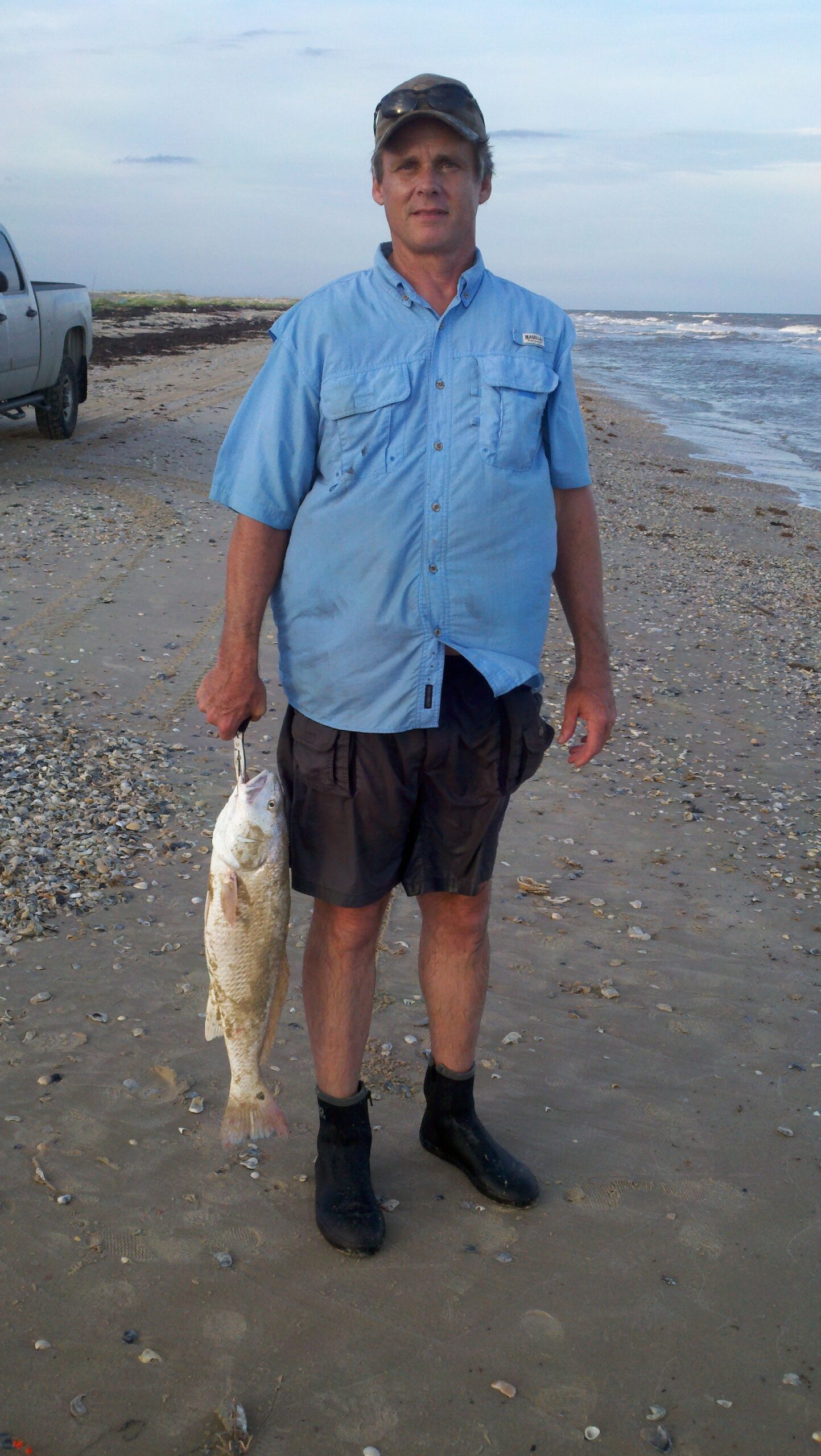 As always, stay safe and enjoy the journey and please try to leave it cleaner than you found it. Good times and Good Fishing! If you have any questions, comments or suggestions, just leave them in the comment section below and I will get back to you. You can follow me on Facebook: Rex The Beach Angler, Twitter: @AnglerBeach and Instagram: thebeachangler7.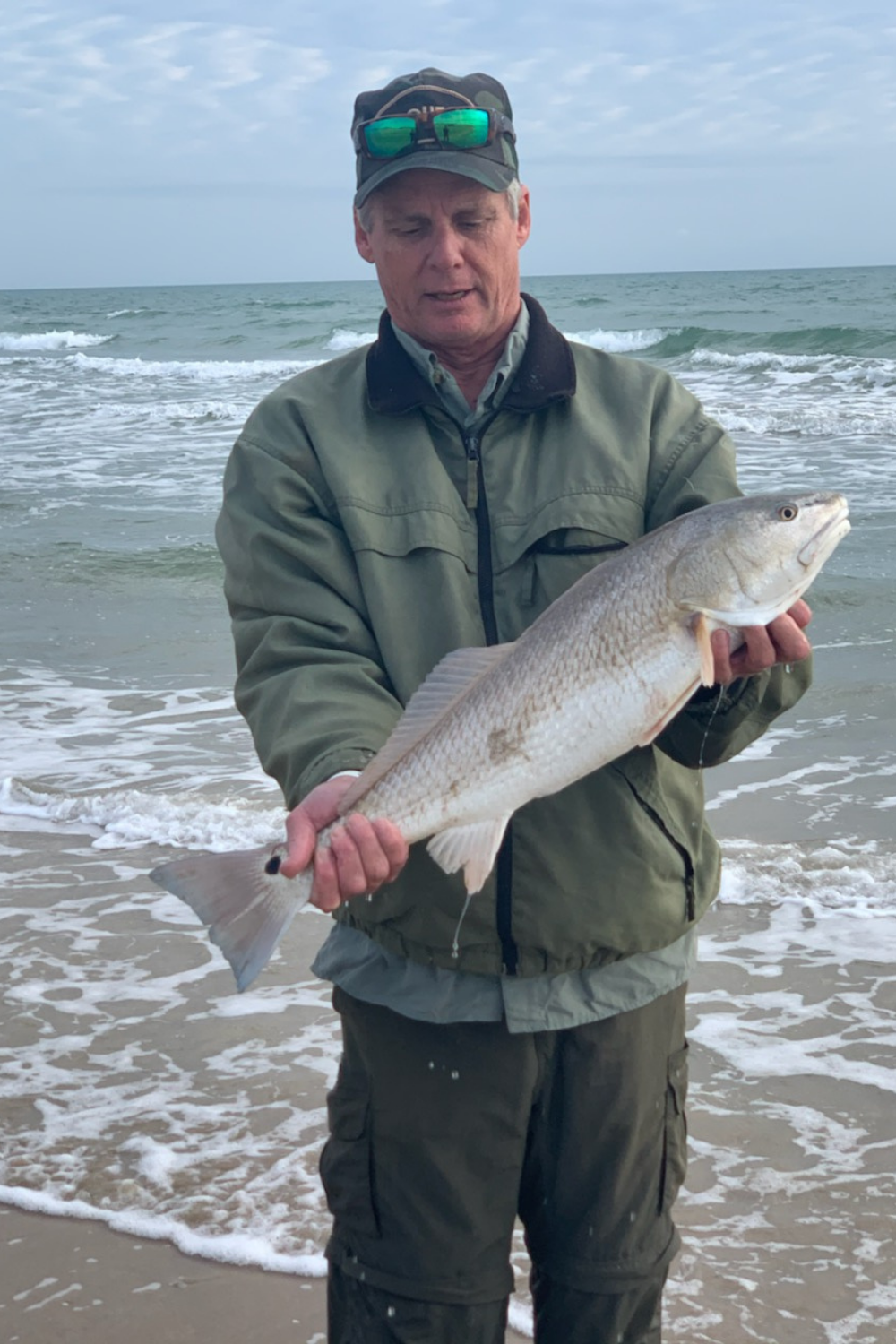 A life long surf fisherman with 50+ years of experience, I am also an avid hunter and outdoorsman. I will be sharing my passion for the outdoors with you so be prepared for hunting, fishing, camping, hiking and more. Along with gear reviews and the latest trends and innovations in the outdoor industry.