In case you hadn't heard, the 27th Annual Billy Sandifer Big Shell Beach Cleanup took place this past Saturday 02/26/2022 on the Padre Island National Seashore in Texas. I've spent a lot of time at Big Shell over the past 60 plus years and it's still one of my favorite places on earth. The Big Shell Beach cleanup is a chance to give back just a little and honor the legacy of Captain Billy Sandifer.
The south Texas weather, in February, can be anything from sunny and 80 degrees to sleet and 20 degrees. But, the beach cleanup goes on regardless of the conditions. Sunscreen or parkas, it doesn't matter the volunteers suit up, show up, shut up and go do it.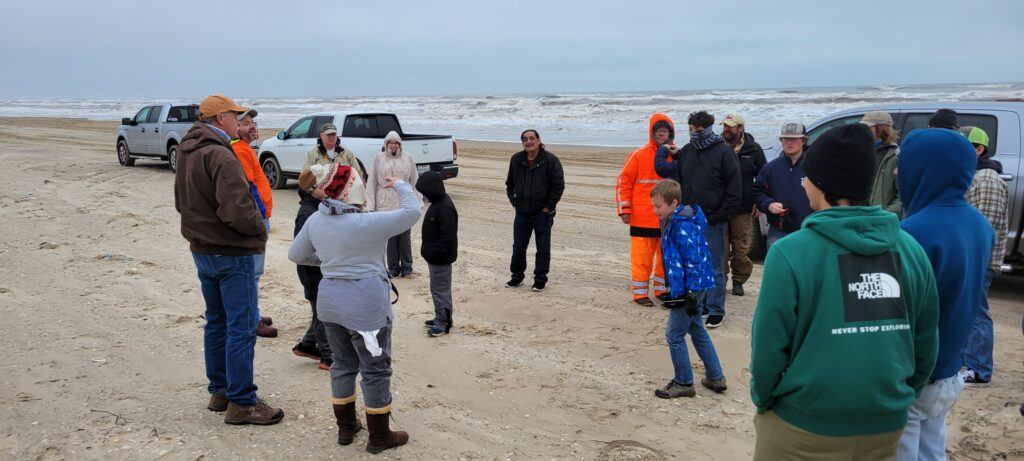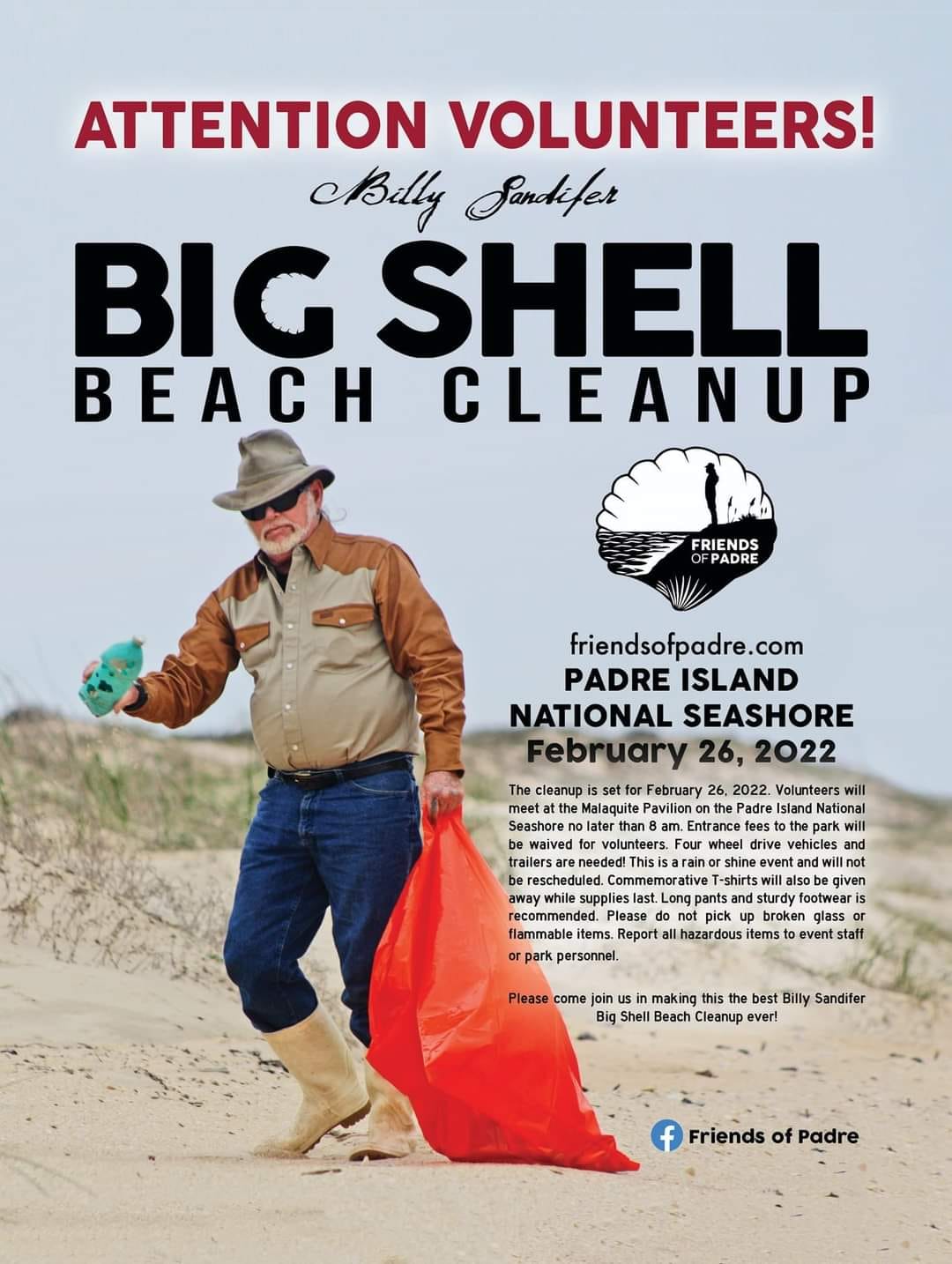 This year was no different, low 40s, misty rain and 15-20mph winds were the order of the day this year. So, everybody bundled up, lined up and headed down the beach. Volunteers of all ages and from every walk of life came out to help clean up the beach and carry on the Legacy of Captain Billy and his stewardship of Padre Island.
---
Padre Island National Seashore
---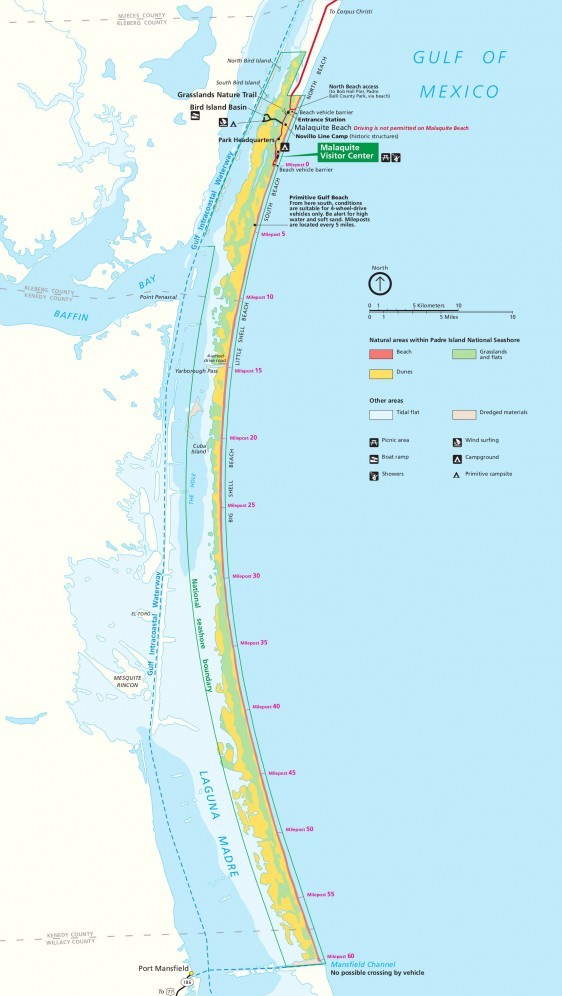 Padre Island National Seashore is a national seashore located on Padre Island off the coast of South Texas. In contrast to South Padre Island, known for its beaches and vacationing college students, PINS is located on North Padre Island, just south of the city of Corpus Christi Texas, and consists of a long beach where nature is preserved.
Being the longest stretch of undeveloped barrier island in the World, Padre Island National Seashore separates the Gulf of Mexico from the Laguna Madre, one of a few hypersaline lagoons in the world. The park protects 66 miles of coastline, dunes, prairies, and wind tidal flats teeming with life.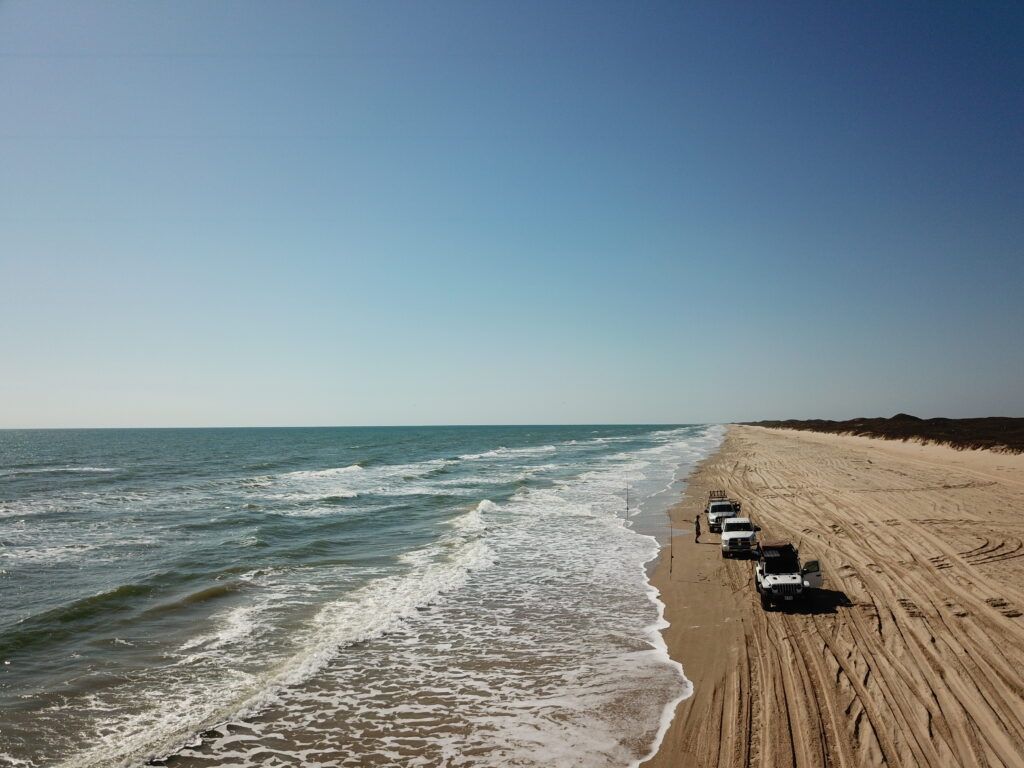 It is a safe nesting ground for the Kemp's ridley sea turtle and a haven for over 380 bird species. It also has a rich history, including the Spanish shipwrecks of 1554. It's also an awesome surf fishing destination for everything from whiting, black drum, red drum, speckled trout to sharks.
And, for many years, it was where you could find the legendary Captain Billy Sandifer. Captain Billy ran surf fishing charters on the national seashore (PINS) and took seriously the stewardship of the island. So much so that he became known as the Padre of Padre.
---
Captain Billy Sandifer
---
Captain Billy was easy to spot on the Island driving along in his signature 4×4 suburban with his charter group for the day, or just by himself. He wasn't the most out going and kept his circle small, but one thing is for sure, he loved Padre Island. I saw him often on the beach and even met him in person on a few occasions.
He was definitely a unique individual and a prime example that no matter who you are or where you're from, you can make a difference in this world. A Veteran of the Vietnam war Billy came home from the war with "issues" like many of his fellow veterans.
He lived on the beach of Padre Island for nearly two years from the summer of 1977 to February 1979 only coming into town to restock on supplies and head back down island.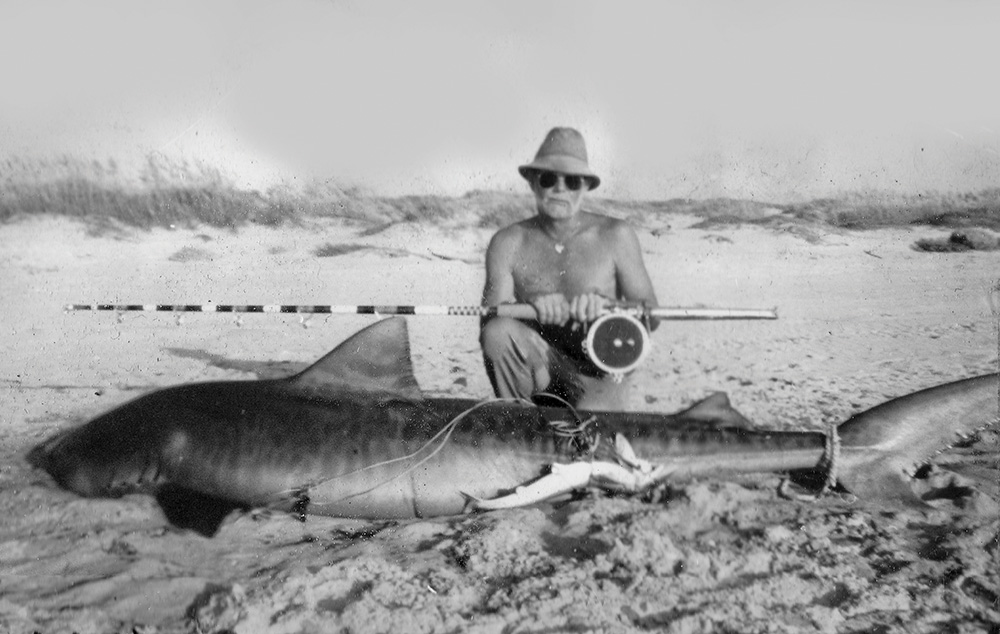 He was known for being a hard drinker and Billy was one of the last of the Padre old timers. He eventually gave up drinking and devoted his time and efforts to preserving Padre Island and all its natural beauty.
The Big Shell Beach Clean up was his idea, his baby, and it took a tremendous amount of time and effort on his part to convince all the parties involved to give it a chance. But, Captain Billy was tough and determined to make it happen. Nothing was going to stop him, and nothing did. In 1995 the first Annual Big Shell Beach Clean up was held. And, here we are 26 years later, continuing to honor the memory and legacy of Captain Billy Sandifer.
Sandifer was honored with numerous conservation awards and recognition, for his efforts, but he was always uncomfortable with personal praise for himself. "I couldn't give a damn about being a legend," Sandifer said in a 2009 Caller-Times story. "But if that's what it takes to leave a conservation legacy with folks who wouldn't otherwise be receptive to it, then OK."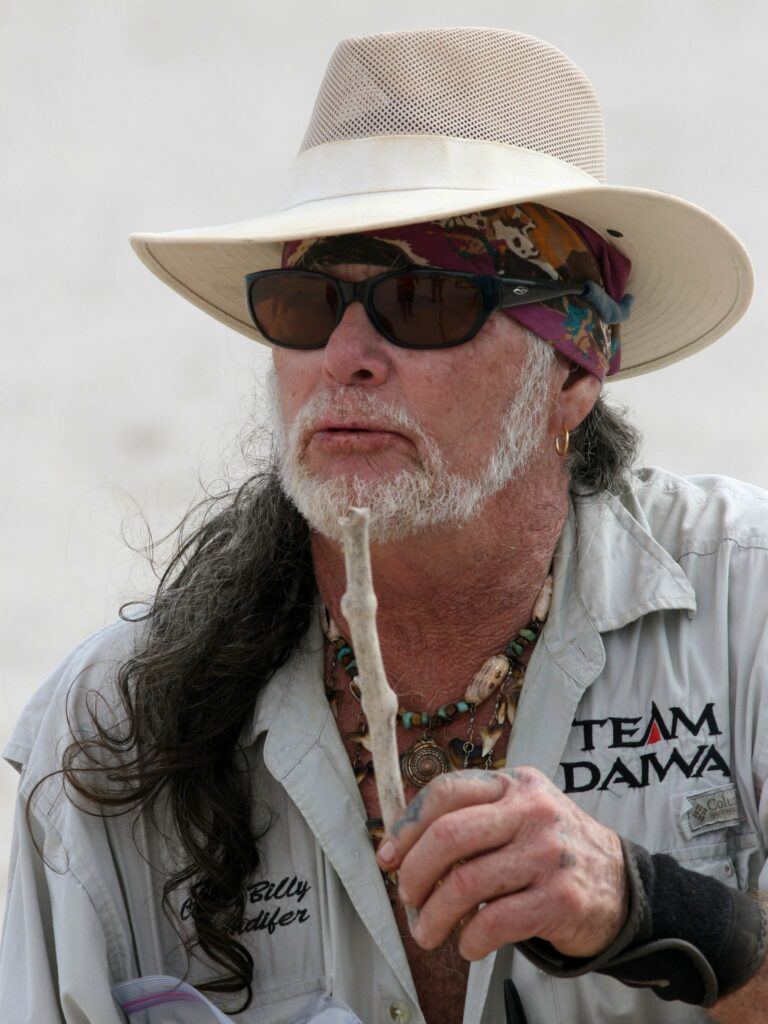 "You know, I guess I never ever did self-promote as much as people said I should have. And I guess I never ever had as much business as I would have if I had done that. People said I should have promoted myself more than I did.

But I know looking back that I'll never ever have a dirty conscience because I always tried to find the balance between guiding and being a good steward of the resource. I always told them "No, I won't do it. I'll never unleash the wolves. I'll never turn the wolves loose on that Island."

And that's what I think I did successfully. I walked the thin line between guiding and protecting the Island and every living thing on it from the masses, from the wolves. And I think I did that."

— Captain Billy L. Sandifer, Fall 2017
On Friday, March 30, 2018, after a long bout with cancer most likely brought on by his agent orange exposure during the Vietnam war, Billy Sandifer passed away. Though there will never be another quite like him, his legacy of conservation and his love for Padre Island live on. I think Captain Billy would be proud. When asked about his legacy, Billy's response was: "It's about the deed not the dude."
---
The Friends of Padre
---
Over a decade ago, as Captain Billy prepared for his death he established the Friends of Padre nonprofit which was given the mission to carry on in perpetuity the Billy Sandifer Big Shell Beach Cleanup on Padre Island National Seashore. Friends of Padre is dedicated to the preservation and betterment of North Padre Island and the people and wildlife that call it home.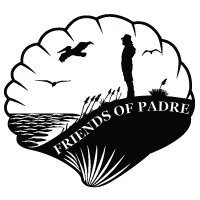 The primary function of Friends of Padre is to fund and organize the annual Billy Sandifer Big Shell Beach Cleanup in perpetuity. Beginning in 1995, the Big Shell Beach Cleanup occurs once a year in the Big Shell portion of the Padre Island National Seashore (PINS).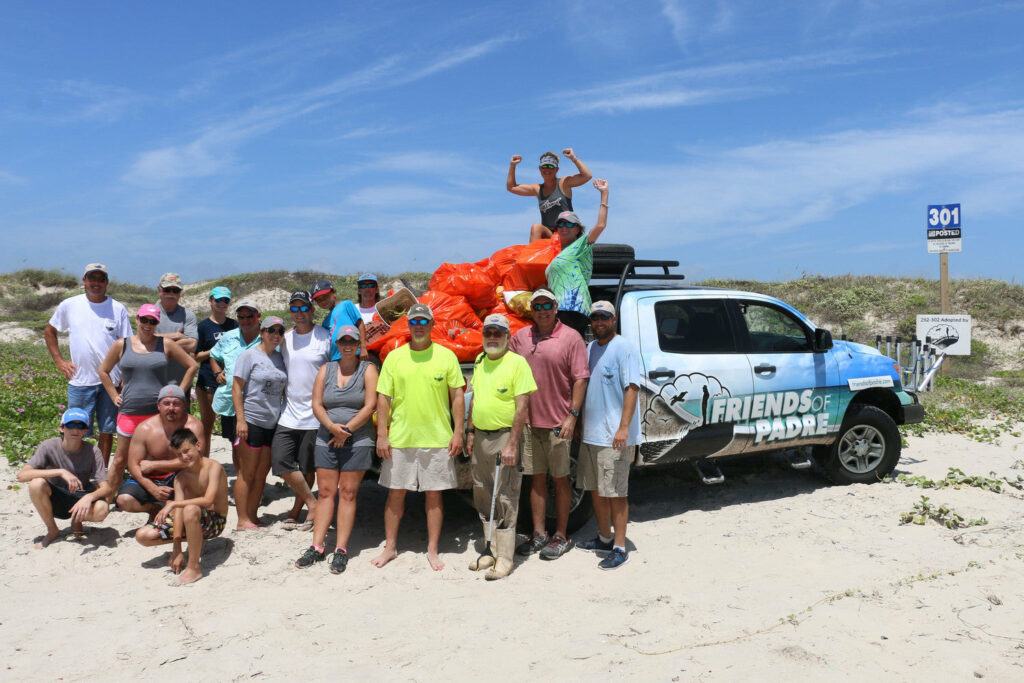 Each year, hundreds of volunteers dedicate a Saturday to removing trash from this rugged, desolate stretch of beach.
Since its inception, over 12,425 volunteers have removed 3,062,000 pounds of trash from this remote and wild stretch of 4 Wheel Drive Only beach.
The friends of Padre and it's board members put in a tremendous amount of work and effort to continue to fund and organize the beach clean up. They are always happy for any help or volunteers. If you would like to volunteer or donate, you can visit their website: friendsofpadre.com.
---
Annual Billy Sandifer Big Shell Beach Cleanup
---
The weather this year was not very cooperative, and with the COVID situation, attendance was off a bit. But, despite all of that, the event went off as planned and on schedule.
Another successful Big Shell Beach cleanup and tons of trash removed from the National Seashore.
The volunteers bring their own four wheel drive vehicles and supply their own fuel in addition to their time and effort to support the event.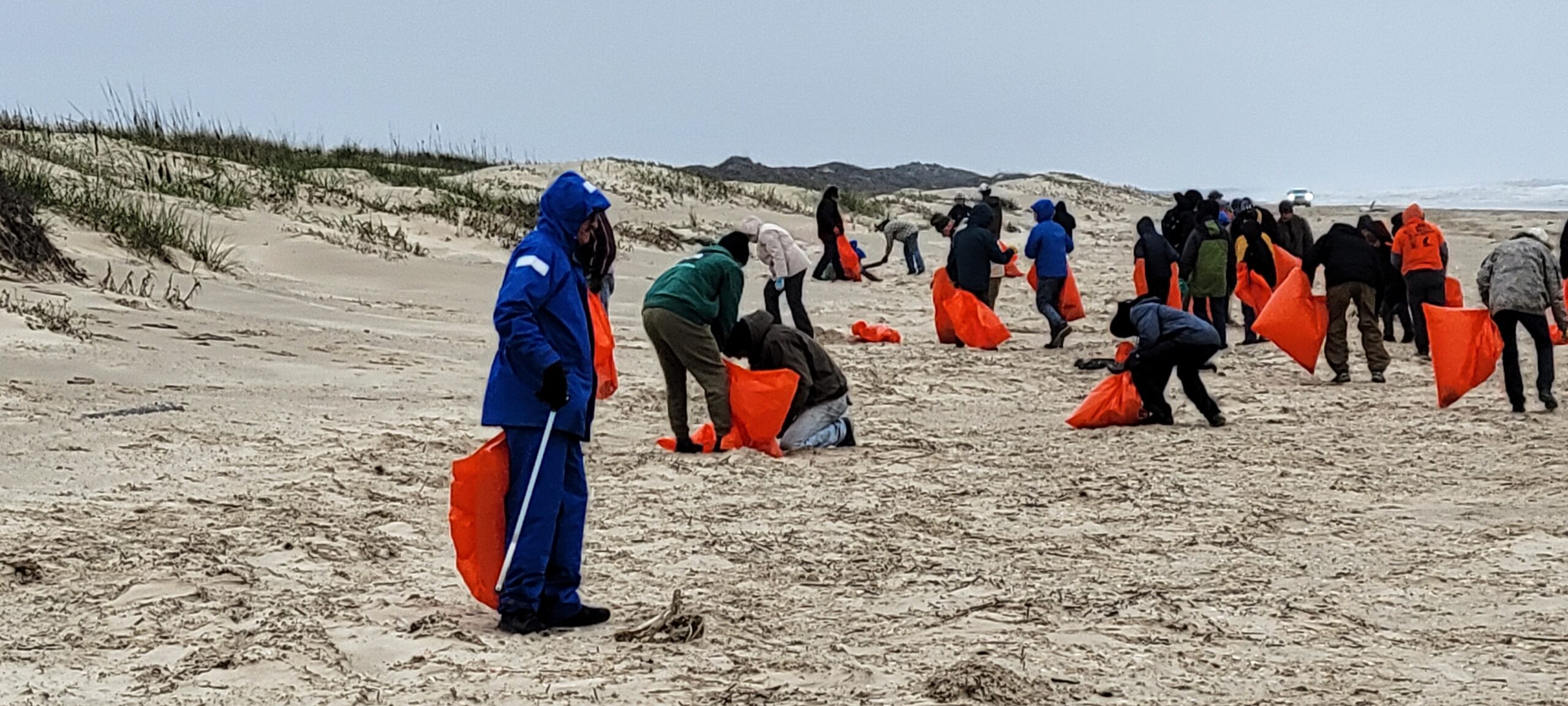 They line up in sections and are assigned a one-mile stretch of beach to clean. The area being cleaned is in the four wheel drive section of PINS so the drive can be a grind.
This year the tide was out on the trip out, but on the drive back the tide was coming in and it was a slow go in the soft sand made even worse by all the traffic from the event. There were a few that needed assistance getting off the beach, but there were plenty of volunteers to help out and everyone made it back safely.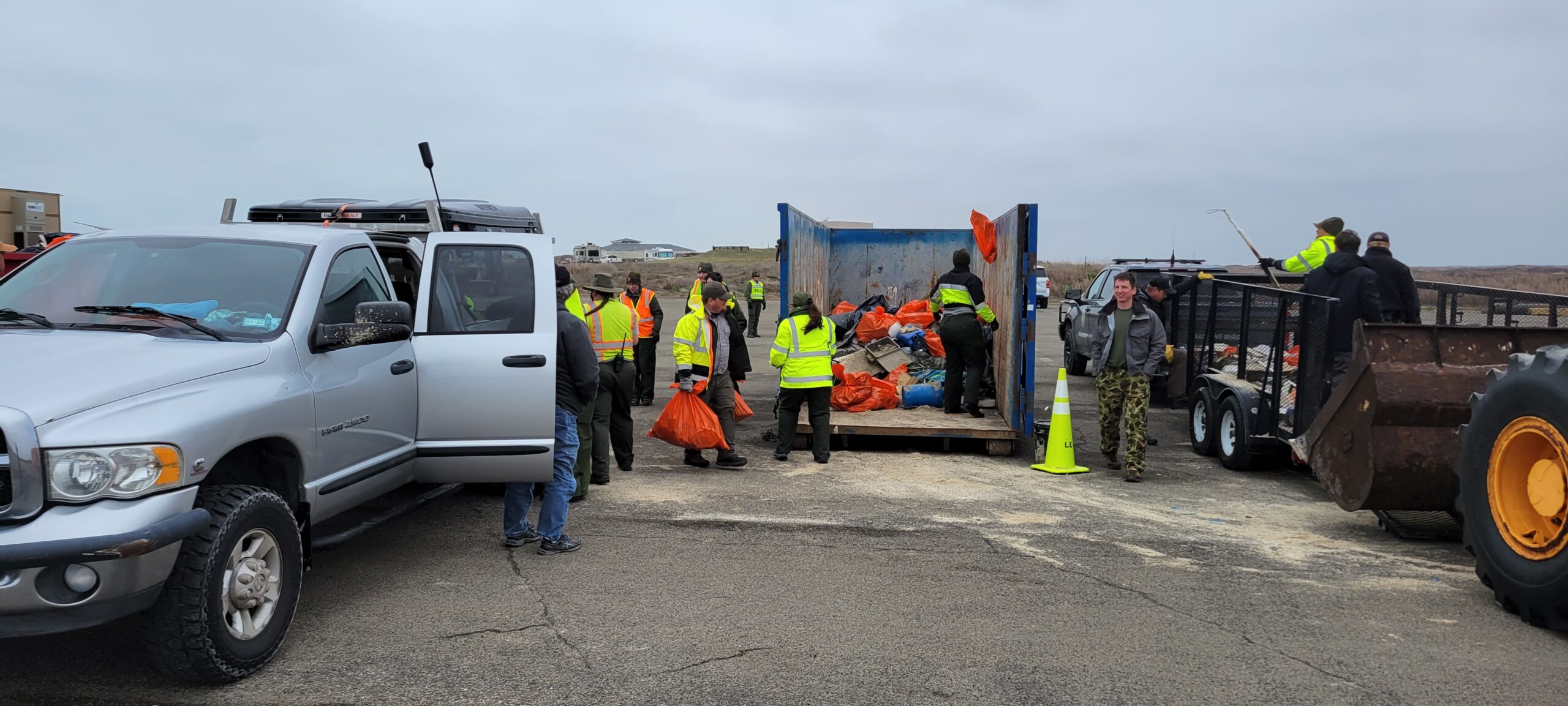 Once back at the Malaquite parking lot, park personnel were there to help unload the trash from the trucks and trailers into construction dumpsters for proper disposal. The event has been blessed with some very generous sponsors and they provided some goodie bags and T-shirts for the volunteers. Before COVID they had pizza and hot dogs as well. Maybe next year. 😉
---
Hope to See You Next Year!
---
It's a great event that allows those of us who have gotten so much enjoyment from the National Seashore to give a little back to make it better for everyone. Captain Billy's legacy will live on for many years to come thanks to the efforts of The Friends of Padre and all of his friends family and volunteers.
Yes, the wind, waves and currents will bring more trash and debris for the event next year. So, if you have a chance to visit next February, come on out and volunteer.
There is always room for more, and Captain Billy will appreciate it. In the mean time, when you are down the beach, or anywhere in the outdoors, take an extra trash bag and pick up any trash you find.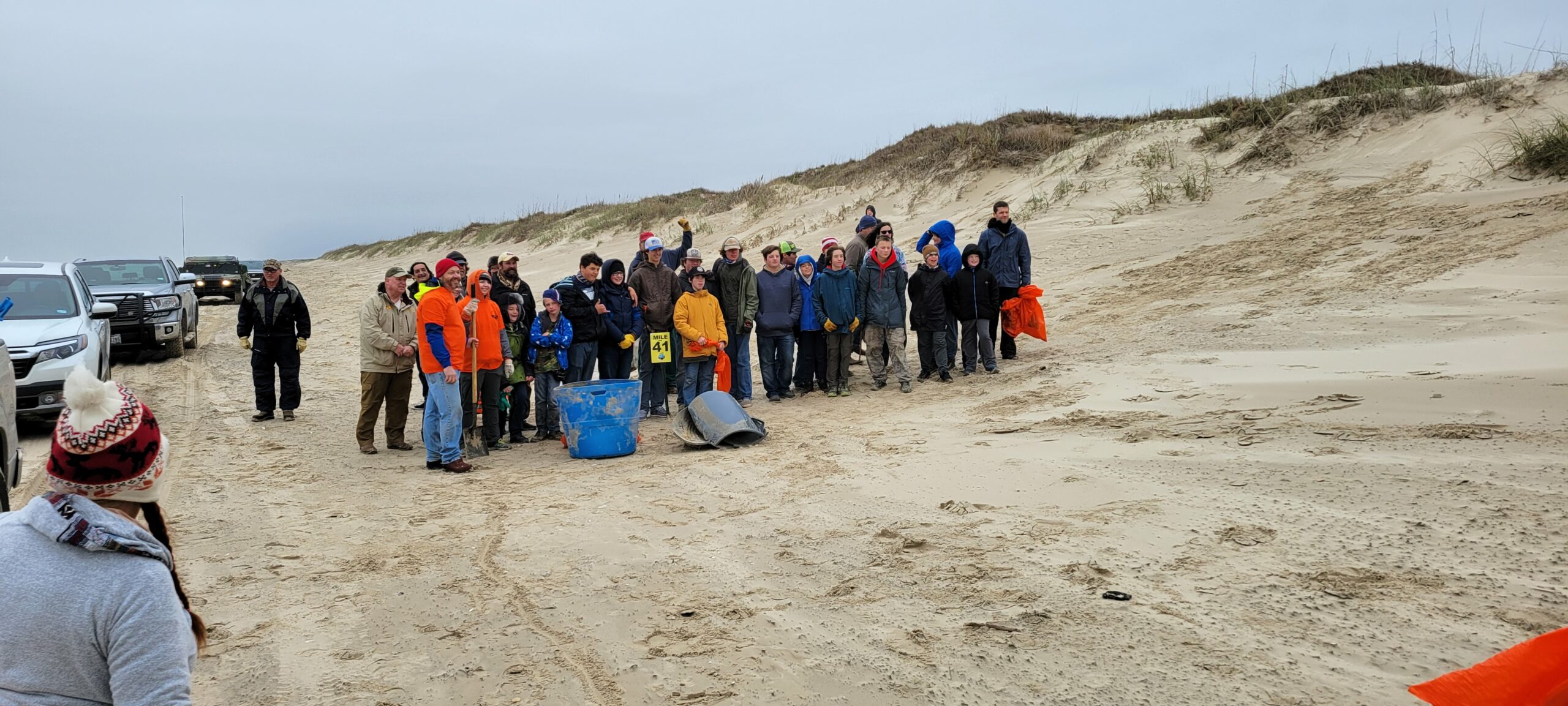 It won't take you that long, and even though you didn't leave it behind, you can leave it better than you found it. If you have a favorite beach near you and would like to organize a clean up event, contact friendsofpadre.com. I am sure they would be glad to give you advice and pointers on how you can build a legacy for your home beach.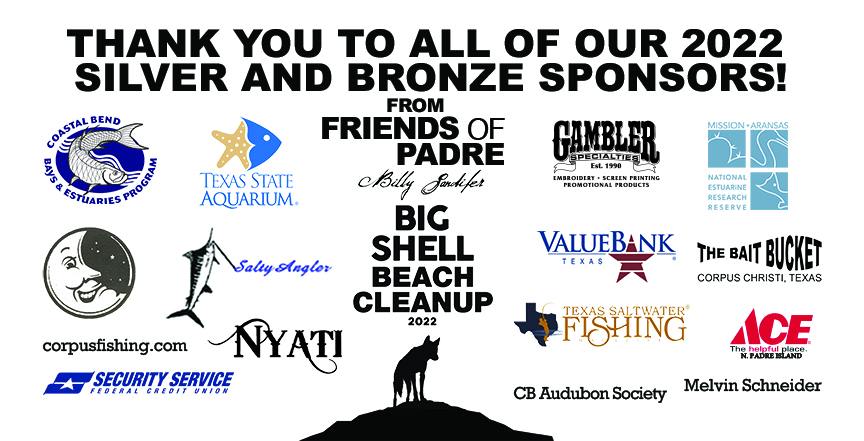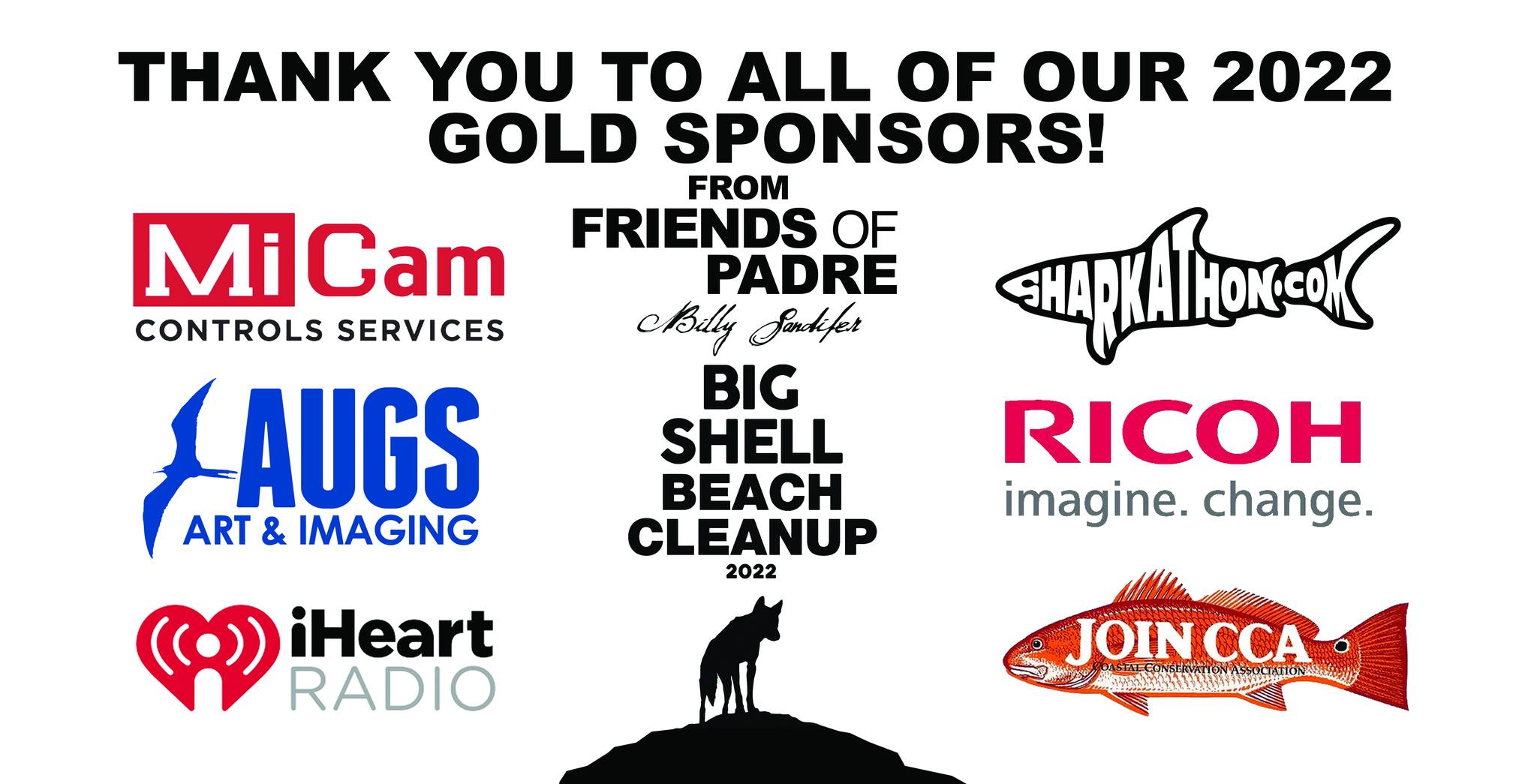 As always, stay safe, enjoy the journey and please try to leave it cleaner than you found it. If you have any comments, questions, ideas or suggestions please leave them in the comment section below and I'll get back to you asap. You can follow us on Facebook: Rex The Beach Angler, Instagram: thebeachangler7, Twitter: @AnglerBeach, and YouTube: Man Art Creations.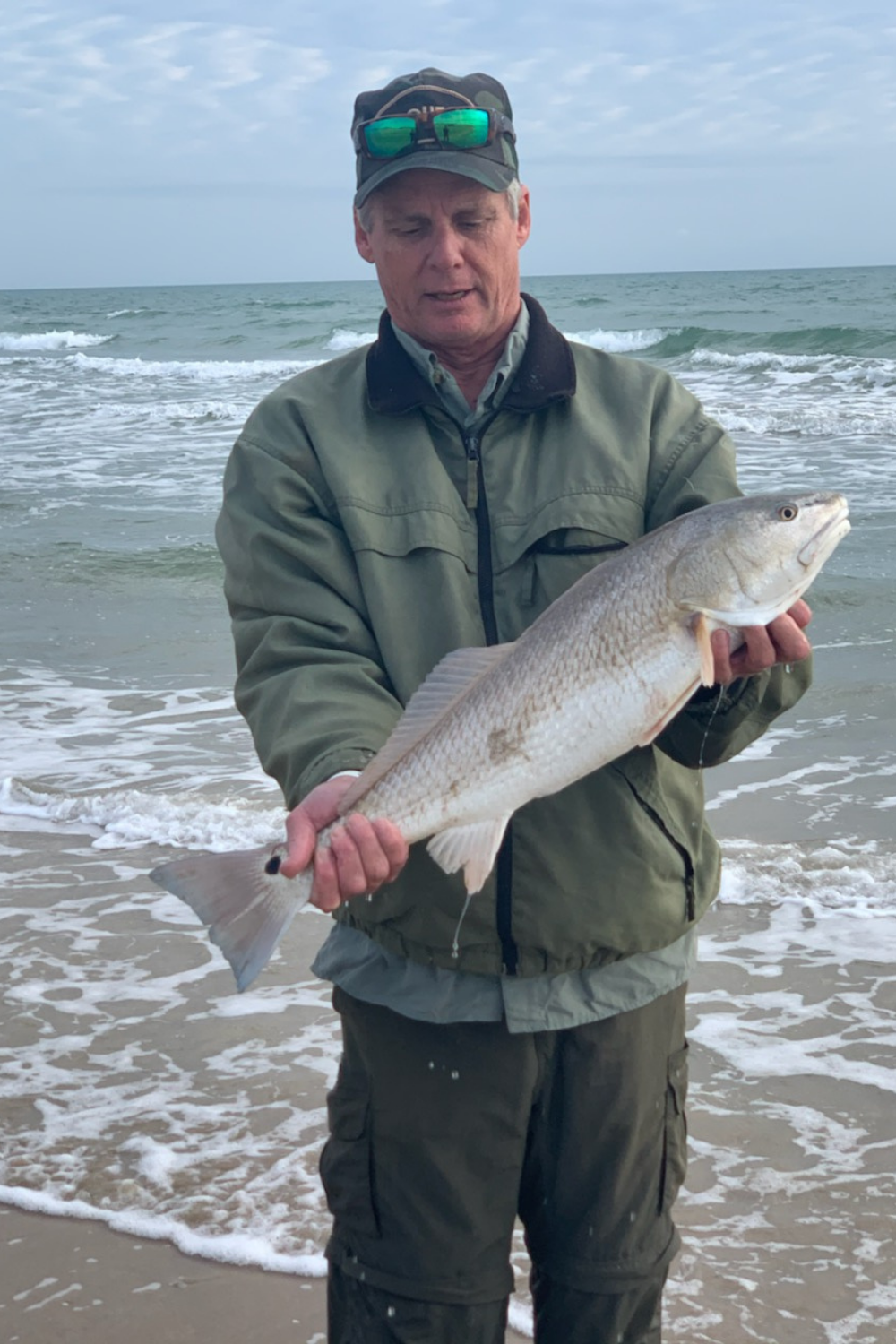 A life long surf fisherman with 50+ years of experience, I am also an avid hunter and outdoorsman. I will be sharing my passion for the outdoors with you so be prepared for hunting, fishing, camping, hiking and more. Along with gear reviews and the latest trends and innovations in the outdoor industry.