Surf Fishing, like most other types of fishing, has some specialized gear. One of the most important pieces of gear for Surf Fishing, is the reel. Surf fishing reels are exposed to saltwater and need to be constructed with corrosion resistant materials. They also need to have a larger line capacity for casting long distances and for fighting large fish as well as a good strong drag system. Surf Fishing Reels come in two main types, Large bait casting reels, or large spin casting.
---
Surf Bait Casting Reels
---
The bait casting reels used in surf fishing come in a wide variety. They have a few things in common however. Large spools to hold the line capacity needed for long distance casting and fighting large fish. Strong drag systems for battling those larger fish, and they are made of corrosion resistant materials to with stand the harsh saltwater environment.
There are a number of manufactures of quality Surf Bait Casting Reels, and they come in a variety of price ranges. Everything from basic budget models all the way to the latest and greatest Cadillac models with space age materials. They will all do the job, it just becomes personal preference as to what bells and whistles you want. Of course, brand name adds some to the price as well.
---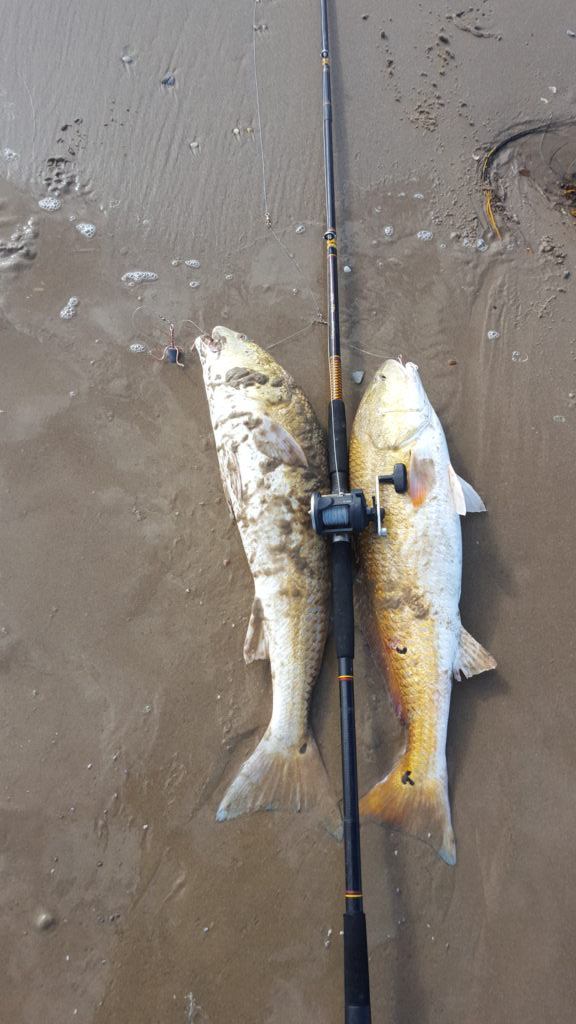 ---
The higher priced models, In general, will have more modern lightweight high strength materials. They will also have more sophisticated magnetic spool braking systems that help to minimize backlash (birds nest), which is a common malady of bait casting reels. The lower priced models will rely on older spring tension spool brakes and thumb pressure from the user which will result in higher incidence of backlash. Things like gear ratio and number of ball bearings will also account for some price differences. The backlash of bait casting reels has led many to prefer the Spin Cast reel.
---
Surf Fishing Spinning Reels
---
There are a number of manufacturers that produce high quality spinning reels for surf fishing. They also have a wide range of price points, much like surf bait casting reels. Surf Spinning Reels will also need to be made of corrosion resistant materials, have large spools with large line capacity, and have strong durable drag systems for handling big fish.
Surf Spinning reels tend to be more user-friendly. They don't backlash like a bait caster, and since the line feeds freely off the spool, they tend to cast farther with less effort than a typical bait cast reel. This ease of use and long casting ability, have made the spinning reel a favorite for many surf fishermen.
---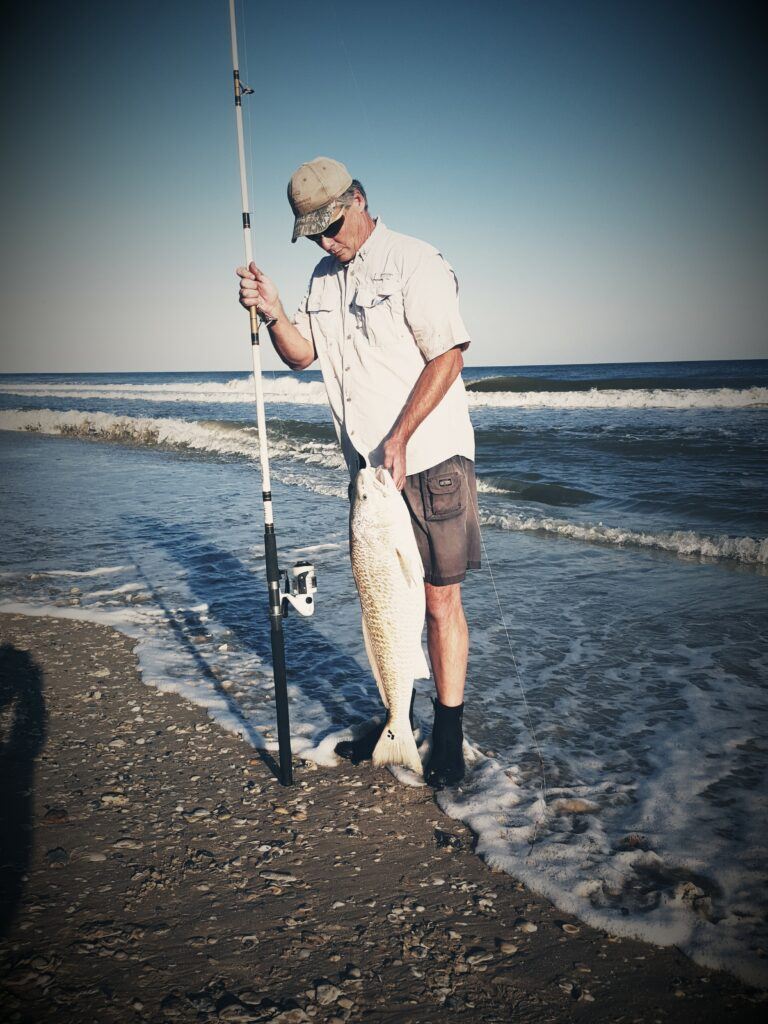 ---
You will find a wide range of prices, which again, are mainly due to higher tech materials, more ball bearings, improved drag systems and of course, brand name. It's up to the user to determine what works best for their situation and budget. They will all work reasonably well. The more expensive versions will have higher gear ratio, more ball bearings and the latest in high tech materials.
---


The more budget friendly models will have fewer of the advanced features, and fewer ball bearings so they won't feel as smooth as the latest and greatest models. I have noticed however, that the fish don't really care how much you spent on your reel. I've also learned the hard way, that it hurts more when you break a high end reel. 😉
---
Best Surf Casting Reels
---
Finding the best surf casting reel is going to be largely a function of personal preference and budget. They have some very good surf fishing reels out there by a number of manufactures. Companies like Penn (pennfishing.com), Daiwa (daiwa.com), and Okuma (okumafishingusa.com) have good quality surf casting reels at a variety of price points.
Penn reels have been around as long as I can remember, and I'm still fishing with some that are older than I am. A testament to their quality and durability. An American company that for many years manufactured their product in the USA. The Penn 209 and 309 have been workhorses in surf fishing reels for better than 50 years. Still, a good option, they are going to be slower retrieve and will need your thumb brake when casting when compared to say the newer Penn Squall. You can read my full review of Penn Reels here:
---
Penn Squall: Level wind trolling reel for big game fish in a variety of saltwater conditions

Durable construction with lightweight graphite frame and side plates and bronze main gear and stainless pinion gear

HT-100 carbon fiber drag system provides powerful drag without sacrificing smoothness

2 stainless steel ball bearings and instant anti-reverse bearing that eliminates rotor backplay

Forged and machined aluminum spool is braid ready and has line capacity rings marked at 1/3, 2/3, and full capacity

Graphite frame and side plates keep the reel lightweight

Machined high-strength main gear is marine grade bronze alloy
---
---
The Penn Squall will have a faster retrieve, magnetic spool brake, and newer high tech spool, drag, and frame materials. This of course, makes it more expensive as well. Nearly twice the price of the Penn 309. Over a long day of surf casting, the faster retrieve and fewer backlash worries might make the price more bearable.
.
Penn 309, Level wind fishing reel excels across a variety of freshwater and saltwater situations

Delivers legendary toughness and reliability in a proven design

Machined aluminum spool, bakelight sideplates, and stainless steel gears for long-lasting durability

HT-100 carbon fiber drag system provides powerful drag without sacrificing smoothness

Counter-balanced handle and oversized paddle knobs offer fluid, comfortable cranking.
---
---
Okuma, a Chinese company, entered the US market a few years ago and has steadily made improvements and gained market share. They make casting and spinning reels and their Classic Pro XP and Convector CV series are both good mid range surf casting reels that have some modern high tech materials, fast line retrieve and are budget friendly. I've use the OKuma Classic Pro XP for several years now and find it to be a very good surf fishing reel. It is very resistant to the saltwater environment. The drag holds up well when fighting big fish and the spool brake adjustment effectively minimizes backlash.
---
Okuma Classic Pro XP, Lightweight, corrosion-resistant side plates

Machined aluminum, anodized spool on XP

Ported graphite frame design.
---
---
The Okuma Convector CV series is the next step up if you will, in their casting reel line up. Has a faster retrieve, stronger drag system and more advanced spool control. Very well-made with high tech corrosion resistant frame and spool materials. Very good line capacity for long distance casting and for those long runs that big fish sometimes make.
---
Okuma Convector CV, Made using the highest quality materials

Tested for reliability and quality

Used by professionals worldwide

2 Stainless Steel Ball Bearings

Multi-Disk Carbonite Drag System

1 Quick-Set Anti-Reverse Roller Bearing

Dual Anti-Reverse Feature on All Sizes
---
Daiwa, a Japanese company, has been a player in the fishing rod and reel markets for many years now and they have some very good surf fishing reels in their line up as well. The Daiwa SeaGate series and the Daiwa Saltist series have both proven to be excellent surf fishing reels. The Saltiist series is made of a one piece corrosion resistant aluminum frame with high strength alloy gears and 4 ball bearing with a high speed gear ratio.
---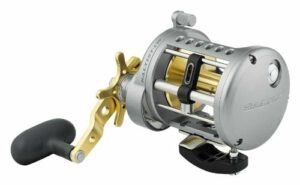 Daiwa Saltist, Rugged, all metal construction with rigid, one-piece aluminum frame.
Four CRBB shielded, corrosion-resistant ball bearings and a roller bearing.

Powerful, high-strength alloy gears.

Up to 30% greater winding power.

Super Drag with up to 22 pounds of drag max.
---
---
Daiwa's Seagate series is constructed of corrosion proof all composite frame. It also has a high speed gear ratio, smooth drag system and the large line capacity needed for surf fishing reels. Either of these reels will make a great surf casting reel and should give many years of service. All of these manufactures also produce some very good surf spinning reels as well.
---
---
Best Surf Fishing Spinning Reels
---
The best of anything, is always subjective, but I'll try to give you some good options to check out and see what might be the best for you. Surf Spinning reels come in a wide variety of makes, models and price ranges. It's a matter of what features will give you the best results for the fish you're after in the environment that you will be fishing in, and will fit in your budget.
Surf Spinning reels need long cast spools with large line capacity and strong drag systems. Companies like Shimano (fish.shimano.com), Daiwa and Penn all have years of experience producing these kinds of reels for the surf fishing environment. The Shimano Ultegra and Socorro SW series of reels are excellent choices.
---
Shimano Ultegra: Reelsize: 5500, Surfcasting and carpfishing reel. Gear Ratio: 5.3:1

Mono line capacity (lbs/yd): 10/425, 12/315, 16/230

Weight: 17.3 ounce, max dragforce: 33 lbs

Bearings: 1 S A RB and 3 shielded stainless steel and 1 roller bearing. CHECK PRICE HERE!
The Shimano Ultegra has incorporated the latest technologies in materials, with line capacity, smooth drag, and high speed gear ratio. It also is very water resistant protecting the inner workings of the reel from the saltwater environment.
---
---
The Socorro SW Series is a little more budget friendly than the Ultegra series and they were specifically designed for saltwater applications from the ground up.
---
The Socorro saltwater spinning reel offers true durability to tackle nearly anything in the salt

X-Ship technology provides improved gear durability and eliminates friction between the spool shaft and gear enhancing the casting performance and allowing for longer casts

Incorporates Shimano's flagship HAGANE gearing that provides long-lasting, strong, and durable performance and smoothness giving anglers the strength for both inshore and offshore action

Features Cross Carbon Drag which provides long lasting smoothness to withstand fast, powerful runs from pelagic and large inshore species.
---
Penn has made saltwater surf fishing reels longer than anyone. Their Spinfisher SS series and newer Battle II series are great options for surf fishing reels. Both contain the latest in modern technologies in frame materials, drag and gear components. Both have the large line capacity and smooth drag necessary for cast long distances and fight large fish.
---
Penn Battle II: Durable, high range spinning reel ideal for conquering big saltwater game fish

Full metal body, side plate, and rotor and heavy duty aluminum bail wire offer exceptional durability

HT 100 carbon fiber drag system provides powerful drag without sacrificing smoothness

Fluid cranking with 5 sealed stainless steel ball bearings and instant anti reverse bearing

Superline spool requires no backing, is braid ready, and has line capacity rings marked at 1/3, 2/3, and full capacity
---
---
Penn Spinfisher 6500SS: Watertight spinning reel performs reliably in saltwater and sand environments

Durable construction with full metal body, sideplate, and rotor and heavy-duty aluminum bail wire

Sealed HT-100 Slammer drag system provides robust, silky-smooth drag, while friction trip ramp prevents premature bail trip when casting

Fluid cranking with 5 shielded stainless steel ball bearings and instant anti-reverse bearing

Superline spool requires no backing, is braid ready, and has line capacity rings marked at 1/3, 2/3, and full capacity
---
---
Daiwa has produced quality surf spinning reels for many years as well. Their Saltist series of spinning reels has been designed from the ground up for the saltwater fishing environment. Corrosion resistant, smooth drag, high speed retrieve with large line capacity, the Daiwa Saltist spinning reel is a great option for a surf fishing reel.
---
The Daiwa SALTIST Spinning Reel was made for serious saltwater fishing

This reel was designed to provide reliability and performance

Features: – Machined aluminum screw in handle – Waterproof carbon ATD drag system – Digigear syst

6:1 – Retrieve Rate: 33

2″ – Bearing Count: 8CRBB, 1RB – Braid Capacity (Yards/lbs): 190/15, 170/20, 120/30 – Mono Capacit

y
---
---
The Daiwa BG (Black Gold) series of spinning reels is another good option for a surf fishing reel, and is a little more budget friendly. The BG series reels have a proven track record both on the beach and offshore.
---
Daiwa BG series: Black Anodized Machined Aluminum Housing ("Hard Bodyz" Body & Side Cover), Over-sized Digigear (Digigear System)

Solid Screw-In Handle, Air Rotor, Dynamic Cut Aluminum ABS Spool

Braided Line Ready Spool, Waterproof Drag System, Carbon ATD, Line Per Handle Turn: 47.4″

Manual Return Bail (4500 and Larger), 6BB+1RB, Gear Ratio: 5.6:1, Drag Max:22

Line Capacity (Lb. Test / Yards): 14/470, 17/380, 20/280 J-BRAID: 40/480, 50/360, 65/310

Infinite Anti-Reverse System (4000 and Smaller), Infinite Dual Anti-Reverse System (4500 and Larger)
---
---
---
Decisions Decisions
---
I hope you found this helpful. There are many options, and these are just some mid range models. I tend to be more budget minded. I use my equipment pretty hard so it needs to be durable but not so expensive that I panic every time it takes a dunk in saltwater or falls in the sand.
Every body is different. Different target fish, different fishing environment and different budgets. Any of these surf fishing reels will serve you well for many years without breaking the bank. They have cheaper models, and there are some much more expensive models as well. So as always, stay safe, enjoy the journey and please try to leave it cleaner than you found it.